Valentines Day is right around the corner and you're running out of  ideas? I've got you covered! Getting all dressed up and going to a big expensive dinner might have been what I used to enjoy in my early twenties to fit some cliche social norm (not that I hate deliciously fancy dinners or going out with my man) but now I treasure the moments where I can relax, be myself, and unwind with the one I love. There is something to me that is so much more personal about seeing someone be themselves in their most relaxed state. Trust me when I say you can still make Pj's and movie night just as romantic as a fancy dress and a four course meal. The trick to a perfect night in is my date night stove-top popcorn. It's all in the small details and execution! Here is a quick how to guide for an easy low-key Valentines evening in! The full recipe for date night stove-top popcorn is at the bottom of the post.
Set the Mood:
If romance is in the air for you this Valentines Day, set the mood for your movie night. Fluff the pillows, take out a few of your favorite blankets, and pick out a selection of movies you think your significant other would enjoy (not just something you would only want to watch…come on now)! Light a few candles, dim the lights, and upgrade your favorite beer to your favorite champagne to make it a little extra special.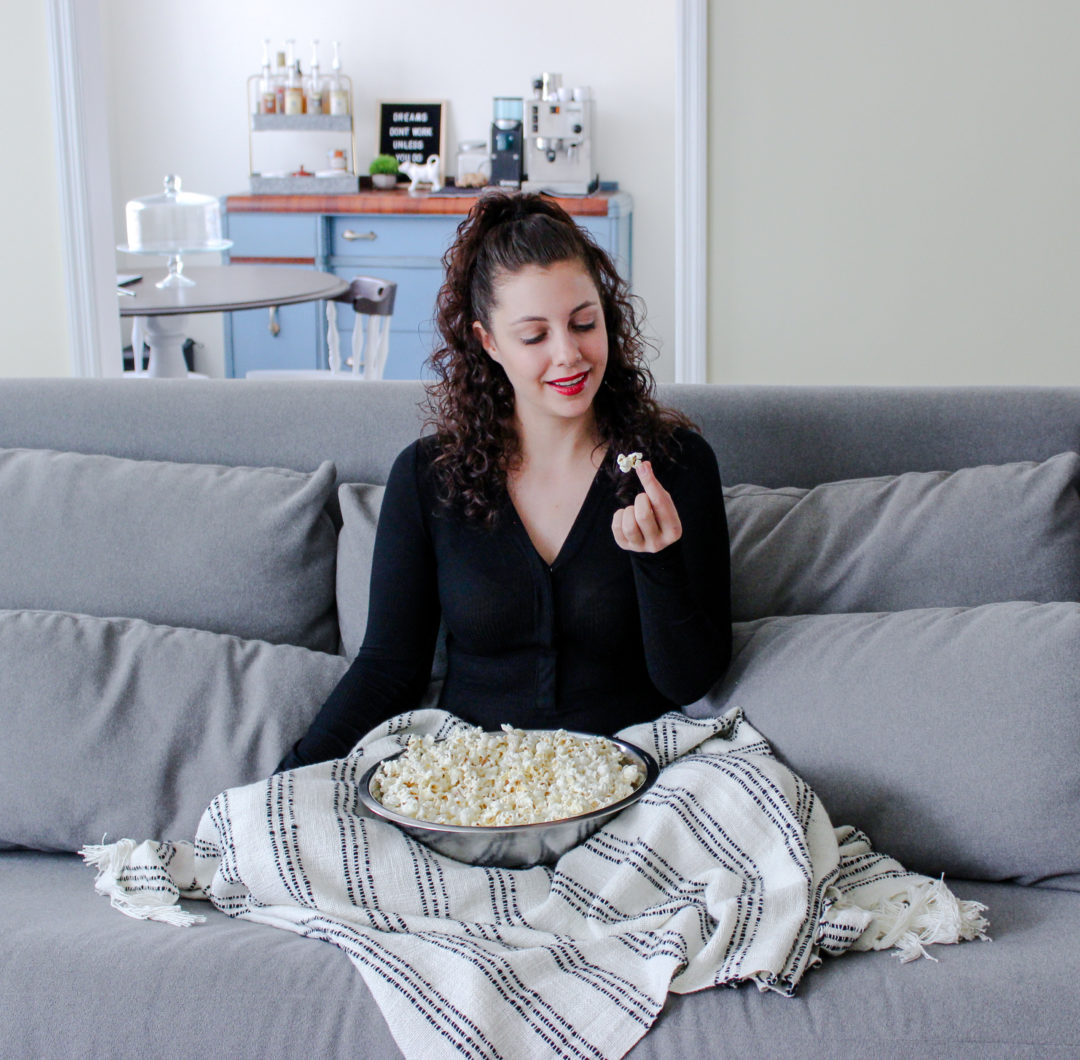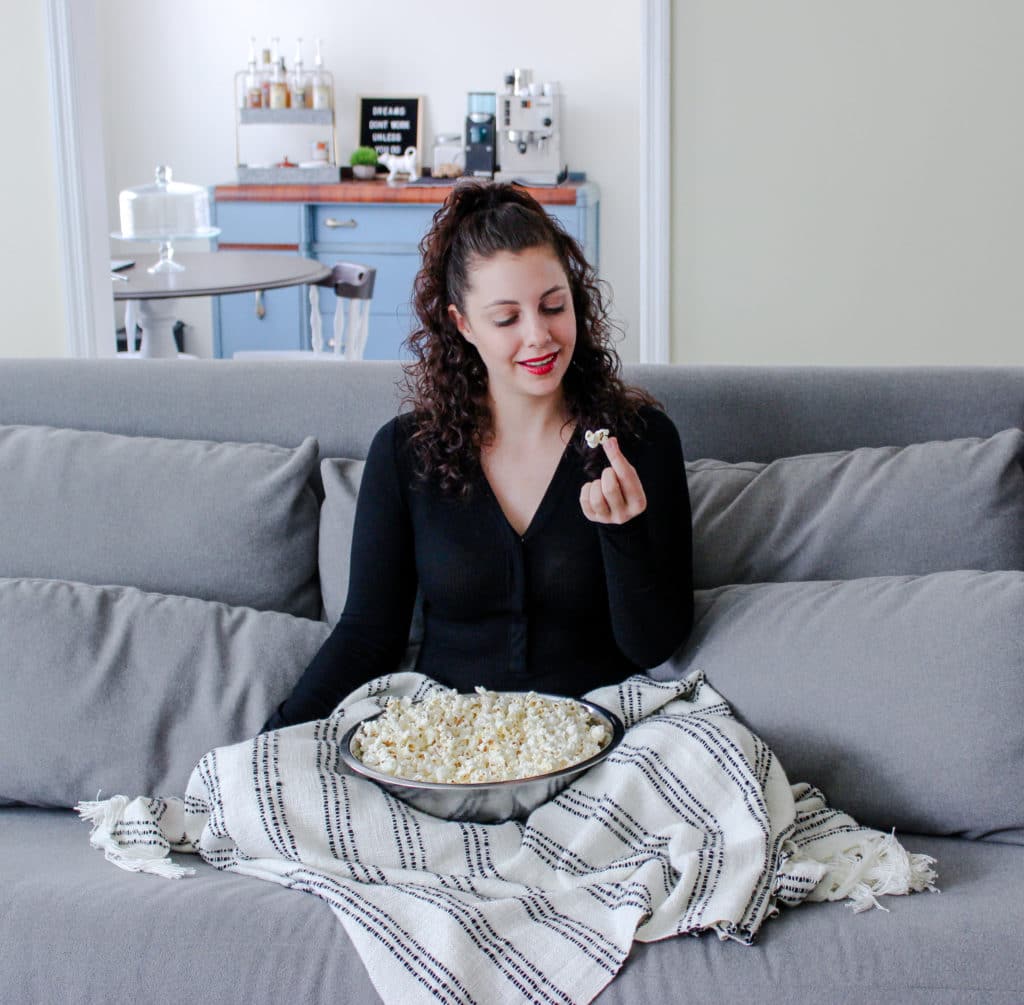 Make the Popcorn:
I'm the kind of girl that appreciates good food (I mean…duh) and I especially appreciate homemade food. Even though it is simple to make this date night stove-top popcorn, it's about the act and thoughtfulness that goes into it. Going that little extra mile for your loved one is what it's all about (plus it's a cheap and easy way to do something fun and kind). The trick to making the best homemade popcorn is without a doubt using the Whirlypop (this is not an ad…I just love this pot). If you don't have one of these you can still make this recipe. If you use a regular pot, make sure it has handles on either side and a tight fitting lid. This helps you shake the pot and move the kernels around to prevent burning. Please be mindful if you use your own pot that there is a lot of steam and oven mitts will help you grasp the lid and the sides at the same time (nothing romantic about a 9-1-1 phone call and a trip to the E.R. people).
Toppings:
Keep it simple and savory with salt and butter or cheesy with some shredded Parmesan. If you like your popcorn a little sweet add sugar to the kernels when popping to make kettle corn or add some M&M candies or a chocolate drizzle to your finished product. You can even make the popcorn together! Either way, I wish you and your special someone a very Happy Valentine's Day and I hope you love this easy homemade stove-top popcorn!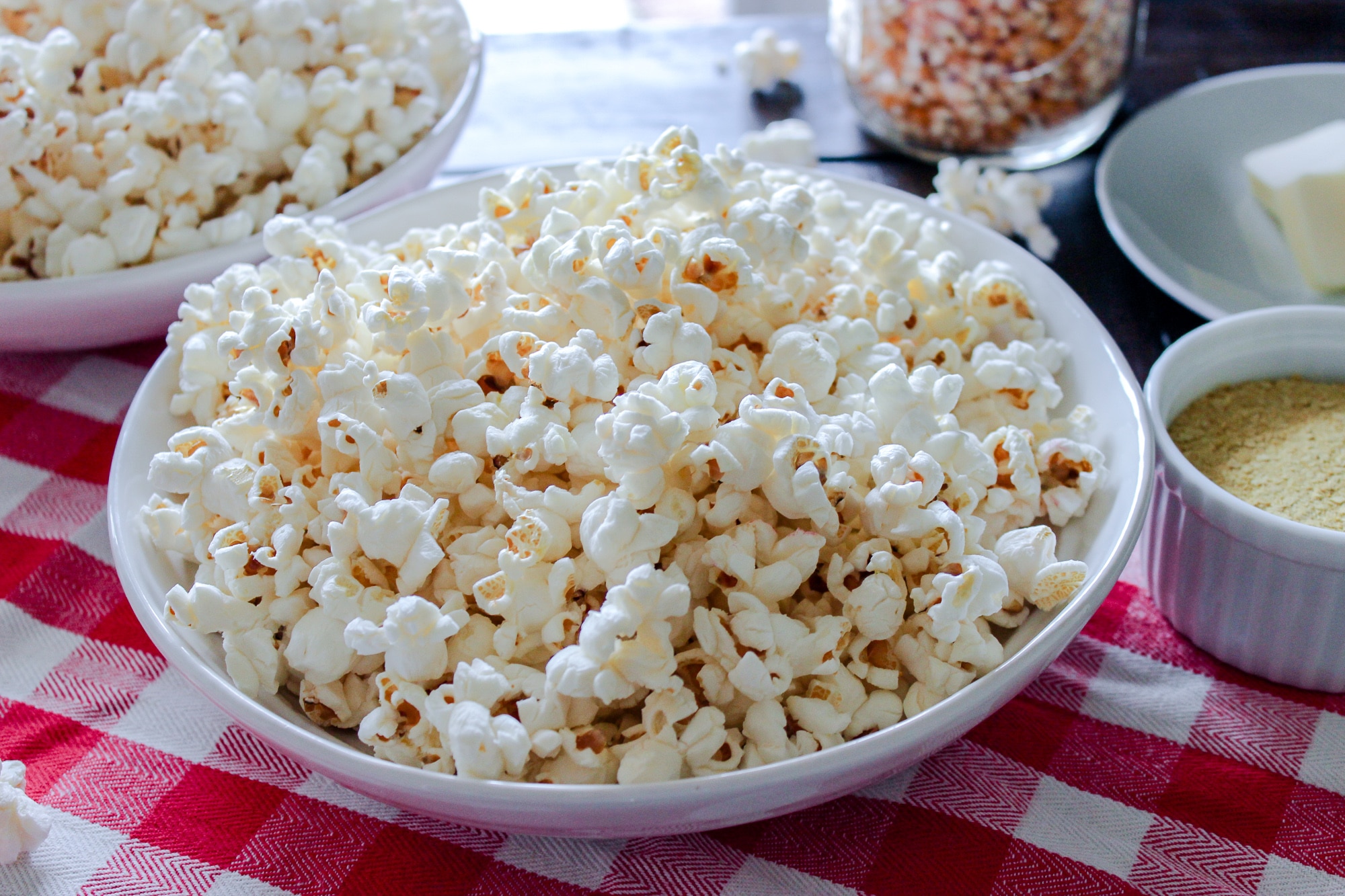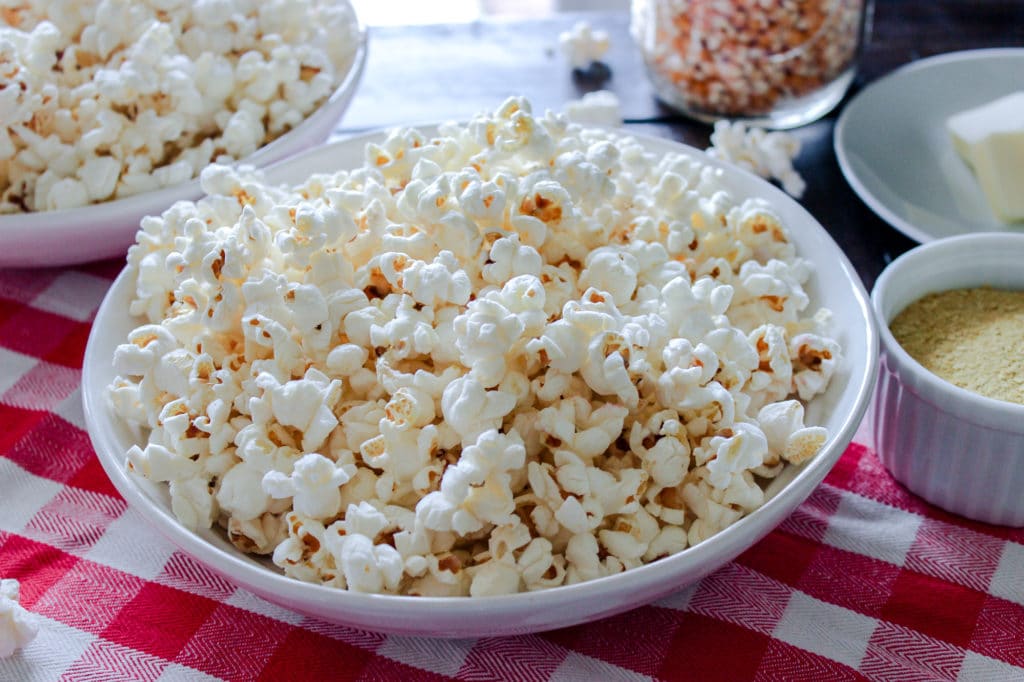 Bon Appeteach,
-L
Ingredients
2 Tbsp. Canola Oil

1/2 heaping cup, Popcorn kernels

Salt & Butter to taste
Instructions
1
Place your oil and popcorn kernels into your pot. Set the heat to medium.
2
Cover with the lid and shake a few times prior to popping. This helps coat the kernels in the oil.
3
When kernels just start to pop gently shake it back and forth or stir the popcorn using the Whirlypop. If you are using a regular pot, try and use one with handles on both sides. Wear oven mitts and grasp the handles while holding down the lid to gently lift and shake every few seconds while it is still on the heat. If you don't do this it will burn. Please be mindful of the steam as well!
4
Once popping has stopped, pour into a large bowl.
5
Add salt, melted butter, and any other favorite toppings.
6
Share with the ones you love, or shamelessly eat the whole bowl yourself. No regrets!
Notes
Additional toppings- Parmesan cheese, nutritional yeast, or Cajun spices (if you feel like getting a little wild and crazy). Add chocolate candies or melted chocolate over the popped corn for a sweet little twist!