An almond flour based, keto friendly bread that's toasted to make the perfect gluten free panzanella style salad that's topped with heirloom cherry tomatoes, basil and burrata cheese.
I think Panzanella salads are often found served as a warm summertime side dish. I'm breaking the mold here however and say you can make this anytime of the year, and make it keto and gluten free too!
A standard panzanella salad is typically made with a toasted, hearty Tuscan bread that's cut into cubes. It generally works best with a toasted or stale bread because the natural juices from this tomato based salad help soak into the bread and soften it. I had the idea to make this classic salad into a keto gluten free based creation when I was taking my Keto Cornbread recipe and making it into my Keto Cornbread Stuffing.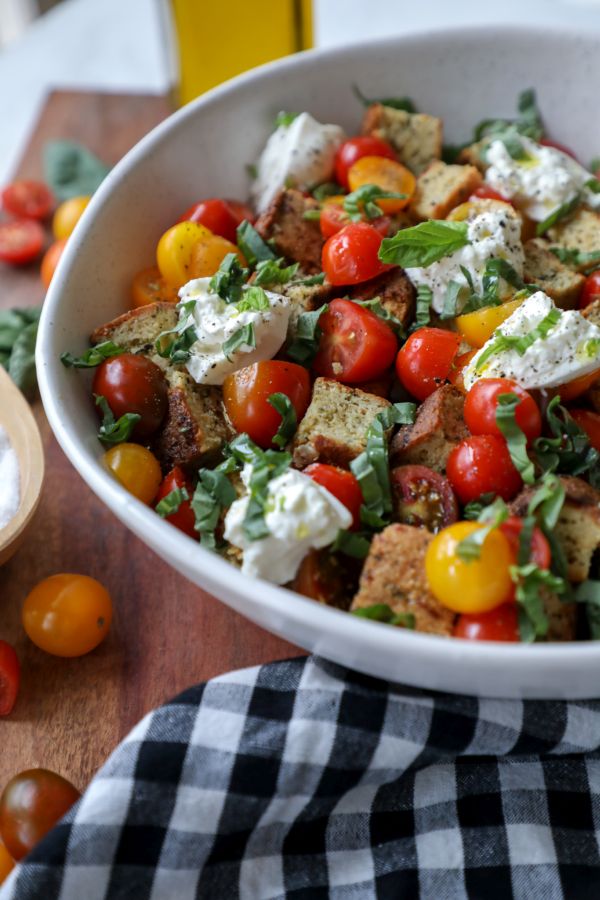 The idea definitely didn't disappoint. I often find myself snacking on the delicious toasted keto cornbread cubes (they would make amazing croutons too). So, why not toss them all in a bowl with some delicious fresh tomatoes and cheese and call it salad? A keto one at that! Read through for all the helpful tips and tricks and find the full recipe below.
"School" Supplies:
1 Mixing Bowl
1 Salad Bowl
Measuring Cups/Spoons
Knife and Cutting Board
8×8 inch Pan
Baking Sheet
"Class" Notes:
Keto and Gluten Free "Bread":
The base of this salad is the gluten free and keto friendly cornbread recipe I mentioned earlier. This recipe is really quick to make and is just a handful of keto kitchen staples. I combine them all into one bowl, mix well, and dump it all into one square pan to bake.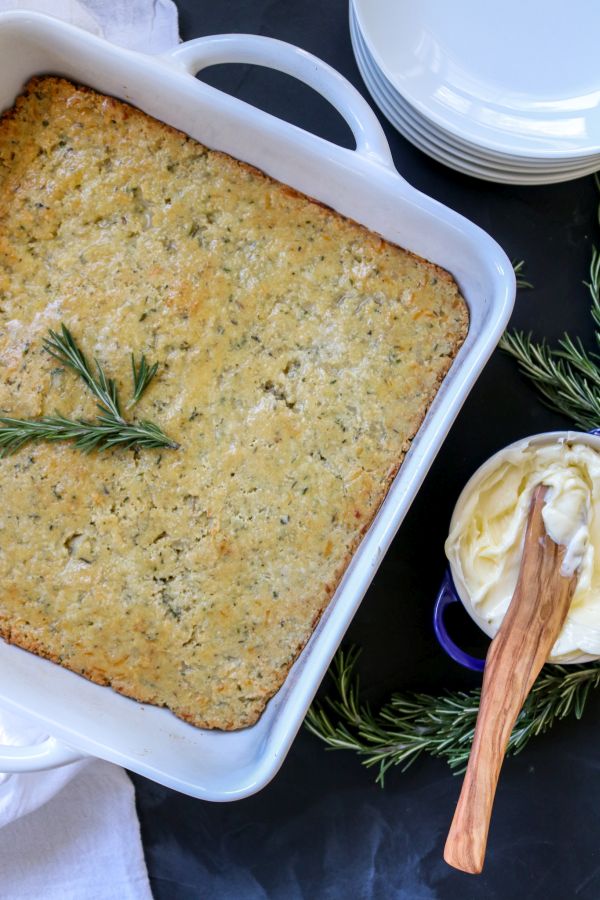 Though this is not a true cornbread (it's made with almond flour not cornmeal to keep it lower carb), it does allow for an easy way to add delicious Italian flavors like oregano, basil, garlic and onion powder, and sage. Don't forget to add a generous amount of salt too.
Once the bread has baked, I allow it to fully cool and then cut the bread into one inch cubes. You can leave these out over night to stale slightly if you don't plan on making the salad right away or speed up the process by toasting the cubes on low heat. Once toasted, set the cubes aside to cool.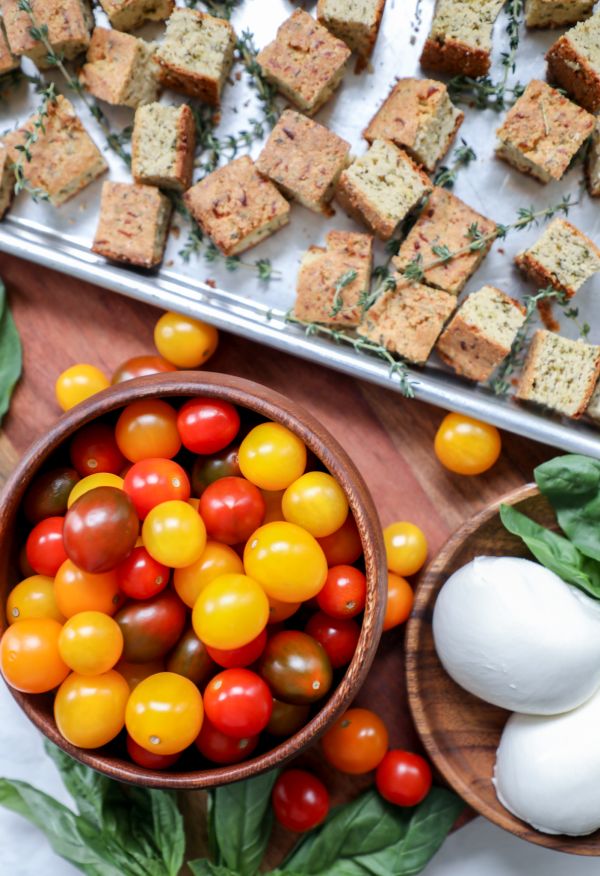 Assembling the Panzanella Salad:
Salad assembly is really simple and customizable. I kept this salad quite simple and just used a variety of heirloom cherry tomatoes, sliced in half. I used a bunch of fresh basil, sliced chiffonade style and topped the salad with chunks of creamy burrata.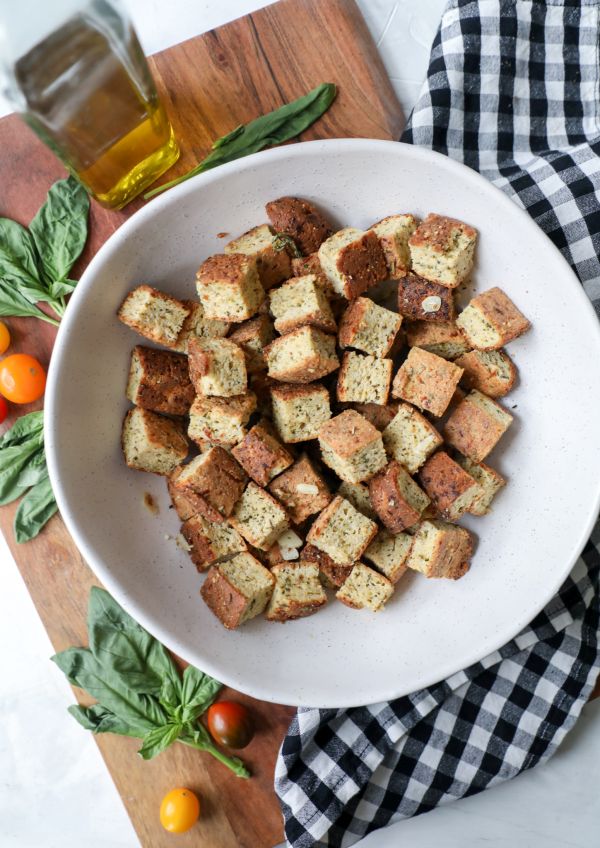 You can add other veggies like red onion, red or yellow peppers, and cucumbers. I'm sure fresh mozzarella would be a great substitute for the burrata or maybe some grated Parmesan too. Add some protein with a crispy prosciutto or toasted pancetta for a nice, salty, flavor profile.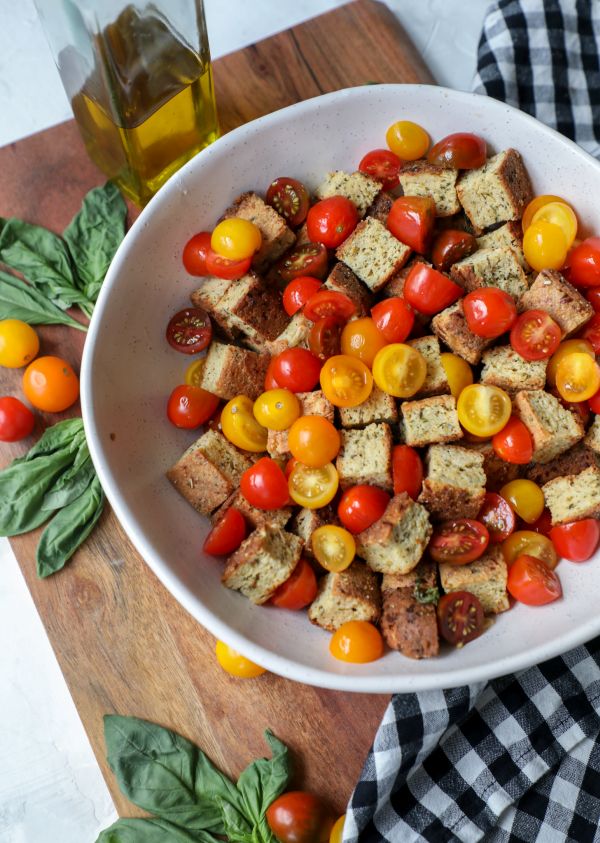 How to serve your Panzanella salad:
In a large bowl, combine all the ingredients and mix just slightly. Dress the salad in some high quality extra virgin olive oil and season well with salt and pepper and then mix again so everything is nicely coated. This salad is best served right away. If you plan on serving at a later time, keep the toasted bread cubes separate from the tomato mixture until right before serving to prevent the bread from getting to mushy.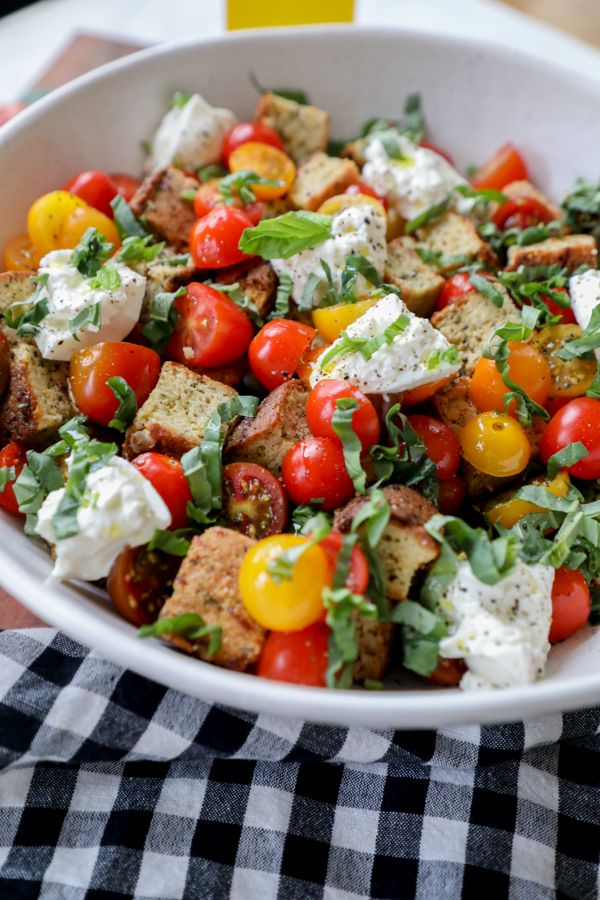 If you love a good keto salad, be sure to check out my popular Keto Italian Sub Salad recipe too. Everything you love about your favorite sub, but without the bread…. and the carbs!
Bon Appeteach,
-L
Yield: 12-16
Keto and Gluten Free Panzanella Salad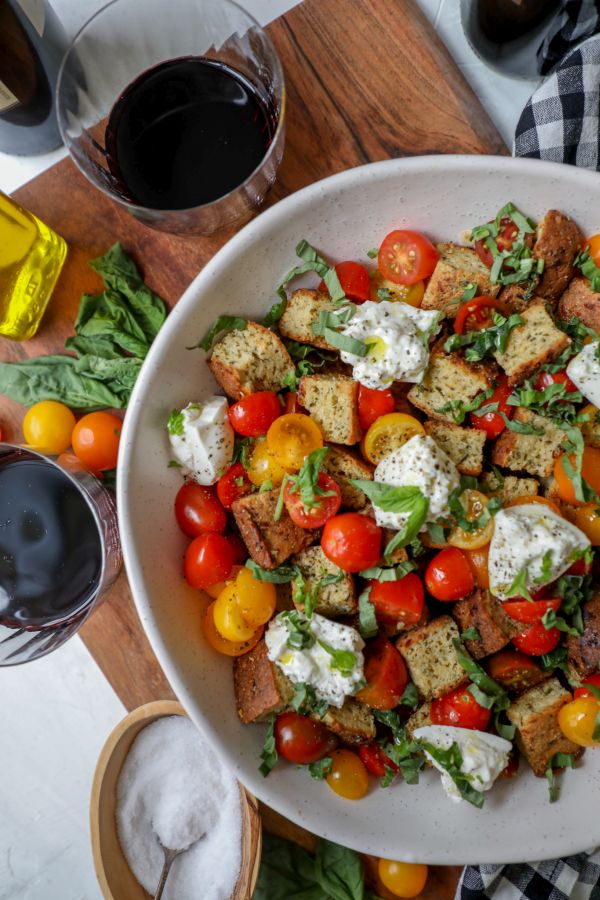 An almond flour based, keto friendly bread that's toasted to make the perfect gluten free panzanella style salad that's topped with heirloom cherry tomatoes, basil and burrata cheese.
Additional Time
10 minutes
Ingredients
1 cup Cherry Tomatoes, halved
1/2 cup Fresh Basil, Chiffonade
1 Ball of Burrata
Salt & Pepper
Olive Oil (use a high quality)
Instructions
Prepare a single 8x8 inch pan of Keto Cornbread. Add extra seasonings like rosemary, sage, or oregano for added flavor.
Let the bread cool and cut into 1 inch cubes, place them on a baking sheet and bake until toasted at 350 F for 10-15 minutes.
Once the bread is toasted, place it in a large salad bowl, add the halved tomatoes, the fresh basil, and the burrata and mix it lightly.
Season the mixture with salt and pepper and drizzle with a nice amount of olive oil.
Notes
Serve the salad immediately, if waiting to serve until later, wait to add the toasted bread to prevent sogginess.
Nutrition Information:
Yield:
12
Serving Size:
1
Amount Per Serving:
Calories:

134
Total Fat:

4g
Saturated Fat:

1g
Trans Fat:

0g
Unsaturated Fat:

1g
Cholesterol:

4mg
Sodium:

76mg
Carbohydrates:

3g
Net Carbohydrates:

3g
Fiber:

0g
Sugar:

0g
Sugar Alcohols:

0g
Protein:

1g