Keto Italian Sub Salad:
One of my favorite sandwiches is a Publix Italian Sub. Living in South florida for three years I definitely had my fair share. There is something so satisfying about a hearty sub, packed with salami, ham, and cheese.
Every good sandwich needs a pile of shredded lettuce, tomatoes, onion, and lots of spicy peppers. A classic 6″ Italian sub is roughly 400- 600 calories depending on the condiments and bread type.
If you're eating a lower carb, keto, or gluten free diet but still have the sub sandwich cravings like I do, then you will love this salad! It's easy to throw together on a busy weeknight, looks beautiful, and holds up well for meal prep and leftovers.
Find the full recipe for this Keto Italian Sub Salad below and read on for a few tips and tricks.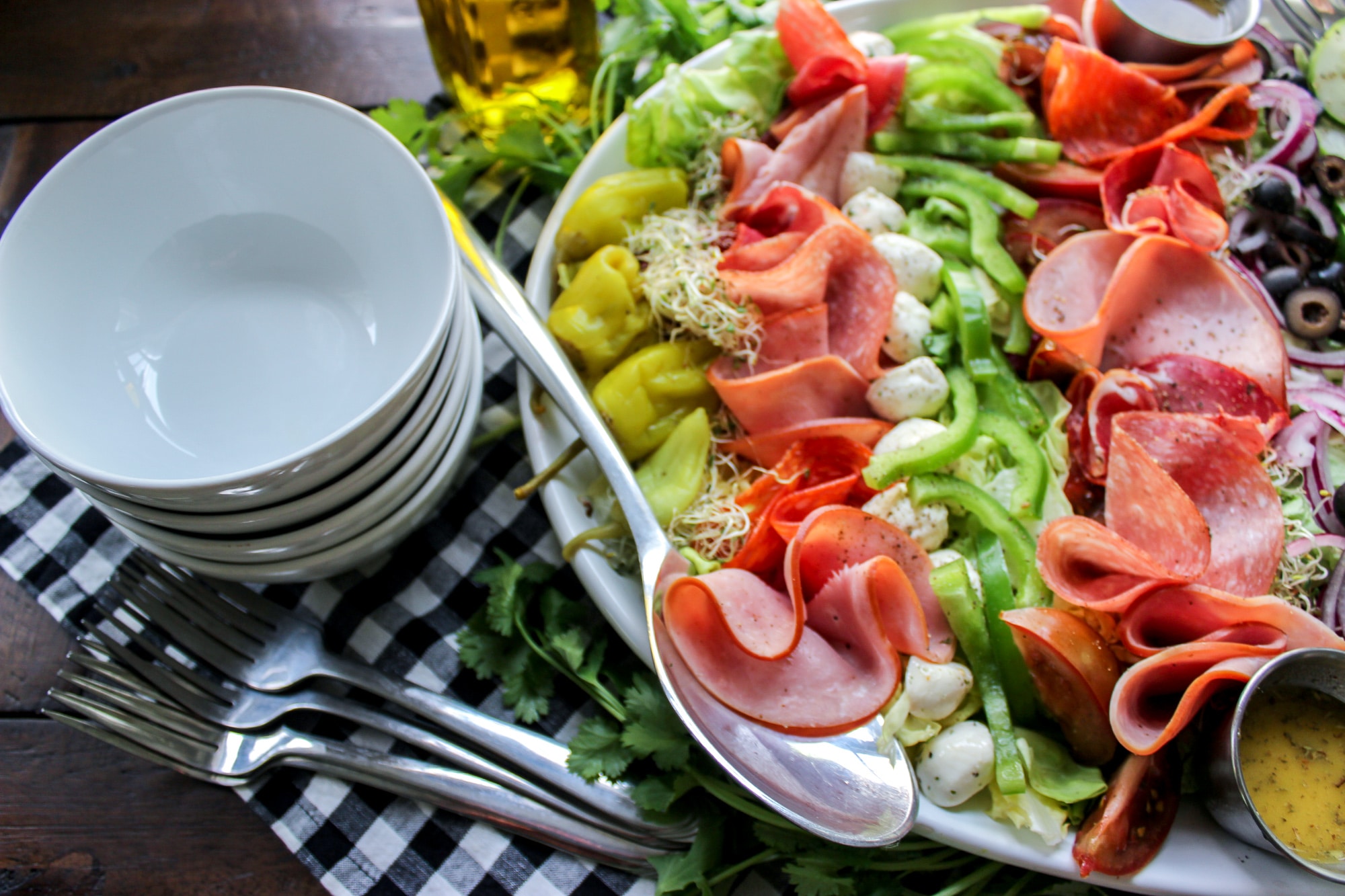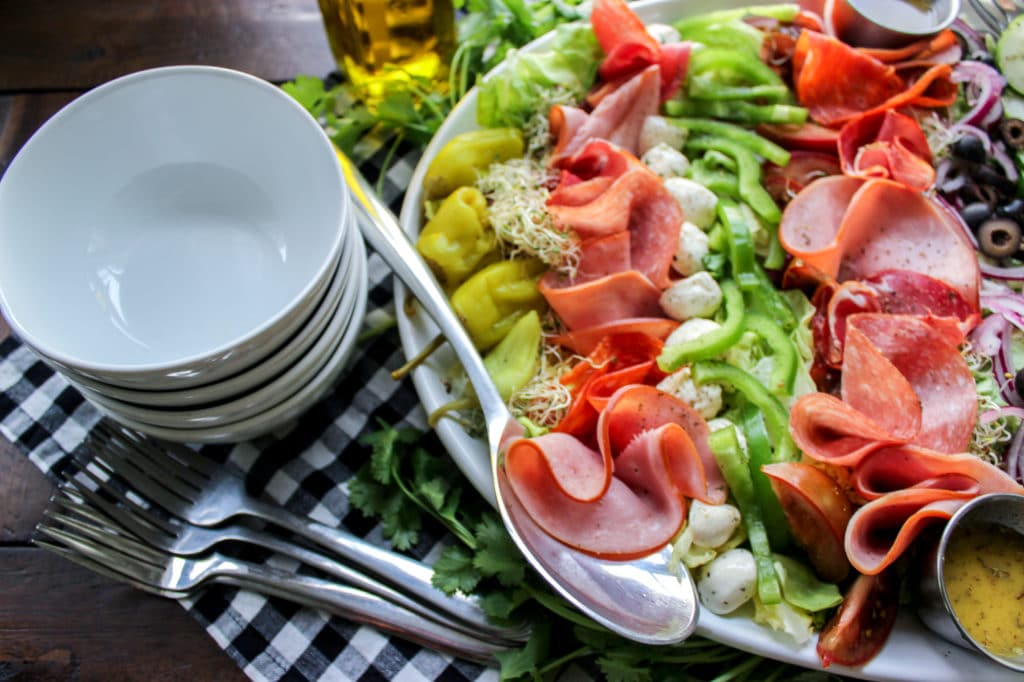 "School" Supplies:
Knife & Cutting Board
Bowl & Whisk or Blender
Platter (optional)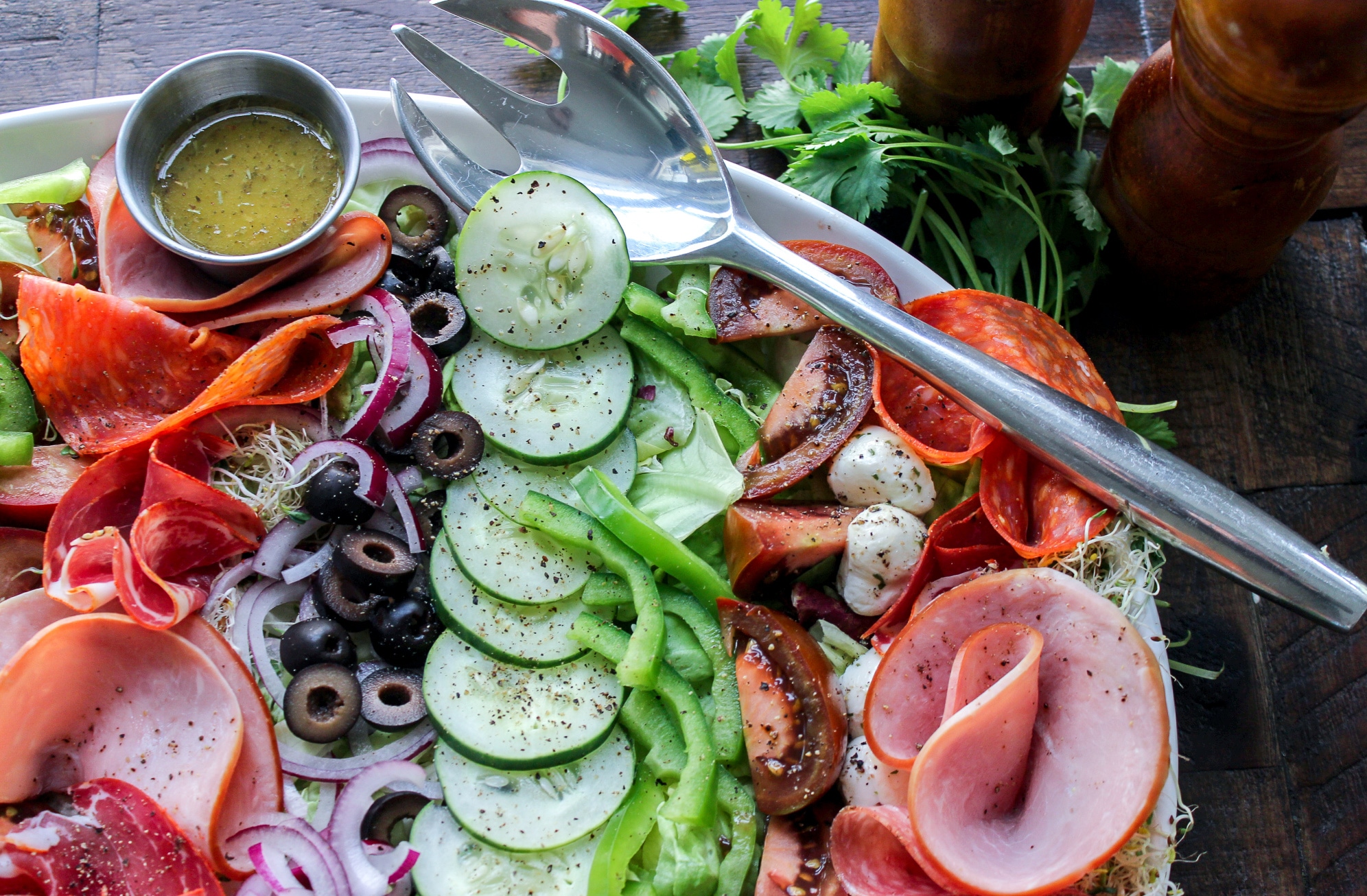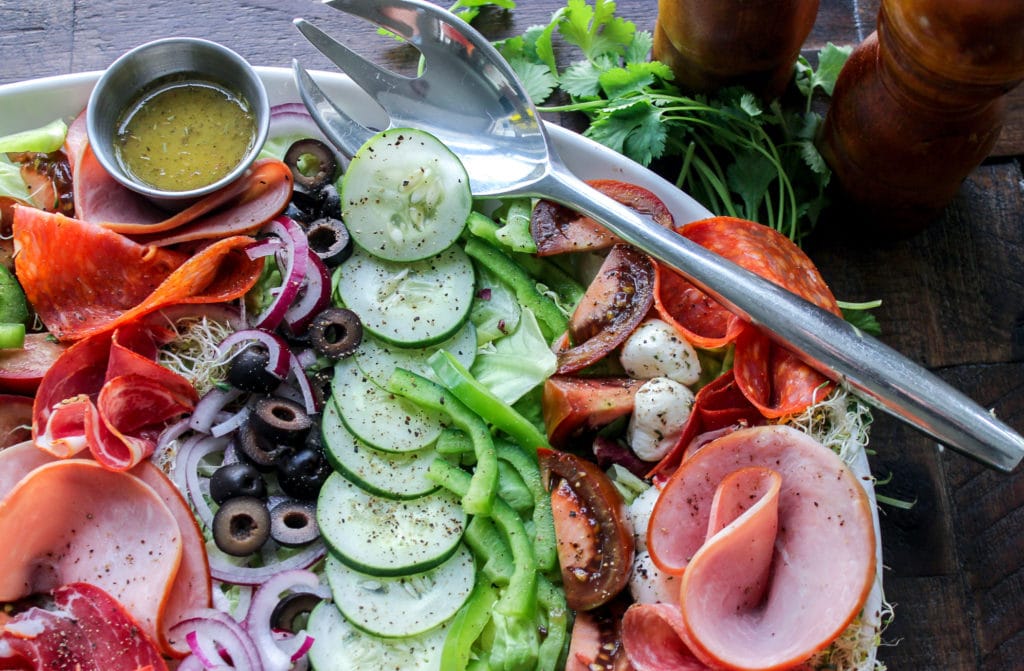 "Class" Notes:
I think making a salad is pretty self explanatory so I won't bore you with the basics. The easiest way to approach this salad is to customize it with your favorite Italian sub fixings. Start with your lettuce base, I prefer a romaine or green leaf lettuce.
Add your favorite meats and cheeses (I used a mixture of sugar free sliced ham, salami, pepperoni, and fresh mozzarella). Finish it off with your favorite sub veggies (I used tomato, red onion, green pepper, cucumber, banana peppers and alfalfa sprouts).
The salad needs a dressing so use a quality olive oil to start. I use my magic bullet mixer to emulsify the dressing. Combine olive oil, vinegar or lemon juice, and Italian seasonings. Pulse a few times till blender and drizzle over the top.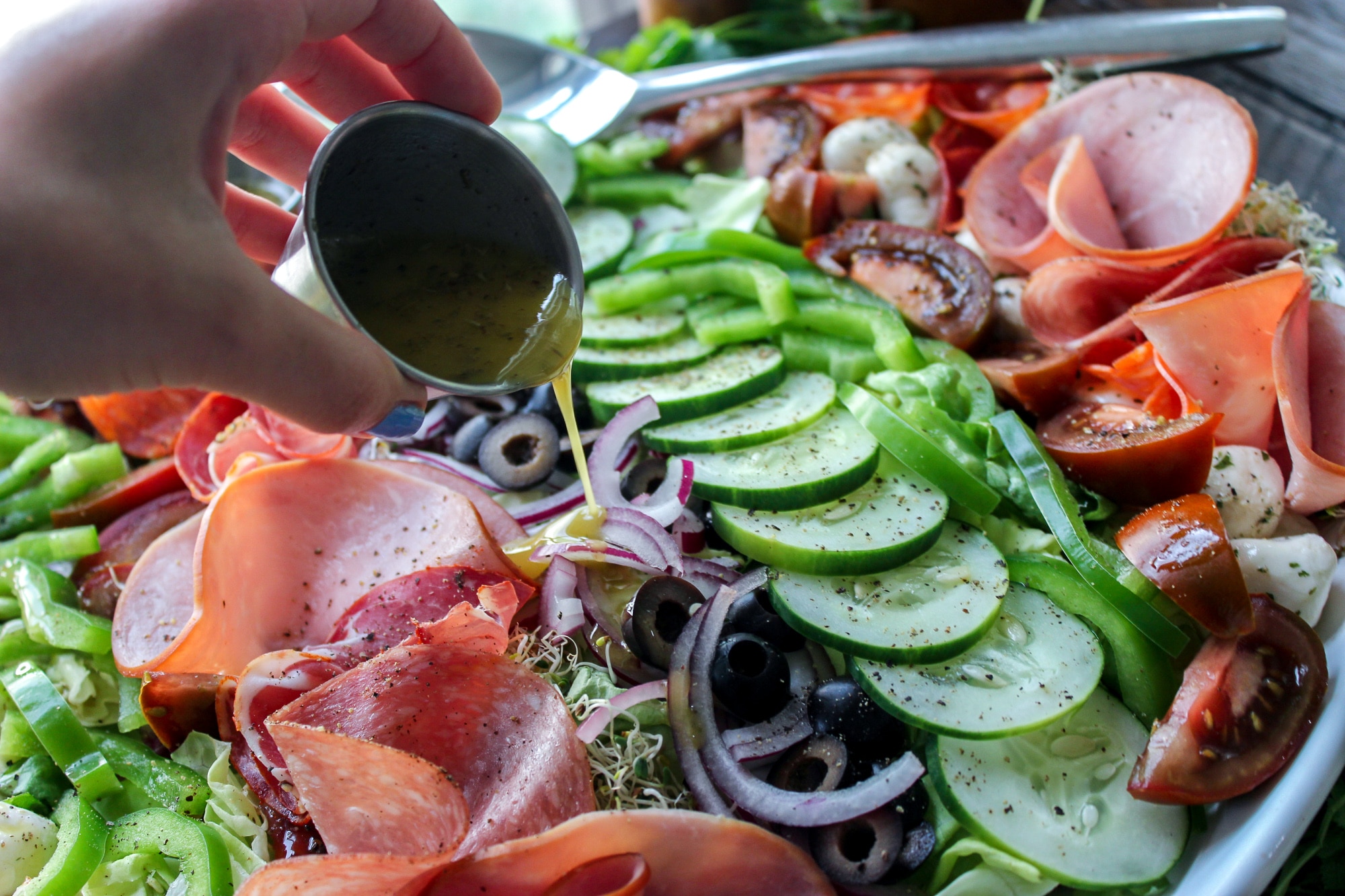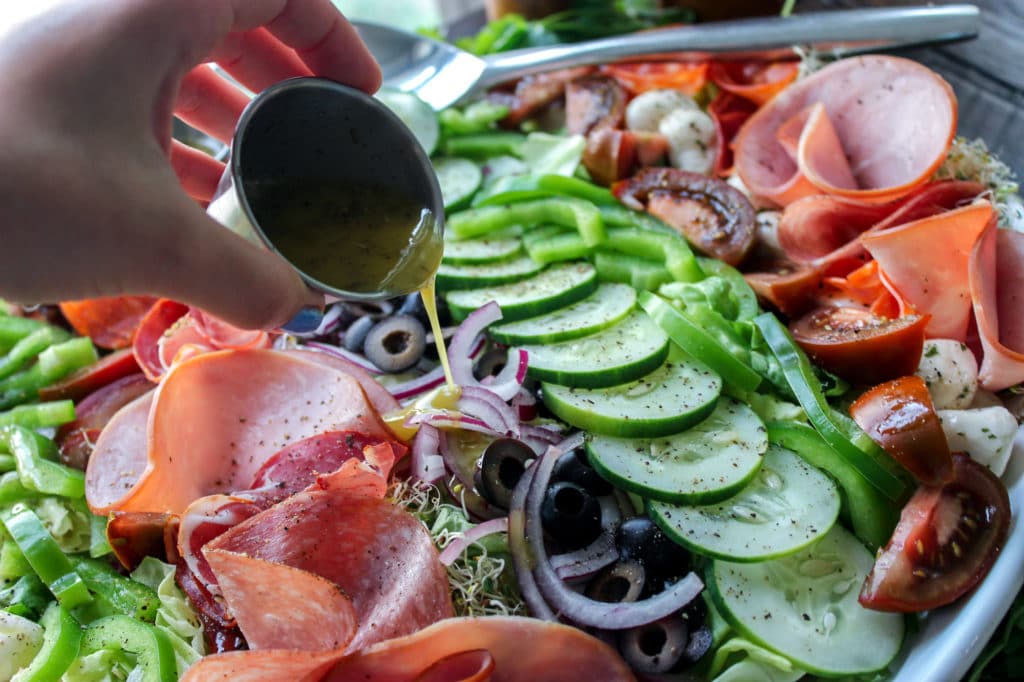 This salad is easy to serve for a large party, for a hearty dinner (plus leftovers), or pack it into layers in a jar and use it for meal prep! If you like this salad, be sure to check out my Southwestern Fiesta Salad or my Crispy Kale Chip Salad.
Bon Appeteach,
-L
Yield: 8
Keto Italian Sub Salad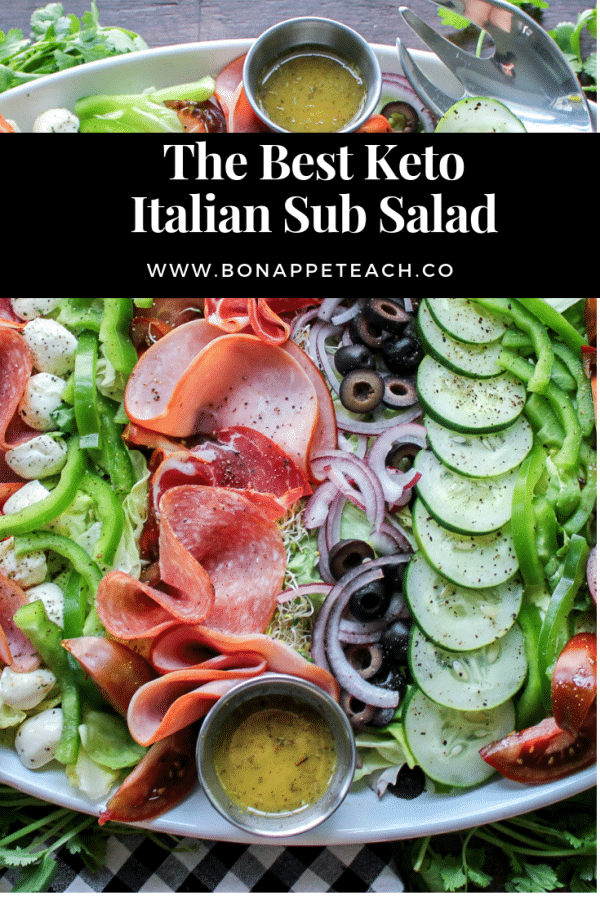 Everything you love about a loaded Italian sub sandwich, but without the bread. This antipasto inspired salad is not only beautiful, but great for dinner, meal prep, or serving for guests!
Ingredients
2 Bags Romaine Lettuce or 1 Large Bunch Green Leaf Lettuce
1 cup, Baby Fresh Mozzarella, dice in half
1/2 Lb. Sugar Free Ham Deli Meat
1/2 Lb. Pepperoni Slices (I use the Boars head larger slices from the deli)
1/2 Lb. Salami Slices
1 Green Pepper, sliced thin
1/2 Red Onion, sliced thin
1 cup Black Olives, sliced into thirds
1-2 Medium Tomatoes, sliced into wedges
1/2 cup Cucumber, thinly sliced
8 Pepperoncinis (optional)
1 cup Alfalfa Sprouts (optional)
Dressing Ingredients:
2/3 cup Olive Oil
1 Lemon Juiced
1 tbsp Italian Seasoning
Salt & Pepper to taste
Instructions
Diced the lettuce up and place on the base of the platter.
Slice and chop all the veggies and set aside.
Assemble the salad toppings in rows or all across the salad platter.
Once everything is assembled, place the dressing ingredients ina bowl or blender and mix until emulsified (this is easier to accomplish with a blender than a whisk). Drizzle over the top of the salad before serving.