Low Carb Shrimp Po' Boy Salad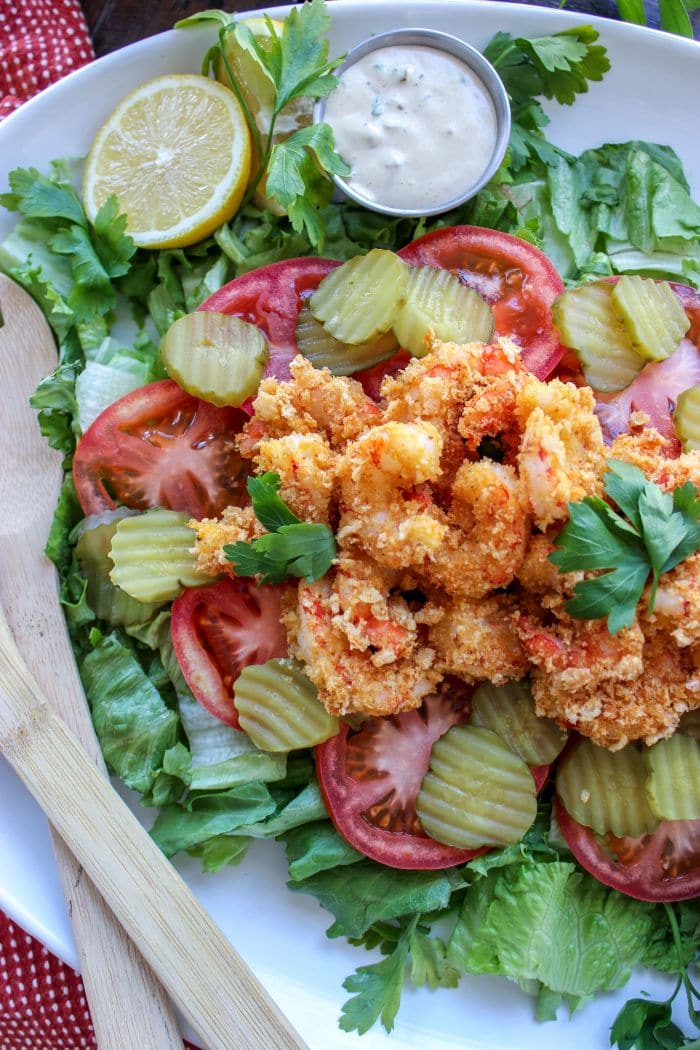 Everything you love about a classic Shrimp Po' Boy sandwich, but with fewer carbs! This deconstructed version of the classic is keto friendly and gluten free too!
Cajun food is almost always on my brain. It's by far one of my favorite cuisines from my carb eating days. I've gotten creative with recreating my favorite classic Cajun dishes (like with this Keto Cajun Cauliflower Dirty Rice recipe).
I even made a (low carb friendly Sazerac for the Bon Appeteach "Book Club" cocktail series last Friday too! But most often, I'm craving a good fried shrimp po' boy style sandwich and wanted to replicated the flavors, but with fewer carbs. I created this salad inspired shrimp Po' Boy instead! This salad is super easy make, takes less than 30 minutes, and is a great meal to add to your weeknight rotation.
Find the full recipe for this Low Carb Shrimp Po' Boy Salad below and read on for the usual tips and tricks!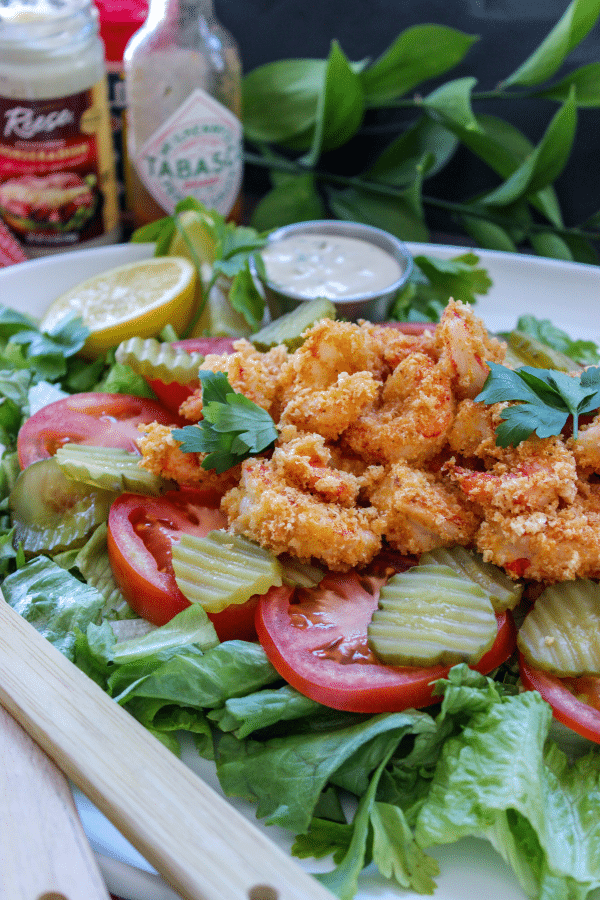 "School" Supplies:
Knife & Cutting Board
Two Small Mixing Bowls
Baking Sheet
Cooling Rack
"Class" Notes:
This recipe is only a handful of steps. Start by prepping your shrimp. I opted for baking mine to make it less messy (and to make my house not smell fishy).
The beautiful thing about using ground pork rinds for bread crumbs is they bake up and get nice and crispy. Dredge the shrimp in old bay seasoned crushed pork rinds, place on a baking rack on a baking sheet and cook until crispy.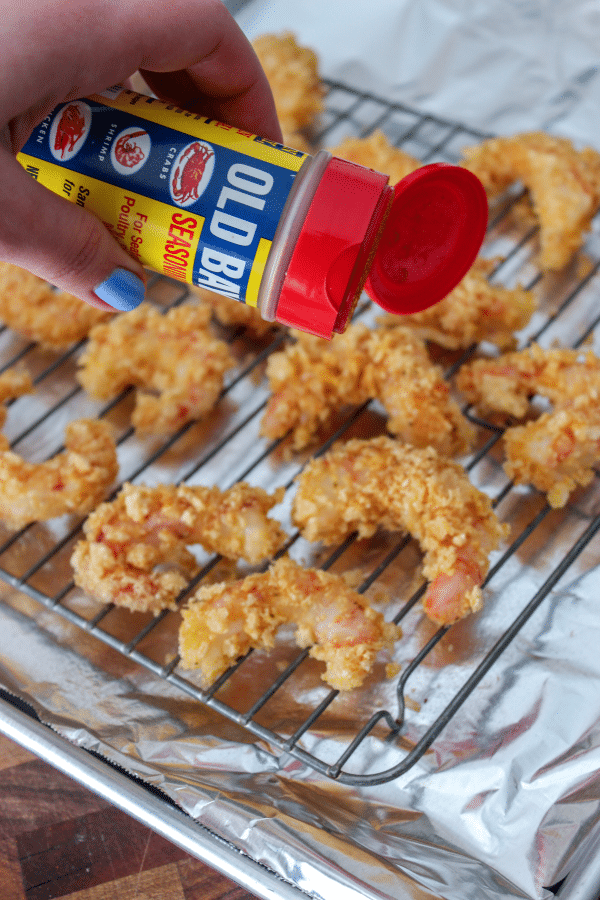 Typically a traditional Po' Boy sandwich is loaded with shredded iceberg lettuce. In order to make a heartier and more nutritionally dense salad, I opted for a green leaf lettuce as my base, but romaine would work nicely too. Add some thinly sliced tomatoes and some pickles to the top and set it aside.
The last part to make this Po' Boy salad come together is all in the dressing, or in this case the keto friendly remoulade sauce. A remoulade sauce is similar to a tartar sauce and tastes great as a dressing to accompany this salad.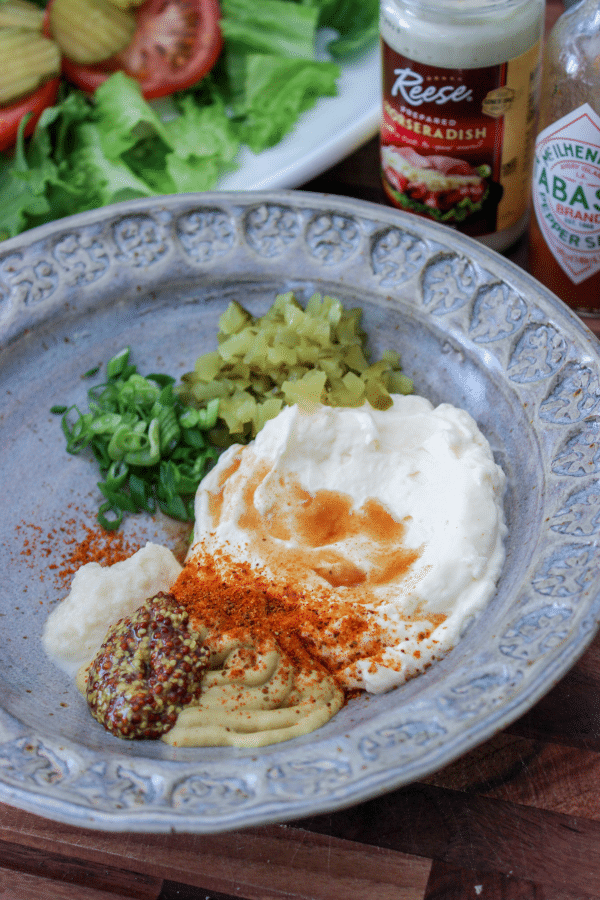 Combine avocado mayo (or regular mayo), dijon mustard, worcestershire sauce, horseradish, lemon juice, garlic, green onion or chives, and old bay seasoning together in a bowl. Whisk until smooth and set it aside. The flavors develop right away, so there is no need to let it sit and marinade.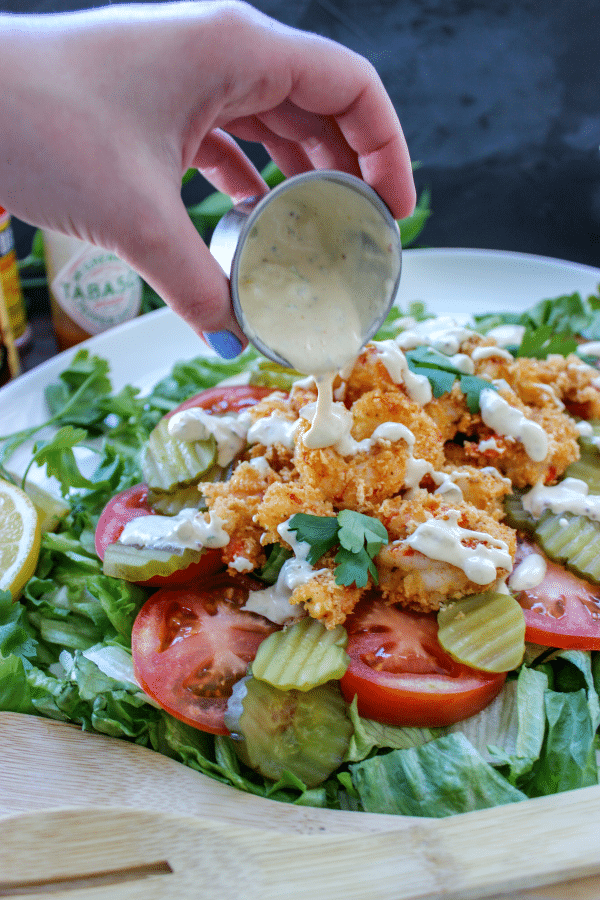 Pile the shrimp onto the lettuce, drizzle with the Remoulade sauce and some fresh lemon juice if desired.
If you love this Cajun inspired shrimp salad, be sure to also check out my Low Carb Shrimp Boil recipe too!
Bon Appeteach,
-L
Yield: 4
Low Carb Shrimp Po' Boy Salad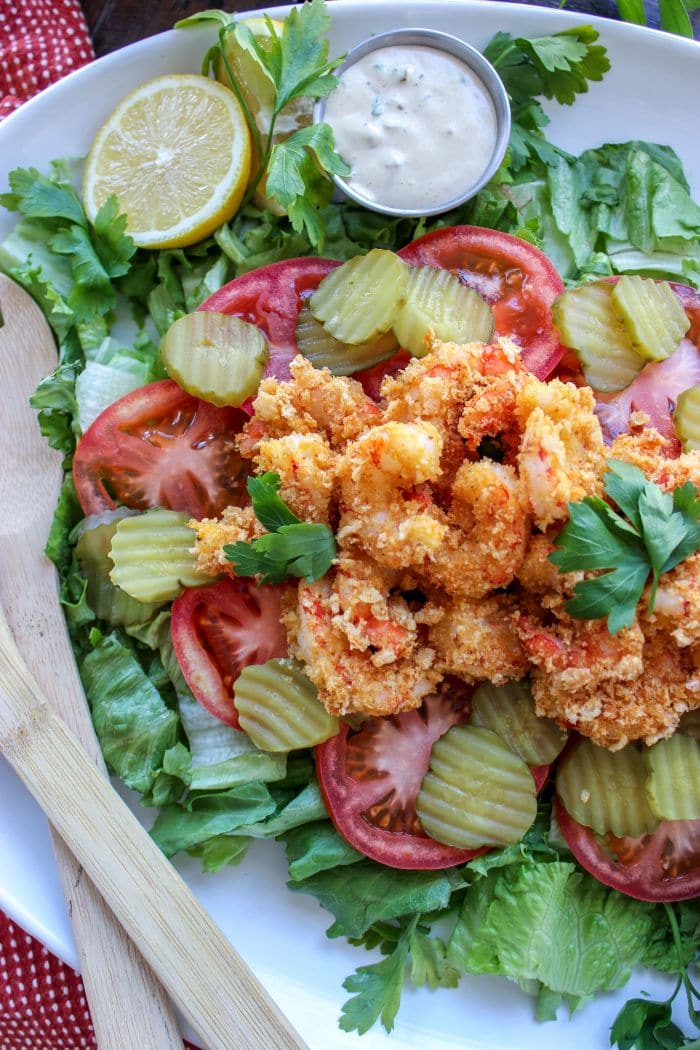 This Low Carb Shrimp Po' Boy Salad features all the best parts of the classic sandwich, just without the extra carbs (aka bread). This salad features a crunchy bed of lettuce, sliced tomatoes, pickles, and oven fried shrimp all topped with a low carb tangy remoulade dressing.
Ingredients
1 lb. Shrimp, peeled and deveined
1 Egg
1 1/2 cups Pork Rind Crumbs
2 tsp. Old Bay Seasoning
1 Head of Green Leaf Lettuce (or Romaine)
1 Medium Tomato, sliced thin
1/4 cup Pickles
For the Remoulade:
1 cup Avocado Mayo (can use regular as well)
1/4 cup Dijon Mustard
1 tbsp Lemon Juice
1 tsp. Horseradish
1 tsp Worcestershire Sauce
4-5 dashes Tabasco Sauce
2 tbsp. Diced Dill Pickle
1 Garlic Clove, minced
1 tbsp Green Onion, minced
Instructions
Prep the shrimp and pat it dry. In a bowl beat the egg and a second bowl, combine the pork rind crumbs and the 2 tsp of Cajun seasoning.
Dredge the shrimp by coating it in the egg wash, then in the pork rind crumbs. Place each piece of shrimp on greased, elevated cooling rack on a baking sheet (this allows for the whole shrimp to get crispy in the oven).
Bake at 400 F for 10 minutes or until the shrimp are cooked through and the outside crumbs are crispy. Remove from the oven and set aside.
While the shrimp are baking, prep the veggies. Chop the lettuce, slice the tomatoes, and toss on the pickles.
In a small mixing bowl, combine all the remoulade dressing ingredients and mix until smooth,
Top the salad with the oven fried shrimp and drizzle with the remoulade dressing and serve.
Notes
Nutritional information does not include the dressing. Please calculate that on your own as serving sizes often vary.
Nutrition Information:
Yield:
4
Serving Size:
1
Amount Per Serving:
Calories:

347
Total Fat:

17g
Saturated Fat:

4g
Trans Fat:

0g
Unsaturated Fat:

12g
Cholesterol:

299mg
Sodium:

2227mg
Carbohydrates:

10g
Net Carbohydrates:

5g
Fiber:

5g
Sugar:

3g
Protein:

38g