Cajun Cauliflower Dirty Rice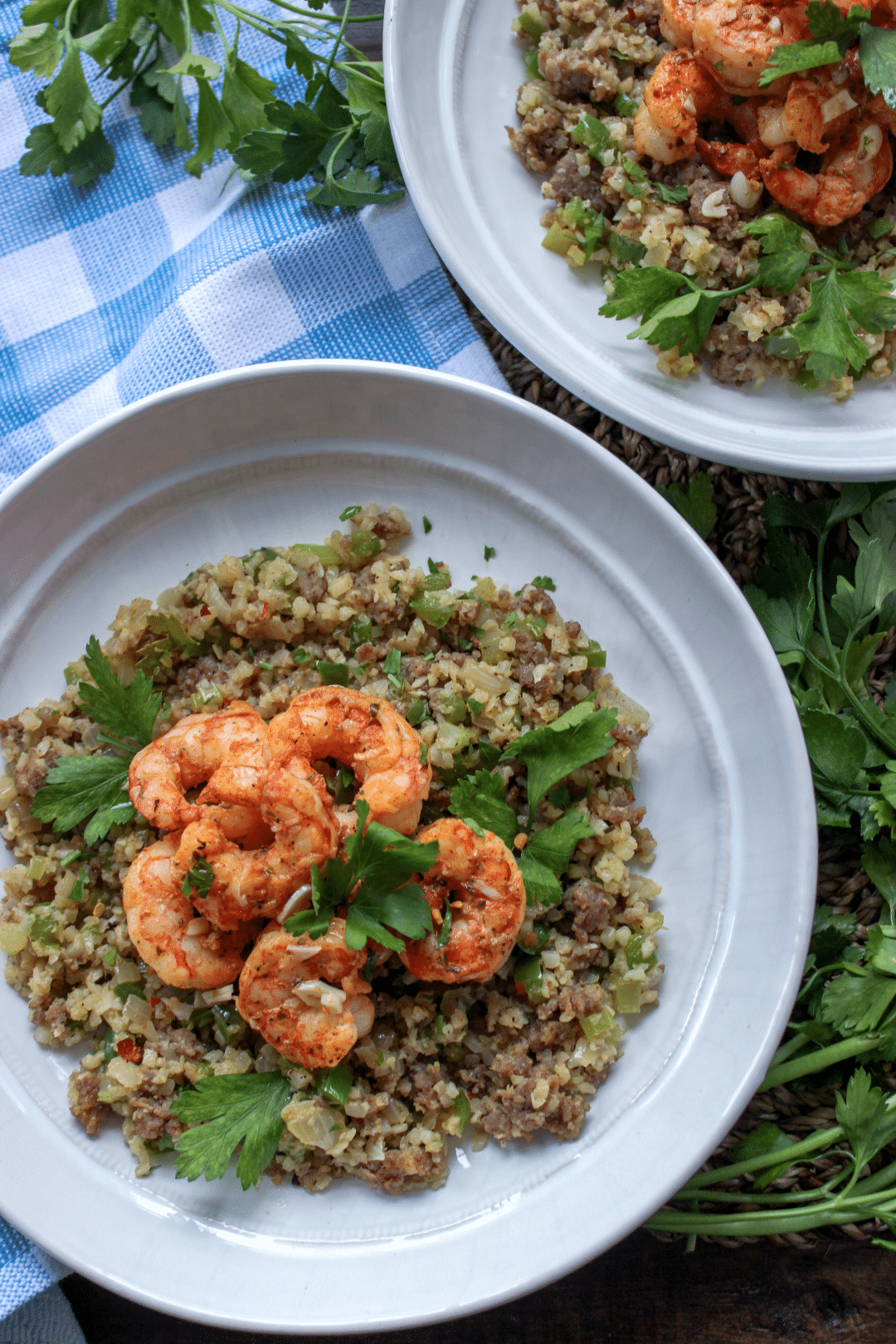 With a handful of common ingredients, you can recreate the classic New Orleans style flavors of your favorite dirty rice with cauliflower! This lower carb take on a Cajun classic is a dinner staple in our house!
It's no secret that I'm not the biggest fan of cauliflower, but eating a low carb diet has helped me master the in's and outs of making the best cauliflower rice (and cauliflower mash). I especially love this Cajun inspired version of a classic dirty rice that brings me back to the carb food filled days of NOLA. 
This recipe is a handful of staple ingredients from the fridge (sausage, onion, celery and peppers) and I love how easy it comes together. With a few helpful cooking tips and techniques and 30 minutes, you are on your way to making a killer dinner.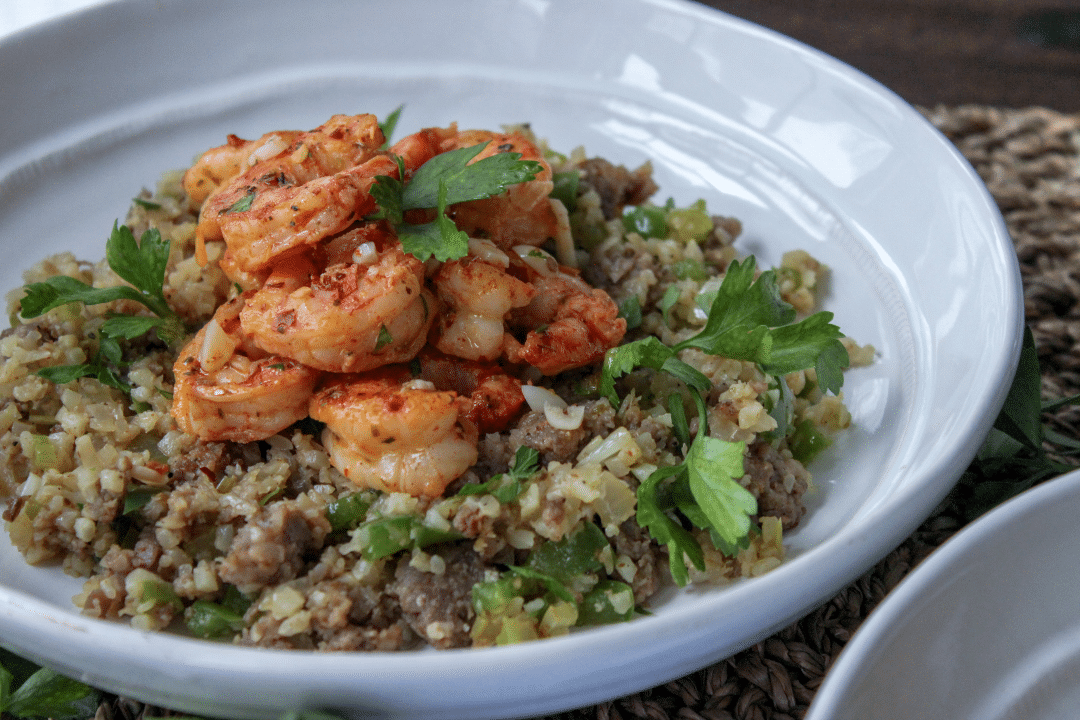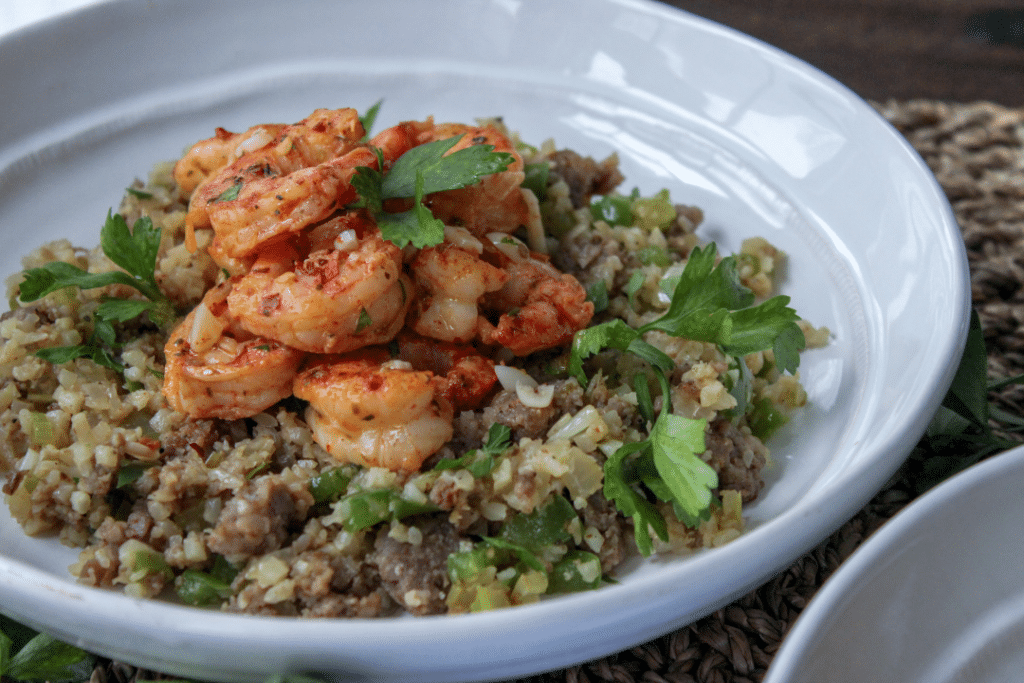 "School" Supplies:
Cutting Board & Knife
Large Frying Pan
Spatula
Baking Sheet
"Class" Notes:
This recipe is a great meal for a busy night or if you're looking for a solid meal prep option. The base of this recipe comes from the classic flavors of Cajun dirty rice and is made up of what many call the "Cajun mirepoix".
A standard mirepoix is carrots, onion, and celery. The Cajun version is green peppers, onion, and celery (and unofficially garlic). Slice and dice your veggies and then set them aside.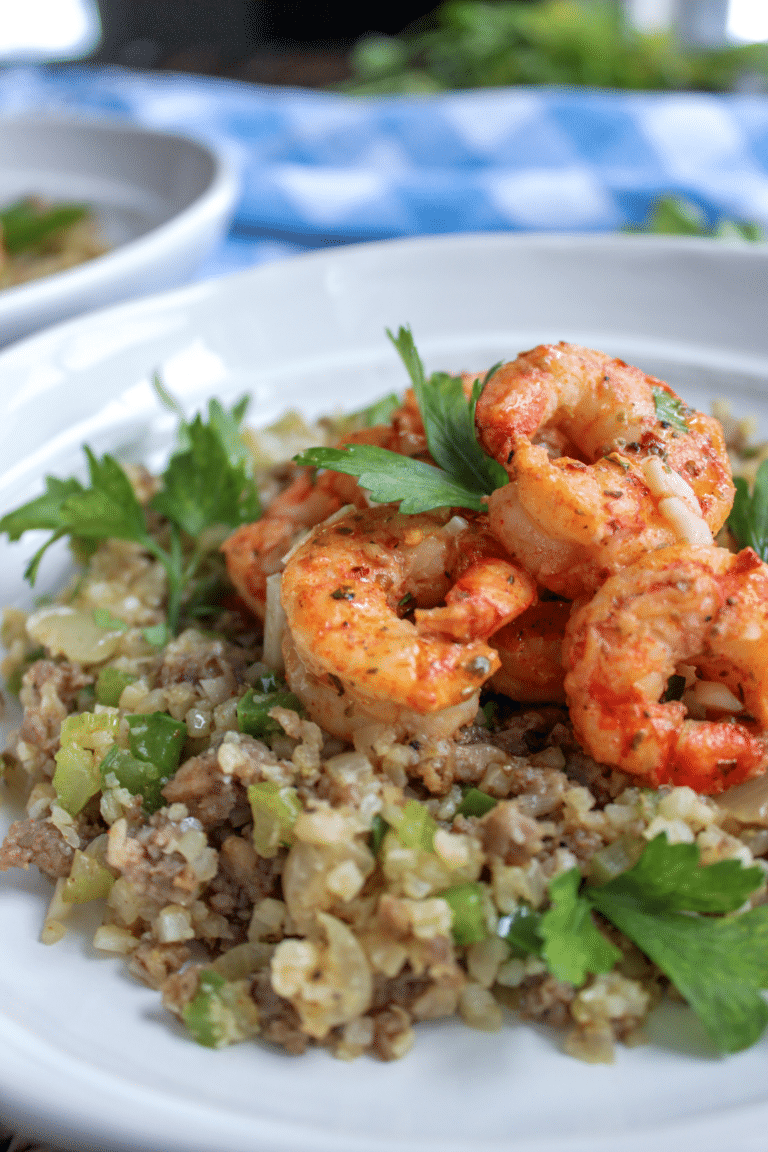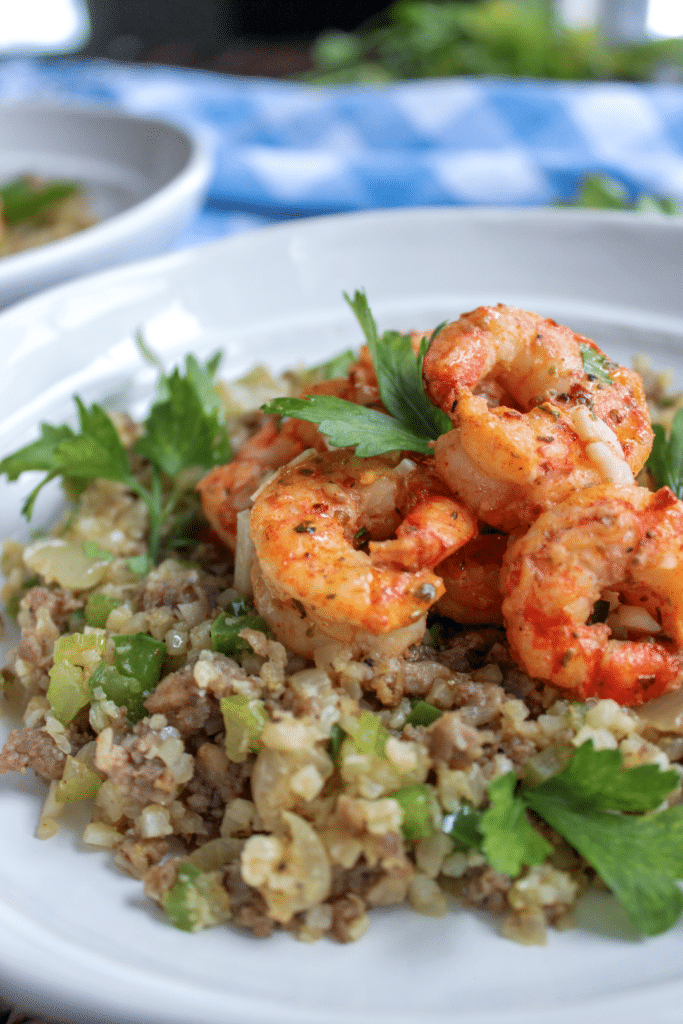 If you are using already riced and frozen cauliflower (the easiest choice), try baking it. I have found baking the frozen rice in a 350 F oven for about 10 minutes gives you a chance to season it, avoid having a rather funky smelling kitchen, and allows the rice to defrost and not become a soggy mess.
To make your rice, cook the pork or sausage until no longer raw and nicely browned. Add in the veggies and some garlic and saute until tender. Then mix in the cauliflower rice right before serving.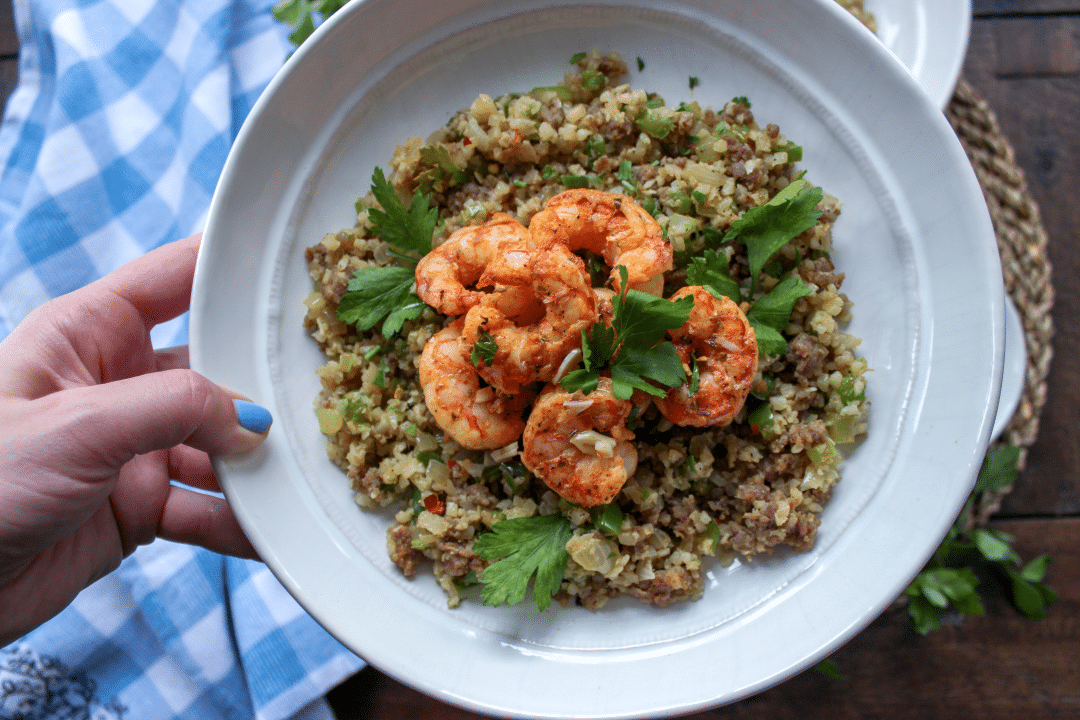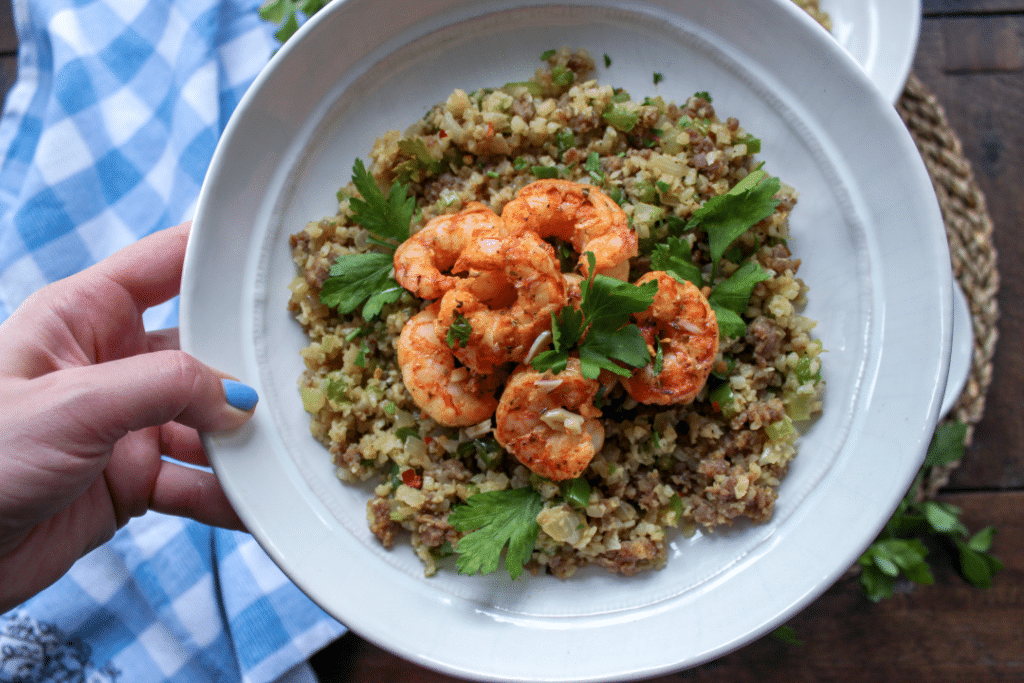 I prefer to add shrimp to the top of my rice, but it tastes great as is! You could also add chicken or get real Cajun and some crayfish. I even enjoy the leftovers for breakfast the next day by adding a fried egg on top!
Full recipe for this perfect Cajun Cauliflower Dirty Rice is below! If you're a comfort food lover like, check out this southern style inspired Keto Chorizo Biscuits & Gravy or my tasty Keto Chicken Fried Steak Nuggets too! 
Bon Appeteach,
-L
Yield: 4
Cajun Cauliflower Dirty Rice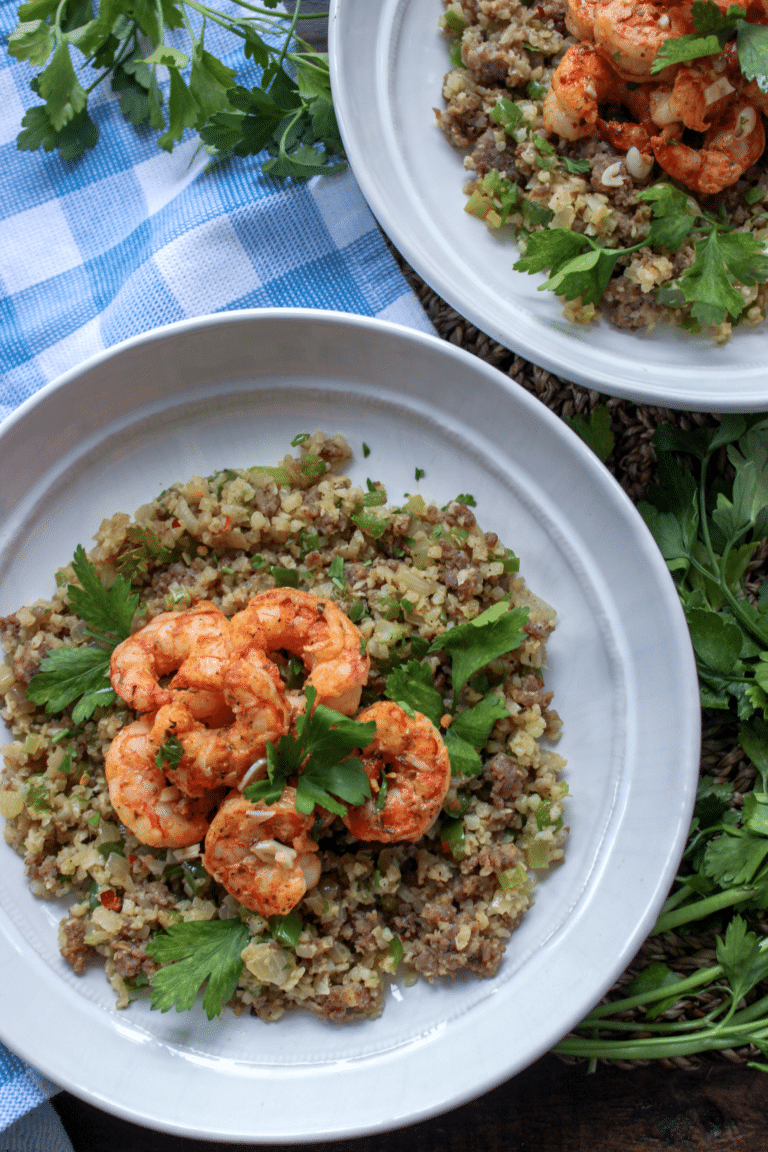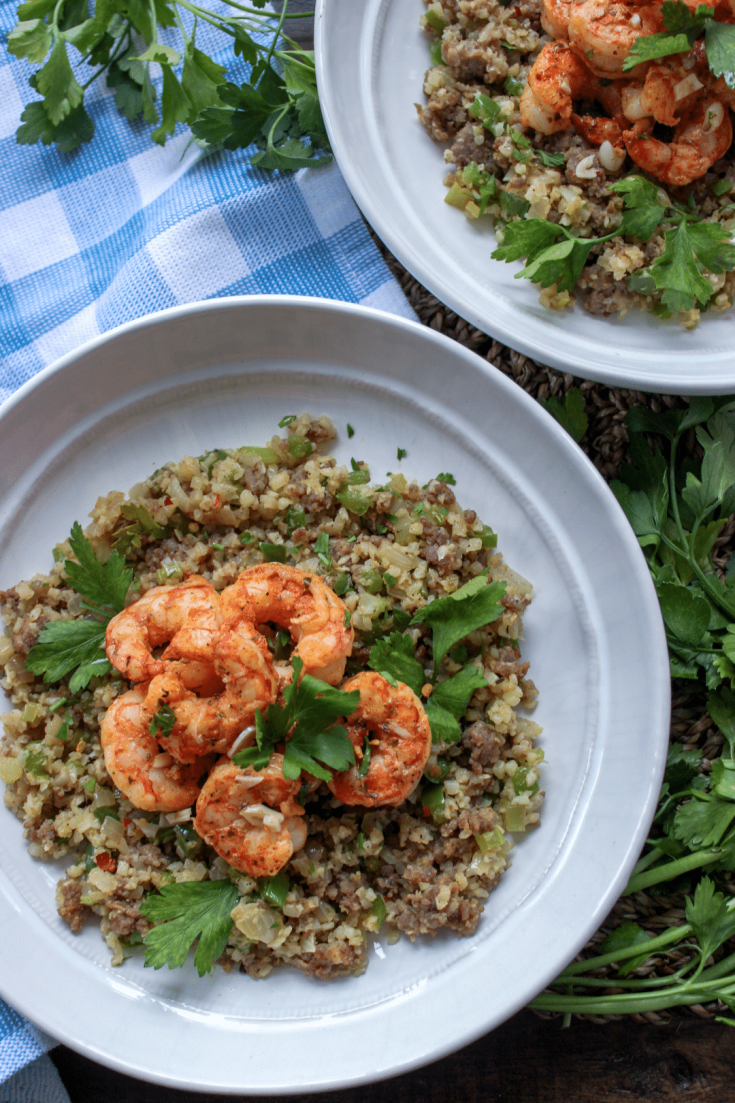 Ingredients
4 cups, Cauliflower Rice (I used frozen)
8 oz. Ground Pork Sausage (pork or breakfast sausage)
1/2 Yellow Onion, small diced
1 Green Pepper, small diced
1 Celery Stalk, small diced
1-2 Garlic Cloves, minced
1 tsp. Cajun Seasoning
1 tsp Oregano
Salt & Pepper
Pinch of Red Pepper Flakes
Optional: 2 Cups Shrimp + 2 tbsp Butter
Parsley to garnish
Instructions
1. Preheat your oven to 350 F. Place the cauliflower onto a baking sheet and spread it out thinly. Bake for 10 minutes until the cauliflower has defrosted and is heated through. Set it aside.
2. Dice the onion, pepper, and celery. Mince the garlic. Add salt, pepper, oregano, and red pepper flakes if desired.
3. In a pan, cook the ground sausage completely. Drain any extra fat if desired. Add the vegetables and cook until tender, about 5-6 minutes. Add in the garlic and cook an additional minute. Fold the cauliflower rice into the mixture and set aside.
4. If adding shrimp, heat a frying pan and add the butter. Toss the shrimp into the butter and saute until pink and cooked. Season with salt and pepper. Place the dirty rice in a bowl and top with your shrimp. Garnish with a bit of parsley and enjoy.
Nutrition Information:
Yield:
4
Serving Size:
1
Amount Per Serving:
Calories:

91
Total Fat:

6g
Saturated Fat:

2g
Trans Fat:

0g
Unsaturated Fat:

0g
Cholesterol:

16mg
Sodium:

165mg
Carbohydrates:

6g
Net Carbohydrates:

4g
Fiber:

2g
Sugar:

2g
Protein:

5g
Nutritional information was calculated using My Fitness Pal and should be a guide only. Please calculate your own information for the most accurate macros.