Keto Skillet Peanut Butter Chocolate Chip Cookies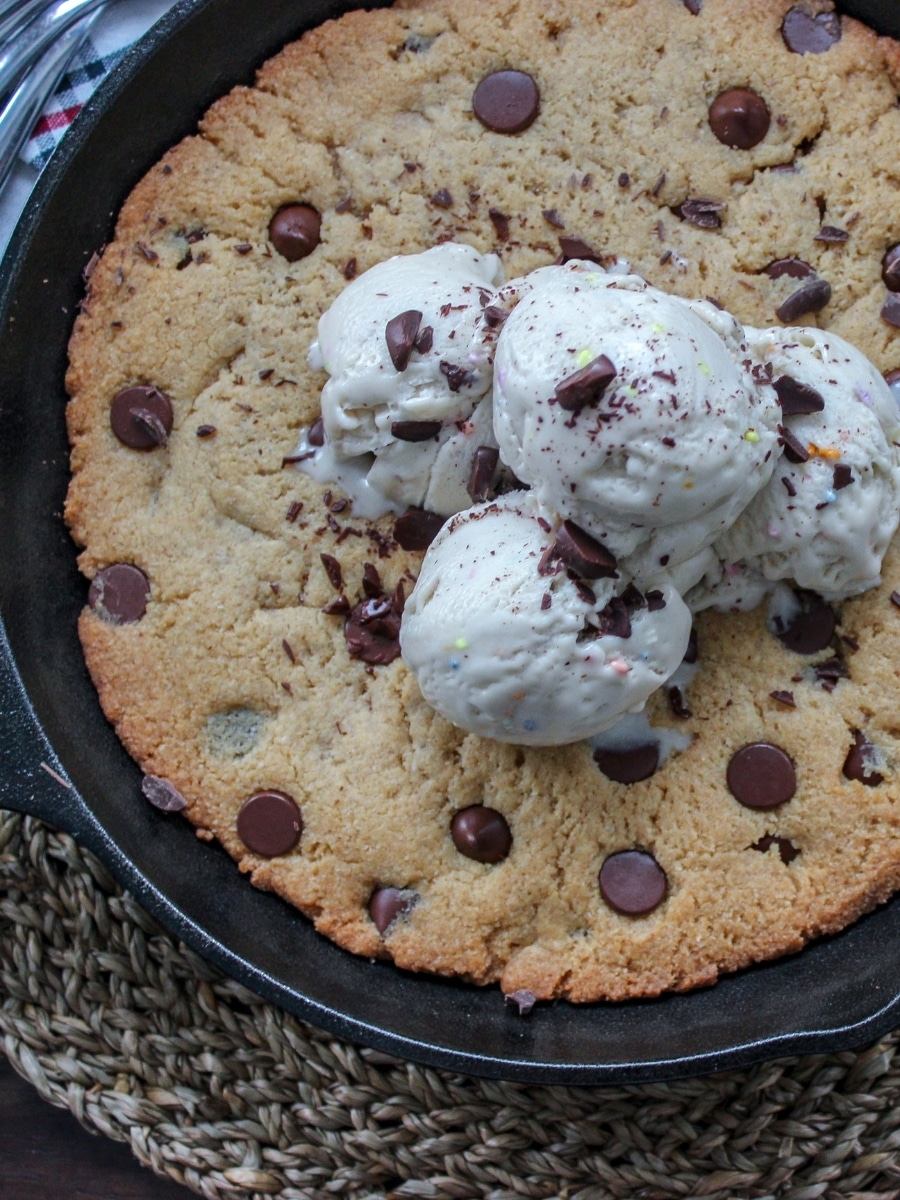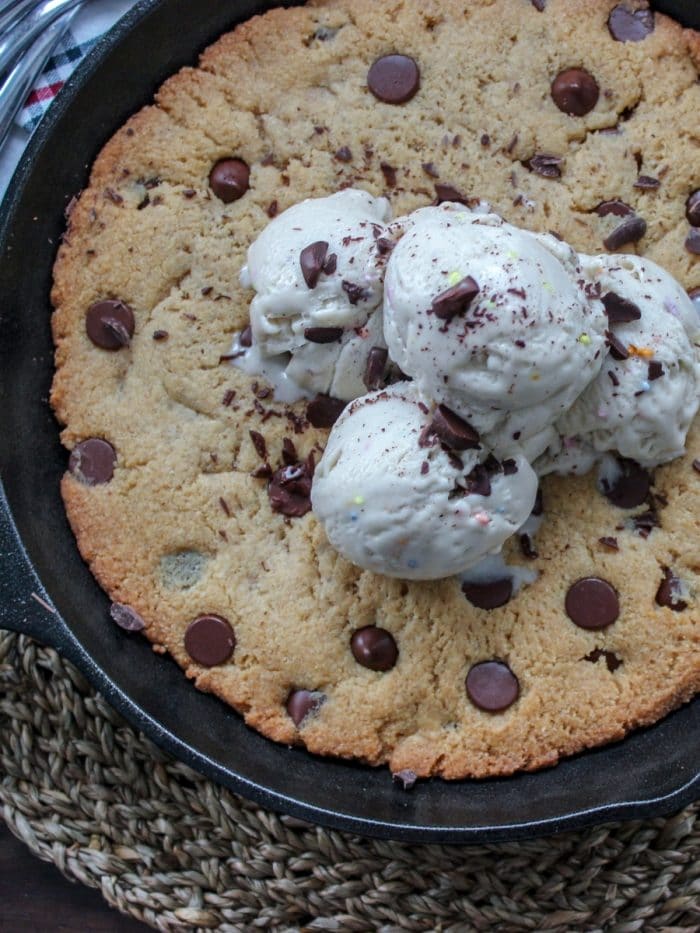 Who doesn't love a good skillet cookie? Learn how to make my favorite keto skillet cookie that's loaded with peanut butter and dark chocolate chips! It's low carb, sugar free, and gluten free too!
Peanut butter and chocolate. Is there really a better dessert food pairing out there? I think not. 
While I already love these Keto Peanut Butter Blossom cookies (not just for holiday time mind you), I was on a mission to create an even easier keto skillet cookie using my two favorite dessert flavors and came up with the best recipe.
This recipe is simple. No fancy stand mixer is needed, just one mixing bowl, a spatula, and 7 ingredients to make this delicious keto and low carb friendly skillet cookie!
I even included how to make mini personalized skillet cookies too (keep those keto serving sizes intact), using these mini lodge skillets that are not only proportioned out, but adorable too.
Find the full recipe for these Keto Skillet Peanut Butter Chocolate Chip Cookies below and read on for a few tips and tricks!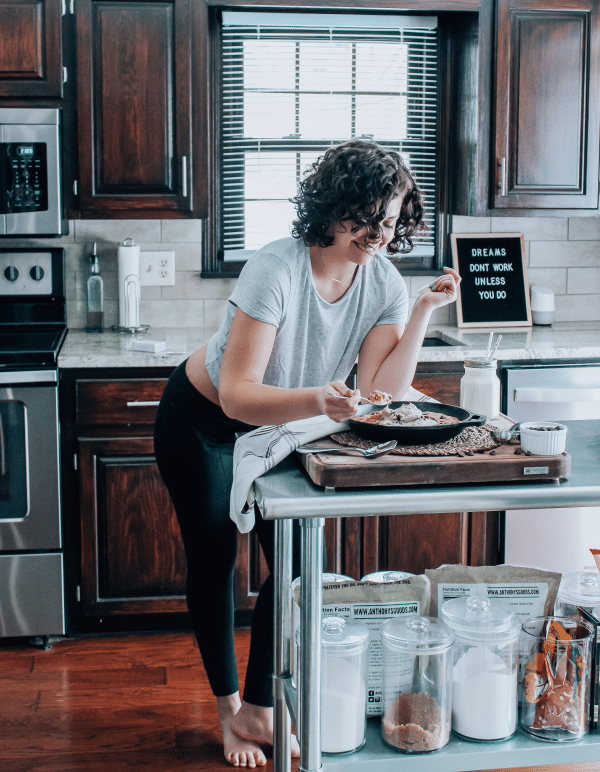 "School" Supplies:
Mixing Bowl
Rubber Spatula or Hand Mixer
Measuring Cups & Spoons
"Class" Notes:
These cookies are simple to make and can be mixed by hand or with a hand mixer in one bowl. The ingredients below are fairly standard for keto baking. I do include xanthan gum (aka keto cornstarch) in this recipe. I often get asked if the xanthan gum is essential to a baked good, and the answer is, (mostly) yes. 
Will the cookie come out tasting great without it? Yes.
Will the cookie be a lot more crumbly? Yes.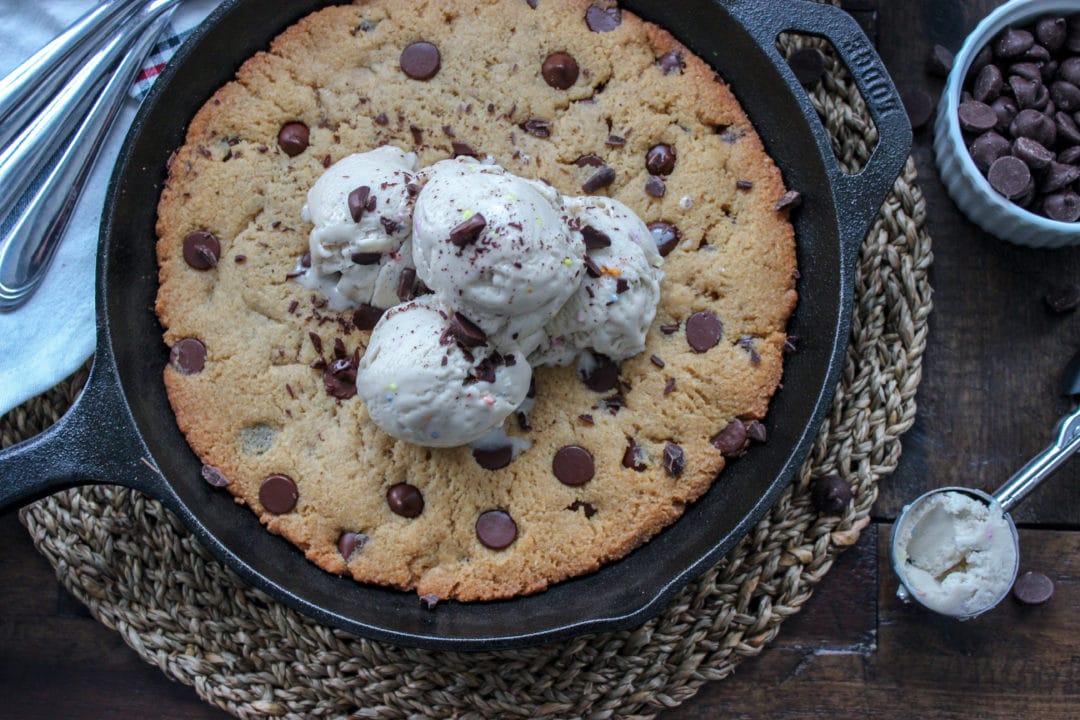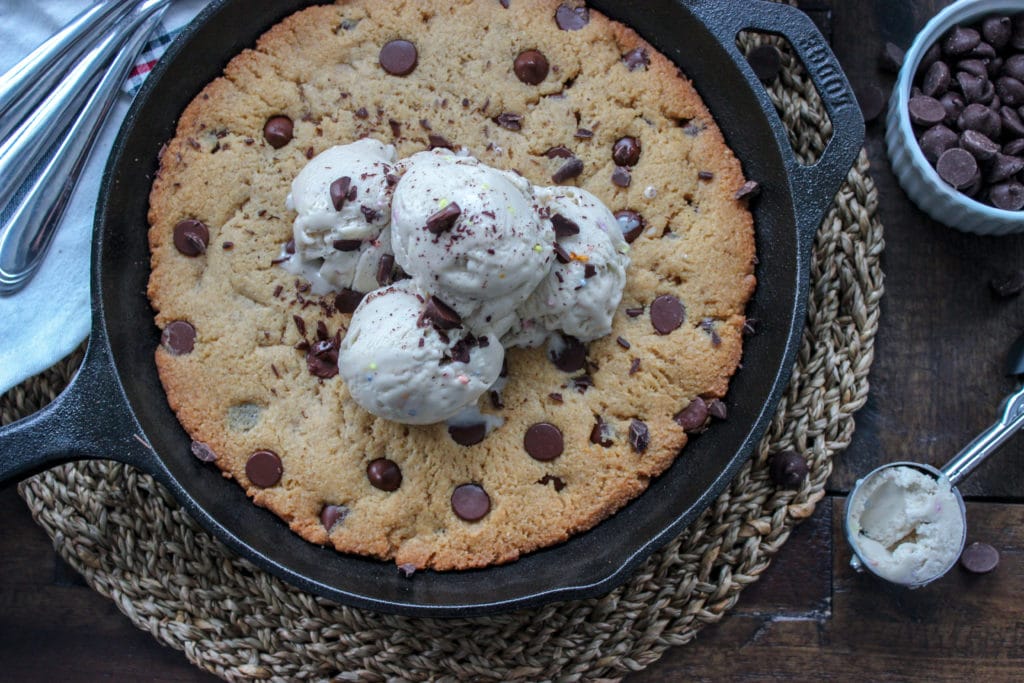 When you have the absence of gluten in a baked good (the protein in regular flour that provides structure), you need something else to replace it. I have had the same $10 bag of xanthan gum (purchased at target) for almost 2 years and it's still going strong. I
use it weekly (food blogging is a busy job), so I find the price point is most definitely worth the investment if you're committed to a long term keto or low carb lifestyle.
If you do not have xanthan gum or are not looking to purchase this item, you can use cornstarch. Just factor in the difference when calculating carb totals if the macros/ nutritional information is important for your current diet.
I have made the cookies both in the larger 9″ skillet and in the 8 Mini Lodge skillets (I love these little pans and they're less than $5). Both versions are delicious.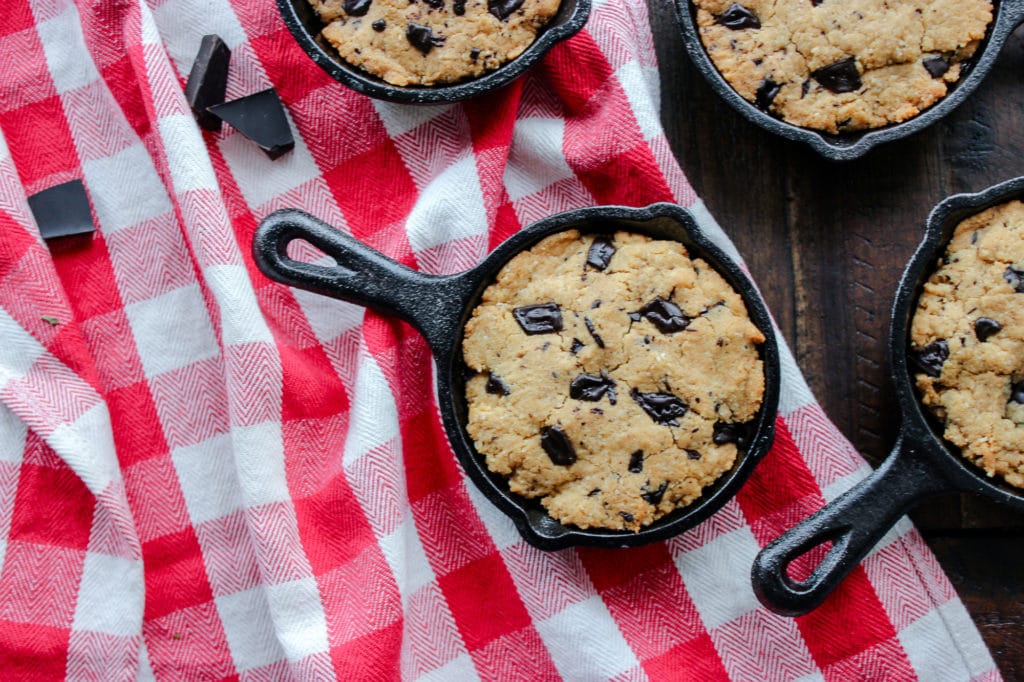 I like to slightly under bake my cookies, as  the heat of the cast iron will finish cooking the cookie as it cools. They are great served on the warmer side, especially with some low carb vanilla ice cream piled on top (if you're really feeling wild and crazy).
If you love this cookie recipe you have got to check out my insanely popular Keto Blonde Brownies and 1 net carb easy to make Keto Almond Biscotti too. Find the full recipe for these perfect shareable (or not) keto skillet cookie below.
Yield: 8
Keto Skillet Peanut Butter Chocolate Chip Cookies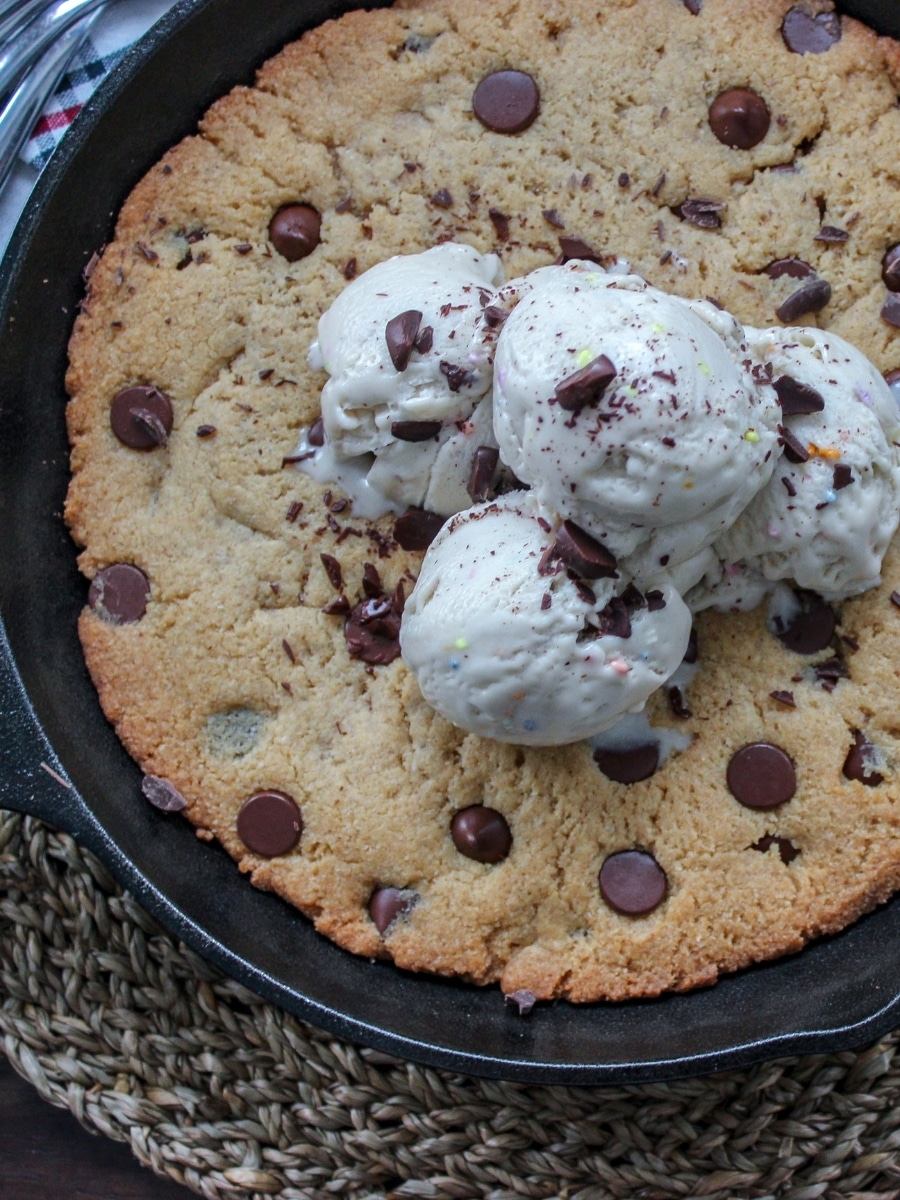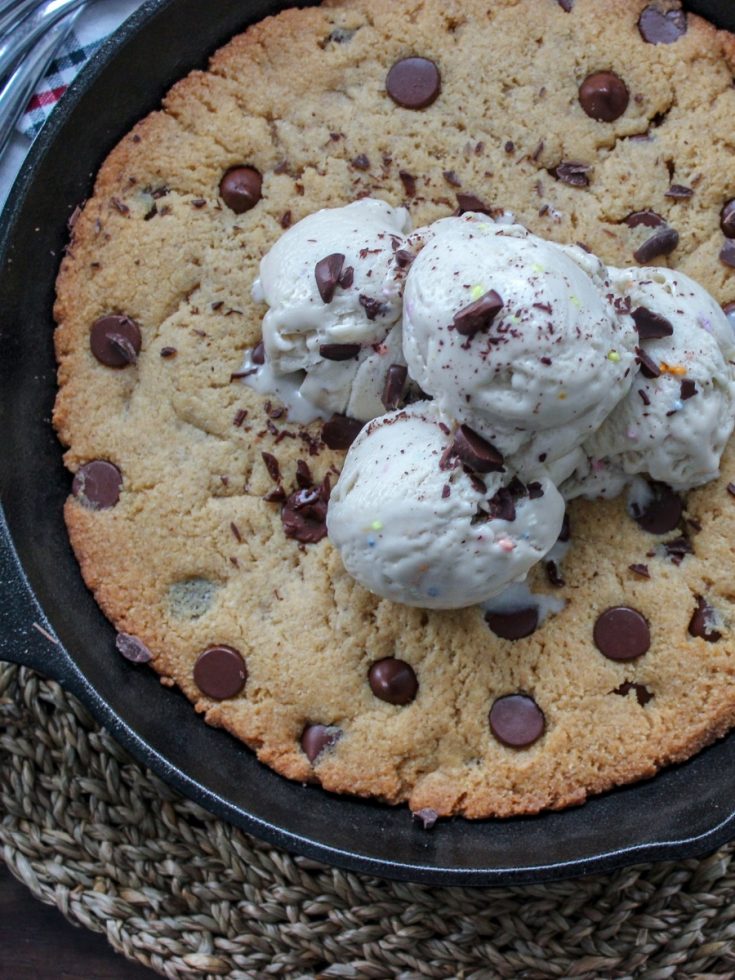 The perfect (keto / low carb / gluten free) peanut butter and chocolate chip skillet cookie.
Ingredients
1/2 cup Sugar Free All Natural Peanut Butter (Smuckers All natural is a good brand)
4 Tbsp. Butter, softened
2 Eggs
1 tsp. Baking Powder
1 tsp. Xanthan Gum (see notes above in the blog post regarding this)
1/2 cup Sugar Free Chocolate Chips or Super Dark Chocolate
Instructions
Preheat the oven to 350 degrees F.
In a mixing bowl, combine the softened butter, peanut butter, and low carb sweetener. Mix by hand or with a hand mixer.
Next, beat in the eggs, then add in the dry ingredients (almond flour, baking powder, and xanthan gum). Fold in the chocolate chips.
Pour the cookie dough into one large 9" cast iron skillet or divide the cookie dough into 8 of the smaller 3.5" skillets. They should not need to be greased.
Bake the larger skillet for 18-20 minutes and the smaller skillets for 9-12 minutes. Remove from the oven once the cookie is lightly browned, may still be a bit soft but the dough is set.
Serve with a scoop of low carb ice cream or serve as is.
Notes
Swap put peanut butter for almond butter instead if you prefer!
Nutrition Information:
Yield:
8
Serving Size:
1
Amount Per Serving:
Calories:

290
Total Fat:

26g
Saturated Fat:

7g
Trans Fat:

0g
Cholesterol:

62mg
Sodium:

102mg
Carbohydrates:

8g
Fiber:

4g
Sugar:

3g
Protein:

10g