Keto & Gluten Free Thin Mints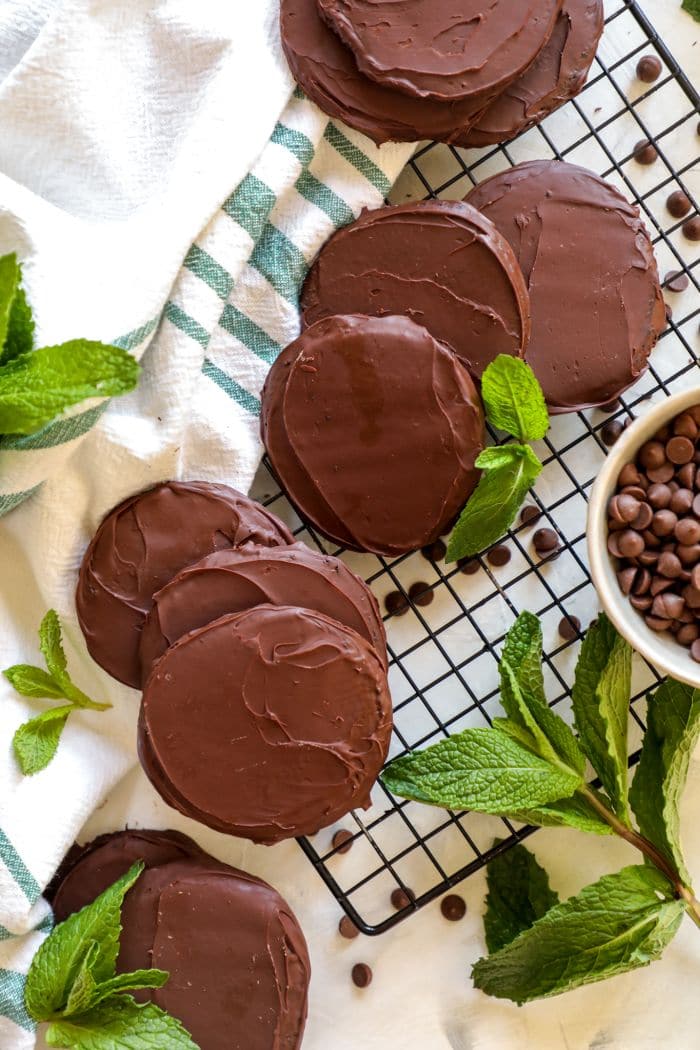 This fan favorite chocolate and mint flavored cookie comes back to life! Easy to make, this keto copycat thin mint recipe is gluten free, sugar free, and absolutely addictive (but without the guilt).
Whether you have been dreading the doorbell ringing from you favorite girl scout or you have an off season craving for this crowd pleasing classic cookie, fear no longer! The keto thin mint girl scout cookie saga continues with this classic recreation, allowing you to have your girl scout thin mints anytime of the year while staying low carb and keto friendly!
The base of these cookies is so easy to recreate. If you have tried my classic Keto Shortbread Sugar Cookie recipe and also made these popular Keto and Gluten Free Samoa Cookies, then you know you can take this recipe on with ease. I know keto baking can look and feel intimidating, but with all my helpful tips and cookie baking techniques, I will guide you through the process with confidence and ease.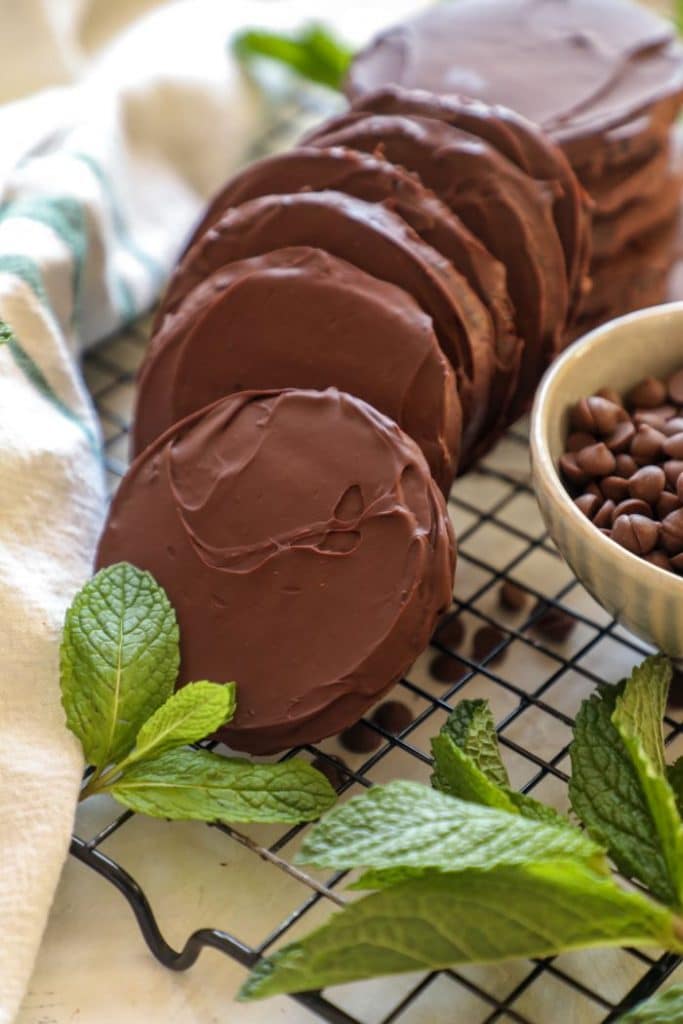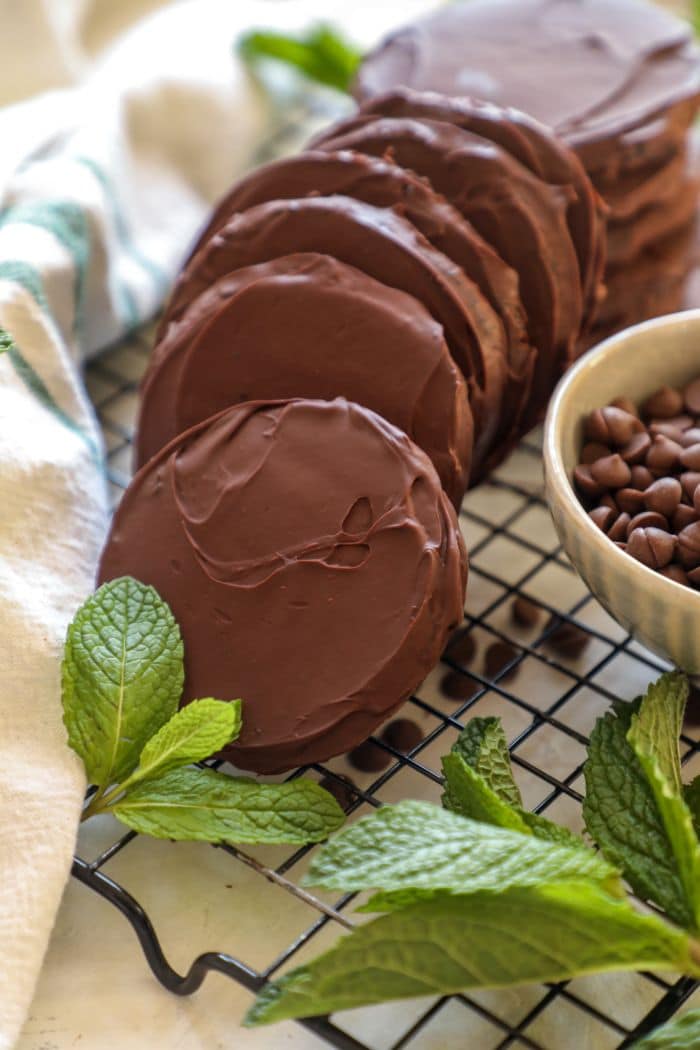 Get the full recipe below and be sure to read through to know how to achieve the perfect keto recreation!
"School" Supplies:
Food Processor (or cheese grater)
Measuring Cups & Spoons
Parchment Paper
Rubber Spatula
Chef's Knife
Baking Sheet
Small Mixing Bowl
"Class" Notes:
The shortbread dough for this recipe was based off of a keto friendly dough I have enjoyed using for so many recipes (like these keto lemon bars, this almond flour keto galette crust, and even a throwback to a childhood favorite with these keto frosted animal cookies). Let's just say this dough recipe is my go to and works just as well with these mint chocolate flavored cookies too!
Before you get started, I'm breaking down a few common asked questions when it comes to making this recipe. Read through this guide before getting started!
Common Keto Baking Questions-
Can I swap out the Almond Flour for other keto compliant flours?
I have not tested other flours for this recipe (coconut in particular). I think there is a common misconception that coconut flour is easily interchangeable in almond flour based recipes, but this is very false. Coconut flour has very different properties when it comes to absorption of liquid, often times swapping would be a cookie that would completely crumble or fall apart. If you test out any options here and have success, please let me know!
Do I have to add the xanthan gum?
If it's in the recipe, then it has a purpose. I promise! The cool thing about xanthan gum is that even with what feels like a higher price tag (around $6-$10 a bag) a little goes a long way and makes a huge difference in your keto baked goods.
You will often find a teaspoon or so in most of my keto recipes that use almond flour because it helps with binding and creates a slightly chewier texture. Don't skimp on the xanthan gum and be sure to add in in for optimal texture! Don't have any? Use cornstarch instead (yes this has carbs but a little spread across 32 cookies is low impact) for the same results.
Which keto friendly chocolate chips go best for this recipe?
There are many on the market and they often vary on net carbs and sugar alcohol levels. Some melt better than others (I always add a little coconut oil to my melted chocolate to help regardless) so this is something to keep in mind as well. I have used Lilly's brand of chocolate chips, Choc Zero brand, and sometimes if I'm in a pinch, I'll use very very high quality dark chocolate too. Use what works for you and what you like for this cookie!
Your recipe calls for making the dough in a food processor, what should I use if I don't have one?
I use a food processor often in my recipes when I'm incorporating cold butter. Cold butter is essential to this recipe and if you have ever made a pie crust (similar concept here) you know the butter needs to be cut into the dough to make a good flaky crust. I find this helps create a crispier shortbread cookie that doesn't spread out to much.
No food processor? Grate the butter in instead! Your best bet is to freeze the butter solid and grate it like cheese. This breaks it up into smaller pieces and incorporates better into the crust. Just use a stand or mixer in this scenario.
How to make the perfect keto thin mint cookie:
Start with a good dough! Having a crispy, crunchy chocolate flavored shortbread is what you want to start with. This recipe takes almost no time to make, especially if you're using a food processor (see notes above if you don't have one). Mix your dough, place on plastic wrap or parchment paper, and roll into a log.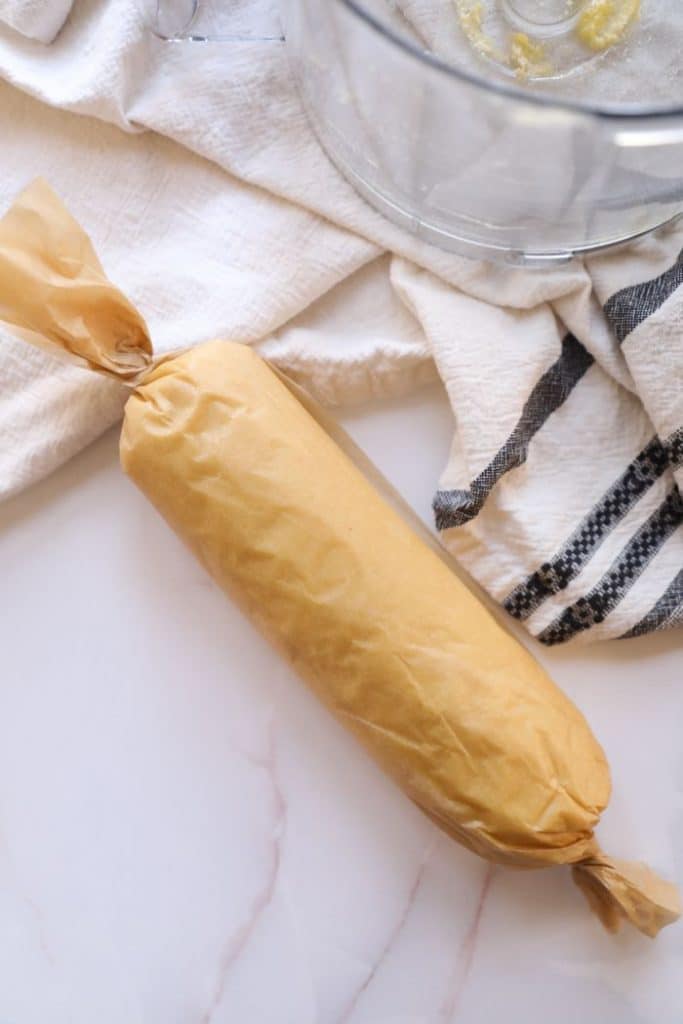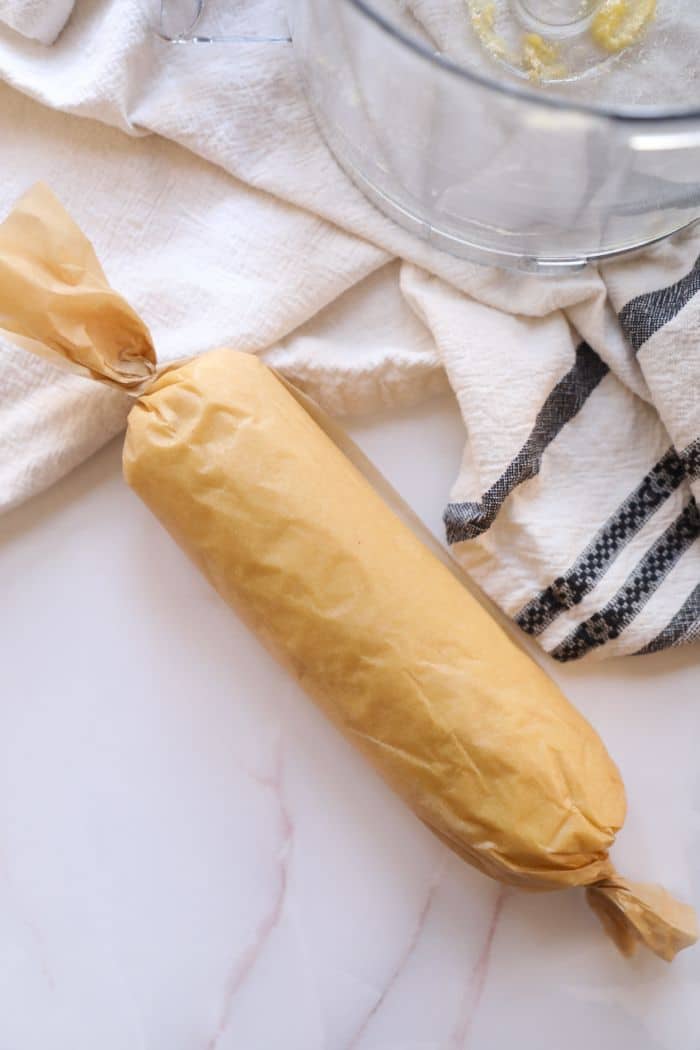 I find that rolling into a nice size log is fairly easy. The cookies get fairly large when baked, so keep the log about 2 inches thick or so. Twist the sides closed tightly and then freeze the cookie dough log for about 45-60 minutes.
Freezing is essential for cutting and baking. It cuts down on a lot of leg work (no rolling and re-freezing and cutting out cookies here). Simply take a shark chef's knife and cut a 1/4 inch round into the log and repeat. I like to turn the log a quarter turn after each cut to prevent any large indentations to the bottom of the cookie dough (otherwise you may have slightly lopsided circles).
Place on a parchment paper covered cookie sheet. If your cookies are warming up from this process, place the whole pan in the freezer for 5-10 minutes to ensure they are cold. Cold cookie dough helps prevent them from over-spreading on the pan and ALWAYS bake in an already preheated oven.
Once they are fully baked, you will notice they still look and appear soft in the center. Remove them from the heat and let them cool on the pan to room temperature. This allows them to set up completely and become more like a shortbread style cookie.
How to apply the chocolate coating:
Depending on how thick you apply the melted chocolate, you may need more than the recipe lists. Start with 1/2 cup of melted chips at a time and work in batches. I find adding peppermint extract to the melted chocolate is what works best, but in very small does. I mix in about 1/4 teaspoon of the extract and taste test. A little goes a long way.
I prefer to melt the chocolate in the microwave on half power and at 30 second increments. Stir each time and add in a tiny amount of coconut oil if you prefer (helps make it smooth and glossy). Use a butter knife and spread a thin, even layer of chocolate across the bottom. Place chocolate side up on the baking sheet and repeat. Place the pan in the fridge or freezer for a few minutes to set then repeat for the tops!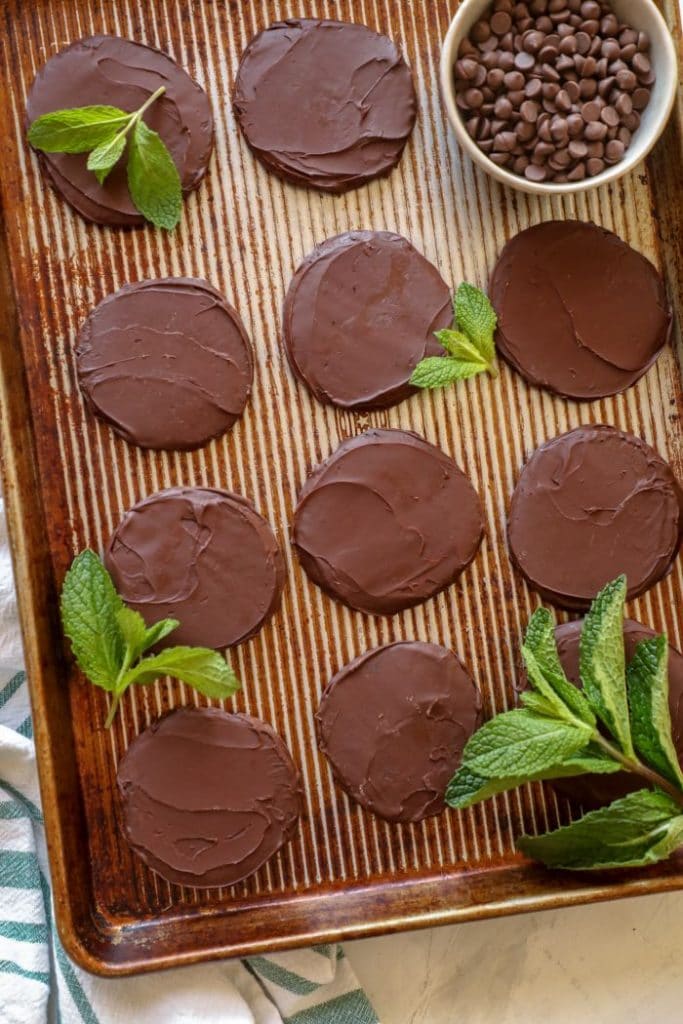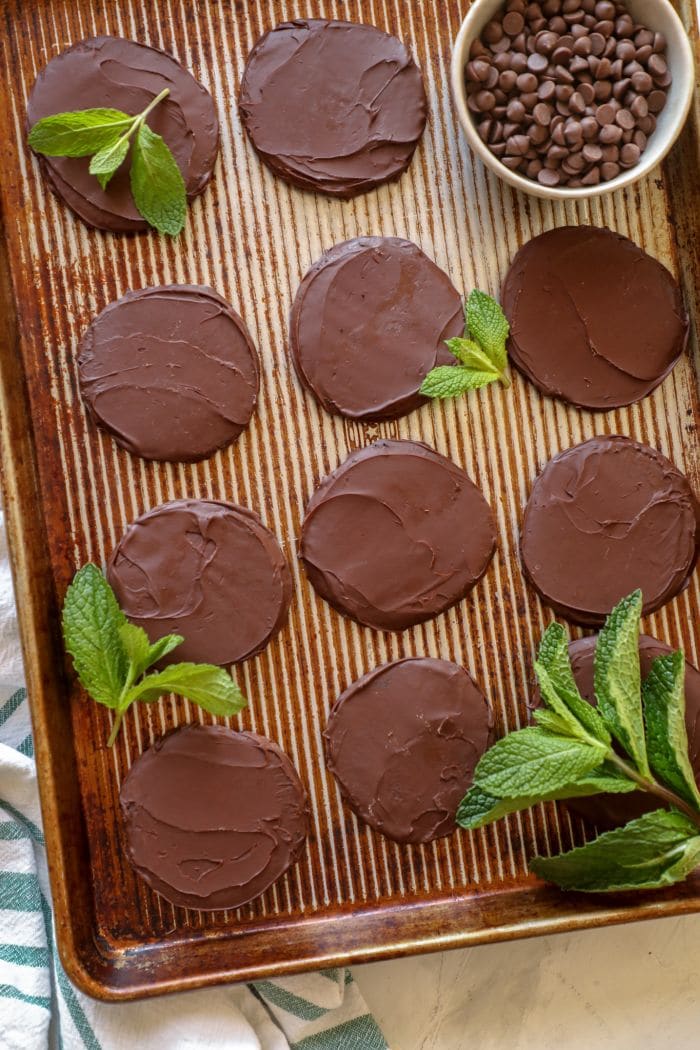 I find this lends to more control with the coating, using less chocolate, and makes it easier than dipping the cookie (in my opinion). The only thing to take into account is that you have to be a little more patient with applying, freezing, and repeating!
Storing-
The cookies last (well, as long as you don't eat them all). I love to place in the fridge or freezer for that cold thin mint cookie taste. However, these are fine stored just outright on the counter in a sealed container. They will keep for up to a week out of the fridge and up to three months in the freezer.
Planning on making these cookies!? Save them to your browser or on Pinterest. Share the final product with me over on Instagram so I can cheer you on and envy your delicious keto cookie creation.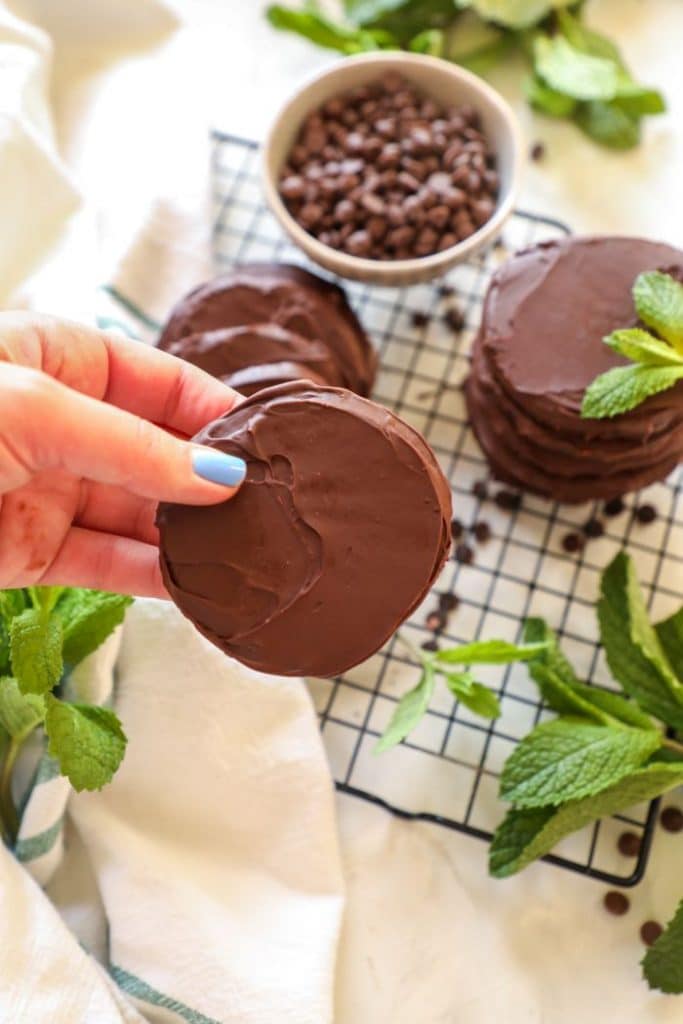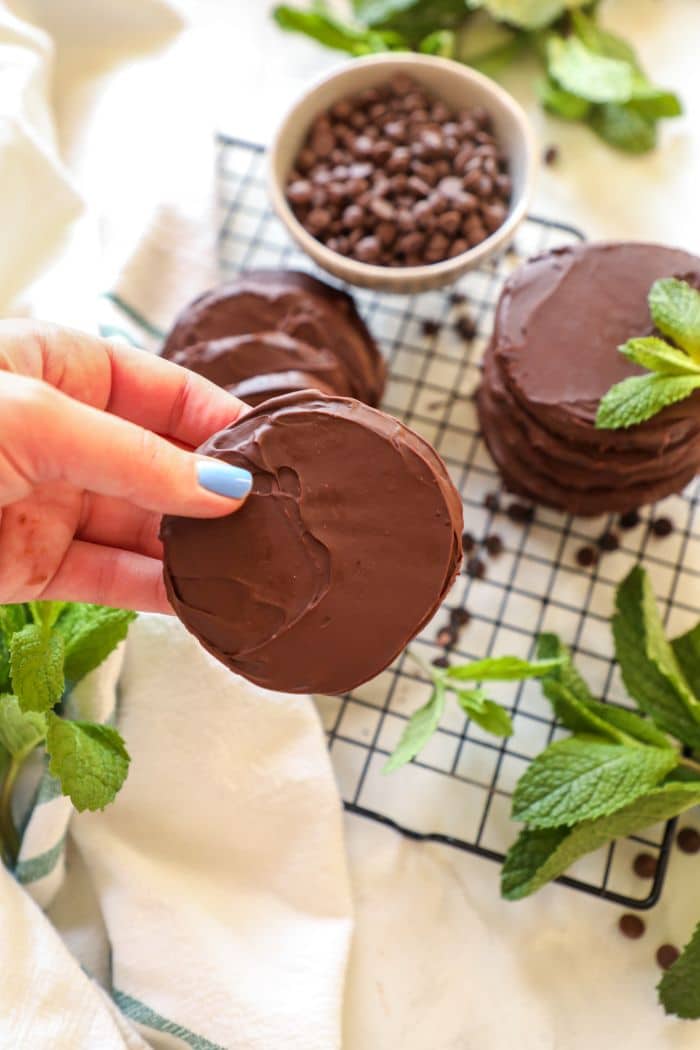 Love these keto cookies? Me to, I bet you will love these easy keto baked goods too!
Keto Peanut Butter Skillet Cookie
Keto Mexican Hot Chocolate Biscotti
Bon Appeteach,
-L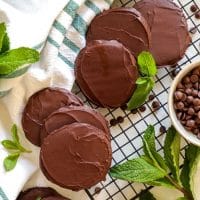 Keto & Gluten Free Thin Mints
This fan favorite chocolate and mint flavored cookie comes back to life! Easy to make, this keto copycat thin mint recipe is gluten free, sugar free, and absolutely addictive (but without the guilt).
Print
Pin
Rate
Ingredients
1 1/2

cups

Almond Flour

1/4

cup

Unsweetened Cocoa Powder

3/4

cup

Low Carb Sweetener

I like the Lakanto brand

6

tbsp

Cold Butter

diced into chunks

1

Egg

1

tsp.

Vanilla

1

tsp.

Baking Powder

1

tsp.

Xanthan Gum

DO NOT OMIT

1 1/2

cups

Sugar Free Chocolate

I used Lily's brand

1/4-1/2

tsp

Mint Extract
Instructions
In a food processor (see notes above if you don't have one), combine the almond flour, cocoa powder, low carb sweetener, baking powder, and xanthan gum together by pulsing until mixed.

Add in the diced cold butter and the vanilla. Pulse again until the mixture is not longer dry but resembles bread crumbs. Then add in the egg and pulse again until the mixture looks like a thick cookie dough.

Dump the dough out on a long piece of parchment paper. I use the rubber spatula to create a more rectangular shape to the dough. Roll the dough up into the parchment paper to for a log. Create a log that is 10" long and twist off the sides tightly so that the dough will take the shape of the parchment paper. Place in the freezer for 45-50 minutes. If you plan on baking later (within 24 hours) refrigerate until ready to bake, then follow the freezer directions prior to baking.

Place in the freezer for 45-50 minutes or until solid to the touch, If you plan on baking at a later time, keep in the fridge and then place in the freezer prior to the actual bake time.

Once solid, remove from the freezer and with a sharp knife, slice 1/4" cookie dough rounds off of the log. You should get 30-32 cookies.

Preheat the oven to 350 F. Place parchment paper onto the cookie sheet. Bake for 11-13 minutes (my cookies liked the 13 minute mark). They will just get slightly brown right at the edge and will still be soft when you remove them from the oven. You need to let them set and fully cool for them to become crispier like a classic shortbread.

Once the cookies are fully cooled, melt the chocolate on half power in the microwave for 30 seconds and stir well. Continue this until it is fully melted. Stir in the mint extract to taste ( a little goes a long way).

Use a butter knife to spread a thin layer of chocolate onto the bottom of the cookies. Freeze until set and repeat for the top. Freeze again until set and then enjoy!
Notes
These can be stored up to a week on the counter or several weeks in the fridge or freezer (also this is obviously the way to go for eating them).
Nutrition
Serving:
1
g
|
Calories:
130
kcal
|
Carbohydrates:
5
g
|
Protein:
3
g
|
Fat:
9
g
|
Saturated Fat:
4
g
|
Cholesterol:
6
mg
|
Sodium:
4
mg
|
Fiber:
3
g