Keto & Gluten Free Thin Mints:
If you have been dreading the doorbell ringing from you favorite girl scout, fear no longer! The keto girl scout cookie saga continues with my all time favorite, thin mints!
The dough is almost identical to that of my Keto Samoa shortbread cookies (the dough you see in the pictures below are of these but the steps are identical), but with the addition of cocoa powder and the sugar free chocolate mint coating.
The cookie recipe is fairly straightforward and I think are the easiest of the three girl scout cookie recreations I have made. Find the full recipe below and read on for an outline of the steps and some helpful baking tips and tricks!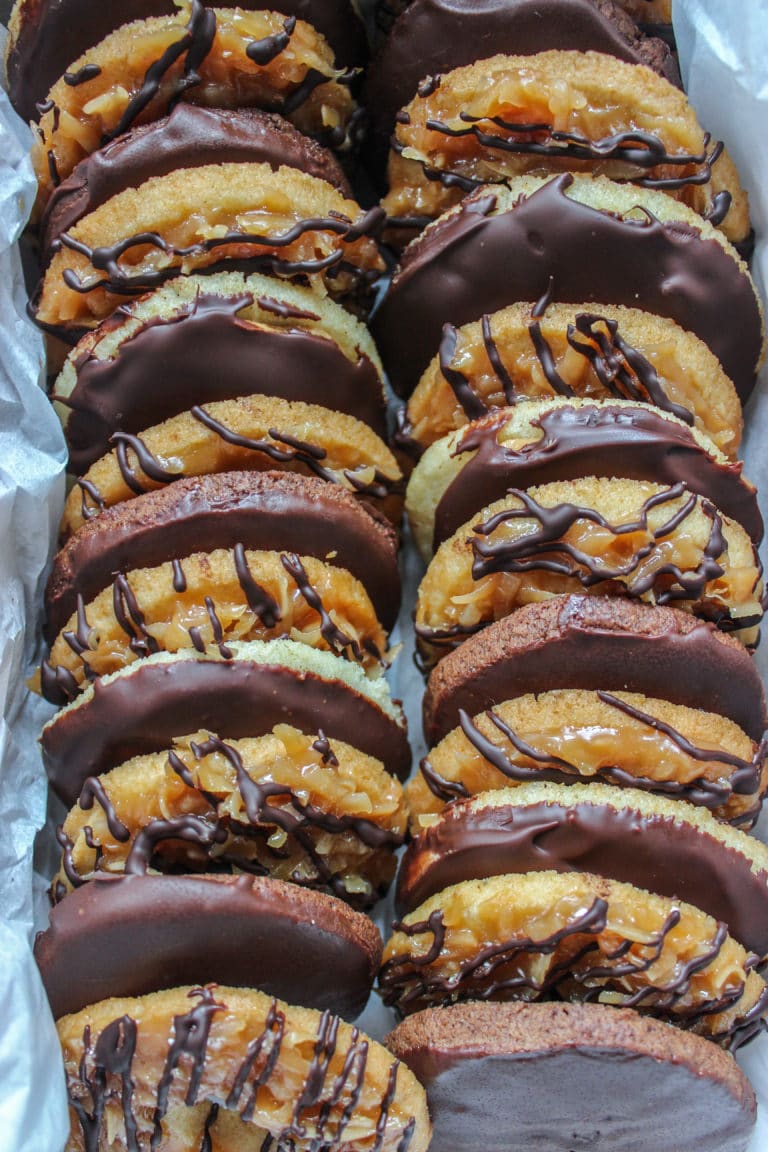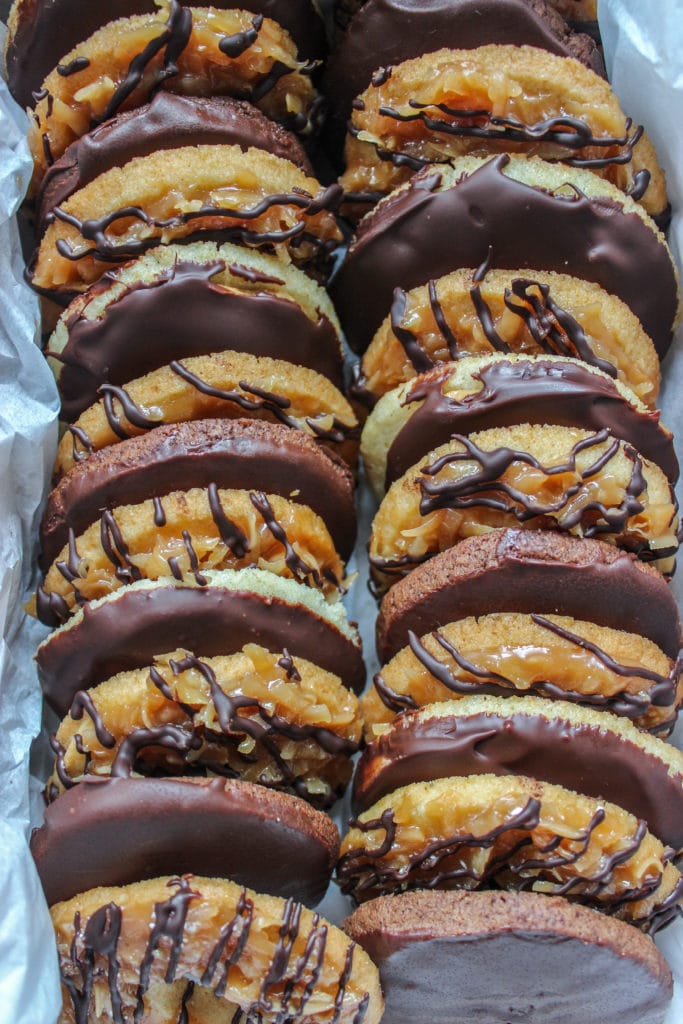 "School" Supplies:
Food Processor
Measuring Cups & Spoons
Parchment Paper
Rubber Spatula
Chef's Knife
Baking Sheet
Small Mixing Bowl
"Class" Notes:
The shortbread dough for this recipe was based off of a keto friendly dough I have enjoyed using for both my Keto Galette and my Keto Pie Crust. I also use this same dough recipe for my previously posted Keto Samoas recipe (that is the dough that is pictured because the process is the same). I love this cookie dough as a shortbread because after baking it crisps up perfectly!
Once the dough is mixed in the food processor, I dump it out into a log like shape onto some parchment paper. For ease, I wanted to avoid rolling out the dough and cutting out each cookie with a cookie cutter (nobody has time for that).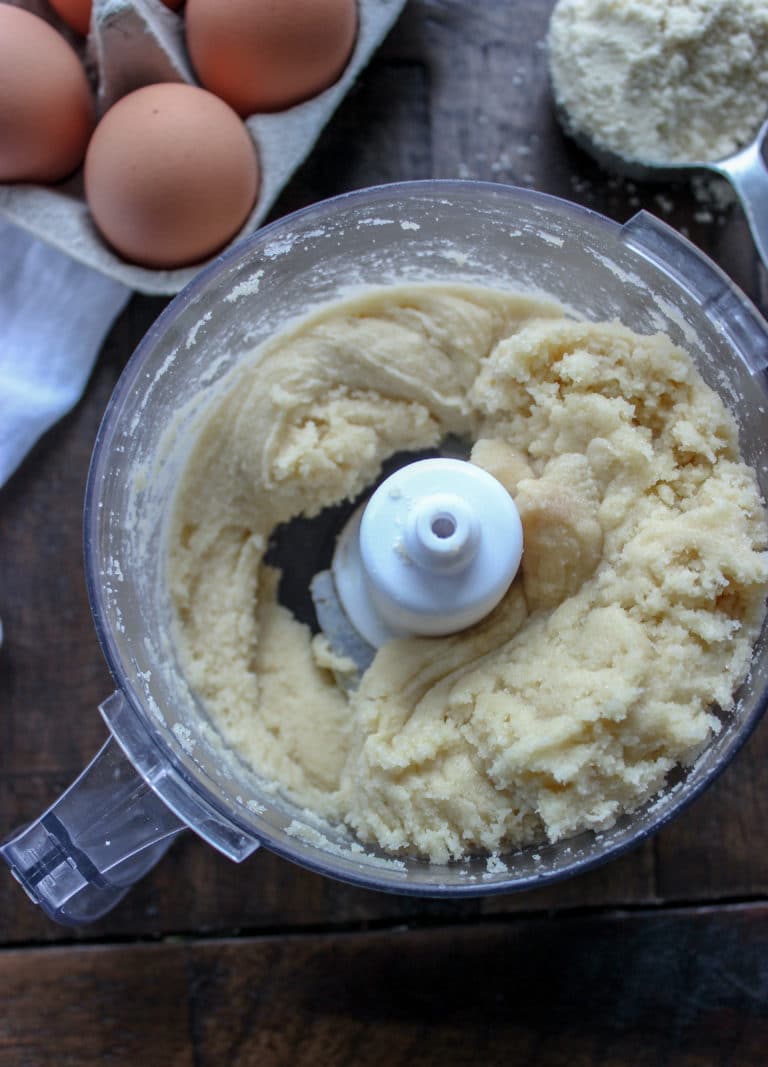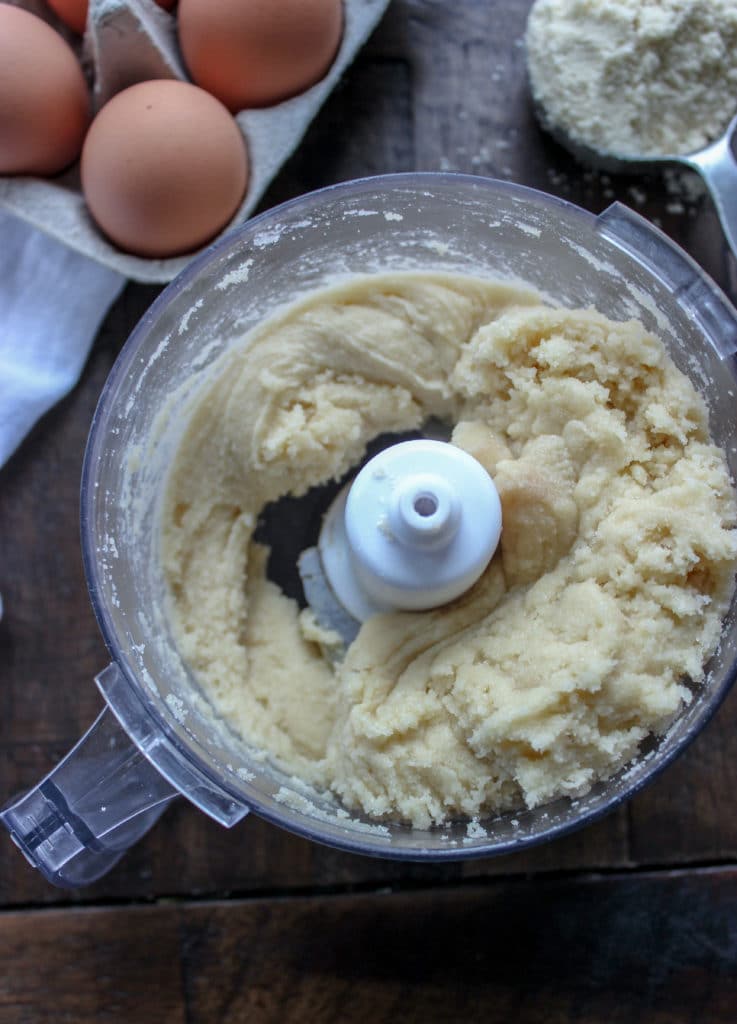 Instead, roll the dough into a log about 10″ long and twist off the sides to secure the dough. Place the parchment paper wrapped dough into the freezer for 45-50 minutes or until firm to the touch. If you plan on baking later, refrigerate first and then follow the steps for freezing before baking.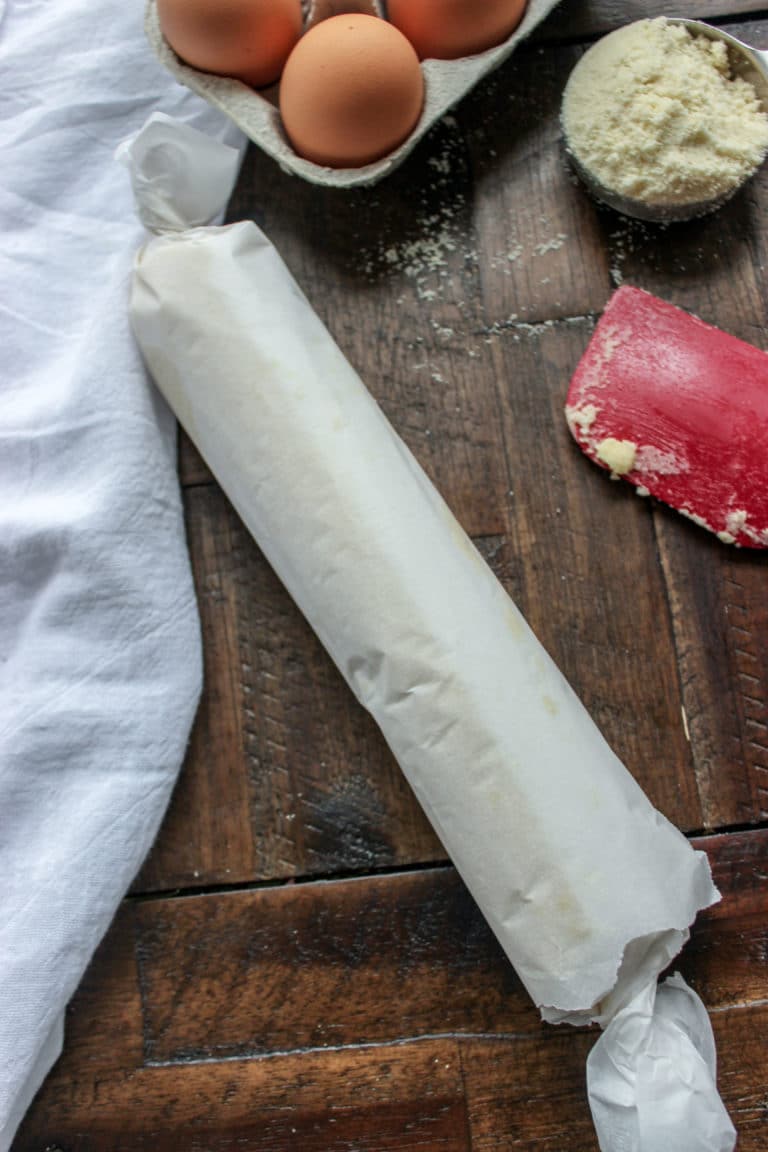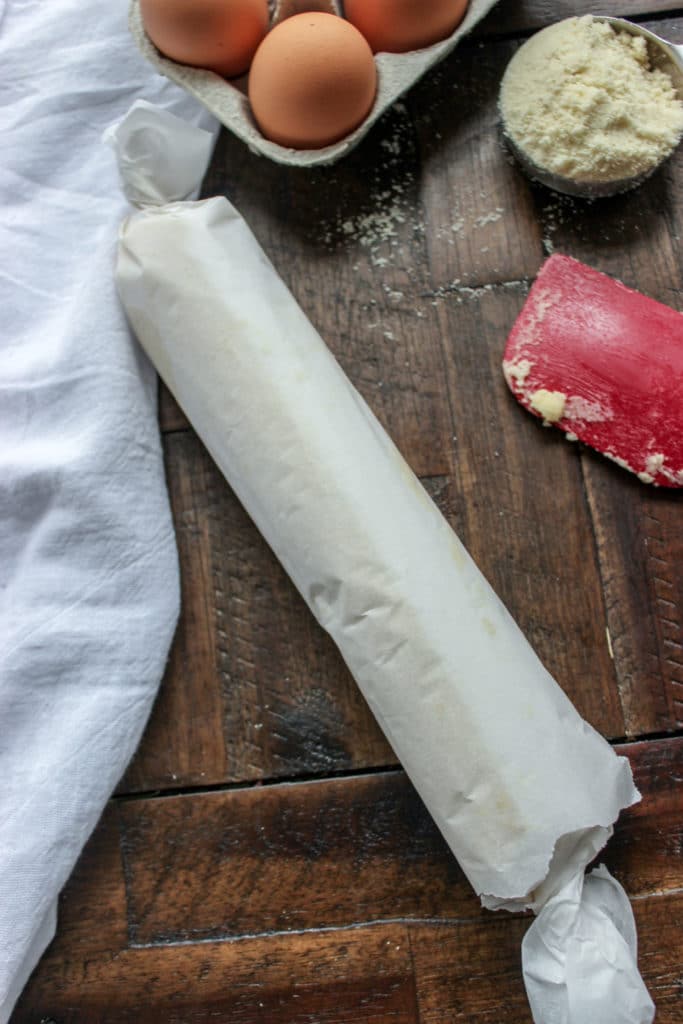 Remove the dough and unroll the parchment paper. All you need is a nice sharp knife and to slice 1/4″ rounds into the log. You should be able to get 30-32 cookies from slicing the dough.
Place the cookies onto parchment paper and bake until set. The trick to getting a nice crunchy shortbread cookie for this recipe is to allow them to fully set and cool. This is ideal before adding the chocolate and mint coating.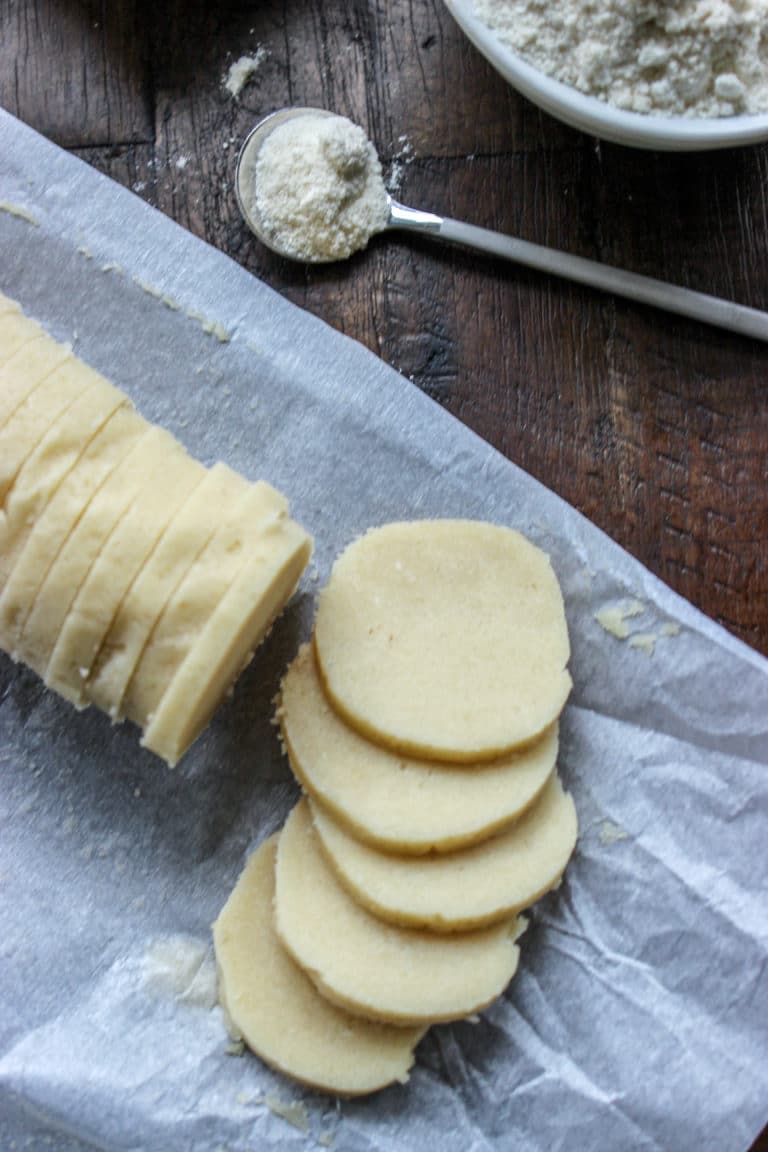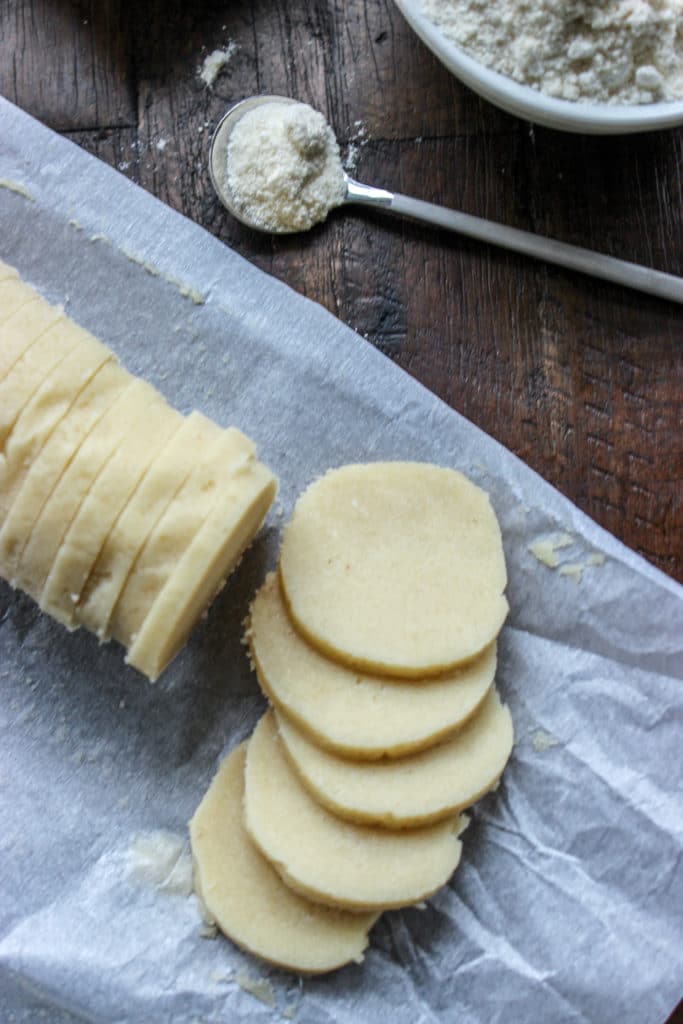 I opted to only add the mint extract to the outside coating and to leave the shortbread cookie just chocolate. Mint can be somewhat overpowering and I think the balance I found here was perfect.
I melted some Lily's sugar free chocolate chips into a bowl and added mint extract until it was to my liking. I added probably a little more than 1/4 tsp (a little goes a long way). I dipped the tops of the cookies into the chocolate and set them on a cookie rack to set. You can also pop them in the fridge for a few minutes as well!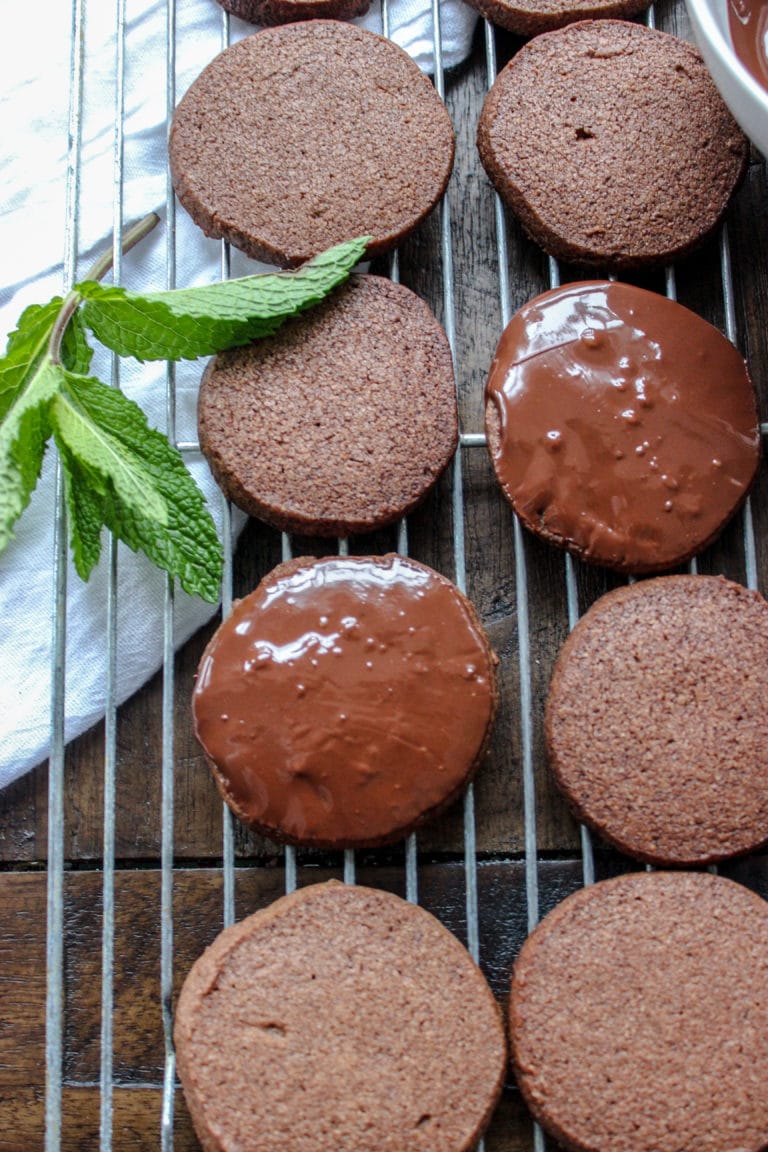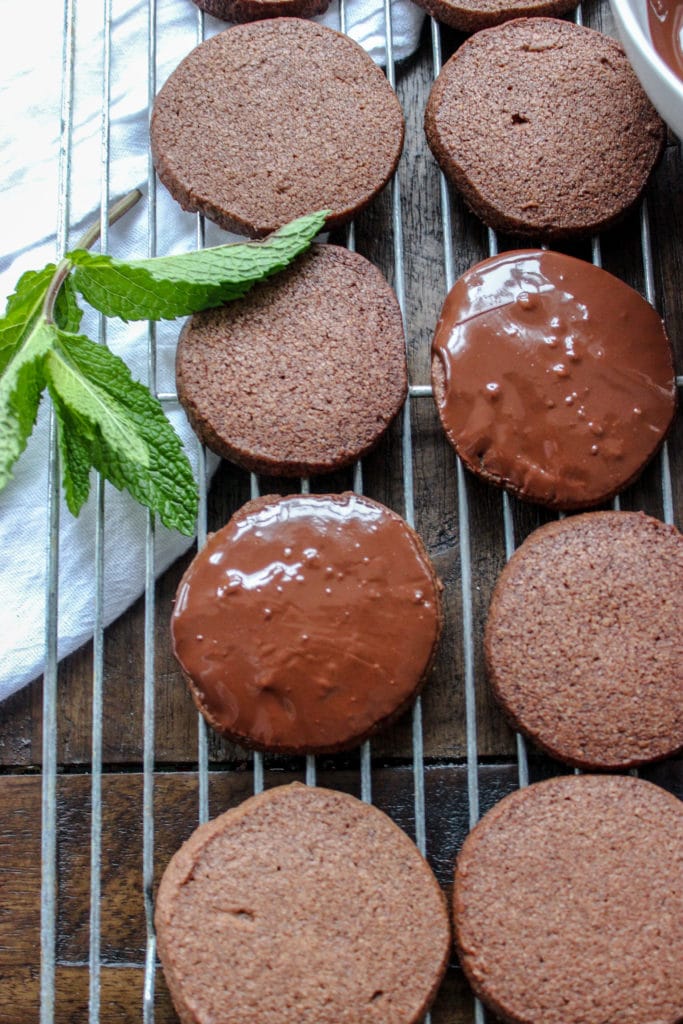 If you love these Keto & Gluten Free Thin Mints, make sure to check out my delicious caramel and coconut Keto Samoas too! The final keto recreation of Tagalongs will be up later this week! Enjoy!
Bon Appeteach,
-L
Yield: 30
Keto & Gluten Free Thin Mints
A keto and gluten free version of your favorite girl scout cookie! These easy to make keto thin mints are crunchy, minty, and absolutely delicious!

Prep Time 10 minutes

Cook Time 11 minutes

Additional Time 45 minutes

Total Time 1 hour 6 minutes
Ingredients
1 1/2 cups Almond Flour
1/4 cup Unsweetened Cocoa Powder
3/4 cup Low Carb Sweetener (I like the Lakanto brand)
6 tbsp Cold Butter, diced into chunks
1 Egg
1 tsp. Vanilla
1 tsp. Baking Powder
1 tsp. Xanthan Gum (DO NOT OMIT)
1 1/2 cups Sugar Free Chocolate (I used Lily's brand)
1/4-1/2 tsp Mint Extract
Instructions
In a food processor, combine the almond flour, cocoa powder, low carb sweetener, baking powder, and xanthan gum together by pulsing until mixed.
Add in the diced cold butter and the vanilla. Pulse again until the mixture is not longer dry but resembles bread crumbs. Then add in the egg and pulse again until the mixture looks like a thick cookie dough.
Dump the dough out on a long piece of parchment paper. I use the rubber spatula to create a more rectangular shape to the dough. Roll the dough up into the parchment paper to for a log. Create a log that is 10" long and twist off the sides tightly so that the dough will take the shape of the parchment paper. Place in the freezer for 45-50 minutes. If you plan on baking later (within 24 hours) refrigerate until ready to bake, then follow the freezer directions prior to baking.
Place in the freezer for 45-50 minutes or until solid to the touch, If you plan on baking at a later time, keep in the fridge and then place in the freezer prior to the actual bake time.
Once solid, remove from the freezer and with a sharp knife, slice 1/4" cookie dough rounds off of the log. You should get 30-32 cookies.
Preheat the oven to 350 F. Place parchment paper onto the cookie sheet. Bake for 11-13 minutes (my cookies liked the 13 minute mark). They will just get slightly brown right at the edge and will still be soft when you remove them from the oven. You need to let them set and fully cool for them to become crispier like a classic shortbread.
Once the cookies are fully cooled, melt the chocolate on half power in the microwave for 30 seconds and stir well. Continue this until it is fully melted. Stir in the mint extract to taste and then dip and coat each cookie. I opted to just coat the tops but you can coat the entire cookie if you so choose. Place them on parchment paper to rest and set.
Store the cookies in an airtight container.
Nutrition Information:
Yield:
30
Serving Size:
1
Amount Per Serving: Calories: 130 Total Fat: 9gg Saturated Fat: 4gg Trans Fat: 0gg Cholesterol: 6mgmg Sodium: 4mgmg Carbohydrates: 5gg Fiber: 3gg Sugar: 0gg Protein: 3gg

Nutritional Information: Obtained using My Fitness Pal. I am not nor do I claim to be a nutritionist, so it is important to always verify the nutritional information as brands vary. I work hard to always provide the most accurate information as possible in hopes of making this easier for you, my readers!