Dalgona Affogato – (Keto) Coffee Ice Cream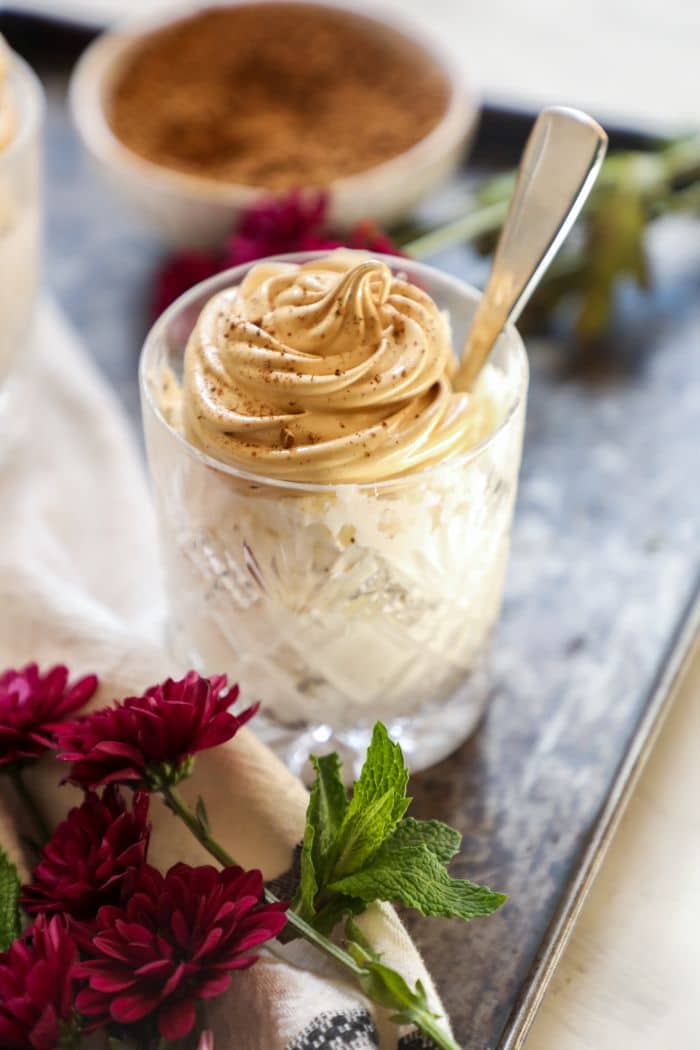 Make it (sugar free) Dalgona coffee… but better! Everything you love about a classic Italian Affogato, but with a deliciously sweet, whipped coffee recipe that can be made sugar free, keto and low carb and dairy free too if desired! Have your Dalgona coffee ice cream and eat it too!
If you haven't seen the Dalgona coffee recipe take social media by storm over the last month, then you must have been doing a great job at social distancing! I have to admit, I am bit of a coffee snob. I enjoy coffee beans that are freshly roasted, freshly ground each morning, and I enjoy my coffee black.
So, the idea of drinking some kind of instant coffee that has a one to one ration to sugar (even if I used a sugar substitute like monk fruit sweetener or allulose) had me skeptical, but curious all the same. I do however love an affogato (Italian dessert where hot coffee is poured over vanilla ice cream), essentially making coffee ice cream. So the idea of making a keto dalgona coffee and swapping out milk or whipping cream with an easy to make, no churn vanilla ice cream just seemed like a delightful idea!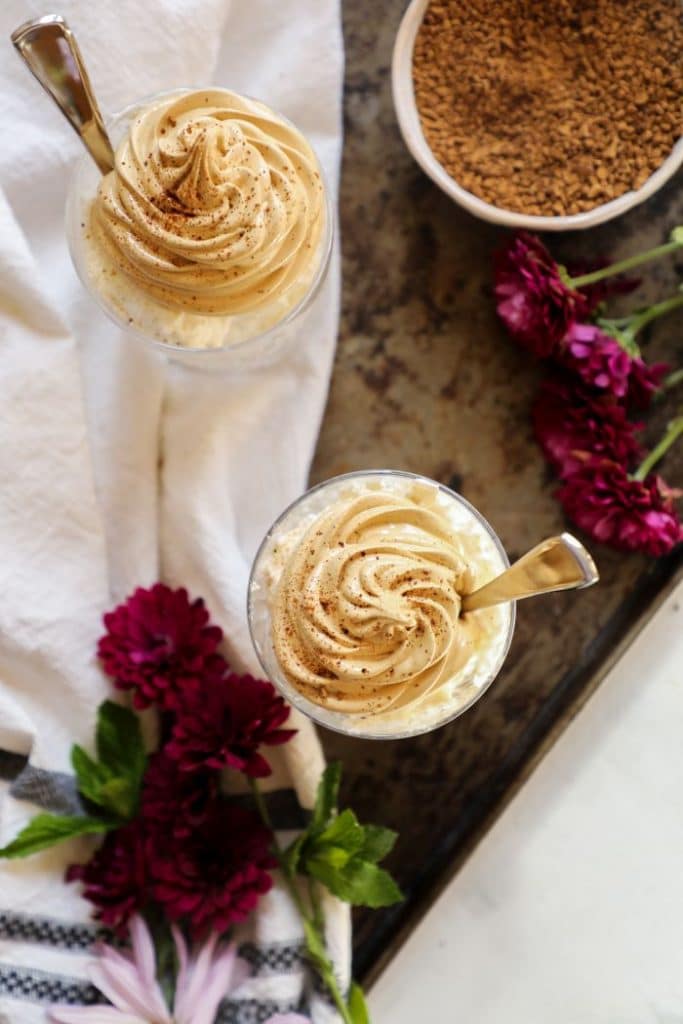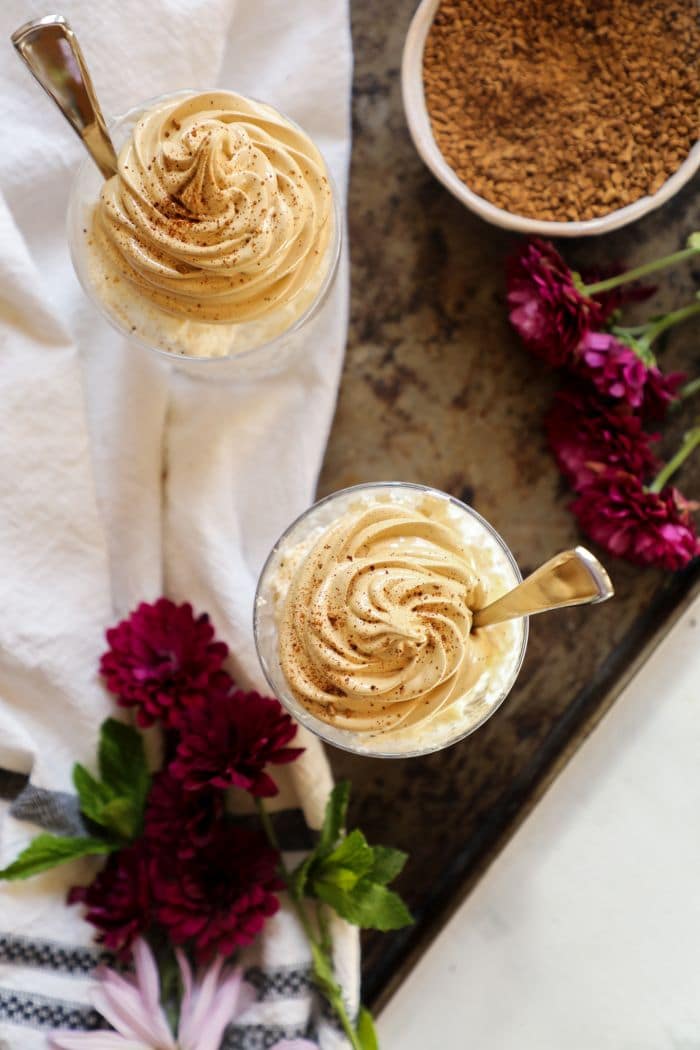 Step up your dalgona game and impress your Instagram friends with this keto recipe instead. You can find all the tips and techniques for making this coffee drink from start to finish below! Enjoy and stay caffeinated my friends!
"School" Supplies
Large Mixing Bowl
Hand Mixer or Stand Mixer
Measuring Cups & Spoons
Bread Tin or Ice Cream Container
"Class" Notes:
No Churn (Keto) Vanilla Ice Cream:
Do you have to make your own ice cream for this recipe? Nope! In fact there are a lot of great keto friendly ice cream brands now out on the market. However, it is actually really easy to make a keto friendly vanilla ice cream to pair with the keto dalgona right at home, without the help of an ice cream maker too!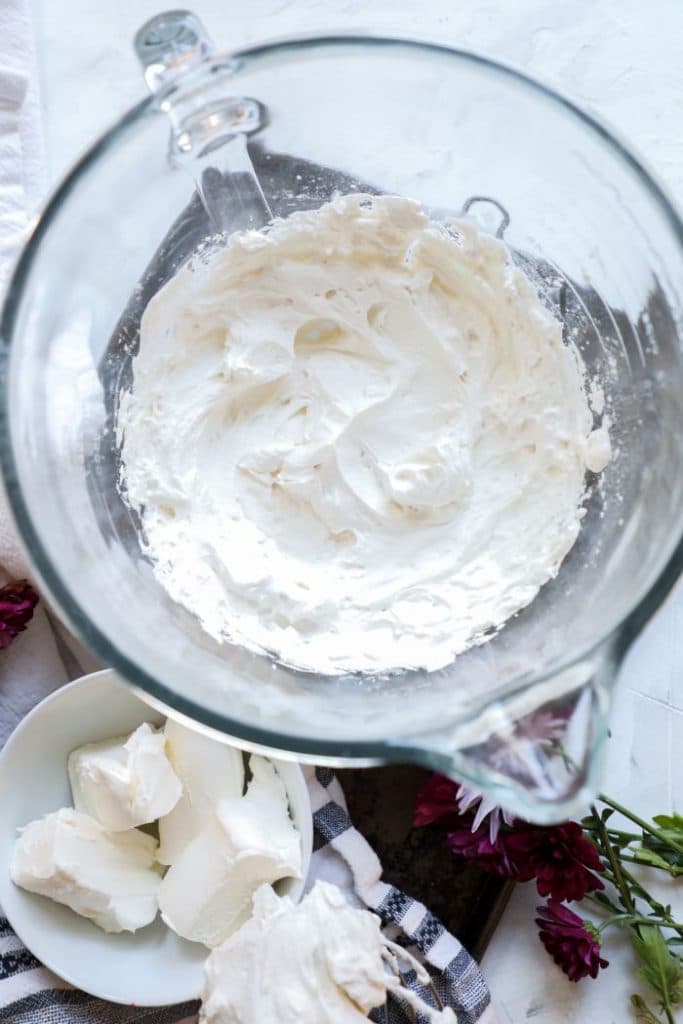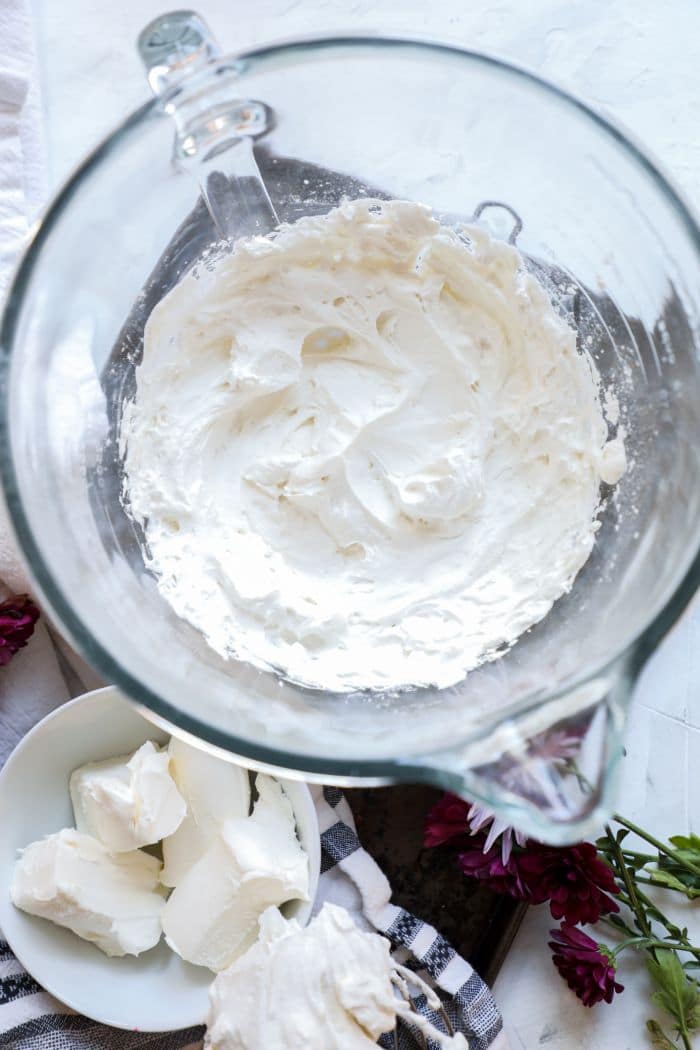 If you've checked out the process for my easy keto frosty recipe (also no churn) then you can follow very similar steps and techniques to making this version too. Start by whipping cold cream until thick and stiff peaks form. Add in some low carb powdered sweetener, vanilla extract, and the mascarpone cheese. Whip it again until it is light, fluffy, and fully combined.
Pour into a bread pan or other preferred pan lined with parchment or plastic. Freeze the mixture and stir every 30 minutes until mostly solid and serviceable as an ice cream. This should take approximately and hour or so. Once the ice cream is prepped and ready for serving, make your whipped coffee topping.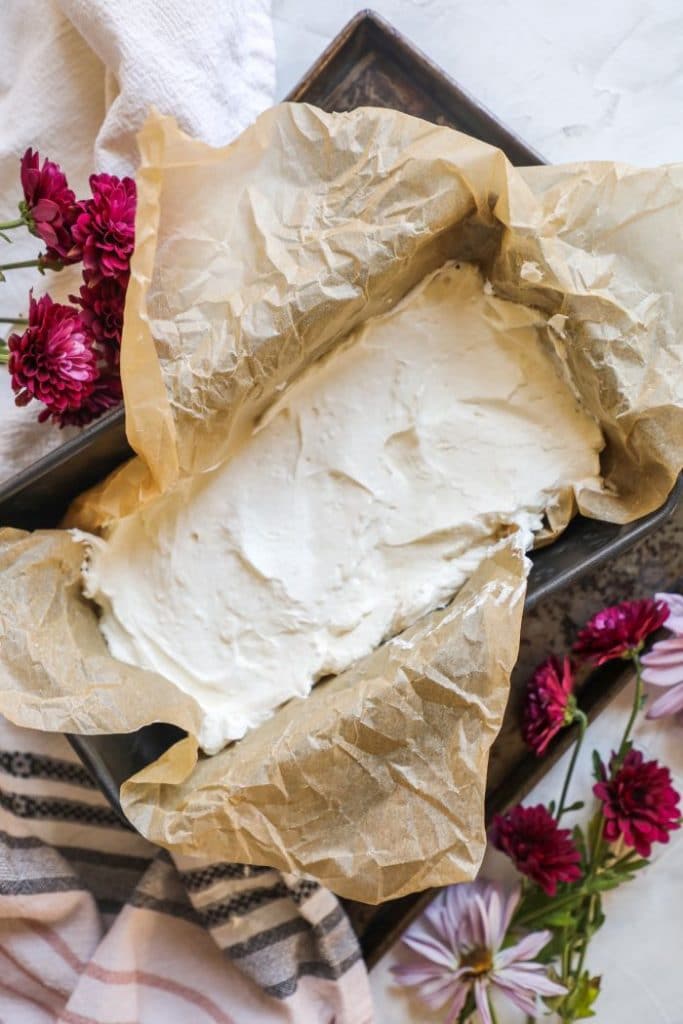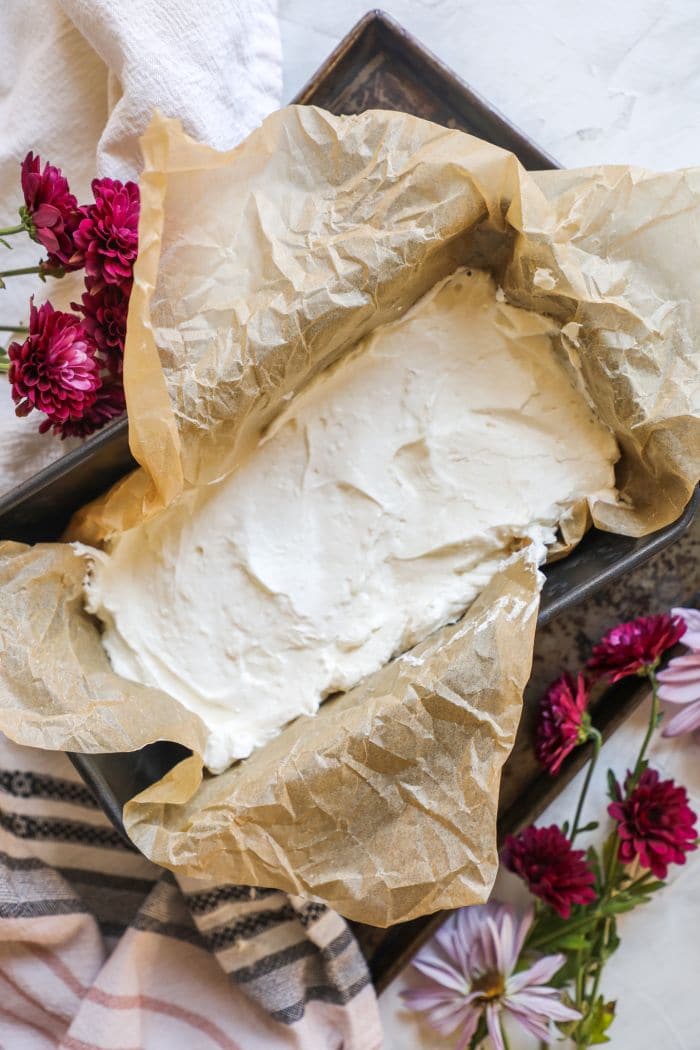 Making A Keto Friendly Dalgona Topping-
The basics of dalgona coffee are literally a 1:1:1 ratio of instant coffee, sugar, and hot water. Making this a keto friendly or sugar free recipe is 100% doable! I opted to used allulose because I prefer how similar it is to actual granulated sugar but your favorite low carb sweetener will work just as well! Read more about the use of allulose in my Keto Simple Syrup or my amazing homemade Keto Caramel Sauce too!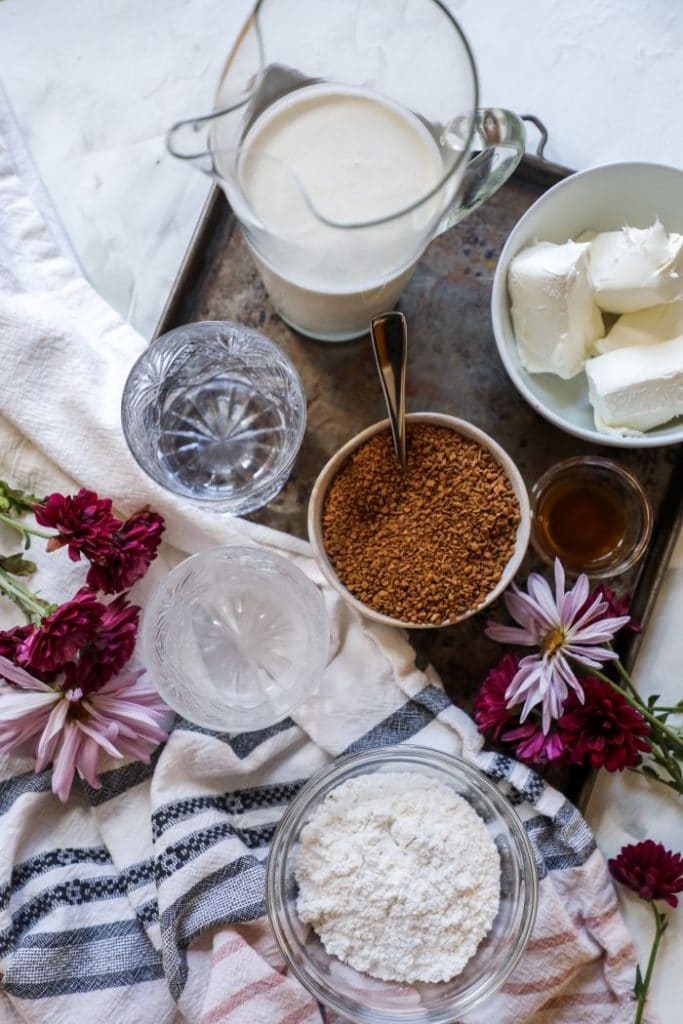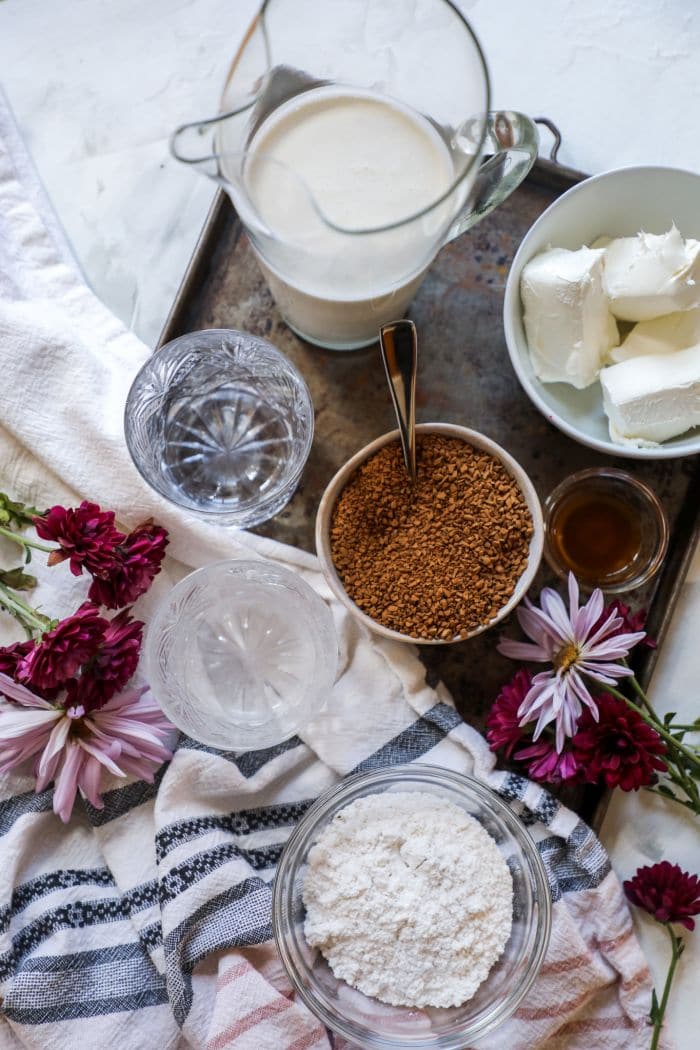 The trick to getting a firm, whipped topping that resembles the consistency of meringue or homemade marshmallow by adding a lot of air through agitation and whipping. If you don't have a hand mixer or stand mixer then to be honest… this recipe is not going to be your friend.You will find yourself with a very sore wrist and some sincere disappointment trying to attempt this by hand (just a heads up).
Start by boiling water, adding a few tablespoons of the instant coffee of choice, your low carb sweetener (you can still use regular sugar here too if you're not following a low carb diet), and the boiling water to a mixing bowl. Beat on high with a whisk attachment in a stand mixer or hand mixer. I used a stand mixer for this recipe.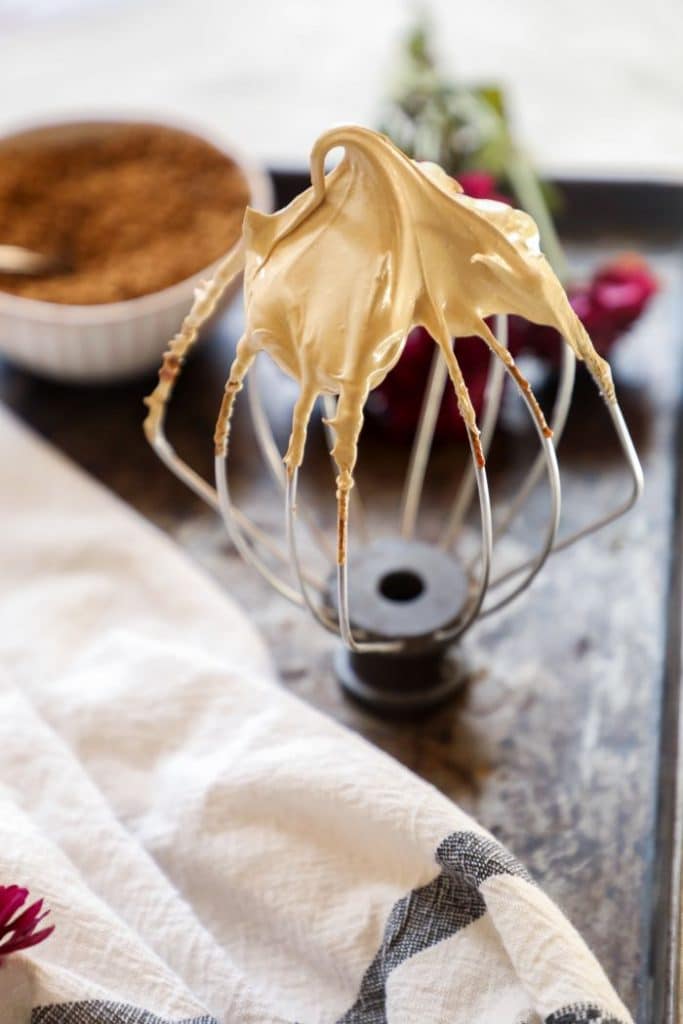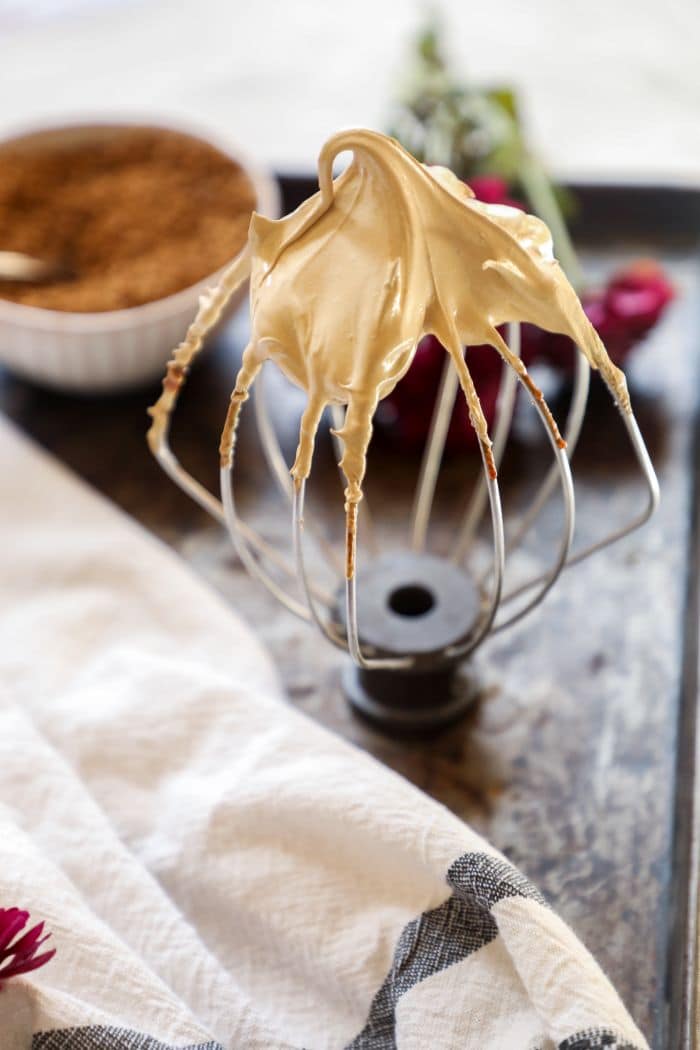 Periodically, scrape down the sides if needed. Allow the coffee to be whipped until it holds a stiff peek with the beater (again like with a meringue). You will find the dalgona mixture to be thicker, stickier, and somewhat heavier however (reminds me of homemade marshmallow).
How to Make A Dalgona Affogato-
A traditional Affogato is a popular Italian dessert, using a vanilla ice cream or gelato and pouring espresso over the top. The warmth of the coffee melts and dilutes the cold ice cream and creates a really delicious combination.
As you whip the dalgona mixture, you will find that it cools down and becomes room temperature. A standard dalgona coffee is mixed with milk typically, so this idea is just a really great way to elevate this treat.
Place scoop of ice cream into a dish or glass, pipe on (use a piping bag or plastic bag) the dalgona mixture over the top and sprinkle on a little more instant coffee for garnish. You will find this is a VERY rich dessert, we were only able to eat a small serving each in fact.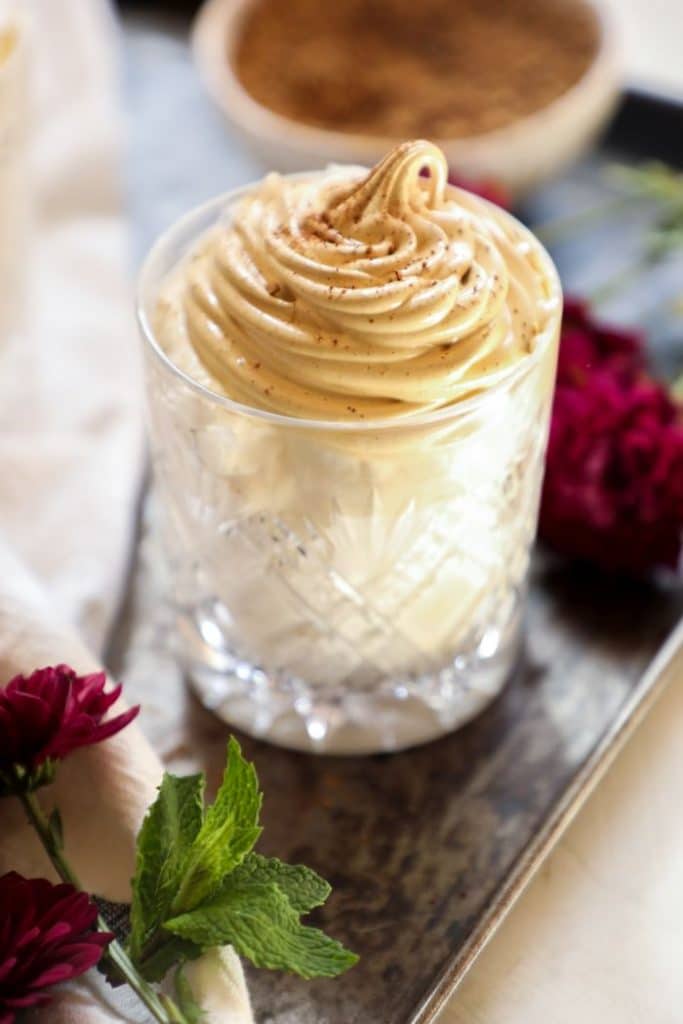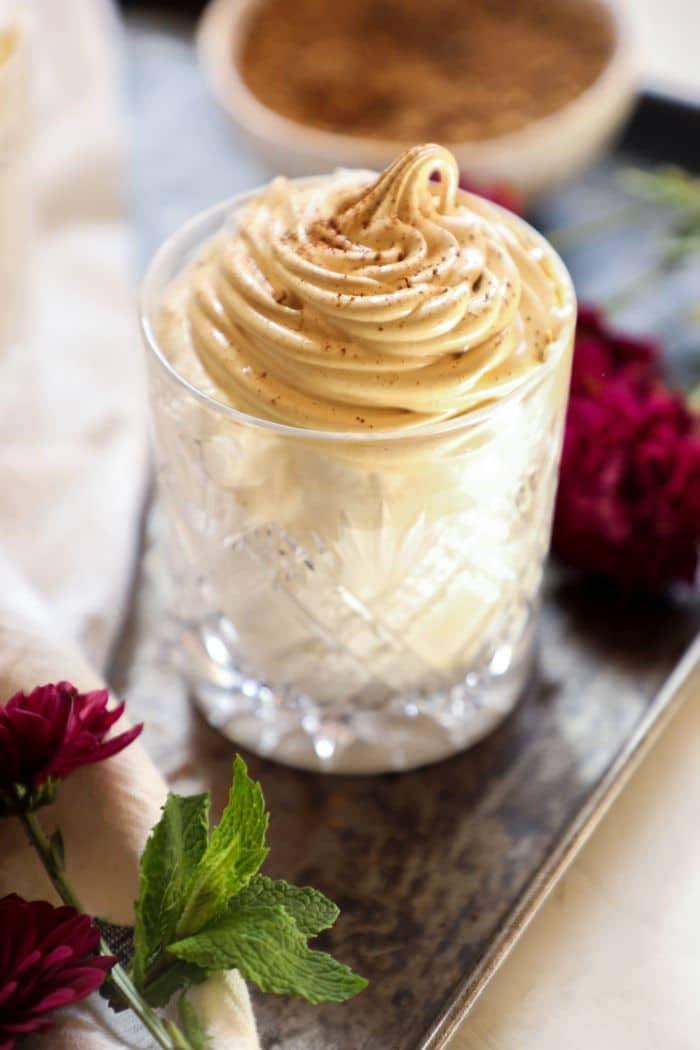 The dalgona whipped coffee topping by itself is strong and sweet. This is why I love using allulose, because it naturally isn't as sweet as other keto sugar substitutes, and pairs perfectly with the sweetener keto friendly ice cream too!
I hope you have fun playing around with this recipe and making it your own. Though this is far from a traditional affogato, the idea of a fun to make, keto friendly coffee ice cream dessert just seemed like it was meant to be.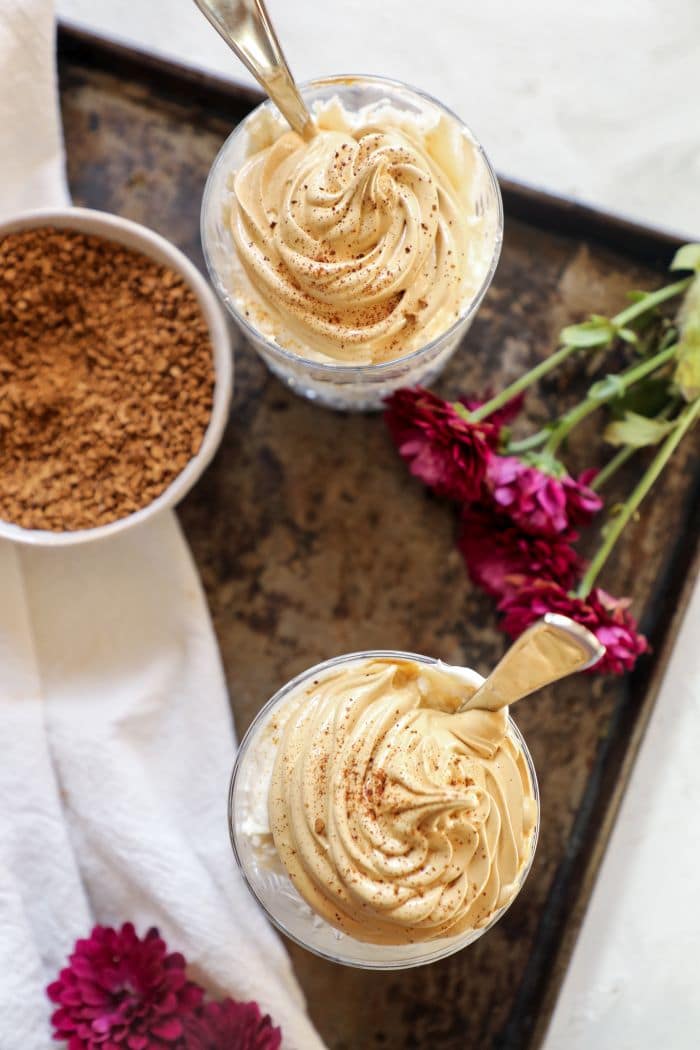 Easy Substitutions:
Here are some easy ways to approach this recipe if you need particular substitutions:
I'm not keto, can I use regular sugar? Yes, swap the powdered sweetener and granulated low carb sweetener for standard powdered sugar and granulated sugar as well.
I'm dairy free, what can I do? Well, thankfully the dalgona recipe is dairy free but the ice cream is not. Try subbing with a whipped coconut cream for or buy your favorite dairy free ice cream to swap. Some are low carb and keto too!
I don't want to make the ice cream what can I use instead? There are so many great keto or low carb ice creams on the market. Use your favorite and make this recipe in 10 minutes!
Not ready to make this recipe but don't want to forget to come back? Bookmark it to your web browser or save it on Pinterest!
If you love this keto friendly dessert and are looking for other delicious treats, try these popular recipes:
Easy Keto Ice Cream Sandwiches
Bon Appeteach,
-L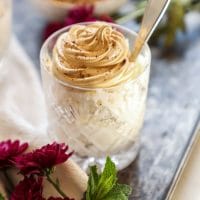 Dalgona Affogato – (Keto) Coffee Ice Cream
Make it (sugar free) Dalgona coffee… but better! Everything you love about a classic Italian Affogato, but with a deliciously sweet, whipped coffee recipe that can be made sugar free, keto and low carb and dairy free too if desired! Have your Dalgona coffee ice cream and eat it too!
Print
Pin
Rate
Ingredients
For the Keto Ice Cream:
8

oz.

Heavy Cream

8

oz.

Mascarpone

1/2-3/4

cup

Low Carb Powdered Sweetener

I prefer less

1

tsp.

Vanilla

1/2

tsp

Salt

1

tsp.

Vodka

optional
For the Keto Dalgona:
4

tbsp.

Instant Coffee

4

tbsp.

Low Carb Sweetener

4

tbsp.

Boiling Water

pinch

of salt
Instructions
If making your own keto no churn vanilla ice cream:
Start by whipping the heavy cream until stiff peaks form, then mix in the mascarpone, low carb powdered sweetener, vanilla, salt, and optional vodka (helps with ice crystals). Mix until combined, light, and fluffy. Line a bread pan with parchment or plastic wrap and place an even layer of the mixture into the pan and freeze. Mix it every 15-20 minutes until desired consistency (should take about an hour to firm up enough). If freezing over night, wrap tightly in plastic wrap and let it sit out for 10-20 minutes before serving.
For the keto dalgona:
With a stand mixer or hand mixer combine the ingredients at once and whip it with a hand mixer or whisk attachment on a stand mixer until it thickens and creates a peak. The consistency is similar to a meringue and is somewhat sticky and thicker (it takes about 5 minutes or so to get to a nice consistency).
To make the dalgona affogato:
Place a scoop of ice cream into a glass, pipe or scoop the dalgona over the top and garnish with a little extra instant coffee if desired and dig in!
Nutrition
Serving:
1
g
|
Calories:
253
kcal
|
Carbohydrates:
7
g
|
Protein:
4
g
|
Fat:
23
g
|
Saturated Fat:
14
g
|
Polyunsaturated Fat:
1
g
|
Monounsaturated Fat:
3
g
|
Cholesterol:
60
mg
|
Sodium:
171
mg
|
Potassium:
289
mg
|
Sugar:
1
g
|
Vitamin A:
814
IU
|
Vitamin C:
1
mg
|
Calcium:
69
mg
|
Iron:
1
mg