Easy Keto Ice Cream Sandwiches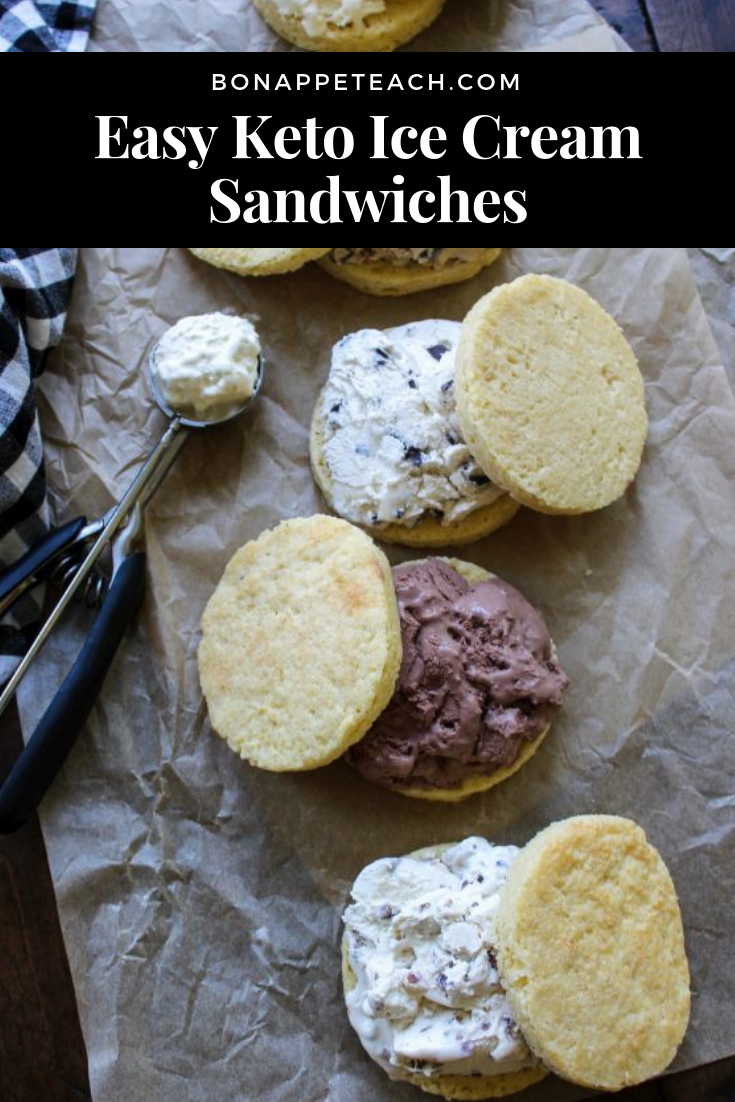 "A super easy, homemade, keto ice cream sandwich recipe that's perfect for summer. Sugar free, gluten free, and guilt free too…"
Easy Keto Ice Cream Sandwiches:
Keto. Ice Cream. Sandwiches. ERMGHD!
Let's just say cravings and motivation can create some pretty damn delicious keto treats in my house. Good thing I have an equal measure of both (I'll take one for the team here keto peeps, I got you).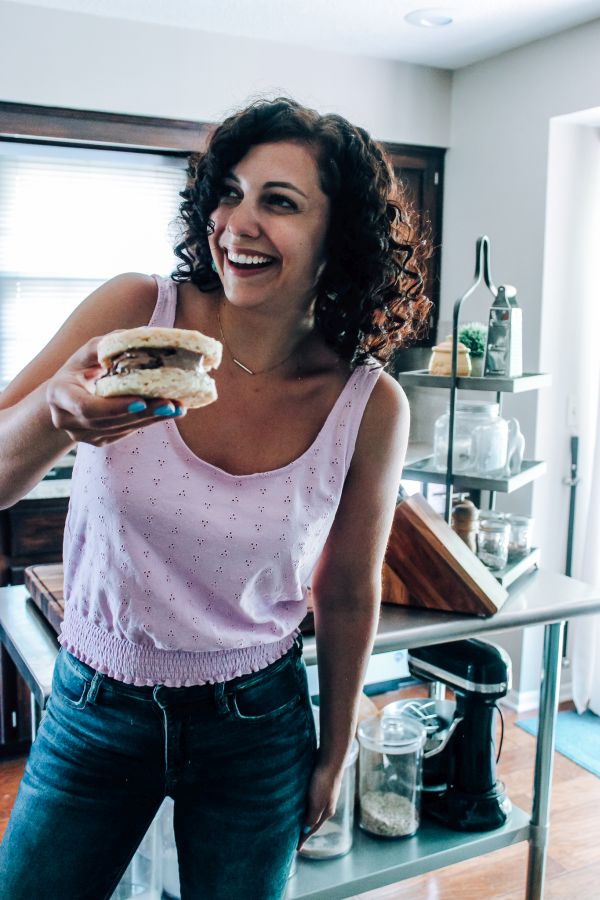 As we approach July here in Kansas City, it is insanely hot and humid. Additionally, I often find myself standing and cooking in front of a grill, so a cool sweet treat just makes sense. But let's face it, even if it was dead of winter and I was burrowed in a comfy white sweater, I'd still eat it. Because ice cream.
The inspiration for this recipe came from my popular Keto Blonde Brownies recipe to make the base of these sandwiches. Top with my No Churn Keto Frosty or my favorite low carb Rebel Creamery ice cream (not sponsored, just LOVE it) and my freezer is stocked all summer long!
Find the full recipe below for these Easy Keto Ice Cream Sandwiches and read on for all the helpful tips and tricks to making these a perfect summer dessert.
"School" Supplies:
Baking Sheet
Mixing Bowl
Hand Mixer
Measuring Cups/ Spoons
Ice Cream Scoop
"Class" Notes:
When I said this recipe was easy, it really is! The base of the sandwiches was made from my Keto Blonde Brownies recipe. I opted to double it to make enough batter, sprayed a regular baking sheet with non-stick spray, and spread the batter into a nice, even, thin layer into the pan.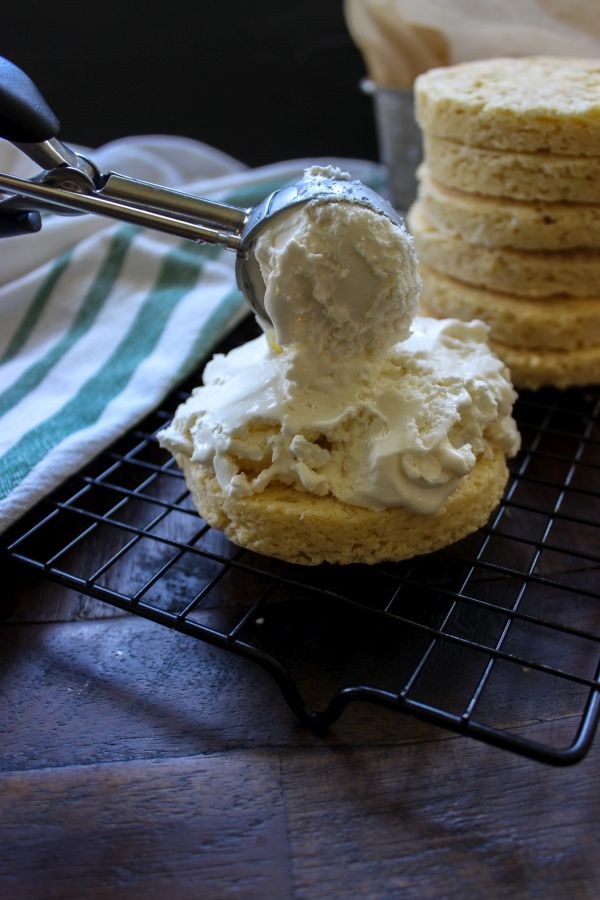 It bakes in about 20 minutes and is easy to either cut into even sized square bars or you can use a cookie cutter to cut out rounds. There is more waste with the rounds, but don't stress! I even made these little Cookie Berry Truffles in a jar (recipe will be linked soon) with the leftovers (two desserts in one here friends… you just can't go wrong).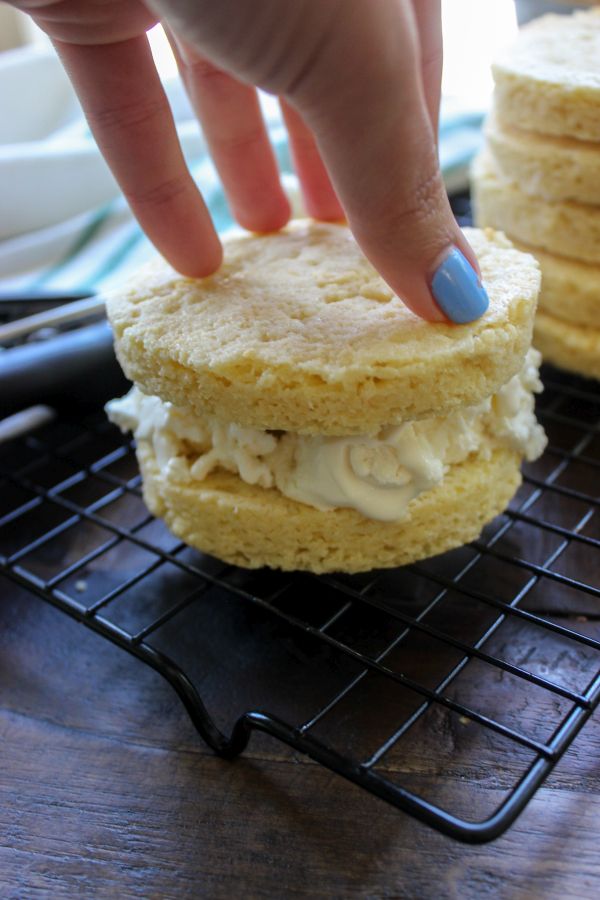 Once the bars or rounds are cut/ prepped. I like to freeze them for 30-45 minutes before adding the ice cream. While your waiting you can opt to try out my easy No Churn Keto Frosty recipe for the filling or choose your favorite low carb store bought ice cream to use for sandwiches. I've been addicted to Rebel Creamery lately and with several flavors already stocked in my freezer, I opted to make five different flavored sandwiches. Because I can.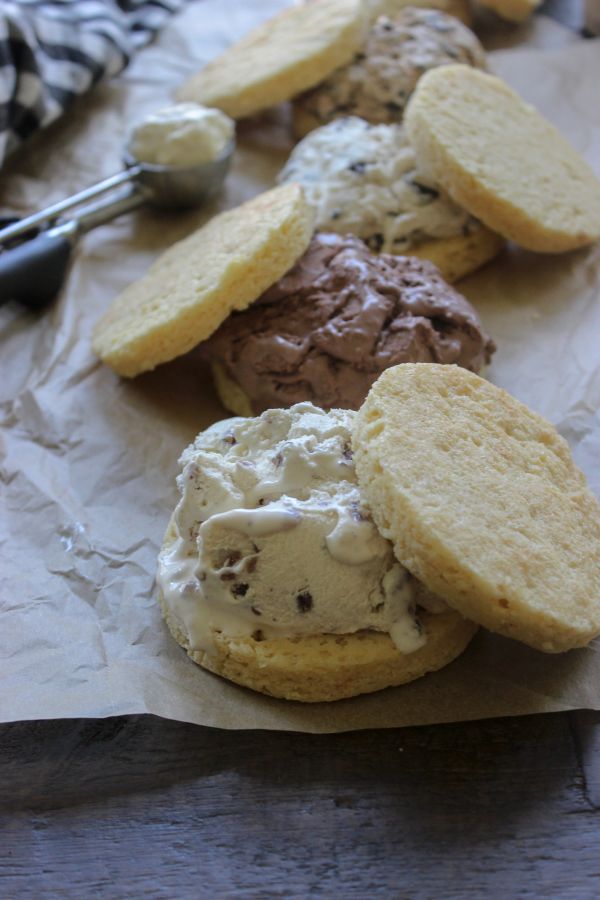 The beauty to this recipe (especially when using store bought ice cream), is that these keep so well in the freezer. Mot store bought low carb ice creams need time to thaw a bit and soften. So by keeping them in the freezer, popping one out when you want it to warm up a little bit works perfect every time!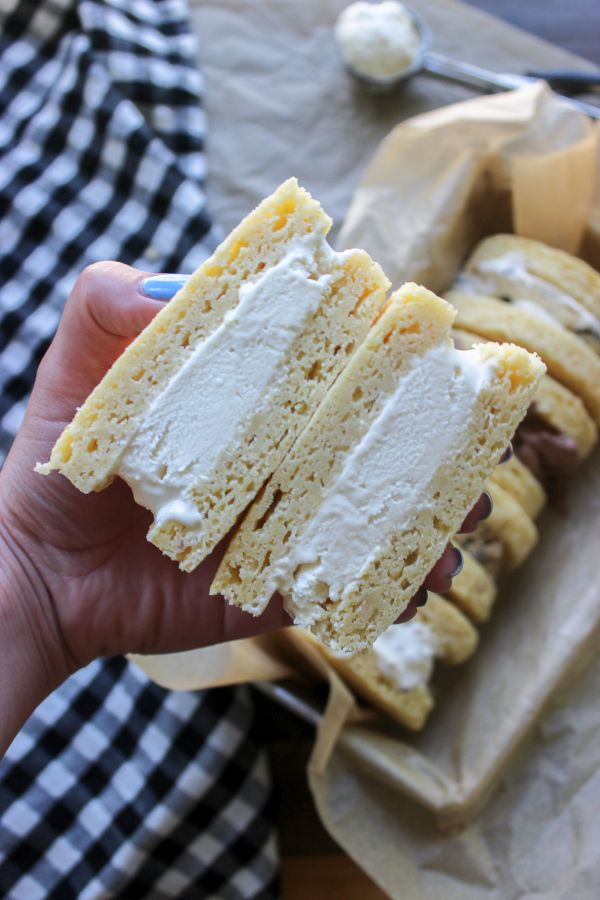 If you love this recipe and are still needing an ice cream fix, check out my 1 net carb keto ice cream cones too!
Bon Appeteach,
-L
Yield: 12-16
Easy Keto Ice Cream Sandwiches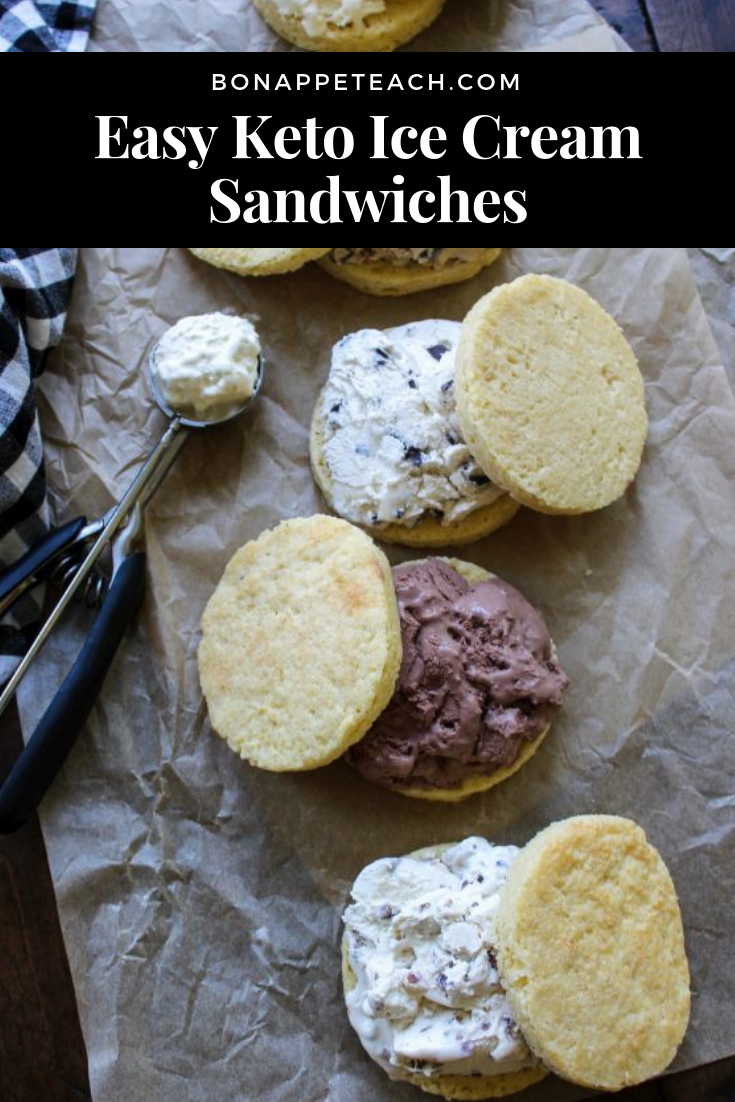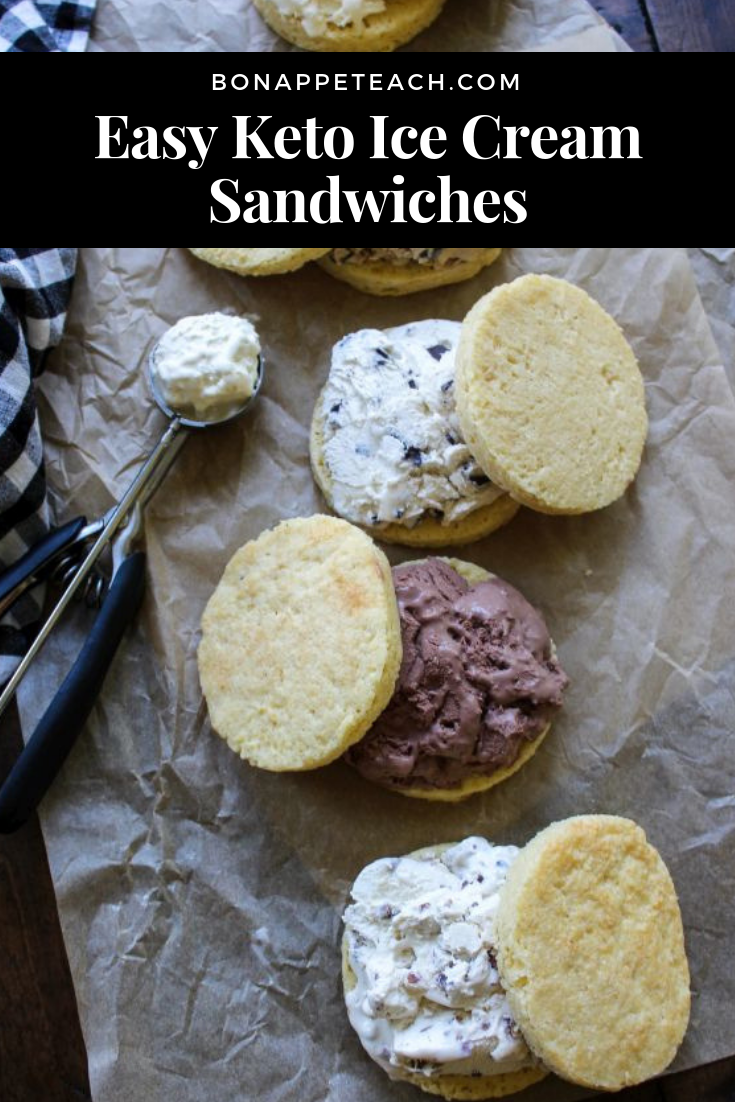 A super easy, homemade, keto ice cream sandwich recipe that's perfect for summer. Sugar free, gluten free, and guilt free too.
Additional Time
45 minutes
Total Time
1 hour
15 minutes
Ingredients
Your Favorite Keto Ice Cream
Instructions
Preheat the oven to 350 F. Grease a baking sheet with non-stick spray.
Prepare the blonde brownie batter and using a offset spatula, spread the batter in an even layer across the baking sheet in a thin, even layer.
Bake until set and lightly golden brown, about 15 minutes. Allow it to cool completely before cutting into bars or rounds. Cutting the brownie bars into squares yields no waste, cutting with a cookie cutter may result in extra brownie. Eat the extra or use it for my easy keto cake trifle instead.
Allow the bases for your ice cream sandwiches to freeze for about 30-45 minutes. You want them to be hard enough to place ice cream on, press, and set.
Keep in the freezer until serving. Allow them to thaw for 10-15 minutes prior to eating (especially when using store bought keto/ low carb ice creams).
Notes
Nutritional value is based on making 36 squares from a sheet pan (16 sandwiches) and does not include the macros for the ice cream. Please always verify your own calculations for accuracy as products often vary.
Nutrition Information:
Yield:
12
Serving Size:
1
Amount Per Serving:
Calories:

355
Total Fat:

33g
Saturated Fat:

10g
Trans Fat:

0g
Cholesterol:

101mg
Sodium:

90mg
Carbohydrates:

7g
Fiber:

4g
Sugar:

2g
Protein:

10g