Romeo and….Julep: The Prosecco Mint Julep
Romeo and…Julep: The Prosecco Mint Julep
"These violent delights, have violent ends…", well that feels kind of morbid for a Friday, wouldn't you agree? That's a good Shakespearean play for you though, my friends. Let's lighten the mood (and our hearts) with a little Friday night delight of our own. Shall we? Week 2 of the Bon Appeteach "Book Club" is officially happening right now! If you missed last week's "Book Club" recipe (The Classic Manhattan), be sure to check it out so you're all caught up. Each week, I am sharing my recipes on my Instagram Stories too. This way you can watch me and all my craziness make drinks and food for you "in person". I wanted to move from a classic whiskey recipe to a rum recipe this week (cause I totally can). So Romeo & Juliet Julep made perfect sense for this week's classic book inspiration, don't ya think?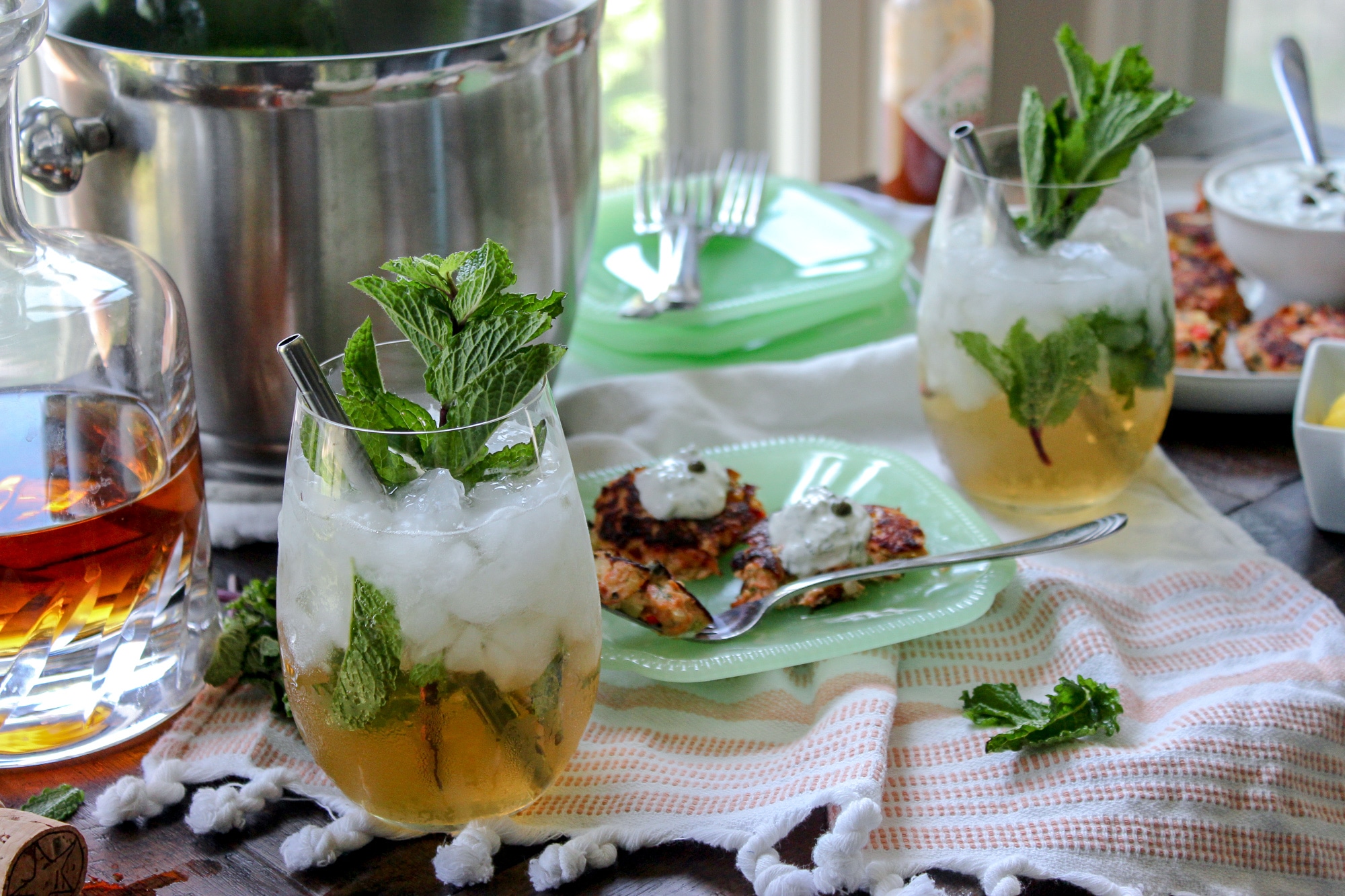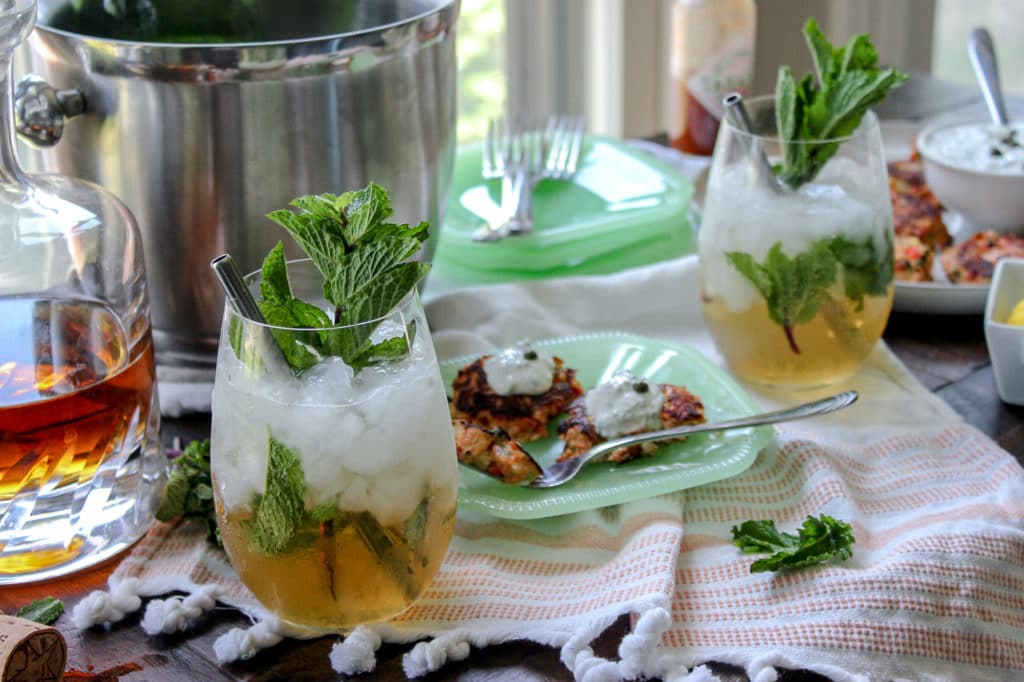 I love a classic mint julep, but I wanted to also pull in elements of this Italian Shakespearean play with the prosecco. The flavors are bright and refreshing, and honestly, really simple. My inspiration for this cocktail came purely on the play of words with the title. I find a good food pun to be worth its weight in gold. I had the lovely pleasure of reading this classic play, back in the 9th grade. I remember we read the entire thing out loud "popcorn" style and rather awkwardly ( all 14 year olds are still very awkward) because no one could really pronounce the words. Don't worry, I won't pick you to read out loud. But, you will find the full recipe for this Romeo & Julep: The Prosecco Mint Julep recipe below at the bottom of the page!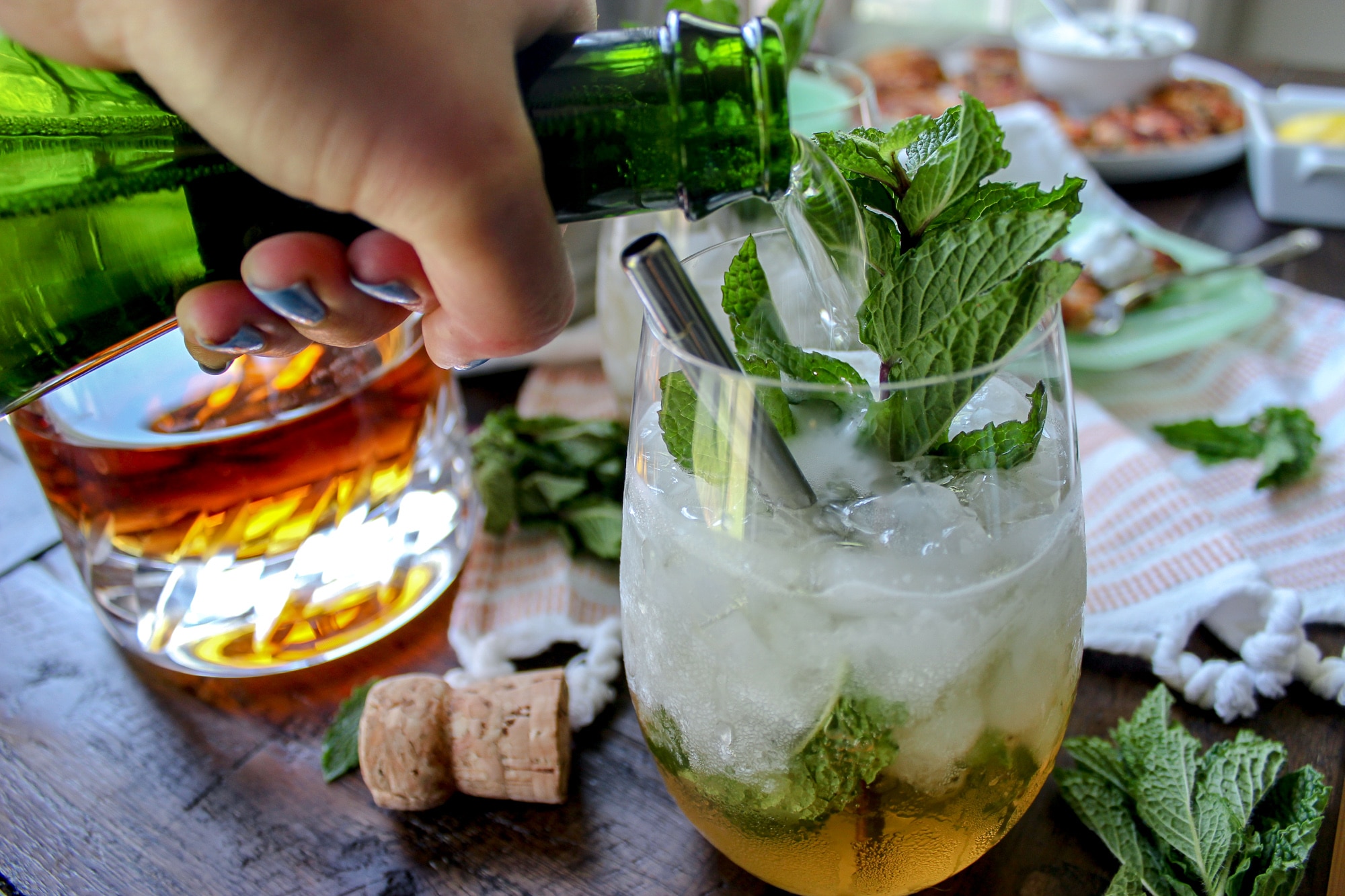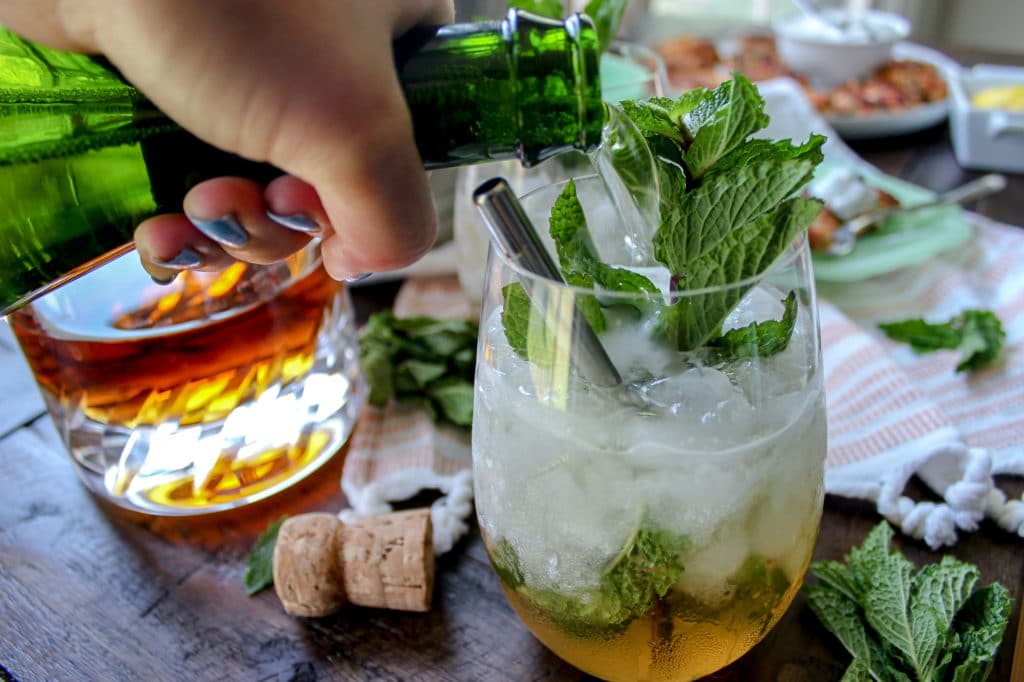 The Prosecco Mint Julep:
2 oz Bourbon
1/2 oz. Simple Syrup (keto version available)
3 oz  Prosecco (use standard Champagne for a "keto" friendly version)
Fresh Mint (2 sprigs)
Crushed Ice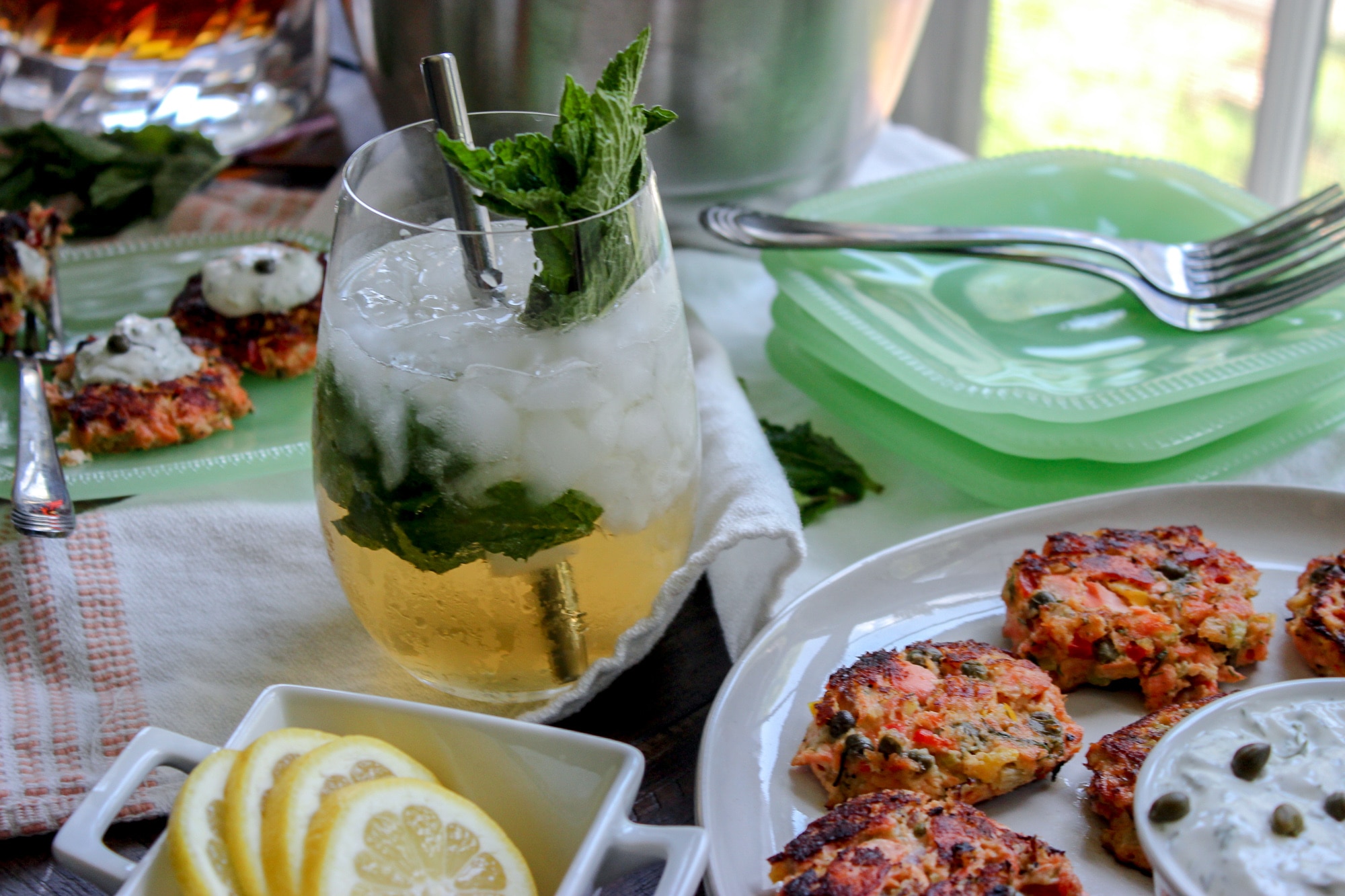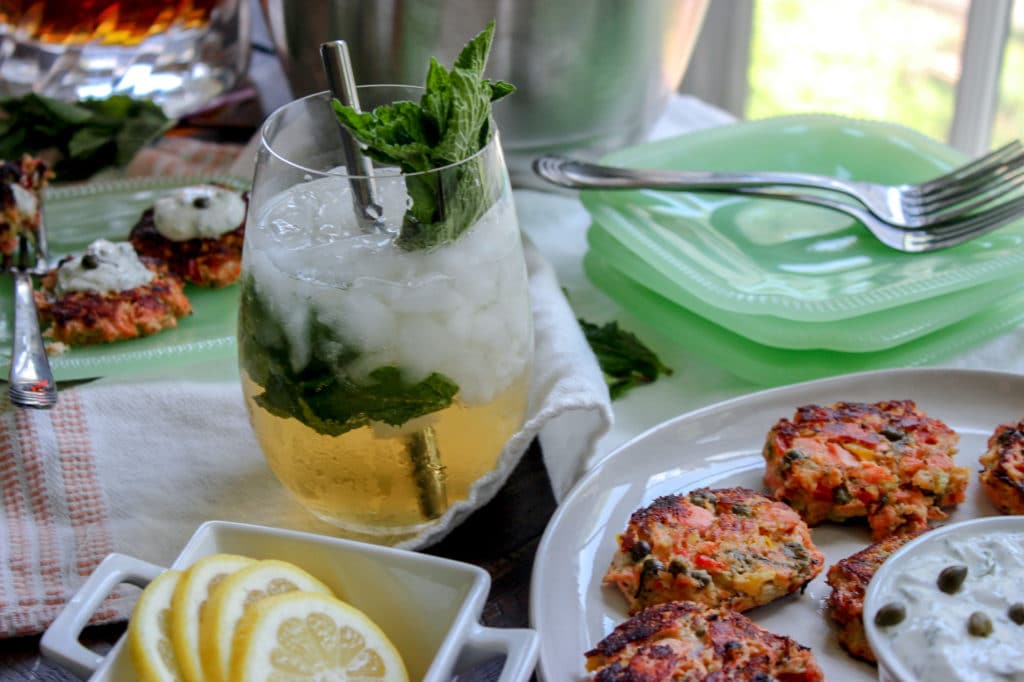 Stirred, Not Shaken:
The Prosecco Mint Julep is so easy to make you can say, "But soft, what light through yonder window breaks?", once and you're ready to sip! The two most important factors in making this version of the mint julep are the crushed ice and the fresh mint. You want the aromatics and oils from the mint to come alive in this cocktail and the crushed ice is a paramount to chiling and sipping in style. To crush the ice, I simply place some ice in a ziplock bag and hack at it with rolling pin like there is no tomorrow. Do what ya gotta do to crush this ice, just don't hurt yourself or anyone else in the process. Ok? Ok. In the bottom of your class (I chose to use a stemless wine glass for this so it easily holds all the contents of my drink but works nicely with the prosecco), muddle a bit of the mint to help awaken the oils. Add in the simple syrup (directions for regular/ keto syrup in the recipe notes below) and add in the bourbon. Give it a good stir. Add in the ice and stir again. Top with the Prosecco and garnish with a mint sprig!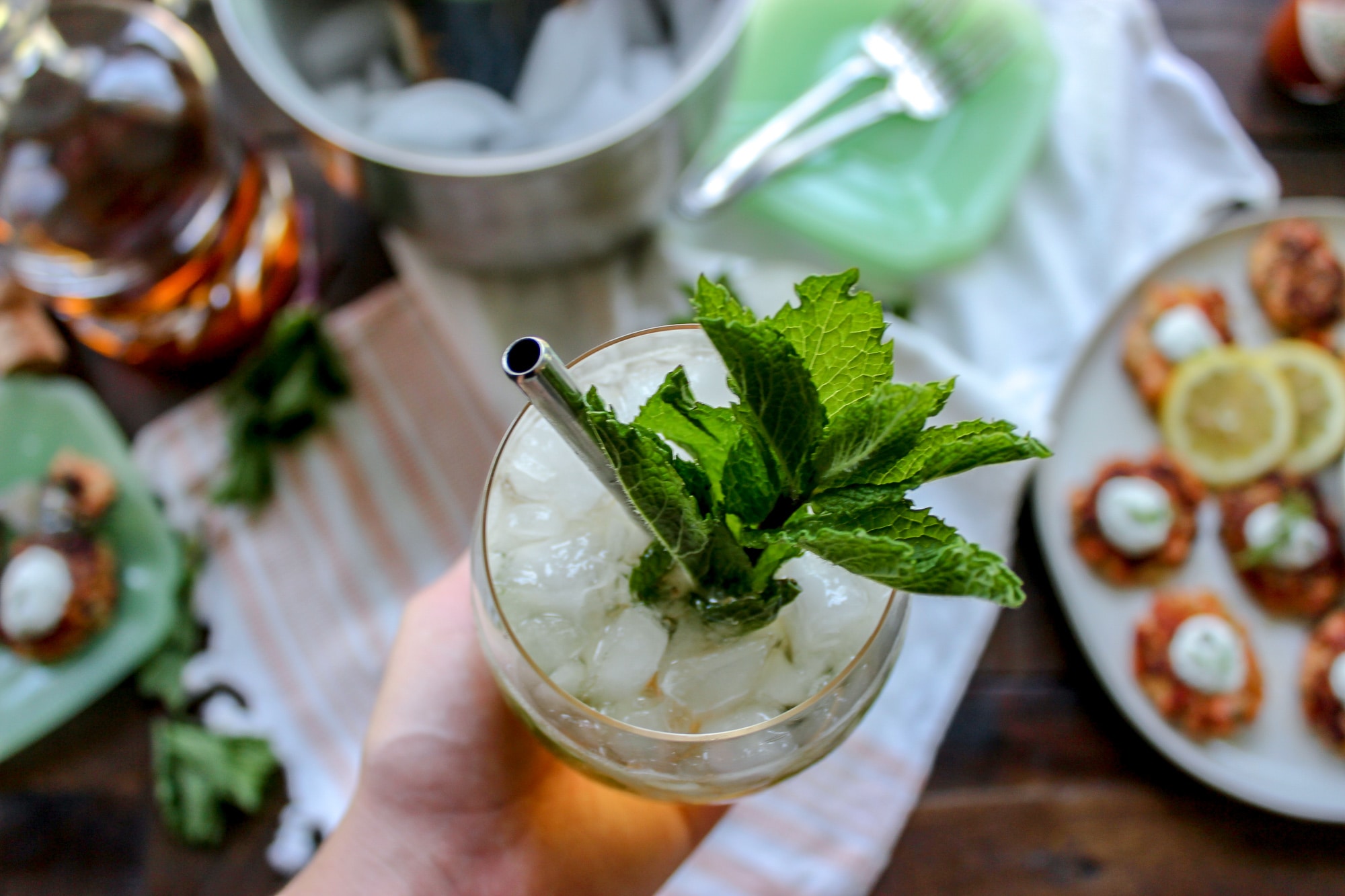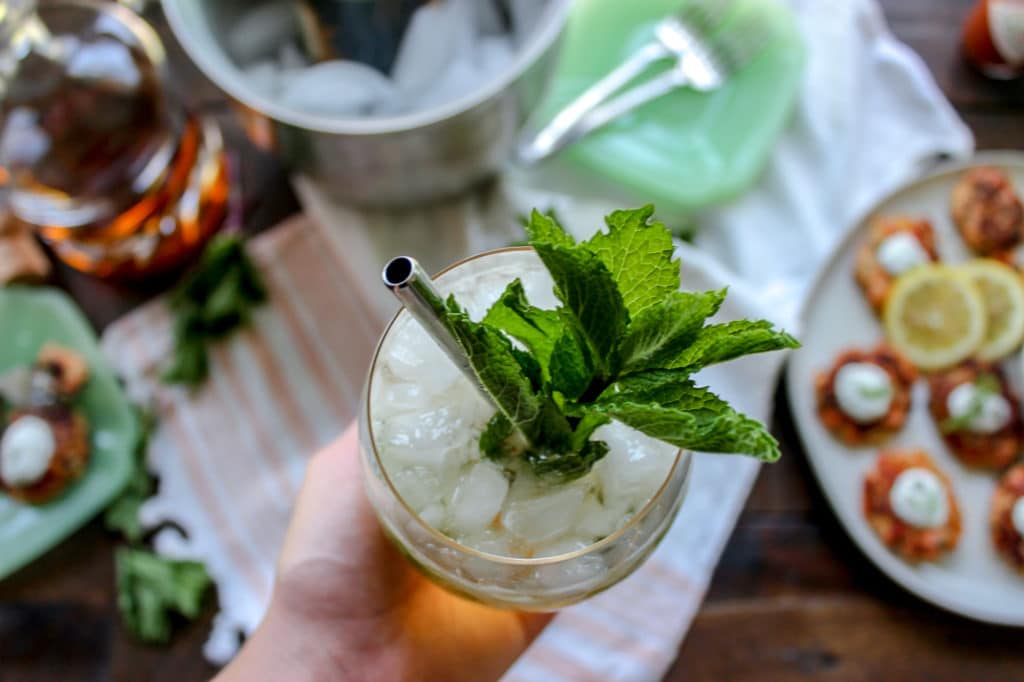 Food Pairing:
As always, never drink on an empty stomach! We NEED food with this delicious romance tragedy inspired cocktail. So, why not make these Easy Salmon Cakes  for two? Salmon pairs really well with the mint and the prosecco. These salmon cakes are fresh but have a nice smoky undertone from the liquid smoke (or you could omit and smoke them on your grill). The flavors pair well with the bubbly drink and are also a great way to impress your date (or your guests). The are keto friendly too!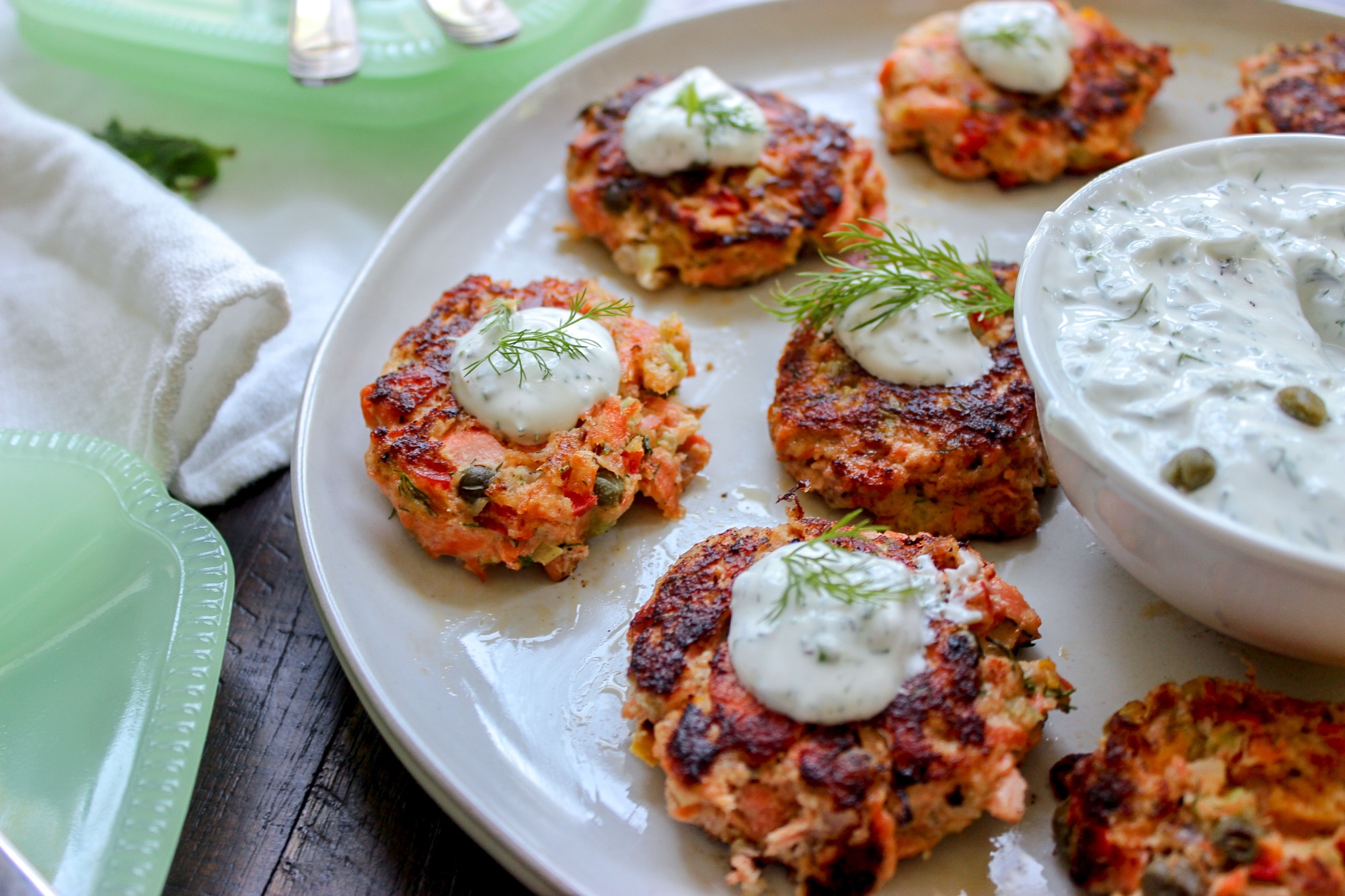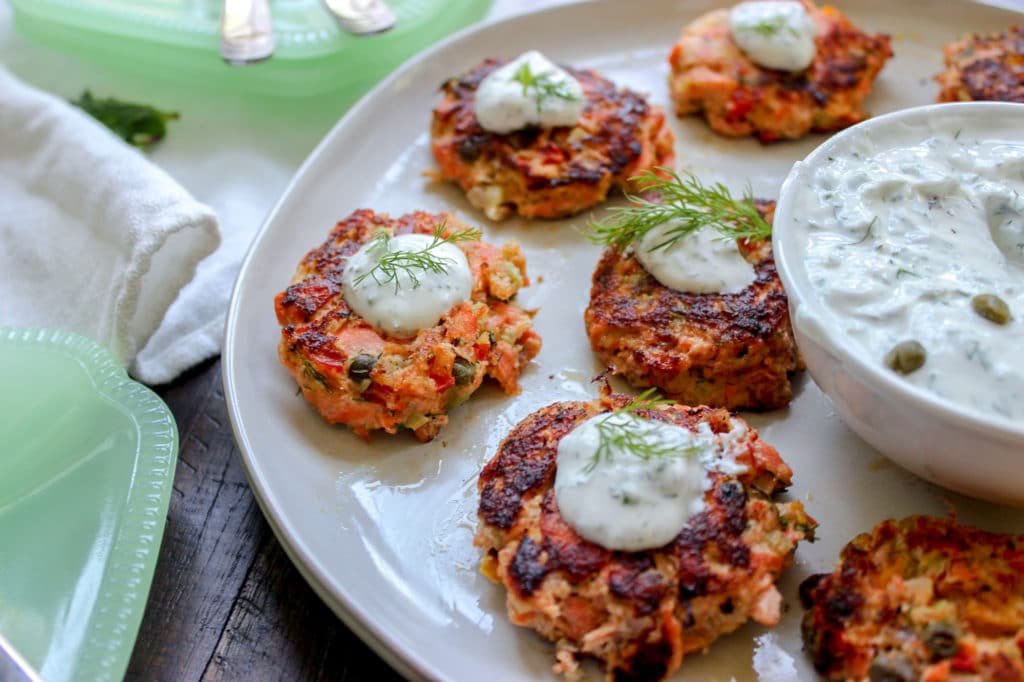 I hope you enjoyed another week of the Bon Appeteach "Book Club". Find the keto options for this drink and notes on how to make the simple syrup below. See you all back here next Friday at 5pm for another classic novel and cocktail combination!
Bon Appeteach,
-L
Nutritional Information- Obtained using My Fitness Pal. Please always verify with your own ingredients as brands vary.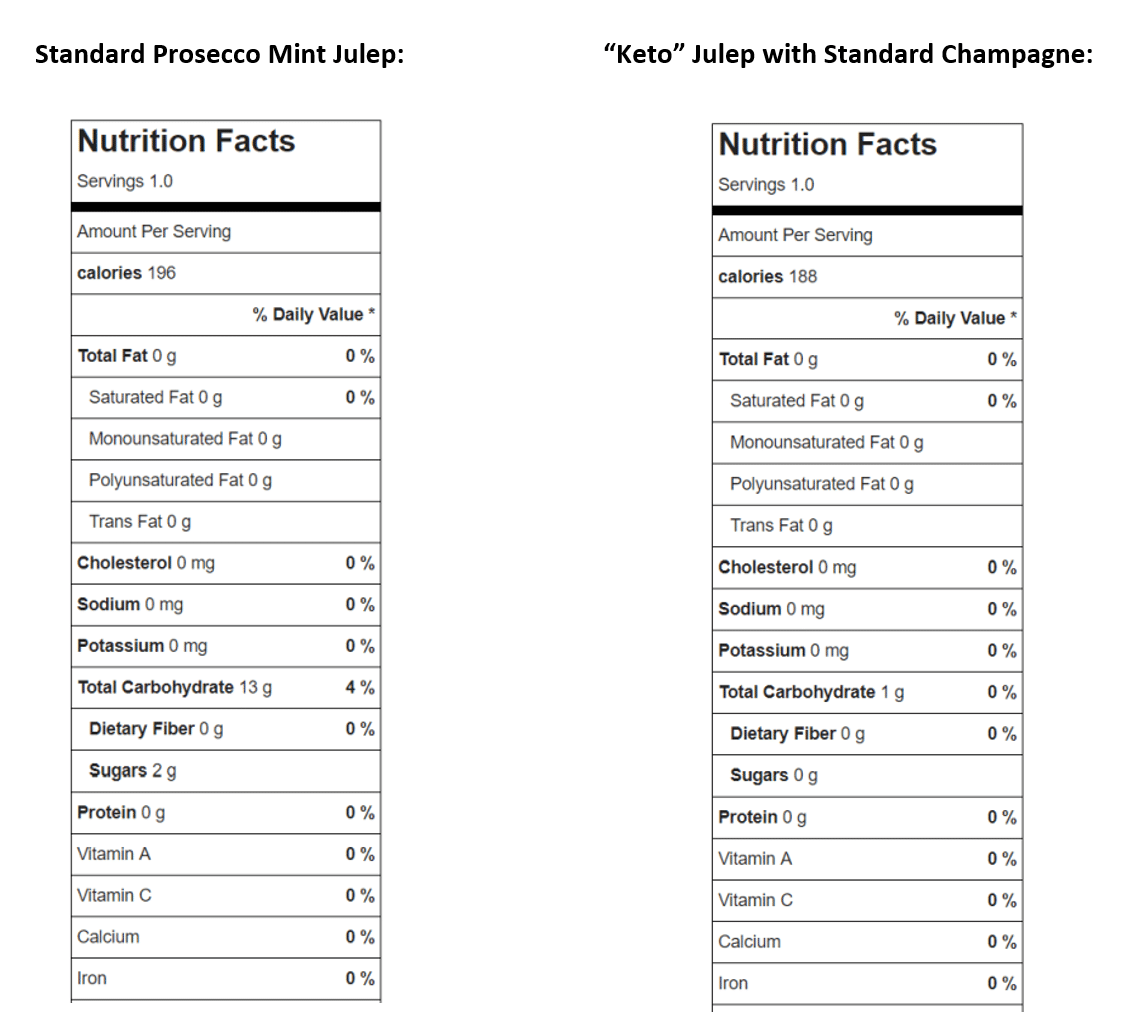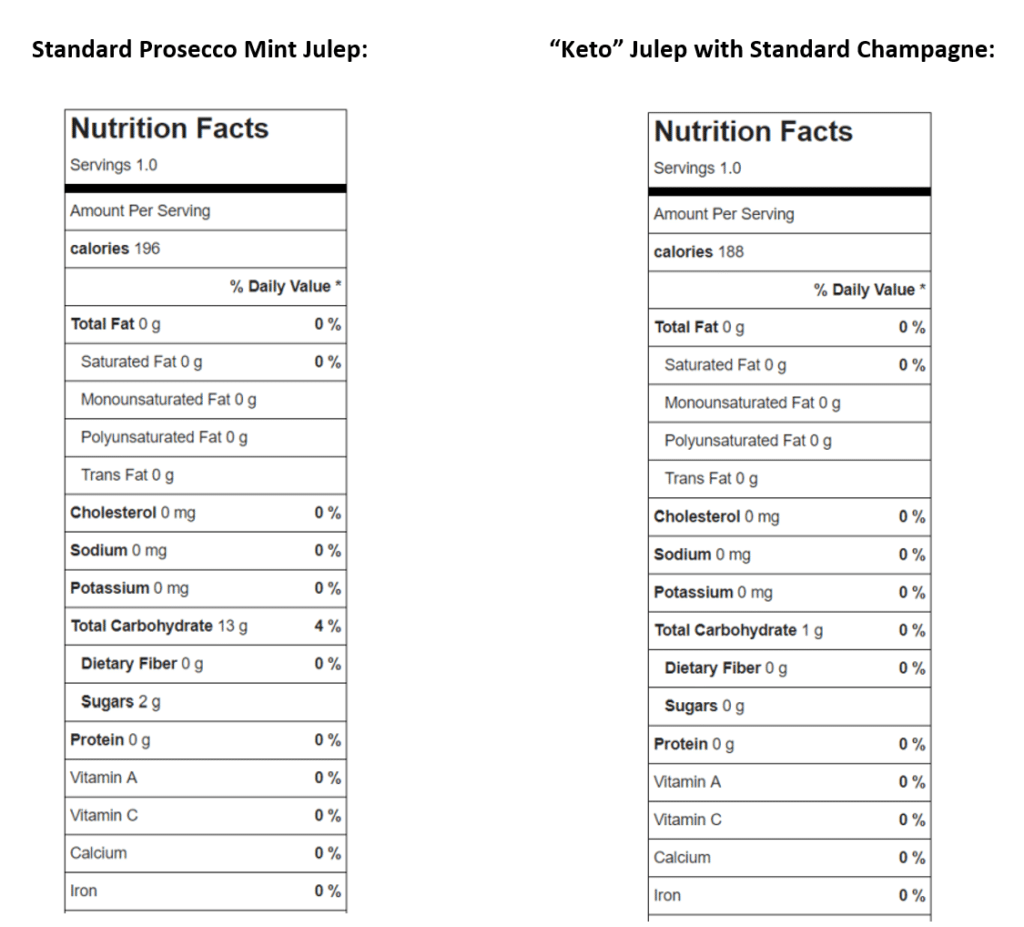 Ingredients
2 oz Bourbon

1/2 oz. Simple Syrup (keto version available)

3 oz  Prosecco

Fresh Mint (2 sprigs)

Crushed Ice

Keto Substitutes: Make Keto simple syrup and use standard Champagne in place of the Prosecco to lower the carbs!
Instructions
1
Start by taking some ice and placing it in a ziplock. Use a rolling pin to carefully crush the ice. Plae back in the freezer until needed.
2
In a wine glass, add 4 mint leaves and the simple syrup. Carefully, muddle the mint to activate the aromatics and the oils in the mint.
3
Add the bourbon and give it a quick stir.
4
Add the crushed ice and the prosecco. Finish by stirring another 45 seconds or so to chill.
5
Serve with a sprig of mint and salmon cakes.
Notes
Simple syrup is simple. It's equal parts sugar to water that's brought to a simmer on the stove and then cooled. To make a keto version, simply swap out regular sugar for your favorite sugar substitute (erythritol, swerve, etc.). Allow it to fully cool before adding to your cocktail. Ex: 1 cup Sugar to 1 cup water, bring to a simmer on medium heat, chill. Store extras in the fridge.