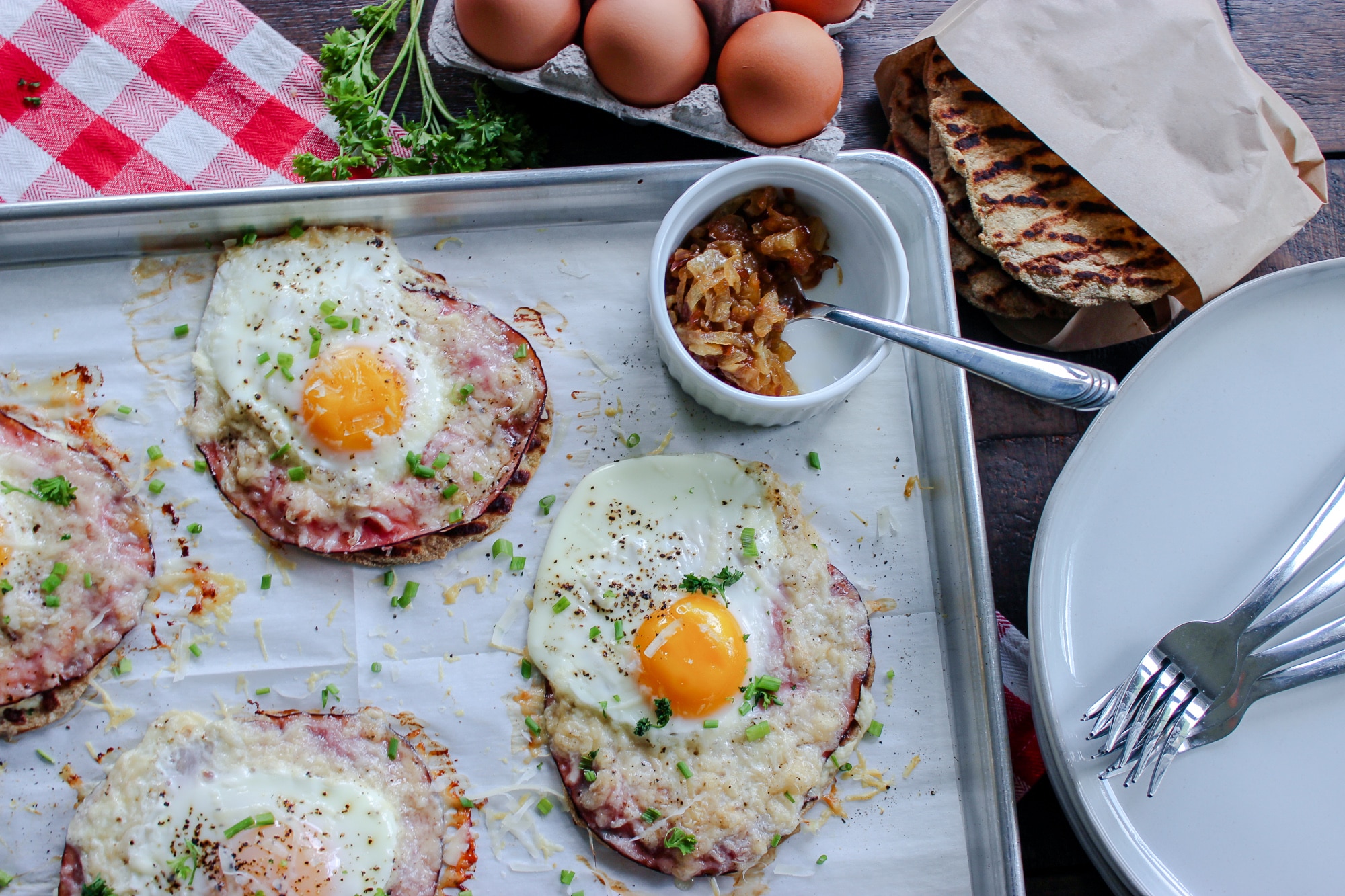 Low Carb Croque Madame:
I've officially lived in 4 states, but being born and raised in the Chicago area taught me to brunch like a pro. Therefore, brunch is a staple in my weekend plans. There is a very easy formula for a outstanding brunch. You need a great mimosa, maybe a bloody Mary, lots of fresh pressed coffee, and something to actually eat (cause food is important). I've been way too obsessed with this Low Carb Naan Bread recipe lately and cannot seem to get enough. I made a caprese grilled cheese with it, I made tacos with it, and now…now I've made one of my new favorite brunch dishes; this delicious Low Carb Croque Madame. If you already have some of the Low Carb Naan Bread on hand, then this recipe only takes a few minutes to make! Find the full recipe for Low Carb Croque Madame below and read on for some easy tips and tricks to making this a hit at your next brunch!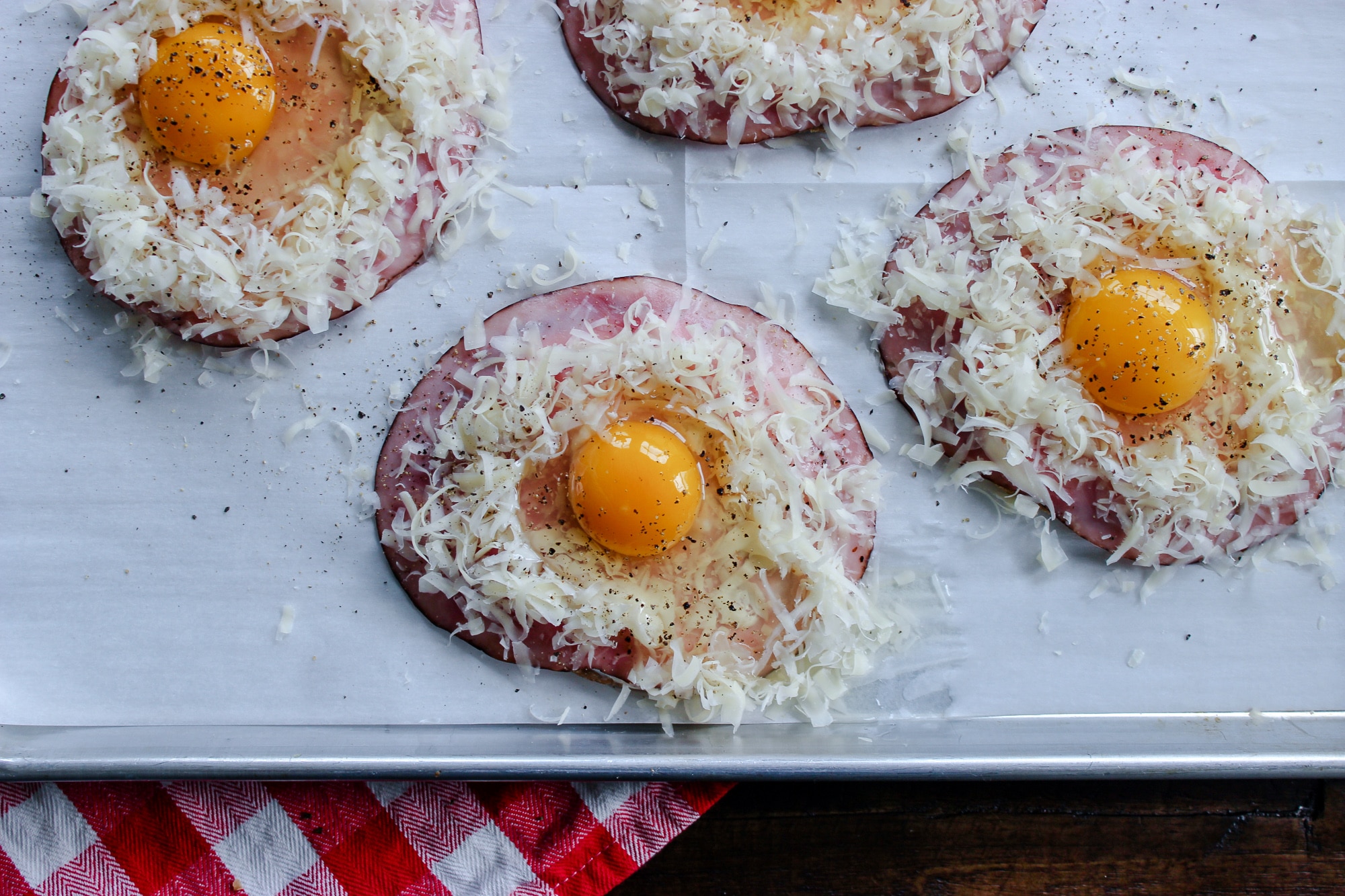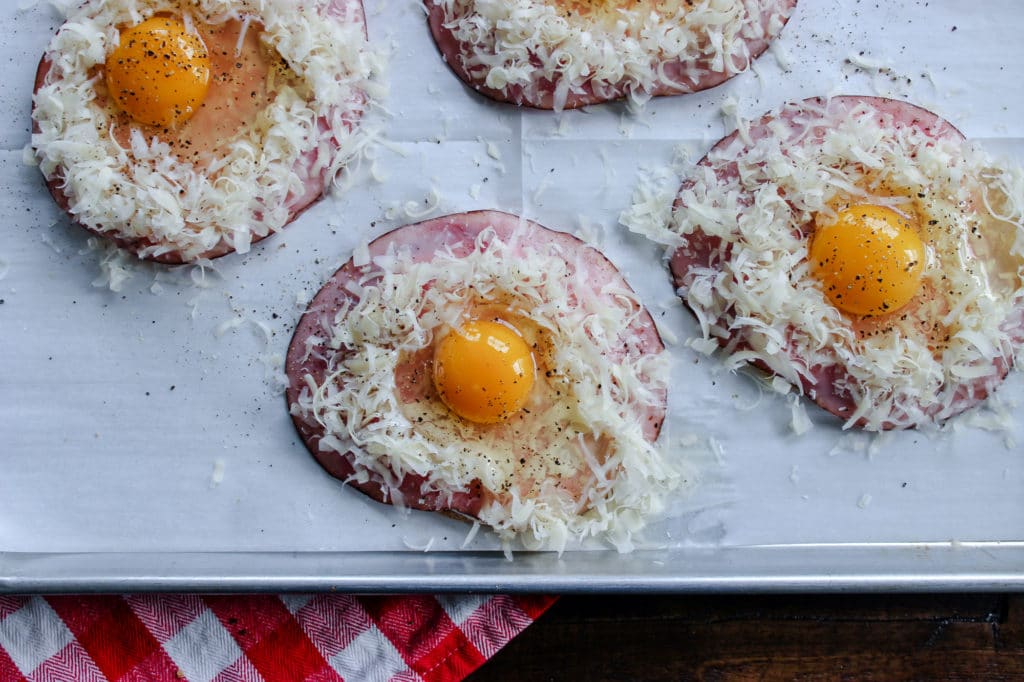 "School" Supplies:
Baking Sheet
Parchment Paper
Spatula
Small Pot
Whisk
Measuring Tools
Spoon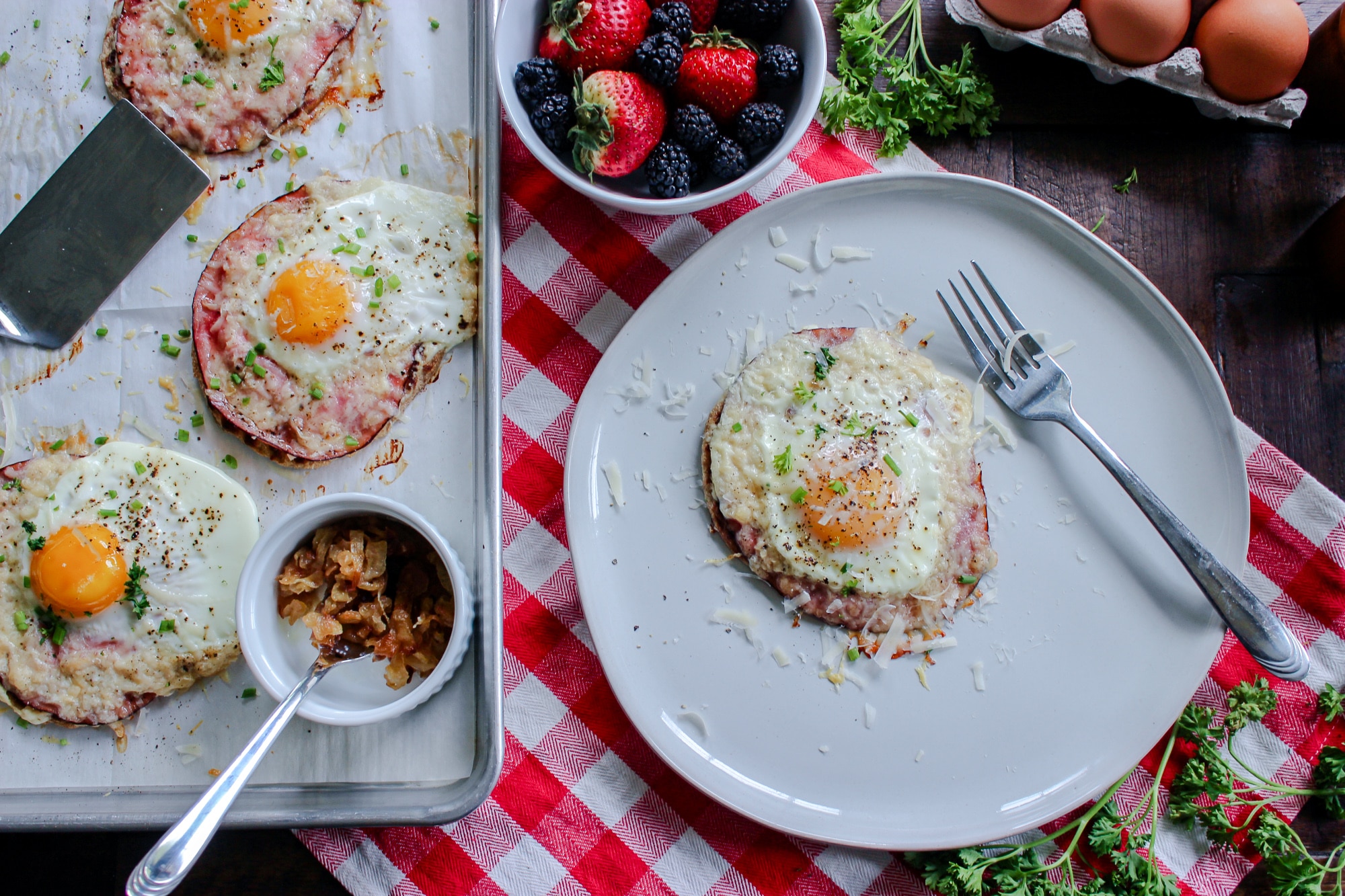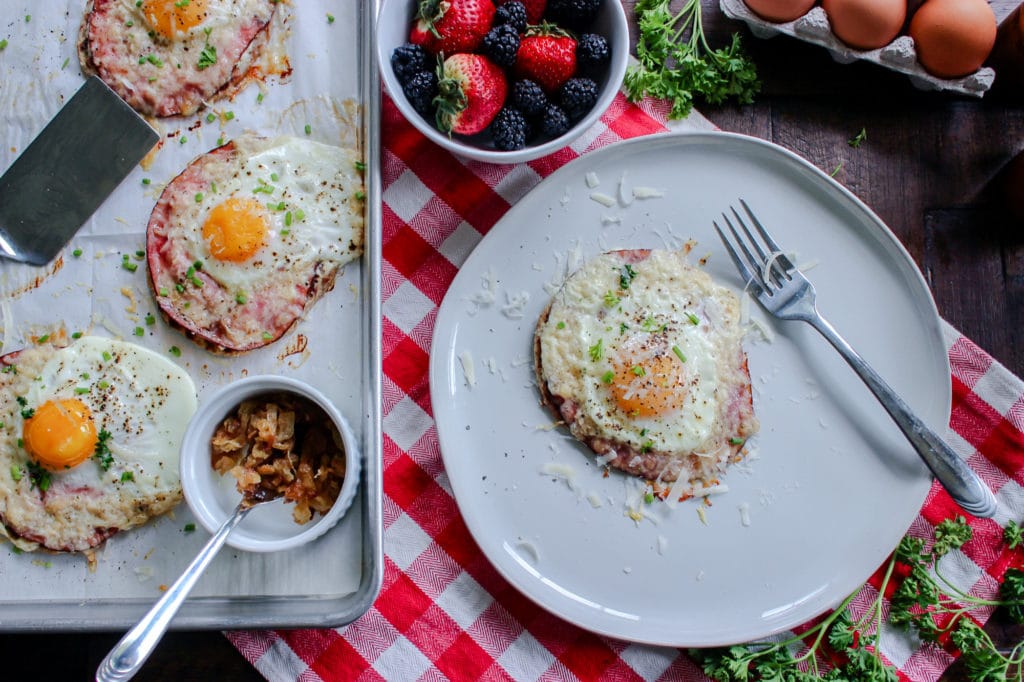 "Class" Notes:
This recipe is really easy to assemble! I had leftover Low Carb Naan Bread that I needed to use up and thought this would work perfectly. Classically, a Croque Madame is kind of a mix between a grilled cheese, a white sauce, and a fried egg. Put those three things together and your mouth is as happy as your stomach! I started by quickly making my sauce. Typically a white sauce or a Bechamel sauce is made with a roux (equal parts butter and flour). After you add your milk or cream, the cooked flour mixture is used to thicken it.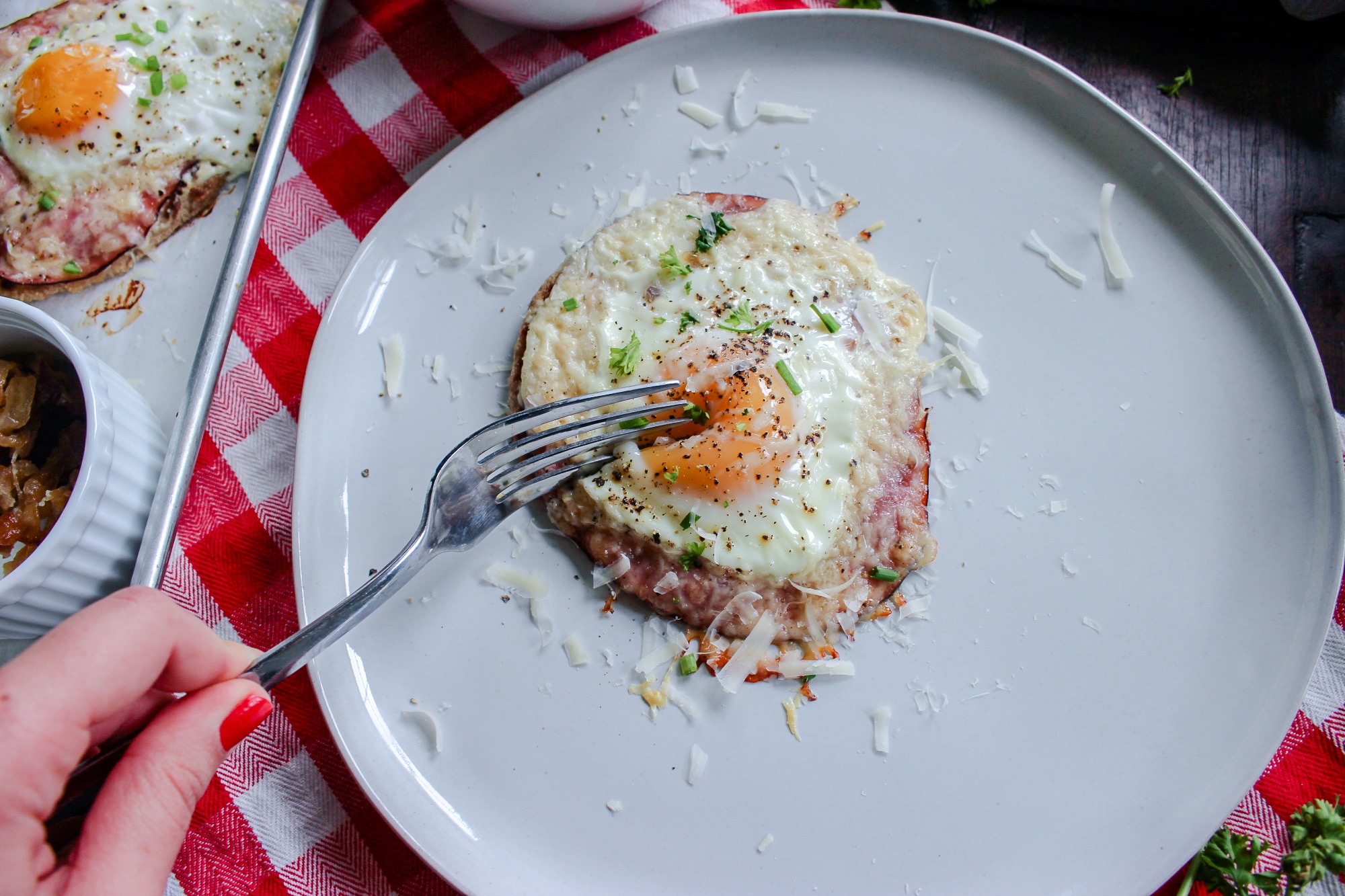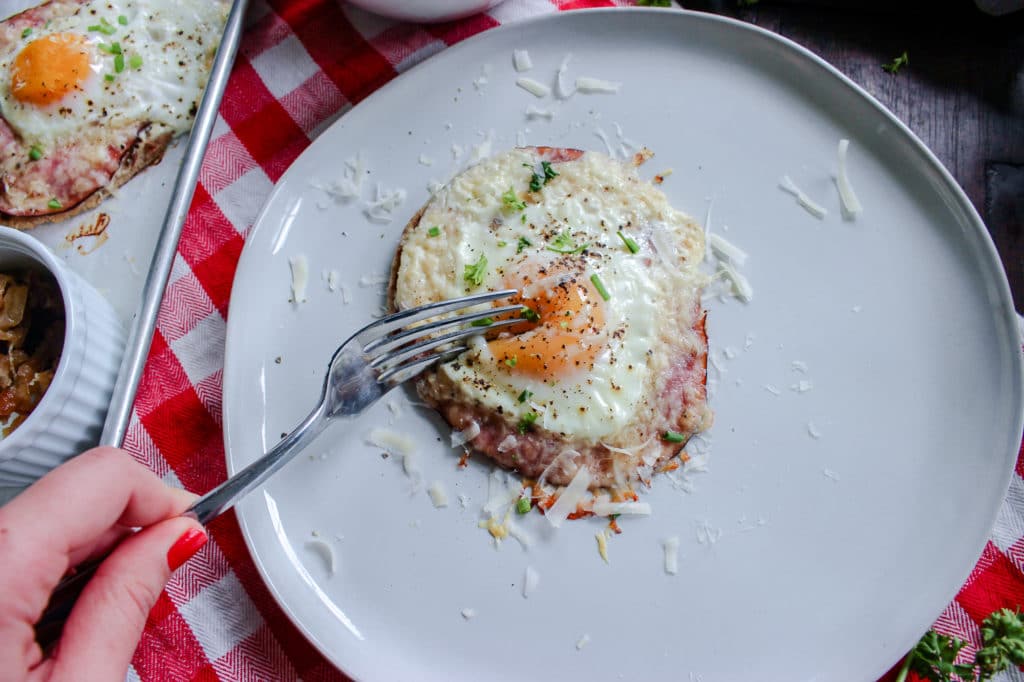 To make this low carb and keto friendly, I simple use heated half and half with grated parmesan cheese. I find the parmesan easily thickens the sauce, eliminating the need for a roux. Once the sauce is done, I placed the Low Carb Naan bread onto a baking sheet. Layer with the sauce and place a slice of ham on top. Take freshly grated gruyere and create  a cheese "nest" on top of the ham. This is what helps hold the cracked egg in place. Crack an egg into each "nest" and carefully place the baking sheet into the oven. They bake up beautifully and are an easy way to feed a crowd! The best part? My non-low carber eaters didn't even know it was low carb!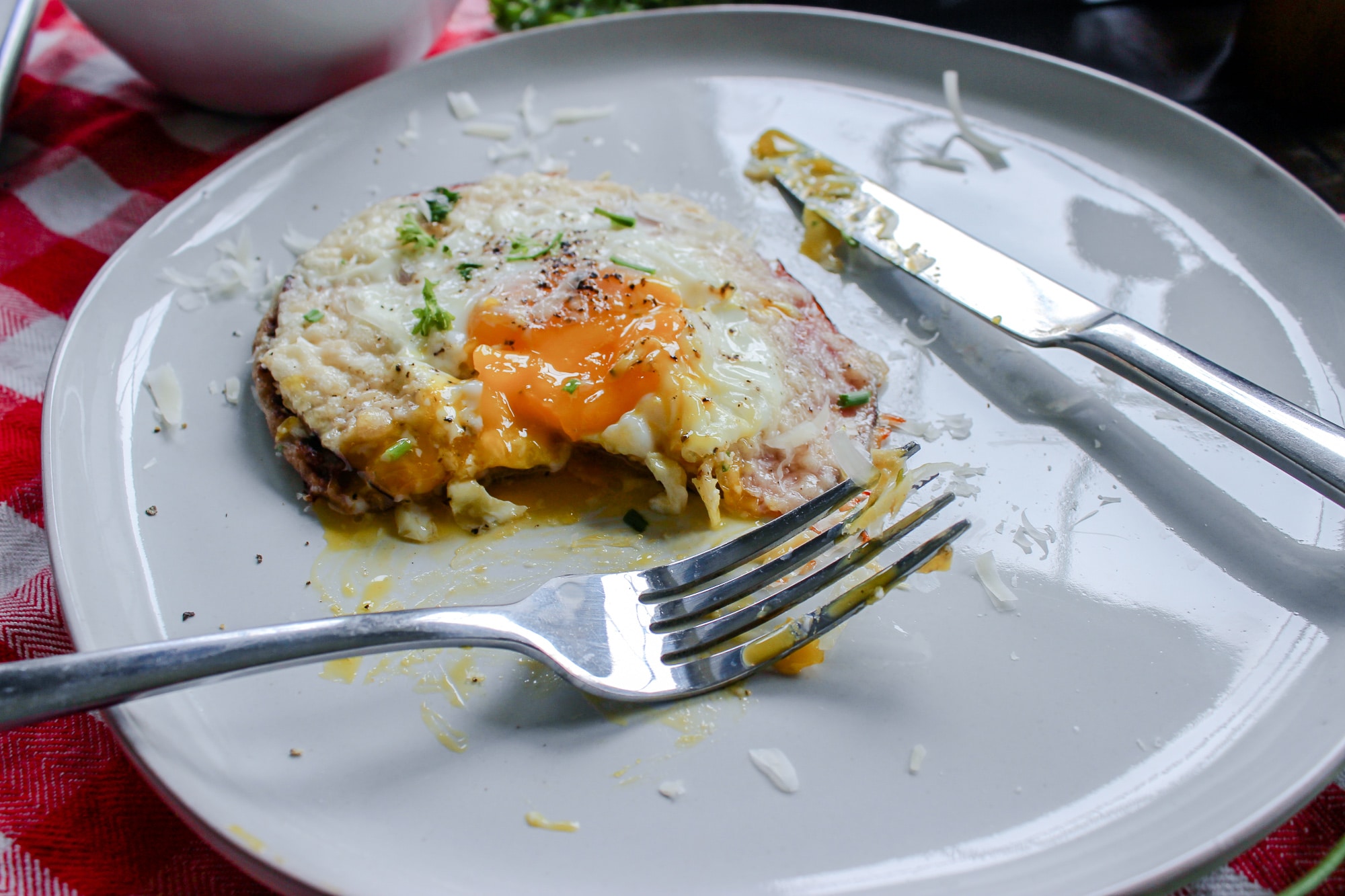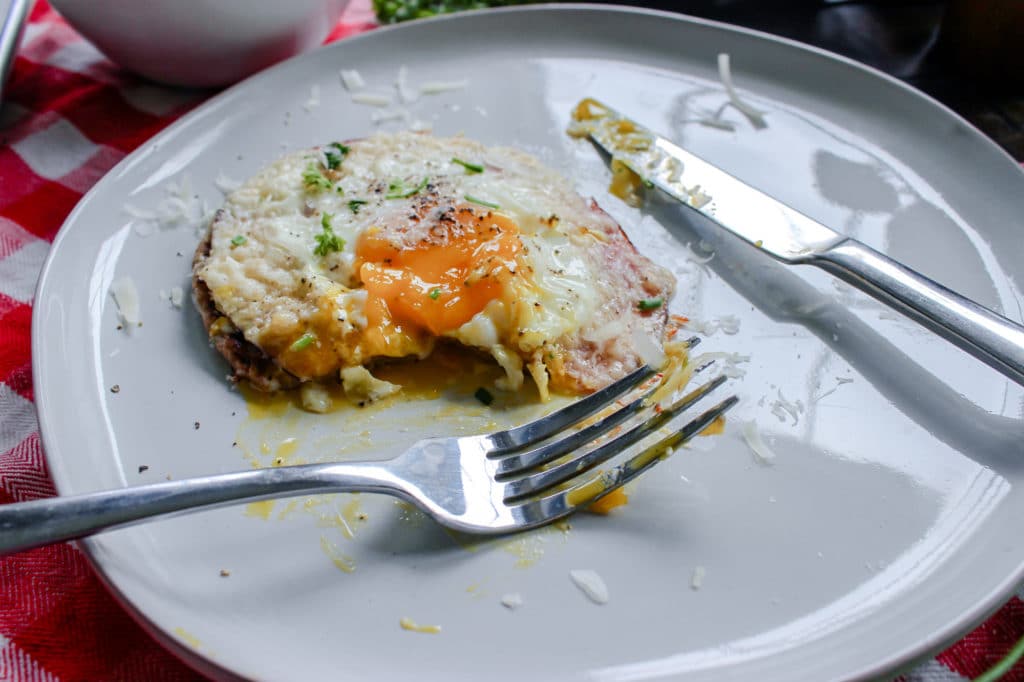 If you love this brunch recipe be sure to check out my easy Chorizo & Egg Stuffed Peppers or my popular Starbucks Copycat Sous Vide Egg Bites. The full recipe for this Low Carb Croque Madame is below! 
Bon Appeteach,
-L
All nutrition information was obtained using My Fitness Pal.
Ingredients and brands vary, so it is important to always double check when you make your own!
Low Carb Naan Bread/ Serving: 56 calories, 2.3 g. Fat. 2 Net Carbs, and 2.1 g. Protein 
Croque Madame Ingredients: 305 calories, 18 g. Fat, 2 Net Carbs, and 19 g. Protein
Ingredients
6 Low Carb Naan Breads (see recipe link above)

6 Eggs

6 Ham Slices

1/2 cup Half & Half

1/4 cup Parmesan Cheese

4 oz. Grated Gruyere Cheese

Salt & Pepper to Taste
Instructions
1
Preheat your oven to 400 degrees F.
2
Place parchment paper onto a baking sheet.
3
Lay a low carb naan bread onto the paper.
4
In a small saucepan, warm the half and half on medium heat and whisking continuously to prevent burning.
5
Add in the parmesan cheese and continue to whisk until it thickens.
6
Place a few tablespoons of sauce across the top of the low carb naan bread.
7
Add one slice of ham over the sauce and press down.
8
Divide the grated gruyere cheese onto each ham slices. create a "nest" for the egg by using the cheese as a wall to stabilize the cracked egg.
9
Carefully crack an egg into each center of the cheese "nests".
10
Bake in the oven till the egg white is set and the yolk is still runny. This should take 6-8 minutes or so, but keep an eye on it!
11
Serve with a side salad and a little extra sauce and cheese! Happy brunchin!