Holiday Ham with Brown Butter Whiskey Glaze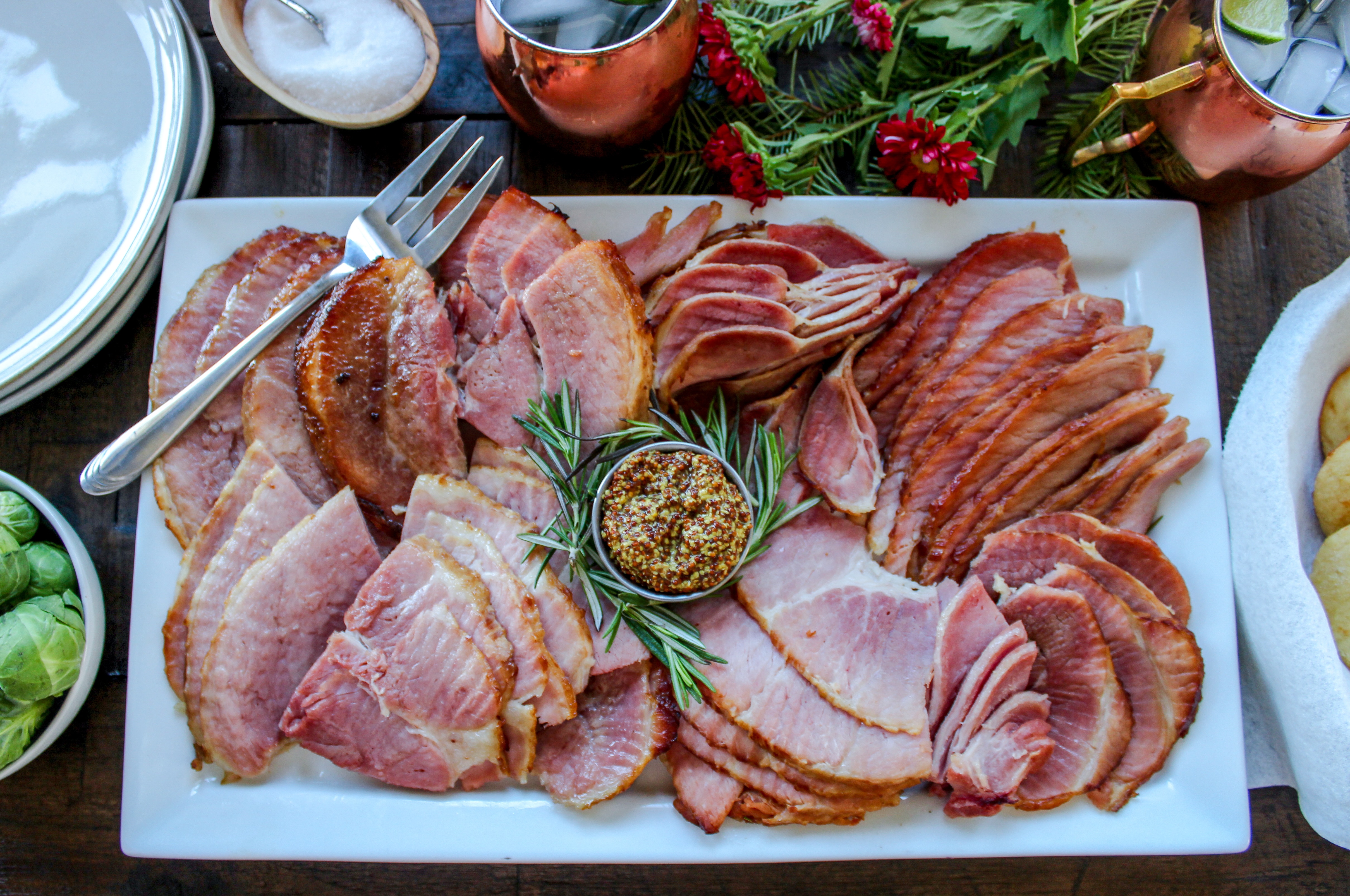 Bon Appeteach is a participant in the Amazon Services LLC Associates Program, an affiliate advertising program designed to provide a means for sites to earn advertising fees by advertising and linking to amazon.com. I only share products that I use and stand behind personally.
An easy to make holiday ham recipe made with delicious brown butter and glazed in delicious whiskey.
My family makes ham (and turkey) for every Christmas. This year, I wanted to come up with an easy way to produce a show stopping and foolproof ham that was worthy of being on your holiday table.
There were many requests for this recipe as well via my followers over on Instagram, specifically a glaze recipe that was keto or low carb friendly as well. I played around with a few glazes before landing on this version. If you aren't keto, you can also swap in regular maple syrup (can't go wrong there) as well.
Find the full recipe for my Holiday Ham with Brown Butter Whiskey Glaze at the bottom of the page and read through to get all the ham tips and tricks so you're prepared this holiday season!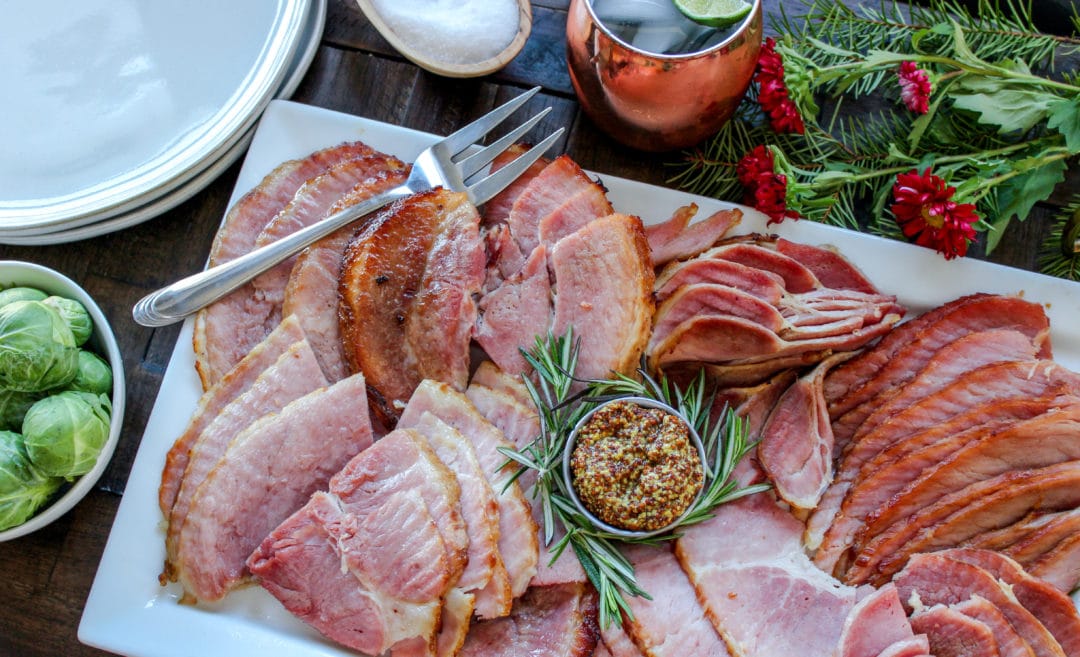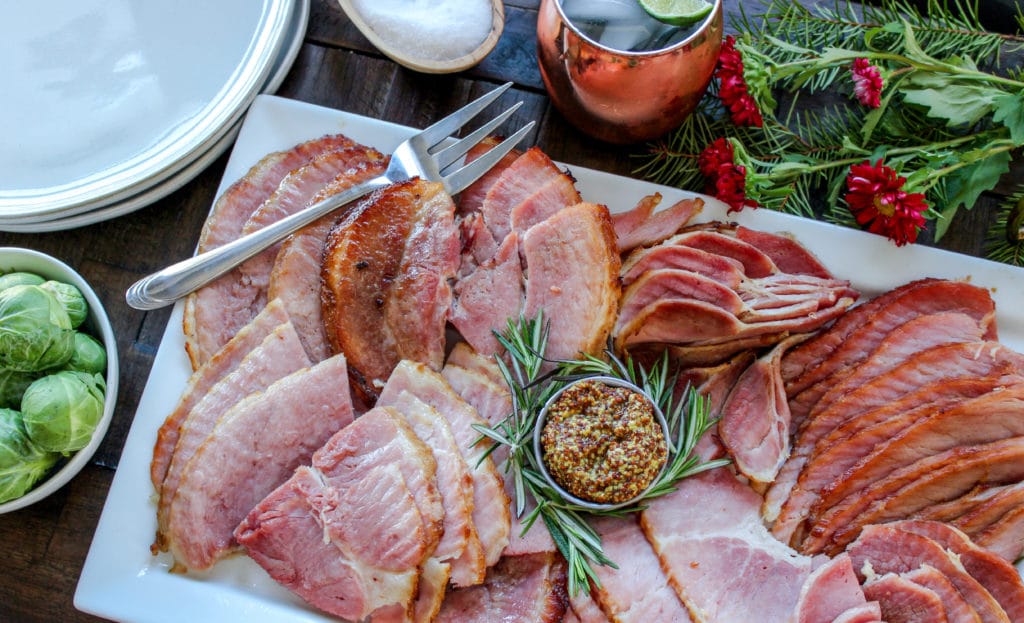 "School" Supplies:
9″ x 13″ Pan
Small Saucepan
Whisk
Pastry Brush
Foil
"Class" Notes:
This year, I opted for a spiral ham because it was on sale (I'm a food blogger on a budget y'all). Spiral hams I feel like can tend to dry out a bit more, so here are a few tips and tricks to baking your ham that I find help keep it juicy all the way up until serving time!
The first tip is to work with a smaller ham. Bigger isn't always better, and working with a ham usually under 10 lbs will utilize a shorter baking time. Most hams you purchase in the store are already precooked. Meaning, all you're actually doing is reheating the ham and adding the glaze on for additional flavor.
Now, the FDA recommends any reheated food be cooked to 165 F. and the culinary arts teacher in me feels the need to share this fact. This is a guideline put in place to protect consumers from potential food borne illnesses.
However, I personally do not cook my ham past 120 F. and find this method works best for a juicier final product. The goal is to limit the amount of time in the oven in my opinion. I do this first, by letting the ham rest for at least two hours outside of the fridge and before putting it into the oven.
This allows it to get closer to room temperature (you also under the 4 hour mark as well for food safety as well), and again, helps reduce the amount of baking time.
I bake my ham in a 9×13″ pan, tightly covered in foil (or you can use a plastic bag) with a few slits in the top (helps to prevent steaming). Bake ham at 225F until it reaches 95-100 F in the center. At this point, I like to bump up the heat, remove the foil and begin adding the glaze until it reaches 120 F. This helps the ham stay moist all the way to the dinner table!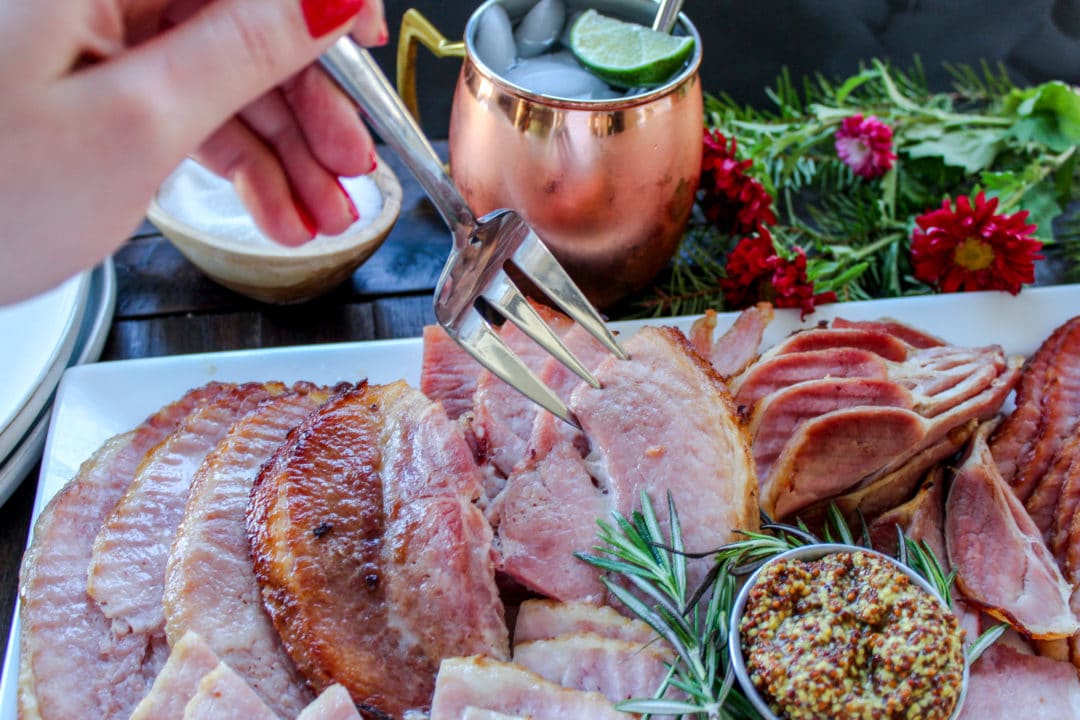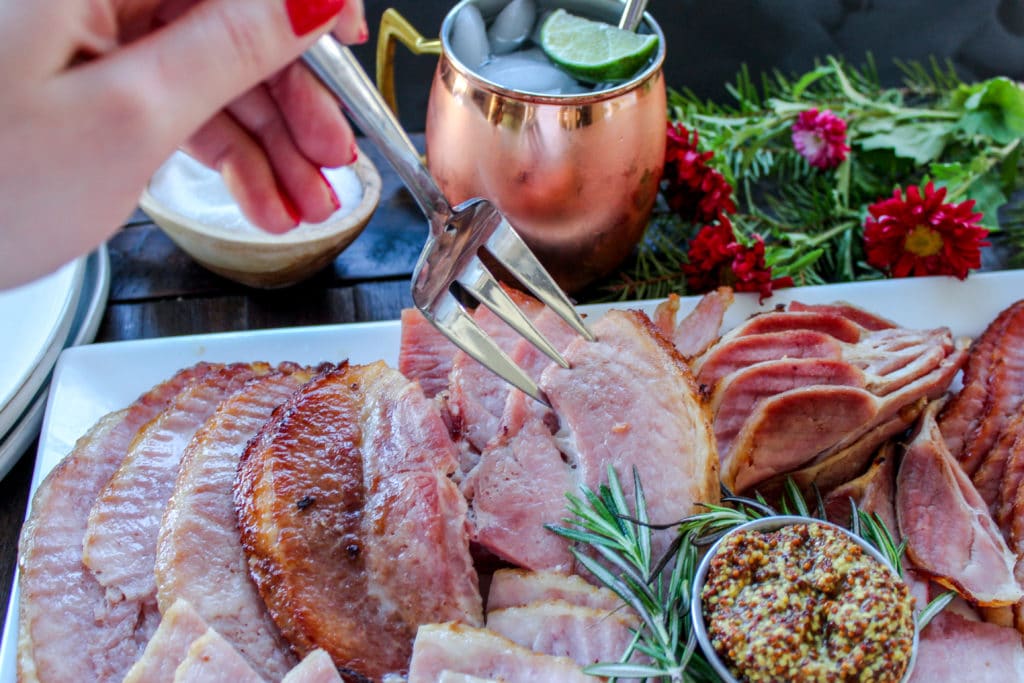 For the glaze, I wanted something that would be flavorful, easy, and have that signature gloss and caramelization that you get from sugar….without actually having to add sugar.
I first tried to make an apple cider vinegar glaze using granulated low carb sweetener, initially it looked like it was going to work out beautifully until I noticed that as the glaze cooled, the sweetener start to harden and crystallize.
This is not exactly what I want to have happen on the outside of my ham. I moved on to browning some butter in a pan till fragrant, and uh… brown. Remove the butter from the heat momentarily before adding in the whiskey (I used Maker's Mark) because otherwise you may or may not get a hot butter explosion (I'm definitely speaking from experience here by the way).
Finally, after allowing the mixture to cool a bit, I mixed in my favorite Low Carb Maple Syrup. If you are not low carb, you can obviously use the real deal too. I brushed the glaze on thoroughly over the ham and let it cook, uncovered, until it reached its final internal temperature of 120 F.
Allow the ham to rest before slicing. I slice in and around the bone to remove and divide the spiralized pieces.
Serve this Holiday Ham with Brown Butter Whiskey Glaze with my favorite keto friendly sides like, Keto Cornbread Stuffing with Herbed Butter, Low Carb Green Bean Casserole, and my family favorite Low Carb Armenian Cheese Boreg!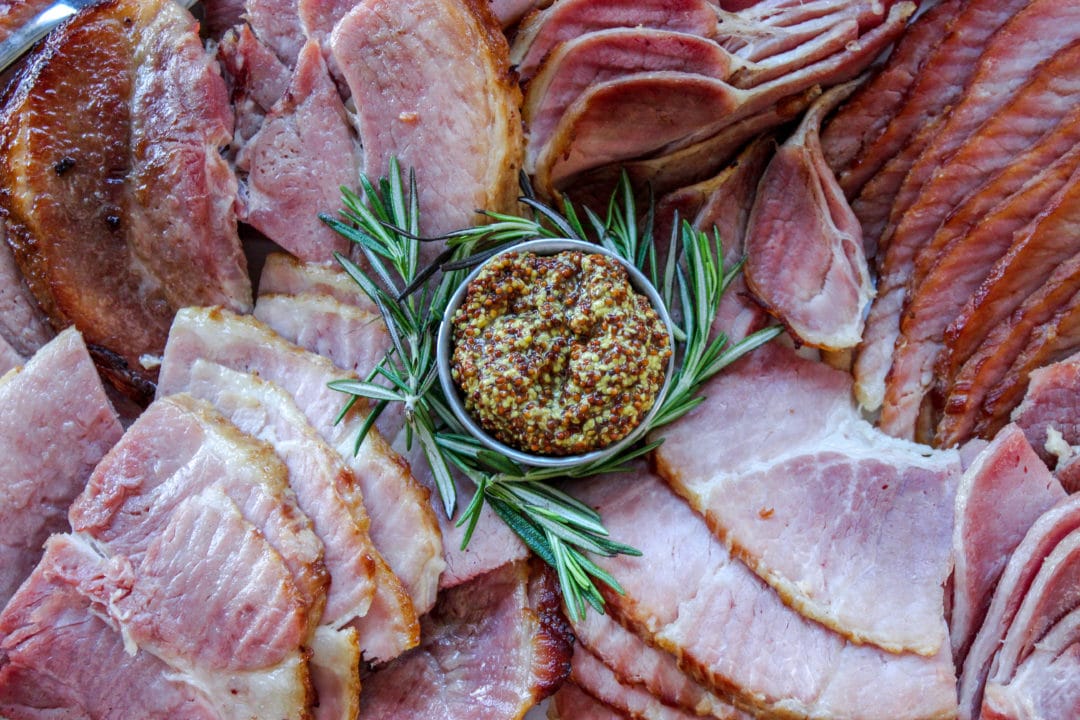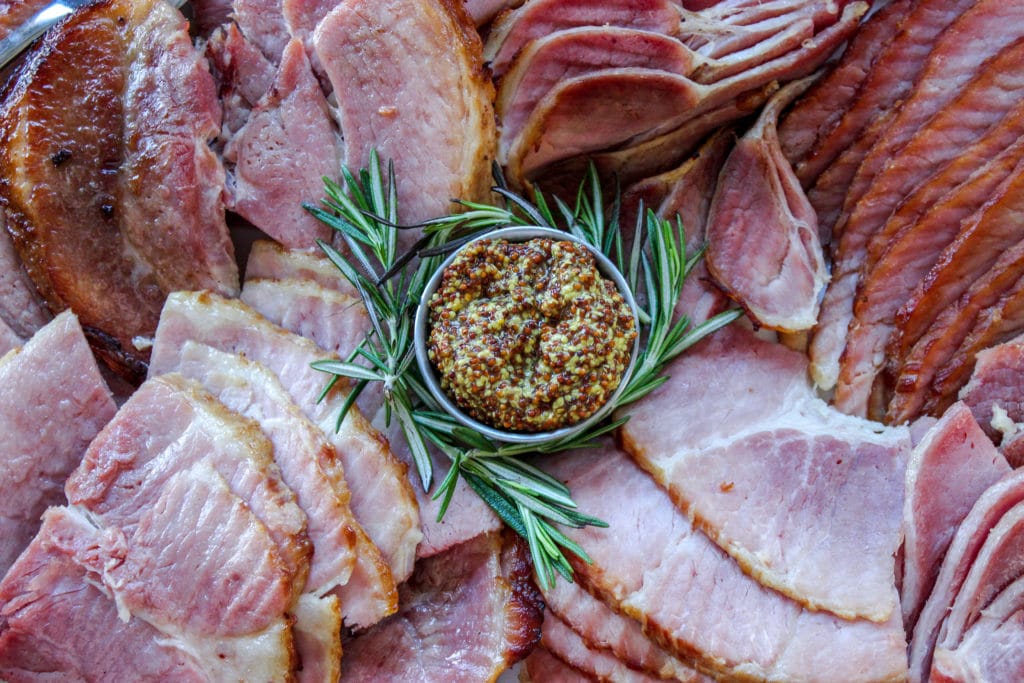 Bon Appeteach,
-L
Yield: 12
Holiday Ham with Brown Butter Whiskey Glaze
Ingredients
1 Spiral Ham, 7-10 lbs.
1/4 cup Butter
1/4 cup Whiskey
1/4 cup Low Carb Maple Syrup (ore regular maple syrup)
Instructions
Begin by allowing your ham to rest at room temperature for 2 hours. Keep it in the packaging during this time.
Preheat your oven to 225 F., remove plastic from the ham, and place it bone side down in a 9x13 inch pan. Cover tightly with foil and insert a thermometer into the very center of the ham, Bake until it reaches 95-100 F internally. Plan for it to take between 15 minutes per pound to cook.
To prepare the glaze, heat the butter in a small saucepan on medium heat until it is fragrant and brown. Remove it from the heat and allow it to rest a few minutes before adding in the whiskey (be careful as butter can splatter easily). Return to low heat and allow it to reach a simmer. Once simmering remove it from the heat and stir in the low carb (or regular maple
syrup). Allow it to rest until the ham is ready to be glazed.
When the ham reaches a max internal temperature of 100 F, remove the foil and increase the oven temperature to 350 F. Brush the ham entirely with the glaze and repeat. Bake uncovered until it reaches 120 F. Allow the ham to rest 20-30 minutes
lightly covered with foil before slicing and plating.
Nutrition Information:
Yield:
12
Serving Size:
1
Amount Per Serving:
Calories:

70
Total Fat:

4g
Saturated Fat:

3g
Trans Fat:

0g
Unsaturated Fat:

1g
Cholesterol:

15mg
Sodium:

100mg
Carbohydrates:

5g
Net Carbohydrates:

5g
Fiber:

0g
Sugar:

4g
Protein:

2g