Low Carb Green Bean Casserole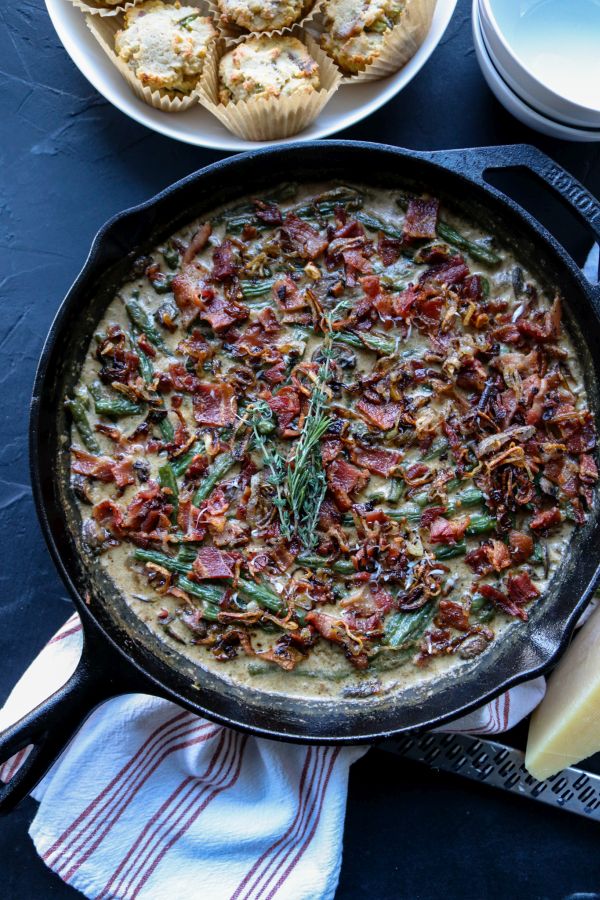 A low carb and keto friendly, from scratch, classic green bean casserole. It's rich, easy to make, and can be prepped ahead of time too!
Green bean casserole has always been my favorite side dish at Thanksgiving dinner as well as a staple for other holidays. I've been making this side dish from scratch for the last few years, and I really think it makes a huge difference in the overall flavor of this dish.
Eating a lower carb or keto diet during the holidays probably seems impossible. That's why I wanted to create a handful of keto Thanksgiving recipes for those looking to keep the carbs low and all the relatives happy (regardless of their low carb status). This keto green bean casserole will do just that!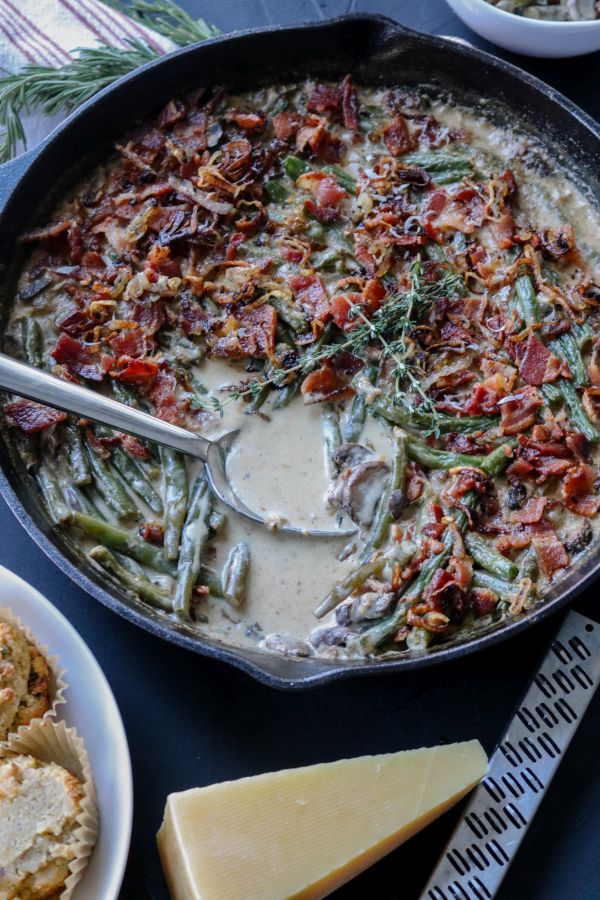 This dish features fresh green beans, and easy to make homemade mushroom cream sauce, and a few other homemade touches (like crispy bacon and homemade fried onions too). It's the perfect holiday side to share! Check out the full green bean casserole recipe below and also check out the video tutorial I made as well
"School" Supplies:
Large saute pan
Large pot
Whisk
Knife and Cutting Board
Measuring Cups & Spoons
9×13 Inch Pan or 12″ Cast Iron Skillet (for baking)
"Class" Notes:
What makes this green bean casserole so incredible? Well, it's the "from-scratch" mushroom gravy base and the delicious onion and bacon topping. Because who doesn't love bacon (actually my friend Phil doesn't and that's weird, so he can't sit with us)?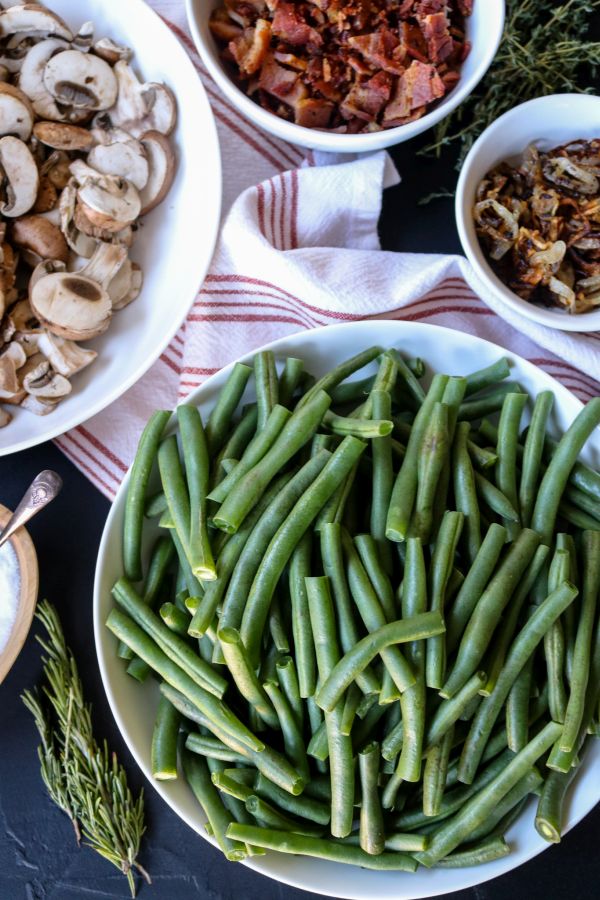 I'm going to break down the different components of this recipe, from par-boiling the beans to making the sauce, and give you tips to prep ahead along the way! Don't be stressed, just be excited because this keto Thanksgiving side dish is one your family will be requesting for years to come!
Prep the Bacon and Onion Topping-
Here's how this whole dish goes down in the Bon Appeteach Kitchen. Start by cooking the bacon first, remove it and set it aside to drain the oil on a paper towel. You can cook it just until it's lightly crispy too, because it will go in the oven at some point and brown a little more. So don't overdo it!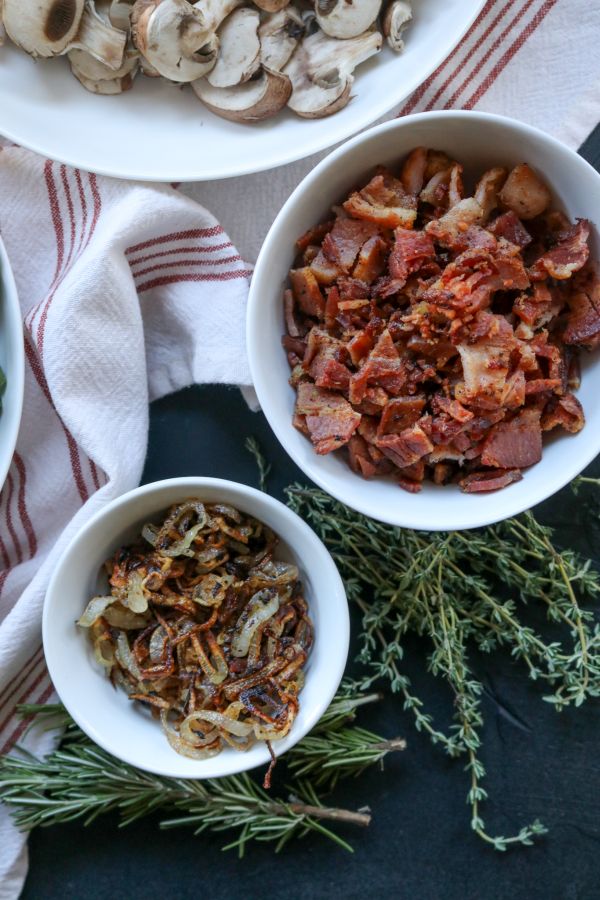 While the bacon is cooking, I like to slice the onions (or shallots) and set them aside. When the bacon is removed, I prefer to utilize the bacon grease for frying my shallots. Now, to keep these lower carb, I literally just crank the heat a bit and drop the onions right into the hot pan.
Stir them and watch them carefully. They should brown and get crispy fairly fast! I remove them and also set them on a paper towel and set it all aside. You can chop the bacon now or wait until later too.
Homemade Mushroom Cream Sauce-
MOVE OVER canned cream of mushroom soup! This sauce is what makes this dish (besides the bacon and onion topping and I think that needs zero explanation) .
So in order to be economical with my time and with how many dishes I prefer to do, I continue to use that same skillet I cooked my bacon and onions in to make things easy. Start by sauteing your onions and mushrooms until tender and the mushrooms begin to brown.
To add a nice umami flavor to the sauce I add in soy sauce/ coconut aminos (do what works for you here) and a little Worcestershire sauce. Omit the Worcestershire sauce if you're gluten free!Another way to add a lot of savory flavor here is to add in some fresh thyme, rosemary, salt, and pepper to season as well.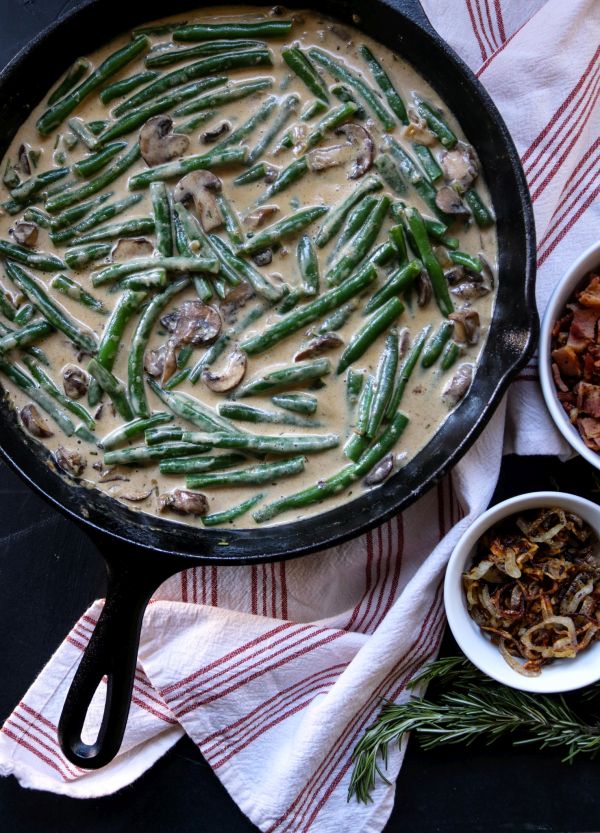 To make the actual gravy, I sub a classic flour based roux for a xanthan gum roux instead. A traditional roux is made with equal parts butter and flour and is cooked on low heat. Xanthan gum is a lower carb thickener (similar properties to cornstarch), but works best when first dissolved before adding any liquids (it will clump up and look a bit chunky).
Pro Tip: Don't over do it on the xanthan gum! Too much means a very slimy, slippery consistency to your sauce and I promise it is the most unappetizing thing you could do. A little goes a long way to help thicken, so be patient! Sub for cornstarch or arrowroot powder if need be!
After the xanthan gum dissolves, I stir in the stock and the cream and crank up the heat to medium high. The heat allows for the xanthan gum to make it's thickening magic happen. Be sure to stir continuously however to prevent scorching.
Additional thickening of the sauce is provided by the addition of cheese! You can add Parmesan, Gruyere, Swiss, or Havarti. I used Parmesan because that is what I had on hand. Once it's mixed, add the green beans (I par-cook them for a few minutes to reduce baking time) and mix until combined.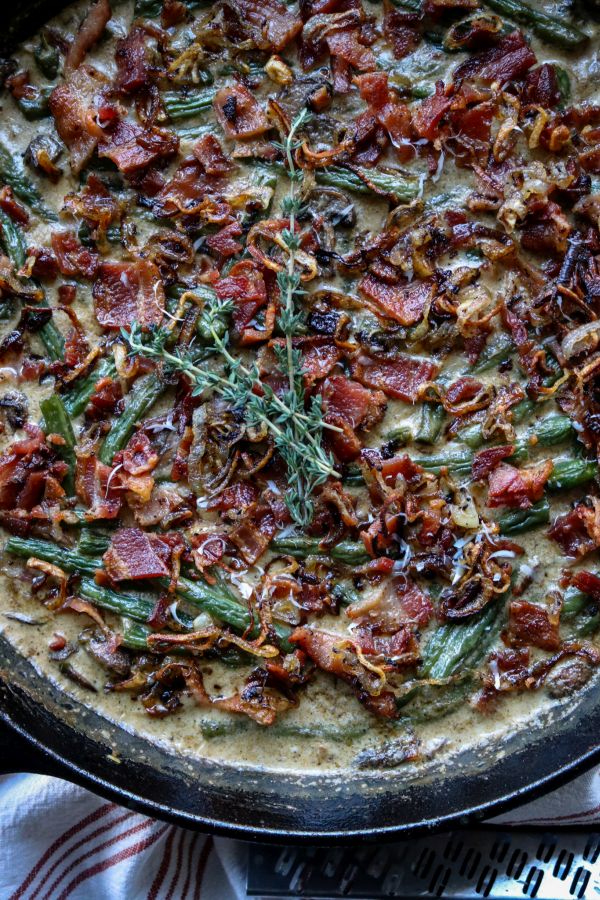 Do I Make Ahead or Bake Right Now?
The answer is, yes!
The beautiful thing about this casserole dish recipe is you can prep it all in one pan and place it in the fridge a day or two ahead of time. If the mixture is cool from the fridge, add additional baking time or let it rest a few hours out of the fridge before putting it in the oven.
When you bake the casserole, start by covering in foil and then top it with the already cooked and crumbled bacon and the onions the last 15 minutes or so of baking. Garnish with a little more fresh thyme if you prefer.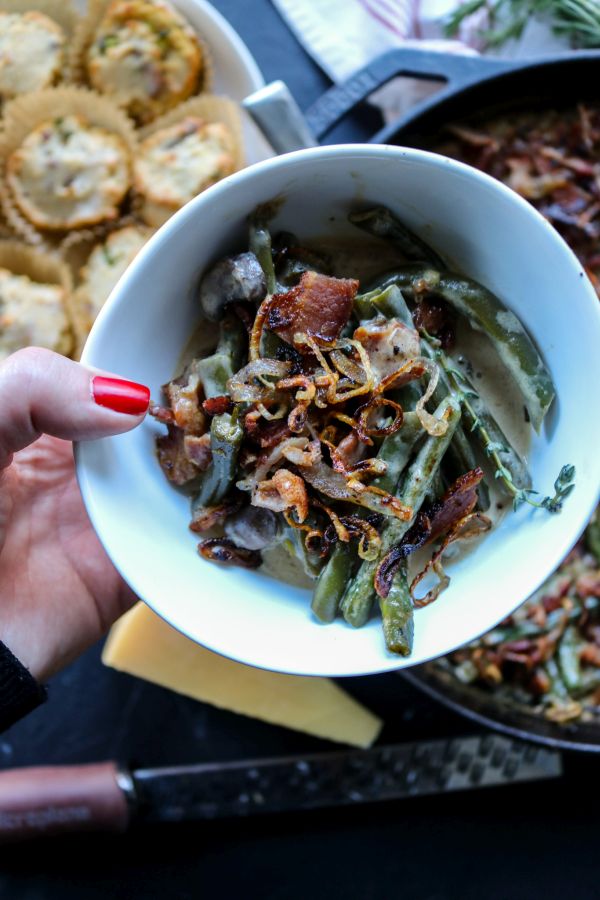 If you're looking to incorporate other lower carb dishes this holiday into your meal plan, be sure to check out my Keto Cornbread Stuffing with Herb Butter, this Keto Pumpkin Pie, my favorite keto brussel sprouts recipe and these 15 Keto Holiday Appetizers too.
Bon Appeteach,
-L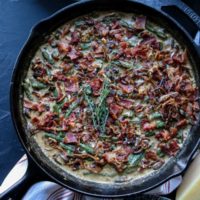 Low Carb Green Bean Casserole
A low carb and keto friendly recreation of a classic green bean casserole with fresh green beans, a homemade mushroom gravy, and crispy bacon and fried onion topping!
Print
Pin
Rate
Ingredients
2

lbs

Fresh Green Beans

ends snapped off and beans slice in half

16

oz

Mushrooms

sliced

5

Bacon Slices

1/2

Onion

diced small

1/2

Onion

thinly sliced (for topping) (sub with 2 shallots if desired)

1

tsp

Olive Oil

2

Garlic Cloves

minced

2

tsp

Fresh Thyme

2

tsp.

Fresh Rosemary

2

tsp.

Xanthan Gum

sub with cornstarch or arrowroot powder

1

cup

Stock

beef, chicken, turkey, veggie etc.

1

cup

Heavy Cream

1

tbsp.

Coconut Aminos/ Soy Sauce

1

tbsp

Worcestershire Sauce

1/2

cup

Parmesan

Swiss, Gruyere, or Havarti Cheese

Salt & Pepper to taste
Instructions
In a large pot steam or par boil the sliced green beans for 3-4 minutes. Place in an ice water bath to stop the cooking process, drain, and set aside.

In a frying pan, cook the bacon until lightly crispy. Remove and place on a paper towel to remove the grease and set aside for later. Heat the remaining oil to medium-high heat and add in the sliced onions or shallots that will be used for the topping. Cook until crispy and remove and set aside.

In the same pan, cook the sliced mushrooms, remaining diced onion, and garlic in the bacon fat (about 5-6 minutes). Add the fresh thyme, rosemary, and season with salt and pepper. Stir in the coconut aminos/ soy sauce and Worcestershire sauce.

Next, sprinkle in the xanthan gum and mix it in with mushroom mixture and stir until dissolved. Finally, pour in the stock and heavy cream. Mix with a spatula or whisk until the mixture begins to thicken. It should coat the back of a spoon when it has reached the right thickness. Be patient and avoid adding more xanthan gum (this will make the mixture slimy and not appetizing). Next, stir in the cheese slowly until it is mixed in (this will add some thickness to the sauce as well).

Combine the mushroom gravy with the green beans.

Pour the mixture into a 9×13 baking pan or leave in a 12" cast iron skillet (pictured). Cover with foil and bake at 350 F for 30 minutes. Remove the foil and let the top brown slightly the last 15 minutes or so.

Remove from the oven let rest for 10 minutes so the sauce can set a bit (prevents it from being too runny) and serve. If you make this ahead of time, store the bacon separate from the green bean and mushroom gravy. If the green bean casserole is cold from the fridge, you may have to add more baking time or remove it from the fridge 1-2 hours ahead of time to allow it to warm up.
Nutrition
Serving:
1
g
|
Calories:
140
kcal
|
Carbohydrates:
6
g
|
Protein:
5
g
|
Fat:
11
g
|
Saturated Fat:
6
g
|
Cholesterol:
37
mg
|
Sodium:
125
mg
|
Fiber:
2
g
|
Sugar:
3
g