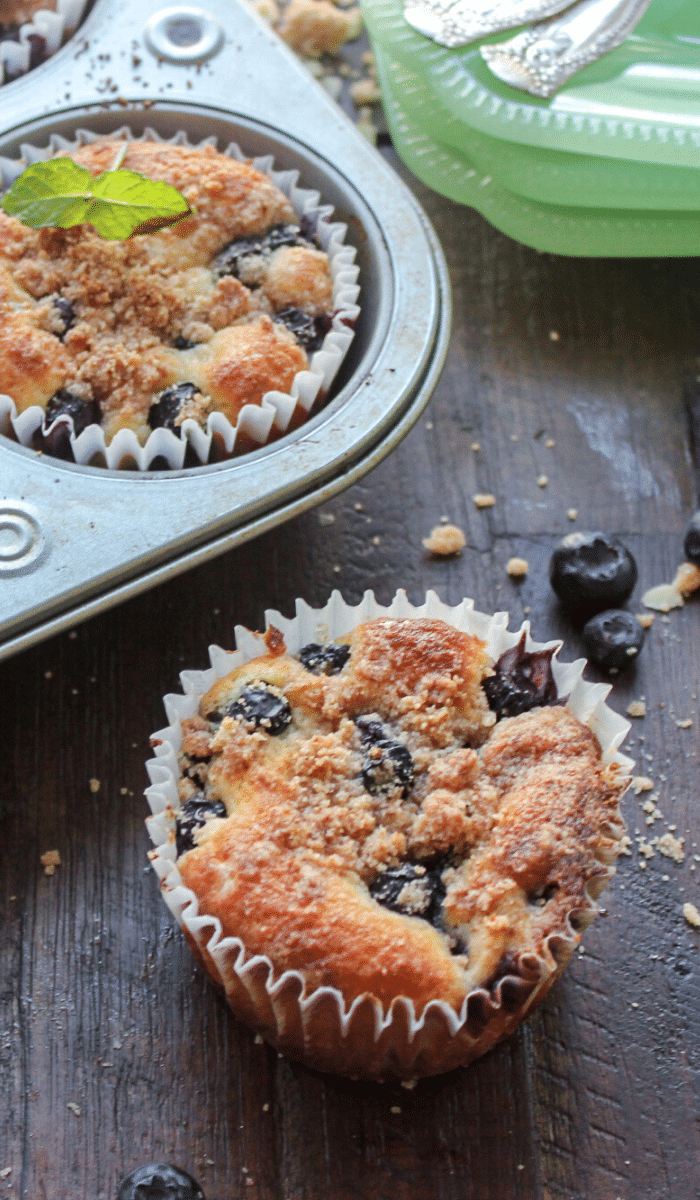 A perfectly moist, cake like, keto and gluten free blueberry muffin!
Not to hype these (but I'm definitely hyping these), but these can go toe-to-toe with any regular blueberry muffin, any day. Dare I say, I even like them better than most "generic" muffins.
I was inspired to tweak my popular Keto Marble Pound Cake recipe that has a similar texture and was so happy with how these turned out . I just couldn't wait to share.
I don't think I need to convince you anymore. Go make these Keto Blueberry Muffins! Full recipe is located at the bottom of the post and read on for the usual tips and tricks!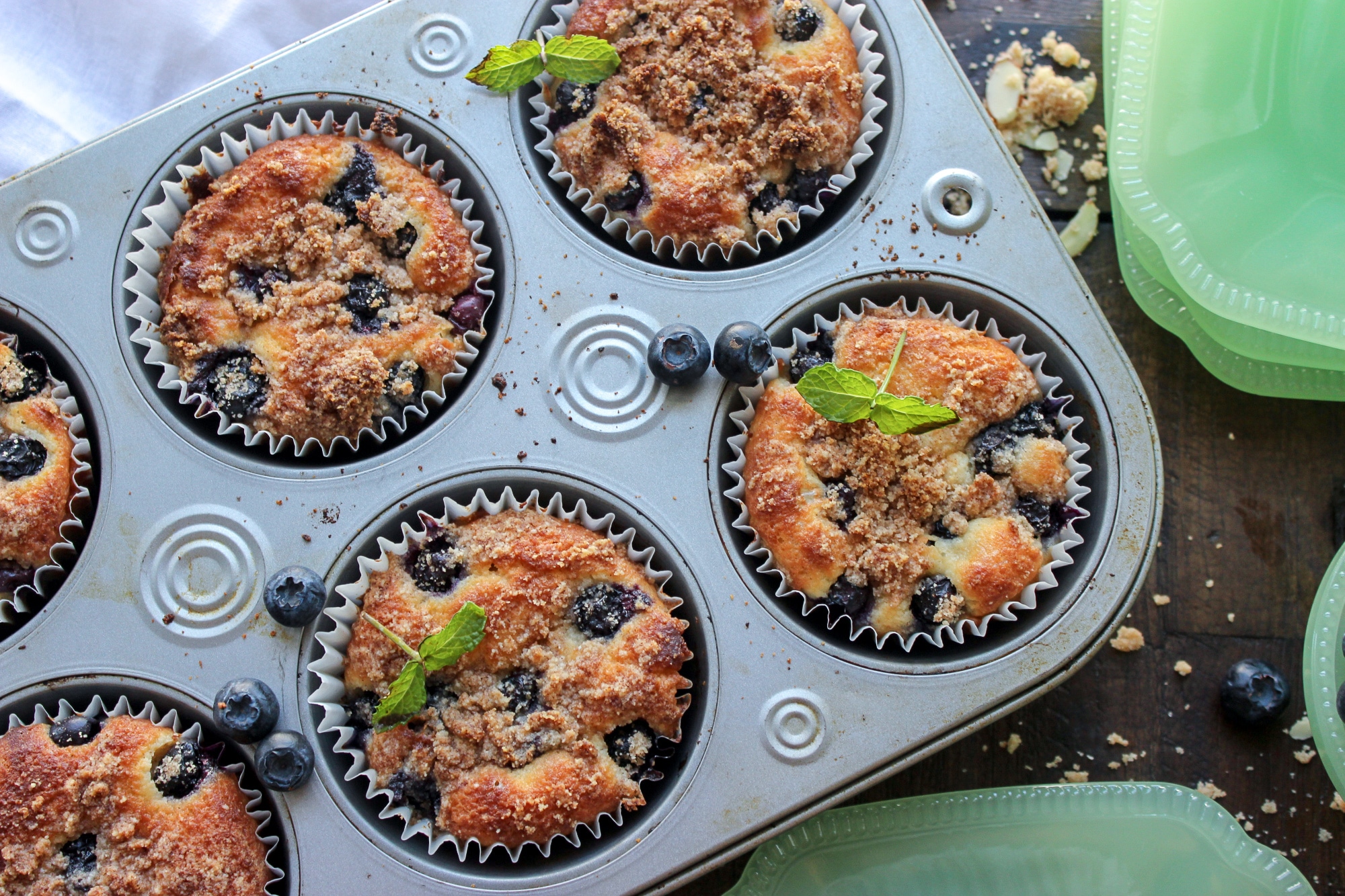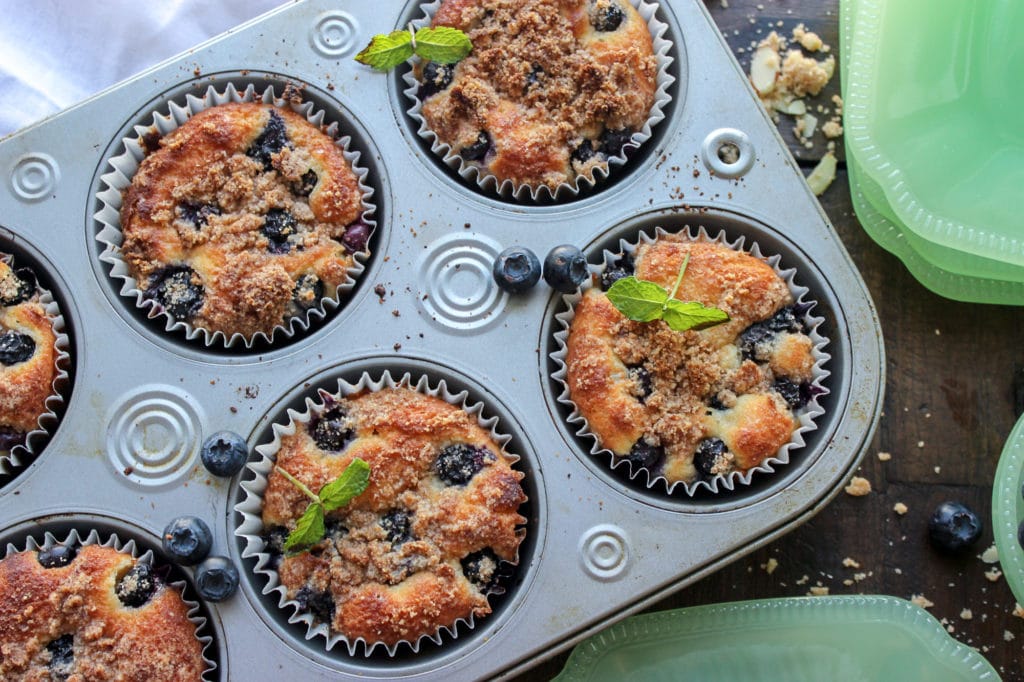 "School" Supplies:
Muffin Tin
Stand or Hand Mixer
Rubber Spatula
Measuring Cups
Muffin Liners
Pastry Blender
"Class" Notes:
Let's first talk about low carb sweeteners, because I've tried several, and I find this is really what contributes to the final product. There are several brands and types of sugar alcohols. My preference is the Lakanto brand.
Lakanto is a mixture of monk fruit and erythritol. When used in cakes, cookies, etc. I personally notice no after taste (or that weird cooling affect you sometimes find with pure erythritol). 
 All of my baked goods come out tasting like the REAL DEAL and often surprise non-keto eaters that it's sugar free. That being said, I think everyone does have a different preference on taste and sweeteners (this is just what I prefer). 
The muffins come together really easily if you use a mixer. Mixing and beating the eggs, cream cheese, butter, and low carb sweetener acts as a way to add air to the muffins and leaven them.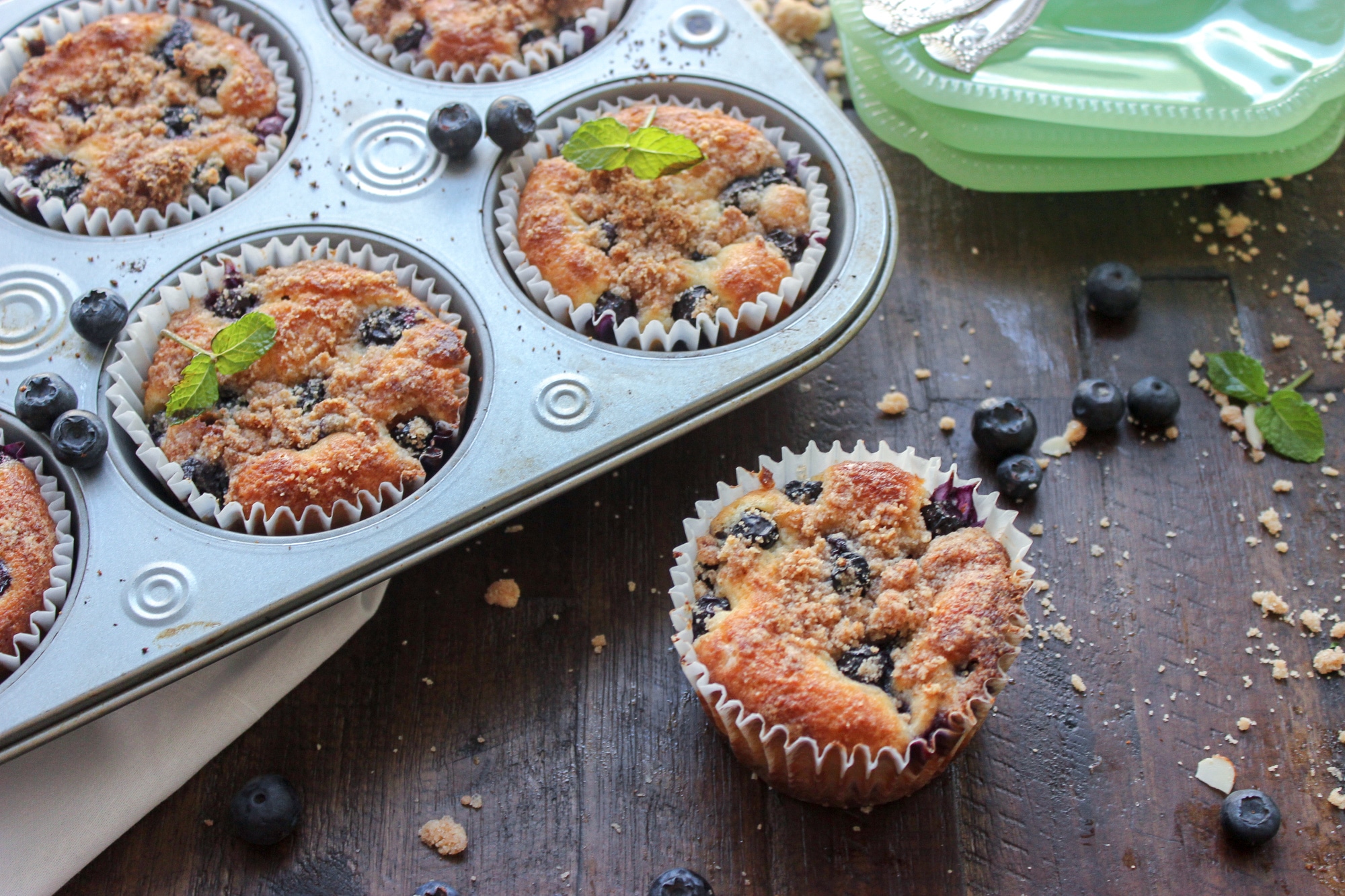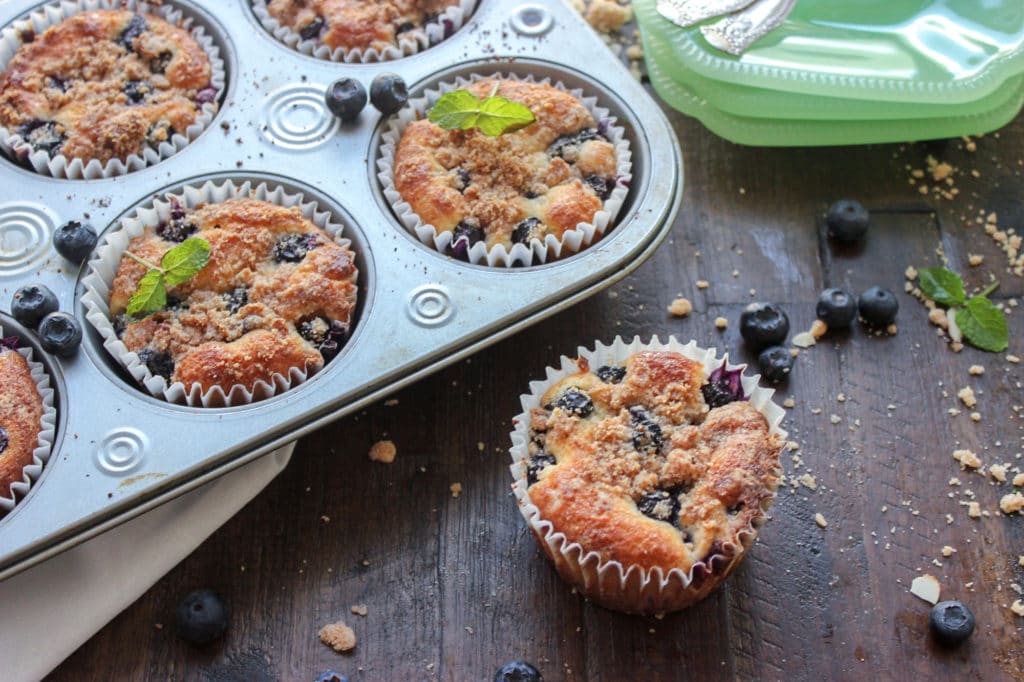 Beat each egg well until the whole mixture is smooth and light.  I blend the dry ingredients separately and then mix them in.
Next, fold in the 1 cup of blueberries very gently with a rubber spatula. This helps prevent them from breaking open and dying the batter too purple. Divide the batter up into the muffin tin (I like to use a 1/4 cup measuring cup so they are even). I was able to get 12 large muffins (or 24 regular size muffins).
To make the delicious topping, combine the ingredients in a small mixing bowl with the pastry blender or fork. It should resemble a crumble.
Next, add in the remaining blueberries. Top each muffin with a little sprinkle of each. Bake till done, lightly golden, and ready to dig into. I typically freeze about half (otherwise I want to eat them all). I hope you all love these addictive muffins as much as I do.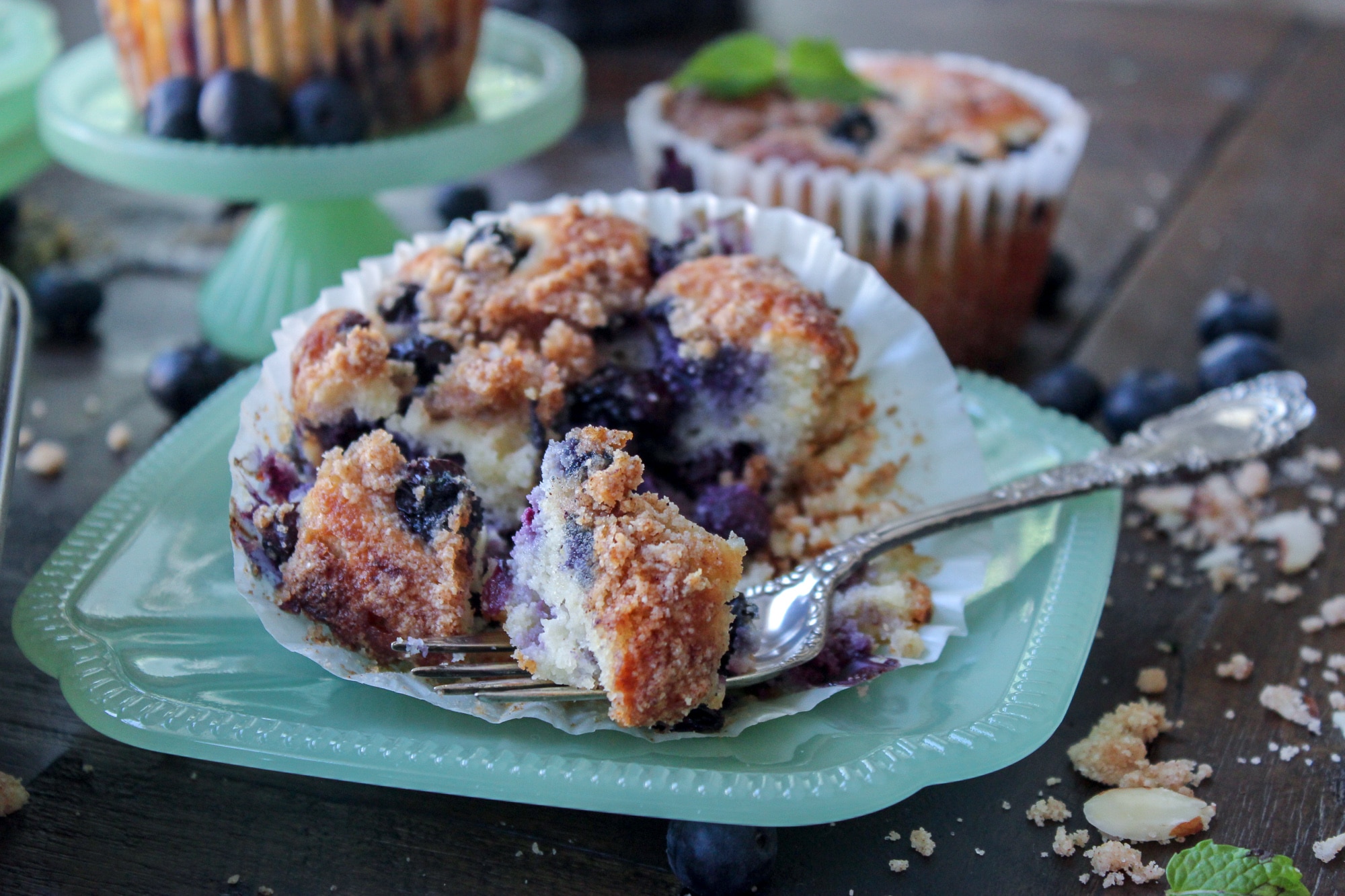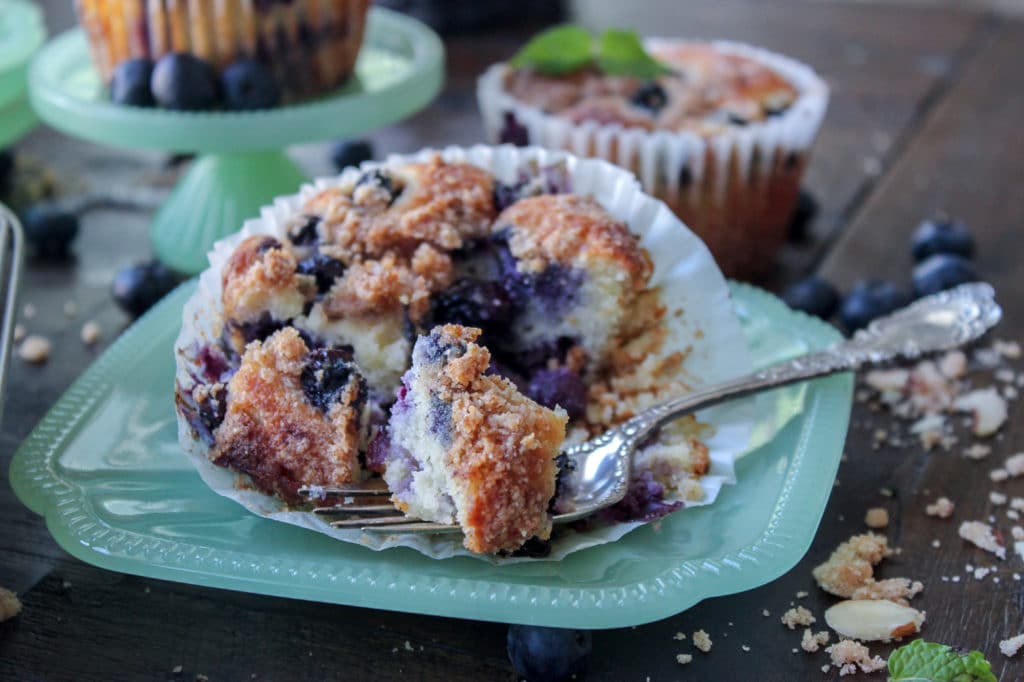 If you like this recipe , give these other breakfast baked goods a try too!
Keto Ricotta Lemon Poppy Seed Scone
Keto Copycat Starbucks Egg Bites 
Bon Appeteach,
-L
Yield: 12-24 Muffins
Keto Blueberry Muffins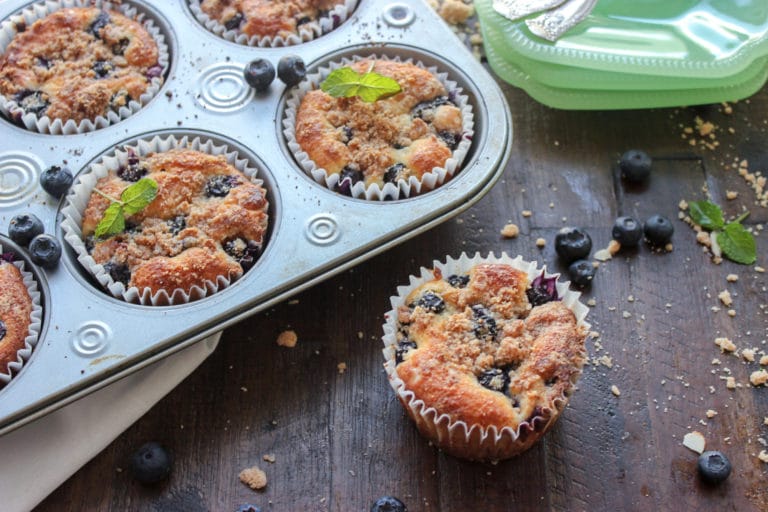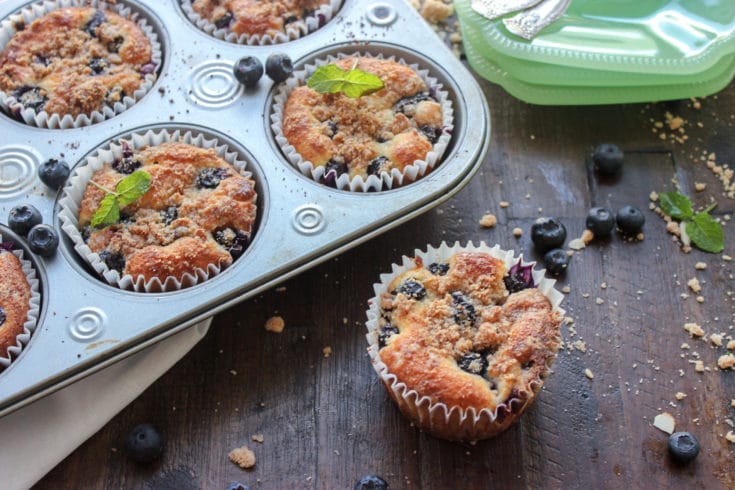 A perfectly moist, cake like, keto and gluten free blueberry muffin!
Ingredients
1/2 cup Butter, softened
1 cup Swerve (or sugar substitute)
8 oz. Cream Cheese, softened
4 Eggs
1 tsp. Vanilla
2 1/2 cup Almond Flour
1 Tbsp. Baking Powder
1 tsp. Salt
1 cup Blueberries, fresh or frozen
Topping (optional)-
1/2 cup Almond Flour
1 tsp Baking Powder
4 Tbsp. Butter
1/2 tsp Cinnamon
1/4 cup Blueberries
Instructions
Preheat your oven to 350 degrees F. Place muffin liners into a muffin tin.
In a mixing bowl, add the softened butter and the swerve and mix with a paddle attachment. Allow this to mix until it is well combined.
Next, add the softened cream cheese and allow it to incorporate into the butter mixture so there are no chunks of cream cheese present.
Add the room temperature eggs, one at a time and allow them to be mixed in thoroughly before adding another. Then mix in the vanilla.
Finally, add the baking powder, salt, and almond flour to the mixer and beat until it is all combined.
Fold in the 1 cup of blueberries until it is evenly mixed.
Use a measuring cup to scoop batter into each muffin liner.
In a mixing bowl, combine all the topping ingredients into a bowl (except the blueberries).
Add the crumble mixture to the top of each muffin. Sprinkle the remaining 1/4 cup of blueberries on top as well.
Bake for 30-40 minutes (may vary depending on the size of the muffin tin). A toothpick should come out clean. Baking time may vary depending on the size of muffin tin you use.
Notes
Sub your blueberries for your favorite berry instead!
Nutrition Information:
Yield:
12
Serving Size:
1
Amount Per Serving:
Calories:

241
Total Fat:

23g
Saturated Fat:

12g
Trans Fat:

0g
Cholesterol:

114mg
Sodium:

391mg
Carbohydrates:

5g
Net Carbohydrates:

4g
Fiber:

1g
Sugar:

3g
Protein:

5g