Melted, rich and creamy brie, wrapped in a crispy low carb tortilla, and topped with a no sugar added blueberry compote makes this the perfect healthy holiday appetizer!
Baked brie cheese is a holiday party classic. Typically, you find brie baked, wrapped in puff pastry, and paired with slices of bread and crackers. So, of course I had to put my low carb spin on it for this week's Bon Appeteach "Book Club" food pairing.
This recipe works so well on the grill (adds an extra element of smoke flavor), but you can also easily make this in the oven too. It's only a handful of ingredients, takes just a few minutes to assemble, and looks so gourmet!
Make this Easy Grilled Brie with Blueberry Compote appetizer for all your holiday gatherings this season. Be sure to pair it with this week's cocktail, The Sidecar!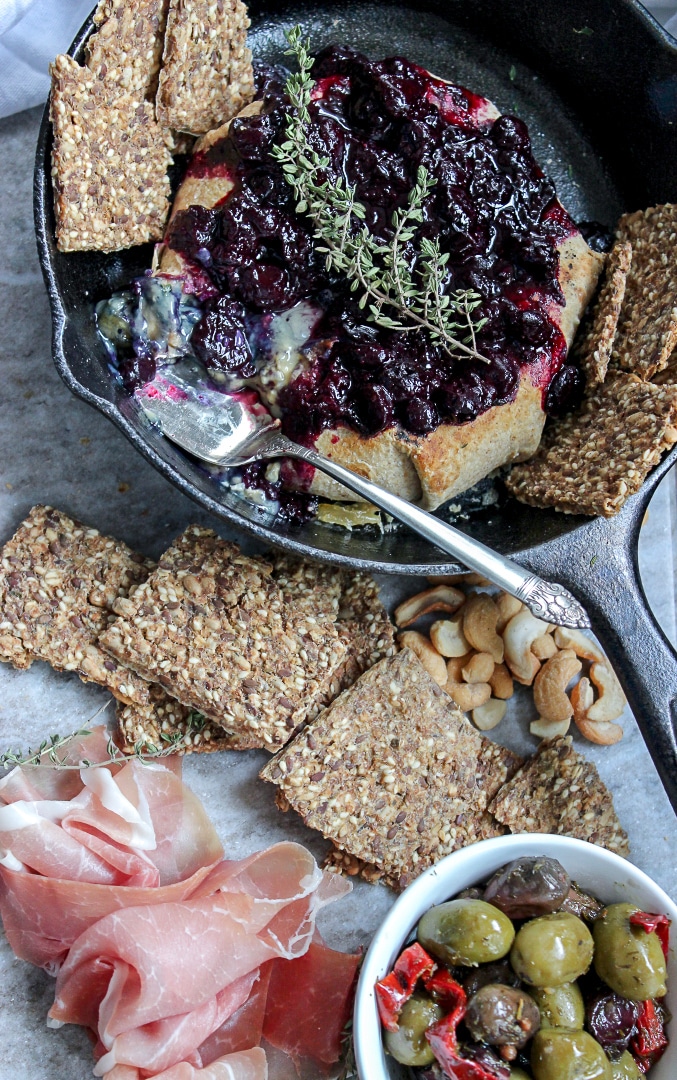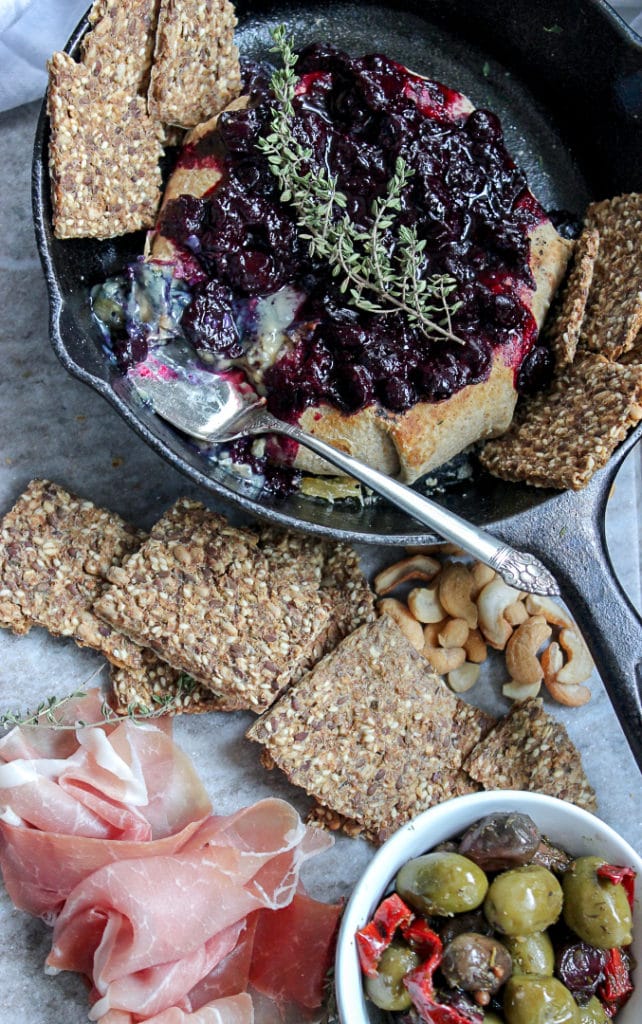 "School" Supplies:
Small Pot
Small Cast Iron Skillet
Juicer
Spoon
Pastry Brush
"Class" Notes:
To keep this appetizer easy, I wrapped the wheel of brie in a low carb tortilla. There are several brands out there, and I went with the 6 net carb Mission brand tortilla (not gluten free however). Use your favorite low carb tortilla brand that you prefer.
The blueberry compote is simple. In a pot, I combined frozen blueberries, a little lemon juice, and splash of water (about a tablespoon). If your blueberries are really tart, add a little low carb sweetener if needed (I actually like the tartness with the cheese).
Take the brie wheel and wrap in the low carb tortilla by tucking the edges under itself. Brush with a bit of olive oil and sprinkle with sea salt and fresh thyme.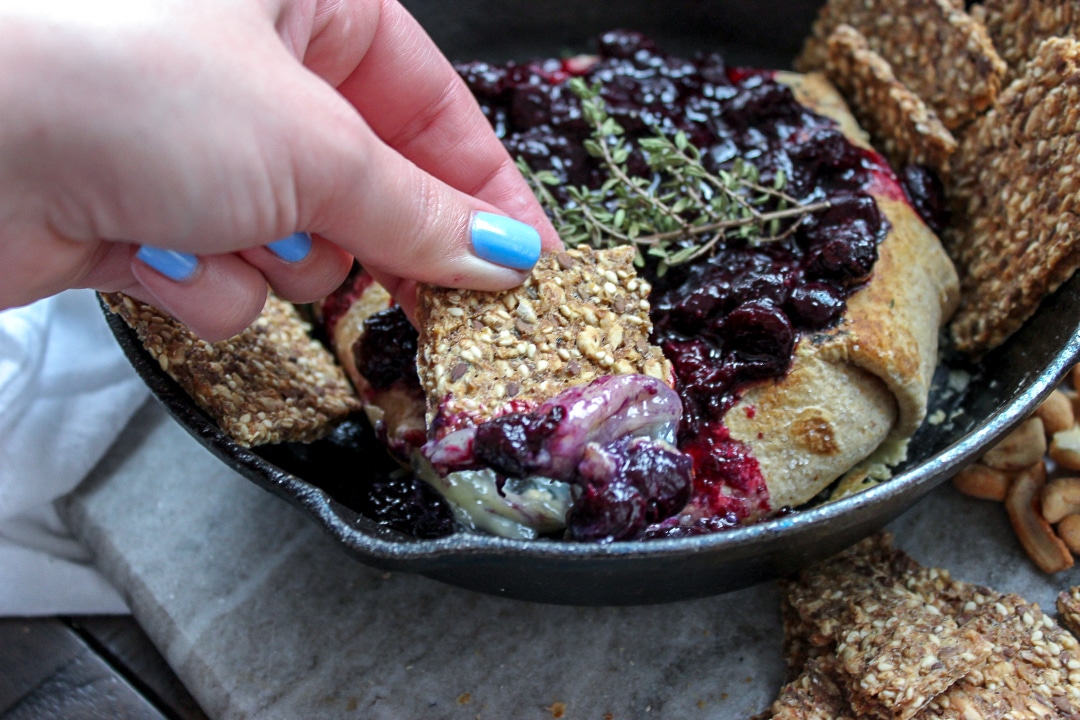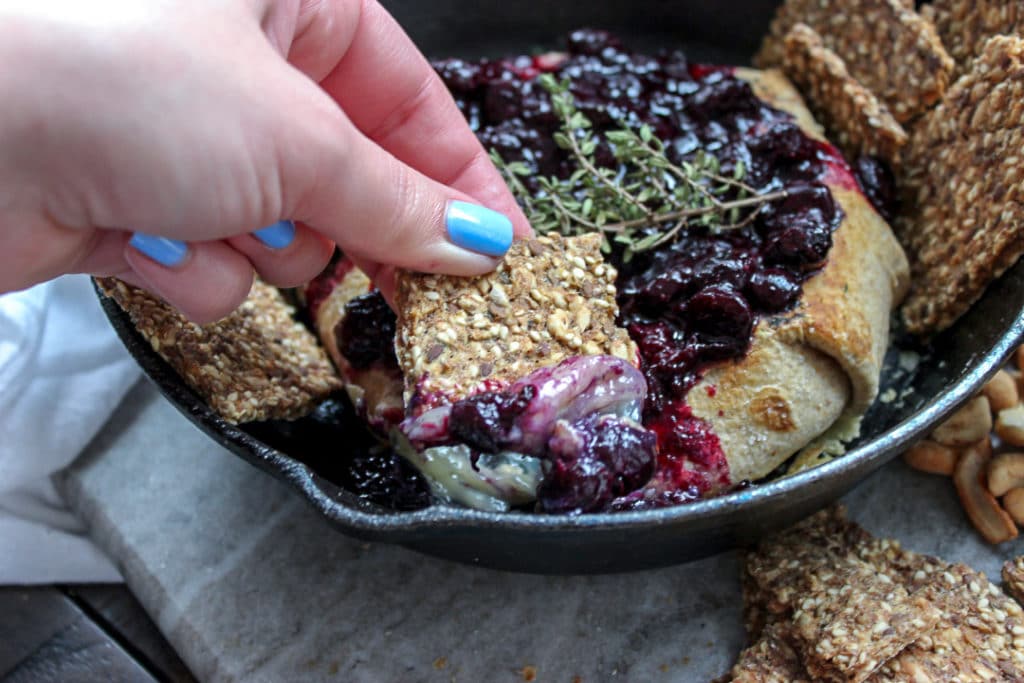 Preheat the grill to 425 F and set it up for indirect cooking . This allows the brie to melt and the tortilla to become crispy on the outside. Let it cook till the cheese is soft and bubbly and the tortilla is crispy.
Remove from the grill and let it rest for 5 minutes before adding the blueberry compote over the top. Finish it off by placing the skillet on a platter alongside flax crackers (I used the 3 net carb ones from Trader Joe's), nuts, prosciutto, and olives if desired. Serve with your favorite wines or with this delicious weeks drink, The Sidecar Cocktail.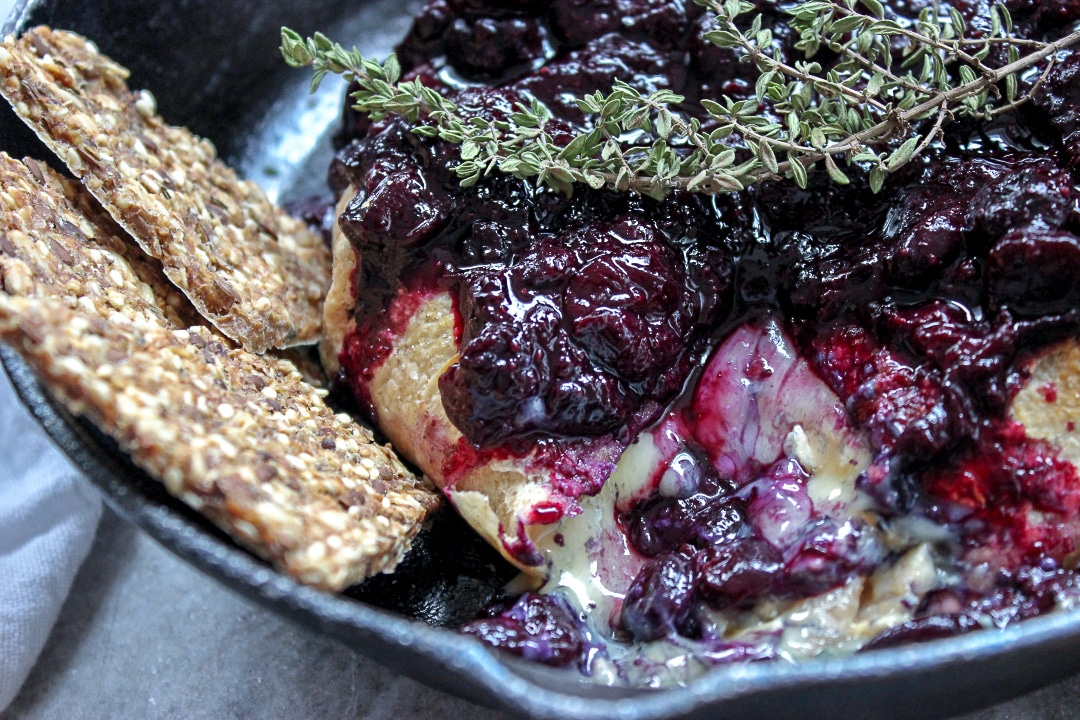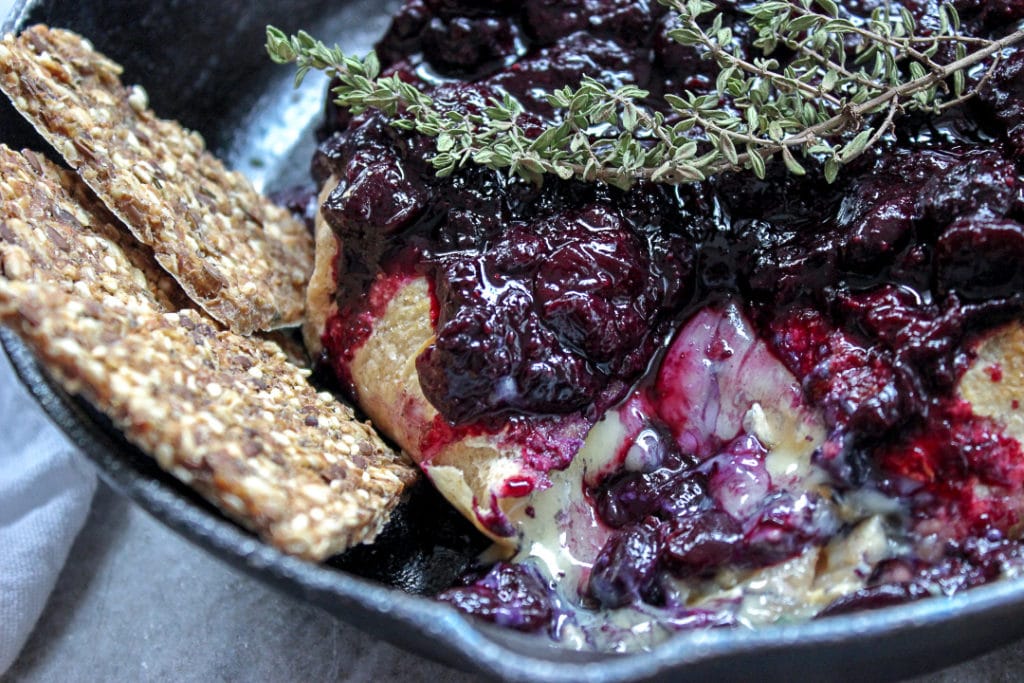 Bon Appeteach,
-L
Yield: 12
Easy Grilled Brie with Blueberry Compote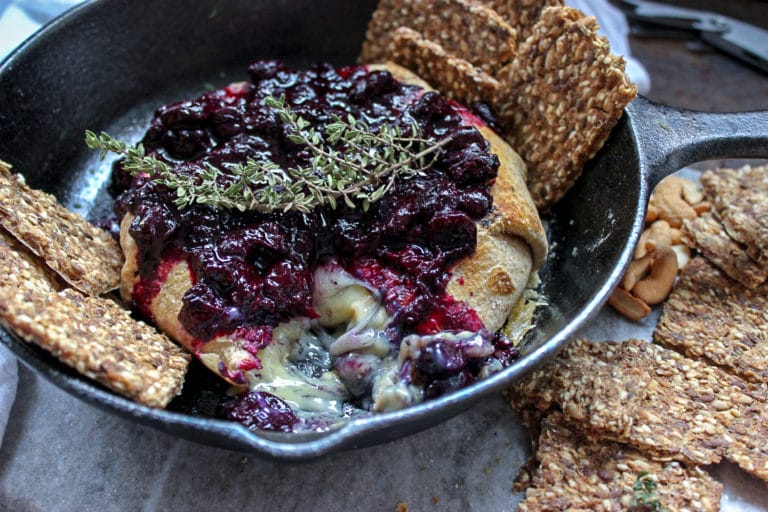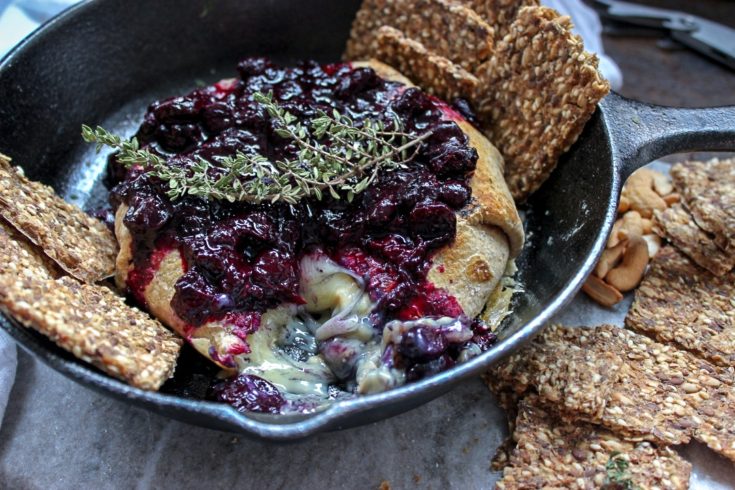 Melted, rich and creamy brie, wrapped in a crispy low carb tortilla, and topped with a no sugar added blueberry compote makes this the perfect healthy holiday appetizer!
Ingredients
1 Low Carb Tortilla
1 Brie Wheel
1/2 cup Frozen Blueberries
1/2 Lemon, juiced
Pinch of Salt
Fresh Thyme
1-2 tsp Olive Oil
Splash of water
Instructions
1. Preheat your grill or oven to 425 F. Set the grill to indirect heat.

2. Wrap the brie wheel in the low carb tortilla and tuck the sides underneath so it rests seam side down. Set into a small cast iron skillet for grilling or baking. Brush with a little olive oil and season the outside of the tortilla with salt and thyme.

3. Grill or bake for 20-30 minutes or until the tortilla is crispy and the cheese inside begins to melt.

4. In a small pot, combine the frozen berries, lemon juice, and a splash of water. Allow it to cook on medium heat until the berries begin to burst. Use a fork or potato masher to break up the berries slightly. Let it cook down for about 5 minutes to thicken slightly. Remove from the heat and allow it to cool a bit before pouring over the brie.

5. To serve, pour the berry compote over the tortilla wrapped brie. Garnish (optional) with fresh thyme and serve with your favorite low carb crackers, meats, nuts, and olives if desired.
Notes
Swap the blueberries for blackberries or your fruit of choice.
Nutrition Information:
Yield:
12
Serving Size:
1
Amount Per Serving:
Calories:

25
Total Fat:

2g
Saturated Fat:

1g
Trans Fat:

0g
Unsaturated Fat:

1g
Cholesterol:

2mg
Sodium:

38mg
Carbohydrates:

2g
Net Carbohydrates:

0g
Fiber:

0g
Sugar:

1g
Sugar Alcohols:

0g
Protein:

1g