Keto Ricotta Lemon Poppy Seed Scones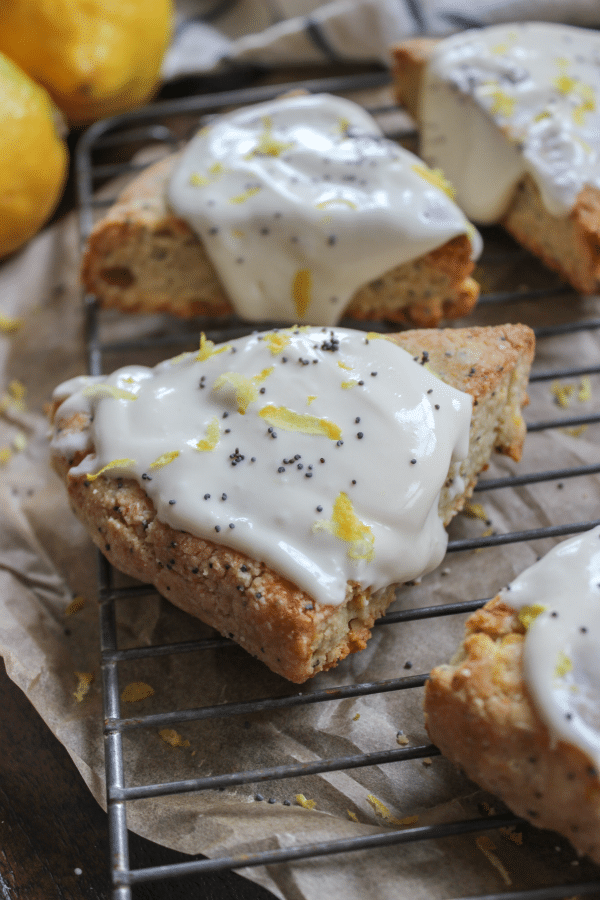 The perfect gluten free and keto friendly scone that's rich, tender, and bright an refreshing with just the right amount of tangy lemon.
Keto or not, scones can sometimes be win or lose. They can be dry, dense, and sometimes seem like a biscuit with an identity crisis. Either way, that doesn't really sound like something I want to dig into with a cup of coffee in the morning, am I right?
Don't worry. This is not that kind of scone. 
Not only is this an addictively delicious scone recipe, but I find it hard to believe it's gluten free and keto too! These scones are easy to assemble, come out tender and a little flaky, and have just the right amount of citrus and tang. 
Find the full recipe for these Keto Ricotta Lemon Poppy Seed Scones below and read on for the helpful tips and tricks!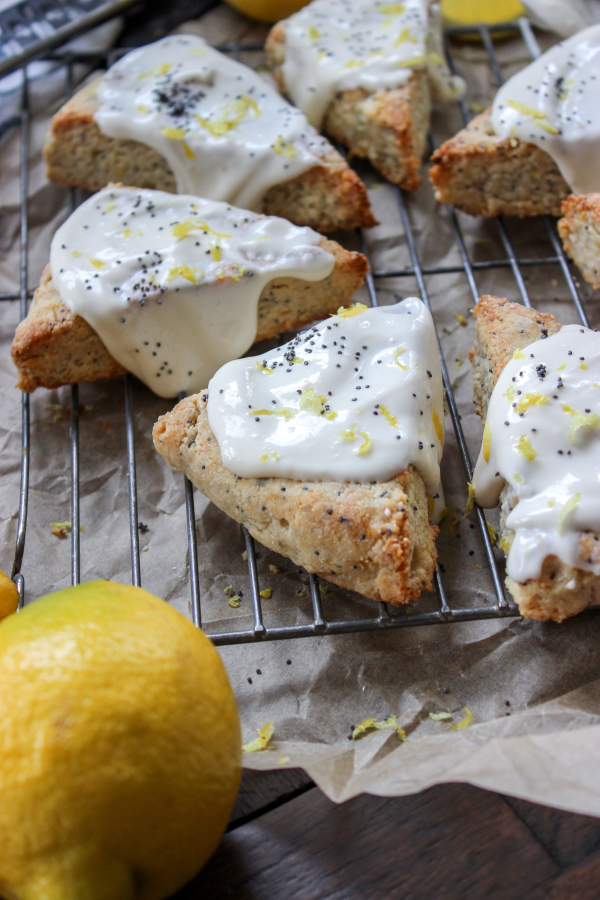 "School" Supplies:
Pastry Blender/ Cutter 
Parchment Paper
Baking Sheet
Mixing Bowl
Measuring Cups/ Spoons 
"Class" Notes:
These scones were modeled after my popular Keto Almond Flour Biscuits. The easiest way to make them is to use a pastry blender to cut the cold butter into the dry ingredients. This method is crucial to the overall outcome of the scone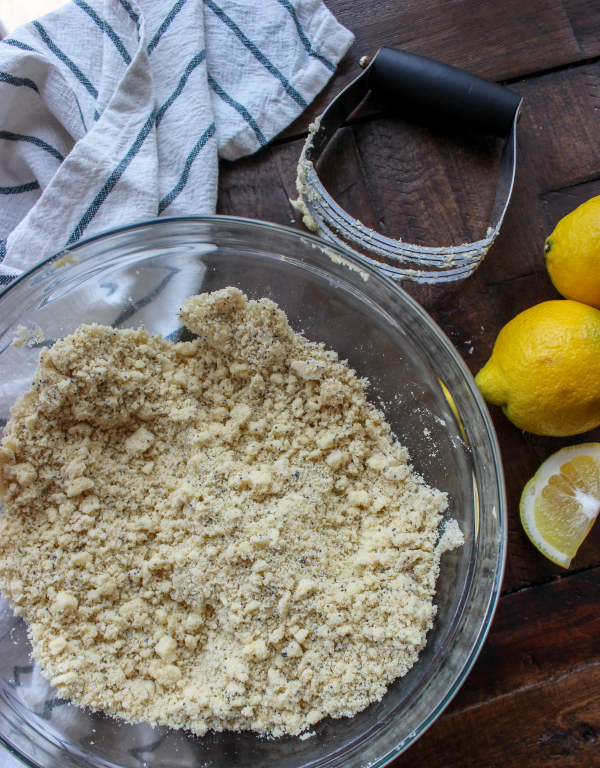 The reason cold butter is so crucial is because when the cold butter melts in the oven, it helps create a tender, flaky bread like texture and aids in the rise. So definitely make sure the butter is super cold. 
Once the dry ingredients and butter have been combined, add in the lemon, a little sweetener, fresh lemon zest, the poppyseeds, and the ricotta. The ricotta acts as a binding agent, adds moisture, and helps keep the dough tender.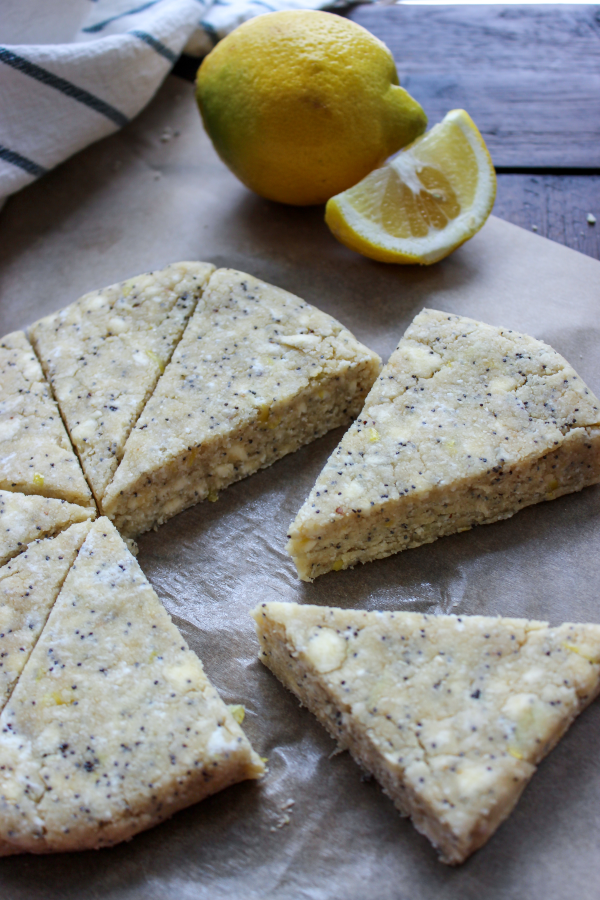 As everything comes together, dump the mixed dough out onto a pastry board or non-stick surface (like parchment paper). Pat the dough into a circle that's about 1″ thick all the way around. Use a butter knife or bench scraper to cut the dough into 8 equal sized triangles.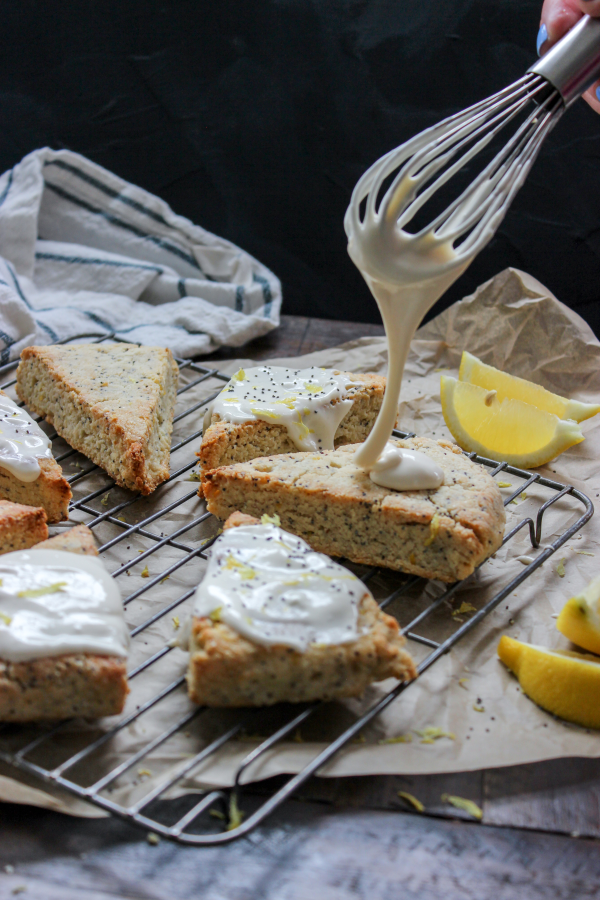 Place the triangles onto a baking sheet and bake until tender and just lightly golden brown. While they are baking prepare the lemon and cream cheese glaze. Glaze the tops of the keto scones when they are just slightly warm and serve!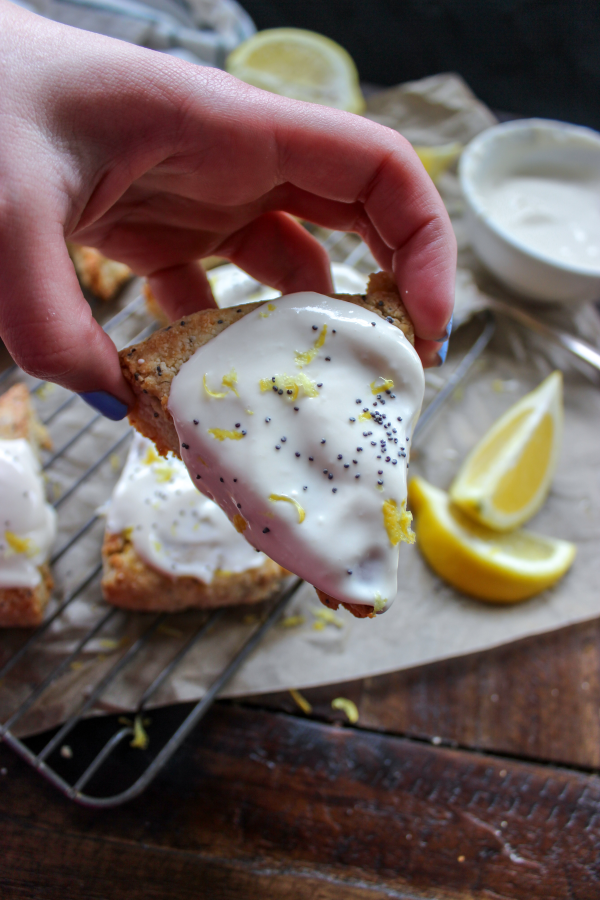 If you like this recipe , give these other breakfast baked goods a try too!
Keto Copycat Starbucks Egg Bites 
Bon Appeteach,
-L
Yield: 8
Keto Ricotta Lemon Poppy Seed Scones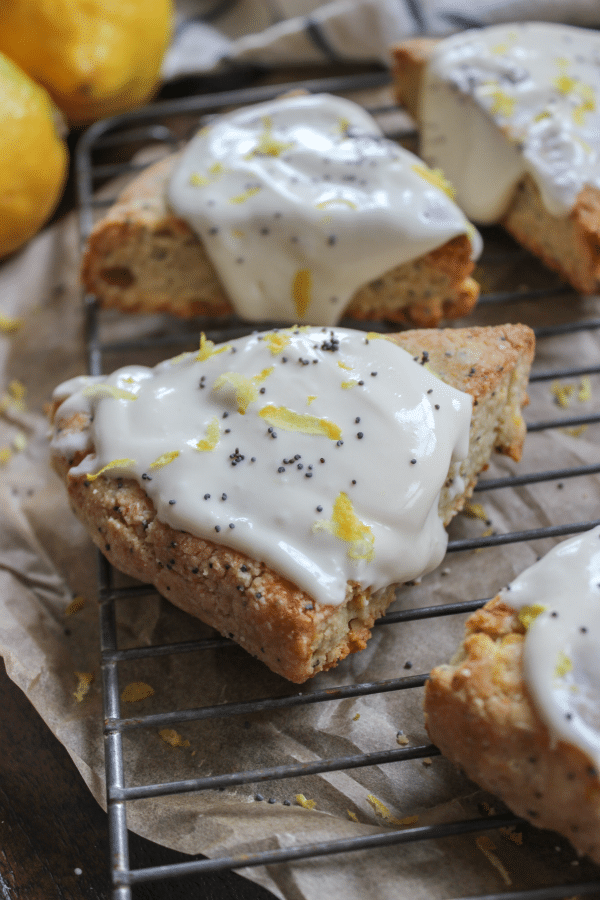 The perfect gluten free and keto friendly scone that's rich, tender, and bright an refreshing with just the right amount of tangy lemon.
Ingredients
3 cups Fine Almond Flour, plus extra for dusting
5 tbsp Cold Butter, cut into chunks
4 oz Ricotta
1 tbsp. Fresh Lemon Juice
1 tbsp. Lemon Zest
1-2 tsp Poppy Seeds
1 tsp Xanthan Gum (DO NOT OMIT)
1 tsp Baking Powder
1/2 tsp Salt
1/4-1/3 cup Low Carb Sweetener (I like Lakanto)
Lemon Cream Cheese Glaze:
2 tbsp. Cream Cheese, softened
2 tbsp Lemon Juice
3-4 tbsp. Half & Half
1/4 cup Low Carb Sweetener
Instructions
Preheat the oven to 400F and cover a baking sheet with parchment.
In a bowl, combine the almond flour, cold butter, xanthan gum, low carb sweetener baking powder, salt, poppy seeds, and lemon zest. Cut the butter into the dry ingredients with a pastry blender until it resembles bread crumbs.
Mix in the ricotta and fresh lemon juice until the mixture is one cohesive mix. Dump the dough out onto a non stick surface and pat it out into a 1" circle. Cut out 8 triangles and place them onto the baking sheet.
Bake for 18-20 minutes until set and lightly golden brown. They will be set but tender when they come out of the oven. Let them cool down to continue to set (do not over bake).
While the scones are baking, combine the glaze ingredients together in a bowl and blend. Add additional half and half if you prefer a thinner glaze. Pour the glaze over the top of the scones after they are slightly cooled and serve.
Nutrition Information:
Yield:
8
Serving Size:
1
Amount Per Serving:
Calories:

320
Total Fat:

32g
Saturated Fat:

7g
Trans Fat:

0g
Cholesterol:

8mg
Sodium:

21mg
Carbohydrates:

8g
Net Carbohydrates:

3g
Fiber:

5g
Sugar:

2g
Protein:

12g