An easy to follow copycat egg bites recipe that's lower in carbs and easily customizable!
Starbucks Copycat Sous Vide Egg Bites (Keto):
When I was in the process of moving to Kansas City last February, I was eating out quite often due to my lack of kitchen. I had never had the Starbucks Sous Vide Eggs Bites but had heard a lot of great things. Let's just say I liked them. A lot. So much so, I ate them four days in a row. Oops.
They were creamy and flavorful and sooo delicious. Downside to this new addiction is that the cost (they are $4.45 for two) was adding up throughout the week, and despite being a somewhat lower carb option (they are 9 net carbs for two bites), there are always extra processed additives that go into the food you don't make yourself.
I decided to experiment and find a way to recreate these sous vide egg bites myself using both a traditional sous vide and using a water bath in the crockpot (both methods work really well).
Read on for a few tips and tricks on how I made these Starbucks Copycat Sous Vide Egg Bites (Keto). The full recipe is below!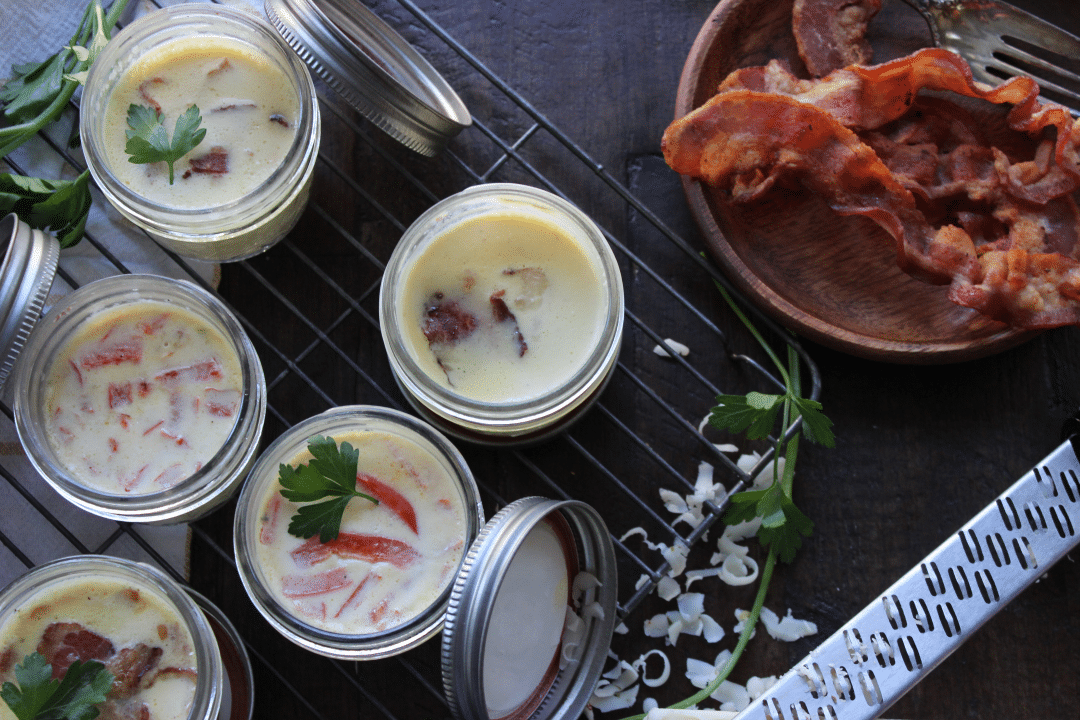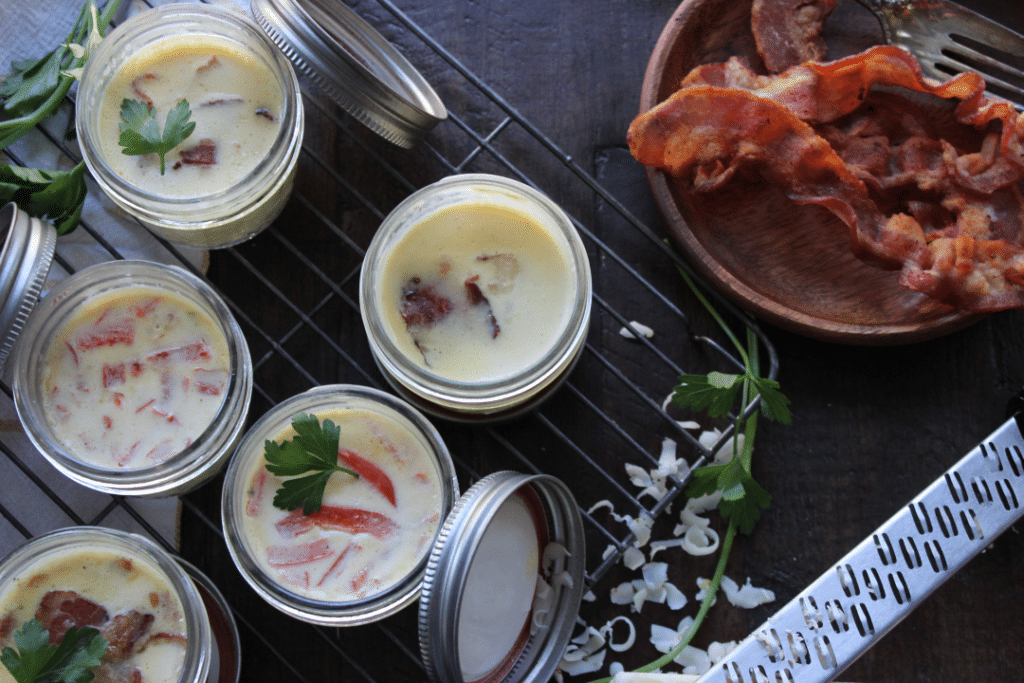 "School" Supplies:
Sous Vide or Slow Cooker
Blender
1/3 Dry Measuring Cup
Cheese Grater (optional but recommended)
Knife & Cutting Board
Frying Pan
Tongs/ Oven Mitts
"Class" Notes:
What is Sous Vide:
Sous Vide cooking has blown up as a popular method for cooking all kinds of foods among chefs and restaurateurs in the last few years, and can now easily be done in your own home. Essentially it is taking a vacuum sealed (in this case… a sealed jar) food item and cooking it to an exact temperature in a water bath.
The upside to cooking food this way is that it helps retain natural moisture and juices and you can keep the temperature steady by using a sous vide machine. I like this specifically with eggs for this reason!
If I were to bake this recipe in a muffin tin or in a casserole dish, it would still taste delicious. However, the textures are completely different. The sous vide eggs stay cream and rich whereas, the baked eggs tend to taste sponfier and dry out easier (also not great if you do this for meal prep because additional heat later on drys food out even more).
The only downside is that a sous vide machines can be a bit costly (around $100+ for a higher quality machine). but are not 100% necessary to recreate these egg bites. If you do not have a sous vide machine, then just simply use your crockpot and cook on high heat in a water bath instead!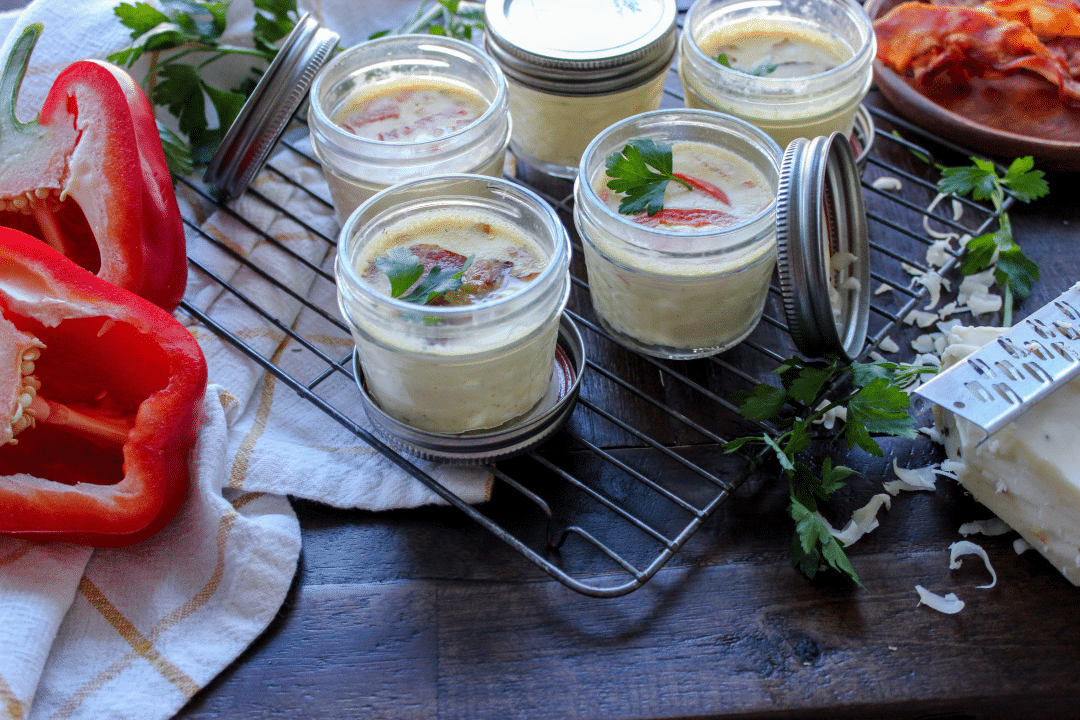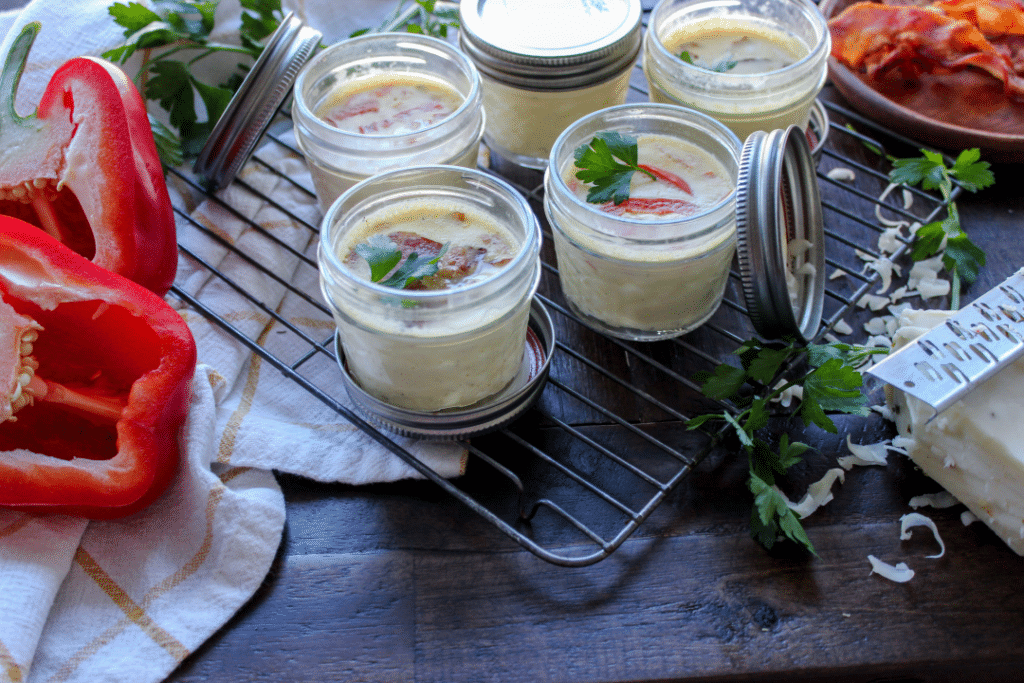 Tips For The Best Egg Bites:
My first recommendation for these Starbucks Copycat Sous Vide Egg Bites, is to grate your own cheese. Grated cheese just melts so much better and doesn't have that weird yucky coating pre-shredded cheese has (they use this to prevent it from clumping and sticking together in the package).
Take an extra minute and grate your own (you won't regret it). Additionally, make sure your jars are clean and ready to use. Also, make sure you have a good set of tongs or oven mitts to remove them when they are done so you don't burn yourself with hot water.
Finally, be prepared to be addicted and feel like you need to make a second batch immediately following the first….Speaking from experience here. TRUST ME!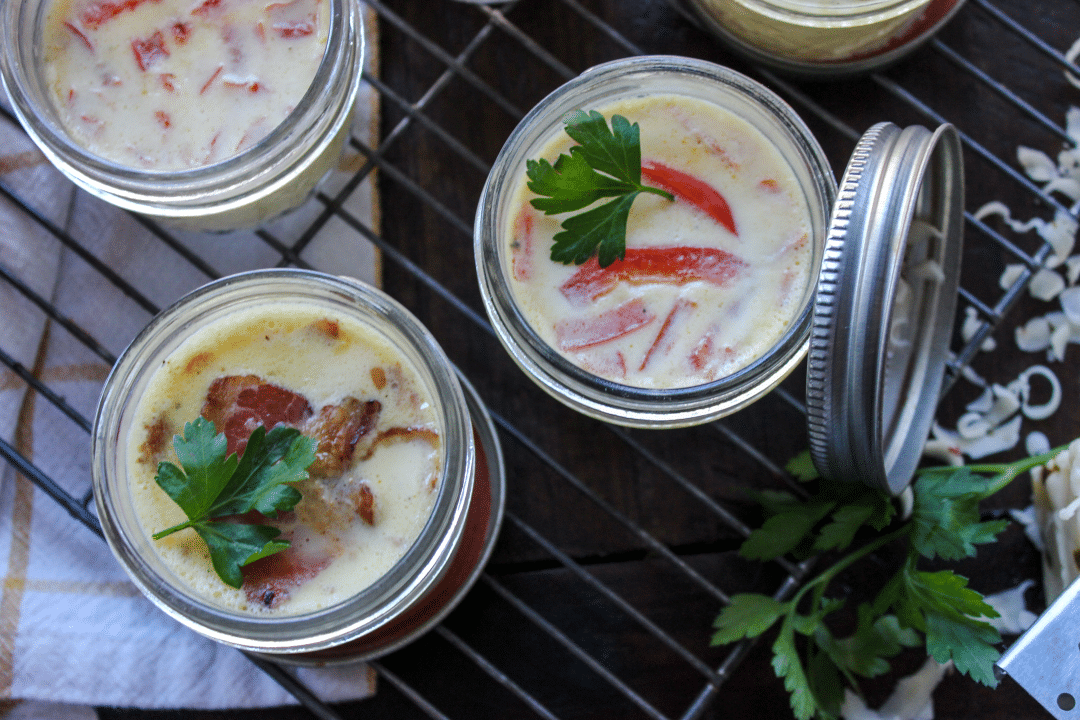 These Starbucks Copycat Egg Bites make a fabulous meal prep recipe and can easily be reheated in the jars for those busy weekday mornings. Below, I have provided both of my versions (roasted red pepper and the bacon and gouda) with the nutritional information for one egg bite (one jar serving).
I hope you are as hopelessly addicted as I am! Also, if you loved this breakfast recipe, be sure to also check out my recipe for The Best Keto Cinnamon Rolls or my popular Keto Pizza Quiche too!
Bon Appeteach,
-L
Yield: 6
Starbucks Copycat Sous Vide Egg Bites (Keto)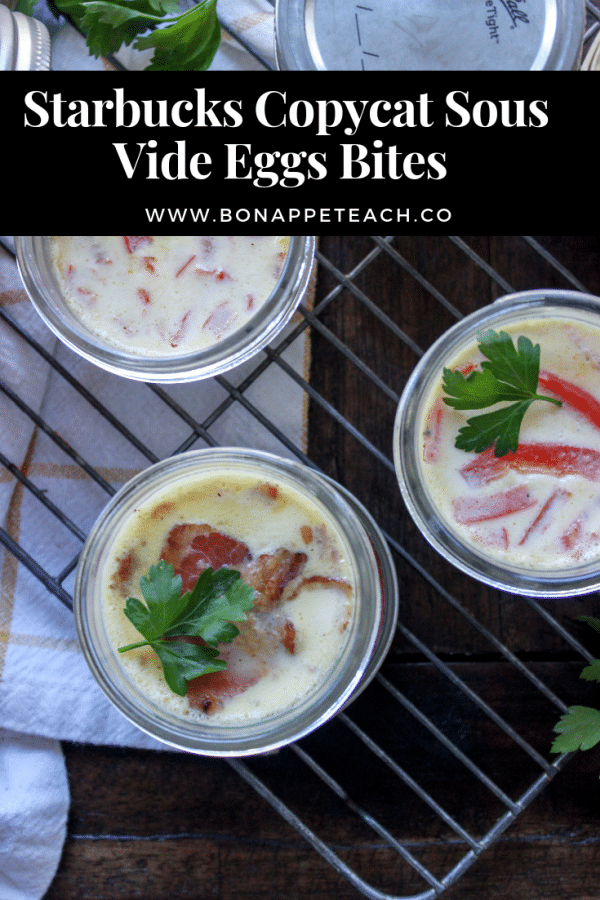 An easy to follow copycat egg bites recipe that's lower in carbs and easily customizable!

Prep Time 10 minutes

Cook Time 2 hours

Total Time 2 hours 10 minutes
Ingredients
5 Eggs
1/3 cup Sour Cream
Splash of water
1 cup Grated Cheese (see below for cheese options)
1 tsp Salt
1 tsp. Pepper
1 tsp. Garlic Powder
Water for Sous Vide/ Slow Cooker
Red Pepper Bites Add- Pepper Jack Cheese and 1/2 cup of Red Pepper (diced small and sauted) + 1 tsp Olive Oil
Bacon Bites Add- Gouda and 4 Cooked Slices of Bacon (chopped)
Instructions
Heat a large pot of water with the sous vide to 175-185F. If using a slow cooker, fill the cooker with water about 2/3rd's of the way full and begin heating on high heat (eggs set and coagulate best for this with a temperature above 165F)
Prepare your add ins - If making the red pepper bites, dice the pepper and saute for 4-6 minutes in a frying pan with your oil till it becomes tender and slightly browned/ charred or cook the bacon until crispy and drain onto a paper towel. Diced the bacon into pieces and set aside.
Grate your desired cheese and set aside.
In a blender, combine the 5 eggs, a splash of heavy cream or milk, seasonings, and the sour cream. Pulse the mixture together until it is thoroughly mixed and a little frothy. Fold in the cheese and the red pepper or bacon.
Pour the mixture into the 6 jars and fill each jar about 3/4th's of the way full (the egg will expand slightly as it cooks).
Secure the tops and lids onto the jars thoroughly and place into the slow cooker.
Add the jars to the hot water carefully for both methods. The water should cover the tops of the jars. If using a slow cooker, place the lid onto top and allow them to cook on high heat for 2 hours.
When they are set, remove from the sous vide / slow cooker carefully with tongs and set them on a heat proof surface. Allow them to cool slightly before opening. Eat right away or store in the fridge for up to 7 days. To reheat, remove the metal lid and microwave for 60 seconds on half power in the microwave to encourage even heating.
Nutrition Information:
Yield:
6
Serving Size:
1
Amount Per Serving:Calories: 170 Total Fat: 13g Saturated Fat: 6g Trans Fat: 0g Cholesterol: 181mg Sodium: 186mg Carbohydrates: 2g Fiber: 0g Sugar: 1g Protein: 10g

Bon Appeteach is a participant in the Amazon Services LLC Associates Program, an affiliate advertising program designed to provide a means for sites to earn advertising fees by advertising and linking to amazon.com. I only share products that I use and stand behind personally.
Nutritional Information: