Keto Cornbread Ham & Asparagus Strata:
A strata is basically a fancy word for breakfast casserole. I love a good breakfast casserole and honestly have no problem eating this for any meal. This Keto Cornbread Ham & Asparagus Strata is a great addition to a brunch, holiday breakfast with the family, or a great way to keto meal prep for the week as well! I was inspired by my popular Keto Cornbread Stuffing recipe that I made for Thanksgiving and thought this technique would work perfectly for this type of dish as well. You can easily customize the strata with different meats, cheeses, and veggies. I chose this version so I could utilize the leftovers from my Holiday Ham recipe I recently shared for the Christmas season. This recipe truly is universal however, and definitely works best when prepped ahead of time. Find the full recipe for this Keto Cornbread Ham & Asparagus Strata at the bottom of the page and read on for all the tips and tricks!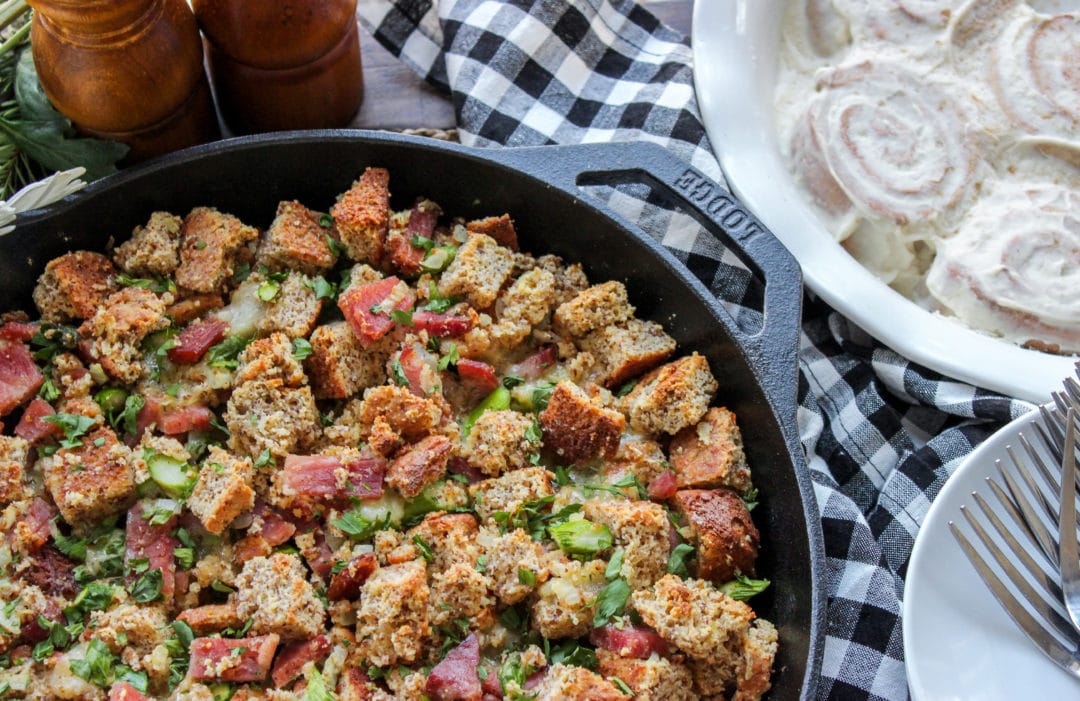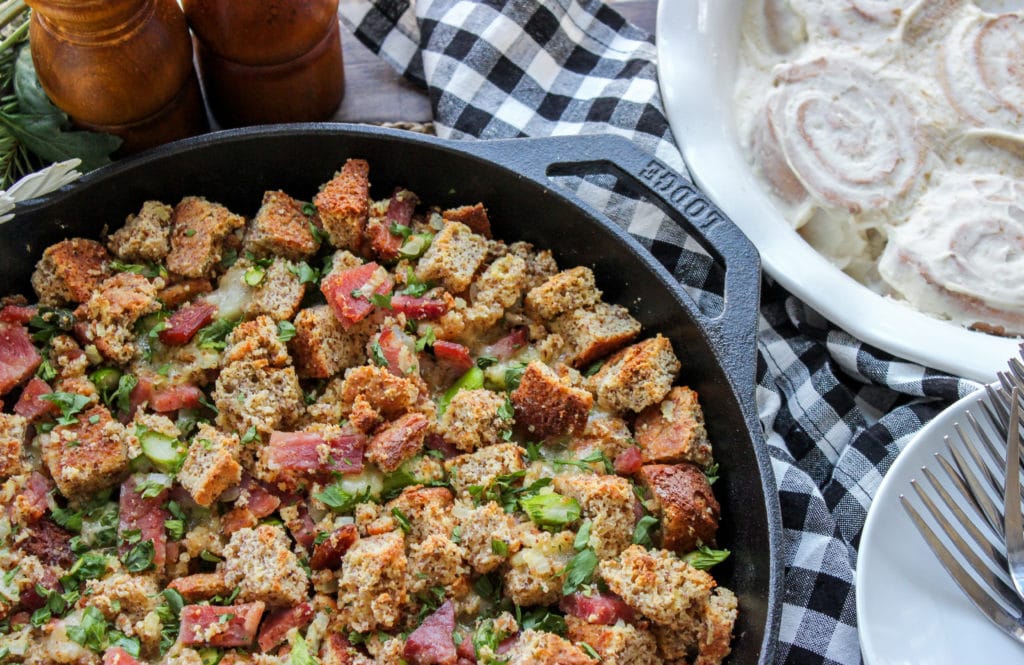 "School" Supplies:
9×13″ Pan, Large Casserole dish, or Cast Iron (pictured)
Saute pan
Knife & Cutting Board
Mixing Bowl
Whisk
Measuring Cup
"Class" Notes:
This recipe is not complicated but works best when prepped ahead of time. In order to get the keto cornbread hard enough to allow the egg and cream mixture to soak into it like traditional stale bread, you must make it at least a day ahead of time. My Keto Cornbread is super easy, mixes together all in one bowl, and bakes up well in a 8X8″ pan. Add seasonings to the cornbread for added flavor like garlic powder, sage, and rosemary. I find this really helps elevate the dish overall. Bake it, cool it, and cut it into a bunch of tiny little 1″ cubes. I toast mine on low heat (225 F) for about an hour on baking sheet. Leave them out to cool overnight or set them aside for a few days. That's the beauty of this recipe, the crunchier the better.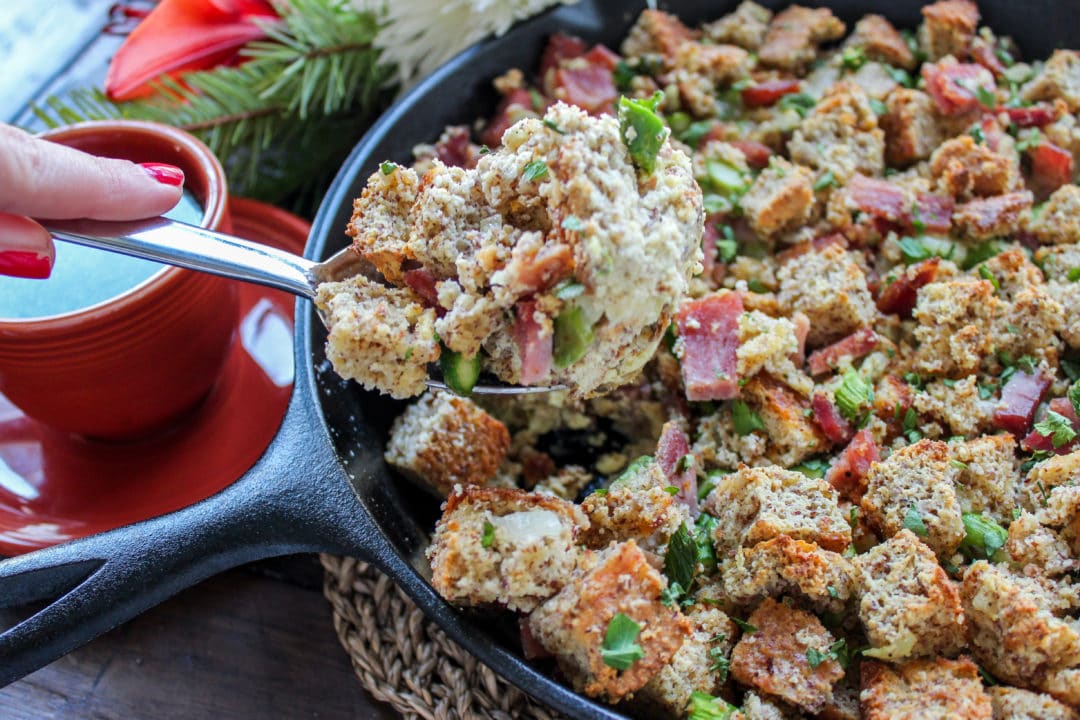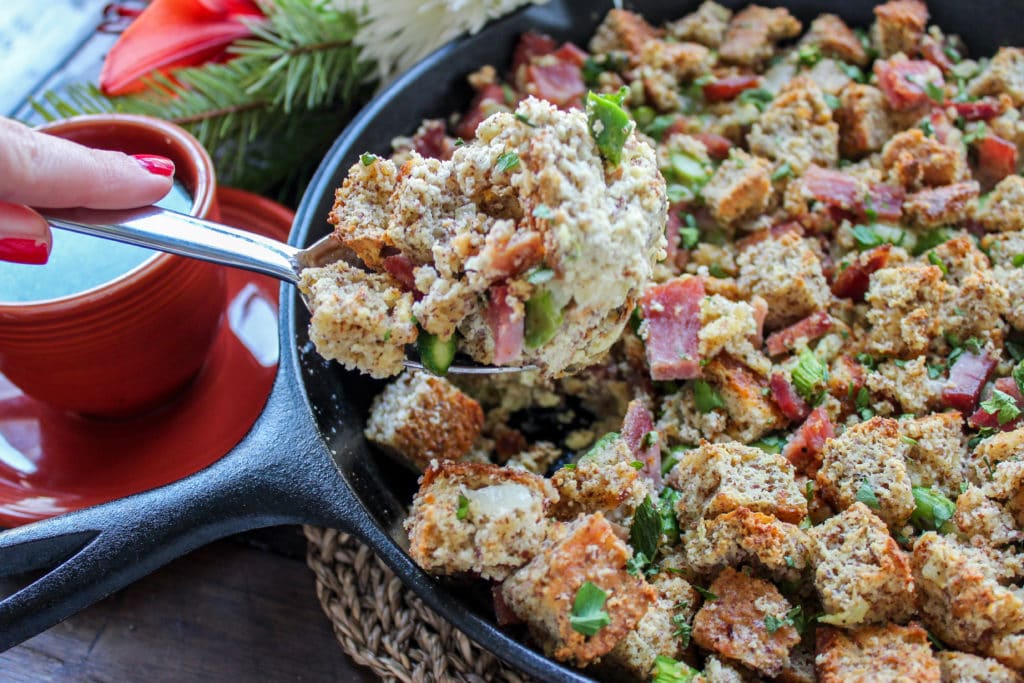 For the actual strata recipe, I added a few cups of diced leftover Holiday Ham. You  could easily sub for prosciutto in this recipe, bacon, or even sausage. I would recommend cooking both of those first however until crispy/browned before adding them to the stale cornbread cubes. I sauted a bit of onion, garlic, and asparagus until it becomes a brighter green color, but is still fairly undercooked. You could also opt to blanch the sliced asparagus as well. In a large bowl I combined the keto cornbread cubs, the ham, asparagus/onion mixture, havarti dill cheese, and some salt and pepper. Pour in the egg and cream mixture and use your hands to thoroughly coat everything. Allow it to soak overnight for the best results and store in the fridge. You could also do this the same day, just allow it to sit for at least a few hours and stirring every 30 minutes or so to get everything soaked in. Bake at 350F for about 30-35 minutes uncovered until the top is a little golden brown and the center is fully cooked. This recipe pairs so well with my recipe for The Best Keto Cinnamon Rolls and my Tequila Sunrise Cocktail too!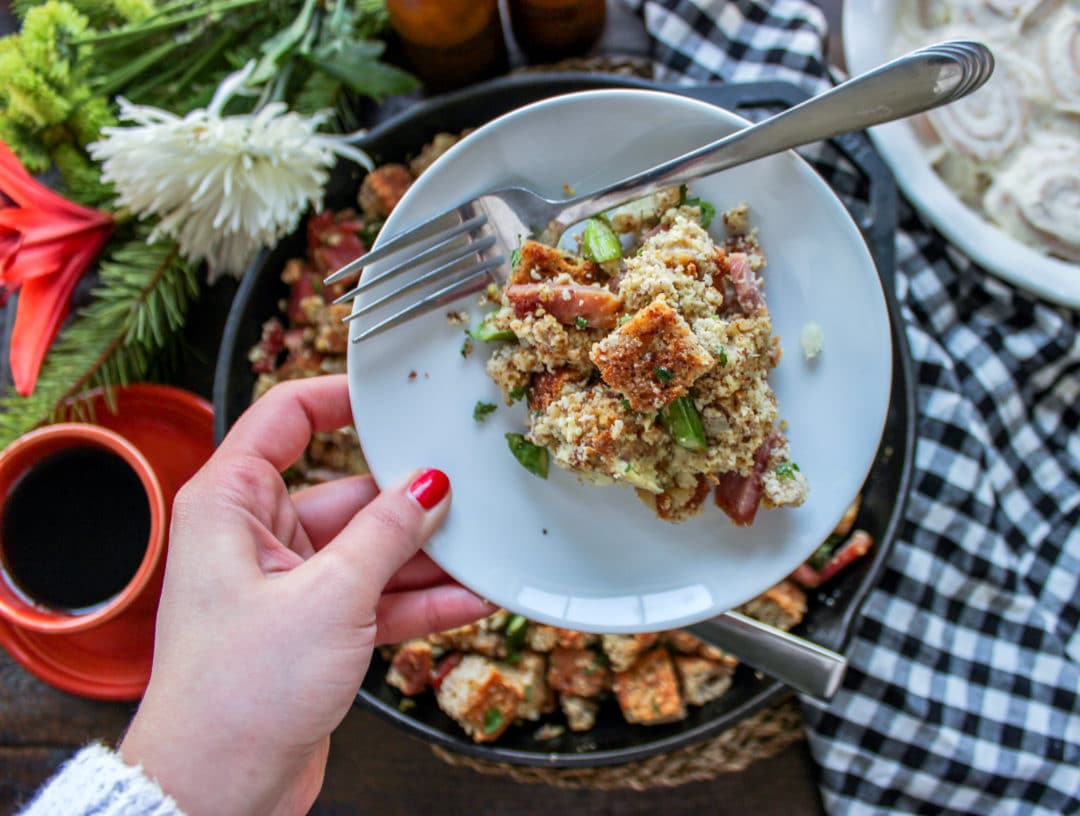 If you want to stay up to date on all that's happening here on Bon Appeteach, be sure to follow me on Instagram and over on Pinterest too so you never miss a recipe! Happy brunching!
Bon Appeteach,
-L
Ingredients
Keto Cornbread (full batch, cut into cubes and toasted)

2 cups Diced Ham

1 tbsp. Olive Oil

1 cup Asparagus, sliced on an angle

1 Small Onion, diced small

2 Garlic Cloves, minced

1 cup Shredded Cheese (I used a havarti dill)

6 Eggs

1 cup Heavy Cream (can sub for half and half)

Salt & Pepper
Instructions
1
Prepare the keto cornbread (recipe linked above) and bake in an 8x8" pan for 30 minutes. Allow it to cool. Cut into cubes and toast them for 60 min at 225 F on a baking sheet. This works best when prepared ahead of time (at least 24 hours if not 2-3 days in advance). You want the bread to be stale and hard.
2
In a bowl, whisk together the eggs and heavy cream and season with a little salt and pepper.
3
Saute the onion, garlic, and slice asparagus in the olive oil over medium heat for 4-5 minutes. The asparagus should not be fully cooked and should just start turning a bright green. Remove from the heat.
4
In a bowl combine the toasted keto cornbread cubes, the ham, the asparagus and onion mixture, and cheese. Pour the egg and cream mixture over the top and use your hands to thoroughly mix everything together. You want the egg mixture to soak into the cornbread. Let it rest for 15 minutes on the counter and stir again to help redistribute the liquid that may have gone to the bottom, then wrap in plastic, and refrigerate overnight.
5
To bake, remove from the fridge, stir well to make sure the majority of the liquid has been absorbed and place the mixture into your preferred baking dish. Bake uncovered at 350 F for 30-35 minutes. The top should brown lightly and the mixture should be cooked but still a little soft in the center. Let cool a few minutes before serving!
Nutritional Information:
Obtained using My Fitness Pal. I am not nor do I claim to be a nutritionist, so it is important to always verify the nutritional information as brands vary. I work hard to always provide the most accurate information as possible in hopes of making this easier for you, my readers!