I love creating fun appetizers (who wants a whole meal when your whole meal can involve stuffing your face with tiny pretty bites of yummy food). I love the presentation and plating, and I absolutely love feeding all my favorite people in one place.
 One of my favorite summertime foods is salmon. I love how versatile it is (Have you tried this fabulous Smoke Salmon Roll Ups or my favorite Blackened BBQ Salmon recipes). As a part of my summer blog series, the "Bon Appeteach Book Club", I thought salmon cakes would pair really well with the Mint Juleps I made. Because all good drinks need good food!
So let's kick off another weekend with a perfect party appetizer (or hey even for dinner)! The full recipe for these easy salmon cakes can be found at the bottom of the post or read on for a few tips and tricks!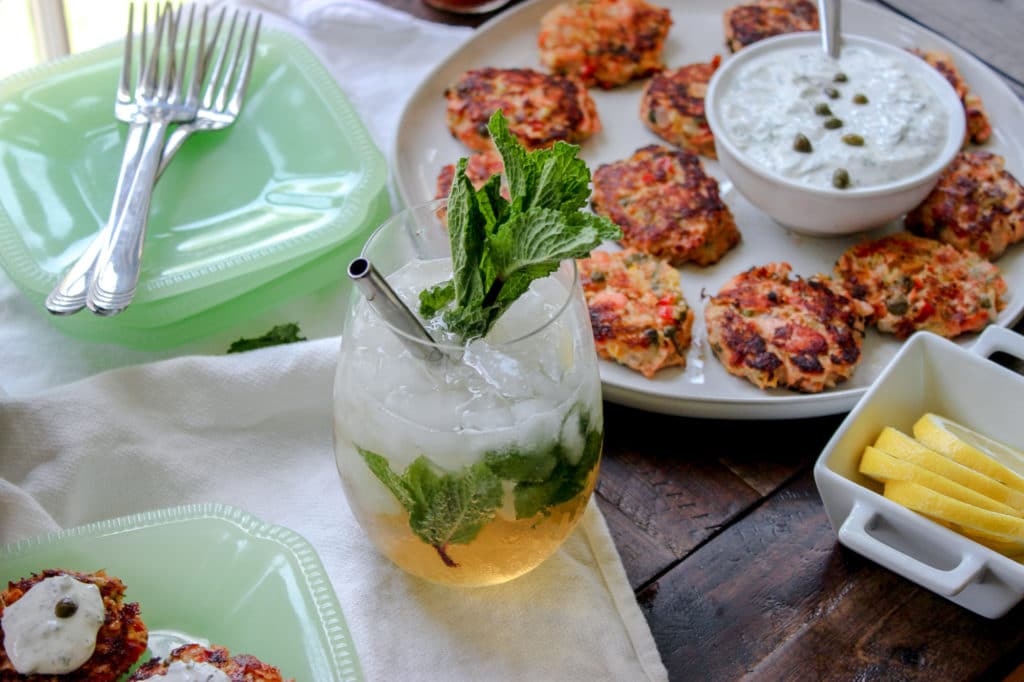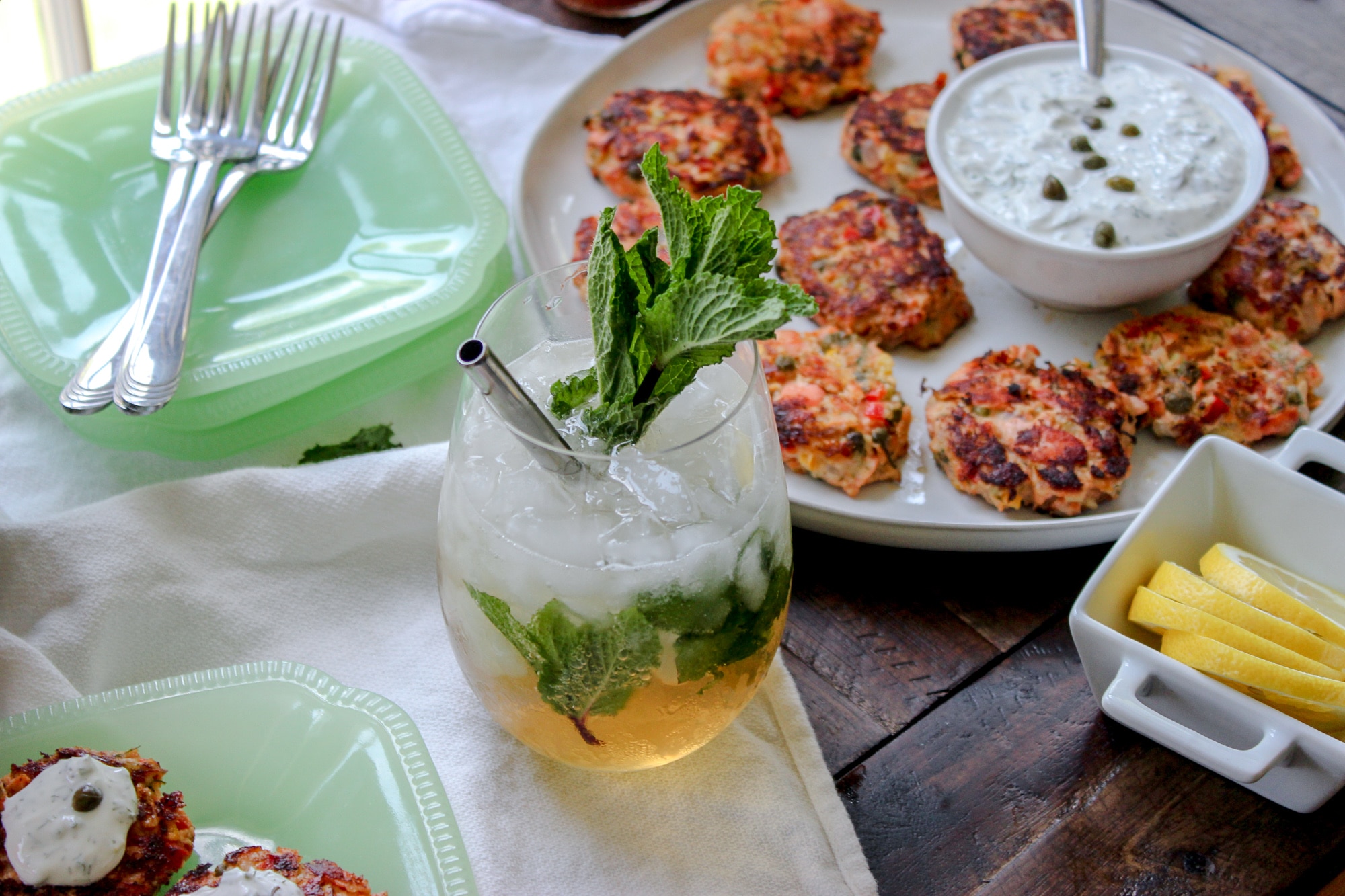 "School" Supplies:
Cast Iron Skillet (8-9″)
Knife & Cutting Board
Baking Sheet (if using fresh salmon)
Large Mixing Bowl
Spatula
Fork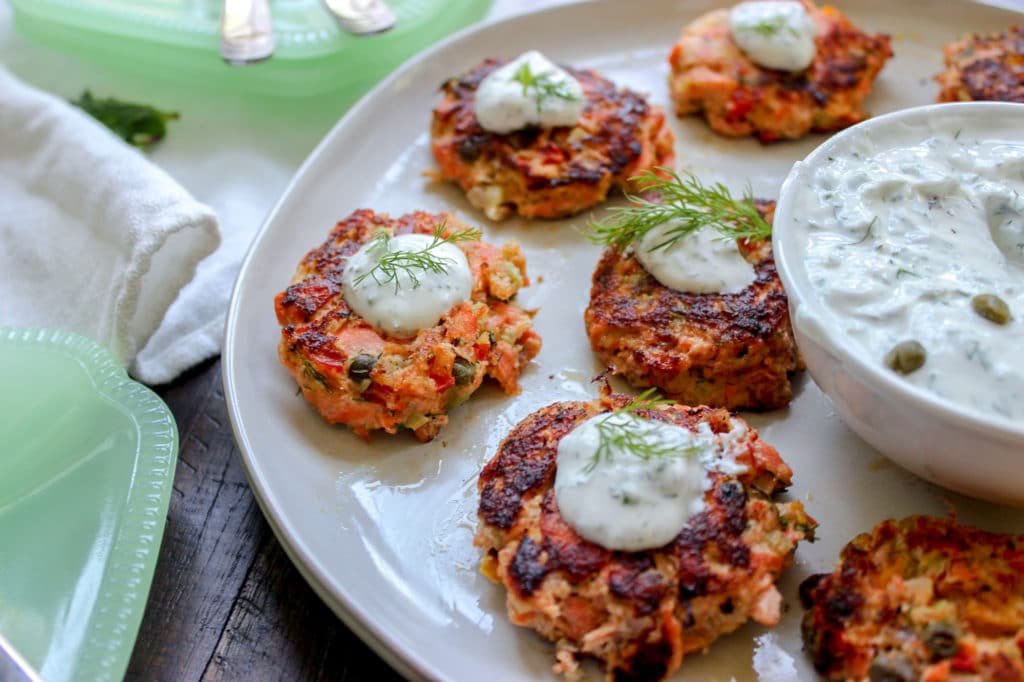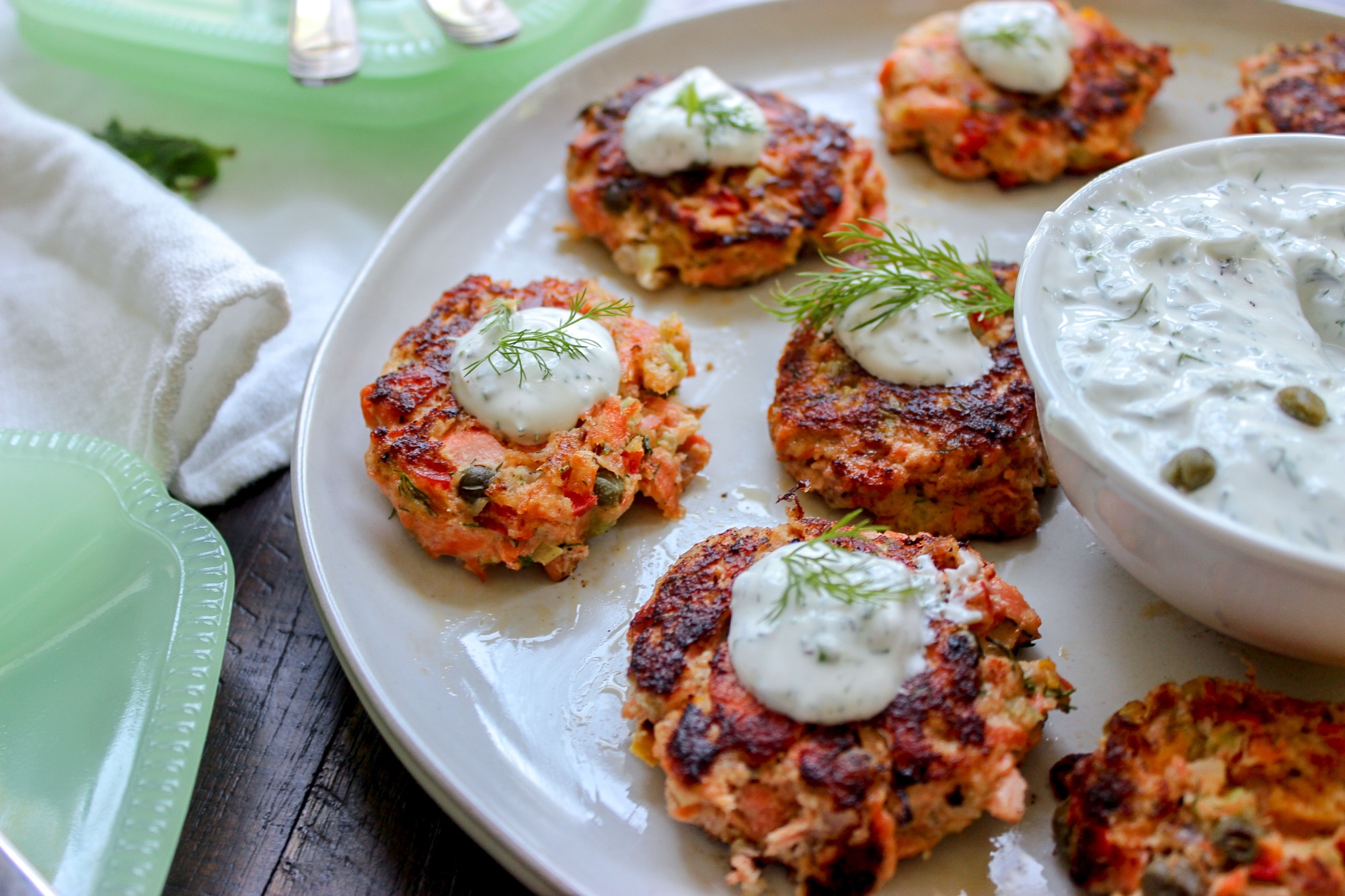 "Class" Notes:
I am really picky about my salmon. Because I eat it so often to help manage my PCOS, it is important to me to buy a high quality Alaska wild caught salmon. You can use canned salmon for this recipe however, if you want to make these faster and even easier.
But, I personally don't mind the extra step of baking my salmon ahead of time in order to use a higher quality fish in both freshness and flavor. I pre-bake my salmon with salt and pepper, shred it with a fork, and allow it to cool.
You could easily prep this ahead of time if you plan on making these for a party. Next, I need to prepare the veggies for my Easy Salmon Cakes. I like to use a little red pepper (for color), some celery, and red onions. Saute it all together in a little bit of butter or olive oil.
I toss in some capers I had in my fridge as well. Once everything is cooked. Set it aside to cool a bit prior to filling.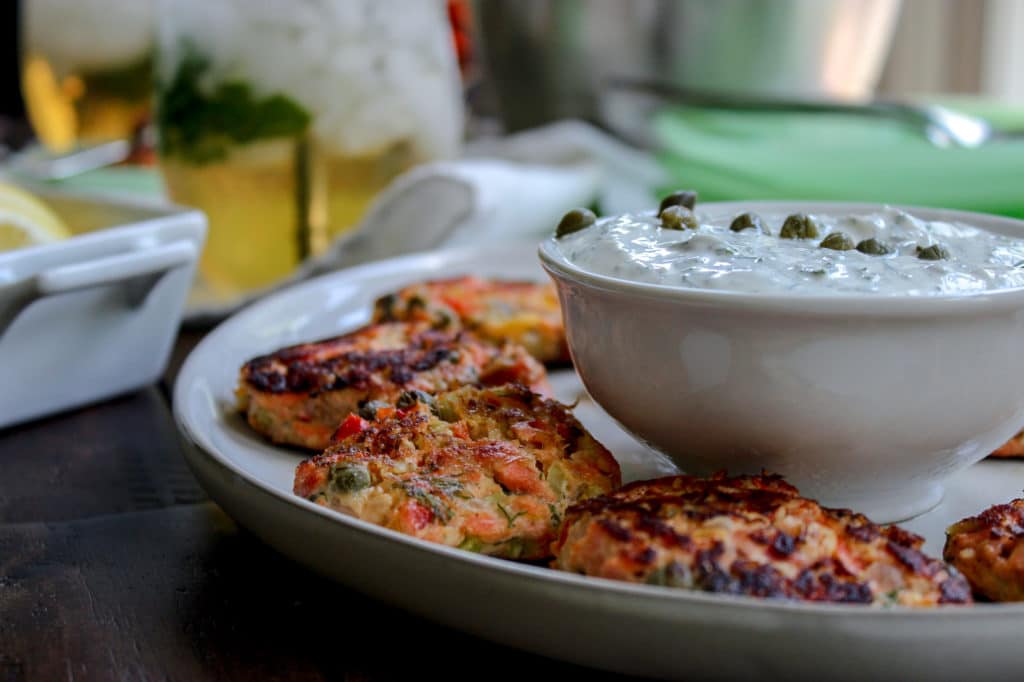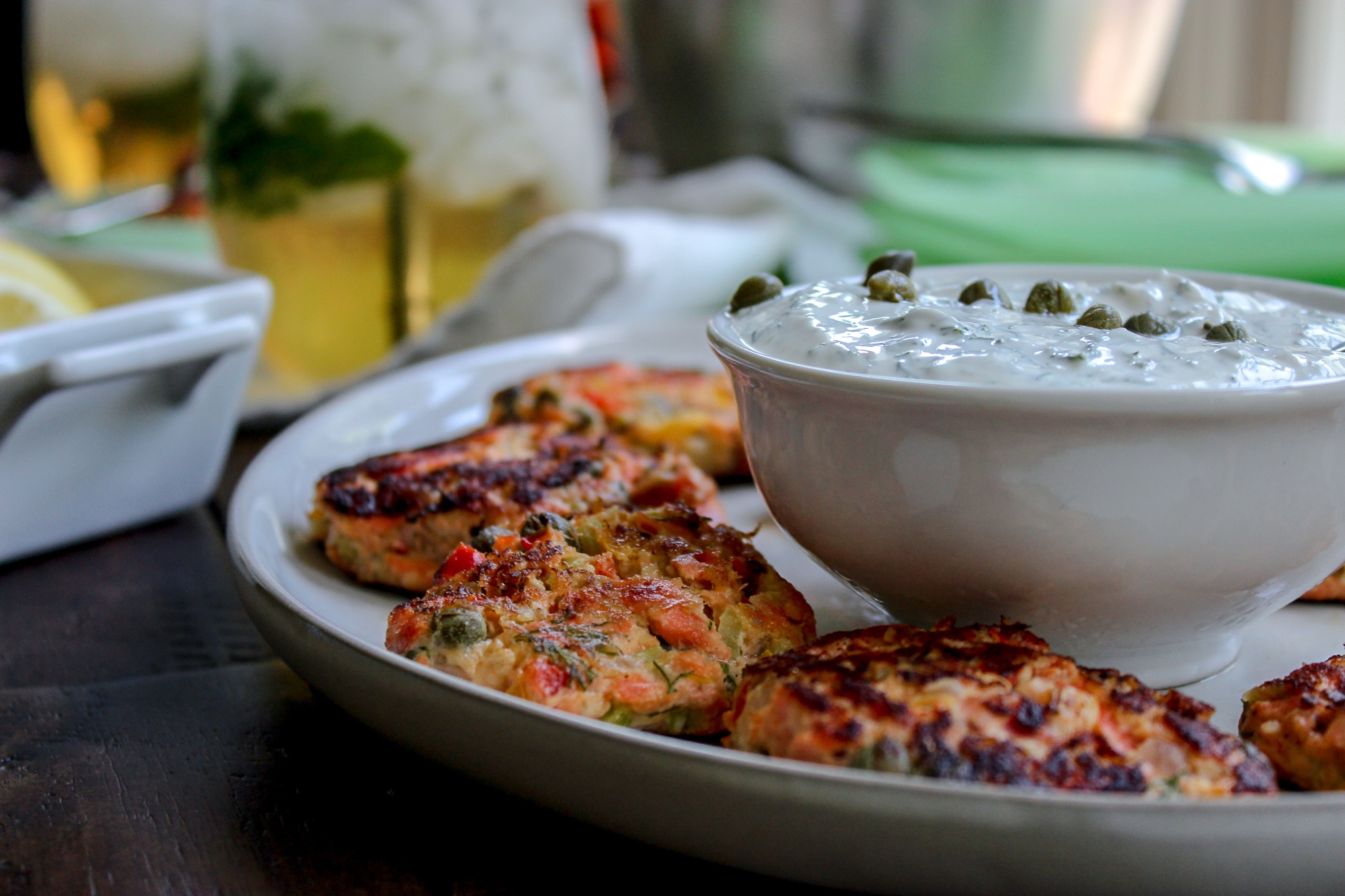 Once the salmon and filling are cooled, you can now form you Easy Salmon Cakes . In a bowl, combine the flaked salmon, the veggies, a little bit of almond flour, avocado (or regular) mayonnaise, Dijon mustard, fresh dill, a splash of liquid smoke, and some eggs to help bind it all together.
Mix it all well so it looks or resembles a tuna or chicken salad (but ya know…with salmon). You could actually eat it like this too if you wanted! But, let's fry em up instead. I love using my cast iron for this. Preheat your pan to medium heat and melt some butter (too hot will cause your butter to burn so watch the temperature).
You can make mini salmon cakes to feed a crowd, or use a cookie cutter to form 4 large patties. Place them in the pan and brown each side. Remove from the heat and serve with this fresh dill and chive sour cream sauce. Pair with a Mint Julep (I even made a keto version) and you're killing this whole food and drink thing!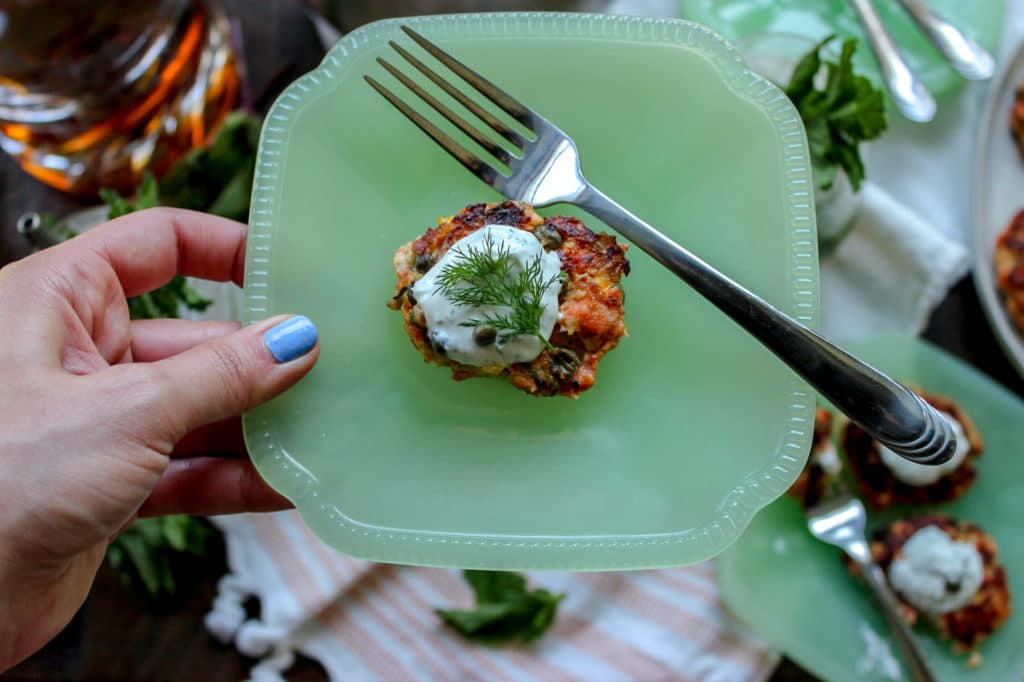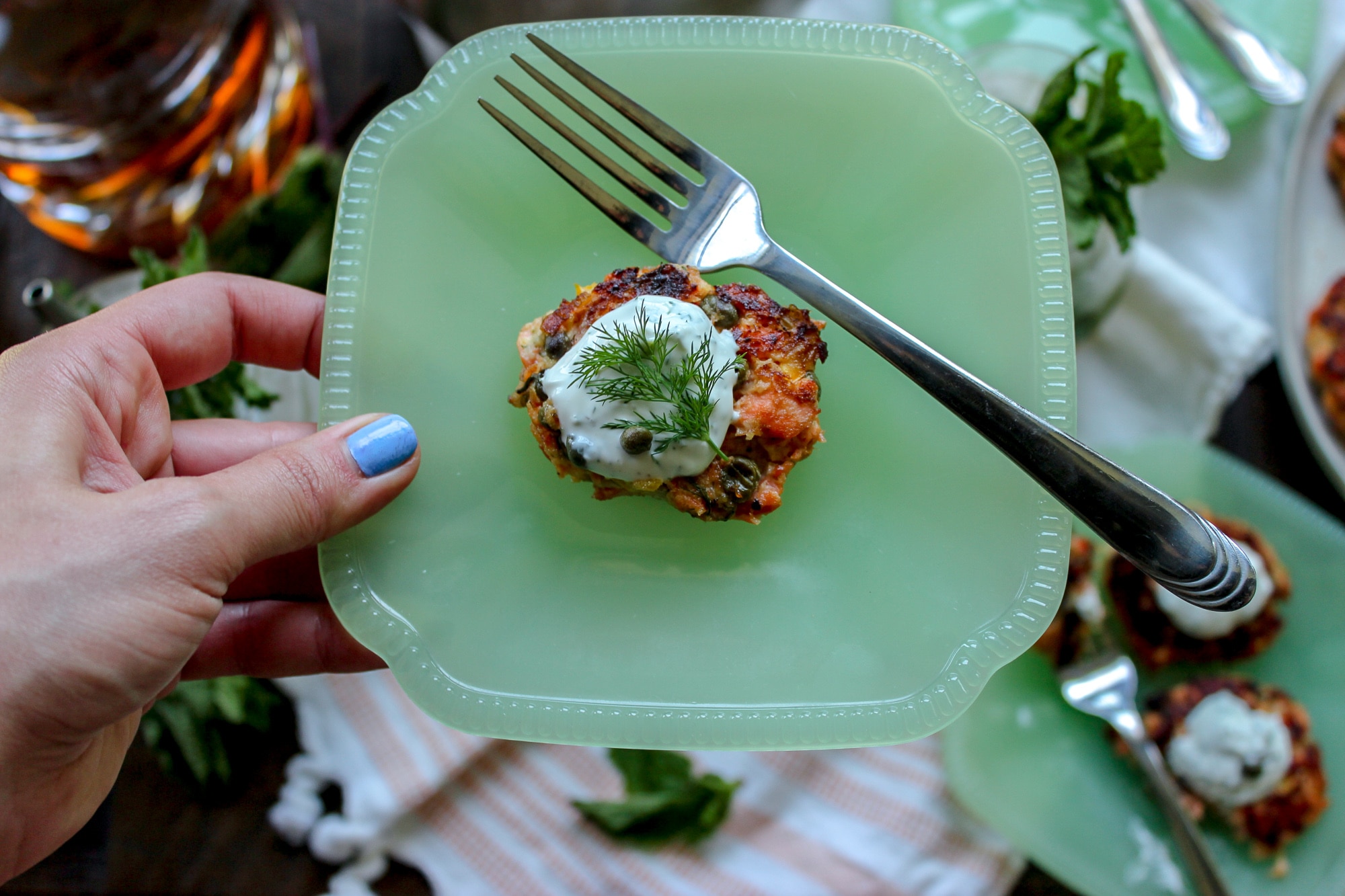 I hope you (as ALWAYS) enjoy this recipe. Leave me a comment and let me know how they turned out for you! Better yet, post a photo to Instagram and tag me so I can see what you made! Have a fabulous weekend.
Bon Appeteach,
-L
Yield: 16
Easy Salmon Cakes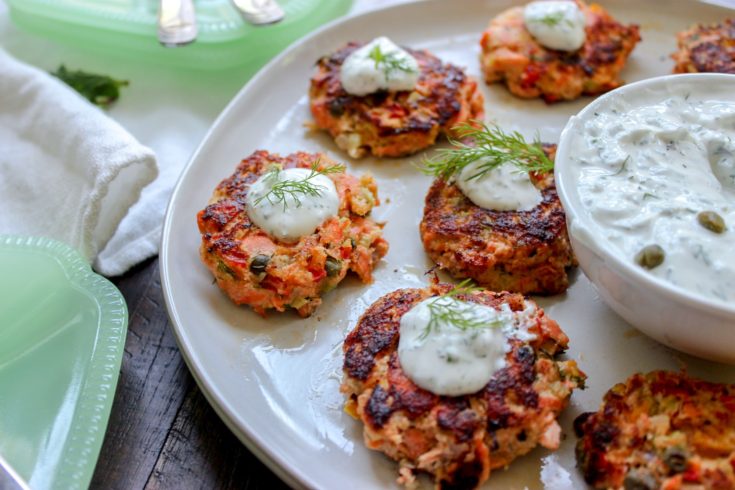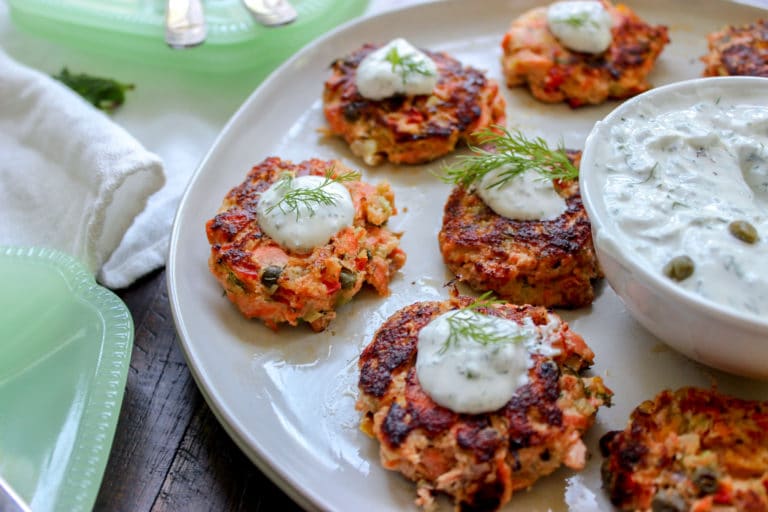 Easy to make, fresh salmon cake topped with sour cream and fresh dill.
Ingredients
2, Salmon Fillets or 8 oz. Canned Salmon
1 Celery Stalk
1/4 cup Red Onion, diced
1/4 cup Red Peppers, minced
1 tbsp. Fresh dill, minced
1 tsp Olive Oil
1/2 cup Avocado (or regular) Mayonnaise
1 Tbsp. Dijon Mustard
1 tsp. Liquid Smoke
1/4 cup Almond Flour
1 Egg
2 tbsp. Butter
Dipping Sauce:
1 cup Sour Cream
1/4 cup Fresh Dill, minced
2 Tbsp. Fresh Chives, minced
Salt & Pepper to taste
Instructions
1. If using fresh salmon, preheat your oven to 375 degrees F. Take out 2 sheets of foil and spray with nonstick spray. Place the fresh salmon skin side down onto the foil , season with salt and pepper and wrap them tightly so they are sealed Then bake for 15 minutes. Remove from the oven and allow them to cool a bit. Use a fork to shred the fillets and make sure they cool completely before adding to the mixing bowl to form the patties. You can make the salmon ahead of time.

2. If using canned salmon, check for bones and drain any liquid. Set aside.

3. In the cast iron skillet, saute the onion, celery, and peppers till tender. Remove from the heat and allow them to cool as well.

4. In a mixing bowl, combine the shredded salmon, the veggies, and all the other ingredients for the filling (do not mix in the dip ingredients). Mix very well until it is combined. Taste test and add any additional seasonings if needed.

5. Form into mini patties for serving a crowd or form into 6-8 larger patties. Preheat your cast iron skillet to medium heat, melt the 2 tbsp. of butter. Place each patty into the pan and sear and brown both sides.

6. In a bowl, combine the sour cream, chives, and dill. Season with salt and pepper to taste. Serve the dipping sauce with the salmon cakes and a mint julep!
Nutrition Information:
Yield:
16
Serving Size:
1
Amount Per Serving:
Calories:

121
Total Fat:

8g
Saturated Fat:

2g
Trans Fat:

0g
Unsaturated Fat:

5g
Cholesterol:

42mg
Sodium:

70mg
Carbohydrates:

1g
Net Carbohydrates:

1g
Fiber:

0g
Sugar:

0g
Protein:

10g