Homemade Garlic Basil Aioli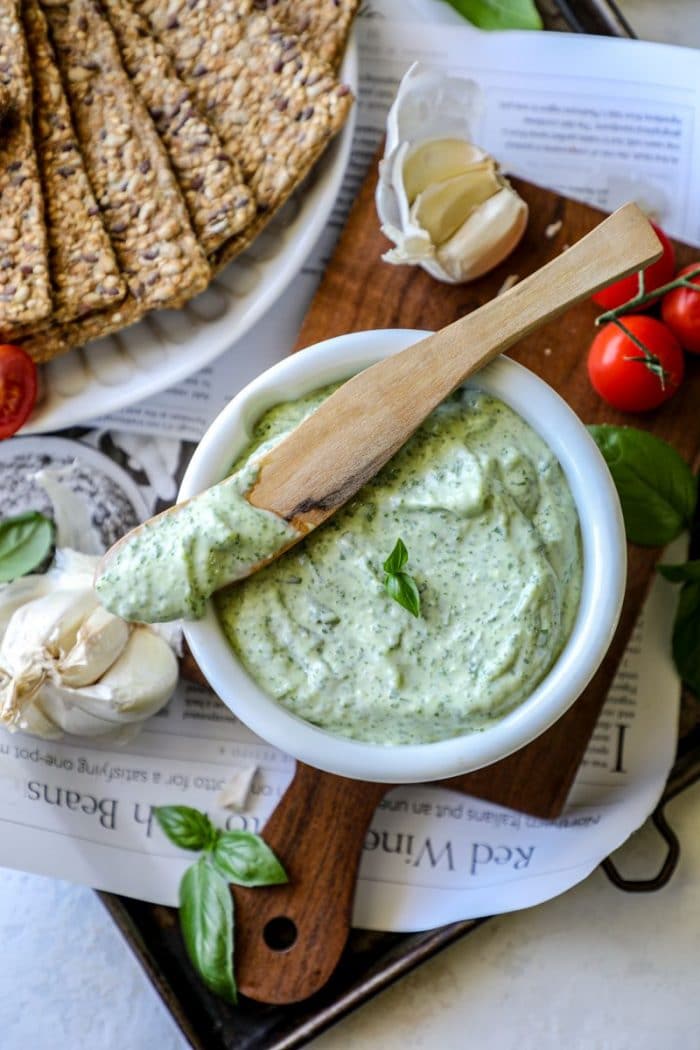 Elevate your sauce game with this basil garlic mayo recipe (aka aioli) to add to your favorite burger, sandwich, salad, and more!
Whether it's basil season and you're looking for another unique way to use up this tasty herb or simply want to give it a try to mix in with your latest batch of chicken salad or spread onto your hamburger bun, you need to take the plunge and try this out!
I know it may seem intimidating to try and make your own mayo, but it's really not! With a handful of pantry staples, lots of garlic and basil, and a few helpful tips along the way, you can really make a flavor packed spread and put it to so many uses (like this weeknight roasted spatchcock chicken, yum).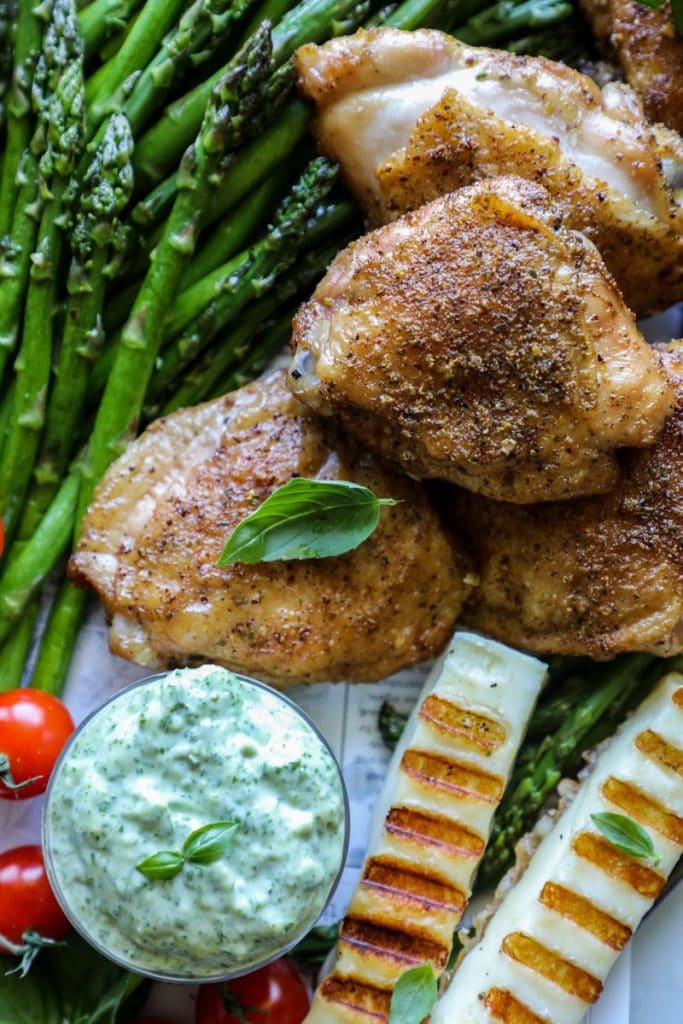 See all the details below and get helpful cooking, preparation, and storage tips or jump to the recipe at the bottom of the page to get started. Let's dive in!
"School" Supplies:
Food Processor or Immersion Blender
Measuring Spoons
Rubber Spatula
Glass jar
"Class" Notes:
Below are helpful culinary teacher tips, tricks, and techniques to help you make a unique and flavorful spread at home.
What is aioli?
Aioli is a fancy way of making flavored mayo, more specifically garlic mayonnaise. The base is made an up of lemon juice, mustard powder, egg yolks (raw), and oil. Then this mixture is combined with fresh garlic cloves and become a delicious spread that can be used in many recipes.
Do I have to use raw egg yolks? What can I use instead?
Raw eggs yolks play a key role in binding the oil together to create a thicker, emulsified paste (aka mayo). It acts as the glue that holds the oil molecules together so it essentially can become a whipped mixture instead.
While you can't necessarily avoid the use of raw egg yolks, you can substitute them with a pasteurized raw egg yolk (heat treated to kill any potential bacteria) instead. Egg yolk and lemon juice also work together to create a slightly more acidic environment for any potential bacteria growth as well.
Please take caution as needed when working and ingesting any raw foods! The culinary teacher in me needs to leave that disclaimer.
What's the best oil to use when making an aioli recipe?
Lighter flavored oils work best. My preference these days is avocado oil but you can use canola, grapeseed, sunflower, etc. Olive oil is a very strong flavor, so I do not recommended it for making garlic aioli specifically.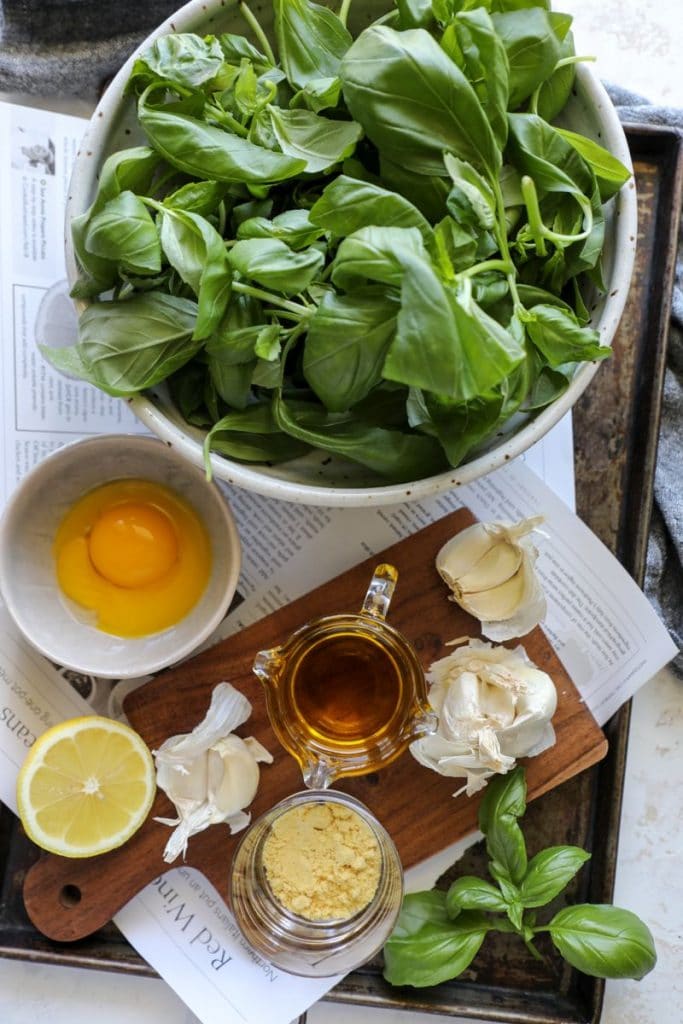 Ingredients :
Avocado oil: My preference!
Raw Egg Yolks: Sub with pasteurized eggs if preferred)
Mustard Powder: You can also sub with Dijon if needed.
Lemon Juice: Fresh squeezed is best
Fresh Basil: Remove the stems and leave the leaves whole
Garlic Cloves: Fresh works best for a more intense garlic flavor
Salt and Pepper
Steps and Preparation:
While this recipe isn't hard to make, there are some key tips to making it come together so you don't break your emulsion. To do this you need either a food processor or an immersion blender!
In the base of a jar or a food processor, add the egg yolks and mustard powder together. Pulse or blend a few times until it's combined.
Add your lemon juice and pulse/ combine again.
Here is where you need to be careful/ prepared so you do not break your emulsion! Whether you use a food processor or an immersion blender, your goal is to slowly (and I mean VERY slowly) add the oil into the mixture in a steady, thin stream.
I start by adding a very tiny amount to the mixture while the blender or food processor is running. Let it absorb and then continue to slowly and cautiously pour a continuous stream of oil into the processor or a jar while blending. It should take 2-3 minutes to do this if you do it right!
As you blend, your mixture will thicken and become more like a lighter whipped mayo. Once fully combined with the oil, you can add finely chopped garlic cloves or mash the garlic with a mortar and pestle to the mixture. Occasionally, I'll just blend it all in whole. Then add the basil and repeat the process.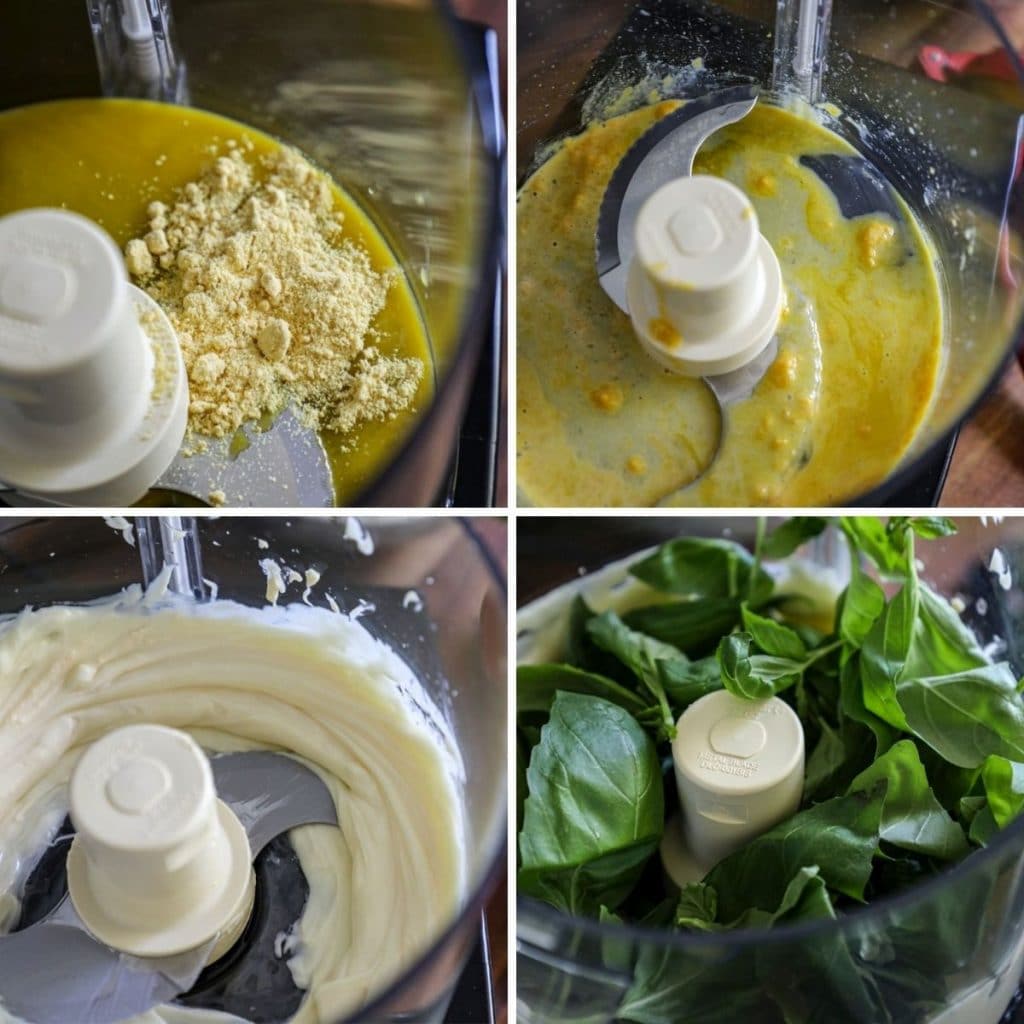 Tips for storing:
It stores well in a glass jar and should be kept in the fridge. You may notice its thinner than store bought mayo because it has less additives and thickeners. It should however, thicken up in the fridge a bit though too. Store for up to a week.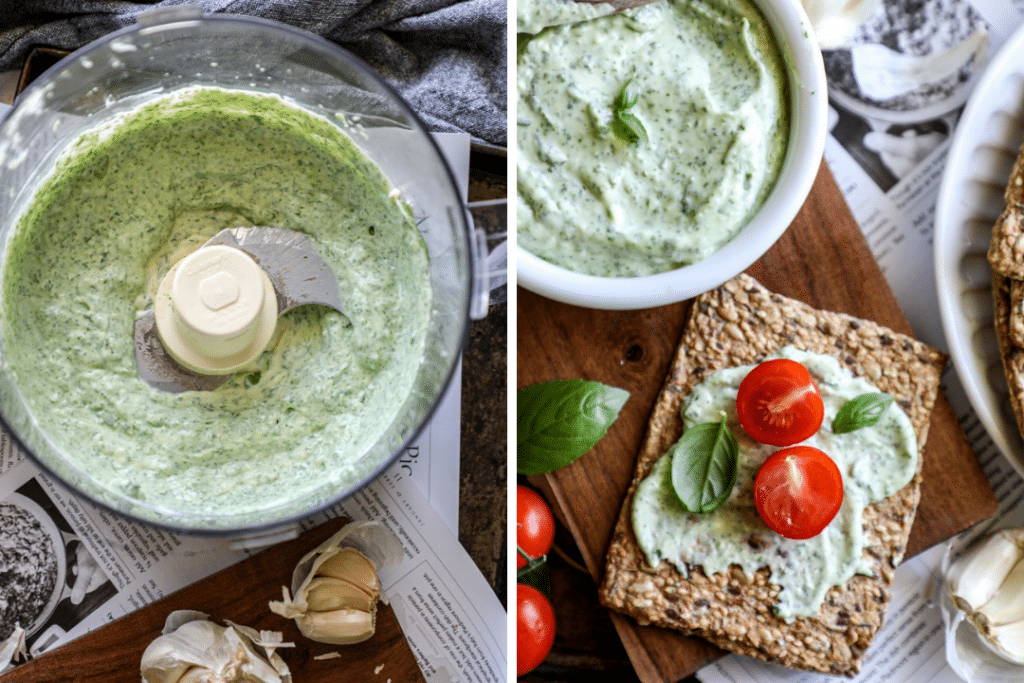 Tips for serving:
This recipe goes stellar with foods like-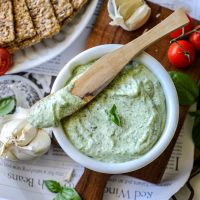 Homemade Garlic Basil Aioli
Elevate your sauce game with this basil garlic mayo recipe (aka aioli) to add to your favorite burger, sandwich, salad, and more!
Print
Pin
Rate
Ingredients
2/3

cups

Avocado Oil

2

Egg Yolks

Room Temperature (*See notes above regarding raw egg yolks*)

1

tsp.

Dijon Mustard or Mustard Powder

1/2

lemon

juiced

1

tsp.

Salt & pepper

6

Garlic Cloves

minced

1/2

cup

Fresh Basil

stems removed
Instructions
In a food processor or with a jar and an immersion blender, pulse the two egg yolks (room temp works best) and the mustard powder together. Add in the lemon juice and pulse again.

*Key Step*-Turn the processor or blender on high and slowly drizzle in the oil in a steady stream. This should take several minutes. If you go to fast you will break the emulsion and the oil and yolk will separate.


Once the oil is added, add in the salt, pepper and minced garlic. Pulse 5-10 times to ensure it is combined. You can taste it at this point and see if it needs additional salt.


Finally, add in the basil and process until the aioli looks similar to a pesto. You may need to scrape down the sides a few times to ensure it is evenly mixed.


Serve with crostini, crackers, as a dip for veggies, or with chicken (awesome in chicken salad too) or salmon. This would be delicious on a sandwich or in low carb wrap too!


Store in the fridge for up to 1 week.
Notes
Struggling to make your own mayo base for the aioli? Use 1 cup of your favorite mayo instead and add a little lemon juice, garlic, and basil to it instead.
Nutrition
Serving:
1
g
|
Calories:
60
kcal
|
Carbohydrates:
1
g
|
Protein:
1
g
|
Fat:
6
g
|
Saturated Fat:
1
g
|
Polyunsaturated Fat:
1
g
|
Monounsaturated Fat:
4
g
|
Cholesterol:
16
mg
|
Sodium:
81
mg
|
Potassium:
9
mg
|
Fiber:
1
g
|
Sugar:
1
g
|
Vitamin A:
49
IU
|
Vitamin C:
2
mg
|
Calcium:
5
mg
|
Iron:
1
mg