Coconut Crusted Salmon with Chimichurri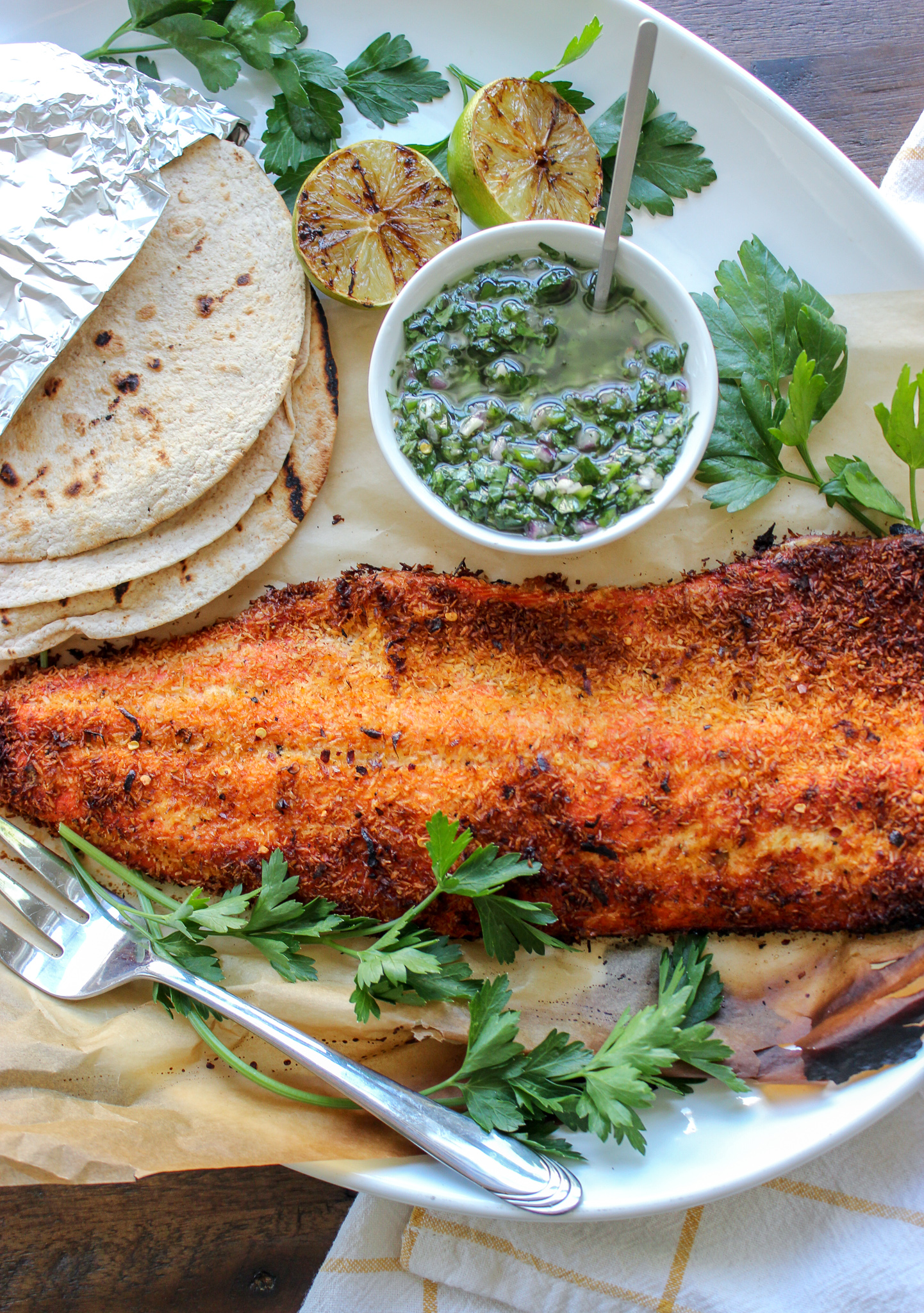 "Easy grilled salmon fillet coated in a savory unsweetened coconut coating. This light and healthy salmon dinner comes together in less than 20 minutes, is keto friendly, paleo, gluten free, and sugar free too!"
Wild caught Alaskan salmon is probably one of my go-to week night dinners. I love how fast salmon cooks and how healthy and the flavor profile is so versatile too.
The health benefits for PCOS are off the charts, because it's packed with those nutrient dense omega 3's, an easy source of lean protein, and helps promote healthy skin, hair, and nails! 
Can't hate that!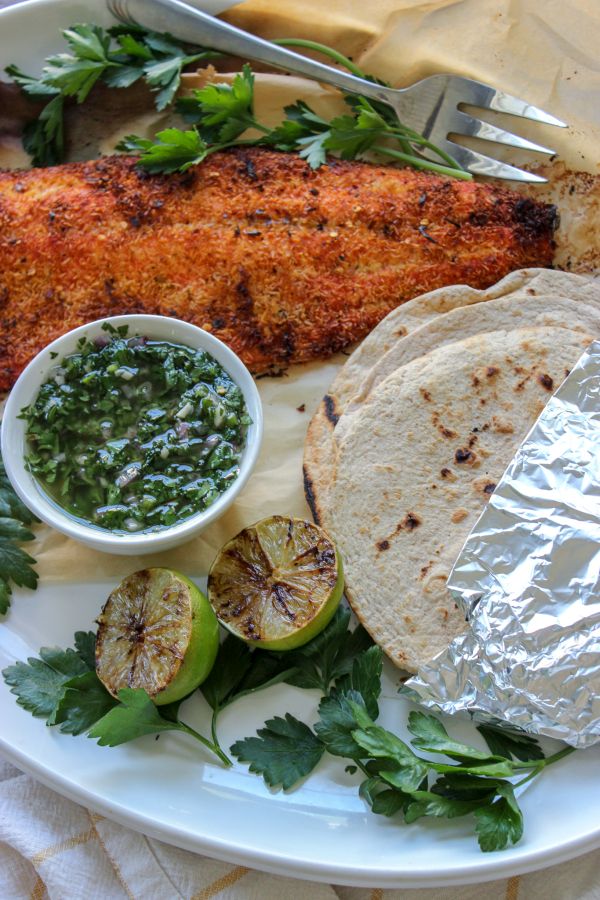 Cleaning out the cabinets is one of my favorite ways to get creative in the kitchen. I had a bag of half used unsweetened coconut flakes leftover from when I made theses Keto and Gluten Free Samoa Girl Scout Cookies in February, and I figured it needed to get used because #ihatefoodwaste. 
When I saw this beautiful salmon fillet at the store on sale, I knew what a great pairing it would make. Add some spices to the coconut, coat it, and toss it on the grill for an easy flavorful dinner.
If you don't want to grill the salmon, baking it works just as well. Bring the flavors all together with the bright and refreshing chimichurri sauce that can be spooned over the top, or even make a gluten free and low carb taco pairing with it too with my 1 net carb keto tortillas!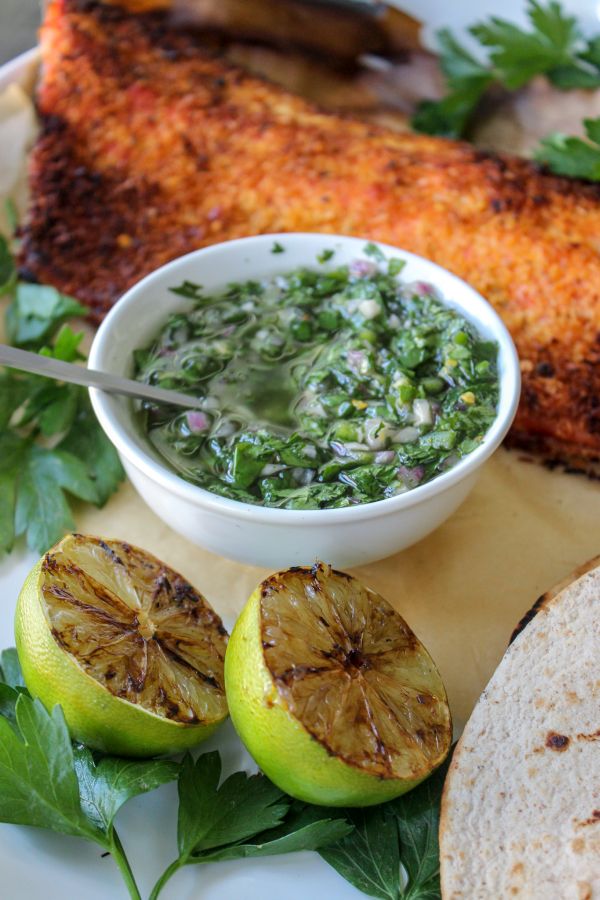 Full recipe for this grilled Coconut Crusted Salmon with Chimichurri is below! 
"School" Supplies:
Knife & Cutting Board
2 Mixing Bowls
Measuring spoons 
Parchment Paper
"Class" Notes:
(Keto) Coconut Crust-
I opted to use unsweetened coconut to crust the salmon because that's what I had in my pantry and it also contains way fewer carbs (for those of you who are keto eaters out there or need to watch your sugar intake). 
When I think of coconut, I think of lime. I added a little lime zest, some paprika for smokiness and spice, salt, pepper, and cumin to bring it all together.
If you want to bring a little sweetness to it, you could use a low carb sweetener like allulose (caramelizes very similar to real sugar, is zero carb, and has no weird aftertaste). Alternatively you could use honey, maple syrup, or even a raw sugar/ brown sugar too. 
Pat the top of the salmon dry to remove moisture and coat it with a little avocado or olive oil. 
Cover the top with a nice even layer of the coconut mixture. Gently use your hands to pat it down over the top so it adheres nicely to the salmon and will eventually form a nice crust once it is cooked.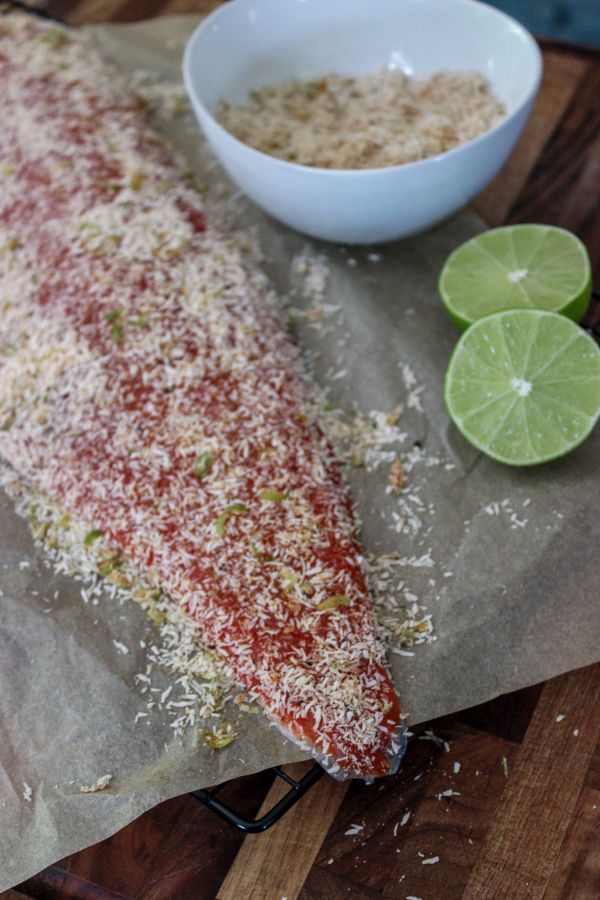 Prep your grill for indirect heat and preheat it to 400 F. Also, if you want to learn more about two zone cooking on your grill from my friend Matt over at Grillseeker.com! He's got a wealth of grill knowledge too for any newbie grillers out there. If you don't have a grill, you can also easily adapt this recipe to bake in the oven (see more notes below in the recipe).
I prefer to avoid grilling salmon directly on the grates, because I find the skin sticks and it makes a fillet of this size difficult to move. 
I like to use a cooling rack to grill on, with a piece of parchment paper over the top to prevent sticking. Place the fillet over the top of the parchment and place on the indirect side of the grill to cook.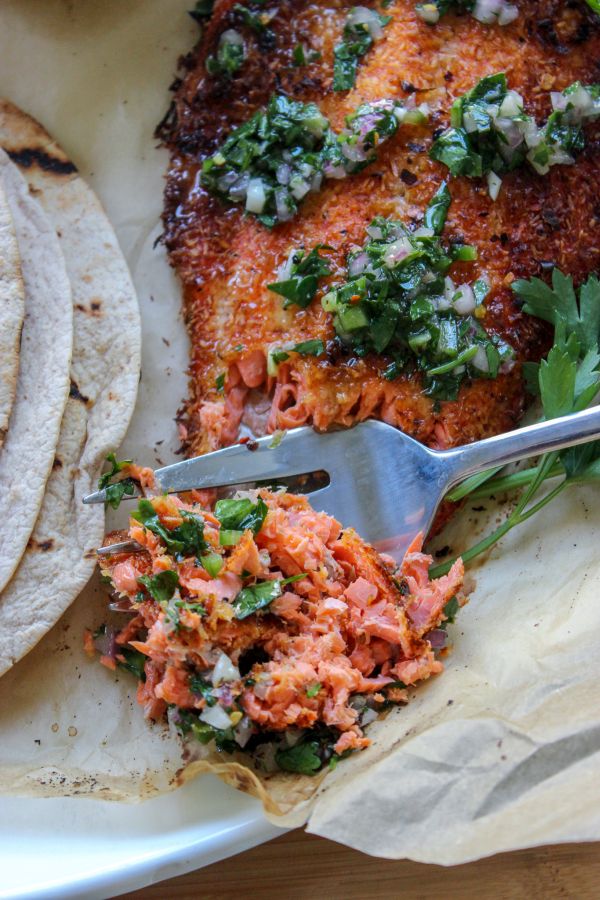 Salmon should cook to an internal temperature of 145 F according to the FDA. Fillets may vary in cook time because of the thickness of the fish but should take around 15-20 minutes or so. While the fish is cooking, get started on your chimichurri!
The Chimichurri-
Chimichurri originated in a lot of Argentinian cuisine, and I fell in love with it when I was living in South Florida.  Having the experience of living in so many states in the last five years, I've been able to embrace different cuisines and appreciate the diversity in flavor profiles. 
Plus it just tastes delicious!
Typically, you see chimichurri paired with steak but I just thought it would really bring this dish to life. The beauty of chimichurri too is that it is really just a handful of fresh ingredients all tossed together into a bowl.
I like to work with an equal amount of fresh cilantro and fresh parsley. Mince the leaves finely, dice up some onion or even a shallot as well. The trick to a good chimi is to really make sure everything is minced evenly.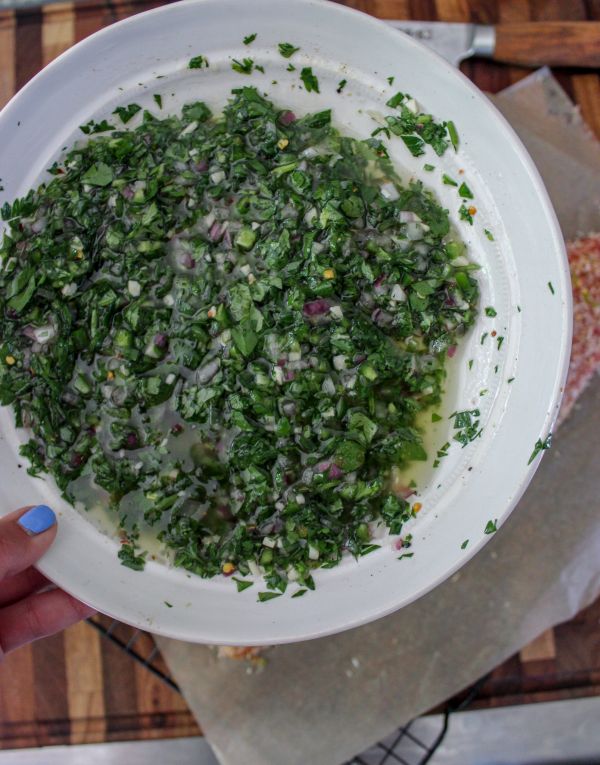 Add a bit of spice with some red or green jalapeno, maybe a Serrano pepper if you're feeling real wild and crazy. Season with salt, pepper, and add plenty of minced garlic too. 
To make it more of a dressing, add in a lot of olive oil and some red wine vinegar or citrus juice like lemon or lime to add some acidity. Mix it all together with a spoon and you're all set.
Now, ideally the flavors need some time to marry. The chimichurri tastes best in my opinion the longer it sits (at least an hour plus), but I'm often impatient and don't plan ahead that much for a quick dinner like this. 
Meaning, it will be fine (and still very yummy) if  you make it while the salmon is on the grill.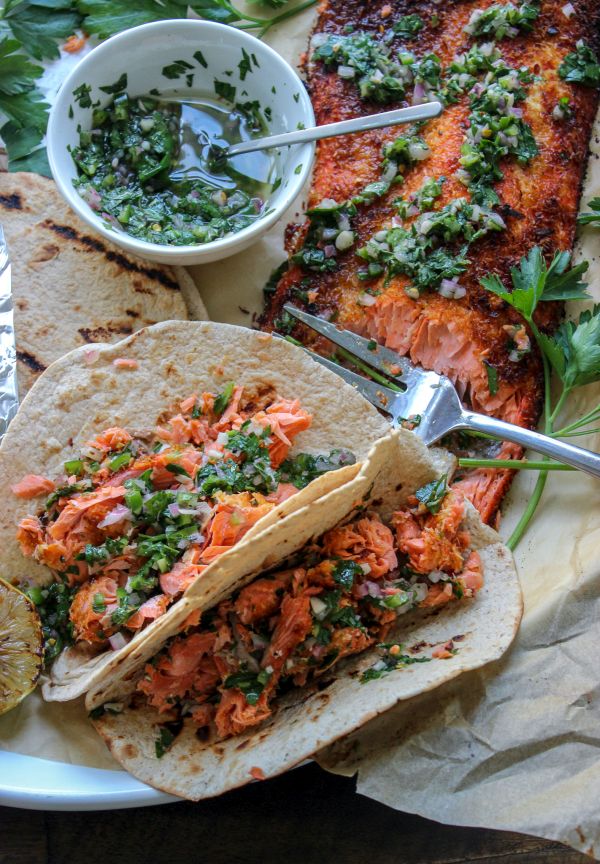 How To Serve It-
I love serving a large salmon fillet like this family style on a platter. I grilled up some low carb tortillas, grilled some limes, and assembled it all onto a platter. You could also make a grain to pair with this like quinoa, rice, or for my fellow keto eaters, cauliflower rice too. 
Leftovers would be delicious over arugula with some avocado and extra chimichurri as the dressing the next day too! Give it a go and you won't be disappointed.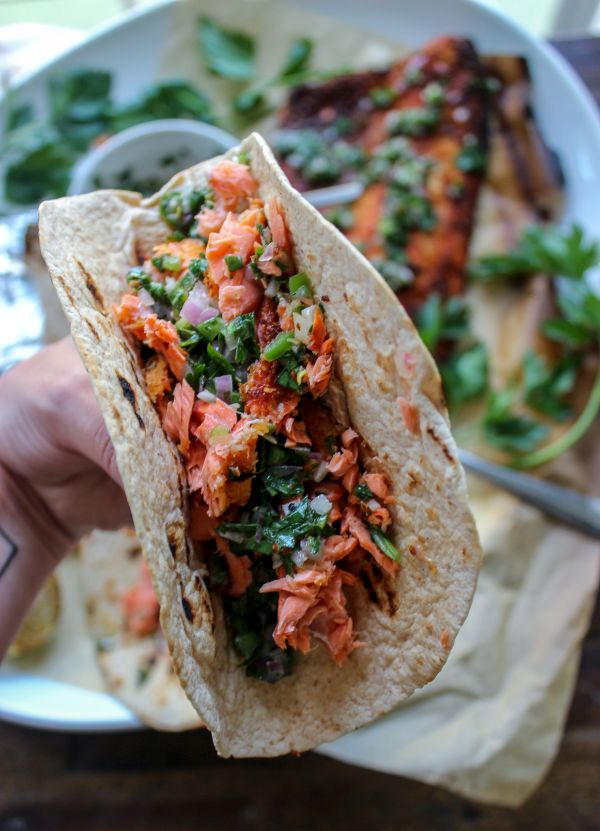 If you love salmon as much as me, check out my many salmon recipes like this  one pan Keto Tuscan Salmon dish, my popular Cedar Plank Salmon Salad, or my homemade Salmon Burgers too!
Bon Appeteach,
-L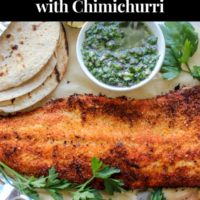 Coconut Crusted Salmon with Chimichurri
Easy grilled salmon fillet coated in a savory unsweetened coconut coating. This light and healthy salmon dinner comes together in less than 20 minutes, is keto friendly, paleo, gluten free, and sugar free too!
Print
Pin
Rate
Ingredients
1

Large Salmon Fillet

3

tbsp.

Unsweetened Coconut

shredded fine

1/2

tsp

Paprika

1/2

tsp

Cumin

1/2

tsp

Salt

1/2

tsp

Pepper

1

small Lime

zested

2

tsp

Avocado Oil

1/4

cup

Cilantro

minced

1/4

cup

Parsley

minced

1

Jalapeno

minced and seeded

1-2

Garlic Cloves

minced

1

tsp

Salt & pepper

1/2

cup

Olive Oil

2

tbsp.

Red Wine Vinegar
Instructions
1. Preheat the grill to 400 F and set it for two zone cooking. If using an oven, preheat to 400 F as well.

2. Check the salmon for pin bones and pat it dry with a paper towel. Coat the top with the avocado oil and combine the dry ingredients for the coconut coating in a bowl. Then sprinkle on a solid and even layer over the top of the salmon and gently pat it down.

3. Place the salmon on parchment covered cooking rack, and place the whole rack on the cooler side of the grill. Grill indirectly for 15-20 minutes until the salmon reaches and internal temperature of 145 F.

4. While the salmon is cooking, combine the chimichurri ingredients together and toss with a spoon until combined.

5. Serve the chimichurri over the top of the salmon fillet family style, with a side of tortillas or by itself.
Nutrition
Serving:
1
g
|
Calories:
274
kcal
|
Carbohydrates:
2
g
|
Protein:
9
g
|
Fat:
26
g
|
Saturated Fat:
5
g
|
Polyunsaturated Fat:
20
g
|
Cholesterol:
24
mg
|
Sodium:
418
mg
|
Fiber:
1
g