"The best corn like keto tortilla I have ever tried. They are easy to make, bendable (not breakable) and taste delicious!"
Keto Tortilla Recipe:
One of my biggest food cravings is tortillas and well, tortilla chips. It's been one of the biggest struggles I have had since starting a keto and low carb lifestyle. So, needless to say I am really excited about this recipe.
Honestly, excited just doesn't even cut it for how thrilled I am. Prior to this, I had searched all over the internet, looked at so many recipes, and tried out several that were were just too soggy, super eggy, or would simply break and fall apart.
After so much trial and error, I created what I feel is the perfect Keto Tortilla Recipe. So get ready for keto Taco Tuesday and bust out the Guacamole my friends, and get to work on some keto tortillas asap! The full recipe is below and be sure to read on for all the helpful tips and tricks!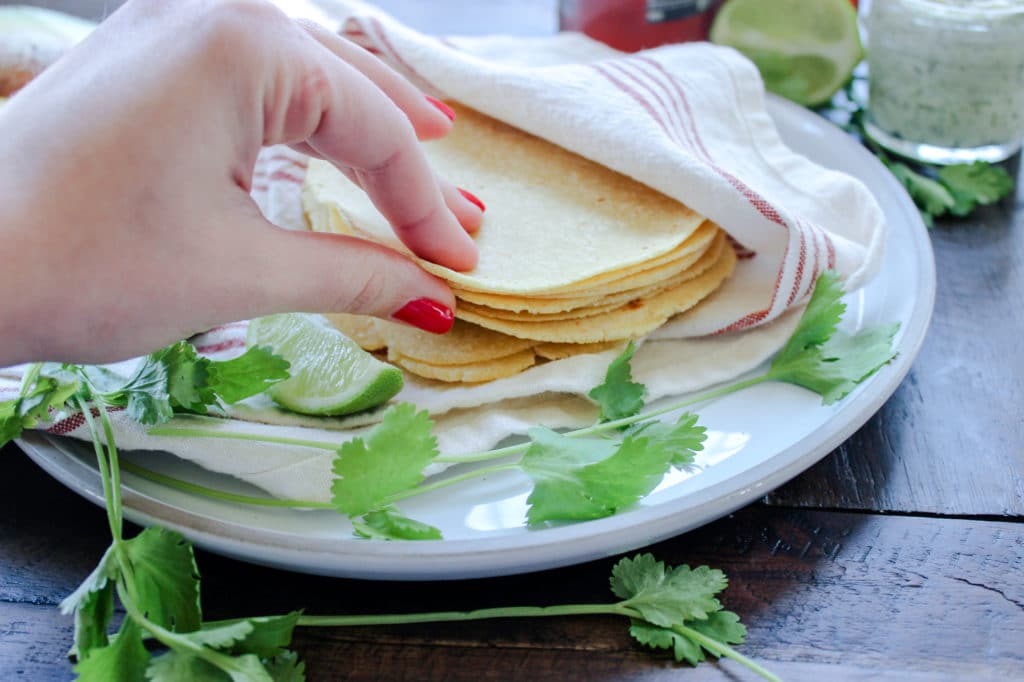 "School" Supplies:
Parchment Paper (YOU NEED THIS)
Rolling Pin (I prefer a heavier rolling pin)
Frying Pan
Cookie or Biscuit Cutter
Spatula
Food Processor
Measuring Spoons & Cups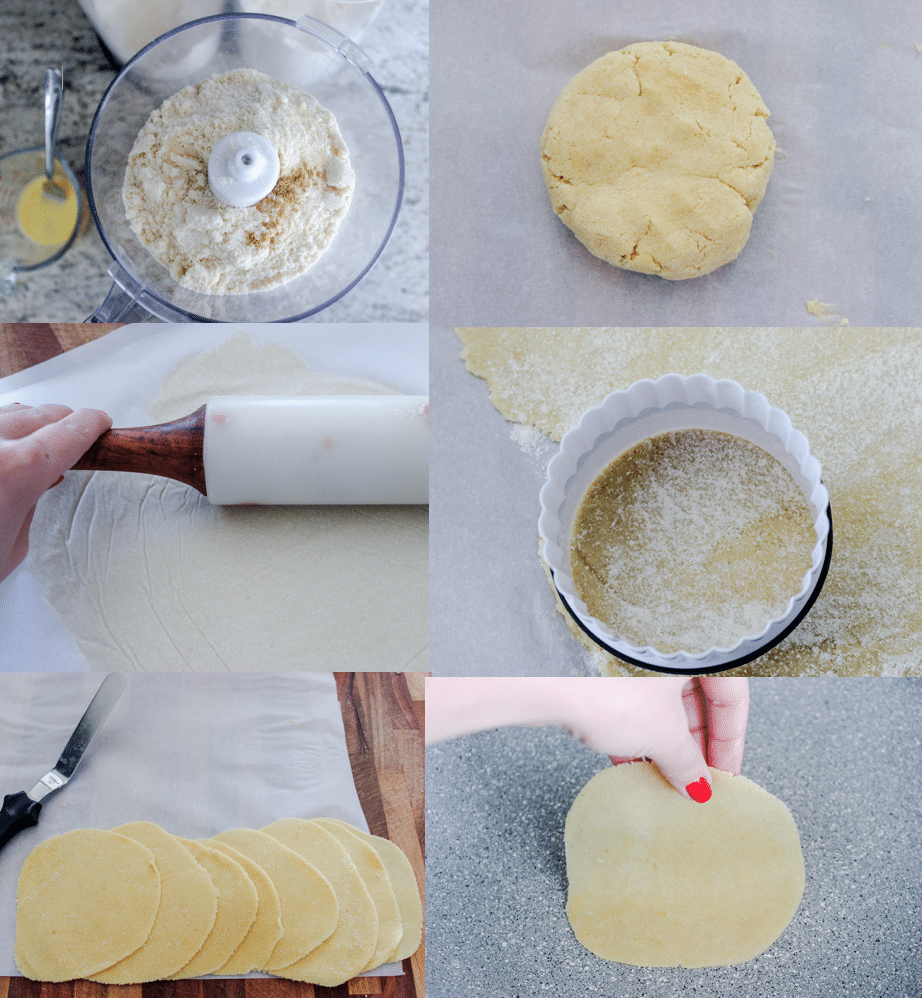 "Class" Notes:
Making the Dough:
The dough is fairly simple. The trick to getting a perfect and bendable tortilla is using the Xanthan gum (I purchased at my local Target) and psyllium husk powder (I buy the Anthony's brand via Amazon).
This is not something you can leave out (I actually did by mistake once and it was a disaster). It helps keep the "tortilla" tender enough to bend like a traditional corn tortilla because it acts as a binding agent in place of traditional gluten (the protein present in flour that binds and creates elasticity).
Without it, it will break and fall apart in the pan. Trust me…I know. The dough simply comes together in the food processor (similar to making a classic pie crust).
Shaping the "Tortillas":
This may be the hardest part for people. It really shouldn't be too difficult but maybe this feels intimidating. Don't worry, I got your back! My suggestion (not really a suggestion…do this) is to place the ball of dough between two sheets of parchment paper. I haven't tried it with foil or wax paper. Use parchment paper!
UPDATE– Several followers have also had success using a tortilla press (with the parchment paper still added to prevent sticking). If you do not have a press (I do not), roll the dough about 1/4″ thick or so between the two sheets of paper. Try and do this as evenly as possible so your tortillas are roughly all the same size when your done. I really like using a marble rolling pin because it is so heavy.I highly recommend getting one (the one I use was gifted to me but here is one I found that is similar).
After rolling the dough into one large sheet, I use a round 3.5 inch cookie cutter (use a large glass if you don't have a cookie cutter) to cut out circles. This makes it easier to get about 10 individual tortillas that are all around the same shape and size (helps with calculating the macros too). I take each "tortilla" that I have cut out and roll it a bit more to make them slightly larger and slightly thinner before frying. This gets them fairly close in size to a regular corn tortilla.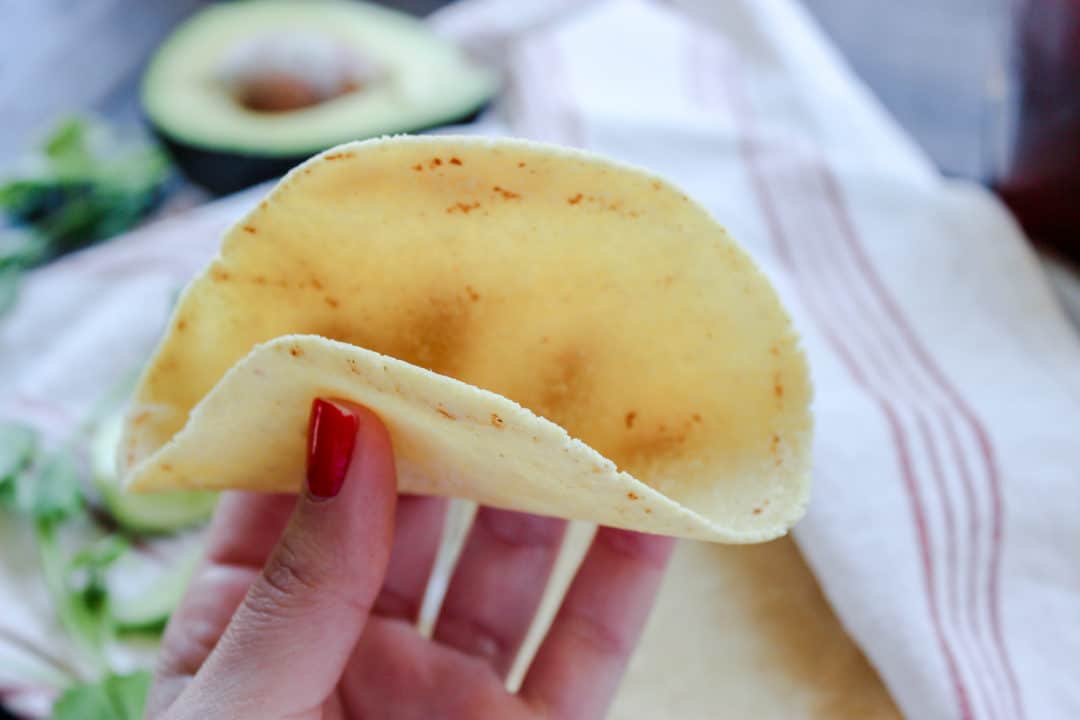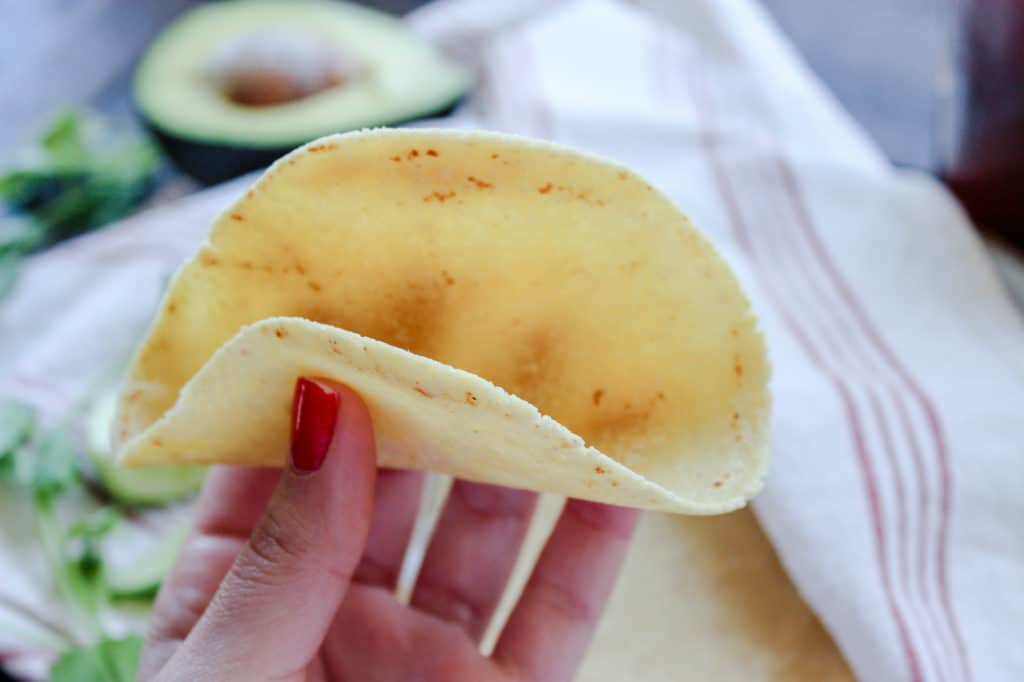 Frying the Tortilla:
I like to fry in avocado oil. It has a much higher smoke point so your house doesn't get too smoky or smelly! I set my frying pan to a medium high heat, I find this works best to get a little bit of color to the tortilla. Add the oil and swirl in the pan. I fry one tortilla round at a time for ease. Cook each tortilla for 10-15 seconds per side, max. These cook very quickly and then can be stored in a clean towel to stay warm prior to serving.
They taste perfect when served the same day but I have been able to eat them a few days post frying (they still keep their shape and texture). If you want to mass produce for meal prep and freeze, I suggest placing them in a stack with a sheet of parchment in between. Allow them to defrost slowly in the fridge or at room temperature on the counter before using. Avoiding microwaving them if frozen!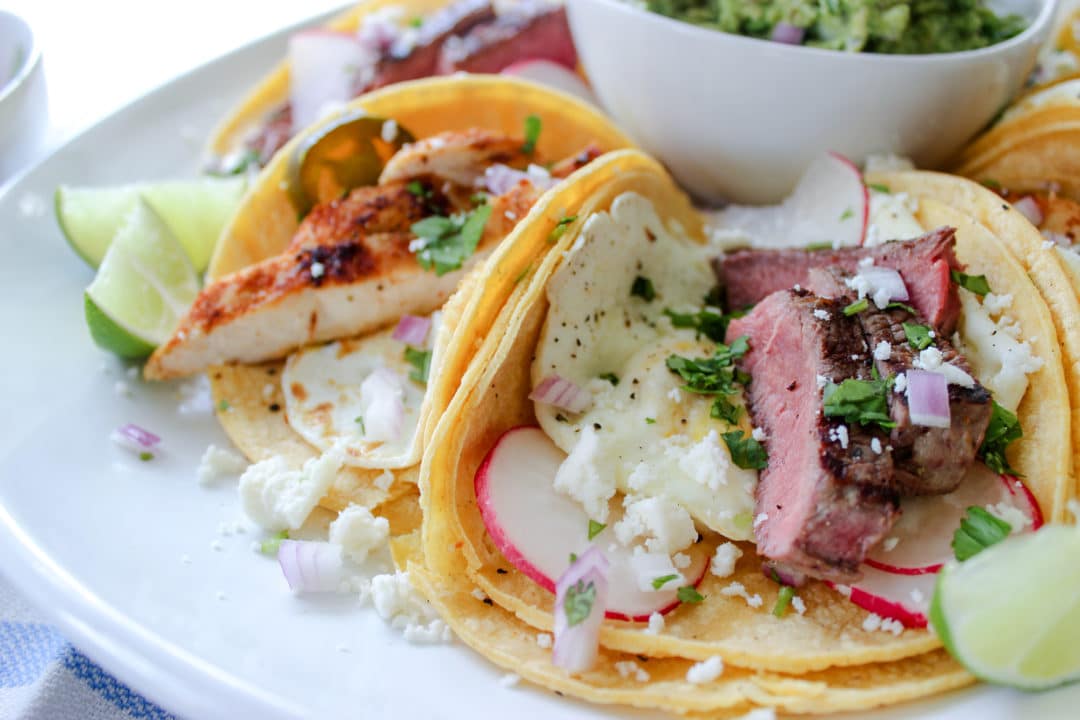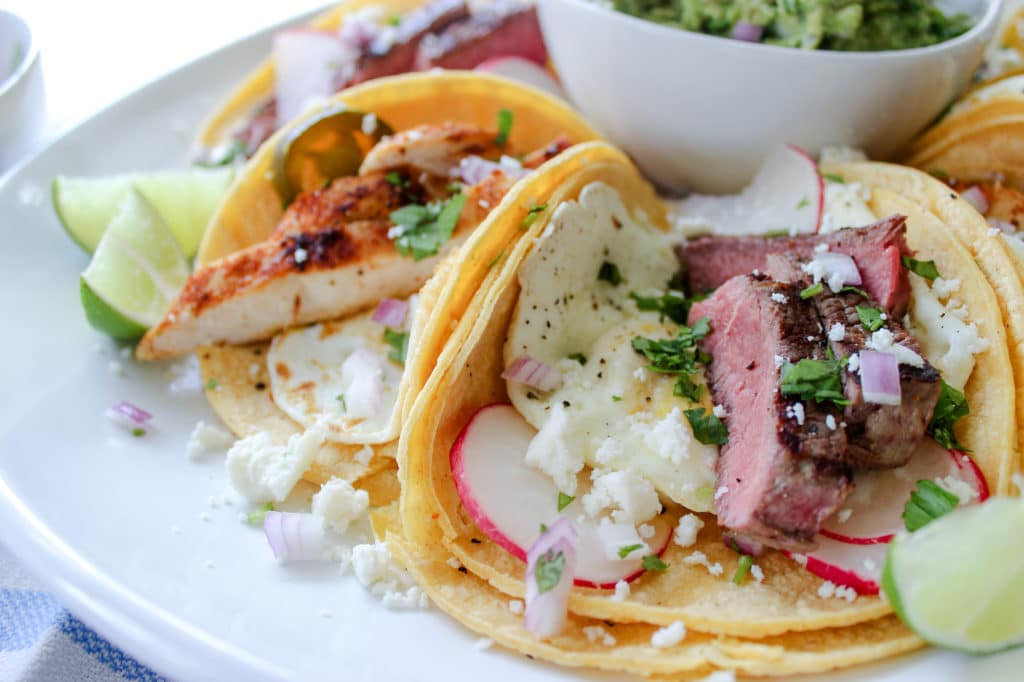 I hope you find this recipe helpful and a great addition to your Taco Tuesday rotation. If you are looking for some other great recipes to utilize these Keto Corn Tortillas in, try my Low Carb Crab Salad Tacos or pair your favorite tacos with this Cheesy Mexican Cauliflower Rice!
Bon Appeteach,
-L
Yield: 10
Keto Tortilla Recipe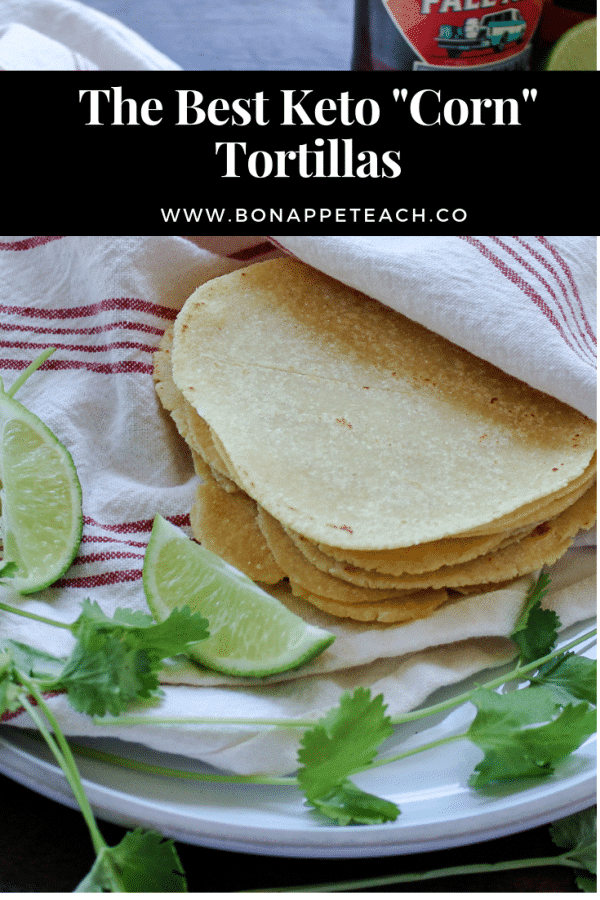 These easy to make keto and gluten free tortillas are only 1 net carb each. They are the perfect way to enjoy your next taco night, make tortilla chips, or my favorite keto crunchwrap too!

Prep Time 10 minutes

Cook Time 2 minutes

Total Time 12 minutes
Ingredients
1 1/4 cup Almond Flour
1 1/2 tsp. Xanthan Gum
1 tsp Psyllium Husk Powder
1/2 tsp. Sea Salt
1/2 tsp Cumin
1/2 tsp. Garlic Powder
1 Egg
2 Tbsp. Water
Avocado oil (for pan frying I use about a tsp per tortilla give or take)
Instructions
In a food processor, combine the first six ingredients and blend until just combined.
In a liquid measuring cup, combine the egg and water. Beat with a fork
Turn the food processor on to low and slowly pour the egg/water mixture into the processor. You may need to turn it up to high and pulse a few times so it comes together into one mixture.
Dump the dough onto a piece of parchment paper. Pack it together into one ball.
If hand rolling, place another piece of parchment paper over the top of the dough and roll into one large thin sheet of dough about 1/4" thick. Use a cookie/biscuit cutter to cut a 5-6" size circle out of the dough. Reroll as needed with remaining dough.
If using a tortilla press, divide the dough into 10 pieces. Use two pieces of parchment paper, and place 1 piece of dough between them. Press per the manufacturer's instructions as needed.
Heat a frying pan to about medium/high heat. Add a tsp of avocado oil and swirl it into the pan and allow it to heat up.
Add one tortilla at a time and cook about 10-15 seconds total per side.
Remove and place in a paper towel or clean linen towel to stay warm.
Notes
Nutritional Information: Obtained using My Fitness Pal. I am not nor do I claim to be a nutritionist, so it is important to always verify the nutritional information as brands vary. I work hard to always provide the most accurate information as possible in hopes of making this easier for you, my reader.
Nutrition Information:
Yield:
10
Serving Size:
1
Amount Per Serving:Calories: 82 Total Fat: 6g Saturated Fat: 1g Trans Fat: 0g Unsaturated Fat: 0g Cholesterol: 0mg Sodium: 22mg Carbohydrates: 4g Fiber: 3g Sugar: 1g Protein: 3g

Bon Appeteach is a participant in the Amazon Services LLC Associates Program, an affiliate advertising program designed to provide a means for sites to earn advertising fees by advertising and linking to www.bonappeteach.co. I only share products that I use and stand behind personally.