Cheesy Mexican Cauliflower Rice
It's easy, it's cheesy, and its perfect for a low carb Cinco De Mayo celebration! If you weren't aware I am a huge fan of Mexican food, Tex Mex, basically anything with salsa on it (and guacamole let's be real). If you also weren't aware, cauliflower is one of my least favorite veggies. So, that being said… whenever you see a recipe for it you KNOW it's going to be good. I only share recipes that I will eat and stand behind. This cooks up really quickly, requires a minimal amount of prep work, and when it's covered in cheese, avocados, salsa, and sour cream you really can't complain that you're eating a vegetable (instead of actual rice). Find the full recipe for this Cheesy Mexican Cauliflower Rice at the bottom of the page and read on for additional tips and tricks!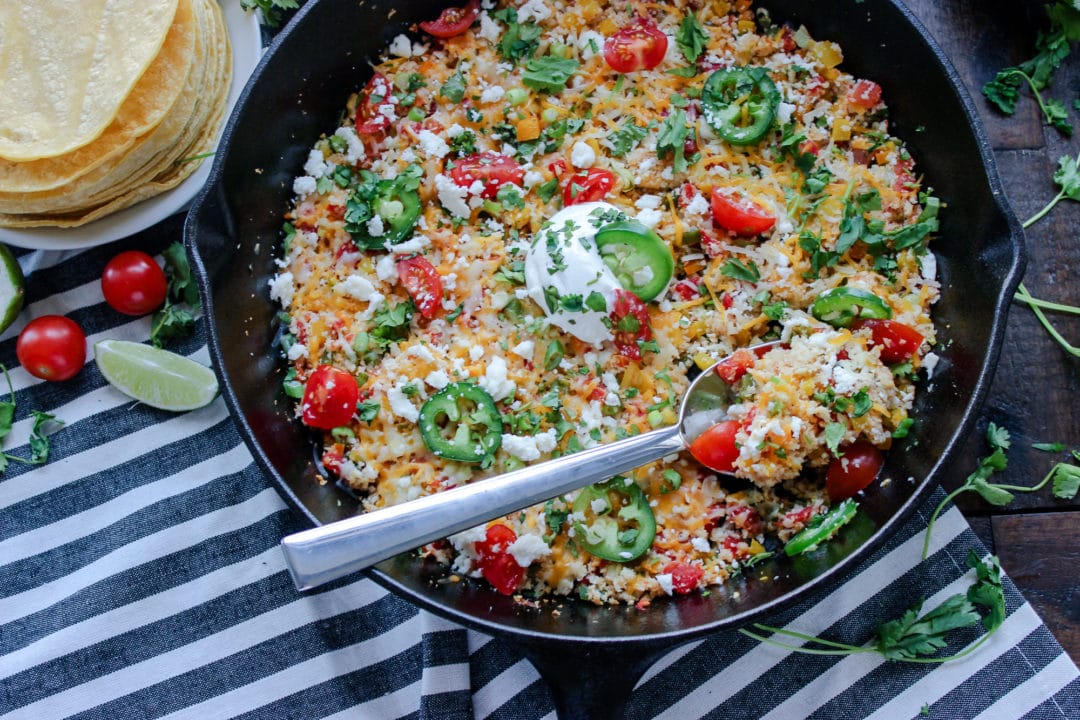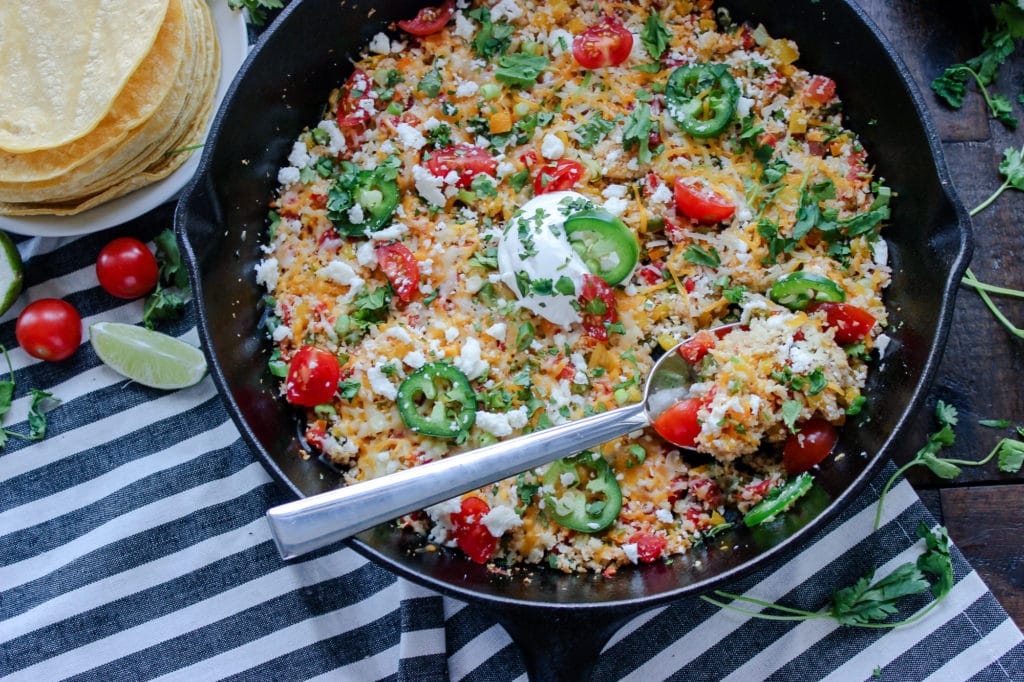 "School" Supplies:
-Food Processor (if you process your own cauliflower rice)
-Large Non-Stick Skillet (I like cast iron)
-Spatula/ Wooden Spoon
-Knife & Cutting Board
"Class" Notes:
Cauliflower Rice:
I'm no stranger to making cauliflower rice these days. I've posted about it a handful of times now so the steps are straight forward! If you rice your own cauliflower I highly recommend using a food processor. This makes the cauliflower pieces fine and perfect as a "rice" substitute. After you have thoroughly pulverised the cauliflower, transfer it to a microwavable safe bowl and microwave on high for 5 minutes. Place the cooked cauliflower rice onto a clean hand towel and allow it to cool a bit. Then gather up the sides of the towel and squeeze out as much liquid as possible. THIS IS SO IMPORTANT! Without this step, your rice dish will be a soggy mess!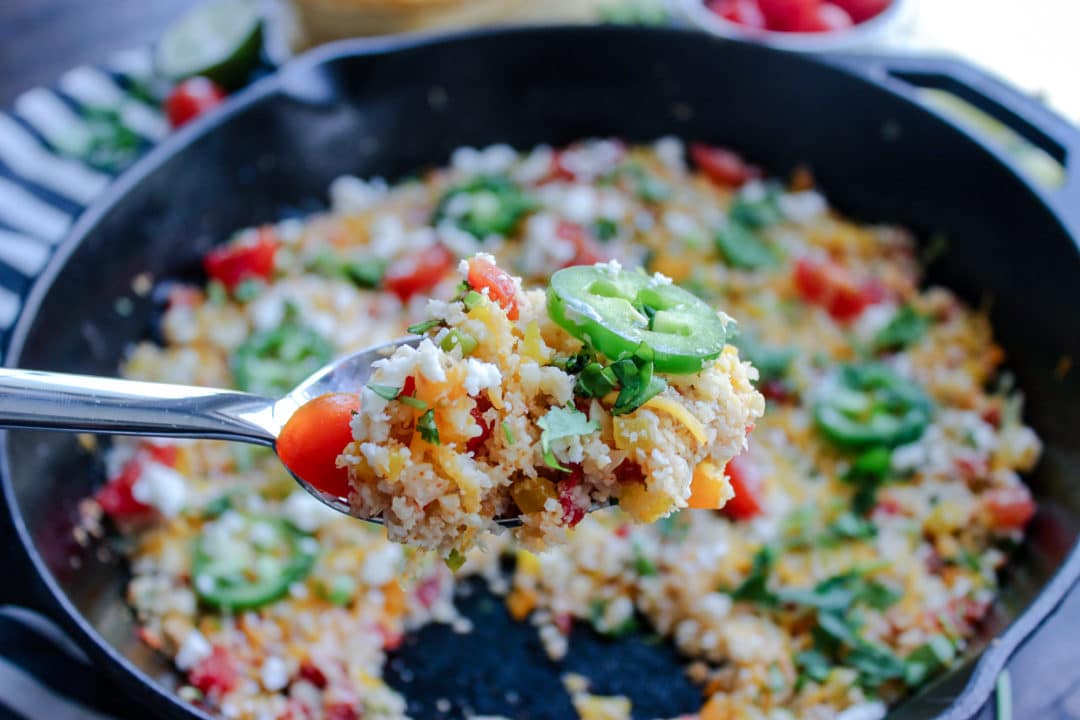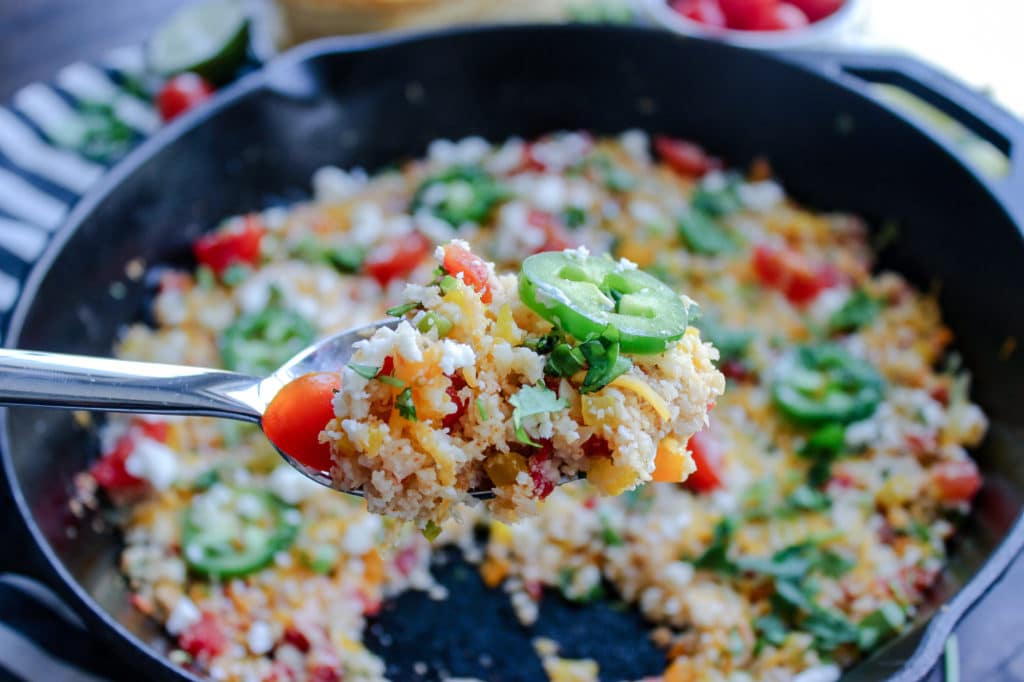 Making the Cheesy Mexican Cauliflower Rice:
In a large skillet, saute some fresh onion and jalapenos. Drain as much liquid from a can of fire roasted tomatoes (I like Rotel) as possible and add these to the skillet as well. Add a bit of fresh garlic and saute another minute or two until everything smells fragrant. Take the cauliflower rice and fold it into your cooked vegetables. Allow the rice to heat back up and turn off the heat. Sprinkle with cheddar or queso fresco cheese. Add some diced avocado, fresh cilantro, and a dollop of sour cream! I love this as a side dish when I make my Low Carb Pulled Pork Tacos, my easy Low Carb Chicken Fajita Nuggets  or keep it simple with a pile of shredded chicken on top! It's a great way to enjoy a low carb meal inspired by all your favorite Mexican flavors!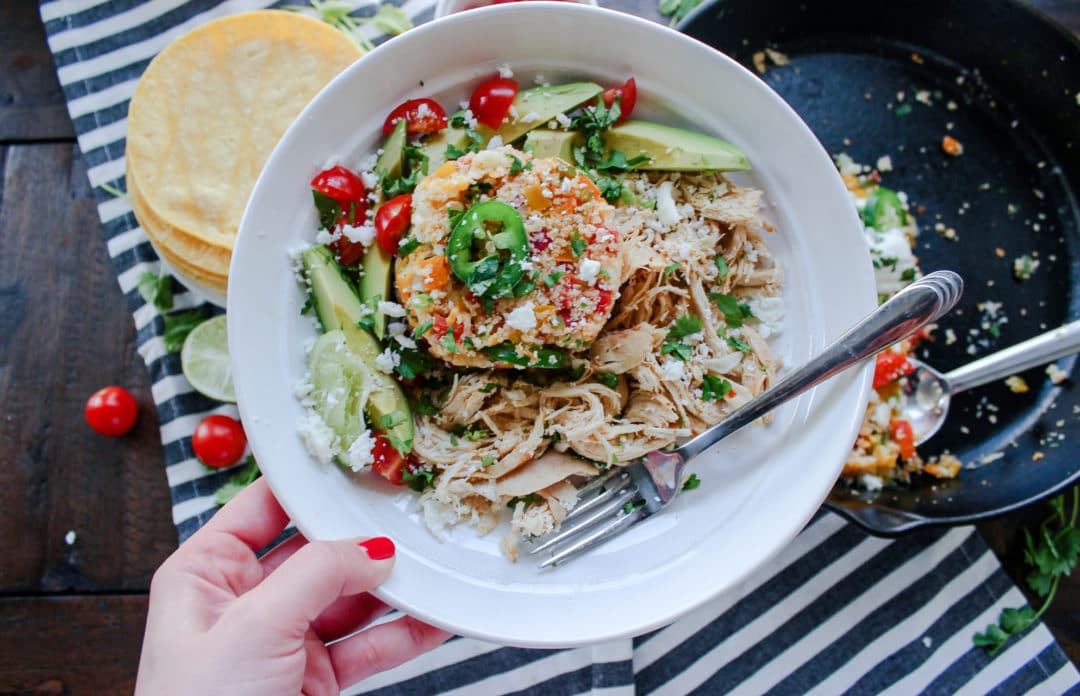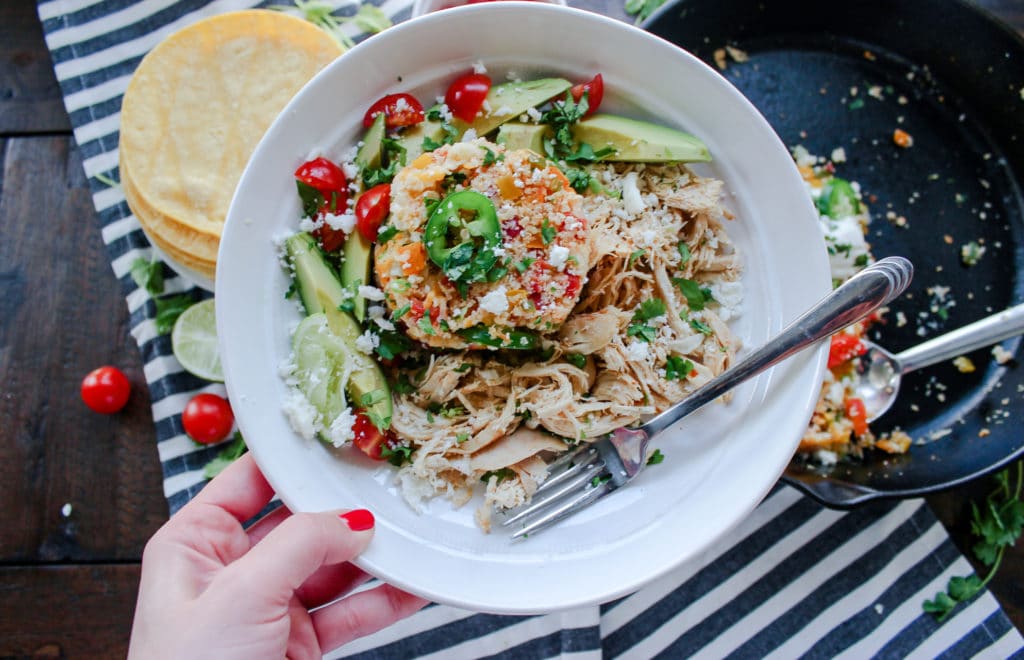 Find the complete recipe for Cheesy Mexican Cauliflower Rice below!
Bon Appeteach,
-L
Nutrition Info- Based off of 6 servings via My Fitness Pal

Ingredients
1 Cauliflower (about 4 cups riced)

1/2 cup, Fire Roasted Tomatoes (I use rotel)

1 Jalapeno, sliced

1/4 Yellow Onion, diced small

1 Garlic Clove, minced

1 cup Shredded Cheddar

1 tsp. Salt

1 tsp. Cumin

1 tsp. Paprika

1/4 tsp. Cayenne

1 tsp. Black Pepper

1 tsp. Olive or Avocado Oil

Optional Toppings: Green Onion, Cilantro, Avocado, and Sour Cream
Instructions
1
Rice your cauliflower in a food processor (if making your own). If you purchased frozen cauliflower move on to step 2.
2
Take your riced cauliflower and place in a microwavable safe bowl and microwave for 5 minutes.
3
Remove the cauliflower rice and dump out onto a clean hand towel. Allow it to cool for 5-10 minutes so you don't burn yourself.
4
Using the towel, squeeze as much liquid out of the cauliflower as possible. This is a crucial step to prevent the rice from getting watery and soggy.
5
Place the squeezed out "rice" back into the bowl. It will look like it reduced greatly in size (this is normal).
6
Add the salt, cumin, paprika, black pepper, and cayenne powder to the cauliflower rice and mix thoroughly.
7
In a large skillet, add 1 tsp of oil and heat to medium heat. Next, saute the diced onion and sliced jalapeno until tender (about 5 minutes). Add the garlic and cook an additional minute.
8
Drain the can of fire roasted tomatoes into a strainer. Remove as much liquid by pressing down with your fingers or with the back of a spoon. Add the tomatoes to the skillet and saute for about a minute or two.
9
Add the cauliflower rice to the skillet and fold the sauteed veggies and tomato into the cauliflower rice. Allow the rice to heat for a few minutes and spread it evenly throughout the skillet.
10
Turn off the heat and top with the cheese.
11
Add a sprinkle of cilantro, diced green onions, avocado and a sour cream as garnish. Serve as a side or topped with shredded chicken!