Chicken & Cauliflower Taco Pie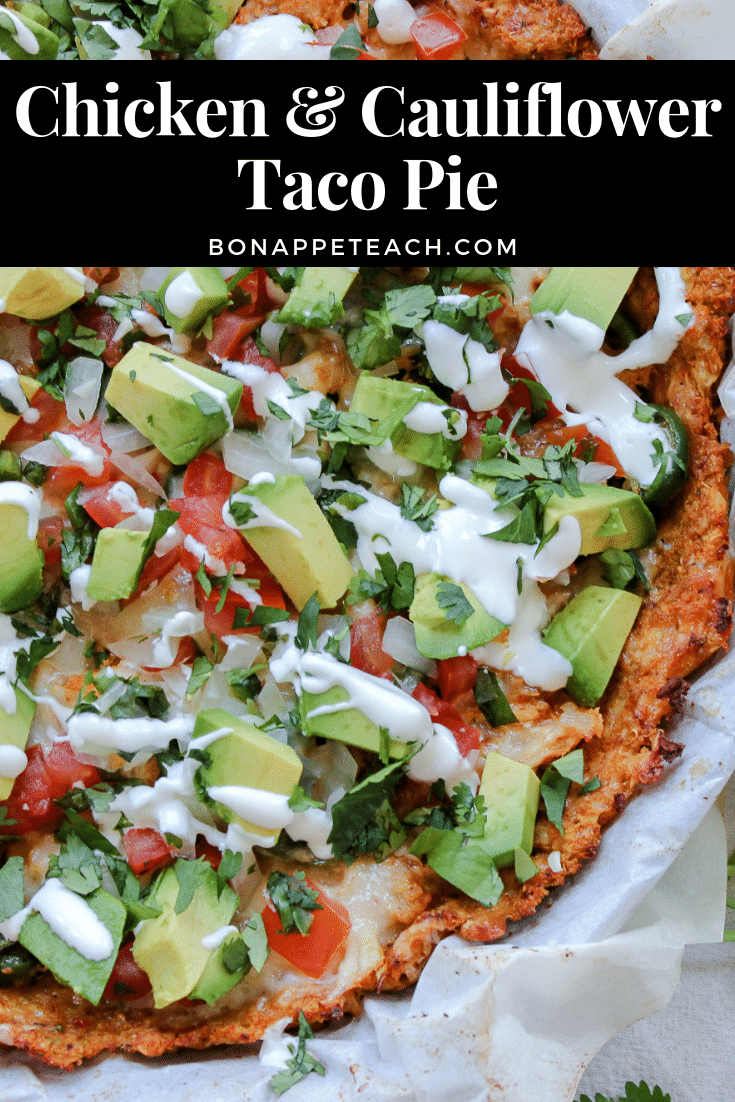 Chicken & Cauliflower Taco Pie:
My goal in life is to make cauliflower not suck. By not suck, I mean that my life goal on a keto diet is to make it taste as little like cauliflower as possible. Thankfully this taco pie fits this life goal, so I thought I would be kind and share it with all of you.
What I actually do like about cauliflower, is the texture. When you rice your own and remove the moisture, add a ton of cheese, and homemade taco seasoning, it transforms into something much better.
A Chicken & Cauliflower Taco Pie, and it's delicious. Full recipe is below and read on for some very helpful tips and tricks!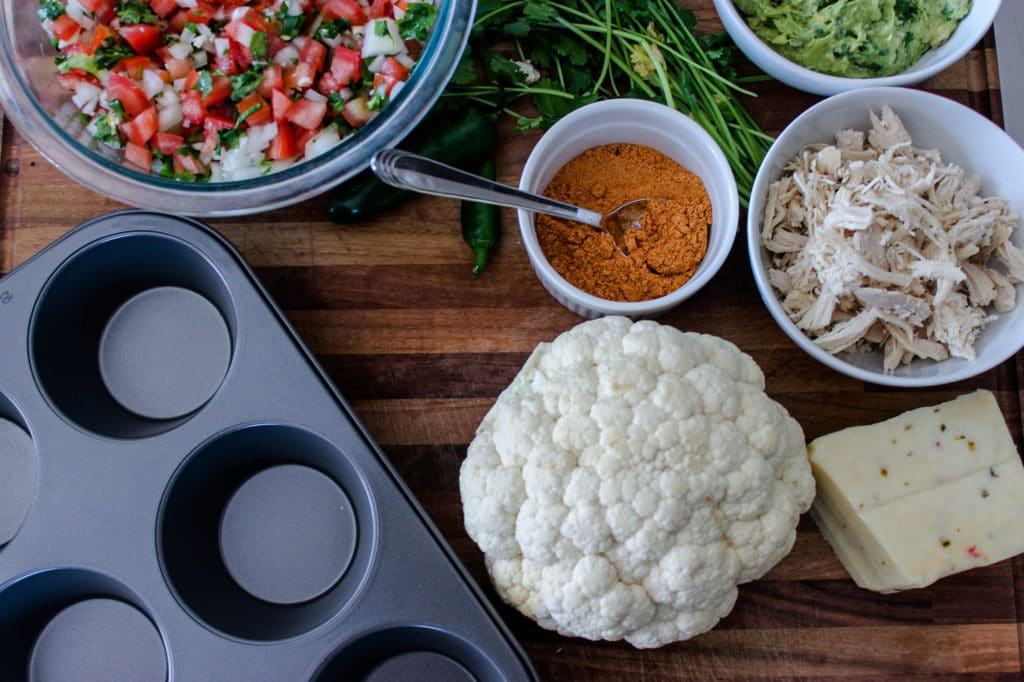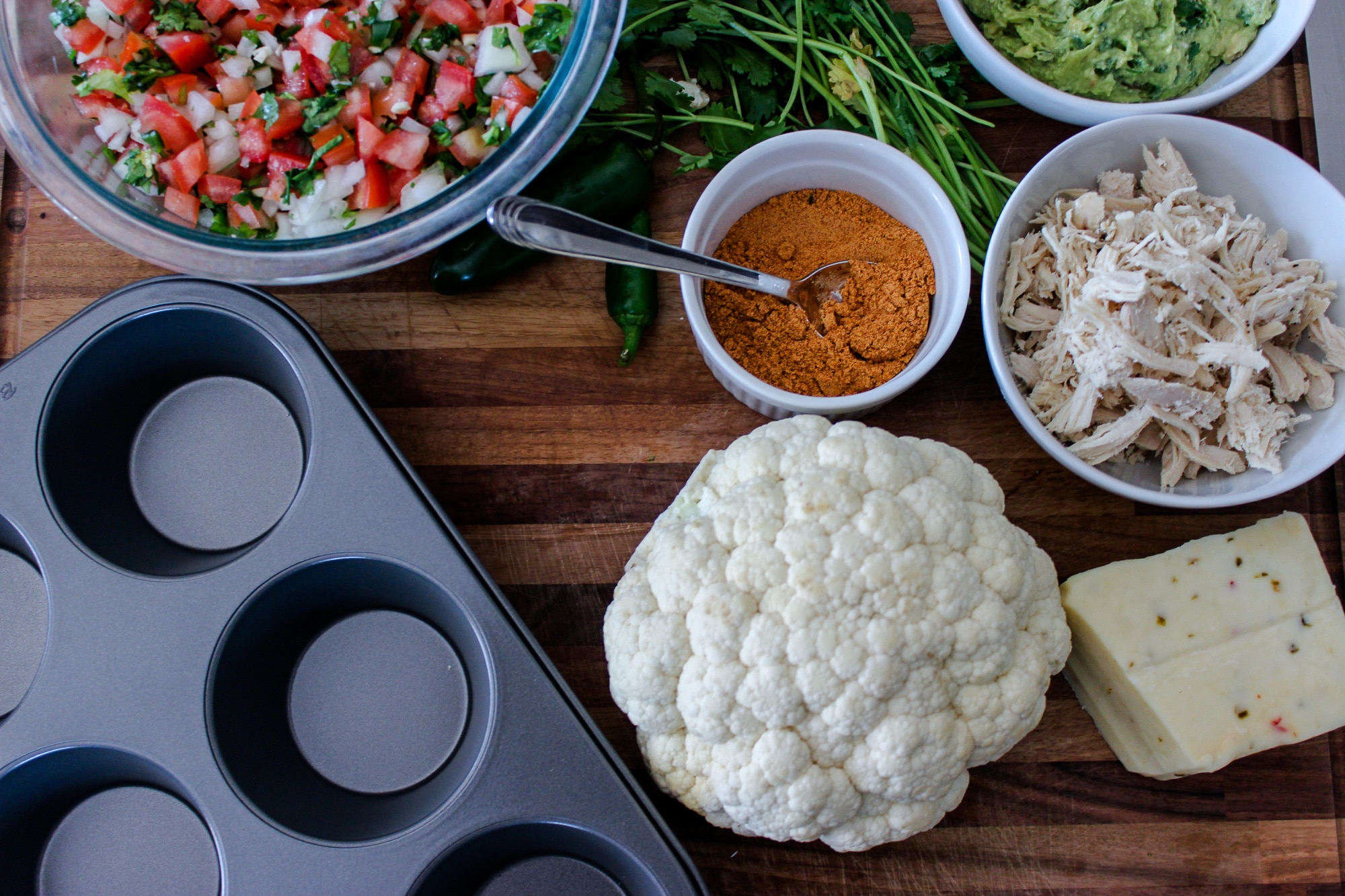 "School" Supplies:
Pie Plate
Towel
Mixing Bowl
Cutting Board & Chef's Knife
"Class" Notes:
Making Your Cauliflower Crust:
If you are not stranger to making a homemade cauliflower pizza crust, then this should be simple for you. If you haven't ever made a cauliflower pizza crust…this should STILL be simple for you!
I do suggest purchasing fresh cauliflower when making your own crust. It comes out  a lot firmer and overall, I think has a better texture in the end. Quickly rice up your cauliflower by placing larger pieces into a food processor. Pulse until it resembles small crumbly pieces similar in size to (you guessed it) rice.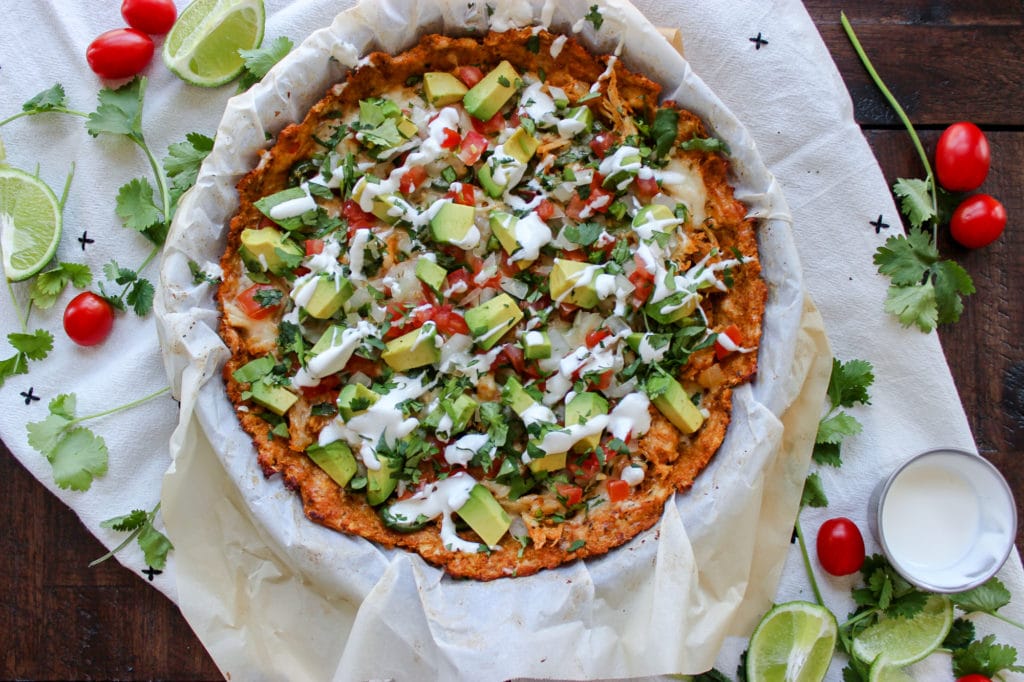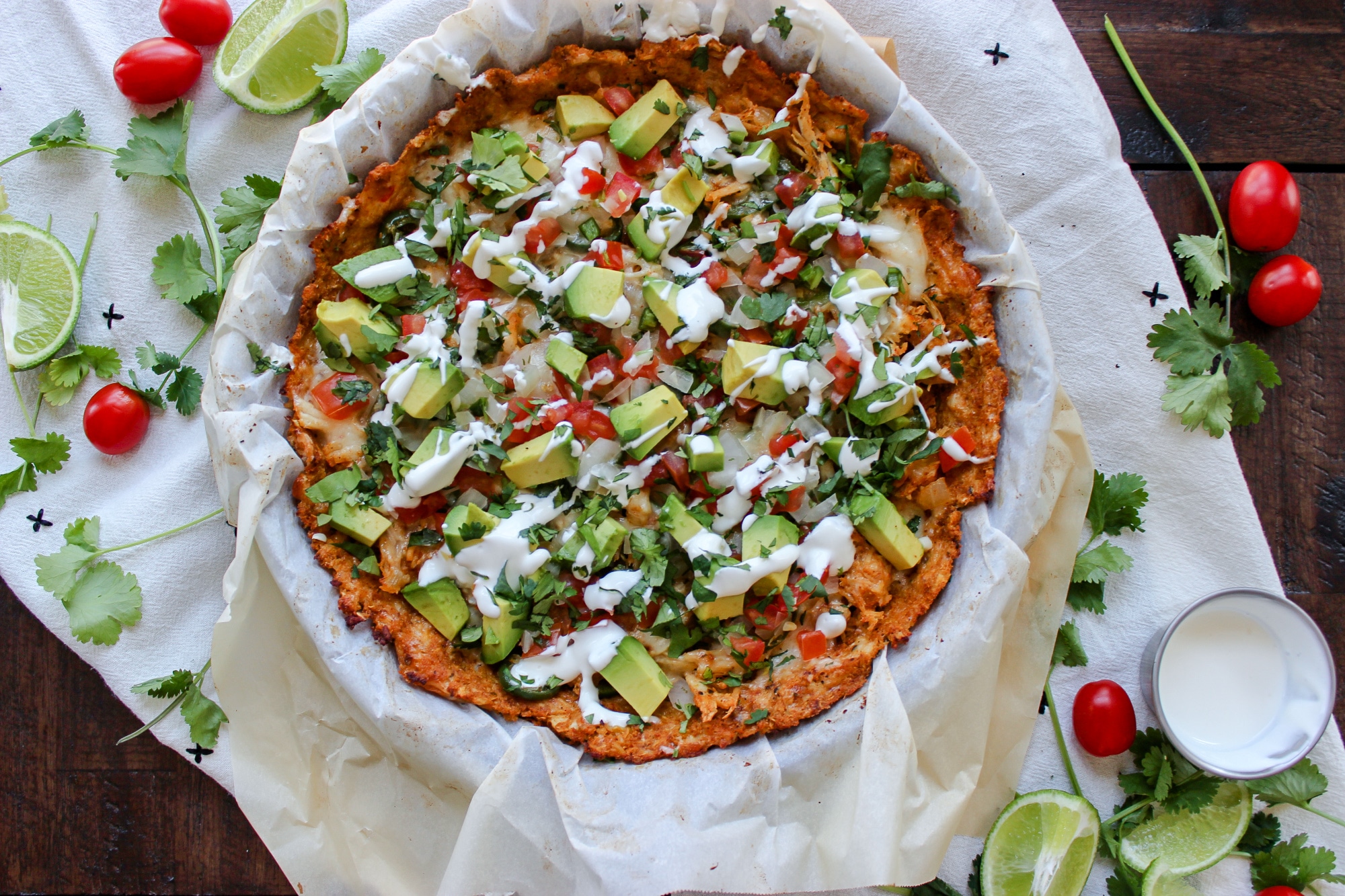 I place it in a bowl and microwave for 5-6 minutes so that it is tender but not mushy. Lay it all out across a clean towel (or you can use cheese cloth but DO NOT use paper towel for this) to cool.
Once it is warm to the touch (but not scalding hot) I gather up the sides of the towel and squeeze every ounce of upper body strength into that tiny towel until the majority of the water is removed from the cauliflower. A LOT of water comes out. So squeeze it really good people (words I never thought I would be typing about food….oh well)!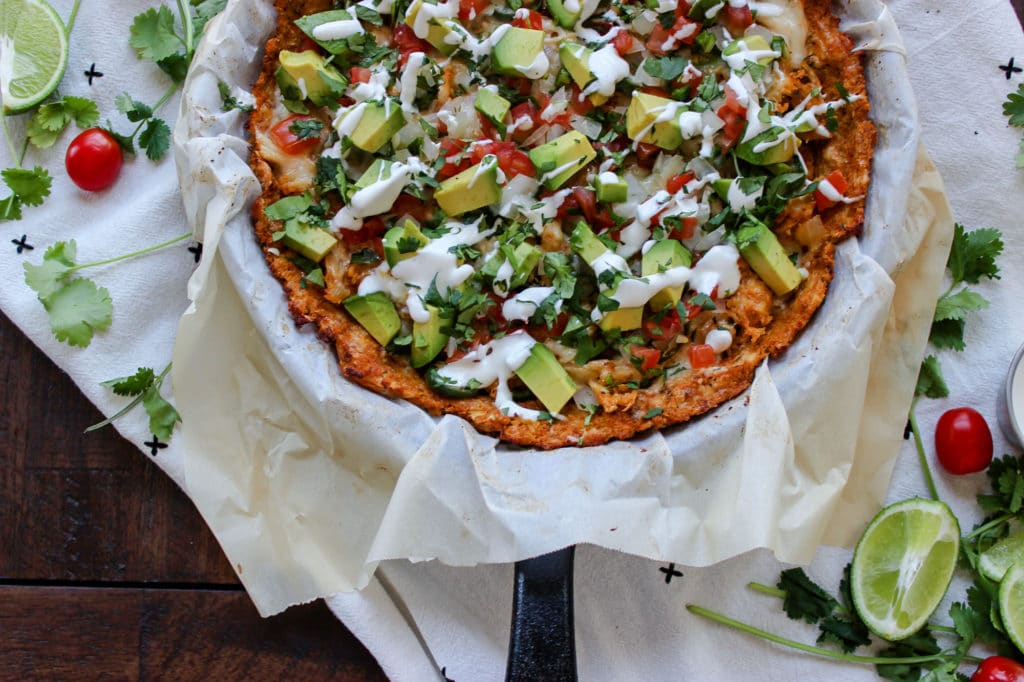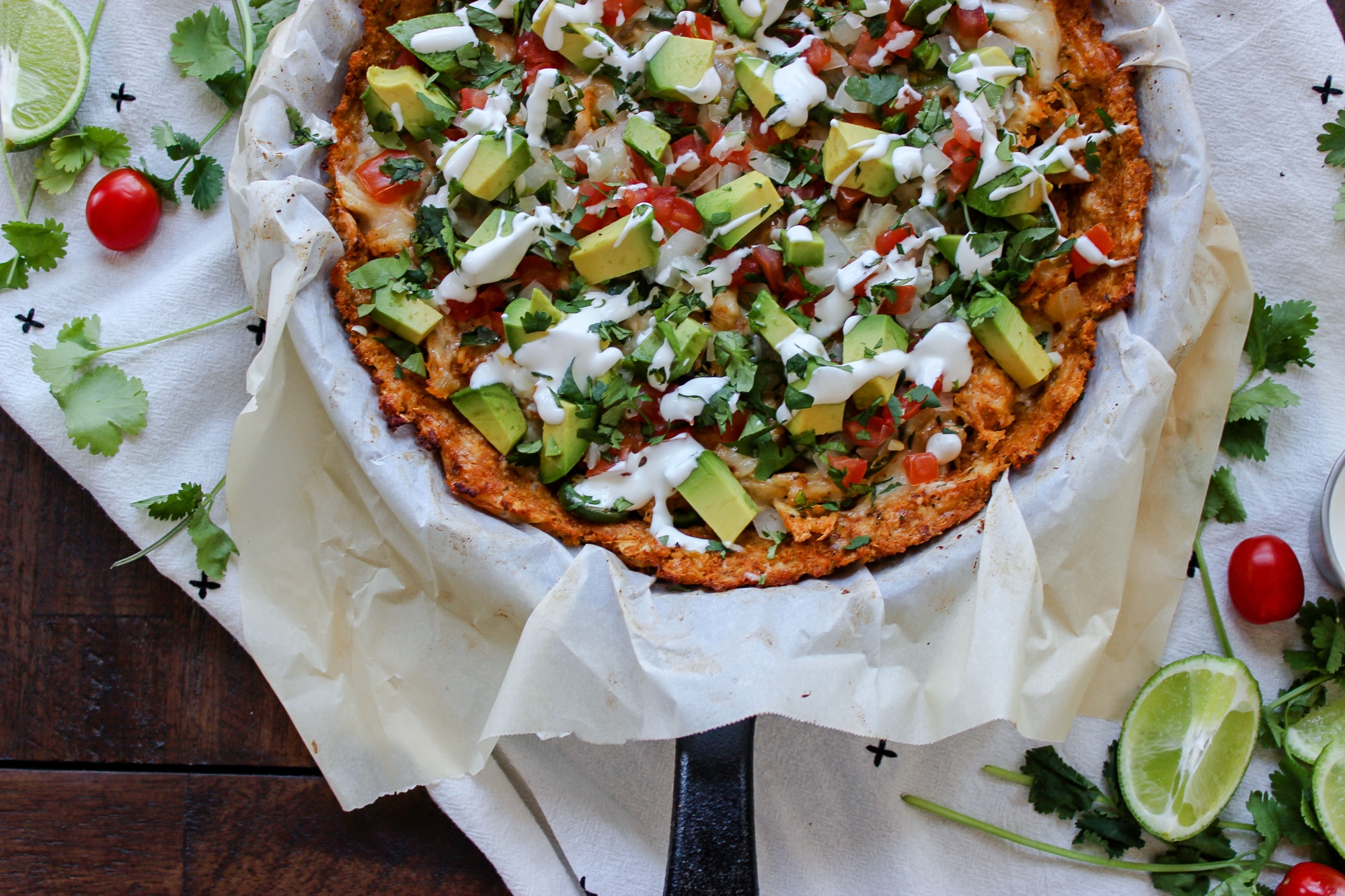 Add in the binding ingredients, also known as cheese and eggs. Finally, mix in the taco seasoning so that there is almost zero cauliflower taste to your crust, but all the awesome te
Once the crust bakes on its own individually, you can add the chicken mixture. The time I allotted for this recipe does not include cooking the shredded chicken. I precook a lot of chicken every week as a part of my meal prep.
You could easily buy a rotisserie chicken or even used canned chicken to make this simple. Once everything is combined I fill up my Cauliflower "taco pie shell". I add more cheese to the top and bake until it is heated through and the cheese is nicely melted! Top with  salsa, this delicious guacamole, cilantro, and sour cream. It slices up easily and reheats nicely as well.

If you love Taco Tuesday make sure you check out my 1 net carb Keto Tortillas !
Bon Appeteach,
-L
Ingredients
1 Medium Head of Cauliflower

1 Egg

1 1/4 cup Shredded Cheddar Cheese

1 Tbsp. Taco Seasoning

2 cups Shredded Chicken

1/2 Small Onion, diced

1 Jalapenos, diced (remove seeds if desired)

1 Tbsp. Taco Seasoning (I make my own blend)

Optional Toppings: Pico De Gallo, Avocado/ Guacamole, Sour Cream, and Cilantro (not included in the carb count)
Instructions
1
Preheat your oven to 400 degrees. Cover the 9" pie plate or skillet with parchment paper.
2
Remove the stem from your cauliflower, dice it into medium/small sized pieces and place about 1/4 of the head into a food processor. Pulse on high until the cauliflower resembles rice. Remove and place into a bowl. Repeat this step till your rice the entire cauliflower head. Fish out any pieces that didn't get riced and either pulse again or toss.
3
Place the cauliflower rice into a microwavable bowl. Cover with a paper towel or a plate and cook on high for 4-6 minutes. Remove the cauliflower and place onto a clean kitchen towel. I allow it to cool a few minutes so I don't burn myself.
4
Gather the sides of the towel up and squeeze really really really really hard to remove as much water from the cauliflower rice as possible. I do this until no water runs out from the towel. This helps prevent a mushy base.
5
Add the cauliflower rice, the egg, the 1/4 cup of shredded cheese, and the 1 tbsp of taco seasoning to a bowl. Mix until all combined and place on your parchment paper lined skillet/ pie plate. Pat the entire mixture out and up the sides in a thing even layer.
6
Bake at 400 degrees F for about 15-20 minutes. The sides should feel crispier to the touch and it should look like it has browned.
7
While the cauliflower crust is baking, dice the jalapeno, onion, and garlic. Cook on medium heat for about 5 minutes.
8
In a bowl add the 2 cups of pre-shredded chicken (you could easily use a rotisserie chicken or canned chicken as well), the vegetable mixture, 1/2 cup of the shredded cheese, and additional taco seasoning if desired.
9
Once combined, add to the cooked crust. Top with the remaining 1/2 cup of cheese and bake till it is heated through and the cheese is melted, about 10 minutes.
10
Eat as is or with your favorite salsa, guacamole or avocado, cilantro and sour cream!
Nutritional Information:
Obtained using My Fitness Pal. I am not nor do I claim to be a nutritionist, so it is important to always verify the nutritional information as brands vary. I work hard to always provide the most accurate information as possible in hopes of making this easier for you, my readers!