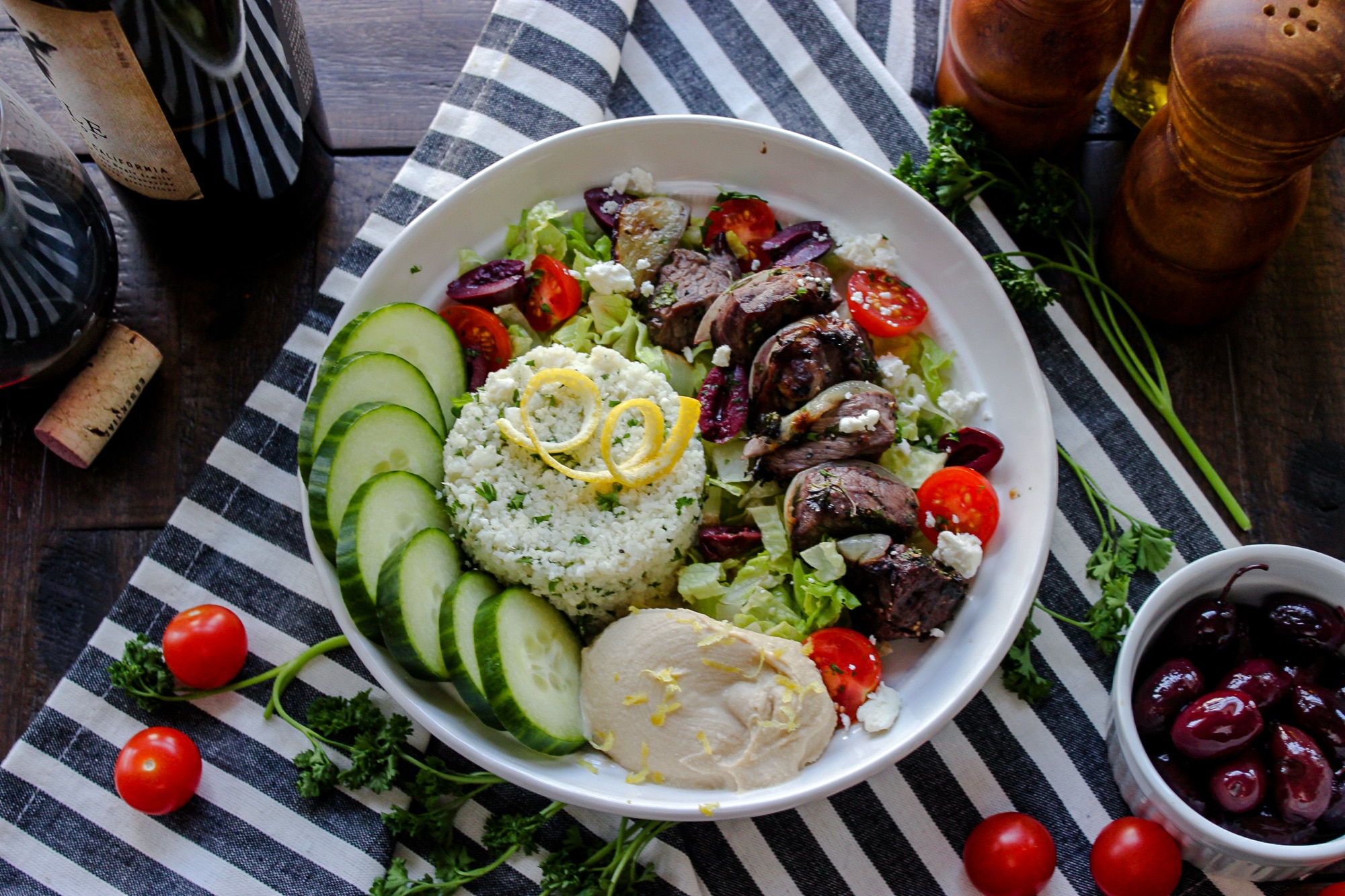 Greek Cauliflower Rice:
I'm fairly certain there will come a time where I explode from cauliflower rice, but that time has not yet come my friends. The downsides to making this frequently is  the fact that it makes my kitchen smells like a giant cruciferous fart (sorry, this is just a fact). The upside? It really works well as a substitute on a low carb, keto, paleo, whole 30 diet. So, I often feature it in many of my recipes. The thing is guys, I really don't like cauliflower. By "really don't like", I mean I basically hate it. The fact that I have not only learned to enjoy cooking this stinky veggie but have created several delicious recipes with it is a testament to how good the recipe actually is! With that said, I think it is safe to say that this Greek Cauliflower Rice  dish is one that will be a hit in your home (and a continued one in mine). Find the full recipe for the Greek Cauliflower Rice at the bottom of the page or read on for a few tips and tricks from your friendly neighborhood culinary arts teacher!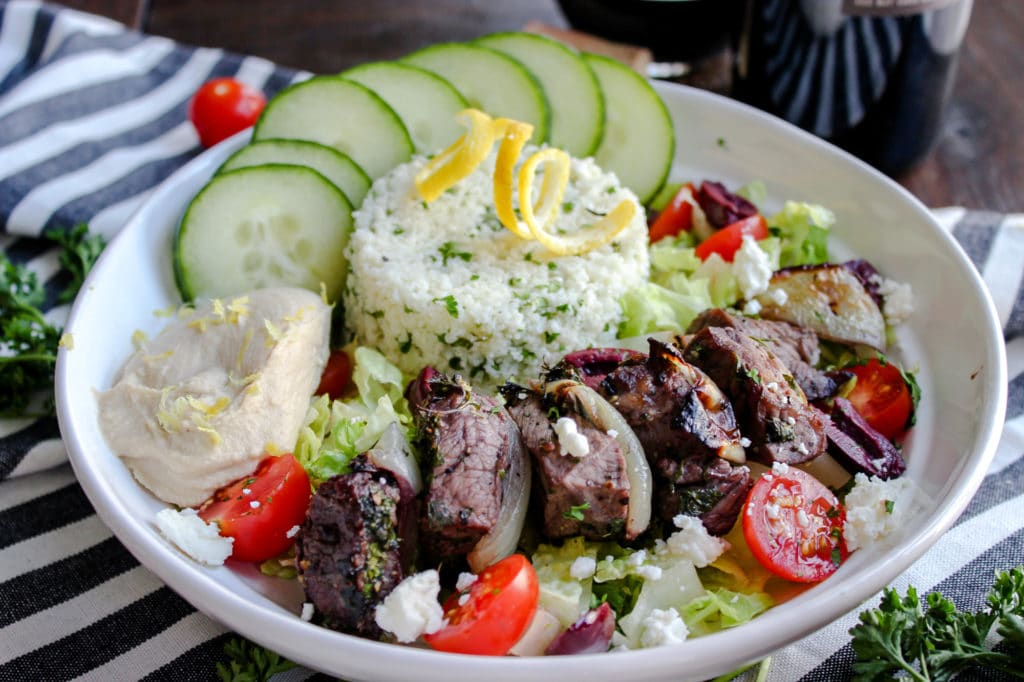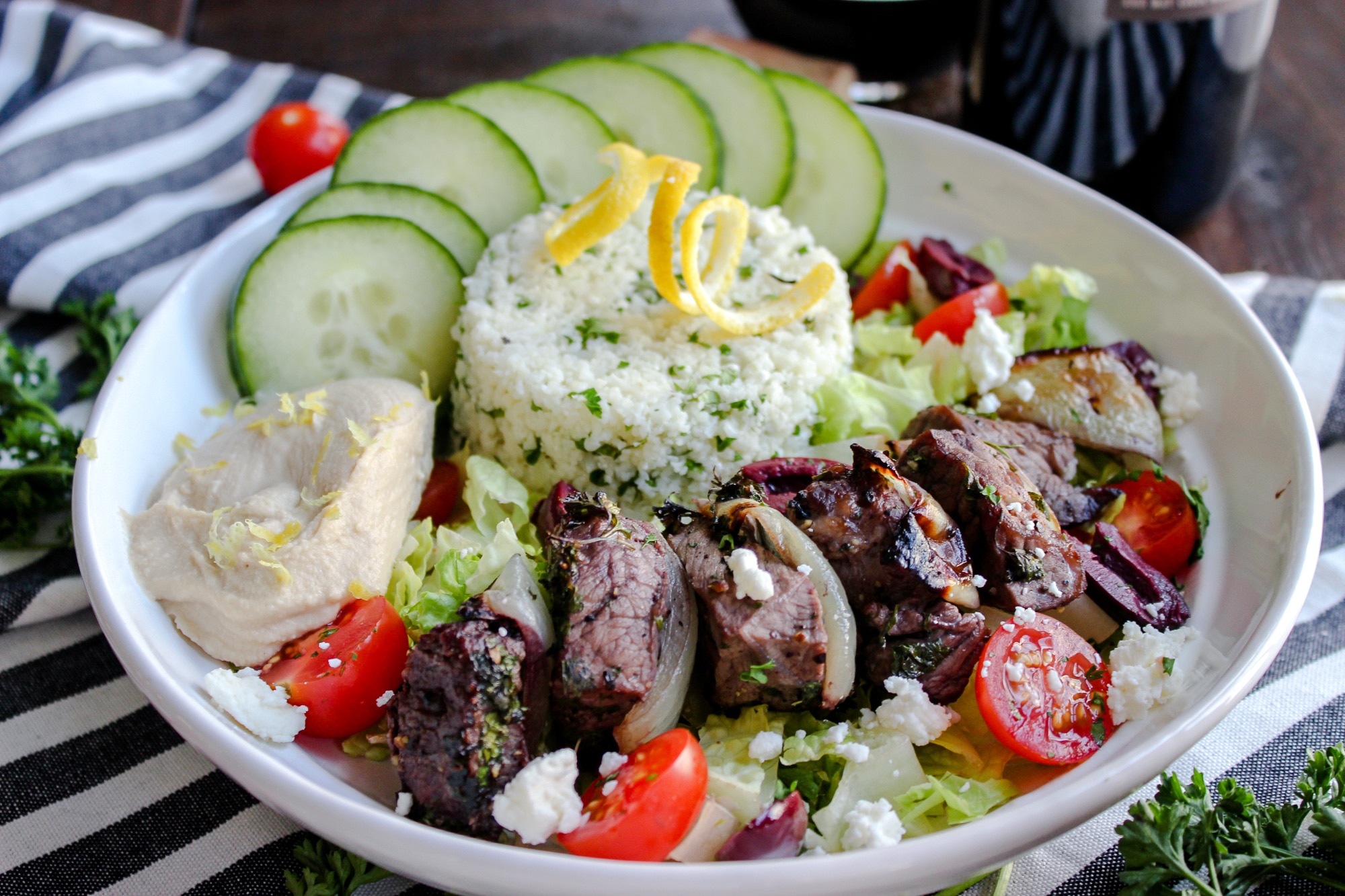 "School" Supplies:
-Food Processor
-Clean Hand Towel
-Knife & Cutting Board
-Mixing Bowl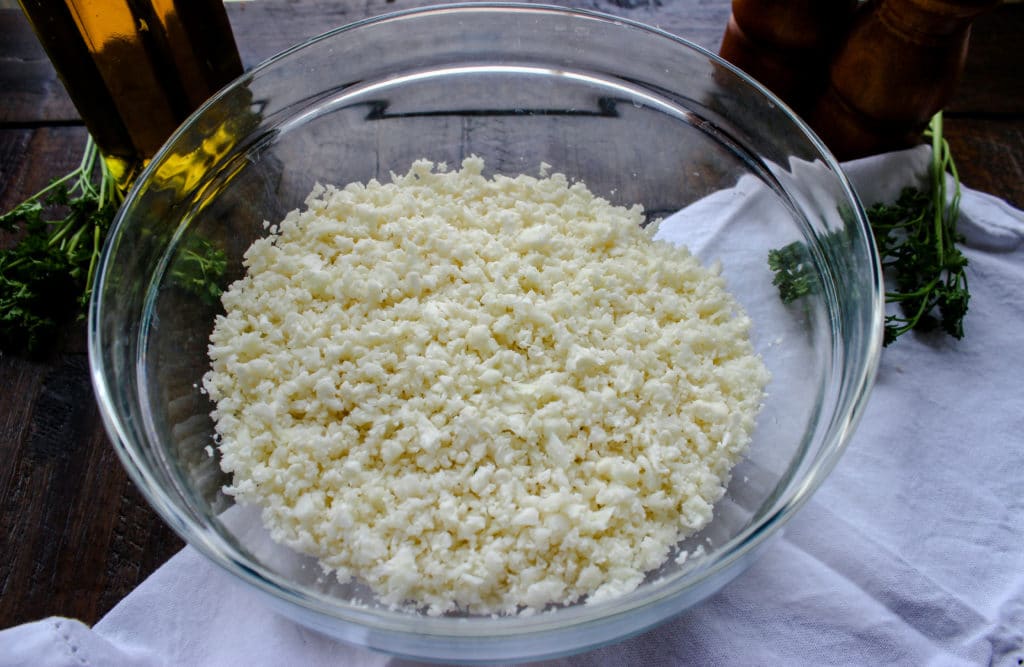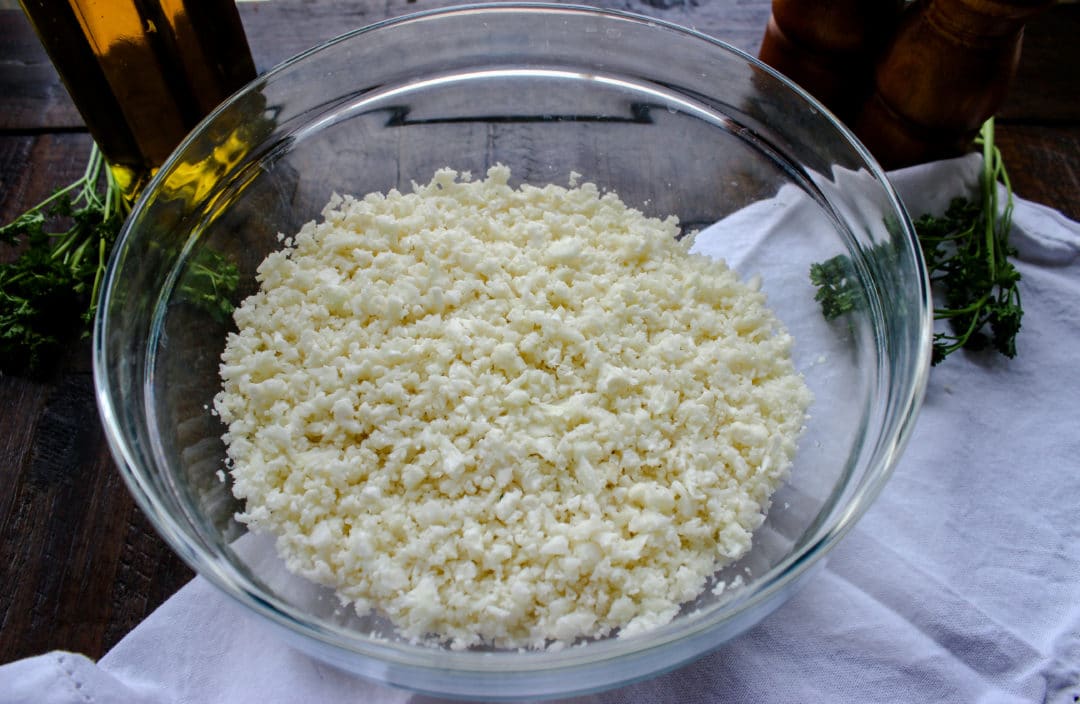 "Class" Notes:
The Greek Inspired Cauliflower Rice:
This part is fairly standard. Chop the cauliflower into chunks, rice the cauliflower in the food processor, and microwave for about 5 minutes. The next part is crucial! You NEED to squeeze out the excess liquid after the cauliflower is cooked. Otherwise too much liquid is released and makes the entire dish unappetizing. I always use a clean hand towel and squeeze out as much of the liquid as I can. After the water is removed, add the "rice" back to the bowl. I love to add in fresh mint and parsley, feta, kalmata olives, fresh lemon juice and a bit of olive oil. Make sure to season well with salt, pepper, and some oregano too!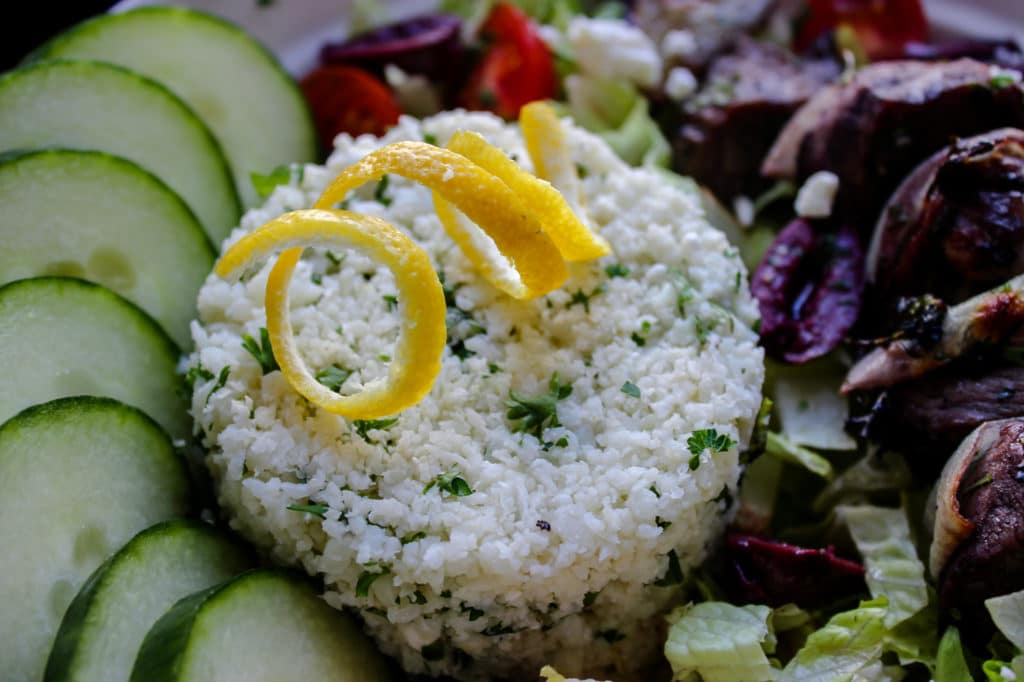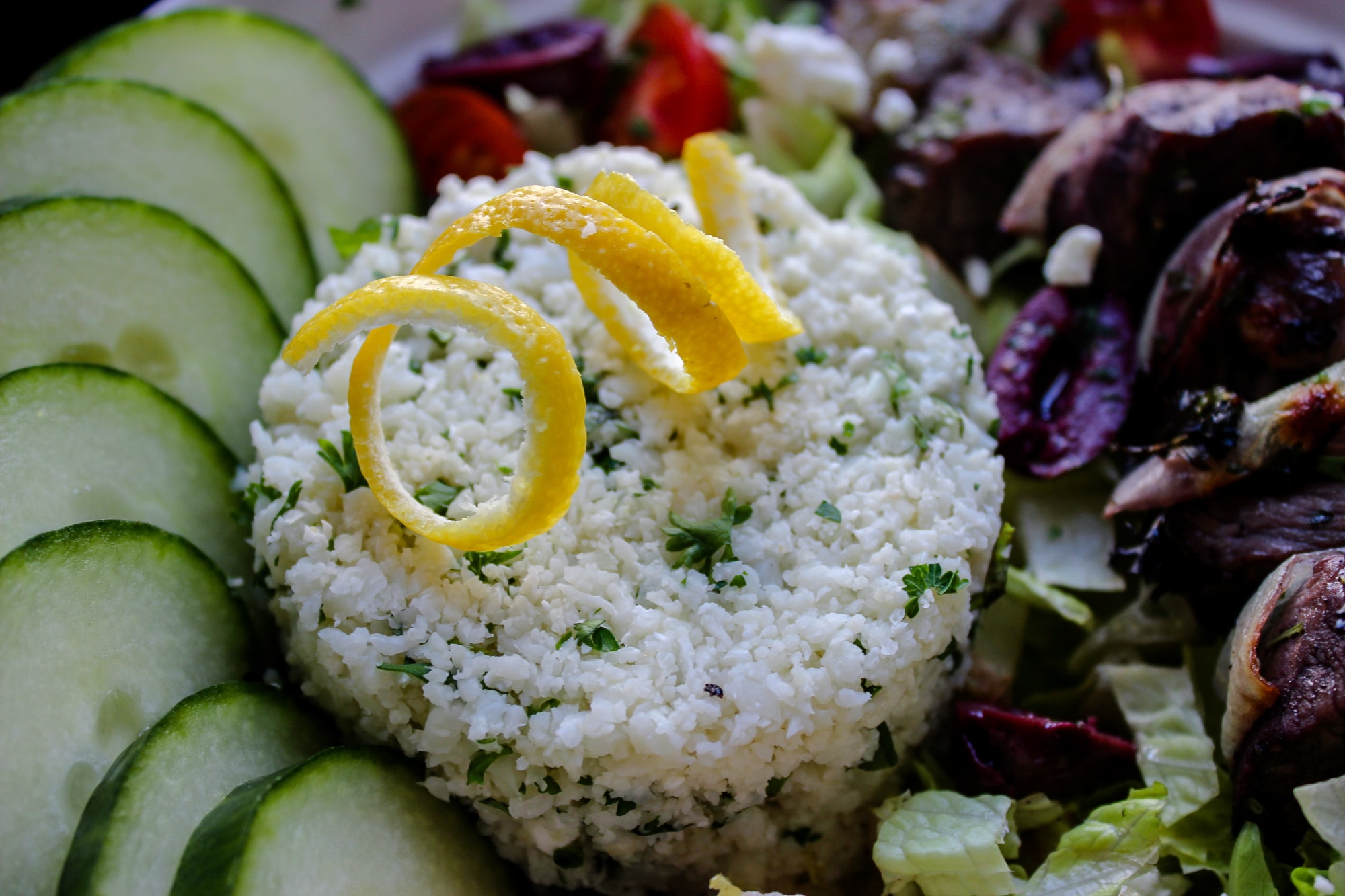 How I Served It:
You have a few options for how to serve your Greek Cauliflower Rice. For this meal, I chose to create a "Buddha Bowl" (a Fancy AF name of a bunch of stuff tossed in a bowl…also known as a salad) with my rice.  I made my easy Broiled Beef Shish Kebabs to pair with this rice, but I think a nice piece of grilled chicken or even falafel would be delicious as well. In addition to the meat, I love to add a bit of tzatziki sauce, a big pile of grilled or roasted veggies, some lettuce and tomatoes, and even hummus (if you have room for the extra carbs). If you eat a whole 30 or paleo diet you could even add some crispy roasted potato wedges as well! Top it all off with another generous sprinkle of feta cheese and some fresh parsley and you're ready to dive into this Greek Cauliflower Rice Bowl!

Nutritional Info: 1 Cup Serving- 80 calories, 4 g. Fat, 5 g. Protein, 5 Net Carbs
Bon Appeteach,
-L
Ingredients
1 Head Cauliflower, riced

1/2 cup Feta Cheese

2-3 Tbsp. Fresh Parsley, minced

5-6 Mint Leaves, chiffonade cut

1/2 Lemon, juiced

1/4 cup Greek Olives, diced

1 tsp. Sea Salt

1 tsp. Oregano

Bowl Add On's: Tzatziki, Hummus, Tomatoes, Chicken, Beef, Falafel, Cucumbers, Roasted Veggies, Lettuce Etc.
Instructions
1
Remove the core from the cauliflower and chop into medium sized pieces. Rice the cauliflower in a food processor and place it in a microwavable safe bowl for 5 minutes.
2
Remove the cooked cauliflower rice and place on a clean hand towel. Allow it to cool slightly before squeezing out the excess liquid.
3
Squeeze out as much liquid as possible and place the cauliflower rice back into the mixing bowl.
4
Combine the lemon juice, feta, parsley, mint, olives, salt, and oregano with the riced cauliflower.
5
Serve with your favorite vegetables or meat. Top with tzatziki sauce and additional feta.