One Pan Keto Tuscan Salmon:
Salmon has been a staple in my diet for several months now. In fact, I rarely cooked fish prior to making many diet changes to help control my insulin resistance and PCOS (read more about my journey and my diet change here). There are so many health benefits to eating salmon; most importantly Alaskan wild caught salmon. Salmon contains many nutrients that not only help those with PCOS but are great for anyone eating a higher fat diet with a focus on whole clean foods (please, put down the hot dogs people)! Salmon not only contains healthy fats, but it is also a great source of Vitamin D and Vitamin B. Choose wild caught when possible! This One Pan Keto Tuscan Salmon is rich and flavorful but not heavy. It can be eaten as is or topped over low carb zucchini noodles. Find the full recipe for One Pan Keto Tuscan Salmon at the bottom of the post and be sure to read on for a few tips and tricks!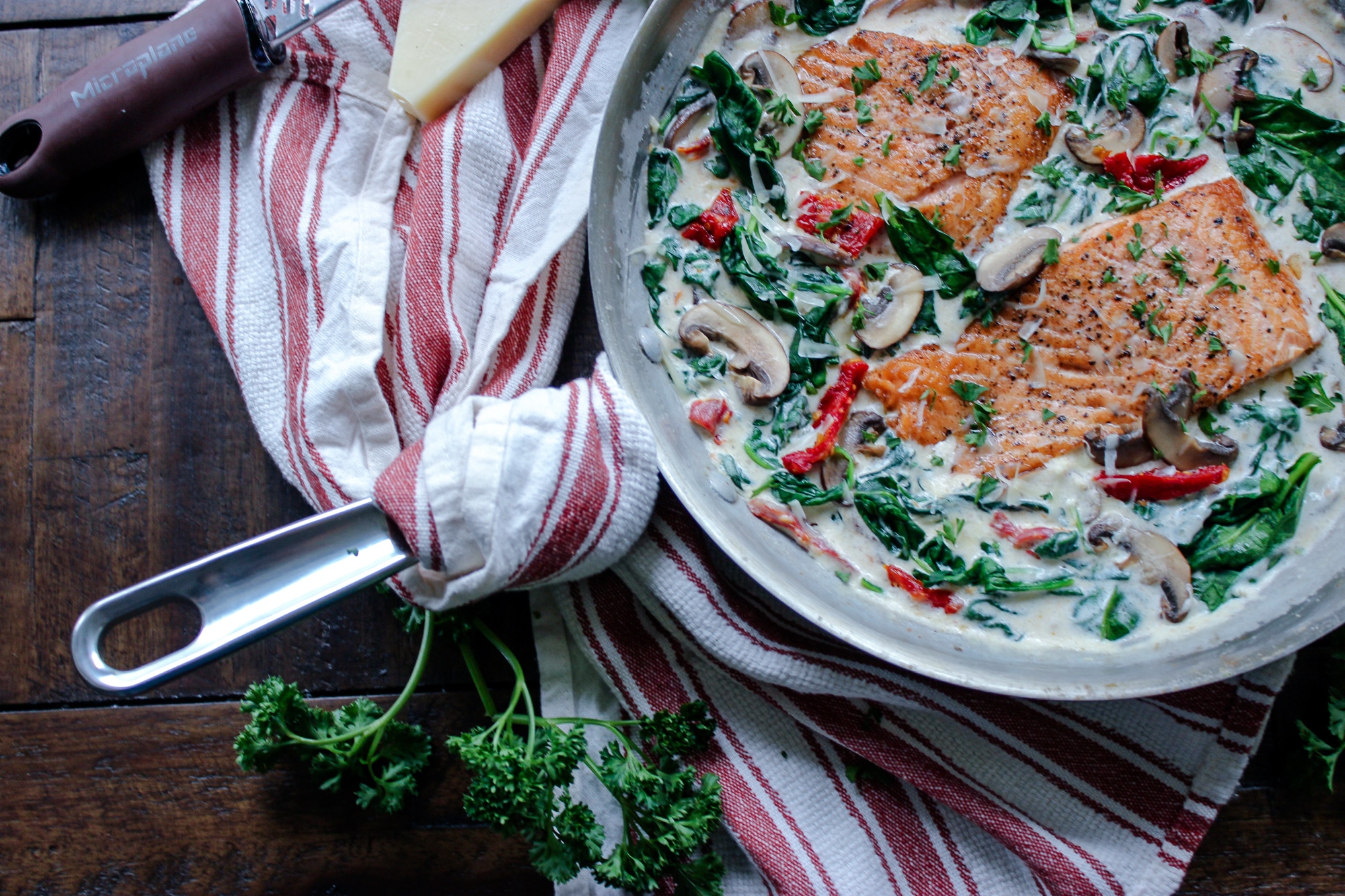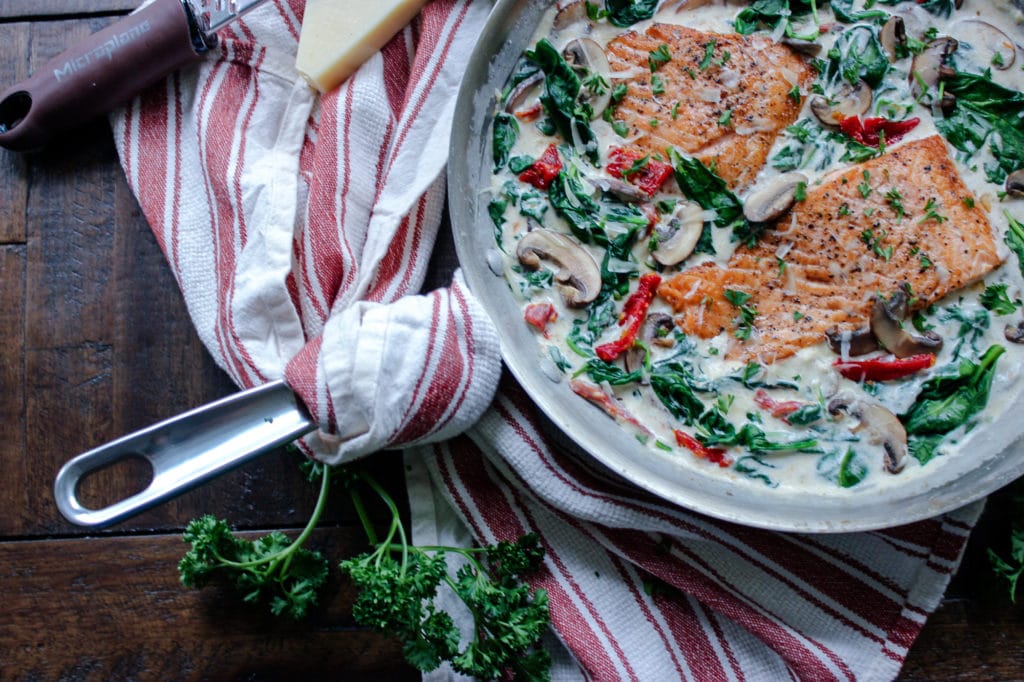 "School" Supplies:
-Large Skillet (I used an all-clad 12″  stainless steel pan)
-Knife & Cutting Board
-Whisk
-Spatula
-Measuring Cups & Spoons
"Class" Notes:
Searing Your Salmon:
I like to buy one large salmon fillet that I can cut into my own servings. Generally, a serving of fish is about 3-4 oz. To prepare this dish, you will want to remove the skin side of the salmon. I use a very sharp fillet knife to slice and remove it. Do this carefully and then discard the skin. This recipe will serve 4 easily but you will only see 2 servings of salmon pictured (I don't really like reheating salmon so sometimes I have to be practical…after all, this is real life). To get a nice sear, you need a medium high heat. I prefer to use a mixture of butter and olive oil when I sear. Season the fish with salt and pepper and place the flesh side down first (skin side up). Sear for 2-3 minutes and then flip and repeat. Once the salmon is cooked, remove and set it aside on a plate.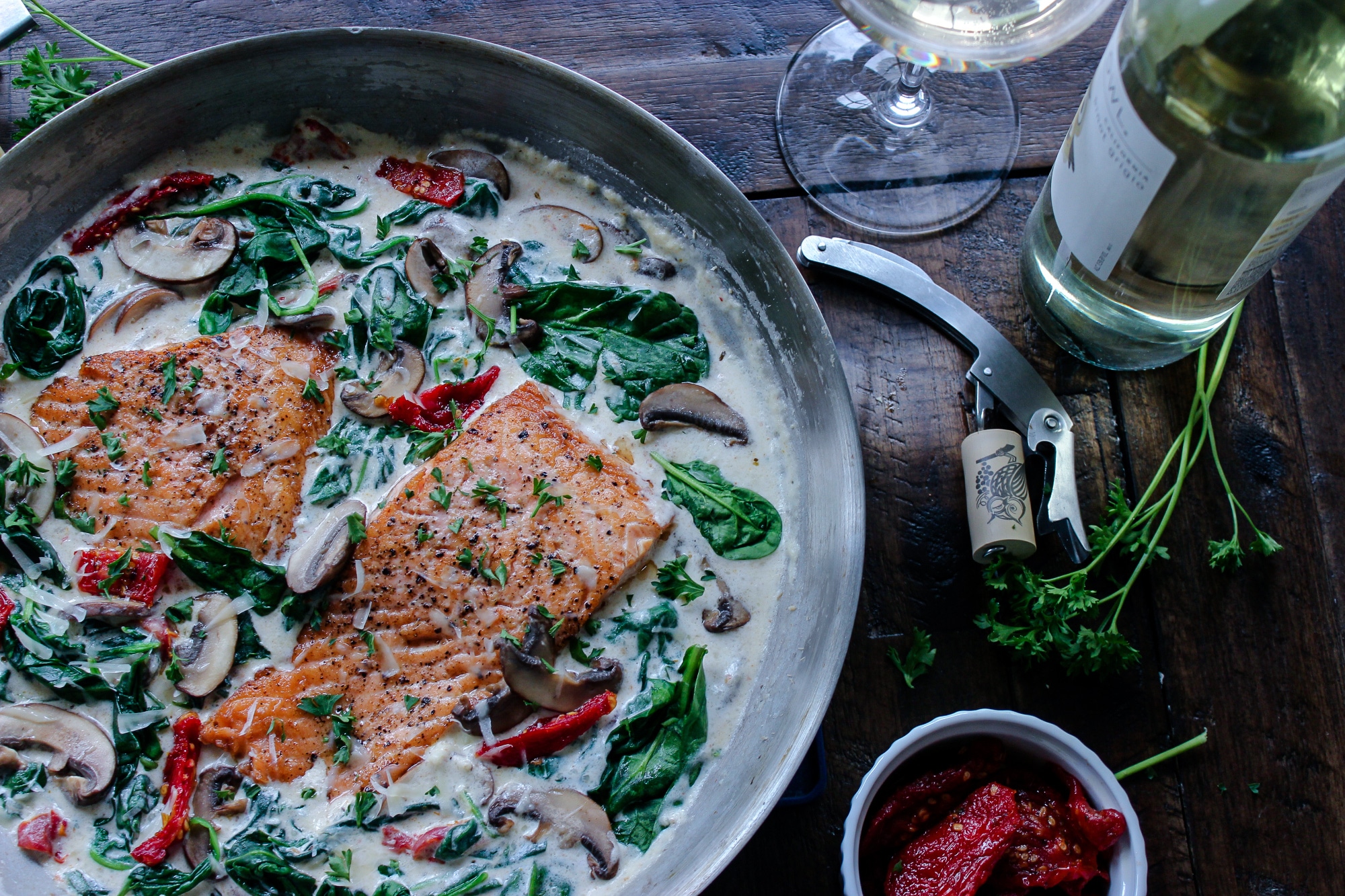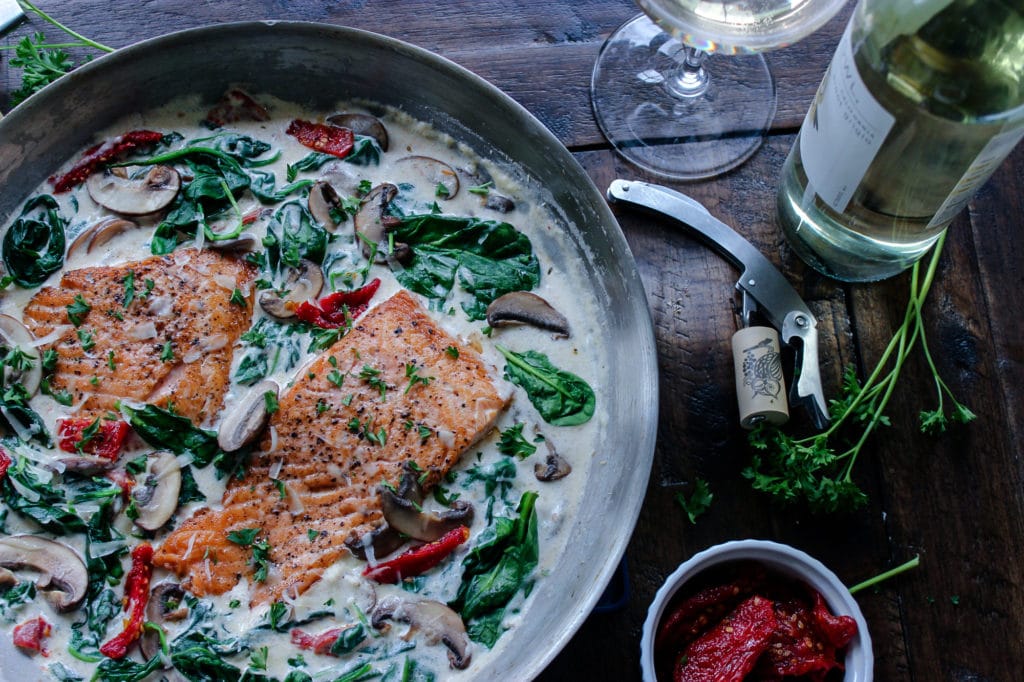 Keto Tuscan Cream Sauce:
In the same pan, reduce the heat to medium and add another teaspoon of butter. Saute the minced garlic shortly until fragrant. Toss in the sliced mushrooms and saute until brown. Remove the mushrooms and set aside on a plate. Place the spinach into the pan and move it around frequently until is just wilted. Place it on the same plate as the mushrooms. Next,  add the half and half to pan and warm it, whisk in the xanthan gum to thicken, and flavor with parmesan cheese. Season with salt and pepper if needed (parmesan is naturally very salty so my sauce was just fine). Whisk the sauce until it begins to thicken. Add the mushrooms and spinach back into the sauce at this point. Place the seared salmon fillets into the sauce and sprinkle with sundried tomatoes. I like to add a little extra freshly grated parmesan and some fresh parsley for garnish!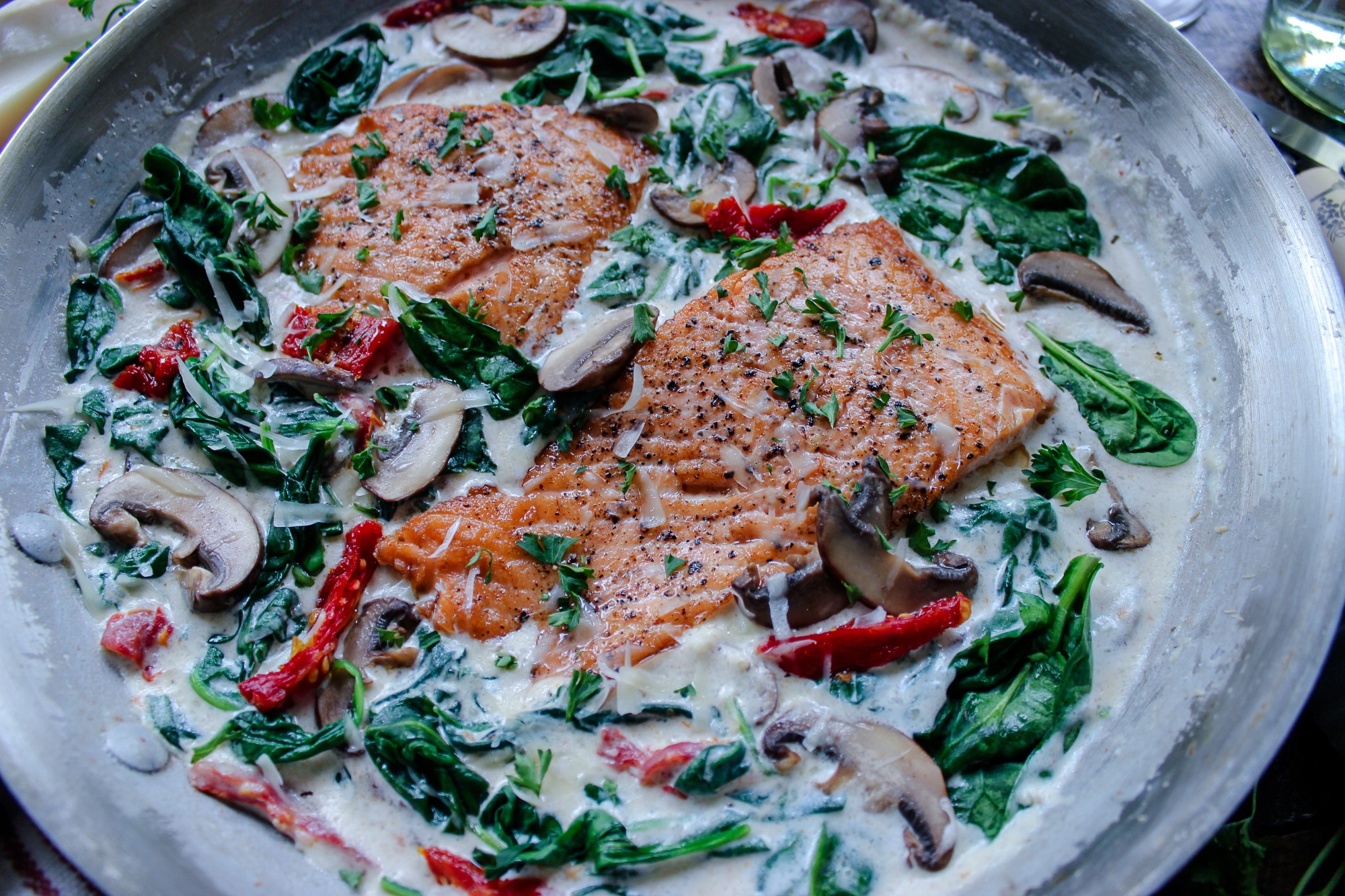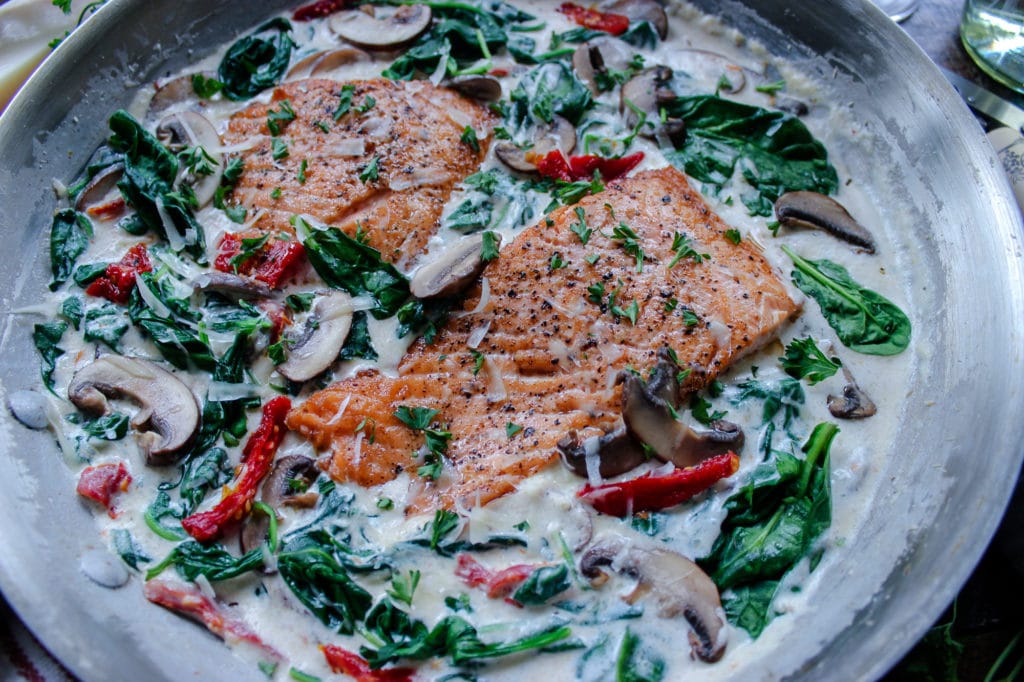 This One Pan Keto Tuscan Salmon takes about 30 minutes to make and tastes great by itself or with zoodles. Want to know my favorite part? It only requires one pan!  Find the full recipe for this delectable salmon dish below!
Bon Appeteach,
-L
Nutritional Information:
This information has been obtained using My Fitness Pal.
The nutritional value may differ depending on the brands you use. 

Ingredients
4, 4 oz. Salmon Fillets, skin removed

Salt & Pepper for seasoning the fish

1 Tbsp. Olive Oil

1 Tbsp. Butter

3 cups Spinach, cooked

8 oz. Bella Mushrooms, sliced

1 Garlic Clove, minced

1 tsp. Butter

1/4 cup, Sun Dried Tomatoes, sliced

1 cup Half & Half

1/3 cup Parmesan Cheese

1/2 tsp. Xanthan Gum (I bought mine from target)
Instructions
1
In a large skillet, heat the butter and olive oil to medium high heat. Prepare your salmon fillets by removing the skin and seasoning both sides with salt and pepper.
2
Place the flesh side down (skin side up) in the pan and allow it to seal for minutes or so depending on the thickness. Flip and repeat with the other side. Remove the cooked salmon from the pan and set aside.
3
Melt the remaining 1 tsp. of butter and add the minced garlic. Saute at medium heat for about 30 seconds. Add the mushrooms and cook until browned. Set aside.
4
Add the spinach to the pan and move it around frequently. Remove from the pan just as it starts to wilt and set it aside.
5
In the pan, add the half and half, xanthan gum, and parmesan cheese. Whisk continuously at medium heat until the sauce thickens and would coat the back of a spoon.
6
Add the spinach and mushrooms back into the pan. Add the salmon fillets. Then add the diced sundried tomatoes.
7
Garnish with extra parmesan cheese and parsley (optional).