Steak Frites with Horseradish Compound Butter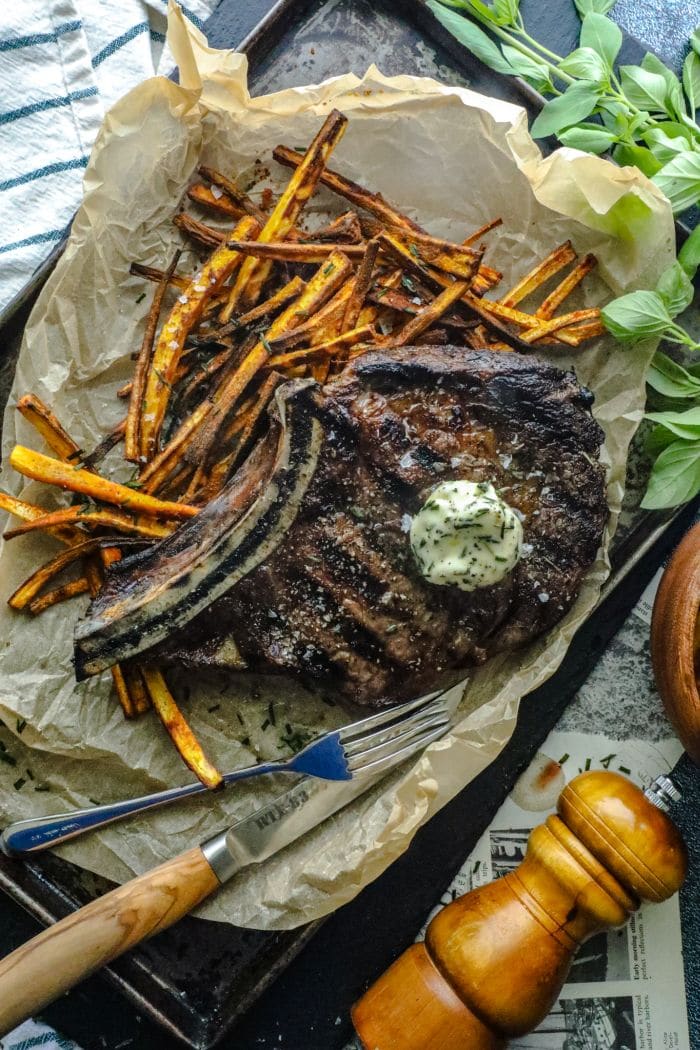 Indulge in this French classic inspired keto friendly steak and low carb french fry recipe! Don't forget the delicious butter to top it all off for the perfect dinner recipe.
Having a good steak recipe in your back pocket is never a bad thing. If you've never tried the classic Steak Frite aka "steak and french fries" combination then you have been missing out. This is my low carb inspired take on this dish to help you step up steak night!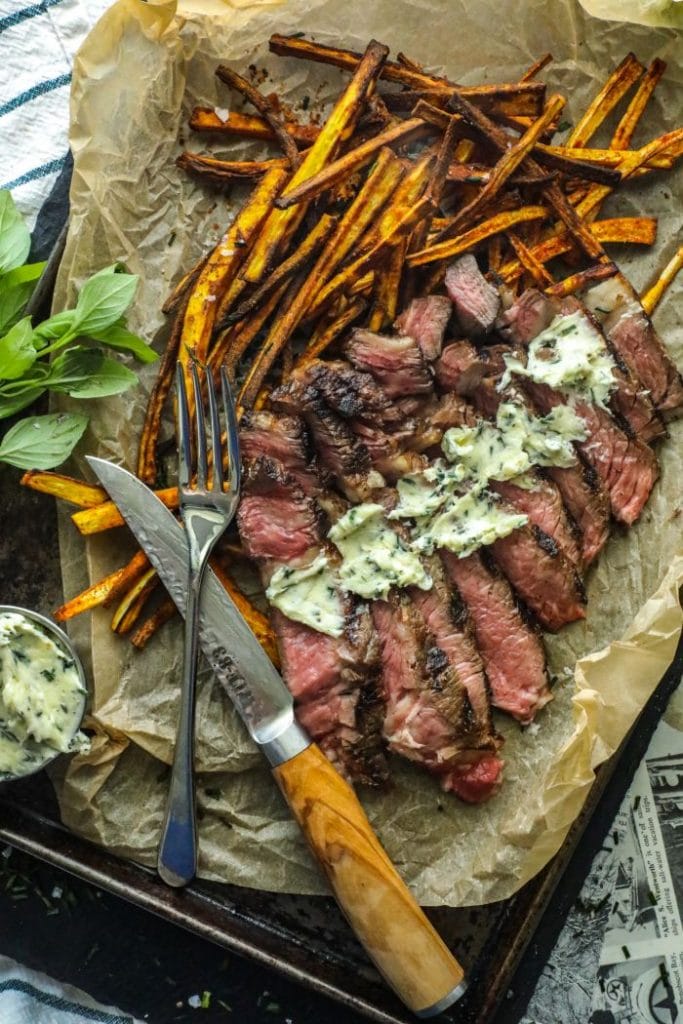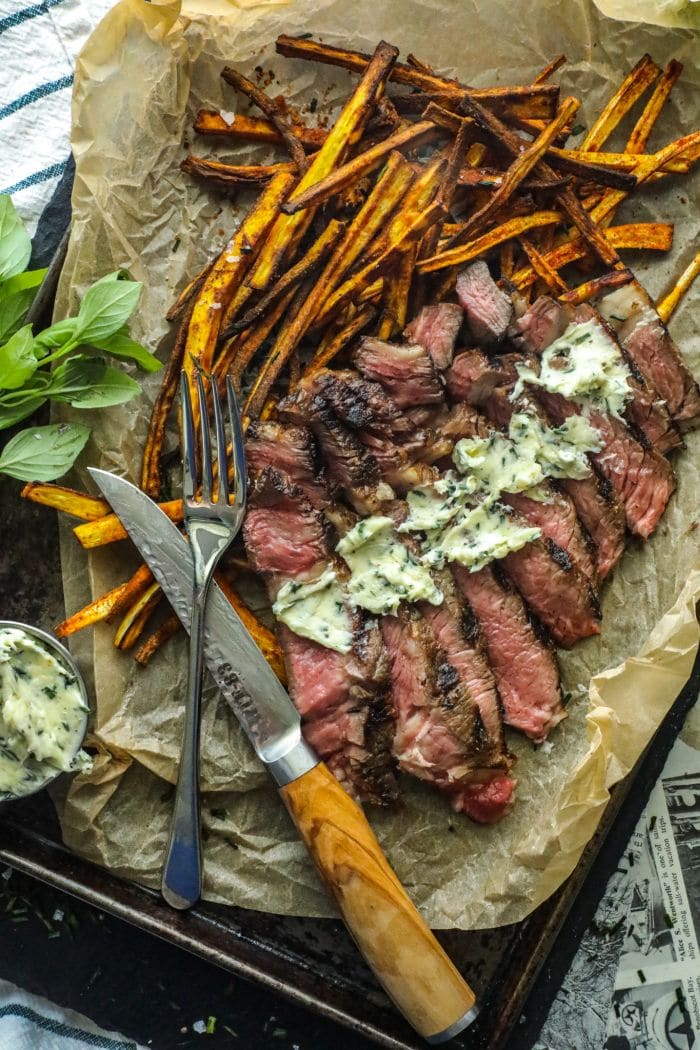 As a Mid-West native, steak and potatoes is staple in my diet growing up, but today I've redefined this dish with a thick cut bone in ribeye reverse seared on the grill, smothered in some spicy horseradish compound butter, and a side of my low carb jicama fries to go with it.
This post will walk you through some staple steak cooking techniques to make the perfect medium rare, all while achieving the ideal crispy keto french fry too! Get the details below and find the complete recipe at the bottom of the page.
"School" Supplies:
Small Baking Sheet
Cooling Rack
Tongs
Small Mixing Bowl
Large Mixing Bowl
Knife & Cutting Board
Thermometer
"Class" Notes:
Let's break down our steak cook and our fry cook into two parts today. This should give you a good base knowledge on how to approach this recipe, and also modify if you need to!
So, what cut of beef is used for steak frites?
This Parisian inspired dish can be made at home with the help of the popular ribeye steak. Ribeye steaks are the perfect cut for this, because of the location of where it comes from on the cow (between the shoulder area and the loin). This often results in a heavier marbled cut of meat and marbling is what gives us that incredible tender texture and all that amazing steak flavor.
This cut of steak is also perfect for grilling because it's thicker cut (especially if you go bone in like I did for added flavor) and will sear nicely, while reaching that perfect medium rare on the inside. My go to method for thin steaks and thick steaks alike is always to reverse sear.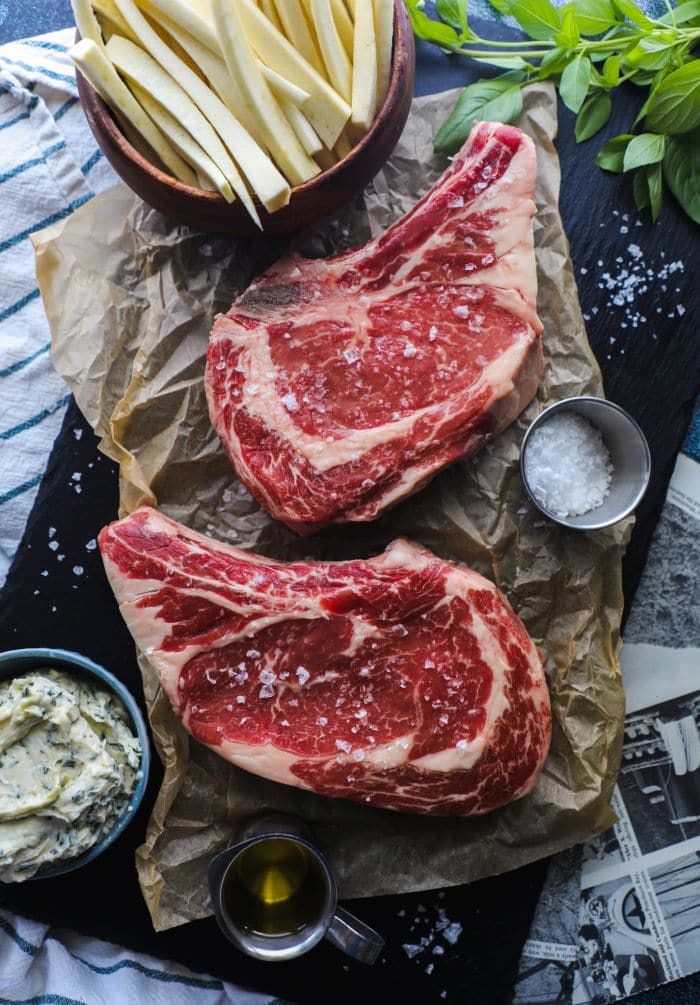 I break down the whole reverse sear process in this master post. So be sure to check it out and get prepared to comfortably tackle two zone cooking on your gas or charcoal grill.
Steak Prep & Grill Tips-
Lightly oil you steak with a high smoke point oil (avocado or grape seed are good options). Season liberally with a course salt and cracked black pepper. Some chef's say NO to pepper before grilling, but I'm team pepper (especially with that reverse sear method).
Place your steak on an elevated rack on a baking sheet. This allows for the heat of the grill to move above and below the thick bone in ribeyes and penetrate them evenly. The biggest tip I give any griller (especially when making steak) is to use a thermometer ALWAYS for accuracy.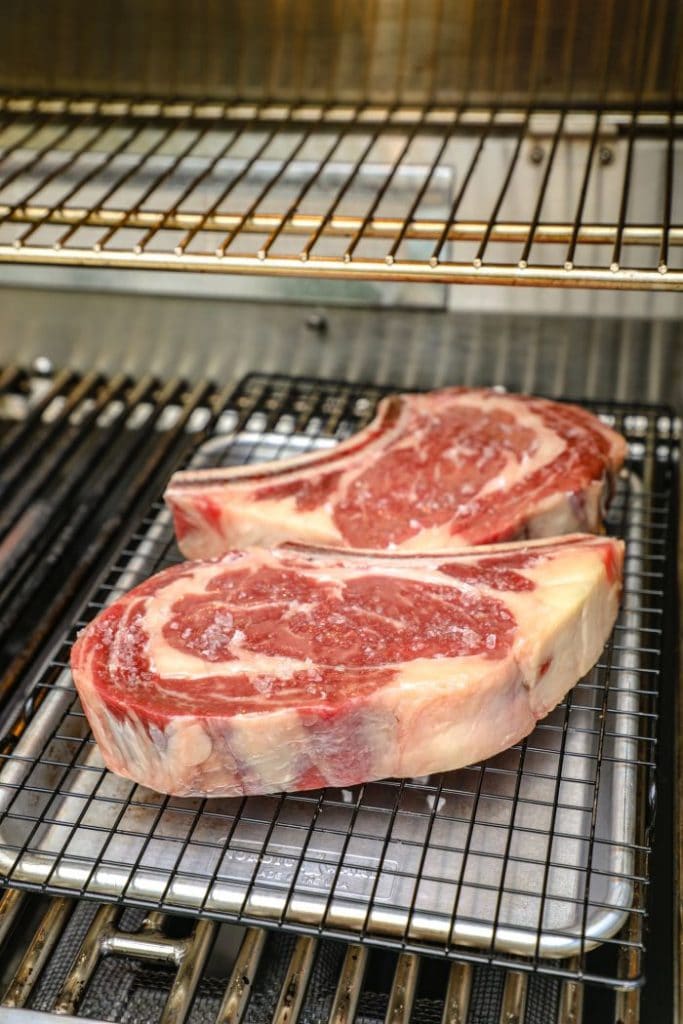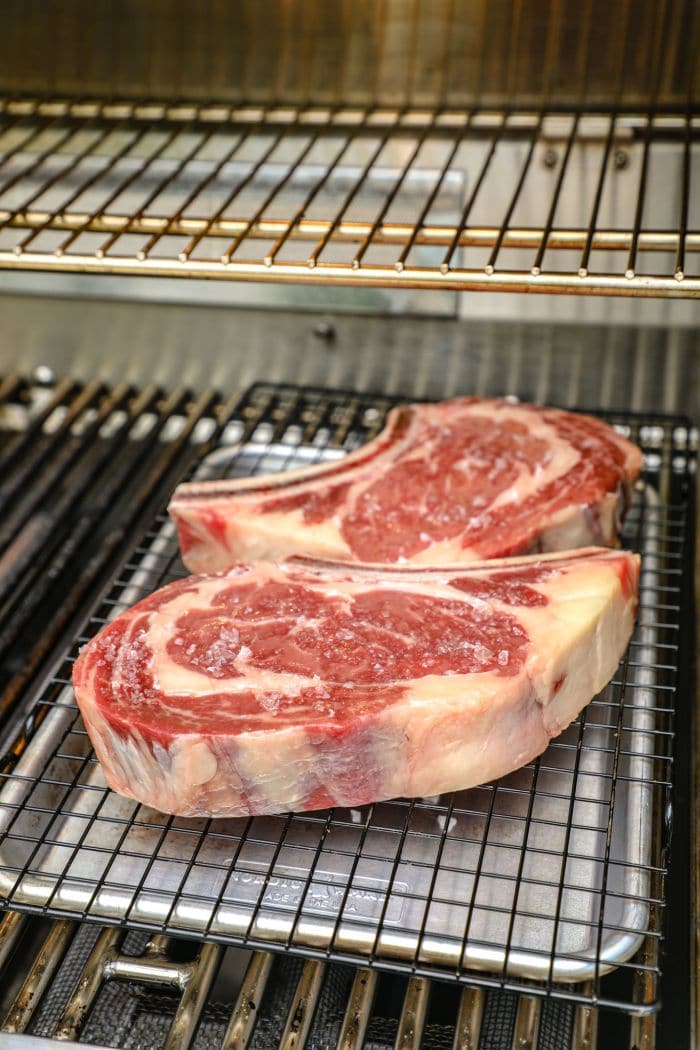 Cook your steaks to start on that indirect heat for the reverse sear. I cook mine to the 110 F mark and remove them to rest while I crank the heat to 600 F on the grill. Place them over direct heat and cook about a minute per side, two times each to get those signature grill marks or until it reaches your desired internal temperature.
Pro Tip: Shoot for a medium rare to medium temperature at most (130-140 F) for the juiciest and more flavorful steak.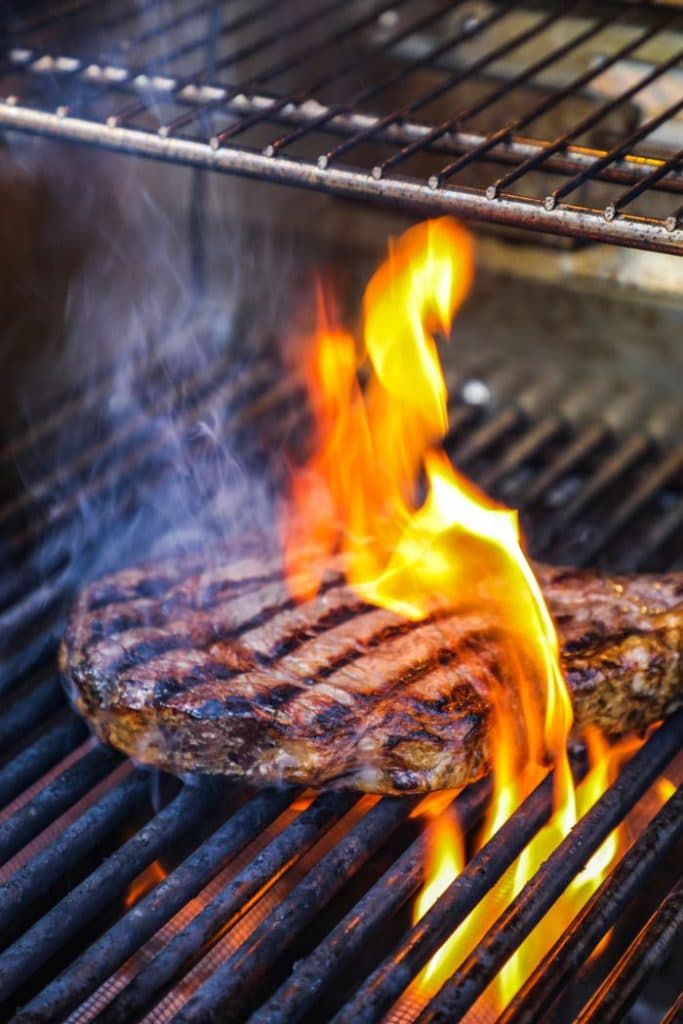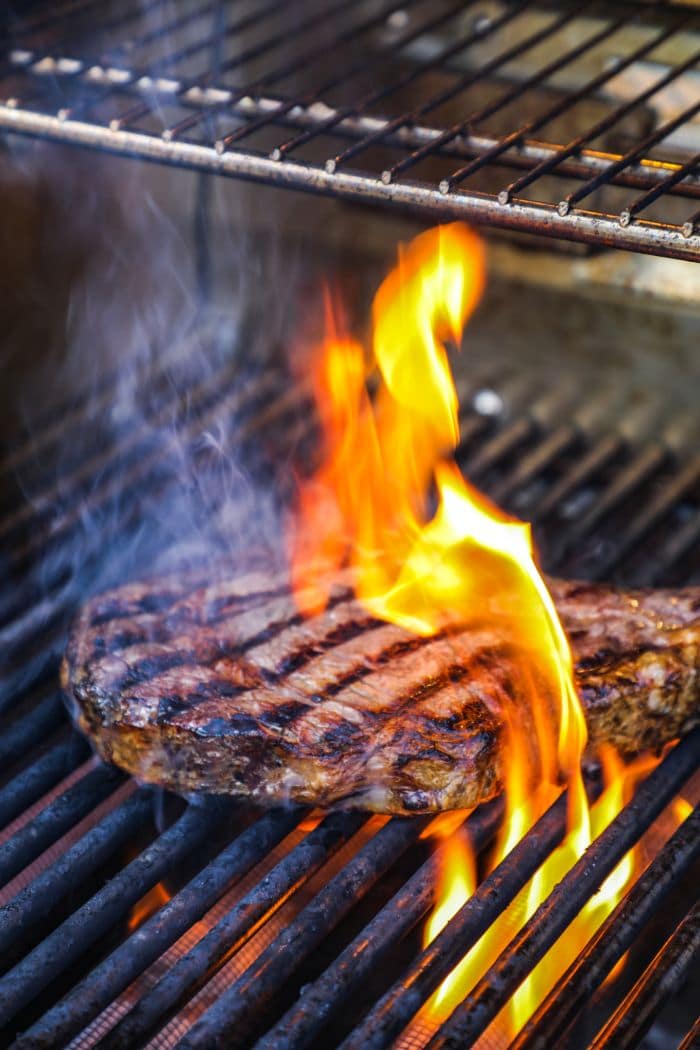 Remove the steak and BE PATIENT! I take my steaks off around 125 F and tent it with foil on the elevated rack (protects that nice crust we achieved from the direct sear) and let it come to it's final resting temperature of around 130 F. Give it at least 10 minutes and go make your veggie fries!
What vegetables make the best keto approved fries?
Frites are essential for our steak frite recipe here today, but because this is a lower carb recipe, I am nixing the classic potato (or even sweet potato) fries for that matter. Traditional potato fries are a high carb vegetable, so I am sticking with my tried and true jicama fries recipe here.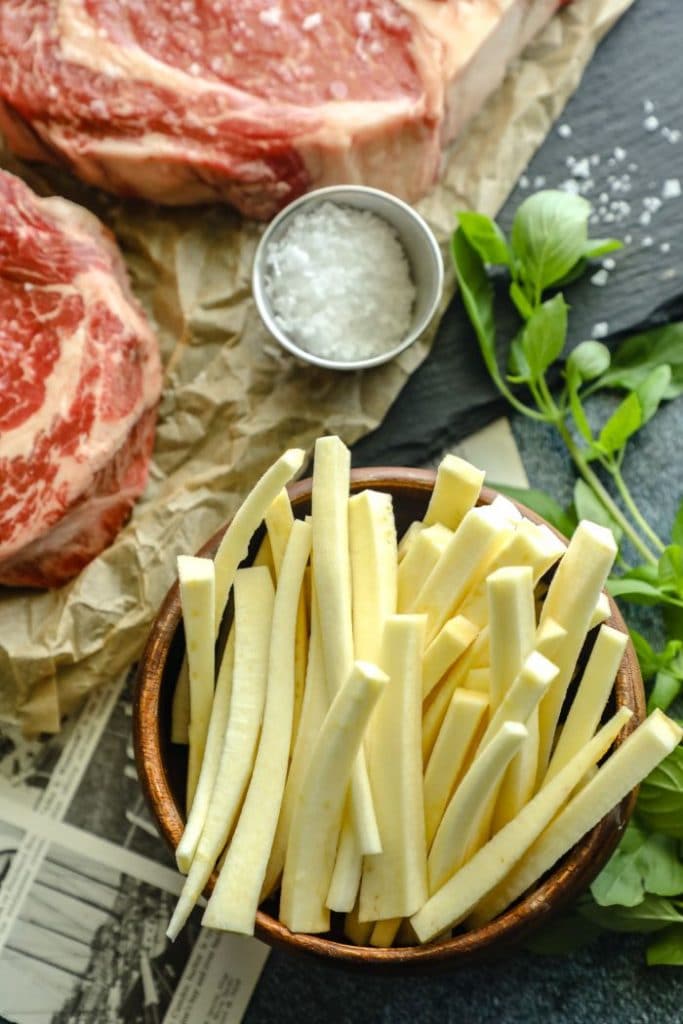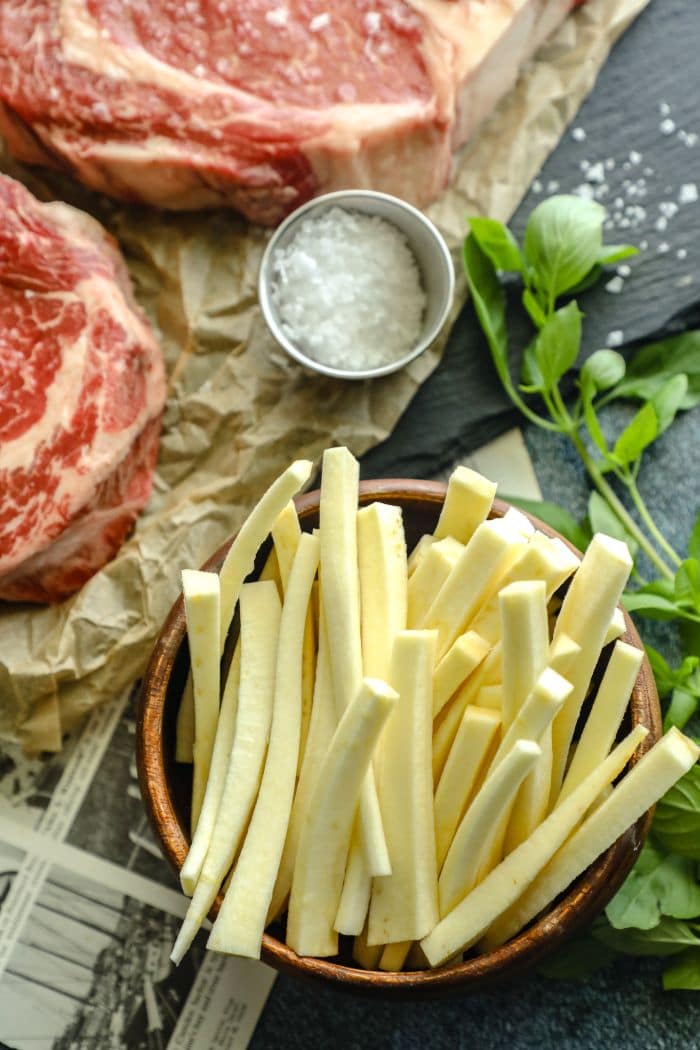 Jicama is a low carb, crunchy root vegetable that has a crispy crunchy texture and 1 cup is roughly 5 net carbs. If you're worried about carb count, try making a crispy green bean fry or even zucchini fries for this recipe today.
What's the best method for getting crispy veggie fries?
As much as we love the flavor of traditional fries, lets be honest and admit that texture is as important as taste (if not more). You have a few options for cooking your jicama (or other veggie fries):
The air fryer is going to yield the crispiest veggies fry while the grill with impart the most flavor. The oven and air fryer are the least hands on but the grill goes fast! The trick that works nicely with jicama is to par-boil it and pat it dry.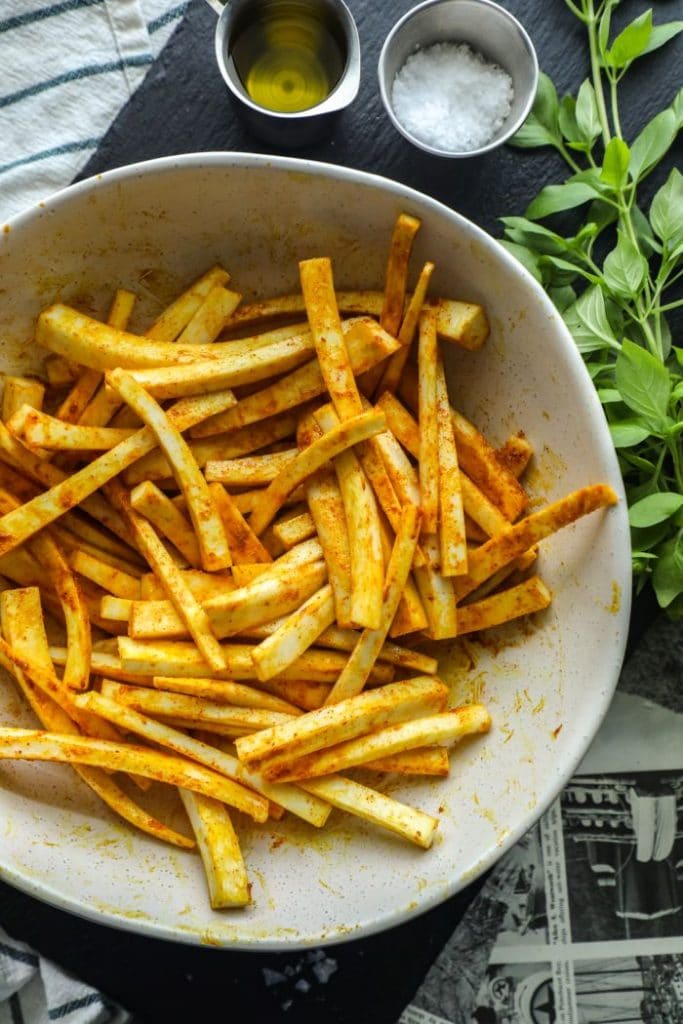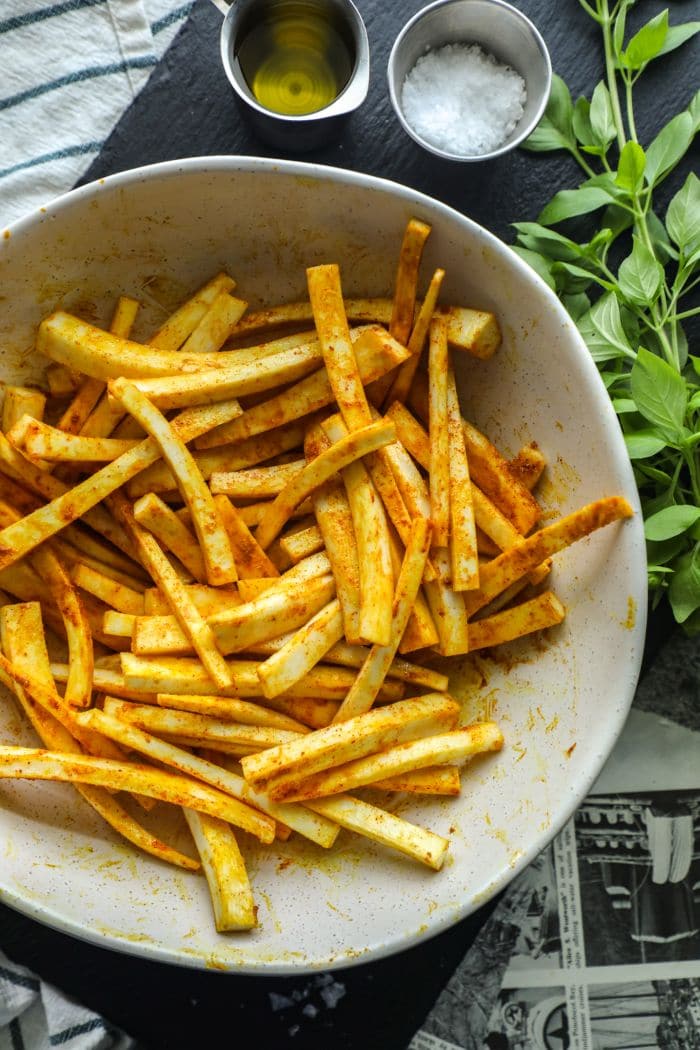 Toss is in olive oil or avocado oil your seasonings (I like salt, pepper, turmeric for color, smoky paprika and some garlic). Seasonings are key here in my opinion, otherwise there isn't a ton of taste! Par- boil while your steaks are on indirect. Cook your steaks on direct and finish them off choosing your method of cooking while the steaks take a rest.
Top it with some horseradish compound butter-
Compound butter is just a game changer on top of a hot steak. I mean, it's butter how can you not love it? The trick to this recipe is using softened butter to get the other flavors mixed in nicely. I add a nice tablespoon of horseradish, salt, pepper, and chives together in a bowl.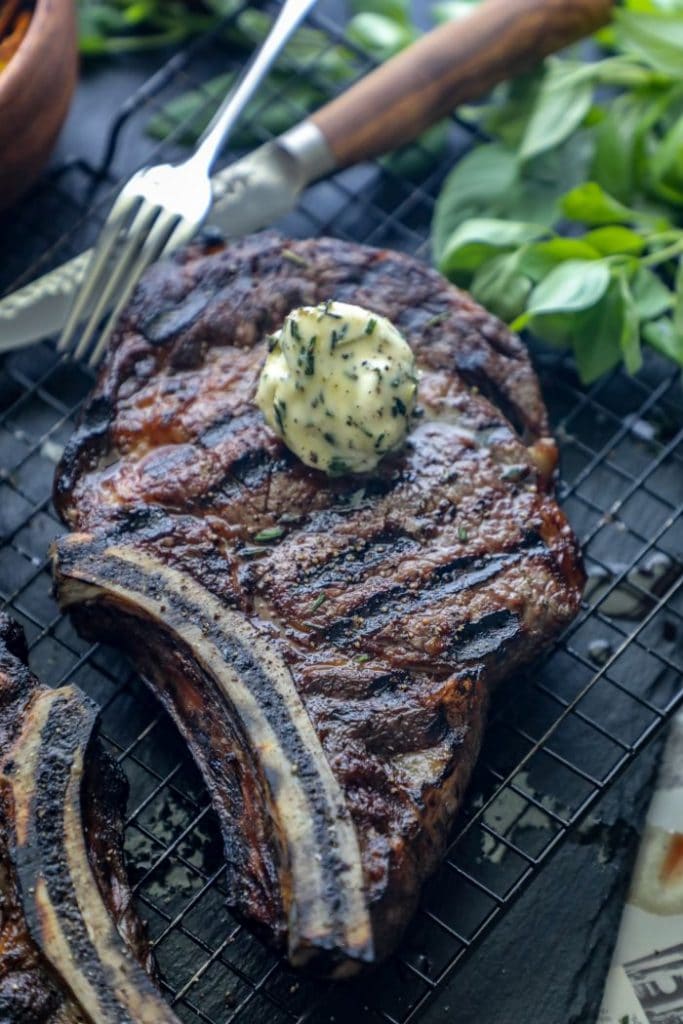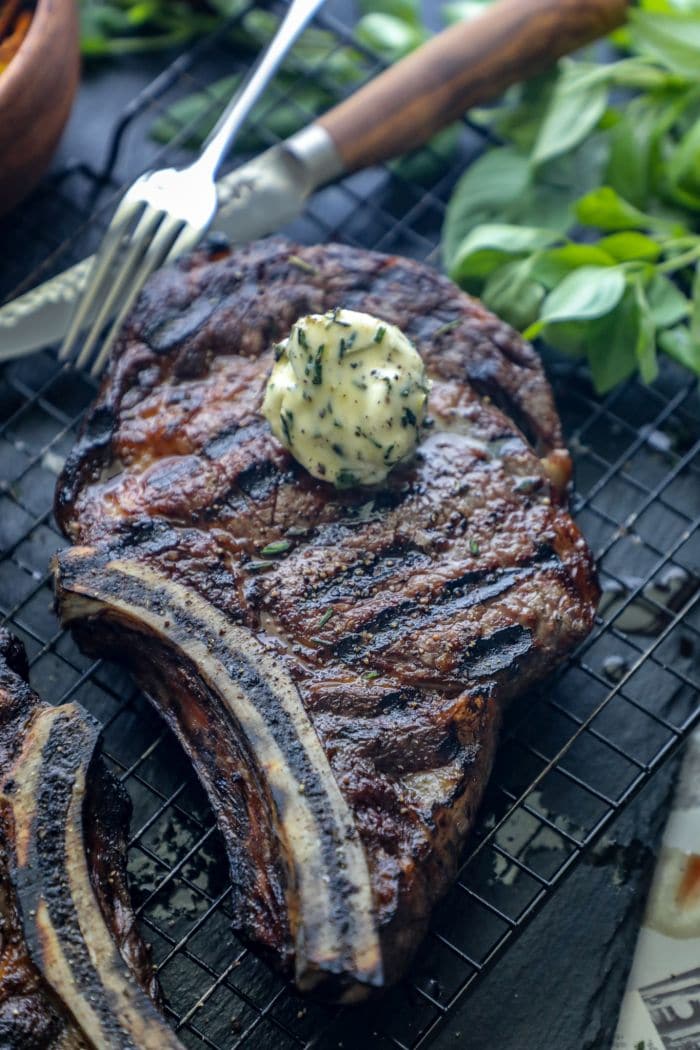 Mix it well and pour it into a bowl. The butter is great served softened and whipped or by forming harder medallions. This can be done by rolling a log into parchment paper and firming it back up in the fridge if desired. Not a fan of horseradish? Give this red wine compound butter a try instead!
Steak Frite Assembly-
Place your steak on a bed low carb fries and top with that delicious compound butter. Sprinkle on a little more salt over your keto veggie fries and tuck in with a fork and knife! Serve it up with your favorite glass of wine or this classic Manhattan as a great pairing.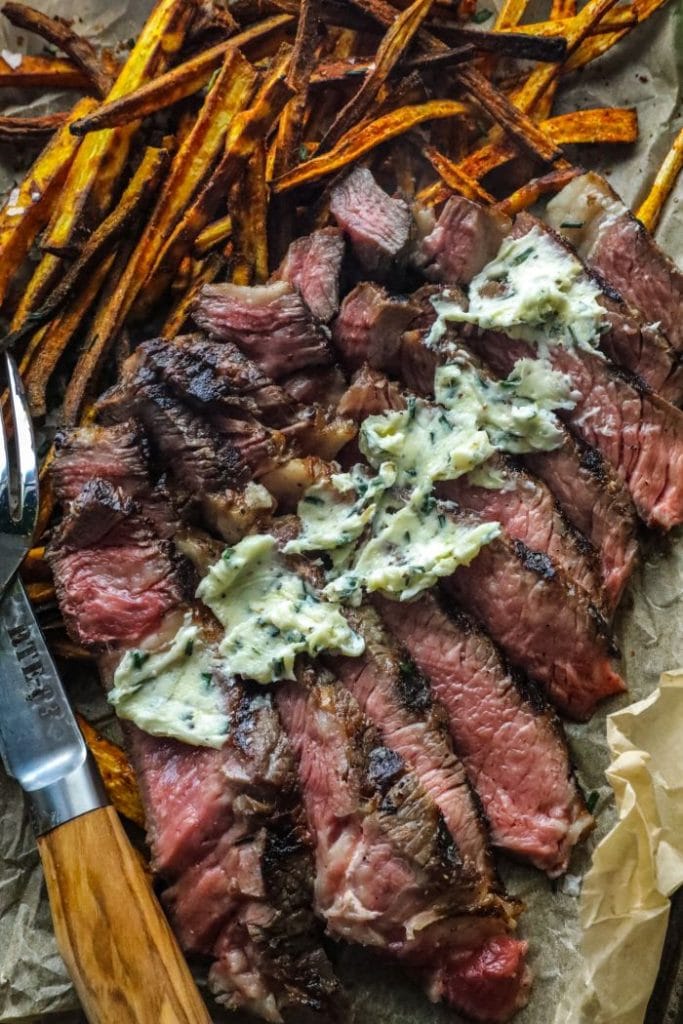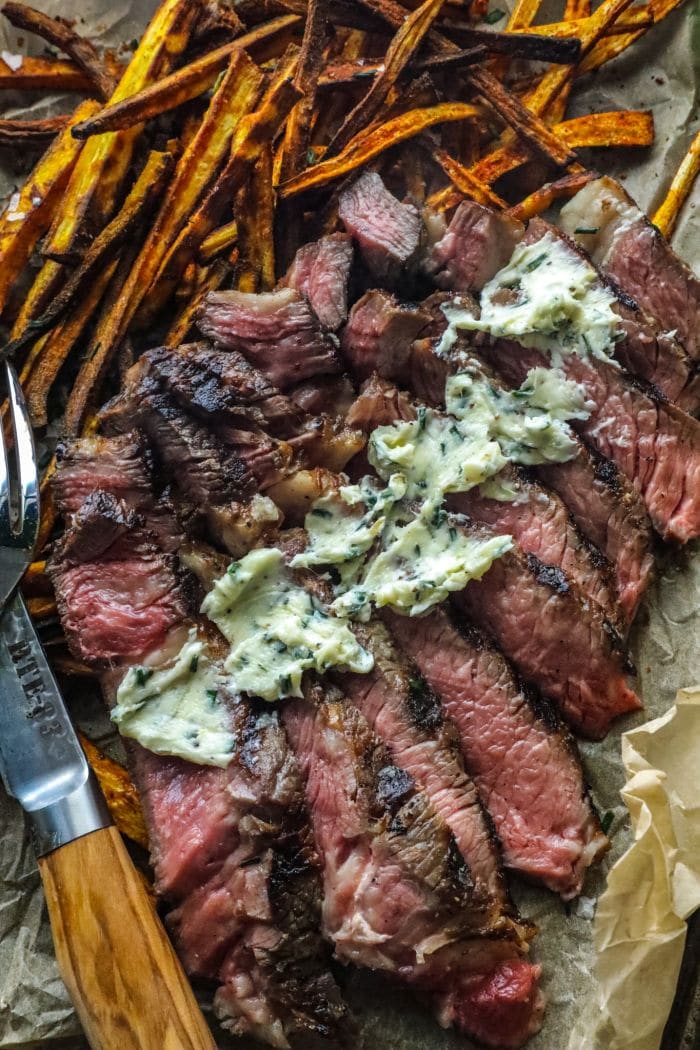 Love the steak and horseradish combo? Give this coffee rubbed

tri-tip steak recipe

with horseradish sauce a try too!
Bon Appeteach,
-L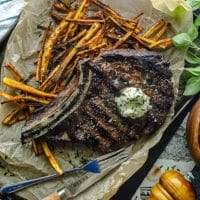 Keto Steak Frites with Horseradish Compound Butter
Indulge in this French classic inspired keto friendly steak and low carb french fry recipe! Don't forget the delicious butter to top it all off for the perfect dinner recipe.
Print
Pin
Rate
Ingredients
2

Thick Cut Ribeye Steaks

Sea Salt

Cracked Black Pepper

Avocado Oil

1/4

cup

Butter

softened to room temp

1

tsp.

Horeseradish

2

tsp.

Fresh Chives

1/2

tsp

Salt & Pepper
Instructions
In a bowl, combine the softened butter, horseradish, chives, and 1/2 tsp each of salt and pepper and mix well. Leave out in a bowl and set aside.

Remove the steaks from the fridge, pat them dry and rub a little avocado oil over each side and season liberally with course salt and pepper. Place them on a cooling rack over a baking sheet and let them rest for 20-30 min.

Prep the jicama fries according to the recipe

here

. Do not yet cook them.

Preheat the grill to 250 F and set it for indirect heat. Place the baking sheet on the indirect side and cook the steaks until they reach an internal temperature of 110 F. Remove and rest while heating the grill to at least 600 F.

Sear the steaks a minute per side, flipping twice or until they reach your desired internal temperature. I pull mine around 120-125 F and tent for 10 minutes with foil and let them rest.

While they rest, prepare your jicama fries using your preferred cooking method (air fryer/ oven/ grill). Cook until crispy and tender. Serve with your steak and a dollop of compound butter.
Notes
Like a more traditional crust on your steak? After the indirect heat, heat a cast iron on the grill or stove and sear in high smoke point oil. Repeat the same steps for flipping to get a nice crust.
Nutrition
Serving:
1
g
|
Calories:
522
kcal
|
Carbohydrates:
8
g
|
Protein:
22
g
|
Fat:
46
g
|
Saturated Fat:
23
g
|
Polyunsaturated Fat:
21
g
|
Trans Fat:
1
g
|
Cholesterol:
127
mg
|
Sodium:
820
mg
|
Fiber:
3
g
|
Sugar:
1
g