Cast Iron Caprese Dip with Low Carb Bagel Chips
This recipe was created in partnership with Lynx Grills. All opinions are my own.
"A quick and easy appetizer or side dish that's effortless, packed with flavor, and always a huge crowd pleaser."
Summertime and the tomatoes are ripe and ready! I've always loved a traditional, light, caprese salad as a side, appetizer, or to pair with charcuterie. Because the ingredients are so effortless, I didn't want to stray too far from the classic version of this salad, but I did want to take the experience to the next level.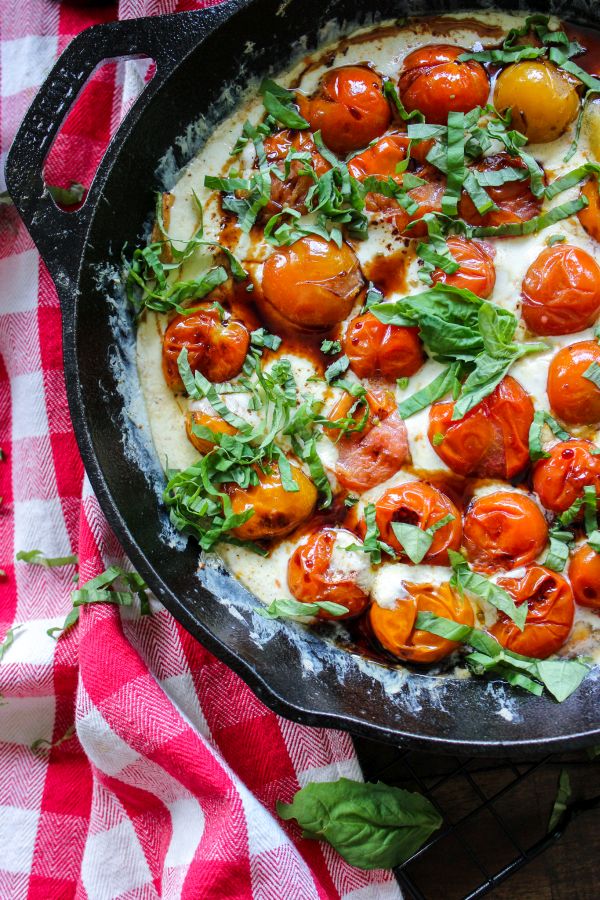 One thing I do love, is a slightly roasted and macerated cherry tomato. It adds some depth to the flavor in my opinion and I also am a sucker for a big pile of melted ooey-gooey cheese too.  If you already have the grill fired up this summer with one of my many keto and low carb friendly grill recipes, then just simply add this to the rotation and you won't be disappointed. 
Give this Cast Iron Caprese Dip With Low Carb Bagel Chips recipe a try and be sure to read on for a few really helpful tips and tricks for making the best dip and grilled keto/ low carb bagel chips as well!
"School" Supplies:
Cast Iron Pan
Knife & Cutting Board 
Basting Brush
Tongs
"Class" Notes:
The Dip –
This caprese dip is super simple to grill up (or bake) in a cast iron. Now traditionally, I would avoid using highly acidic foods (like a tomato sauce for example) in a cast iron skillet because it can react with the iron and cause a chemical reaction.
However, I have a VERY seasoned pan and take very good care of it when it's not in use . Seasoning the pan well, can help prevent any major reactions from occurring.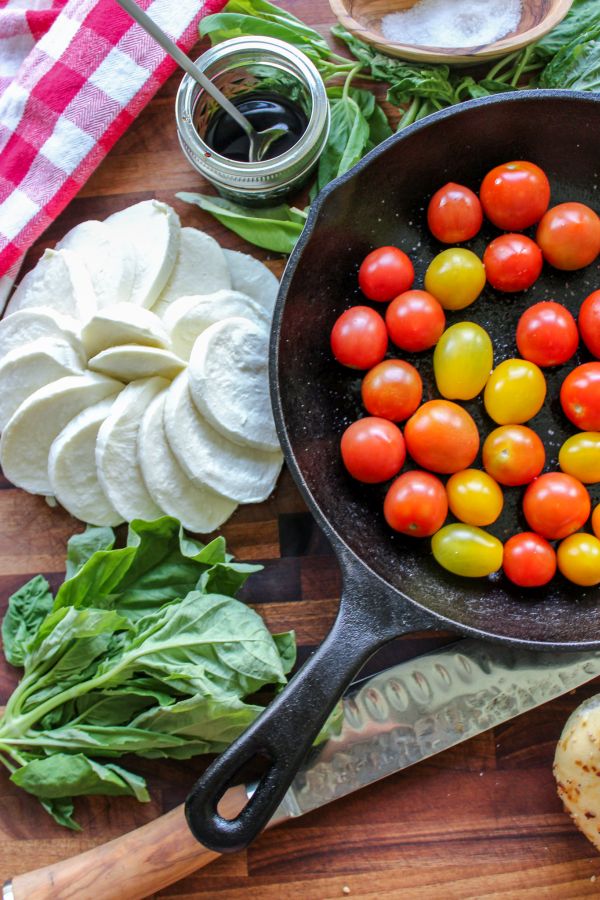 Additionally, you won't be over cooking the tomatoes to the point where there will even be a lot of acidity. So again, I wasn't too worried about it but use your best judgment at home!
With a little olive oil and medium heat on my Lynx All Trident grill, I preheated the pan and then tossed in the tomatoes to simply brown and blister slightly. I wanted to cook them just until they were bursting and breaking down to naturally macerate.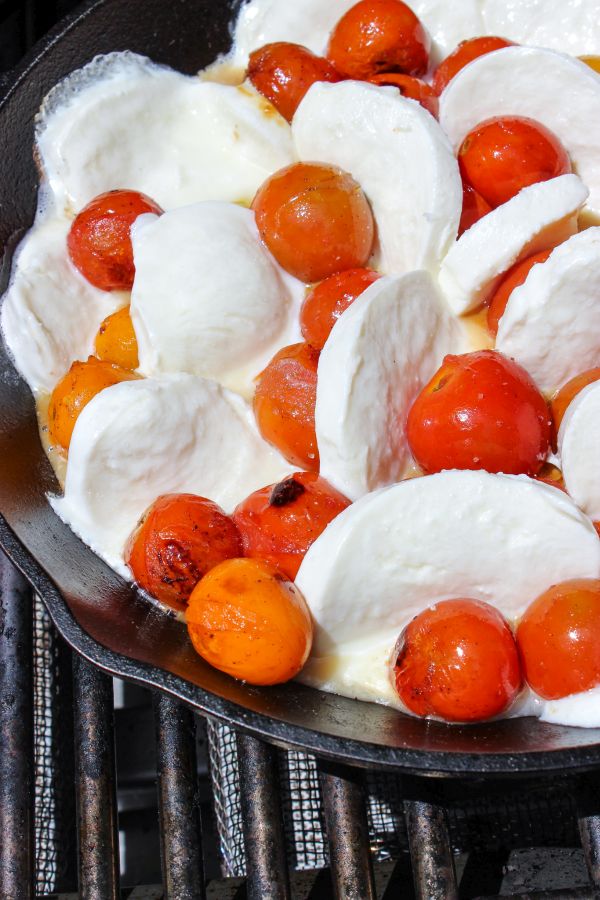 Once this occurred, I added the fresh, low moisture mozzarella slices. I continued to let it cook indirectly (so the cheese doesn't burn on the bottom) until the mozzarella was fully melted.
If you have a lot of water come off, don't panic! I carefully tipped my pan to pour out the excess liquid into a bowl to discard. Remove from the heat and set it aside to be garnished with a little salt, pepper, fresh basil, and balsamic before serving!
Low Carb Bagel Chips – 
I recently purchased some low carb breads and pastas from Great Low Carb Bread company (this is not sponsored in any way FYI). I had some of their everything bagels in my freezer and I was craving something french bread like for this dip, but wanted to keep it keto for my own diet preferences.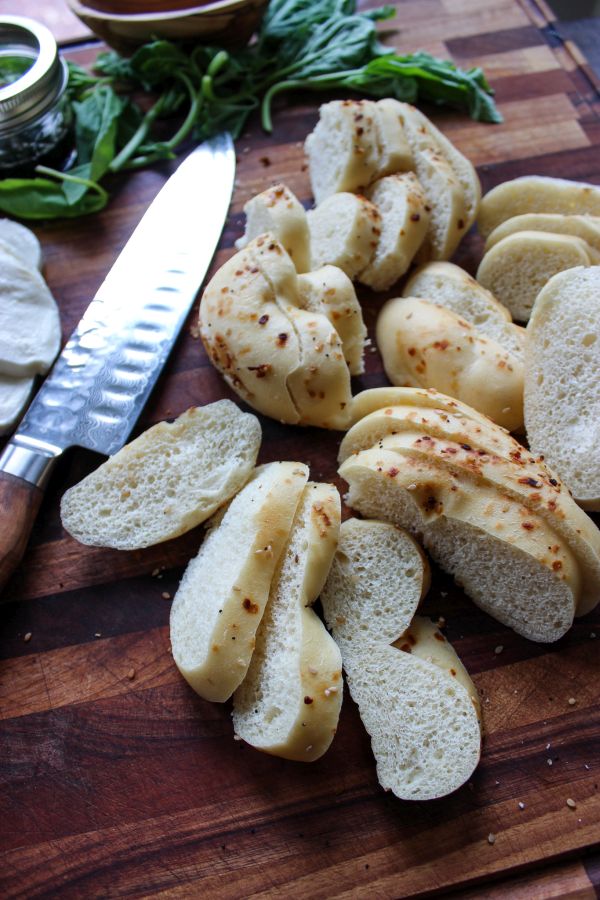 I simply cut up three bagels by slicing the bread into little crostini size pieces. I brushed both sides with a little olive oil and grilled them lightly on each side until golden brown while the tomatoes and cheese cooked.
This was a fast and easy low carb alternative, but obviously a regular bagel or sliced french bread would work well too (for you carb eaters out there).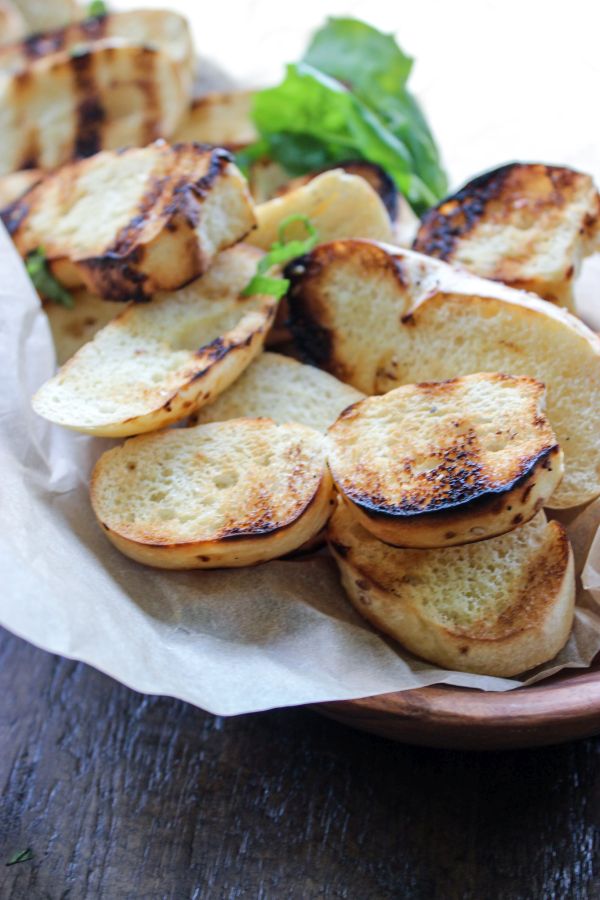 If you want other options for dipping, use my recipe for Keto Crackers, Keto Tortillas, or Low Carb Naan bread too. All are great options if you have more time and can plan ahead! Sometimes even making tortilla chips from low carb tortillas can be a quick option as well.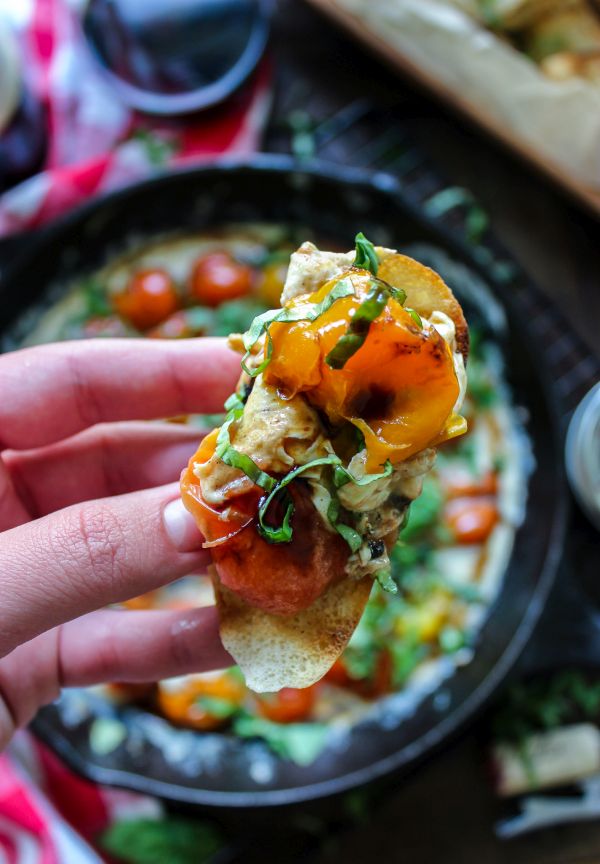 Pair this dip with some of my favorite weeknight roasted chicken and a glass of Berry & Basil Rose Sangria too. You won't be disappointed! 
Bon Appeteach,
-L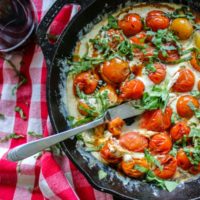 Cast Iron Caprese Dip with Low Carb Bagel Chips
"A quick and easy appetizer or side dish that's effortless, packed with flavor, and always a huge crowd pleaser."
Print
Pin
Rate
Ingredients
1

pint

Cherry Tomatoes

8

oz.

Fresh Mozzarella Slices

1

bunch Fresh Basil

Salt & Pepper

Olive Oil

Balsamic

optional
Instructions
Preheat the grill to medium heat. Allow the cast iron to preheat as well.

Add a little oil and the tomatoes to the pan and allow them to brown, blister and cook until they just begin to rupture and naturally macerate.

Move the pan to indirect heat and add the mozzarella. Allow it to cook indirectly until the cheese is completely melted. If you have a lot of excess moisture, carefully (using oven mitts) pour off the excess liquid into a bowl to be discarded.

Remove from the heat and garnish with salt, pepper, basil, and balsamic (optional).

For the bagel chips – Slice the bagel into small, 2-3" crostini rounds and brush both sides lightly with oil. Grill directly until each side is lightly golden brown. Serve with the dip!
Nutrition
Serving:
1
g
|
Calories:
51
kcal
|
Carbohydrates:
1
g
|
Protein:
4
g
|
Fat:
4
g
|
Saturated Fat:
2
g
|
Polyunsaturated Fat:
1
g
|
Cholesterol:
12
mg
|
Sodium:
122
mg
|
Fiber:
1
g
|
Sugar:
1
g