Bon Appeteach is a participant in the Amazon Services LLC Associates Program, an affiliate advertising program designed to provide a means for sites to earn advertising fees by advertising and linking to amazon.com. I only share products that I use and stand behind personally.
Easy Weeknight Roasted Chicken:
For most people, the idea of roasting a whole chicken can seem intimidating. The idea of roasting a whole chicken on a weeknight? That probably seems impossible! However, one of my favorite meal go to meals is this Easy Weeknight Roasted Chicken recipe. It takes minimal prep work, has so much flavor, feeds the whole family, and makes great leftovers. Seriously. How can you not be dying to try this out! Follow the tips and tricks below or find the recipe for this Easy Weeknight Roasted Chicken at the bottom of the page. 
"School" Supplies:
Here is what you need for this recipe:
-Large cutting board
-Chef's Knife (sharp) or Kitchen Shears (I prefer this when butterflying the chicken)
– 13×9″ Pan or Container
-Baking Sheet or Roasting Pan
– Parchment Paper
-Meat Thermometer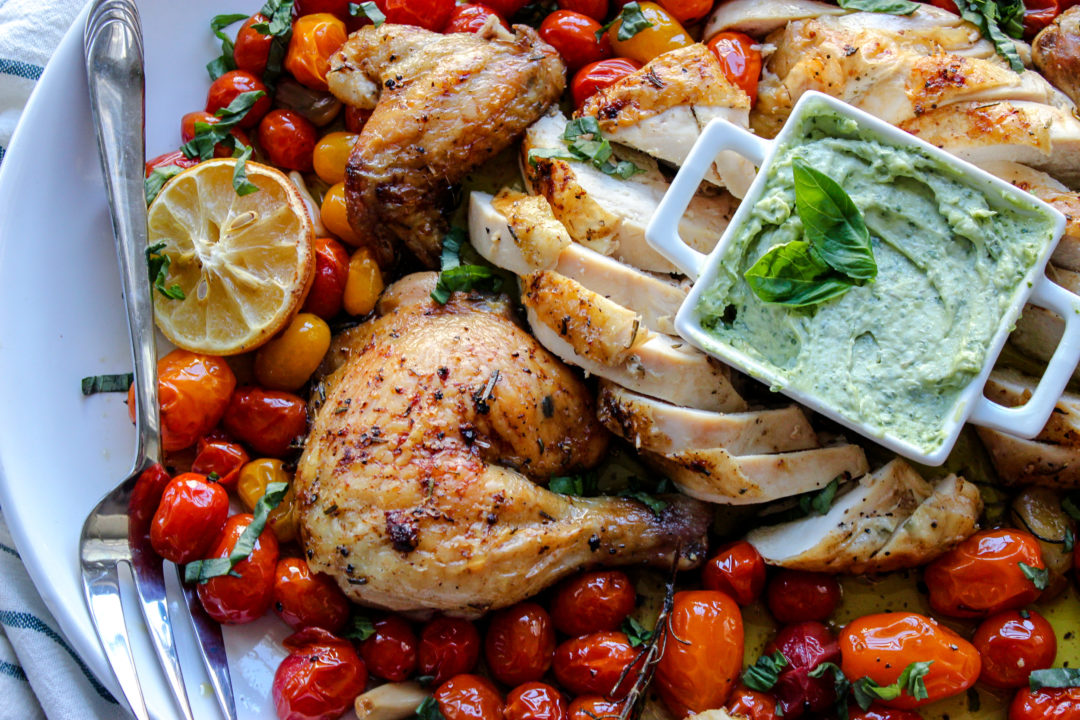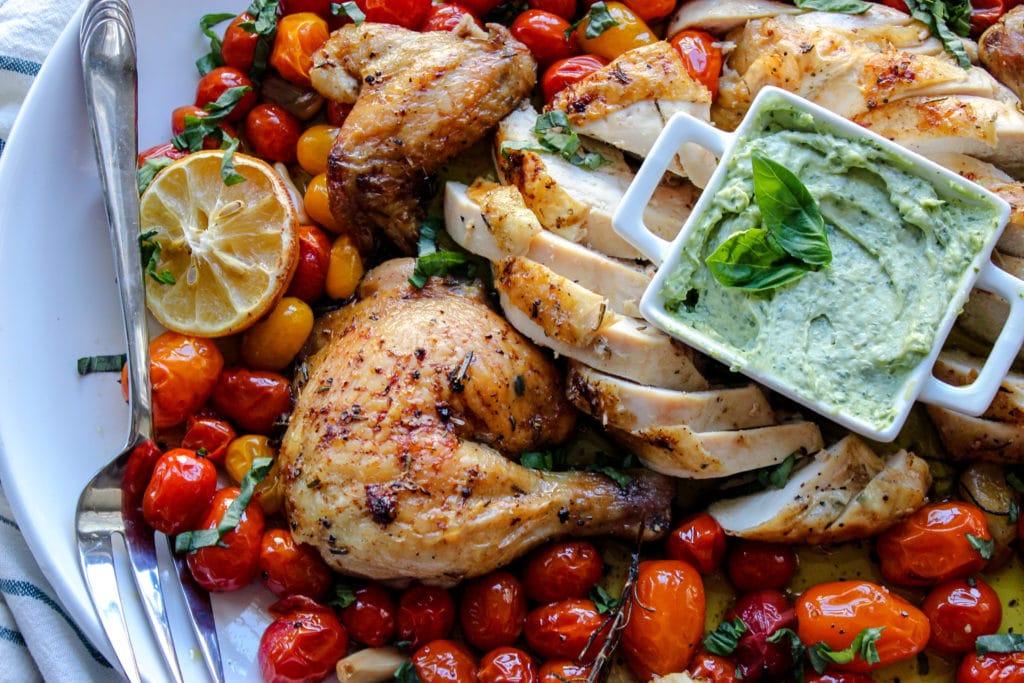 "Class" Notes:
Spatchcock/ Butterflying The Chicken:
What makes this chicken recipe so easy for the weeknight is that it takes way less time to bake if you butterfly or "spatchcock" the chicken first (it's also the trick to having crispier skin). The process is super simple. Place the chicken down so the back side is up. I prefer to use a good kitchen shear and cut off and remove the spine. Then with a knife you can remove the breast bone or the wishbone. Lay it completely flat, skin side up and wipe it dry with a paper towel.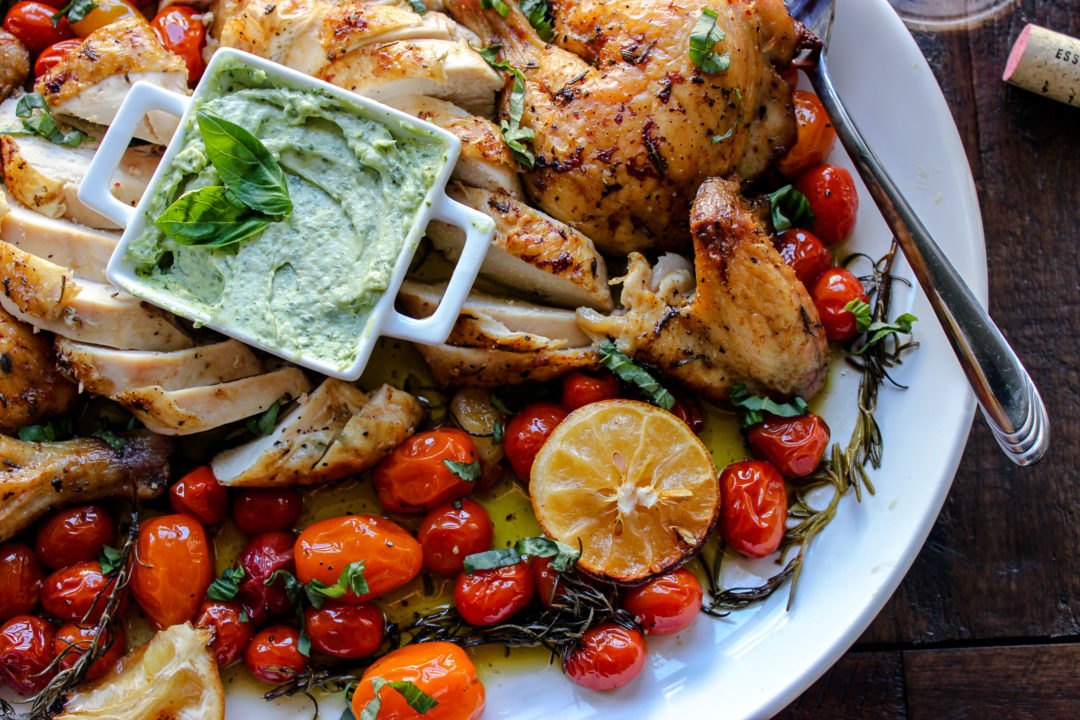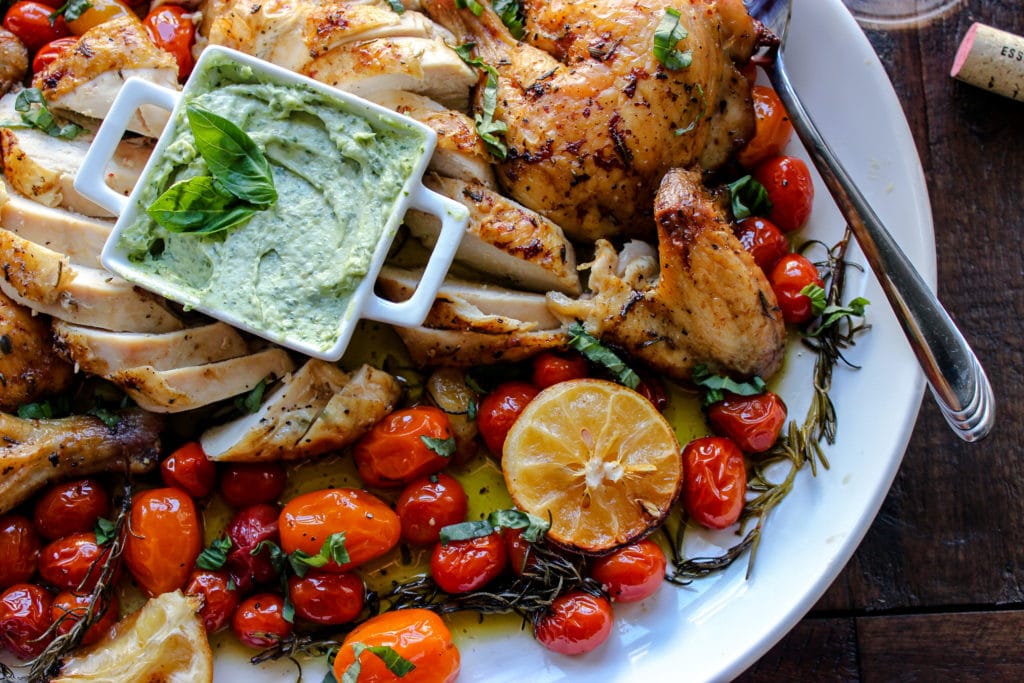 Seasonings & Marinades:
To keep it really simple I recommend using your basic sea salt and fresh ground pepper. Marinade in a high quality olive oil and add in some fresh herbs like rosemary or thyme. I like to rub and coat the chicken thoroughly and allow it to rest. Place it in a container and allow it  Prep the night before or the morning of (before work…takes 10-15 minutes tops) and then your chicken will be ready to bake when you need it!
If you want to try another flavor packed version of this chicken then check out my Whole Roasted Chicken Shawarma recipe too!
Baking To Perfection:
A perfect roasted chicken is one that is juicy on the inside and crispy and golden brown on the outside. Achieve this by cooking at a higher temperature. Try and stick to a smaller high quality chicken to achieve this (I won't buy a chicken that is over 4 lbs otherwise this will greatly increase the baking time and can lead to an overcooked outside). I love baking my chicken on this cast iron pizza pan. The size is perfect and when covered in parchment paper it makes clean up a breeze! Baking times may differ (mine usually take 45-70 minutes or so). You want to make sure your chicken reaches and internal temperature of 165 degrees. Serve with your favorite side of veggies or this amazing Homemade Basil Aioli dipping sauce!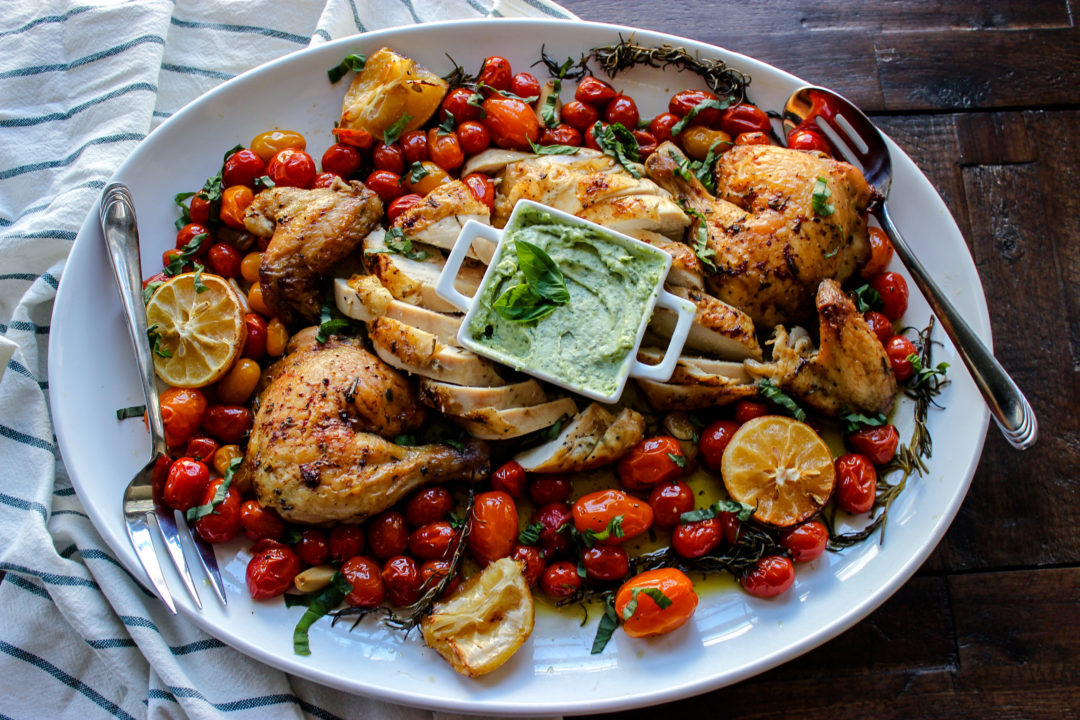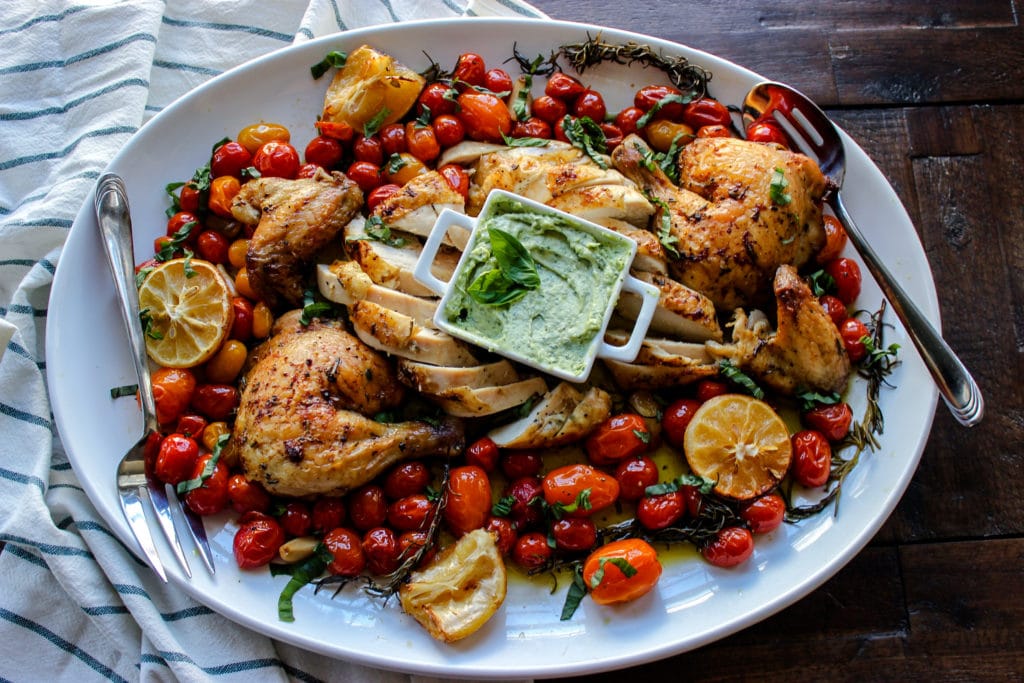 I hope you absolutely love this Easy Weeknight Roasted Chicken recipe. It's a great crowd please and is great to impress a crowd (or ever just yourself). I would love to see how your chicken comes out! Share a picture with me via Instagram and tag me @bonappeteach!
Bon Appeteach,
-L
Ingredients
1, 3-4lb Whole Chicken

Olive Oil

Sea Salt

Black Pepper

Optional: Fresh Rosemary or Thyme
Instructions
1
Begin by butterflying your chicken. Use a pair of high quality kitchen shears to remove the back bone of the chicken. Use your hands or a knife to crack or cut out the wish bone to help open the chicken up.
2
Place the chicken in a wide container skin side up (9x13" baking pans work well) and then pat the chicken dry with a paper towel.
3
Coat the chicken in sea salt and black pepper. Add the olive oil and rub the oil and seasonings into the chicken so it is completely coated.
4
Sprinkle with chopped rosemary or fresh thyme.
5
Cover and refrigerate for a minimum of 4 hours (you can prep this the night before or the morning of).
6
Preheat the oven to 425 degrees F. Prepare your pan by covering it with parchment paper.
7
Place the chicken skin side up onto the pan. Bake the chicken with the rack in the middle of the oven for 45 minutes.
8
Check the temperature by placing the thermometer in the thickest part of the chicken (usually the breast). the temperature should reach a minimum of 165 degrees.
9
Bake for additional time as needed until it reaches the correct temperature.
10
Remove the chicken from the oven and let it rest for 10-15 minutes. This help the juices rest and not run all over when you go to cut it into pieces.
11
Slice the chicken into 6-8 pieces. I like to remove the wings, the drumsticks, the thighs and the the breasts. Slice the breast meat into thicker pieces so everyone can eat different parts of the white and dark meat.
Notes
Use a smaller chicken to achieve a well cooked bird! This way it cooks evenly on the outside and the inside!