Low Carb Mojo Roasted Chicken
A bright, refreshing mojo marinade that's perfect for roasting a whole chicken. Try this lower carb variation and wow your friends and family with this show stopping dish!
If you haven't ever made a spatchcock roasted chicken yet, you need to. Spatchcock (aka butterflying) chicken is honestly a really simple way to prepare an incredibly beautiful and show stopping, delicious meal. It's so easy that I even made this dish on a Monday night (ad we all know how crazy Monday's can be).
All you need to do is give yourself 15 minutes of prep work in the morning, assemble the marinade, and come home from a long day of work and pop it in the oven or toss it on the grill. Need the perfect Cuban side? Try these Low Carb Cuban Style Black Beans too! Yes, this meal is truly that simple.
Find out all you need to know in order to make this lower carb inspired  Mojo chicken recipe by reading through the tips and tricks below. The full recipe is at the bottom of the page.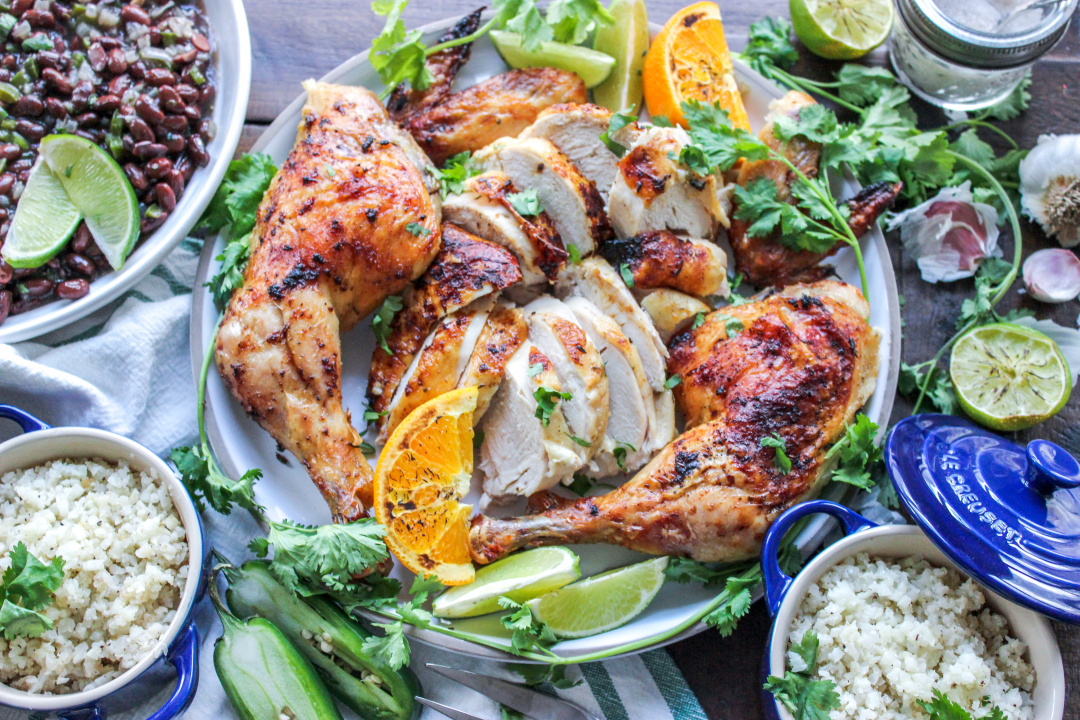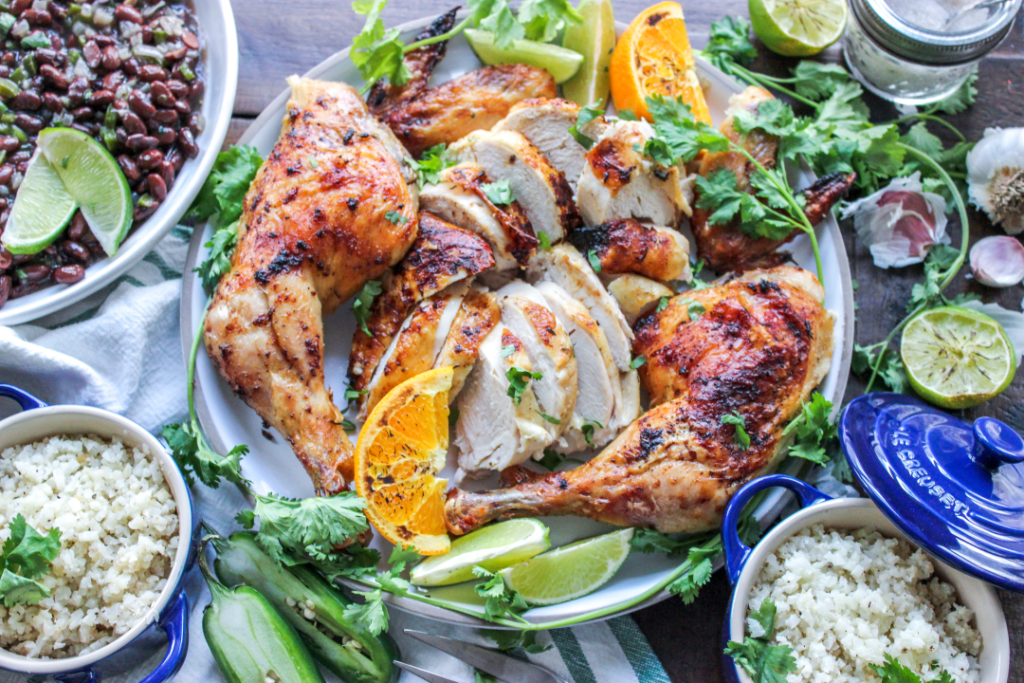 "School" Supplies:
Blender
Cutting Board
Kitchen Shears
Chef's Knife
9×13″ Pan
Baking Sheet
"Class" Notes:
Low Carb Mojo Marinade-
I spent three years living in Miami, FL and I have a huge appreciation and love for Mojo. A traditional Mojo marinade is a blend of citrus juice (lime and oranges), garlic, and spices like cumin and oregano.
To keep this lower in carbs I swapped out the traditional fresh orange juice for lemon instead. But honestly, the marinade helps infuse the chicken with flavor, so the amount of carbs are minimal at best. If you want fresh orange juice, go for it!
I blended olive oil, fresh lemon and lime juice, several pieces of fresh garlic, fresh thyme and oregano, cumin, salt, and pepper together in the blender. You want to mix it just util it combines and slightly emulsifies. Set the marinade aside to prep the chicken.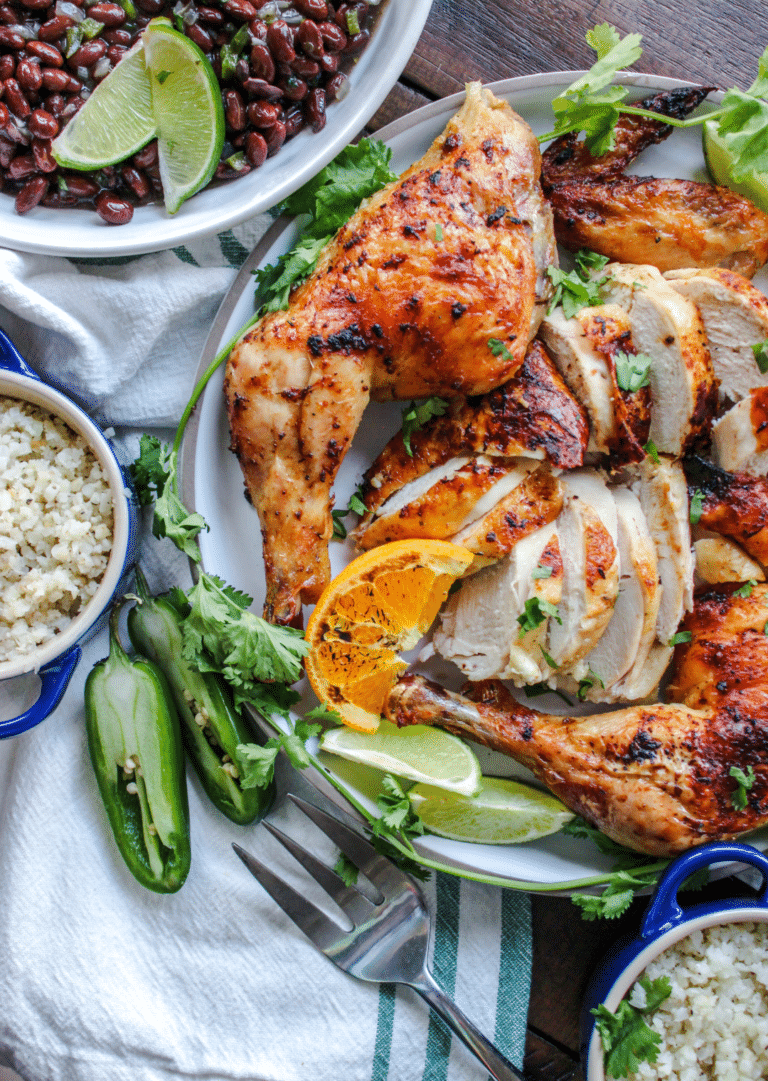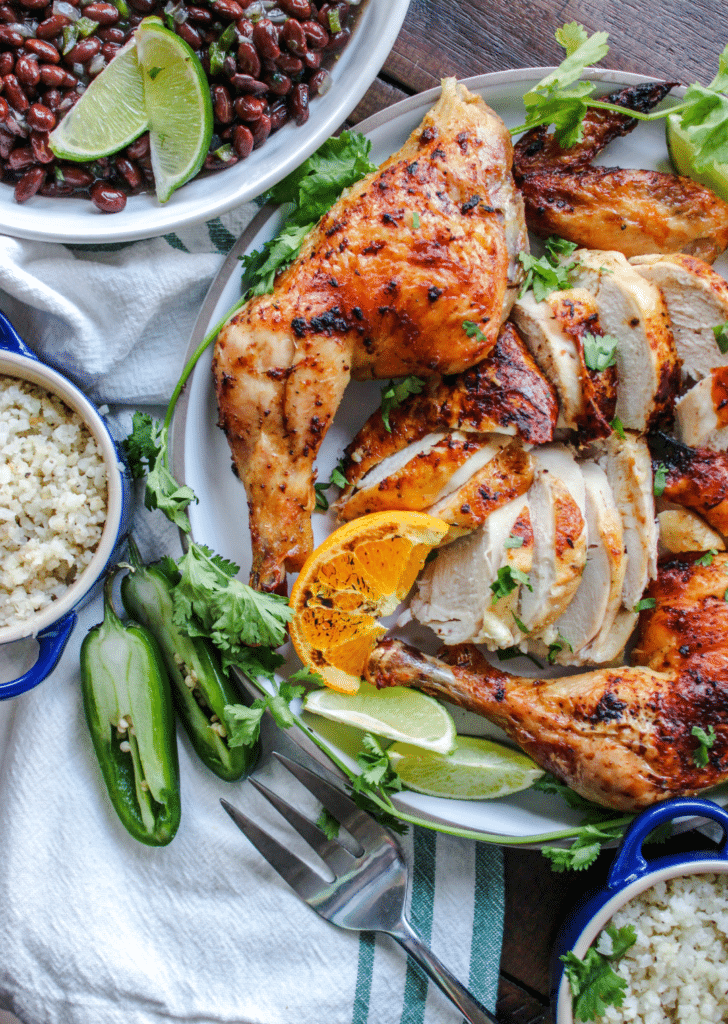 Spatchcock Chicken-
Cooking a whole chicken (even on a weeknight), really can be simple. I prefer butterflying or spatchococking the chicken to help it roast or grill faster. Working with a smaller bird is also key (less than 4 lbs. is preferred).
To prep the chicken for the marinade, place it backbone side up. Use a strong pair of kitchen shears to cut through the chicken and up along either side of the back bone to remove it. I also use the shears to trim off the tail, any extra neck skin, and remove any organ meat still inside (the kidneys are usually still intact).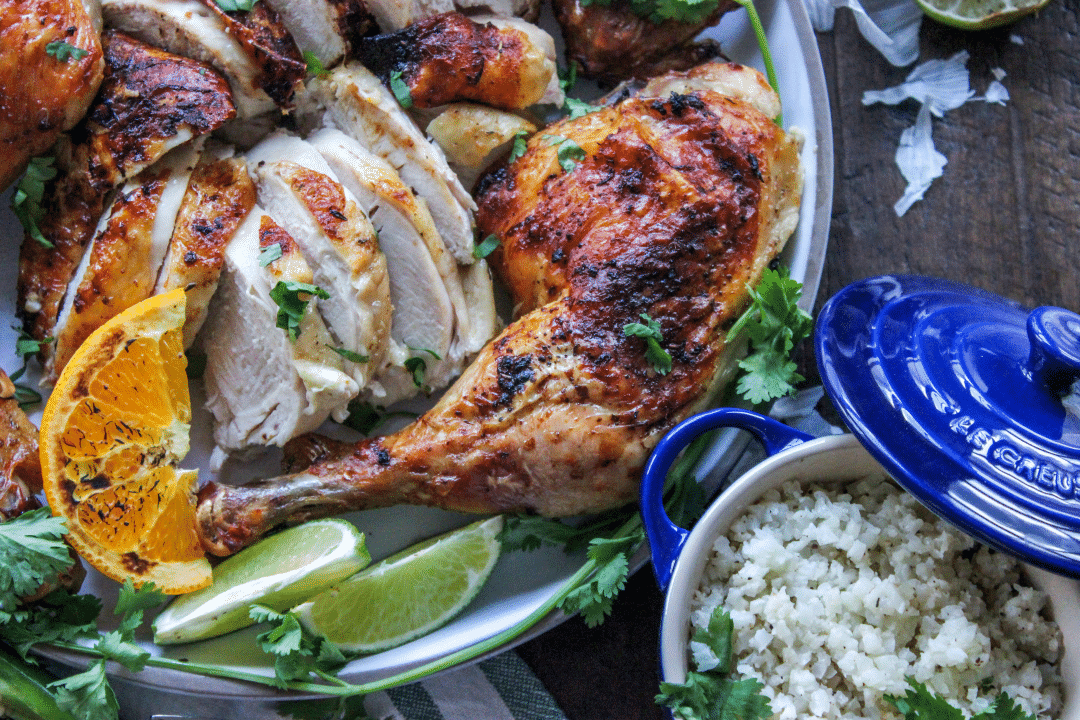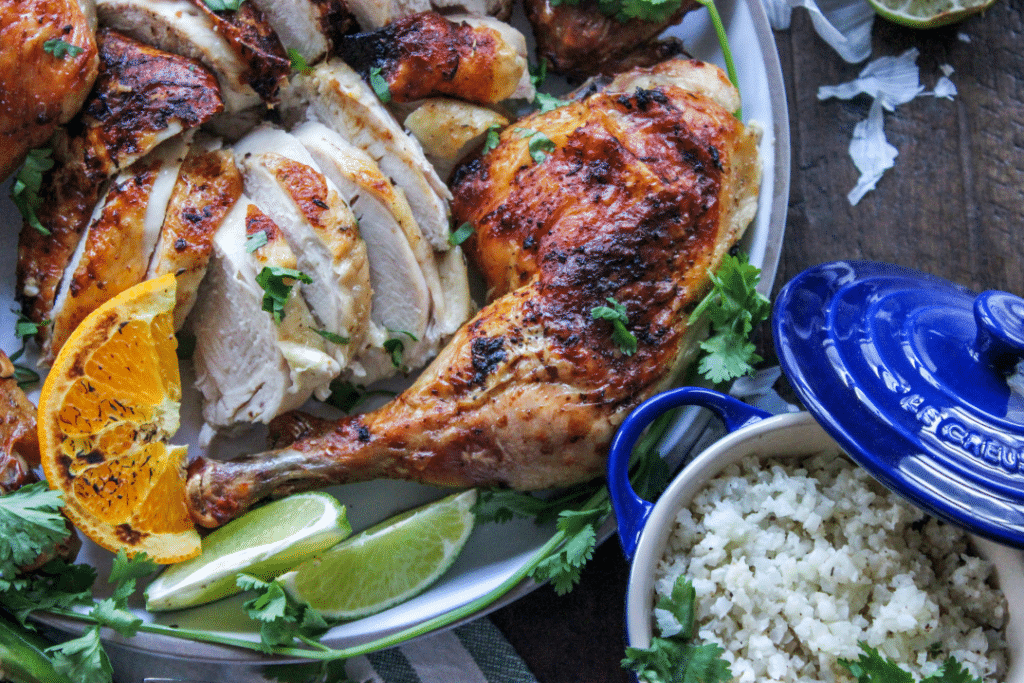 Before adding the marinade to your chicken, use paper towels to thoroughly pat it dry. This helps ensure a crispy skin! I place my spatchocked chicken int oa 9×13″ pan and pour the marinade mixture all over the top and underneath the chicken. Wrap it tightly in plastic wrap and let it marinade for at least 3-4 hours.
I like to let it rest in the fridge all day while I work, come home, and then pop it in the oven. Roast the chicken at 425 F for about an hour or so. The internal temperature should reach 165F. Let it rest briefly to help retain it's juices before slicing. Serve hot with a side of low carb cauliflower rice and those oh-so-heavenly Low Carb Cuban Style Black Beans or serve them up with some easy to make Keto Corn Tortillas too!
Bon Appeteach,
-L
Yield: 4 Servings
Low Carb Mojo Roasted Chicken
A bright, refreshing mojo marinade that's perfect for roasting a whole chicken. Try this lower carb variation and wow your friends and family with this show stopping dish!
Cook Time
1 hour
30 minutes
Total Time
3 hours
40 minutes
Ingredients
1, 4 lb. Whole Chicken (keep it 4 lb and under for easier baking time and crispy skin)
3-4 tbsp. Olive or Avocado Oil
1 Lemon, juiced
2 Limes, juiced
1 tbsp. Orange Zest (Optional but adds flavor)
2-3 Garlic Cloves
1 tsp. Fresh Oregano
1 tsp Fresh Thyme
1 tsp Cumin
Sea Salt & Cracked Black Pepper
Instructions
To spatchcock (or butterfly the chicken), place it so the backbone is front side up. Use good quality kitchen shears and cut on either side of the back bone to remove it. Remove any organ meat still remaining (sometimes the kidneys are still intact). Trim off any excess neck skin, the tail skin etc. Flip the chicken back over so the front is facing up. To crack the rib cage so the chicken lays flat, place your hands over the front and press down with your body weight. This helps the bird lay entirely flat. Pat it dry with paper towels to remove any moisture. Place it in a large container of 9x13" pan face up, laying flat.
In a blender, combine the marinade ingredients and pulse a few times. Once combined, pour over the chicken and make sure the top and bottom has been coated. Cover with plastic wrap and store in the fridge for at least 2 hours (or more) before roasting.
Preheat your oven to 425 F. Prepare a baking pan and cover with foil or parchment (for easy clean up). Place the chicken on the pan and bake for approximately 60-90 minutes or so (this will vary based on how large the bird is). The chicken should reach an internal temperature of 165 F in the thickest part of the thigh.
Let the chicken rest 10-15 minutes before slicing so the juices settle. Slice into pieces and serve.
Notes
Nutritional Information: Obtained using My Fitness Pal. I am not nor do I claim to be a nutritionist, so it is important to always verify the nutritional information as brands vary. I work hard to always provide the most accurate information as possible in hopes of making this easier for you, my readers!
Nutrition Information:
Yield:
4
Serving Size:
1
Amount Per Serving:
Calories:

500
Total Fat:

32gg
Saturated Fat:

9gg
Cholesterol:

200mgmg
Sodium:

161mgmg
Carbohydrates:

2gg
Fiber:

0gg
Sugar:

0gg
Protein:

42gg