How To Grill Crispy Chicken Wings (Keto & Gluten Free)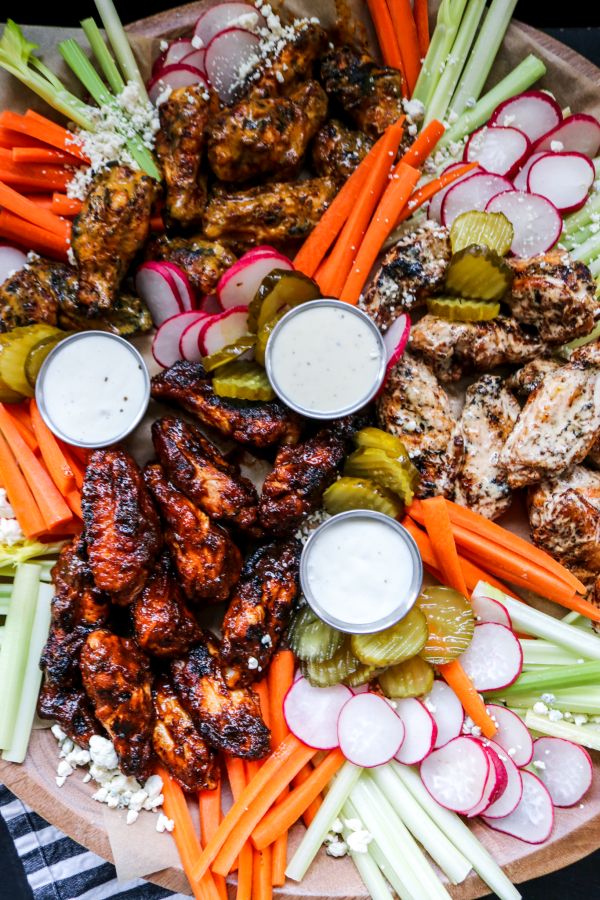 Homemade grilled wings are one of my favorite ways to prepare this classic game day dish! Whether you're cooking for a crowd, eating a low carb or keto diet, and want to keep your budget in mind, this guide to making the perfect grilled homemade keto wings will not disappoint!
This post was written in partnership with Lynx Grills. Thanks for supporting the brands that help make content like this possible!
Grilled chicken wings are on of my favorite "not-so-guilty" pleasures that I find to not only be incredibly delicious, but a super popular meal or appetizer to whip up anytime of the year (these are so much more than a game day treat).
Chicken of any kind is so versatile and the grill gives it so much flavor. If you haven't checked out my guide with 7 tips to grilling the best chicken, then read this first to get a better general idea of successful methods for grilling poultry.
What is the most fun about cooking up some wings? Finding all the unique flavors and sauces to pair with them in a fun and healthy way. Use the information below to help guide you through making your own DIY grilled chicken wing platter.
If you want specific flavored wings also check out my favorite Butter Chicken Hot Wings and my Thai Curry Wings too. Let's dive it!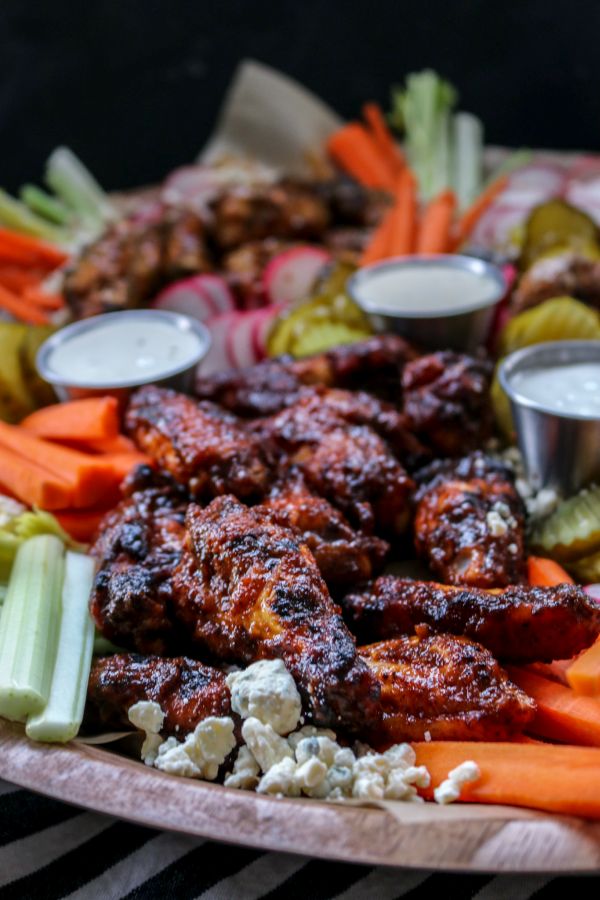 Get the full break down below for recreating this epic DIY keto chicken wing platter at home! Read through for all the helpful tips and tricks, tools, and check out the video tutorial as well!
"School" Supplies:
Baking Sheet
Cooling Rack
Foil or Parchment Paper
Tongs
Mixing Bowls (for sauces and dry rub etc.)
"Class" Notes:
Let's tackle this topic head on! Below you will find a breakdown of commonly asked questions in regards to making crispy grilled chicken wings and find a step by step guide in both the photos in this post and the helpful video too!
How do you get chicken skin crispy on the grill?
I've mentioned this a handful of times, specifically on this post about crispy grilled chicken quarters. But, there are a few tips and tricks to getting the skin super crispy using just your grill! That's right, keto friendly wings, sans the soggy skin, that doesn't require deep frying or even an air fryer.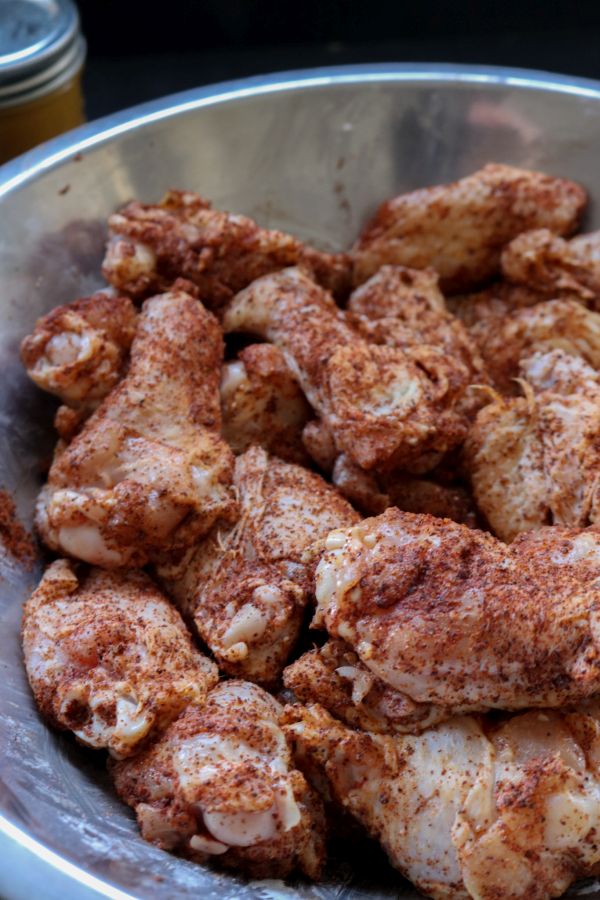 Your biggest culprits to soggy skin are excess moisture and fat.
This is because anytime you have water or natural juices present on meat, you often end up steaming it as opposed to browning it, or allowing for what's called a Maillard reaction.
Maillard reaction is a chemical reaction that occurs (not just with chicken but any meat) when the natural proteins (also known as amino acids) and sugars within the meat. This process is not only important to getting crispy skin, but essentially what also helps develop flavor too!
How can you create a stronger Maillard reaction? By soaking up that moisture with a little help! I like using baking powder (lower carb) but cornstarch is a common method as well. Sprinkle this in your dry rub and let the wings rest for around 1-2 hours minimum to allow it to do its job and dry out the skin!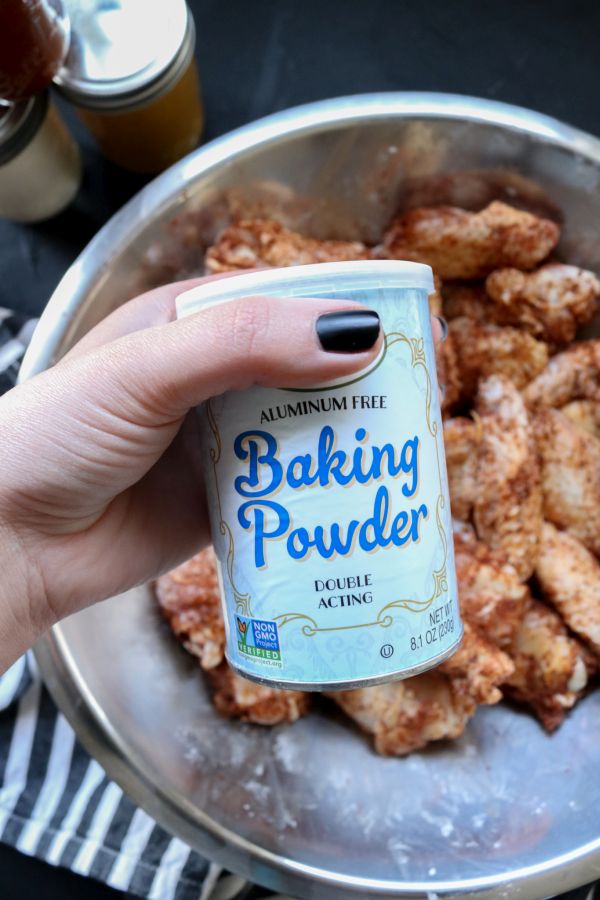 Besides removing any moisture from the skin, you need to also reduce the fat. Chicken skin is naturally fatty and requires some rendering (just like bacon does) to get crispy. You can do this slowly using a reverse sear method of grilling (like what I did) or by directly grilling the wings over the grates (just a little messier).
How long does it take to grill chicken wings?
Whether you're reverse searing your wings or not, you want to shoot for temperature more than time. Though, it is good to note that it could take roughly 20 to 30 minutes to cook (especially if you're looking to melt that chicken fat away like I mentioned above).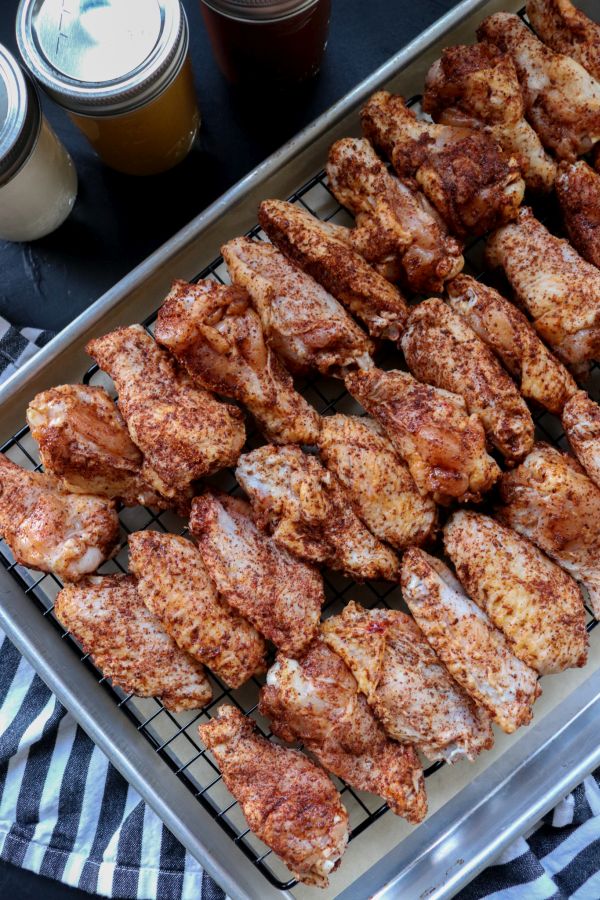 What temperature should grilled chicken wings be cooked at?
Shoot for medium heat for both methods, ideally a grill set to 450 F works best. I like to set my gas grill up for reverse sear style cook. This means that I am only partially heating one side of my grill and leaving the other side cool.
How do you reverse sear chicken wings?
For reverse seared wings (this can be done on gas or charcoal grills), place the wings on an elevated rack and keep them on the cool side of the grill. I like my wings to reach an internal temperature of about 155-160 F. Poultry is considered safe at 165 F but I prefer to actually cook the wings to a higher temperature of 185-190 F. This makes the connective tissues tender and that skin crispy.
Once they reach this temperature, move them to direct heat to finish them off with a signature sear and slight char. This helps add the flavor, color, and final texture you would desire in a homemade buffalo wing!
How do I direct sear grilled wings?
If you opt to go straight for a direct sear, then set the grill for 425 F – 450 F. I prefer to work in a few batches so that it's easier to manage rotating the wings. I prefer to rotate often until they reach an internal temperature of 185-190 F.
If you find the skin is getting too dark but they aren't yet to a food safe temperature, move them to the cooler side of the grill and let them finish reaching an internal temperature this way!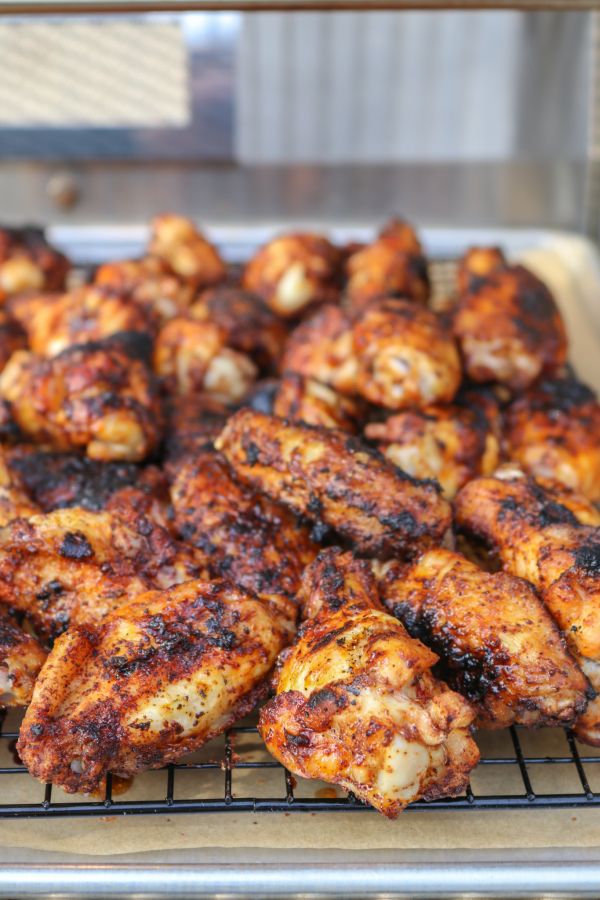 What's the best way to sauce grilled wings?
Personally? I prefer to keep the wing skin as crispy as possible and prefer to leave the wings dry, especially if they are going to sit out as an appetizer. This also allows for your guests to dip it in their choice of Keto Kansas City BBQ sauce, Keto Carolina Mustard Sauce, or in Keto Alabama White Sauce.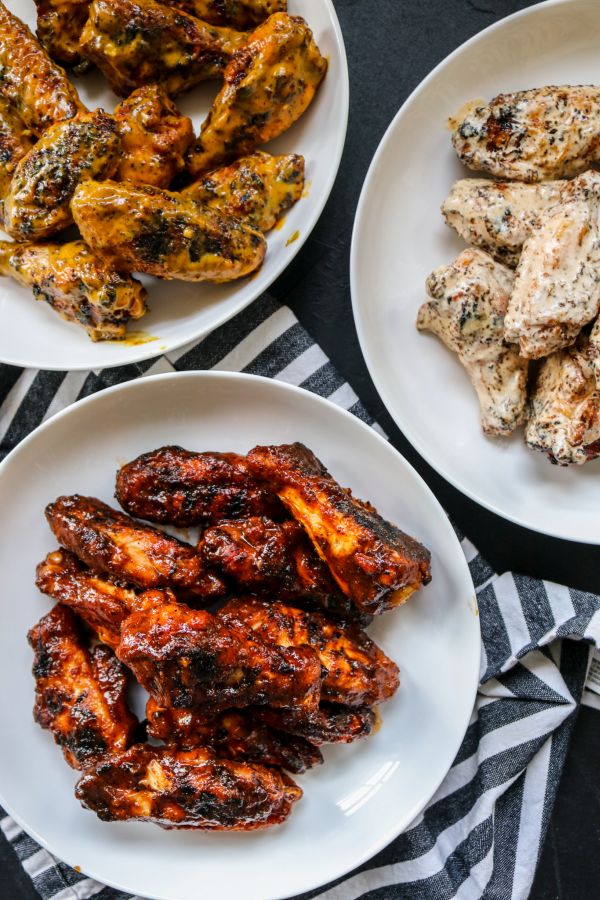 If you prefer to sauce them on the grill, place them back on the reverse side and glaze them. Let the glaze set for 5-10 minutes and then sauce them again before serving!
Serve your wings platter style with dressings, carrots, celery, and sliced radish chips or pickles (pictured).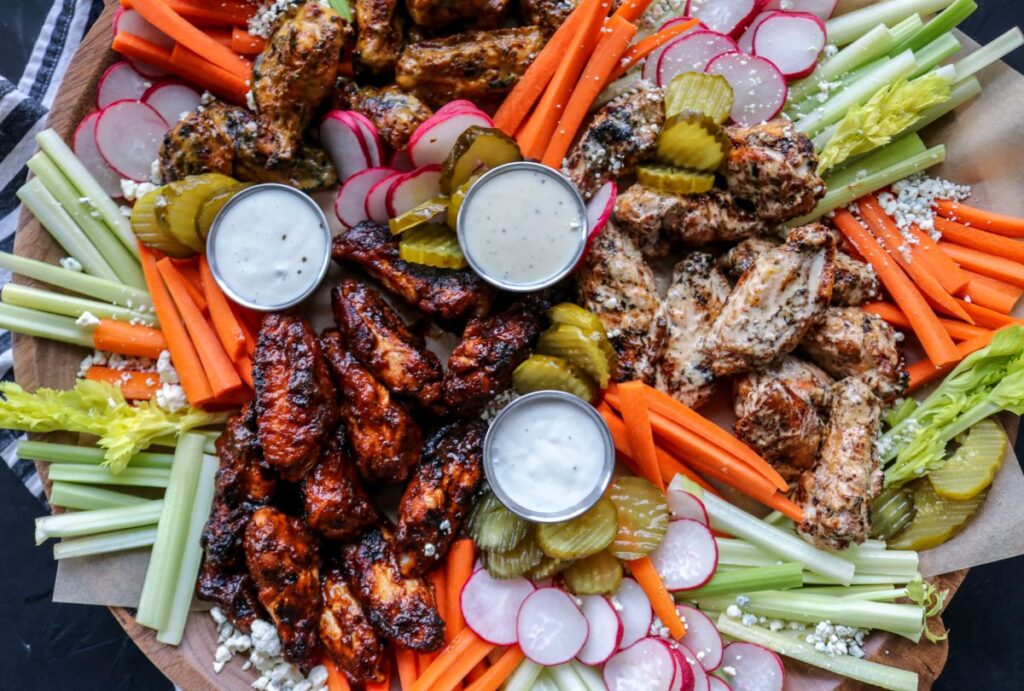 If you like a good chicken recipe, be sure to also check out:
Low Carb Nashville Hot Chicken Sliders
Keto Chicken Fried Steak Nuggets with Gravy
Easy Weeknight Roasted Chicken
Bon Appeteach,
-L
Yield: 6
Reuben Swiss Cheese Cups (Keto/ Low Carb)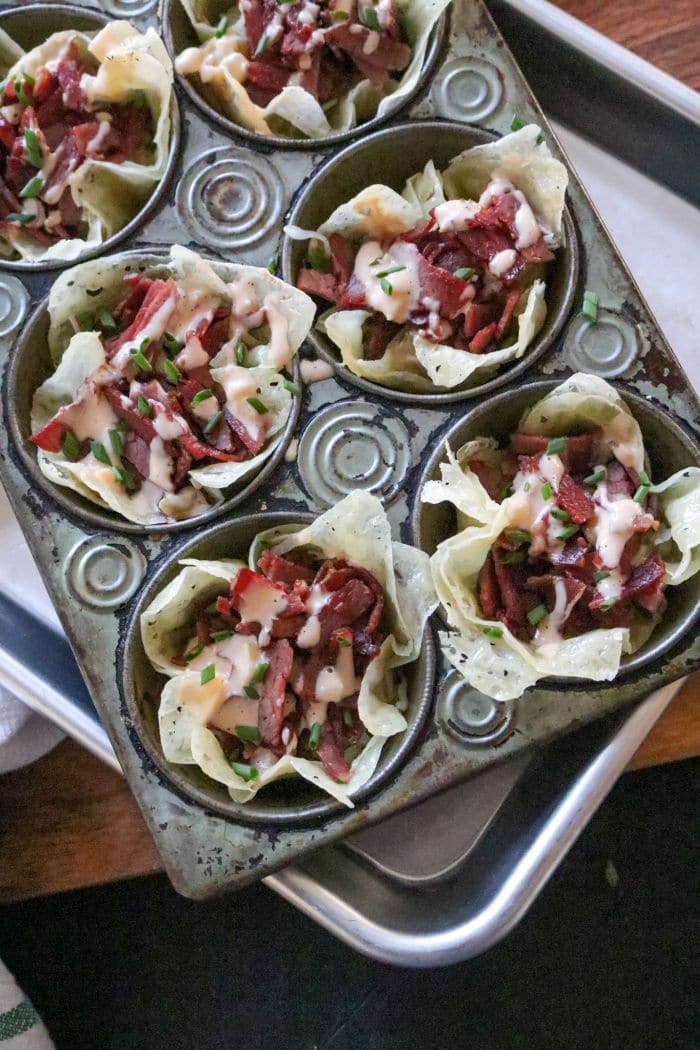 Looking for the best Reuben appetizer recipe to share for St. Patrick's day celebrations and more? These idyllic keto friendly Reuben muffin cups are an easy and delicious way to enjoy your favorite sandwich but with fewer net carbs.
Additional Time
15 minutes
Ingredients
12 Slices, Swiss Cheese
1/3 LB Sliced Corned Beef
3/4 cup Sauerkraut, Rinsed and Drained
1/2 cup Mayo
2 tbsp Sugar Free Ketchup
2 tbsp Pickle Juice
1 tbsp Diced Pickles
1 tbsp Minced Onion
Salt & Pepper (to taste)
Instructions
1. In a bowl, combine the mayo, ketchup, pickle juice, diced pickles, and minced onion. Mix well and taste test to see if it needs more salt and some pepper. Set aside and let the flavors marinade.
2. Preheat the oven to 375 F. Prep a baking sheet (or two) with parchment paper. Lay 6 slices of Swiss spaced out on each sheet and set aside. Do not bake yet!
3. Sliced the corned beef into small pieces and saute until crispy. Remove from the pan and set aside. Cook the sauerkraut to warm it through in the same pan and to reduce any leftover liquid. Remove and set aside.
4. Grease the bottom of a muffin tin. Bake the cheese slices for 6-7 minutes until the middle is very bubbly and the edges lightly brown. Remove from the oven and let them cool for just 1-2 minutes. Letting them cool to long results in it not taking shape!
5. Use a spatula to place one slice over the bottom of a muffin cup, overlap with a second slice. Repeat until you have made 6 cups. Use your hands to mold it over the cup or place another muffin tip over the top to help the shapes form. Let them cool.
6. Once cooled, fill your cups with 1-2 tbsp. of sauerkraut, a little dressing, a few more tablespoons of the cooked corned beef, and then drizzle with a little more dressing. I garnished with some chives.
7. Serve warm at room temperature. You can pop them off the bottom of the cups and place them on the inside of the muffin tin for easier filling/ shaping once they begin to set. Rewarm (in the muffin tin) in the oven on low heat as well if needed before serving.
Notes
Store the dressing for up to a week and use for your favorite salads too!
Nutrition Information:
Yield:
6
Serving Size:
1
Amount Per Serving:
Calories:

287
Total Fat:

22g
Saturated Fat:

12g
Trans Fat:

1g
Unsaturated Fat:

8g
Cholesterol:

77mg
Sodium:

504mg
Carbohydrates:

3g
Net Carbohydrates:

2g
Fiber:

1g
Sugar:

0g
Protein:

20g