"Have your steak and get your nuggets too! This classic comfort food staple is keto, gluten free, and extra crispy and delicious!"
Keto Chicken Fried Steak Nuggets with Gravy:
The foodie in me has always been drawn to the classic comforts of down home Southern cooking. I wanted to take a lower carb approach to the classic Chicken Fried Steak. This recipe is fairly easy to make, can be made as both a main dish (full sized steak), or into the mini bite sized nuggets pictured (because who doesn't love a good keto nugget).
Dip it in the simple pepper gravy (keto and GF friendly) and pair it with my Apple Cider Whiskey Smash or a Prosecco Mint Julep for the perfect meal or appetizer! Full recipe and a few tips and tricks are below.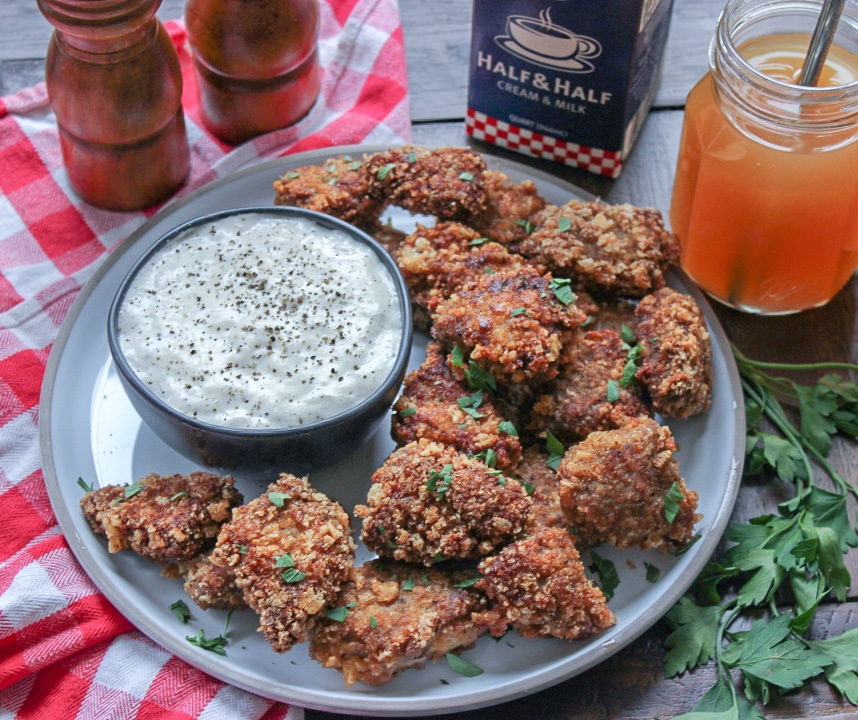 "School" Supplies:
Knife & Cutting Board
2 Bowls
Baking sheet
Frying Pan
Tongs
"Class" Notes:
Chicken Fried Steak is typically made with cube steak. Cube steak is tenderized from round steak (if you cannot find cube steak at your local grocery store purchase the round steak and tenderize it yourself). Cut the steak into 2×2″ pieces, as equal in size as possible. I like to season both the steak itself and the outer coating as well.
For the outside breading, I wanted to achieve the crispiest crust possible, therefore I opted for crushed pork rinds. What's more Southern than Keto Chicken Fried Steak Nuggets with Gravy coated in pork rinds??? If pork rinds aren't your thing, use regular bread crumbs or almond flour (if looking for a different low carb/gluten free option).
Pat the steak dry (helps the coating stick better), dip in egg wash, pork rinds, and set aside. Do a quick shallow pan fry for each nugget. Be sure not to crowd the pan and cook in batches. Set the nuggets aside to make the gravy.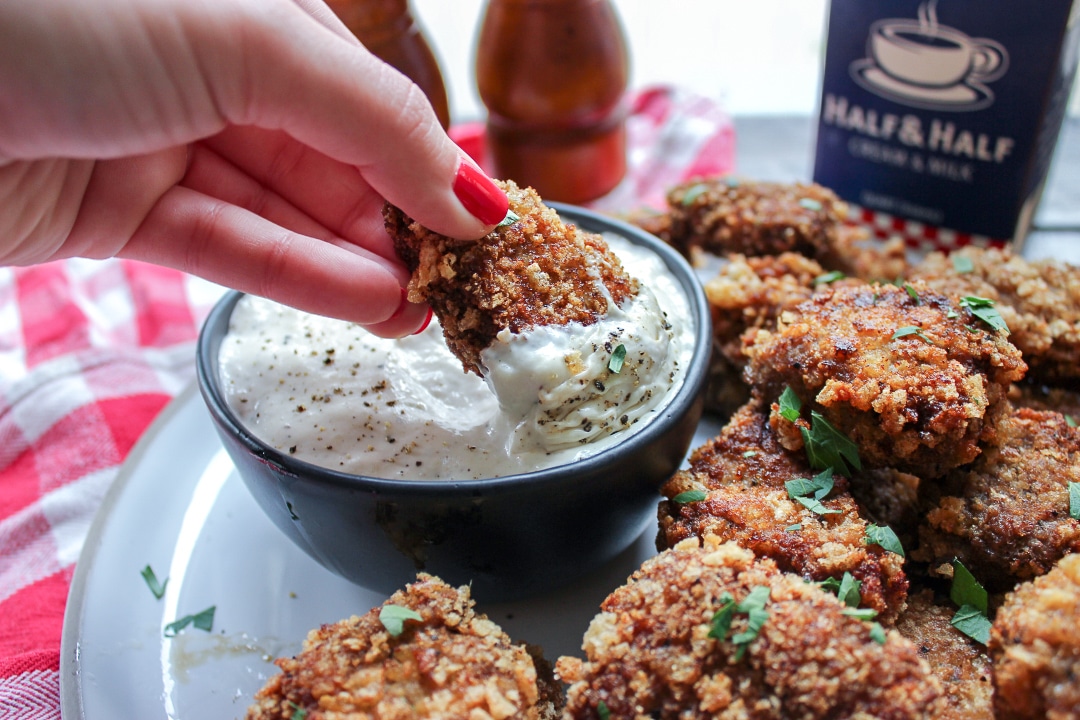 The pepper gravy makes a great topping or dipping sauce. To keep this lower carb, I have opted to use a mixture of butter, xanthan gum (aka keto cornstarch), and half and half. Season simply with pepper and salt. Let it cook on medium low till bubbling slightly and thickened (this happens fairly quickly).
Serve the nuggets on a plate or platter with the pepper gravy on the side. Pair these Keto Chicken Fried Steak Nuggets with Gravy with this week's Bon Appeteach "Book Club" cocktail, the Apple Cider Whiskey Smash. Enjoy! Looking for other keto or low carb southern style dishes? Check out my popular Keto Corn Muffins, Cauliflower Bacon Mac and Cheese, or my favorite Keto Chicken & Waffles as well.
Bon Appeteach,
-L
Yield: 24 Nuggets
Keto Chicken Fried Steak Nuggets with Gravy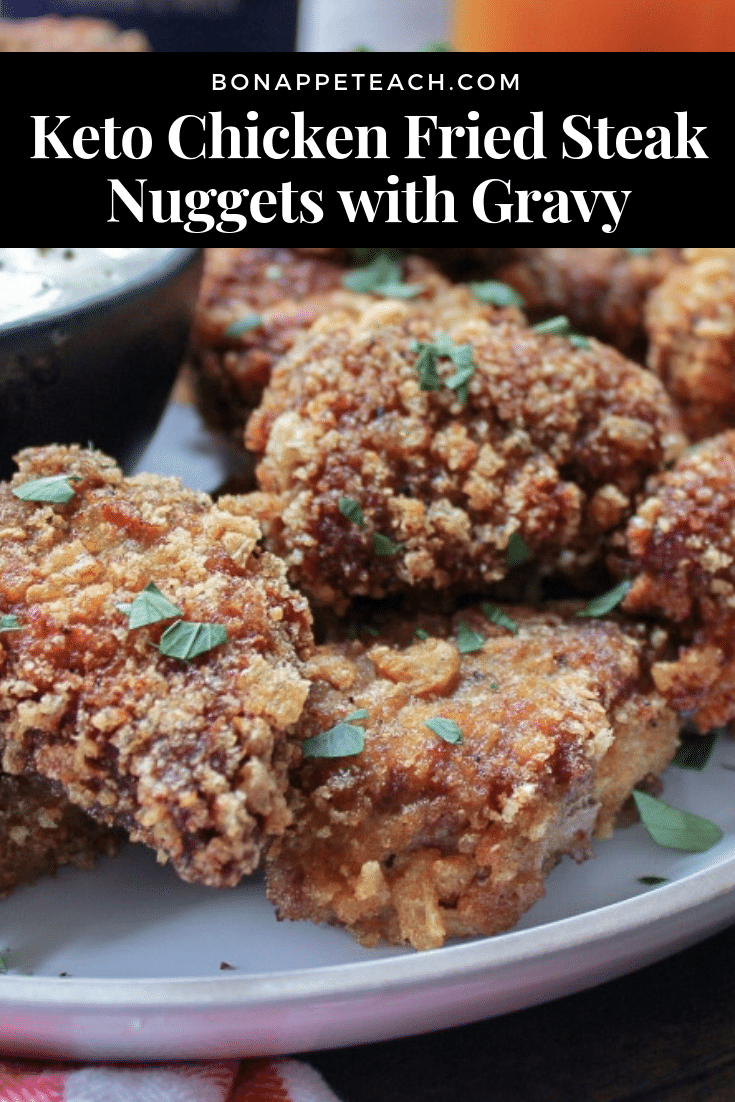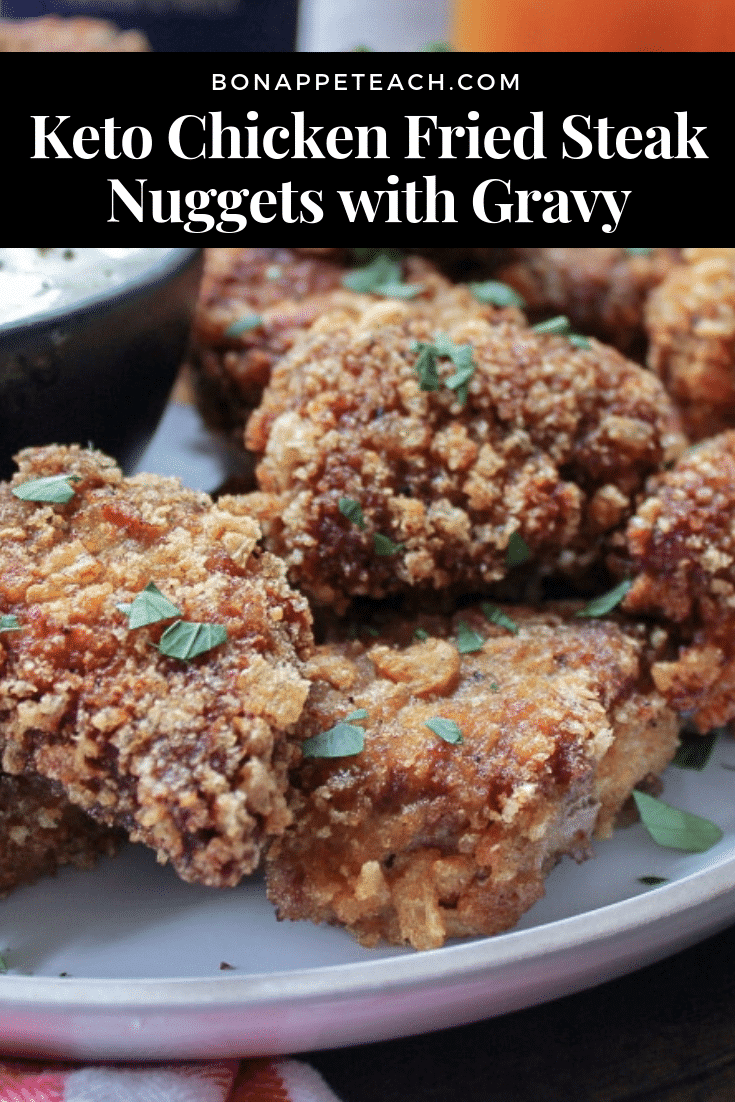 Ingredients
For the Chicken Fried Steak:
3 lbs Cube Steak, cut into 2x2" pieces
Sea Salt
Black Pepper
4 oz. Bag, Pork Rinds, crushed
1 tsp Xanthan Gum
2 Eggs
Splash of Milk
Oil for Shallow Frying
For the Gravy:
1 1/2 cups Half & Half
1 tsp Xanthan Gum
2 tbsp. Butter
Instructions
1. Begin by cutting the cube steak into 2x2" sized pieces. Season the pieces with salt and pepper.

2. Crush the pork rinds into crumbs in a plastic bag (or in a food processor) and season them with salt and pepper. Mix in 1 tsp of xanthan gum (helps the pork rinds stick but isn't crucial for the recipe to work). Place the mixture into a shallow dish and set aside.

3. Beat the eggs in a separate bowl and add a splash of milk. Dredge each piece of cube steak in the egg wash and then in the pork rind mixture.

4. Heat a large frying pan over medium heat. Add a shallow amount of oil (about 1/4" thick) into the pan so it coats the bottom. I always like to test one piece out first to assess the temperature and make adjustments to the oil. Cook the chicken fried steak nuggets in about 3-4 batches. Continue to adjust the oil temperature as needed (or change the oil out if needed). I cooked the nuggets for about 3 minutes per side and placed the cooked nuggets onto a paper towel lined plate.

5. In a small pot, melt the butter over medium-low heat. Whisk in the xanthan gum (almost like you would a roux). Slowly whisk in the half and half until everything is combined. The gravy will thicken fairly quickly, stir continuously to prevent scorching.

6. Season to taste with salt and pepper (I prefer 1 1/2 - 2 tbsp of pepper personally). Place the gravy in a small dish for dipping alongside a plate of keto chicken fried steak nuggets.
Nutrition Information:
Yield:
24
Serving Size:
1
Amount Per Serving:
Calories:

75
Total Fat:

3g
Saturated Fat:

1g
Cholesterol:

51mg
Sodium:

41mg
Carbohydrates:

0g
Fiber:

0g
Sugar:

0g
Protein:

13g
Nutritional information was obtained using My Fitness Pal. For the most accurate information you should always calculate your own data.