Grilled Greek Chicken with Marinated Kebabs and Tzatziki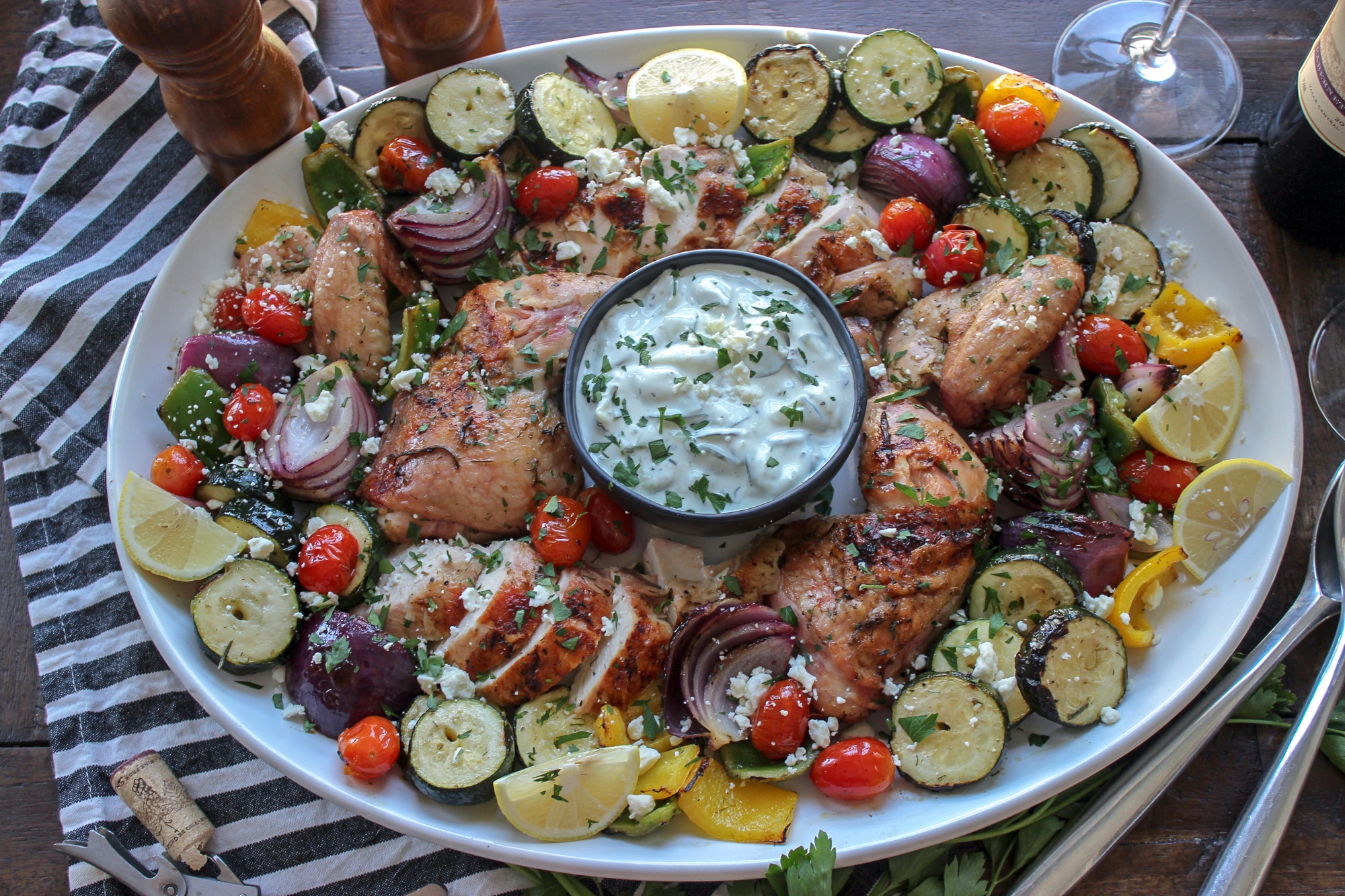 Grilled Greek Chicken with Marinated Kebabs and Tzatziki:
There is one recipe every home cook or chef needs to have that is easy, takes minimal work, but literally is a foolproof masterpiece. That my friends, is a grilled or roasted spatchcock chicken. Cooking and preparing a whole chicken may seem intimidating, but it is honestly so simple and very versatile. Last week, I worked with classic Greek flavors and grilled up the most beautiful meal with little effort. Step outside your comfort zone if you haven't tried this and DO IT! You won't regret (and neither will the ones you share this meal with). Find the full recipe for this Grilled Greek Chicken with Marinated Kebabs and Tzatziki below and read on for tips and tricks.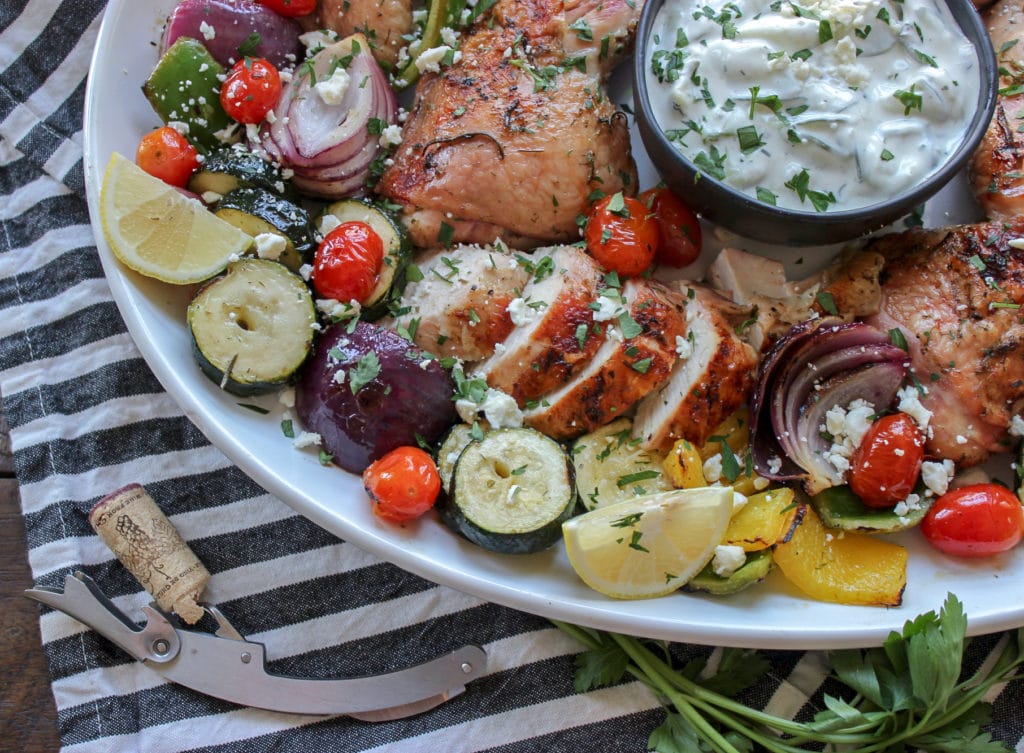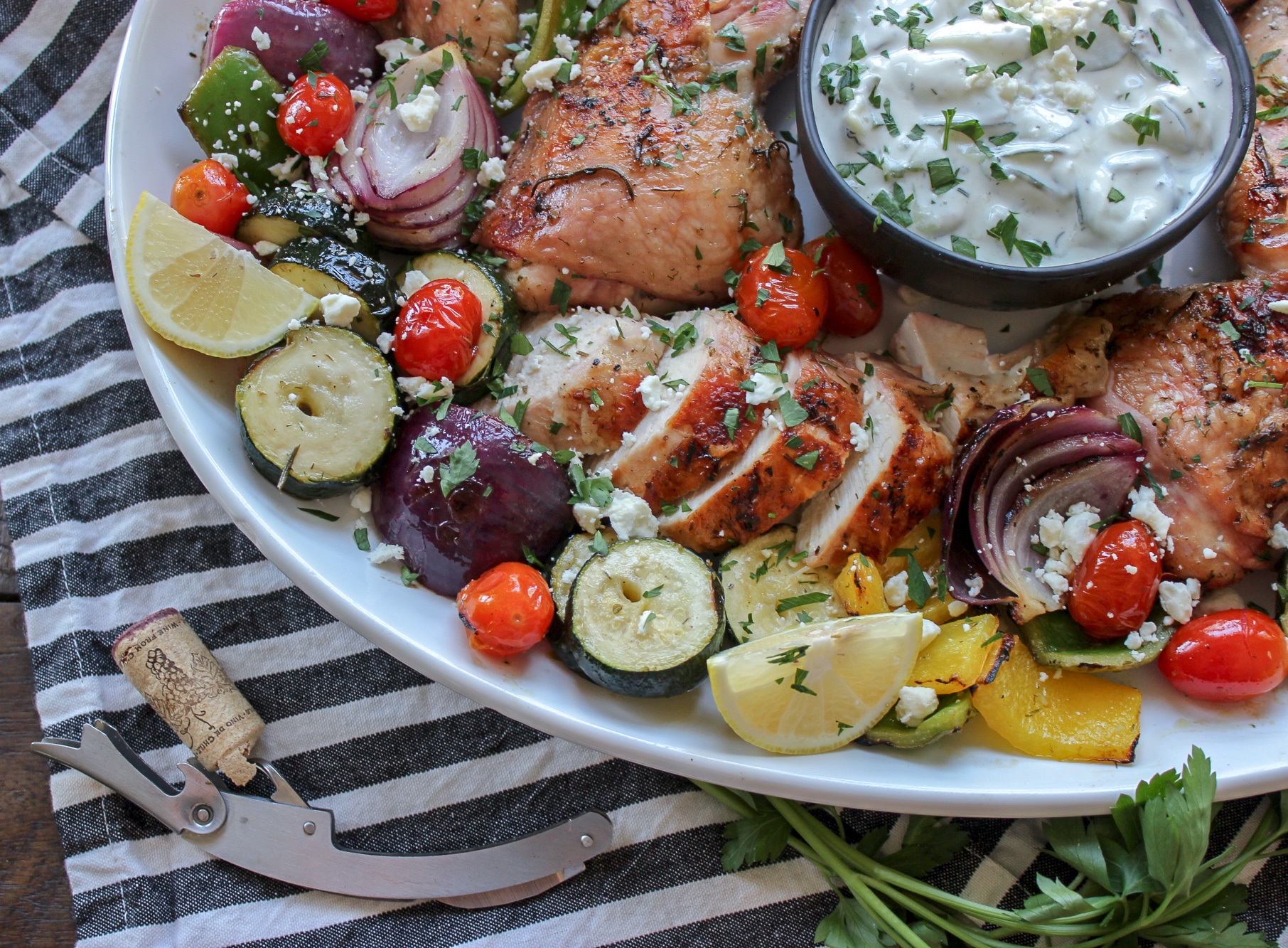 "School" Supplies:
Grill
Grill Thermometer (or meat thermometer)
Kitchen Shears
Wide Container (for marinating)
Knife/ Cutting Board
"Class" Notes:
Preparation:
Spatchcock (aka butterflied) chicken is easy to make anytime of the week. Give yourself a small amount of planning and prep time and you can easily create a knock-out meal. Use a high quality chicken and use a chicken under 4 lbs. This helps it cook in a reasonable amount of time and helps get the skin crispy but not burnt.   To prep the chicken, use kitchen scissors to cut out and remove the backbone of the chicken. To ensure a nice crispy outside, I highly recommend using a paper towel and drying off the outer skin and removing any outside moisture.Use olive oil and combine it with the lemon juice, spices, and fresh herbs. Cover the whole chicken front and back with the marinade and allow it to hang out for several hours. If you plan ahead, then you can prep this in the morning so you can cook it later in the evening! If not? It will still taste good!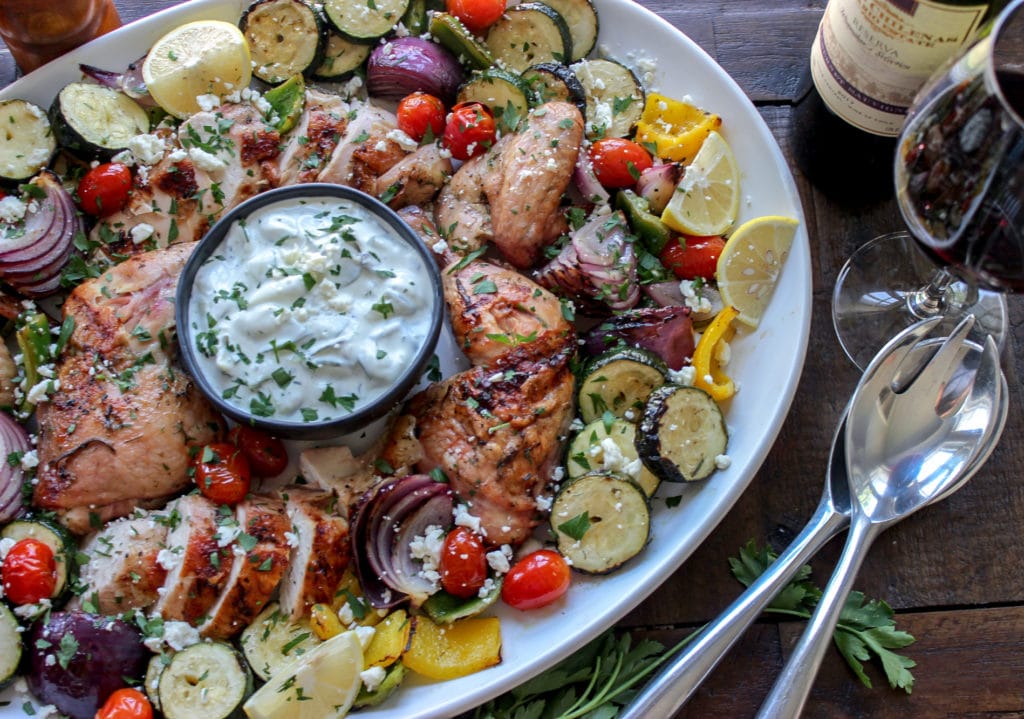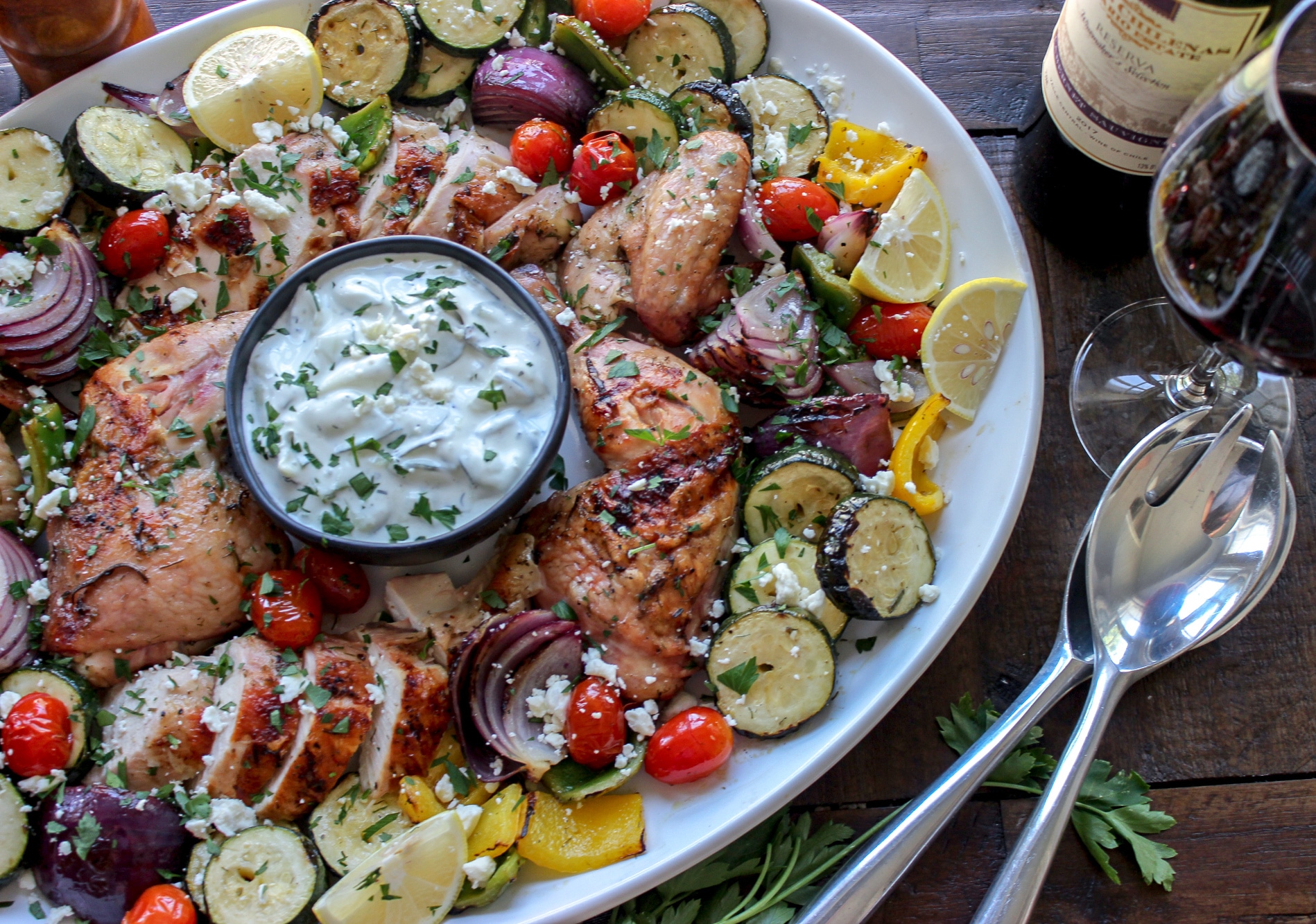 Grilling:
To make this Grilled Greek Chicken with Marinated Kebabs and Tzatziki, I took a two step approach. I started by cooking on indirect heat. This way the chicken is cooked almost all the way before giving it a nice sear to get the skin crispy. What I love about my Primo is that is has deflector plates that help disperse the heat allowing you to easily switch from indirect to direct heat with a charcoal grill. No matter which grill you are using (charcoal or gas), make sure to keep the chicken on the cooler side and you can use the same technique. One word of advice I learned- Use a large metal skewer to spear through the legs across the bottom of the chicken. This makes it easier to flip the bird (not figuratively…but ya know, literally flip the bird) on the grill without a nice tender juicy leg falling off. Your goal is to get that bird onto direct heat around the 145-150 degree mark. I let each side get a nice sear/ a bit of char to it and wait for the temperature to register to about 155-160F. Pull the bird off and allow it to rest (leave the thermometer in the largest part of the breast meat). Resting allows the chicken to reach a temperature of 165F and allows the juices to settle so the chicken stays moist and delicious!
Serving:
To separate the chicken into servable pieces I start by removing the wings. Next, remove both legs (you can also separate the drumstick from the thigh as well). Use a nice sharp carving knife to remove the breast meat from the rib cage. I like to slice the breast meat into pieces at an angle and plate/ serve this way so there are more opportunities to enjoy the light and dark meat. If you feel adventurous, slice up some zucchini, onion, tomatoes, and peppers. Place on a skewer and grill to perfection. Serve with a side of tzatziki and feta and you're well on your way to a spectacular summer dinner!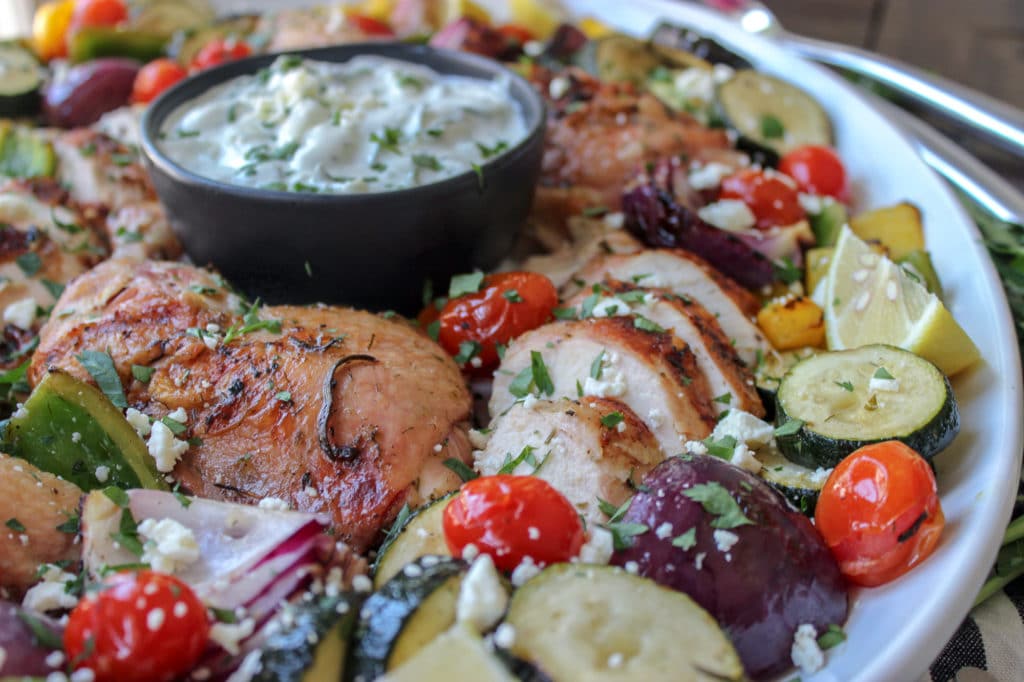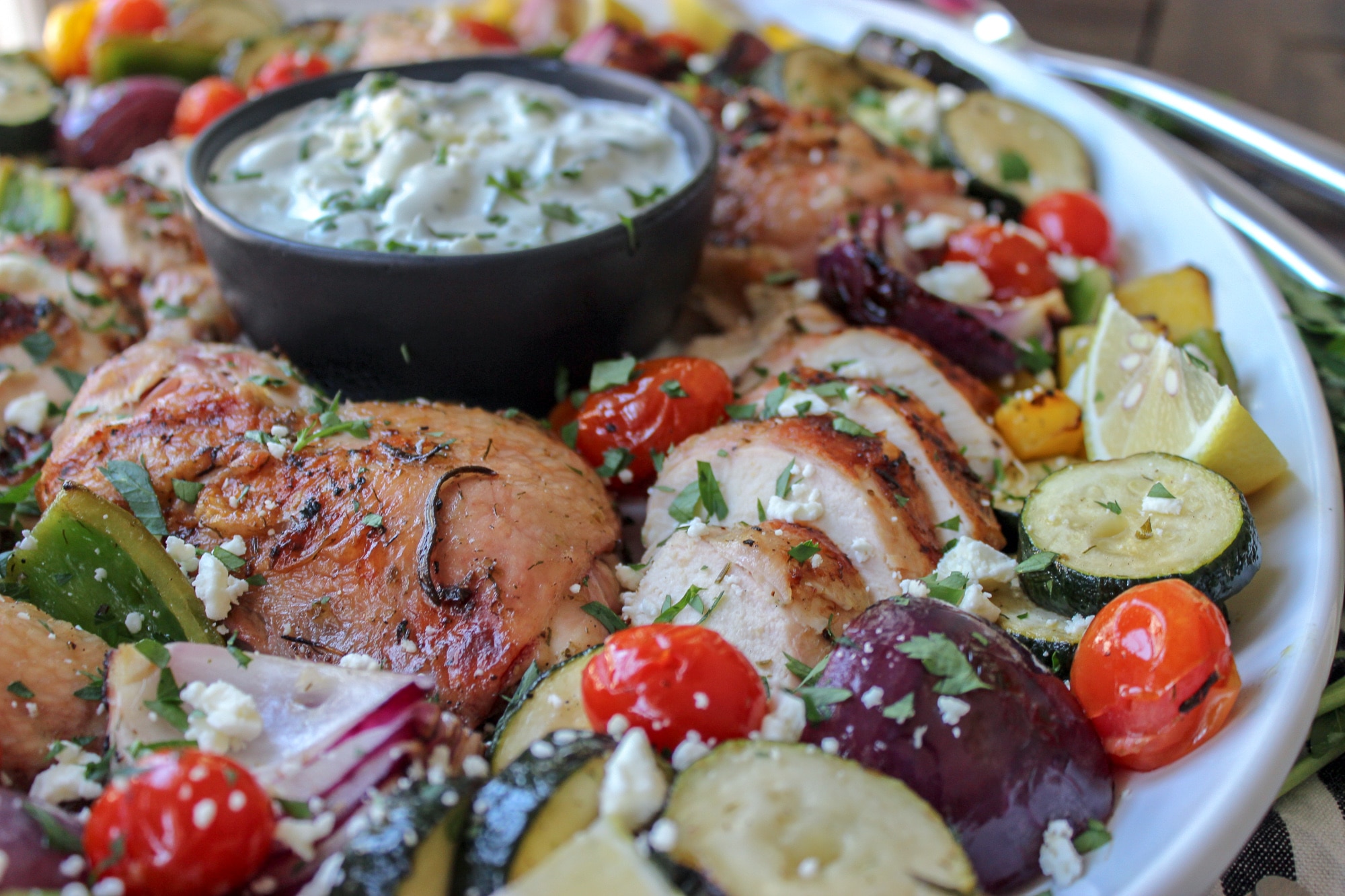 If you like this Grilled Greek Chicken with Marinated Kebabs and Tzatziki  recipe, check out my Grilled Moroccan Spatchcock Chicken or my easy Weeknight Roasted Chicken recipe.
Bon Appeteach,
-L
Grilled Greek Chicken with Marinated Kebabs and Tzatziki
Print Recipe
Ingredients
1, 2-3 lb Whole Chicken (smaller birds work best)

1/4 cup Olive Oil

1 Lemon, juiced

1 tsp Oregano

1 tsp Thyme

3 tbsp Fresh Rosemary, minced

Sea Salt & Fresh Pepper

2 Garlic Cloves, minced

1 Zucchini

1 Yellow Squash

1 Red Pepper

1/2 Red Onion

10 Cherry Tomatoes

1/4 cup Feta

1/2 cup Tzatziki Sauce
Instructions
1
Pat the chicken dry with a paper towel to remove excess moisture. Use a sharp pair of kitchen shears or a sharp knife to cut/slice to the right and left of the back bone. Remove the bone and freeze for chicken stock. Trim any excess neck skin and tail skin and discard. Remove any organs that remain and discard.
2
Open the bird up and place it so the back side is down. Push on the breast bones from the front to help crack the rib cage so the bird lays flat.
3
Place a skewer across the bottom through both leg muscles. This helps with flipping on the grill so the legs don't fall off (morbid...I know).
4
In a food processor, combine the olive oil, lemon juice, seasonings, rosemary and garlic. Pules till emulsified. Pour half onto the chicken and coat it front and back. Cover and marinade if possible for at least an hour (if not longer).
5
Cut and slice your veggies to your preference. Be sure to cut them all the same size to ensure even cooking. Place in a bowl or bag and add the remaining marinade to the veggies and mix/shake to coat. Allow it to marinade for at least an hour (if not longer).
6
Preheat your grill (for indirect cooking) to 250 F. Insert a thermometer into the thickest part of the chicken breast.
7
Place the chicken over indirect heat and allow it to reach an internal temperature of about 145-150F.
8
Move the grill up to 375-400F and place over the direct heat. Allow each side to get a bit of a sear and allow the skin to get crispy. The internal temperature should reach about 160F before removing from the grill.
9
Once you remove from the grill, allow it to rest for 10 minutes. It should reach a final resting internal temperature of 165F.
10
While the chicken is resting, grill the veggies over direct heat until tender and gill marks form. Remove from the heat and set aside.
11
Slice the chicken by removing each wing, the leg, and then separate the drumstick from the thigh. Use a carving knife to cut along the breast bone to remove each chicken breast. Slice the breast meat into servable pieces.
12
Place everything on a platter or tray and serve with a sprinkle of feta and a side of tzatziki sauce.