Low Carb Cuban Style Black Beans
Low Carb Cuban Style Black Beans:
I lived in Miami for three years and fell in love with Cuban food. Mojo, pulled pork, fried plantains, and of course black beans are just some of my favorites. Beans however are not typically a part of a lower carb or ketogenic diet (neither are the plantains… I have yet to figure out a way to ketofy that).
Luckily for me (and you), black soybeans are a higher fiber, lower carb bean option. For this recipe, I used the Eden Organic Black Soybeans (this is not sponsored). I purchased mine at my local Kansas City chain grocery store (Hen House), but I do believe you can find them at Whole Foods and you can also buy them in bulk on Amazon.
I cannot vouch for other brands without checking the nutritional label, but take a look and give them a try! I will say that this recipe got a LOT of love yesterday when I made this and shared on my Instagram stories.
Because of its popularity, I decided to get this recipe posted ASAP! Find the full recipe for these Low Carb Cuban Style Black Beans below and read on for the tips and tricks!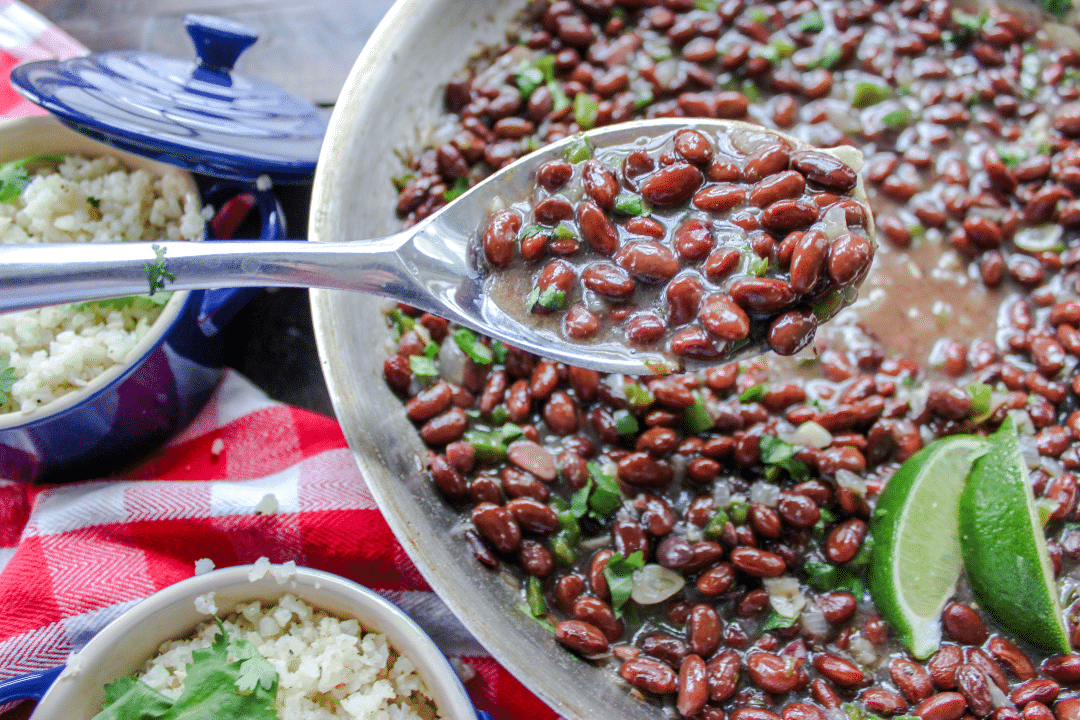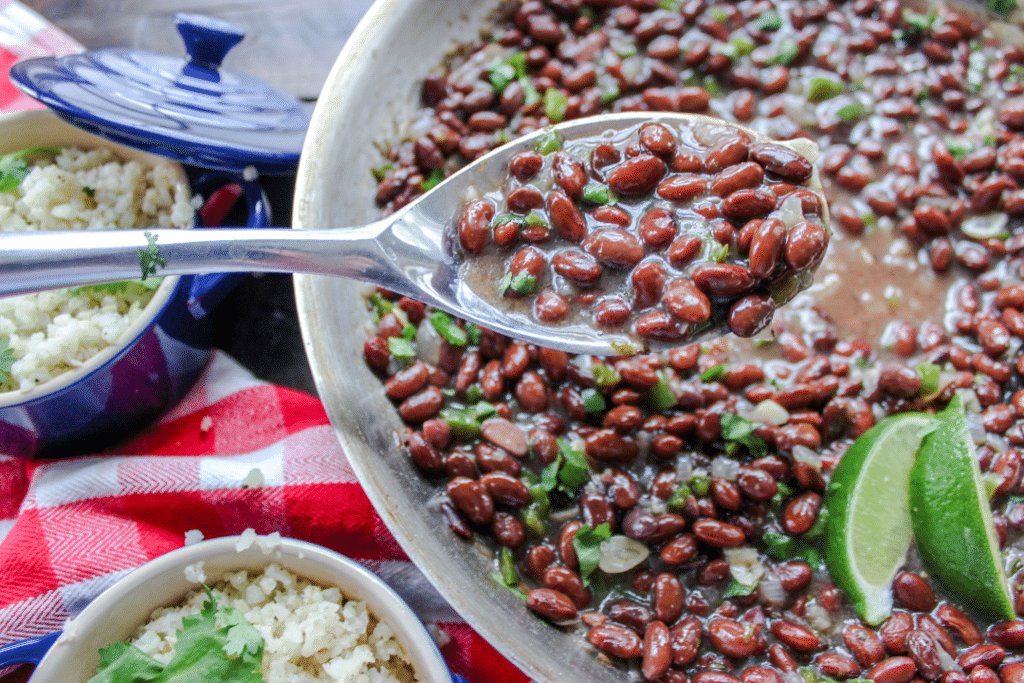 "School" Supplies:
Medium Sized Saucepan
Can Opener
Knife & Cutting Board
Spatula / Wooden Spoon
"Class" Notes:
These Low Carb Cuban Style Black Beans are a super simple side you can easily throw together on a weeknight. However, the biggest factor to making these taste as incredible as they did, is time. The longer they cook, the more the flavors develop.
I prefer to serve my beans with chicken or pork. My suggestion is to get these beans going (in 10 minutes or less) and then cook/prep your other food so they have plenty of hands-off time to develop a stronger flavor profile.
So, with that said, to add flavor to the beans you need to create a sofrito. Sofrito is essentially a mirepoix (classically this is a mixture of carrots, celery, and onion that provide many dishes and sauces with flavor). Instead of the classic style mirepoix, you use peppers, onions, and garlic.
I used a little bit of green pepper (adds a hint of natural sweetness) and some jalapenos (for spice), a small amount of red onion, and thinly sliced pieces of garlic (the more the merrier in my world). Get the sofrito cooking in a tiny bit of oil in your saucepan. Next, add in the black soy beans.
Now, these soybeans are already cooked (classic cuban style beans are made with dried beans), so once you essentially heat the mixture through it is "done". However, like I mentioned above… the longer you let these hang out on low heat, the more flavor they will have.
To the beans I add salt, pepper, cumin, and dried oregano as well as, a few bay leaves. Let this hang out and meld for as long as you can! Remove the bay leaves before serving and add a splash of white vinegar (just adds a tiny tang to the dish but doesn't taste like vinegar) before serving.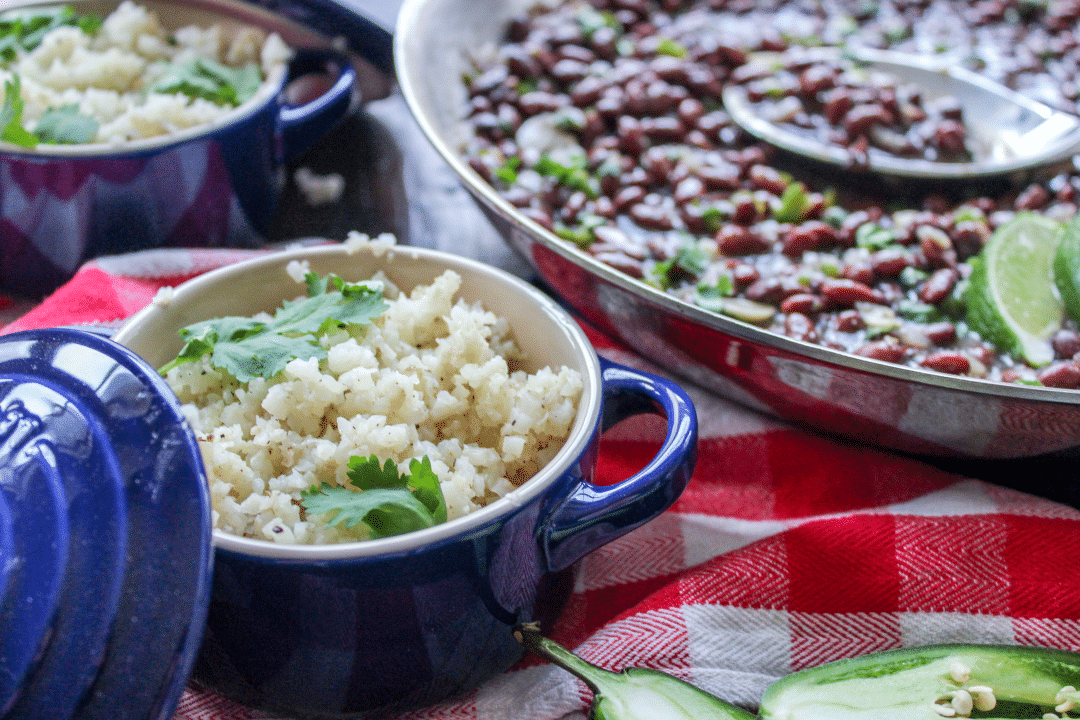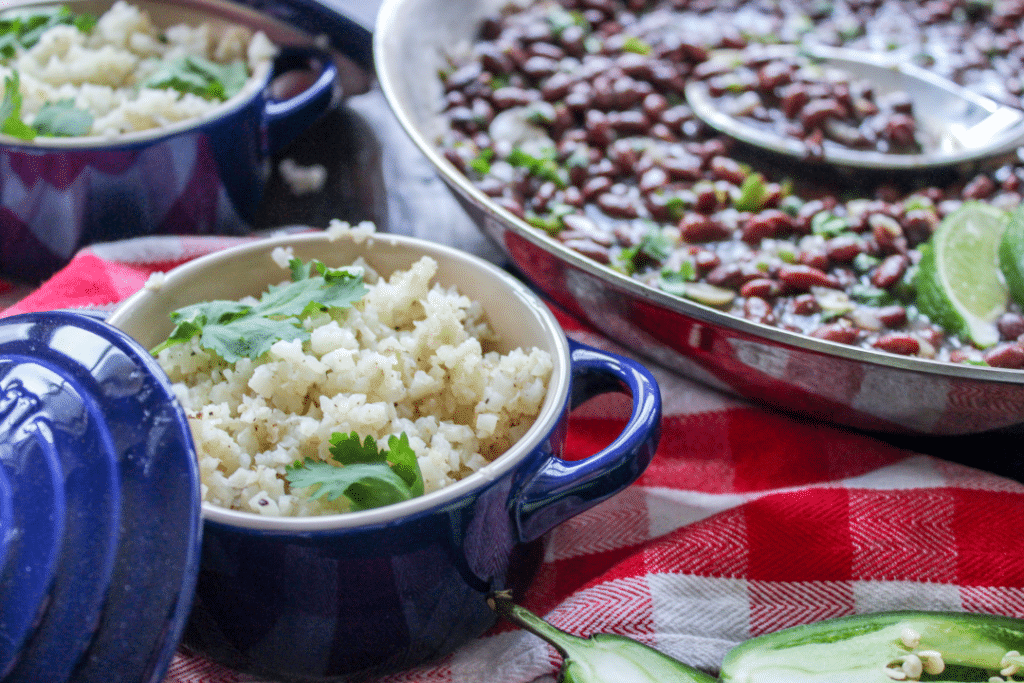 Now, these black beans can be served as is. If you like the beans thicker, smash some of them with a potato masher or add a little stock or water to the mixture (no more than 1/4-1.3 cup) to make them thinner (I've learned people have a lot of preferences when it comes to eating their black beans). I prefer them as is personally (somewhere in between).
If you like your black beans served with rice but are on a lower carb diet, you can sub for riced cauliflower. I truly am not a fan of the taste cauliflower, but I do like the texture when paired with other things (i.e these beans).
My biggest tips to working with riced cauliflower is to keep it simple and do not steam it. I buy frozen riced cauliflower when I am using it solely as a rice substitute (saves time and dishes… amen).
Don't want your house to smell like farts? Cool. Me either. Don't want the cauliflower rice to be mushy? Great. We're on the same page here. The ONLY way I like to heat frozen riced cauliflower is on a baking sheet in the oven!
I drizzle a little olive oil on the pan, pour on the bag of rice and spread it out, drizzle more EVOO over the top, and season with salt and pepper. Bake in a 350F oven (about 10 minutes) until its heated through. Your welcome.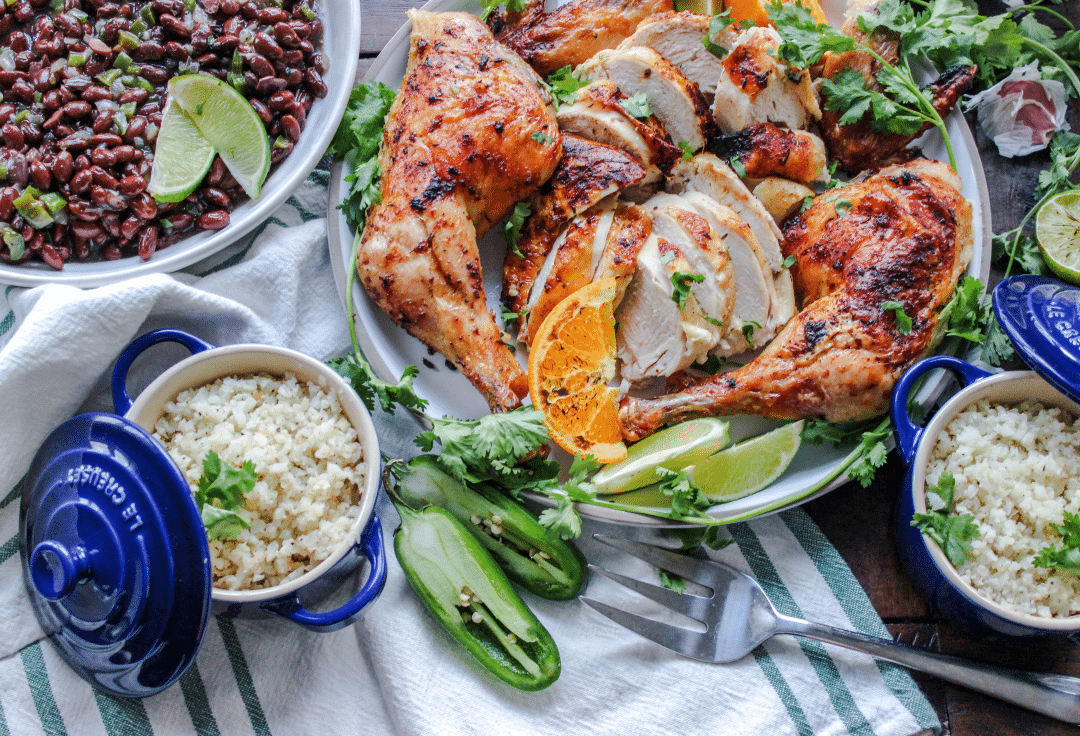 I hope you love these Low Carb Cuban Style Black Beans as much as we did! It really makes a delicious side dish and pairs so well with shredded pork or your favorite chicken. Additionally, this would make a great side for a Keto "Taco Tuesday" night too! If you were following along on Instagram, the Mojo Chicken recipe I made along with these beans will be available soon. Enjoy!
Bon Appeteach,
-L
Ingredients
2, 15 oz cans Black Soy Beans (I used the Eden Organic brand) *DO NOT drain or rinse*

1 tsp. Oil (olive or avocado)

1/2 Green Pepper, diced small

1/2 Red Onion, diced small

1 Small Jalapeno (seeds removed), diced small

2-3 Garlic Cloves, minced

1 tsp Cumin

1 tsp Oregano

2 Bay Leaves

Salt & Pepper to taste

1 tsp White Vinegar
Instructions
1
Add the oil to the saucepan and heat over medium heat. Add the diced veggies and saute for about 5 minutes. Be careful not to let the garlic burn.
2
Add in the two cans of black soy beans (do not drain or rinse). Mix in the seasonings and then add the bay leaves.
3
Allow the mixture to simmer over low heat for as long as possible to develop the flavors (I like a solid 30-45 minutes if possible).
4
Before serving, remove the bay leaves and stir in the vinegar. Serve over your favorite rice substitute (if low carb), see the post above for tips on cooking cauliflower rice!
Nutritional Information:
Obtained using My Fitness Pal. I am not nor do I claim to be a nutritionist, so it is important to always verify the nutritional information as brands vary. I work hard to always provide the most accurate information as possible in hopes of making this easier for you, my readers!

Bon Appeteach is a participant in the Amazon Services LLC Associates Program, an affiliate advertising program designed to provide a means for sites to earn advertising fees by advertising and linking to amazon.com. I only share products that I use and stand behind personally.