Whole Roasted Chicken Shawarma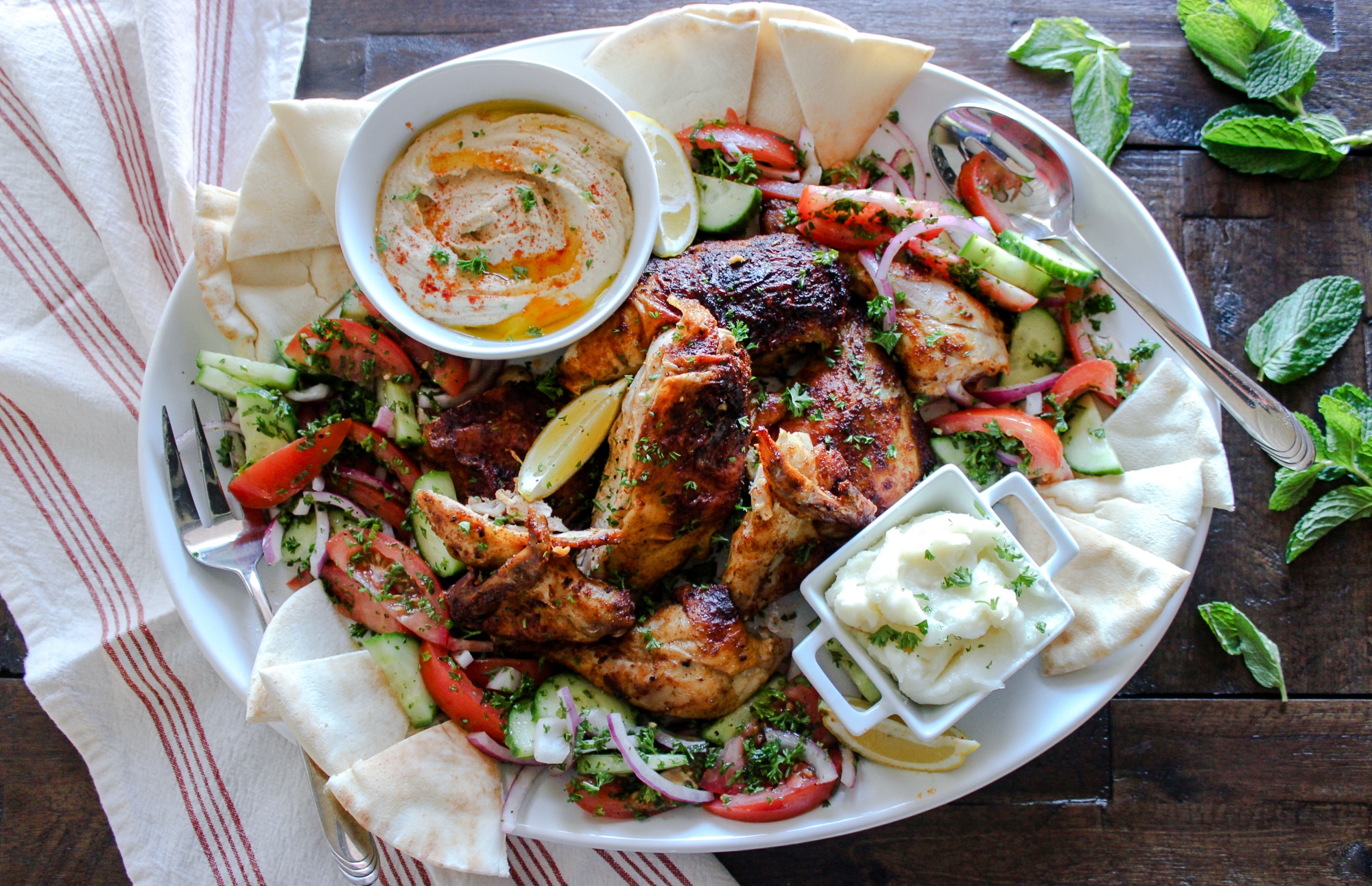 Whole roasted chicken shawarma is hands down one of my favorite chicken recipes I have EVER made! Making a whole chicken can sometimes feel intimidating. But don't worry! This is so simple and takes only a small amount of preparation to make a killer meal for your whole family. I'm going to be honest, I even impressed myself!
What is Chicken Shawarma:
Shawarma is a common way to prepare a protein in many middle eastern countries. As a proud Armenian,  chicken shawarma is something that just warms my heart and reminds me of the dishes and flavors my grandmother made growing up. Typically shawarma is made more like gyro meat or like a shish kabob where it is cooked on a spit and shaved off. It can be served on a platter, in a pita or even as a wrap. I love to eat it with salads like tabbouleh or with hummus. Combining all these flavors and textures really make this feel like one complete meal!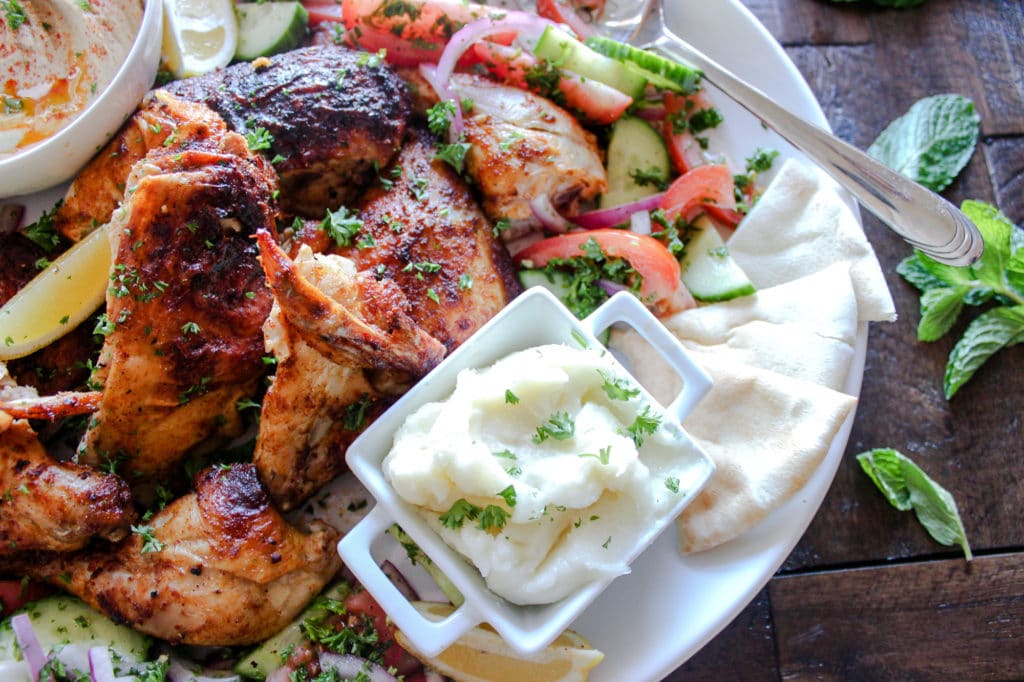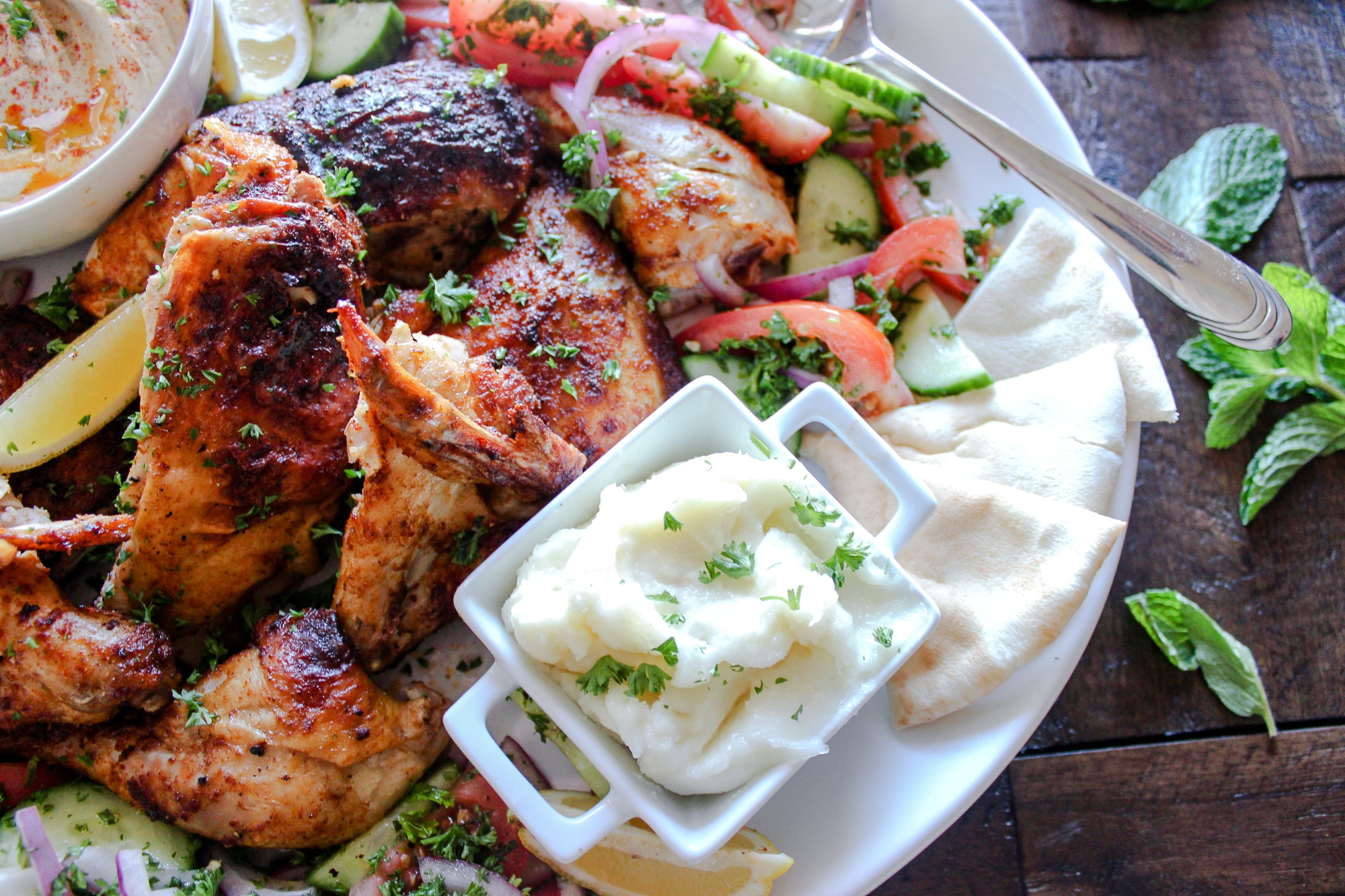 Tackling A Whole Chicken:
The trick to making this an easy dinner you can make in a short amount of time comes down to two factors:
Make sure your bird is under 4 lbs (preferably around 3). This helps the bird cook quickly and at a higher temperature. The higher the temp the crispier and juicier the birds will be come. If it's too large, then your bird will be extra crispy on the outside and under cooked in the inside. SAY NO TO SALMONELLA my friends!
 The chicken should be butterflied. This is essentially where the entire bird is cut down the middle of the back bone. I got a little over zealous and did not snap a picture of how I did this, but there are plenty of tutorials on Google or YouTube. You can even make your life simpler by asking the butcher at the grocery store to do it for you! Most are very accommodating and will be glad to help!
Finish off the whole meal with hummus, garlic paste, pita bread triangle or low carb tortillas (if you're keto), and a whole pile of fresh veggies or tabbouleh salad! I love serving this whole meal on one giant platter "family style". Not only is it a gorgeous presentation, but its only one dish to clean! The full recipe for this whole roasted chicken shawarma is below. Enjoy!
Bon Appeteach,
-L
Ingredients
Shawarma Seasoning Blend:

2 Tbsp. Coriander

1 tsp. Allspice

1 tsp. Cinnamon

2 tsp. Cumin

1/2 tsp. Ginger

1 tsp. Tumeric

Salt & Pepper

1 lemon, juiced

1/2 cup, Olive or Avocado oil

1, 3-4 lb Whole Roaster Chicken (stick to the smaller side)

Sides: Garlic paste, hummus, pita or low carb tortillas, rustic tabbouleh salad
Instructions
1
Begin by rinsing your chicken and patting it dry.
2
Butterfly your whole chicken (or ask your local grocer to do this for you).
3
Remove any remaining internal organs with a spoon and discard.
4
Place your chicken in a shallow dish.
5
Place salt and pepper all over both the inside and outside of your chicken.
6
Combine all your spices in a bowl. Add the oil and the lemon juice and whisk it together.
7
Pour and rub the marinade all over the entire chicken top to bottom.
8
Allow it to marinade for at least two hours.
9
Preheat the oven to 425 degrees F.
10
Use a roasting pan or even a baking sheet covered in parchment and lat the chicken flat over the top. Parchment makes for easy clean up (don't use foil).
11
Place the chicken so it is breast side up. Tuck the wing tips in to prevent over cooking and allowing more heat to reach the thicker parts of the chicken.
12
Bake for 40-60 minutes depending on the size of your bird. The internal temperature should reach 165 degrees F. If the skin gets too crispy and your bird needs more time, cover the top loosely with foil and bake for an additional amount of time (as needed).
13
When the chicken is done, allow it to rest 10 minutes or so. This allows the chicken to retain it's juices.
14
Cut the chicken into desired pieces and place on a large serving platter. Enjoy!