Kitchenaid Mashed Potato Recipe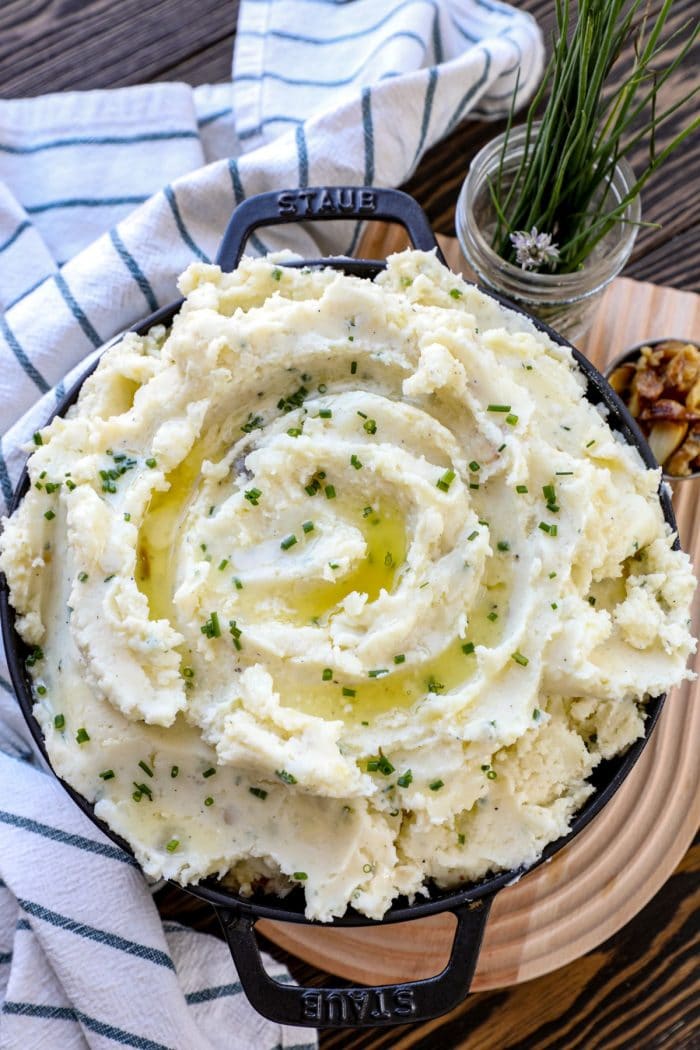 Want to make the best mashed potatoes? Using your Kitchenaid mixer, try this recipe for the perfect light, fluffy, and creamy mashed potato side dish.
Growing up in the midwest, meat and potatoes are a staple. In fact, one of my most popular recipes here at Bon Appeteach is this recipe for crispy herb crusted potatoes.
I think it's safe to say that in general, mashed potatoes are a classic side dish that pair well with basic weeknight meals next to some oven-baked BBQ chicken, or served up in the summer with a side of smoked pork loin, but also go perfect with your holiday turkey recipe too.
Mashed potatoes are often made in a few different ways. If you mash them with a potato masher they're often chunkier and lumpier. Depending on if you want your potato recipe to be more "rustic" this isn't necessarily a bad thing.
However, textures in food play a huge role in how we experience them. Oftentimes, I personally crave a rich and creamy style mashed potato recipe and love to use a mixer to achieve the whipped version of this side dish.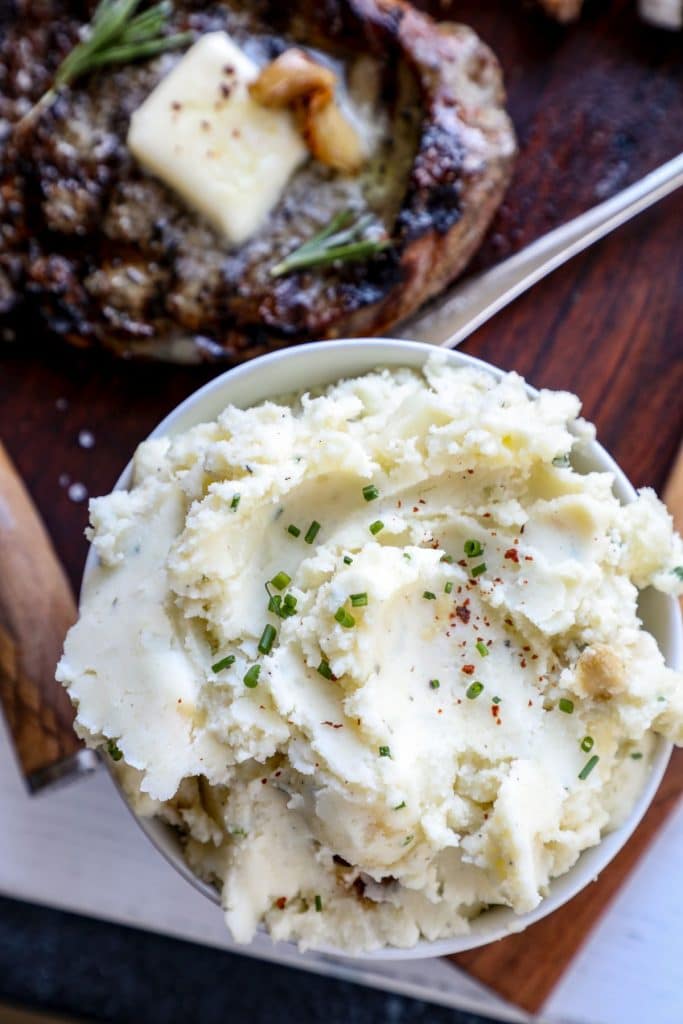 Making mashed potatoes is definitely not a complicated task, there are a few really interesting scientific components to understanding this delicious starch and how using your kitchen aid mixer (or other electric mixers) can go from being a great way to get the best mashed potatoes, to quickly turning them into gummy over beaten globs of something less ideal.
Use my guided culinary notes below to learn more about achieving perfectly creamy and fluffy texture mashed potatoes, ideas for adding flavor to jazz them up in a variety of ways, ideas for hot holding, and all the culinary based science tips needed to help you know the best way to get satisfied smiles with the ultimate comfort food side dish.
Let's dive in!
"School" Supplies:
Kitchenaid Stand Mixer (or electric hand mixer)
Paddle Attachment
Potato Peeler
Measuring Cups/ Spoons
Knife and Cutting Board
Large Pot
Collander or Strainer
Rubber Spatula
"Class" Notes:
Welcome to my virtual classroom! Use the guided notes below where I often answer commonly asked questions I get from readers and cooks just like you.
This information is meant to help you have a stronger understanding of this recipe and the process so you can find success all on your own.
Ready to begin cooking? Simply jump to the recipe below and begin.
What potatoes are best for mashing?
There are many varieties of potatoes that you can find at your local grocery store; red potatoes, russet potatoes, and Yukon gold potatoes.
So which potato is actually best for mashing? Well, there's a bit of a debate on that, but science leans more towards Yukon gold.
The potato itself is made up of mostly starch, but some potatoes (like a russet) contain a higher amount than others. Yukon gold potatoes don't contain as much starch, making them more ideal for whipping in this case because it's less likely to get too gummy as the starch breaks down.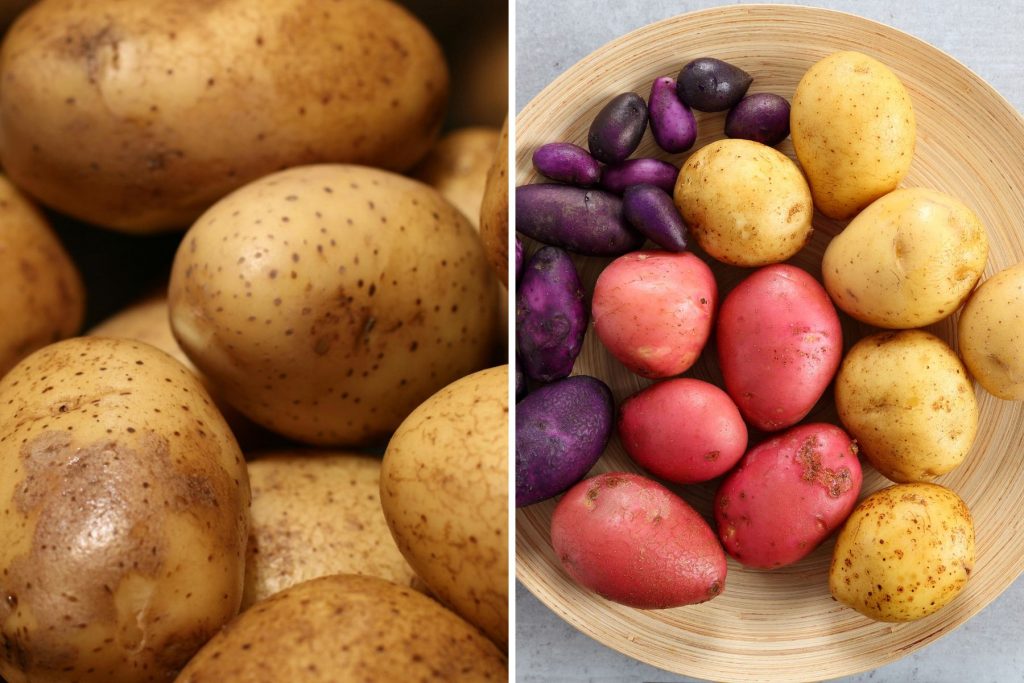 That being said, while I personally do enjoy a Yukon gold potato, my favorite way to eat mashed potatoes is by using a russet potato (also a popular choice amongst readers).
This recipe is still absolutely delicious with all kinds of potatoes, so use what you like and make note of not over whipping (more on that below).
How do I know how many pounds of potatoes I should make per person?
Whether you're making this creamy mashed potatoes recipe for your small family or you need to create more for serving at a larger gathering, it's good to know if you have enough to go around.
A quick rule of thumb for determining the amount to make is to plan on 1/2 pounds of potatoes per person. This typically averages out to using one larger potato for every two people.
If you're family or friends really love mash potatoes or you want leftovers, plan accordingly and make additions as needed.
Ingredients for perfect mashed potatoes:
Here is the standard base for my whipped kitchen aid mashed potato recipe-
Yukon Gold or Russet Potatoes
Butter (I use a higher quality butter like Kerry Gold when I can, but use what you have)
Kosher Salt
White Pepper (can sub for black pepper)
Boursin Cheese (you can also sub for sour cream or cream cheese if desired)
Heavy Cream or Whole Milk
Preparation Steps:
Start by peeling your potatoes and removing the skins. Prevent browning by keeping the potatoes submerged in water in the fridge until ready to boil.
Cut the potatoes into 1-inch size pieces and place potatoes into a large pot. Cover the potatoes with water.
Place the pot of potatoes on the stovetop and bring to a boil over high heat. Once boiling slightly reduce the temperature to medium heat. Boil until they are tender with a fork, roughly 8-10 minutes or so.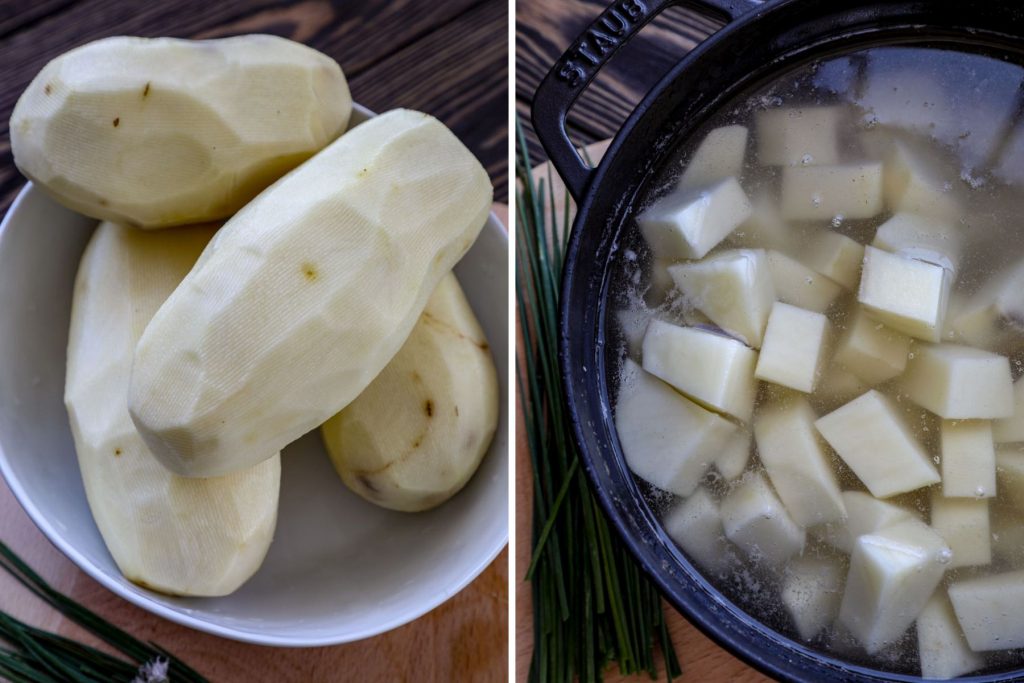 Carefully strain the hot water from the potatoes and place the hot potatoes into the bowl of a stand mixer.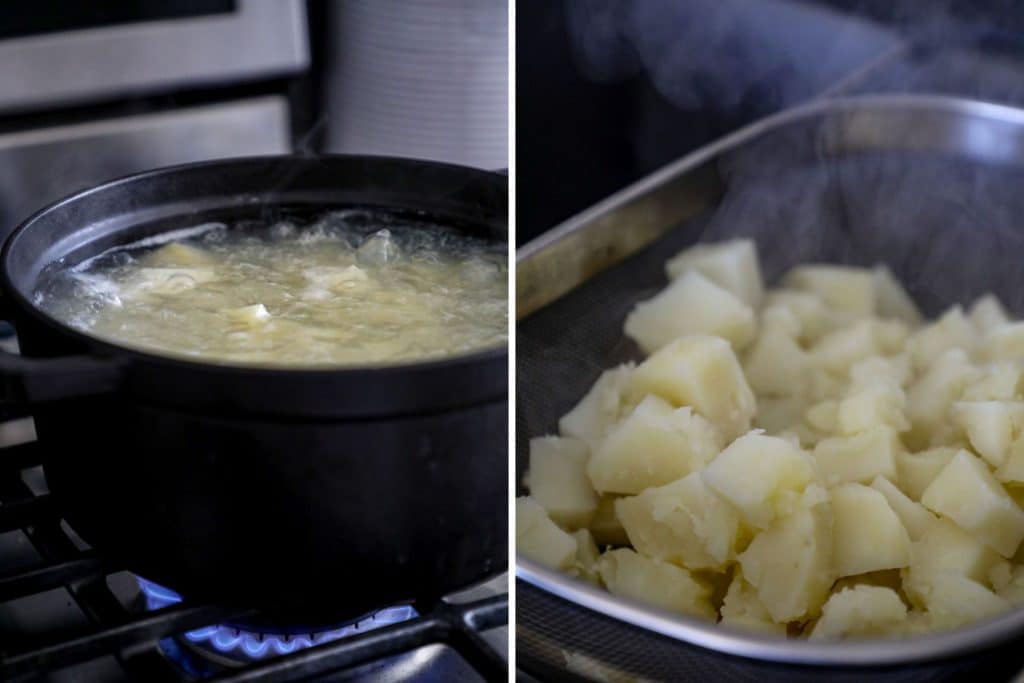 How to properly whip potatoes with an electric mixer:
To the bowl, add the butter, salt, pepper, Boursin cheese, and heavy cream to the cooked potatoes.
For this recipe, I use the paddle attachment. Have everything added and ready to go and begin to mix and mash the potatoes on the lowest speed. They should blend and become whipped together fairly quickly.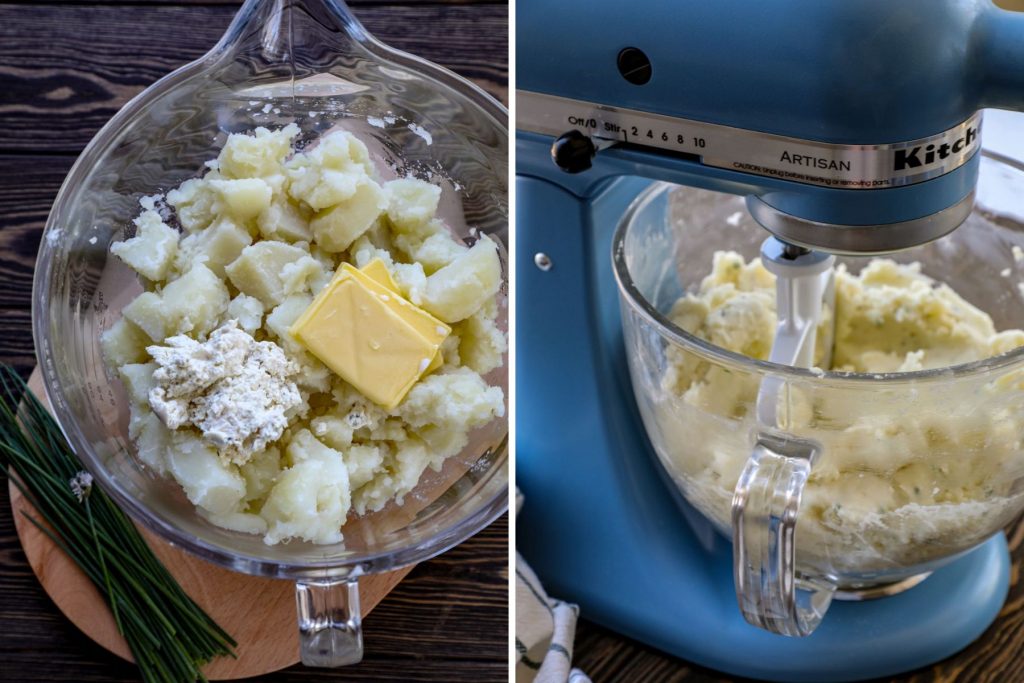 Be sure to use a rubber spatula to scrape down the sides of the bowl and continue to whip as needed. Avoid over mixing the potatoes or they can go from light and fluffy to overly gooey as the starch breaks down.
Taste test and adjust seasonings as needed.
Tips for hot holding, serving, and storing:
Finished your potatoes but aren't ready to serve them? Keep them hot on warm or low heat of a slow cooker and stir occasionally.
Serve your potatoes in a large bowl and add some pools of melted butter over the top to serve if desired.
Store leftovers in an airtight container and reheat for other meals or use it to make mashed potato soup too!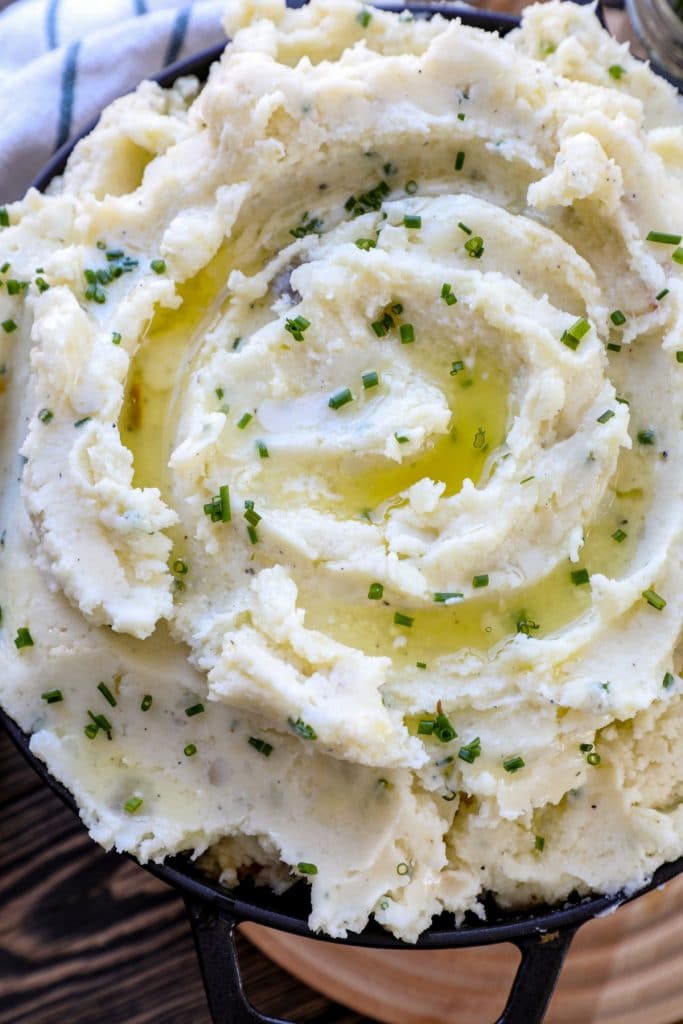 Love potato recipes? Try these other popular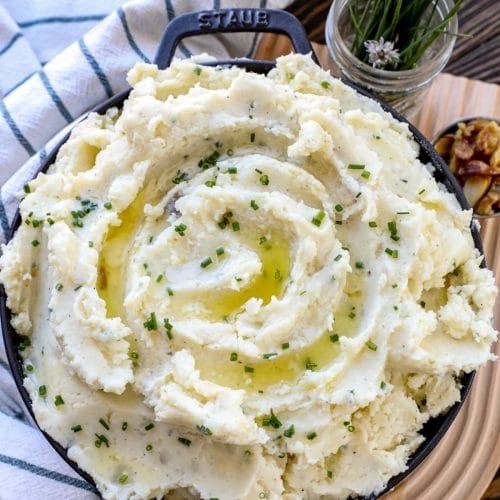 Kitchenaid Mashed Potato Recipe
Want to make the best mashed potatoes? Using your Kitchenaid mixer, try this recipe for the perfect light, fluffy, and creamy mashed potato side dish.
Print
Pin
Rate
Ingredients
4

Large

Potatoes

Yukon Gold or Russet

1/4

cup

Heavy Cream

4

oz.

Boursin Cheese

Sub with herbed cream cheese or sour cream

4

tbsp.

Butter

Use a higher quality if possible

2

tsp.

Kosher Salt

2

tsp

White or Black Pepper

Fresh Chives to garnish
Instructions
Begin by peeling the potatoes and dicing them into 1-inch pieces.

Place the potatoes into a large pot and cover them with water. Place them on the stove over high heat and bring the potatoes to a boil.

Once boiling, reduce the temperature to medium heat if needed (to prevent it from boiling over). Allow the potatoes to cook until for tender, about 6-8 minutes after boiling begins.

When a fork can easily pierce through the potato, it's done. Remove it from the stove and strain out the hot water in a colander. Place the hot potatoes into the large bowl of the stand mixer.

Add the butter, cream, boursin cheese, salt, and pepper.

Using the paddle attachment, whip the potatoes on the lowest speed for about 20-30 seconds. Use a rubber spatula and scrap down the sides and mix again until there are no more lumps. DO NOT OVER MIX. Mixing should take a few minutes max at best.

Taste test the potatoes and adjust seasonings as desired. transfer the whipped potatoes from the Kitchen Aid mixer to a serving bowl and garnish with fresh chives and melted butter if desired.
Notes
Need to hot hold your potatoes before serving? Place them in a slow cooker over low or warm heat and stir occasionally before serving. 
Nutrition
Calories:
279
kcal
|
Carbohydrates:
33
g
|
Protein:
5
g
|
Fat:
15
g
|
Saturated Fat:
9
g
|
Polyunsaturated Fat:
0.4
g
|
Monounsaturated Fat:
2
g
|
Trans Fat:
0.2
g
|
Cholesterol:
39
mg
|
Sodium:
626
mg
|
Potassium:
786
mg
|
Fiber:
4
g
|
Sugar:
2
g
|
Vitamin A:
444
IU
|
Vitamin C:
36
mg
|
Calcium:
39
mg
|
Iron:
1
mg