Creamy Lemon Chicken Pasta Salad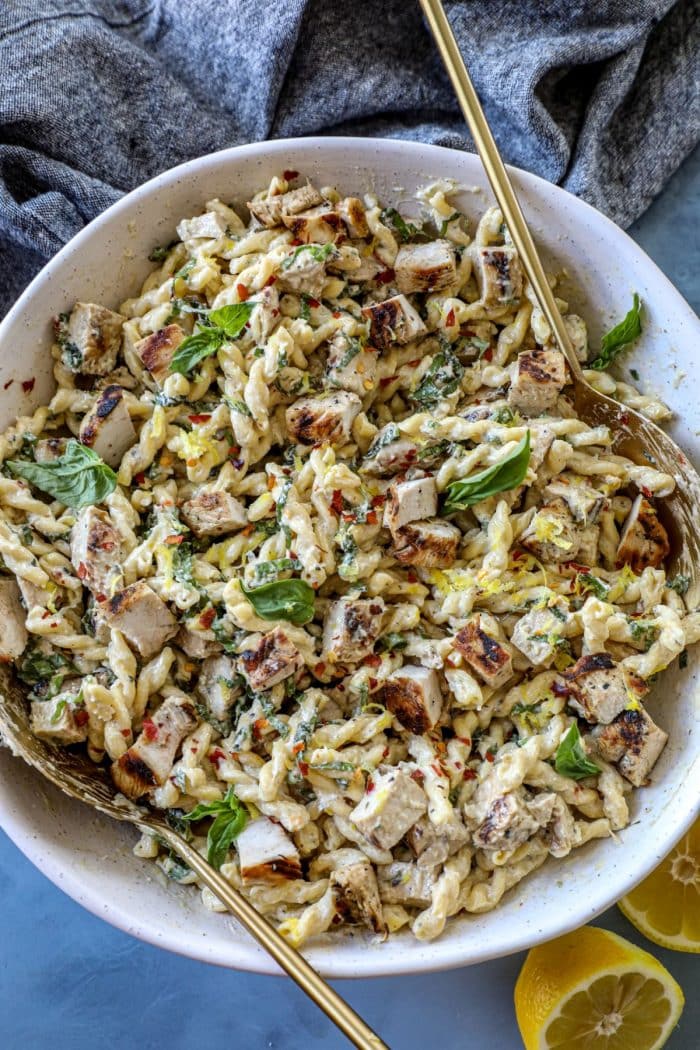 If you love the viral TikTok lemon pasta recipe, then you'll fall in love with this version of a cold pasta salad with flavorful grilled chicken and a creamy garlic base. It's the perfect meal prep recipe that works for lunch or dinner.
Traditional lemon pasta has been having a moment across social media lately.
If you've tried some of my other "viral" recipes like this trendy grinder salad, then chances are you'll enjoy this pasta salad recipe.
While I can appreciate a traditional pasta dish, I often don't find myself choosing to make pasta a full meal. For one, it's personally just not something I crave and I often look to focus on meals with higher protein and slightly fewer carbs because of my PCOS.
That being said, I am a massive lover of comfort food and therefore can appreciate why this recipe is so popular. All of this is to say, here is my own version of this trend but in pasta salad form (and with a higher protein twist).
This salad features my foolproof grilled chicken recipe, higher protein chickpea pasta (it legitimately tastes like traditional pasta if you're a skeptic), and a rich creamy base made with garlic herbed Boursin cheese and of course, a lot of fresh lemon flavor.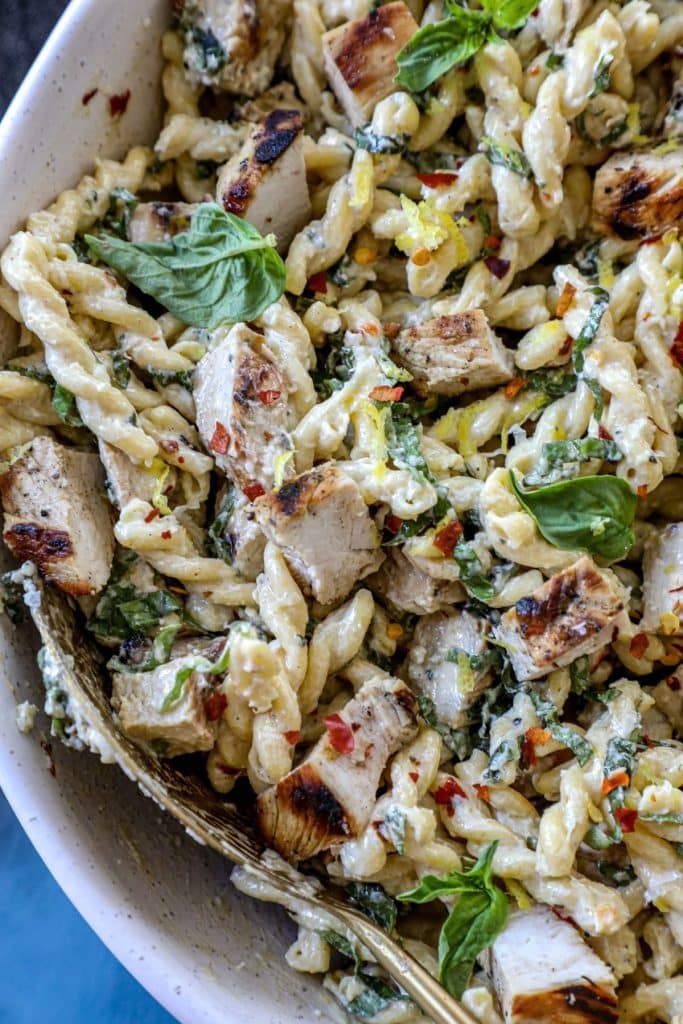 Below I will break down all the ingredients you will need, substitutions, cooking tips and techniques, and any other helpful information to help you have confidence in creating this recipe at home. Let's dive in!
"School" Supplies:
Large Pot
Collander
Large Mixing Bowl
Spatula
Whisk
Measuring Spoons
Knife and Cutting Board
Zester
Meat Thermometer
Tongs
"Class" Notes:
Welcome to my virtual classroom! Use the guided notes below where I often answer commonly asked questions I get from readers and cooks just like you.
This information is meant to help you have a stronger understanding of this recipe and the process so you can find success all on your own.
Ready to begin cooking? Simply jump to the recipe below and begin.
Creamy Lemon Pasta Salad Ingredients:
Grilled Chicken Breasts: I recommend butterflying the chicken for better results when grilling and marinating
8 oz. Pasta: I used

Banza Gemelli chickpea pasta

. Use any smaller style pasta noodles like rotini, cavatappi, penne, bowtie, etc.
Lemons: You will need both fresh lemon juice and lemon zest for this recipe.
Olive Oil: This goes in the marinade for the chicken and will be added to the dressing base of the pasta salad.
Boursin Cheese: The base of this softer cheese is great in this pasta salad because it works as a replacement for the cream used in standard lemon pasta.
Parmesan Cheese
Fresh Garlic
Red Pepper Flakes
Salt and Pepper
Fresh Basil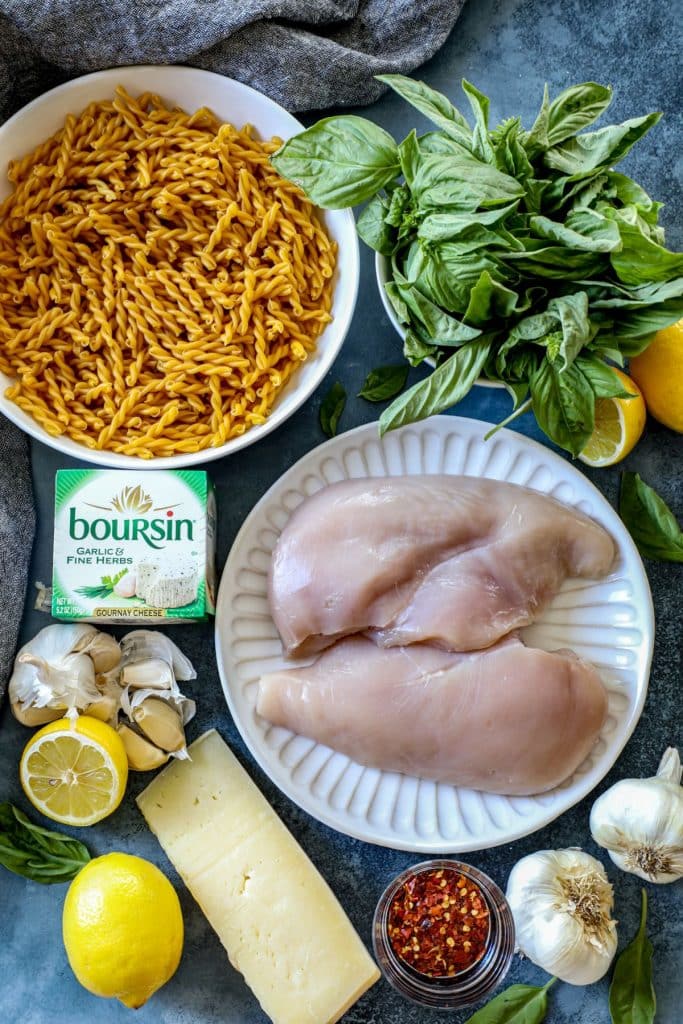 Grilled Lemon Chicken:
For the best results and flavor, I prefer to marinade the chicken prior to making this recipe. If I know I want this for dinner, simply make the marinade in a few minutes in the morning and add the chicken before work for the day.
You can also make it the night before as well. Either way, I highly recommend it.
Add some lemon juice, lemon zest, olive oil, garlic, and the seasonings into the marinade and soak the chicken. Let it rest a minimum of 2 hours at least before grilling.
I highly recommend that you butterfly or halve the chicken breasts so they are not as thick. This helps reduce the cooking time (preventing burning outside and undercooked inside) and increases the flavor from the marinade covering more surface area.
Grill the chicken for about 3-4 minutes per side on a high heat grill over direct heat. The chicken should naturally released from the grates before it will be flipped. Repeat this two times per side or until the chicken reaches an internal temperature of 165 F.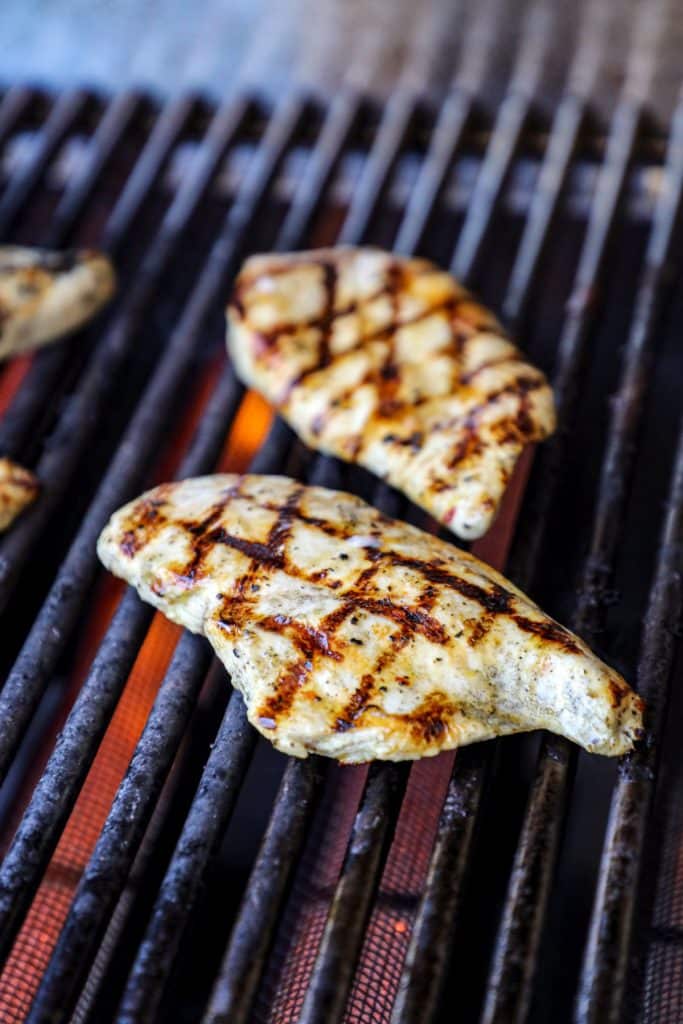 Let the chicken rest 15 minutes before slicing and adding to the pasta salad. This can be done in advance as well (the chicken can go in the pasta salad hot or cold).
No grill? Cook the chicken in a large skillet over medium-high heat instead.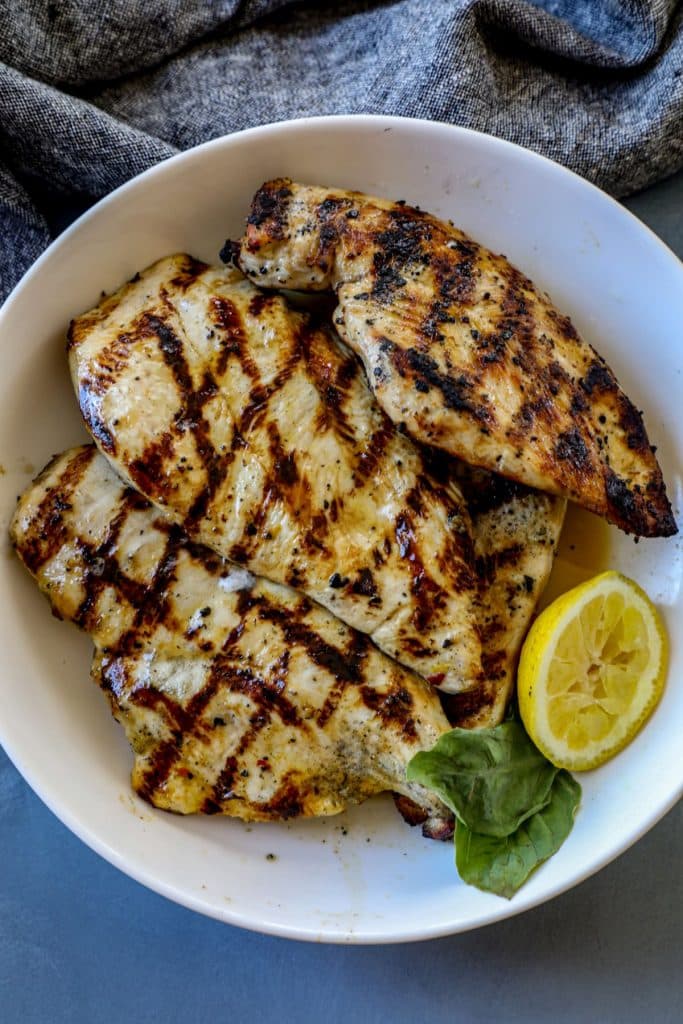 Lemon Pasta Salad Dressing:
No one likes dry pasta, so let's break down the dressing.
Truly this recipe is very simple and just involves a large mixing bowl and whisk. I started by adding a whole block of Boursin cheese.
If you cannot find Boursin there are often similar style softer cheese spreads that can work (Alouette brand).
To the cheese, add olive oil, lemon juice, lemon zest, and lots of fresh garlic. Season with red pepper flakes and pepper.
Add in a lot of freshly grated parmesan cheese and whisk to combine. Taste test prior to adding salt because the added cheese already has salt in it and the dressing may not need anymore.
You can set this aside or cover and refrigerate it until needed. Let it sit at room temperature 10-15 minutes prior to using because the olive oil will harden a bit when refrigerated.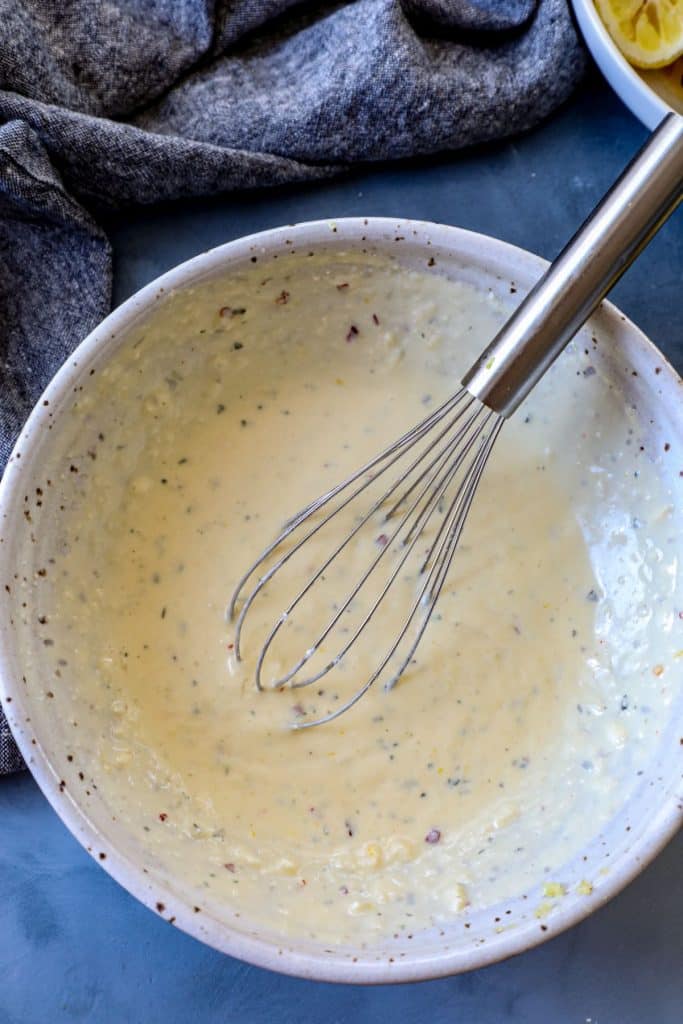 Cooking Instructions And Assembly:
Begin by adding water to a large pot and cook the pasta according to the package directions. In most standard pasta recipes, you should cook al dente.
However, pasta salads often firm up more when refrigerated so you can cook the pasta an additional minute or two as desired.
Drain the pasta in a large colander and rinse with cold water to stop the cooking process and to cool it for the salad. Let it sit in the colander while you assemble the rest of the salad to allow it to cool. You can stir it occasionally to prevent clumping if needed.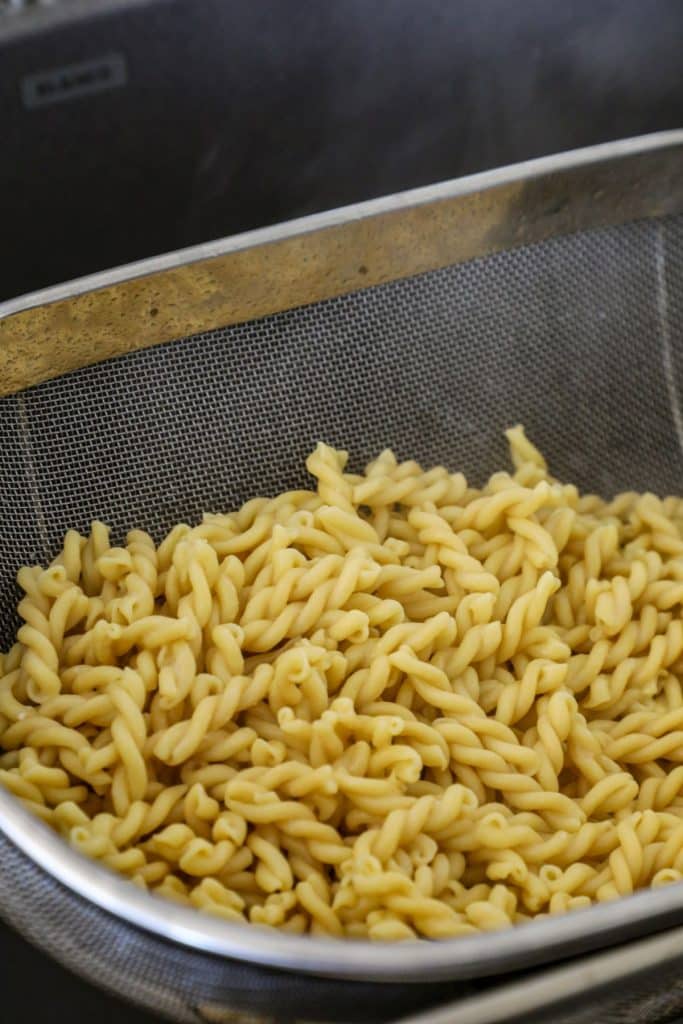 Grill the chicken according to the directions outlined above and assemble the dressing. Once everything is prepped you can begin to put the grilled lemon chicken pasta salad together.
In a large bowl add the cooked pasta of your choice.
Dice the grilled chicken into bite-sized pieces and add it to the pasta.
Pour the prepared Boursin dressing mixture over everything in the bowl. Toss to combine until everything is mixed and coated evenly.
Add additional grated parmesan and seasonings if needed. Thinly slice (chiffonade) plenty of fresh basil and add it into the bowl and toss again.
Serve the salad right away or keep it in the fridge until you are ready to serve. You can eat this pasta salad cold or even heat it up for a minute in the microwave and serve it hot (we love it both ways).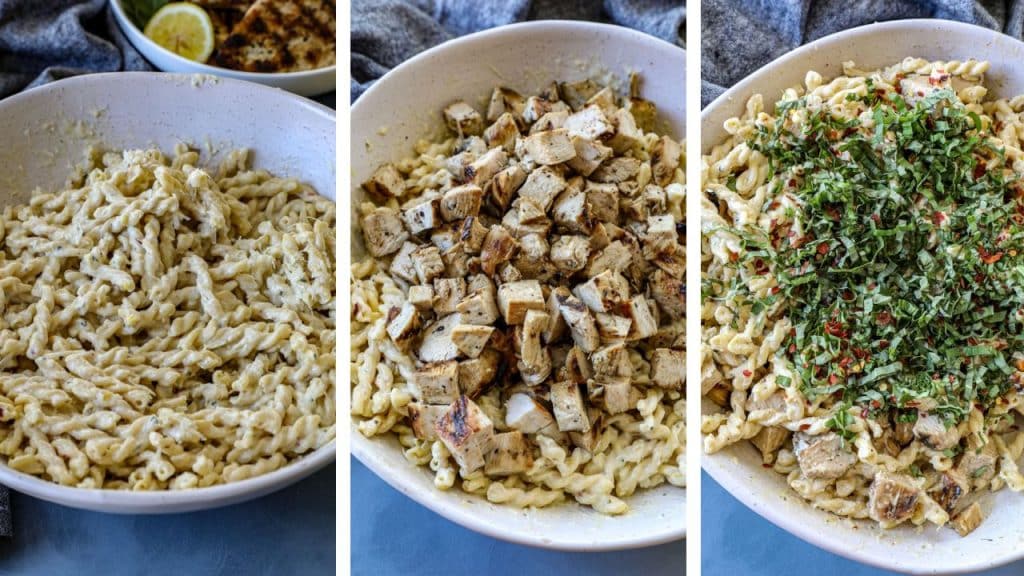 How Long Does Pasta Salad Keep?
According to the USDA guidelines, prepared foods that are held properly in the fridge are good for up to 7 days from the day you made it.
However, I find that the fresh basil and grilled chicken do best when eaten within a 3-5 day window.
Keep the lemon pasta salad stored in an air-tight container until ready to eat and enjoy.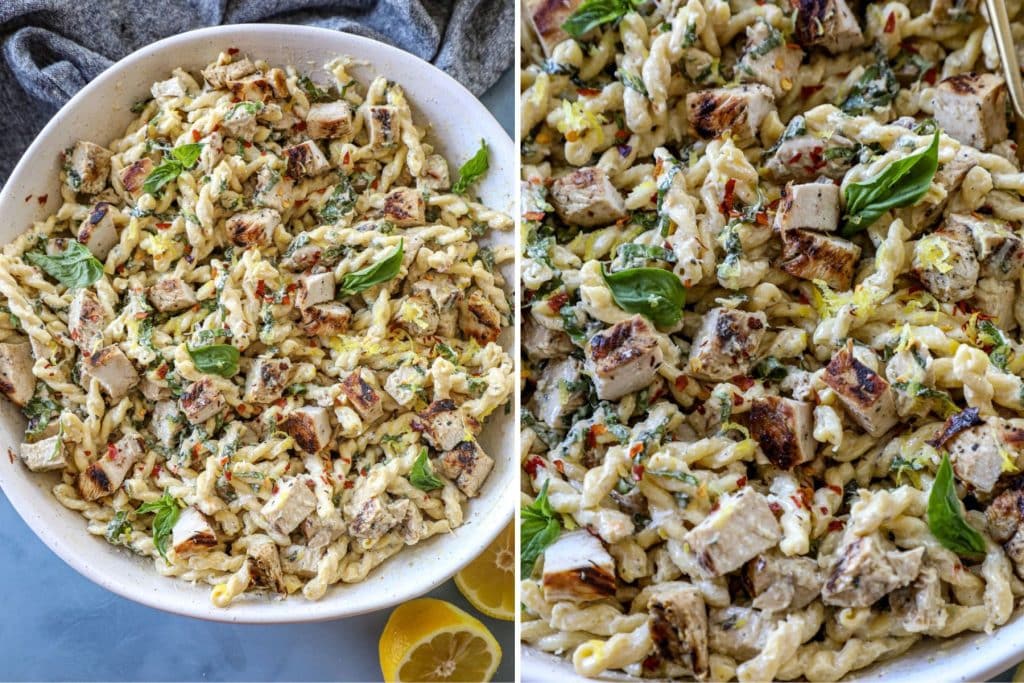 Looking for more salad recipes? Try my California Cobb Pasta Salad or this Cauliflower Antipasto Salad too.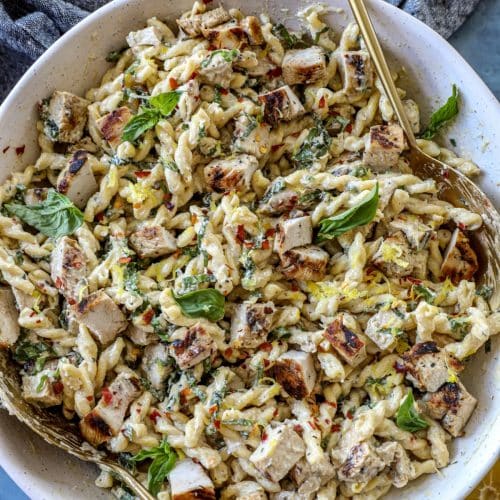 Creamy Lemon Chicken Pasta Salad
If you love the viral TikTok lemon pasta recipe, then you'll fall in love with this version of a cold pasta salad with flavorful grilled chicken and a creamy garlic base. It's the perfect meal prep recipe that works for lunch or dinner.
Print
Pin
Rate
Ingredients
2

Chicken Breasts

Halved

8

oz.

Pasta

I used chickpea pasta

1/2

cup

Fresh Basil

chiffonade
Chicken Marinade
1

Lemon, juiced and zested

1/2

cup

Olive Oil

2

cloves

Garlic

minced

1

tsp

Salt

1

tsp

Pepper

1

pinch

Red Pepper Flakes
Dressing Base
5.2

oz.

Package of Boursin Cheese

garlic and herb flavor

1/4

cup

Olive Oil

1

Lemon, juiced and zested

2

cloves

Garlic

minced

1/2

cup

Parmesan Cheese

grated

1

tsp

Pepper

1/2

tsp

Red Pepper Flakes

Salt (to taste)
Instructions
Chicken Prep and Cooking Instructions
Mix the marinade ingredients together and place in a bag or shallow dish.

Halve the chicken breasts to create thinner pieces for even cooking and better marinating. Place the chicken into the marinade and into the fridge for at least 2 hours or overnight.

Preheat a grill to medium high heat. Grill each chicken breast directly over the flame, about 3 mi3nutes per side.

The chicken should easily lift from the grate when ready to flip. Continue to cook and flip the chicken, two times total or until the chicken reaches an internal temperature of 165 F. Let rest 15 minutes before slicing into pieces for the pasta salad.
Dressing
In a bowl, add the Boursin cheese, olive oil, and lemon juice/zest.

Mix in the parmesan cheese, garlic, and seasonings.

Whisk to fully combine and taste to add any additional salt (if needed). Set it aside.
Assembly
Cook the pasta of choice according to the package directions.

Drain in a colander and rinse with cold water to stop the cooking process. Shake dry.

Add the pasta to a large bowl and add the dressing and diced grilled chicken.

Chiffonade the fresh basil and toss that to combine as well.

Check to see if the pasta needs additional seasonings or parmesan cheese and adjust as needed.

Serve immediately or store in the fridge in an airtight container for up to 7 days.
Notes
While I create this lemon pasta salad to be enjoyed cold, it's also quite delicious reheated in the microwave as well. Reheat for about a minute and enjoy!
Nutrition
Serving:
1
Bowl
|
Calories:
377
kcal
|
Carbohydrates:
22
g
|
Protein:
18
g
|
Fat:
24
g
|
Saturated Fat:
4
g
|
Polyunsaturated Fat:
3
g
|
Monounsaturated Fat:
16
g
|
Trans Fat:
0.01
g
|
Cholesterol:
40
mg
|
Sodium:
461
mg
|
Potassium:
298
mg
|
Fiber:
1
g
|
Sugar:
1
g
|
Vitamin A:
189
IU
|
Vitamin C:
1
mg
|
Calcium:
91
mg
|
Iron:
1
mg