"Sugar cookie lovers unite! Check out this super easy, keto and low carb friendly fruit pizza recipe that's a total crowd pleaser."
Keto Sugar Cookie Fruit Pizza:
It's been years since I had a sugar cookie fruit pizza. I first learned about this back in the day from one of my college roomates. We even made it in class a few times for labs (when I told students we were making fruit pizza they all thought I was crazy by the way).
Whether your gluten free, low carb, or just looking for a better alternative for desserts this summer, this Keto Sugar Cookie Fruit Pizza is for YOU! I love sharing this with non-keto eaters, they're always surprised that it's sugar free and gluten free! Find the full recipe below and read on for helpful tips and tricks.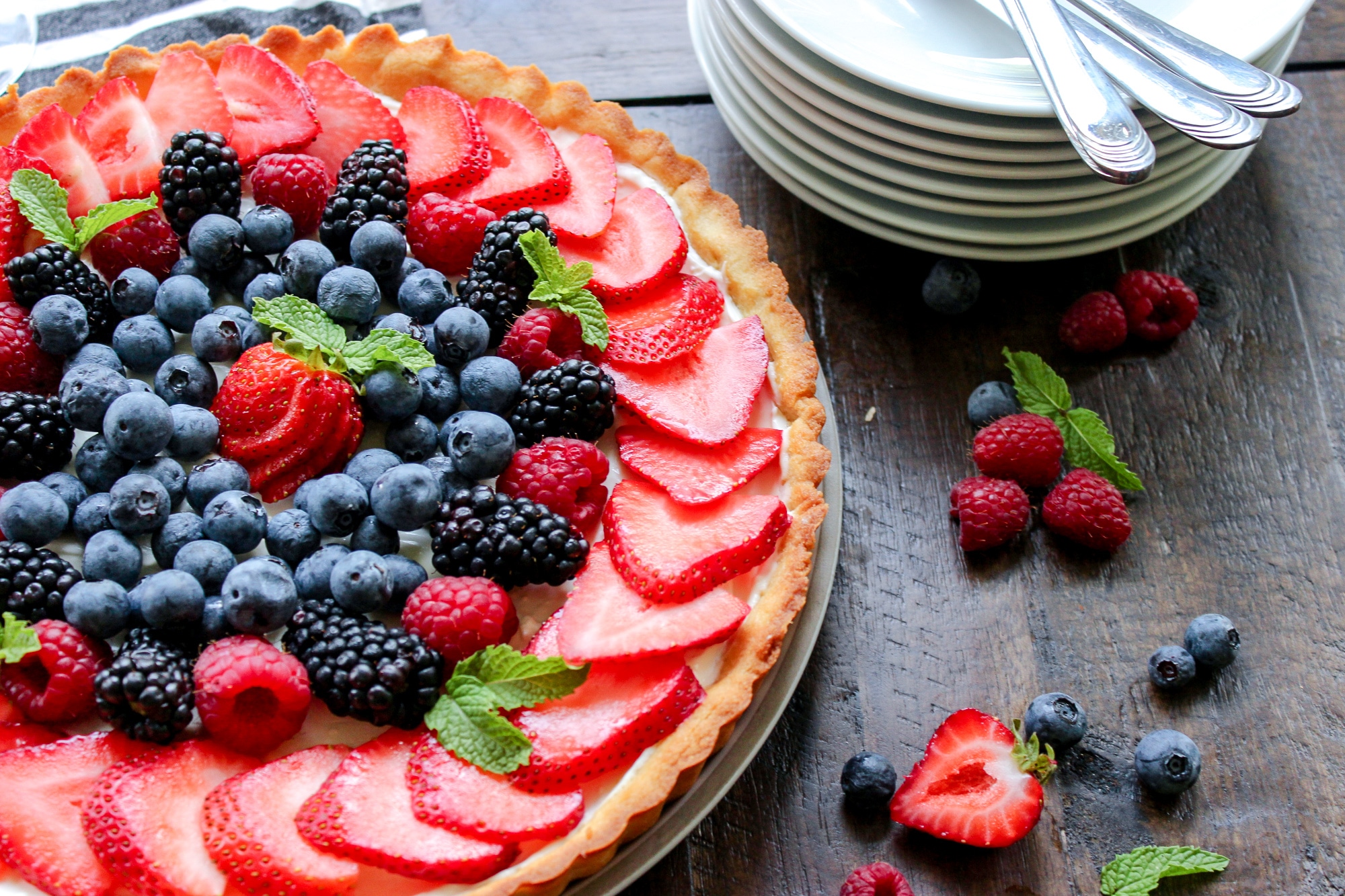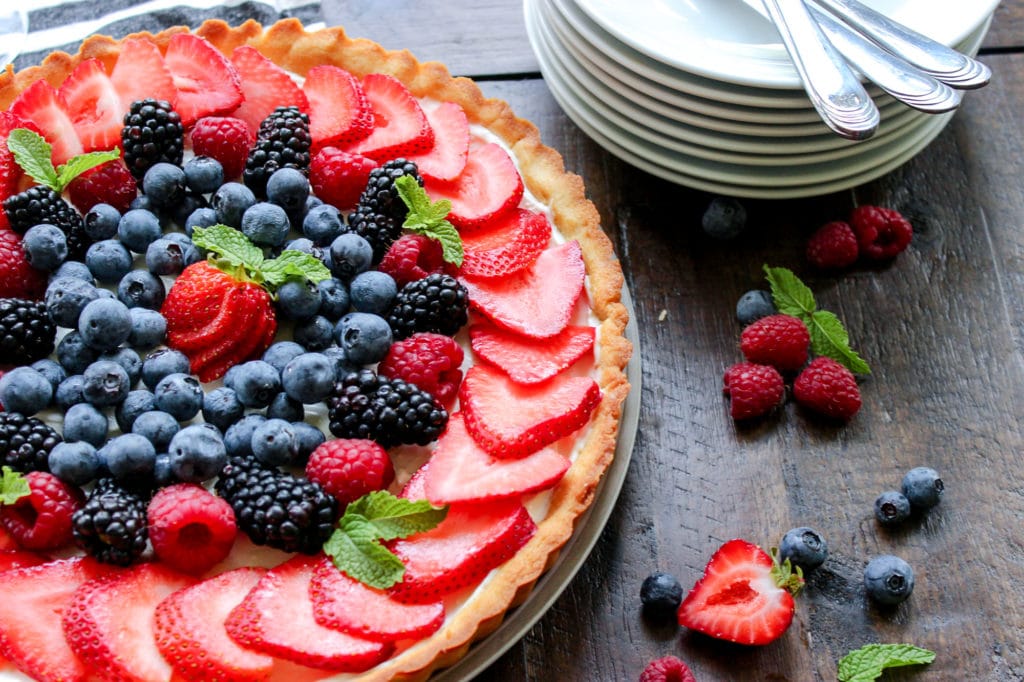 "School" Supplies
Food Processor
Rolling Pin
Parchment Paper
Pastry Brush
Measuring cups/ spoons
12″ Pie Plate/ Tart Pan/ Pizza Pan
Knife and Cutting Board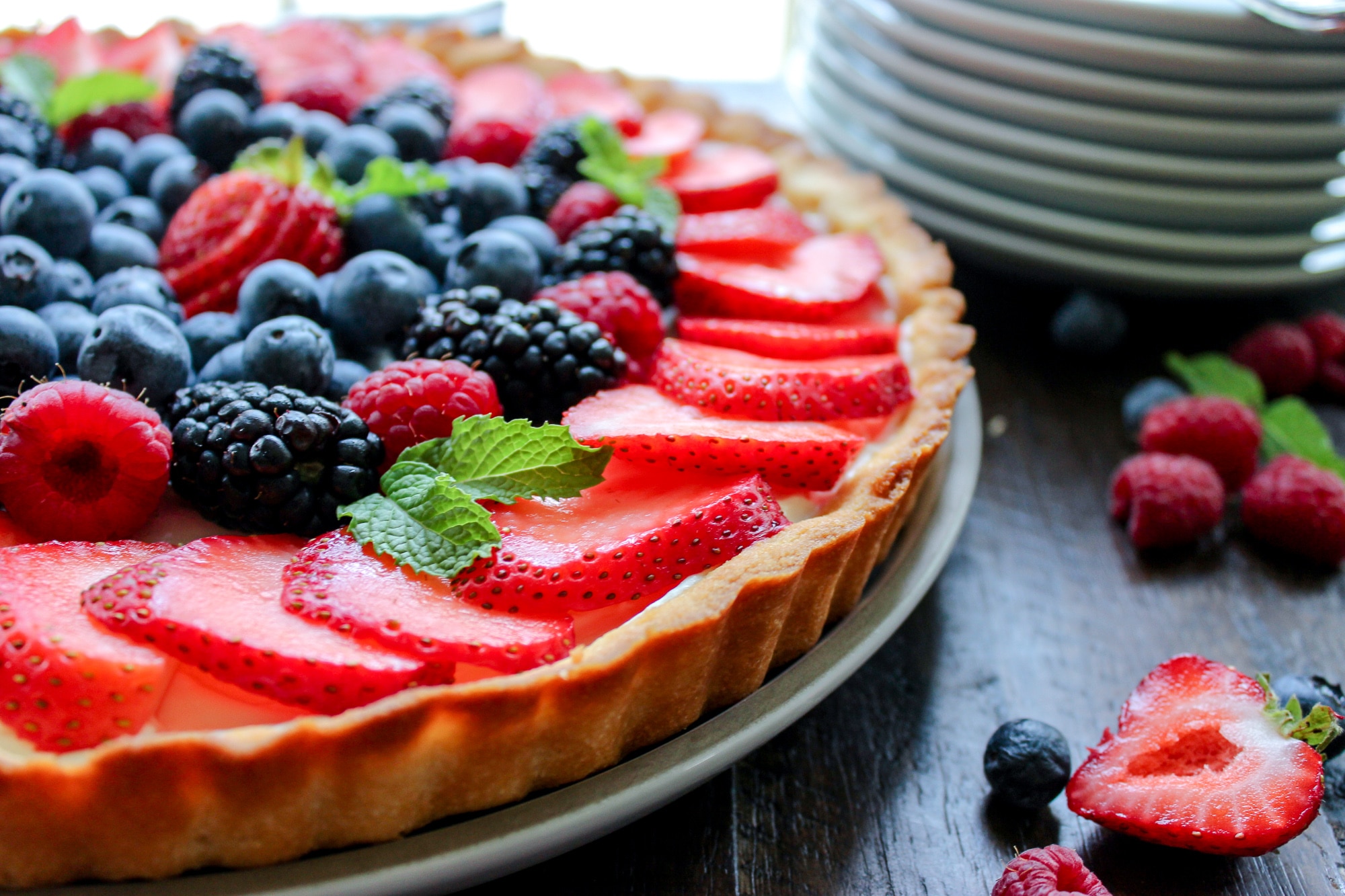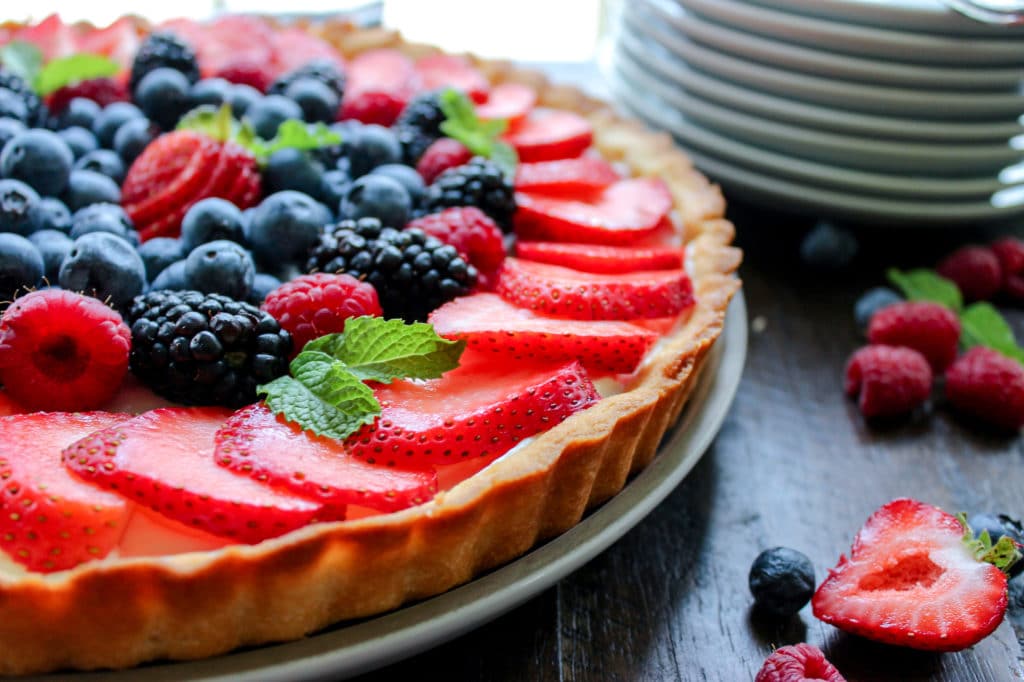 "Class" Notes:
The Cookie Pizza Crust
A few weeks ago, I created this amazing Low Carb Tomato Galette with an easy to make crust! This crust literally gave me life! It was crispy, buttery, flaky, and well, perfect. With a few tweaks and some inspiration, I created a sweeter version for this Keto Sugar Cookie Fruit Pizza.
The crust is easily made in a food processor. I haven't tried it any other way (it may be doable with a hand mixer). After the dough comes together, refrigerate for about and hour or so to really solidify the butter (this is key to a good crust). After the dough is thoroughly chilled, roll it out between two sheets of parchment paper about 1/6th of and inch thick.
The dough is a little sticky and will probably break a little when transfering. If you use a pie plate or a tart pan, just repair it by pressing the dough in with your hands. Use a fork to prick a few holes to allow the steam to escape and brush with egg wash. Bake till lightly golden and allow it to fully cool before filling.
The Filling
The filling is so delicious and not overly sweet (the berries will add some additional sweetness as well). I mixed about 6 oz. of softened cream cheese with a little sour cream. This adds some tartness and cuts the intensity of the cream cheese (also makes it a little easier to spread onto the crust).
Fill the cookie crust with the cream cheese filling. Finally, rinse the fruit (I used strawberries, blackberries, raspberries, and blueberries), pat them dry, slice and arrange them over the filled in cookie crust. Garnish with whipped cream and some fresh mint and serve!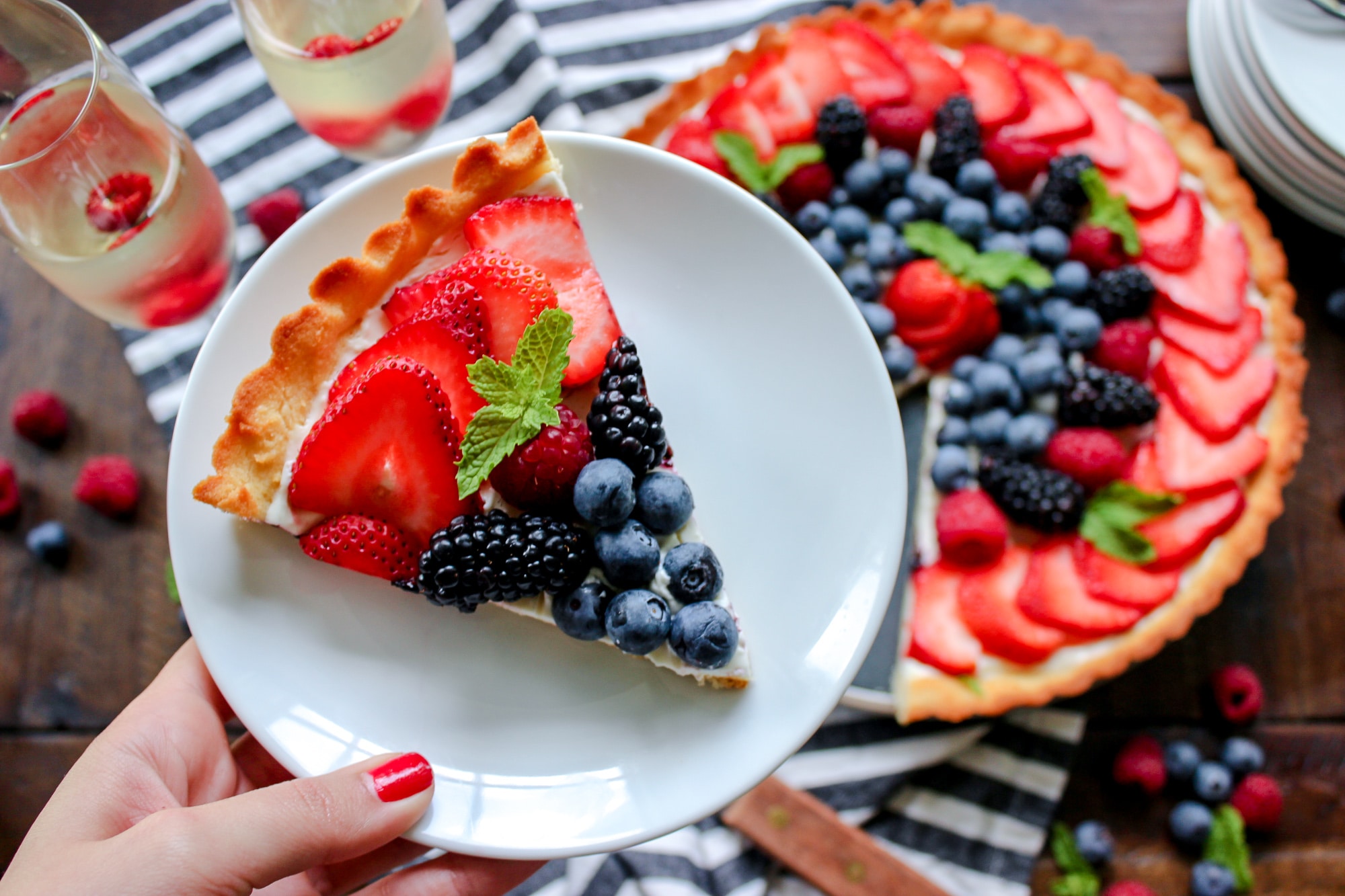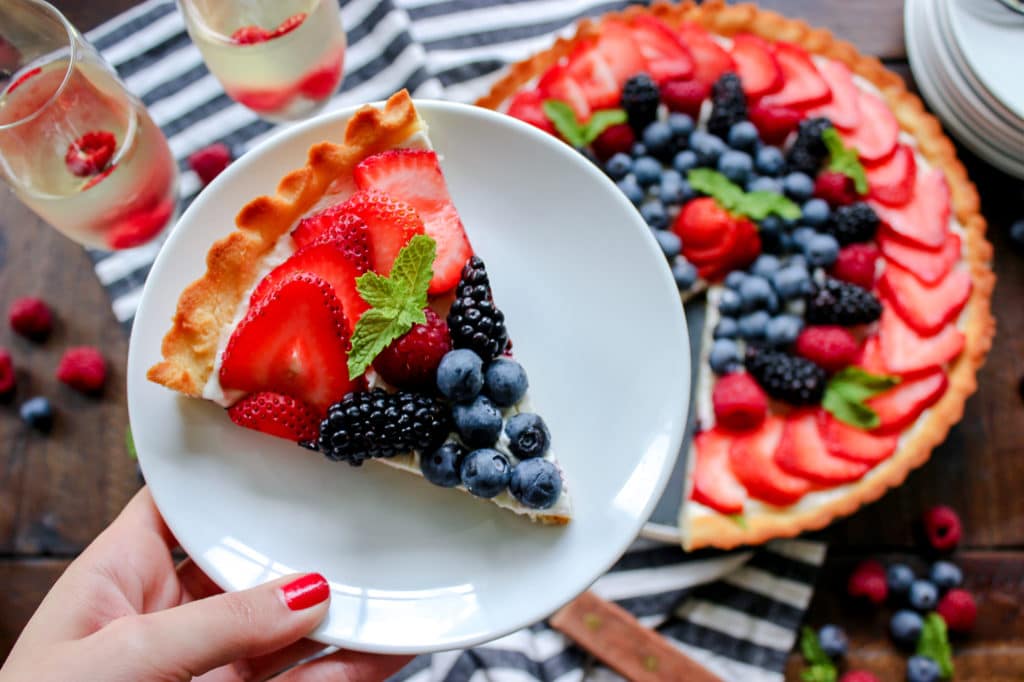 The Keto Sugar Cookie Fruit Pizza will store nicely in the fridge for a day or two. If you plan on making it ahead of time, I would suggest waiting to add the fruit so it doesn't gather moisture and bleed colors into the cream cheese filling! I hope this makes a great addition to your upcoming summer get togethers!
Bon Appeteach,
-L
Keto Sugar Cookie Fruit Pizza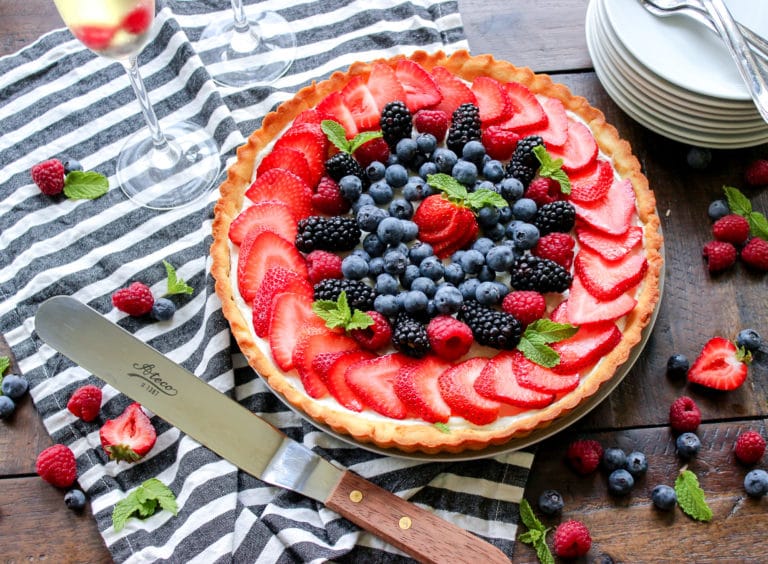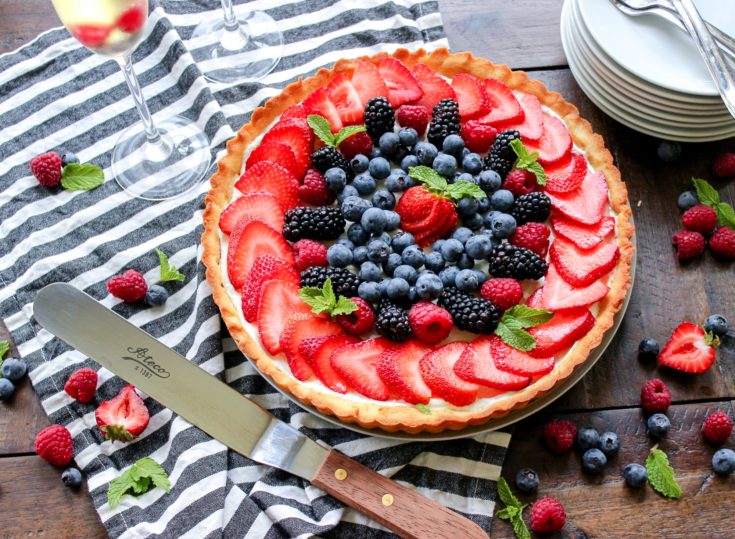 Ingredients
Cookie Crust:
1 3/4 cups Almond Flour
1 tsp Salt
6 Tbsp. Cold Butter, diced into chunks
1 tsp. Xanthan gum
1 Egg
1 tsp. Vanilla
1/4 cup Low Carb Sweetener (or your favorite low carb sweetener)
Filling:
6 oz. Cream Cheese, softened
1/4 cup Sour Cream
1/2 tsp Vanilla
1/4 cup Monkfruit Sweetener (or your favorite low carb sweetener)
1/2 Strawberries sliced
1/2 cup Raspberries
1/2 cup Blackberries
1/4 cup Blueberries
Instructions
In a food processor, combine the almond flour, salt, xanthan gum, low carb sweetener, and vanilla together. Pulse a few times, then add the cold butter. Pulse until it looks like bread crumbs. Add in the beaten egg and pulse until the dough comes together into a ball. Place in plastic wrap and refrigerate for at least and hour.
While the dough is in the fridge, combine the softened cream cheese, sour cream, vanilla, and low carb sweetener together in a bowl. Whisk until it is smooth and fluffy. Place in the fridge until ready to use.
When the dough is ready to be rolled out, place it between two sheets of parchment paper. I like to roll the rough into a nice circle by placing my rolling pin at "3 o'clock" and rolling it at a slight angle to "6 o'clock". Then, rotate the entire dough counter clockwise from "12 o'clock to 9 o'clock". Keep repeating these two steps until the dough is about 12" all the way around.
Preheat the oven to 375 F. Remove the top layer of parchment paper from the dough, carefully flip the parchment over and place the dough out onto the pan you choose to use (I used a tart pan). If the crust breaks in places or tears at the edges when peeling off the second piece of parchment, use your fingers to repair and piece back together by pressing it into the sides. Use a fork to poke holes across the bottom to create air pockets.
Bake for 10-12 minutes till lightly golden (do not over bake). Allow it to fully cool before filling. Fill with the cream cheese mixture (leave an edge free to look like a pizza crust). Top with sliced fruit and serve!
NOTE: This will store for a few days in the fridge. You can fill it ahead of time but wait to add the fruit right before serving so it doesn't collect moisture and bleed through
Notes
Nutritional Information: Obtained using My Fitness Pal. I am not nor do I claim to be a nutritionist, so it is important to always verify the nutritional information as brands vary. I work hard to always provide the most accurate information as possible in hopes of making this easier for you, my readers!
Nutrition Information:
Yield:
10
Serving Size:
1
Amount Per Serving:
Calories:

250
Total Fat:

27g
Saturated Fat:

10g
Trans Fat:

0g
Cholesterol:

50mg
Sodium:

120mg
Carbohydrates:

8g
Fiber:

4g
Sugar:

3g
Protein:

8g