"Sparks Joy": A (Keto) Charred Lemon Drop Martini
A riff on a classic lemon drop cocktail, this keto friendly version uses the richness of charred lemons, vodka, and (keto) thyme infused simple syrup to create a refreshing and joy enhancing drink!
Bon Appeteach is a participant in the Amazon Services LLC Associates Program, an affiliate advertising program designed to provide a means for sites to earn advertising fees by advertising and linking to amazon.com. I only share products I use personally, thanks for helping keep Bon Appeteach running!
Kicking off my cocktail inspired recipe series known as The Bon Appeteach "Book Club for 2020 with this vivacious little libation! This year's book themed drinks will be shared the last Friday of every month and will be inspired off of popular self-help books spanning all categories (trust me, this is going to be entertaining).
That being said, it couldn't "spark" anymore "joy" in me to ring in a new year and new season with this low carb keto friendly (this cocktail is just 3 net carbs), charred lemon drop martini inspired by Marie Kondo's popular book and Netflix series, The Life Changing Magic of Tidying Up (affiliate link).
If you're new here (to my website, my Instagram, or to keto in general) there are a few things you need to know before we dive into today's drink:
THIS IS NOT AN ACTUAL BOOK CLUB. It's a "book club" where I never actually read the books, I just make cocktails name after them. I have done four seasons (all with different themes) and will be sharing all the recipes under the book club tab here on my website.
Keto and Alcohol can mix, but there are some things you need to know! In fact, I wrote a whole guide on how to drink keto and alcohol since I have so many cocktail recipes and want you to be informed (once a teacher, always a teacher).
Keto Simple Syrup – Just buy the dang allulose (affiliate link) make a big batch, and use it for a bunch of recipes. It's cocktail making gold my friends and it's legit. Please note… not all low carb sweeteners are created equal so check out the recipe post to get all the details!
Now that all of that is out of the way (phew), let's do a little less writing and and little more drinking! Check out the details for this recipe below and watch my video tutorial as well. Cheers!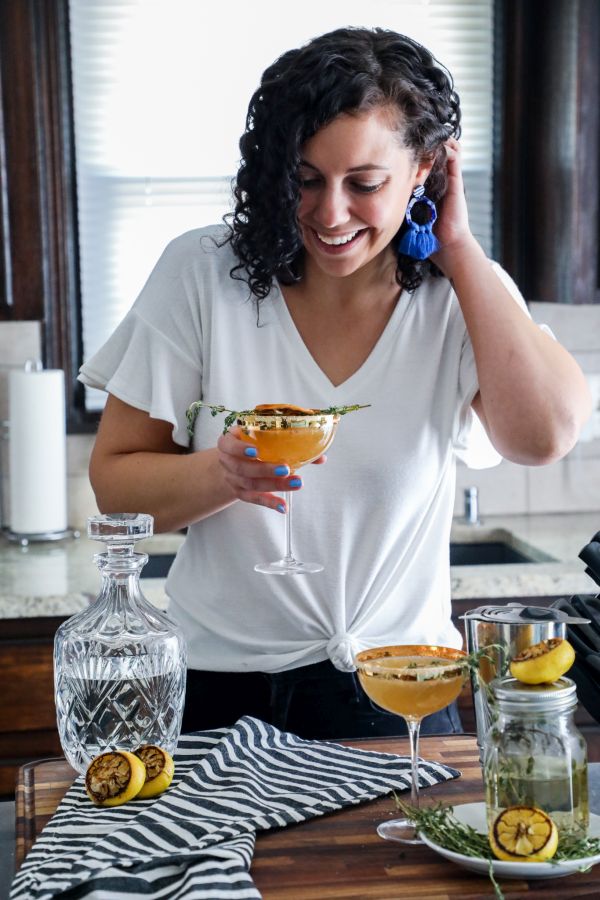 "School" Supplies:
Cocktail Shaker
Jigger
Martini Glass
Grill or Frying Pan (or both)
Pot / Whisk (if making Keto Simple Syrup)
"Class" Notes:
This cocktail is simple enough to recreate with staple bar ingredients! Just because the ingredients are basic, doesn't mean the flavor profile has to be. I'm breaking it all down here for you today and walking you through some tips and tricks to really elevating a simple cocktail into one (that Marie Condo would say) "Sparks Joy".
What is a lemon drop made of?
Whether it's a martini or even a shot, a lemon drop typically consists of lemon juice, vodka, triple sec, and simple syrup. To make this a little more keto friendly, I've pumped up the ratio of lemon juice to vodka to equal 1:1 and remove the triple sec entirely (does contain a decent amount of carbs).
If you're not keto and low carb, you can add the triple sec or maybe swap it with some orange peel infused vodka for a similar effect. I think the flavors from the charred lemons here really bring out a well rounded flavor, so frankly I didn't miss it.
How do I char lemon halves on the grill or in a pan?
You can choose to skip this step in the recipe process, but I HIGHLY encourage you not to. The charred lemons are easier to juice (the rind becomes softer and more pliable) and heat brings out a slighly sweeter and less acidic flavor profile.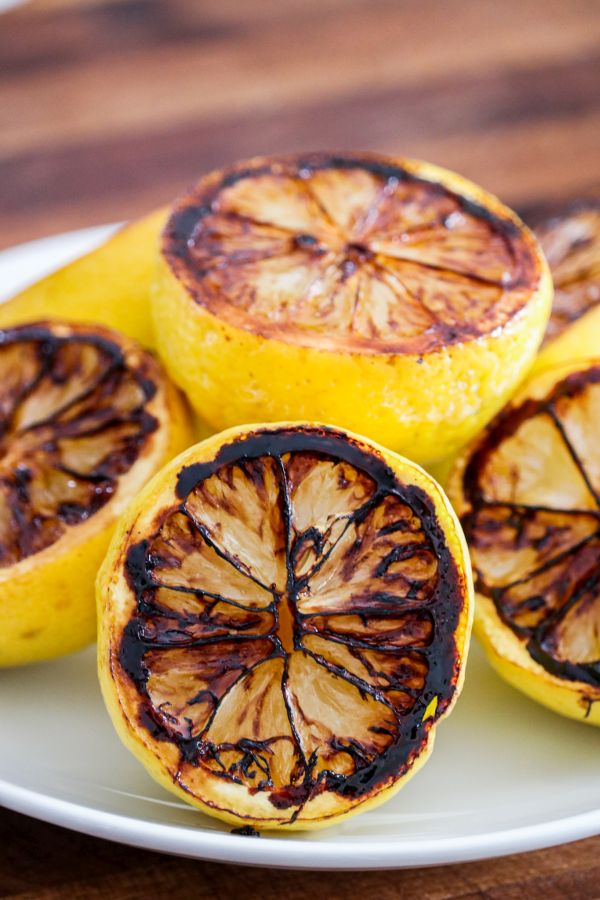 It also creates a richer, more golden yellow color to the cocktail which I find absolutely stunning. Who doesn't love a pretty cocktail?
Slice the lemons in half and either toss them over medium direct heat on the grill and let them brown and caramelize (about 3-5 minutes) or place them in a frying pan on medium heat and cook for a similar amount of time.
Set the charred lemons aside to cool or juice them and store the juice in jar for later use in the fridge (refrigerating the lemon halves with harden the peel again so avoid this if possible).
How do I make thyme infused simple syrup?
Whether your opt to make a regular simple syrup or a keto simple syrup, follow the basic steps and remove the sugar water from the heat. Place a few springs into the sugar water while warm and let it steep.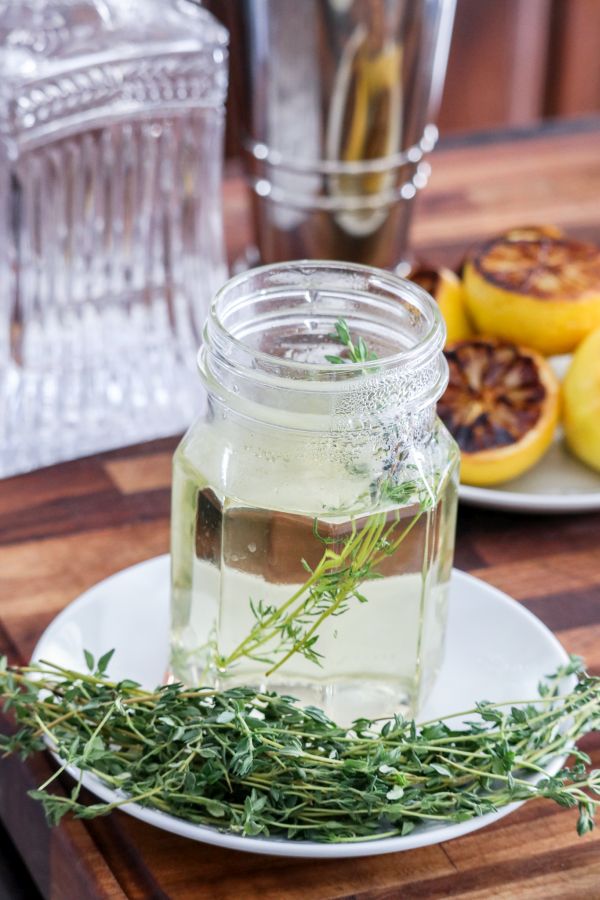 I always store my syrups in glass jars so I can easily see them. They last fairly long in the fridge but may go bad faster if you leave the thyme in it for an extended period of time (thyme… time… no pun intended). Not interested in getting this fancy? Just use regular simple syrup instead!
How to assemble the drink-
Combine the vodka (or sub with dry gin), charred lemon juice, and the keto thyme simple syrup into a cocktail shaker. Add the ice and shake until chilled (about 10-15 sec).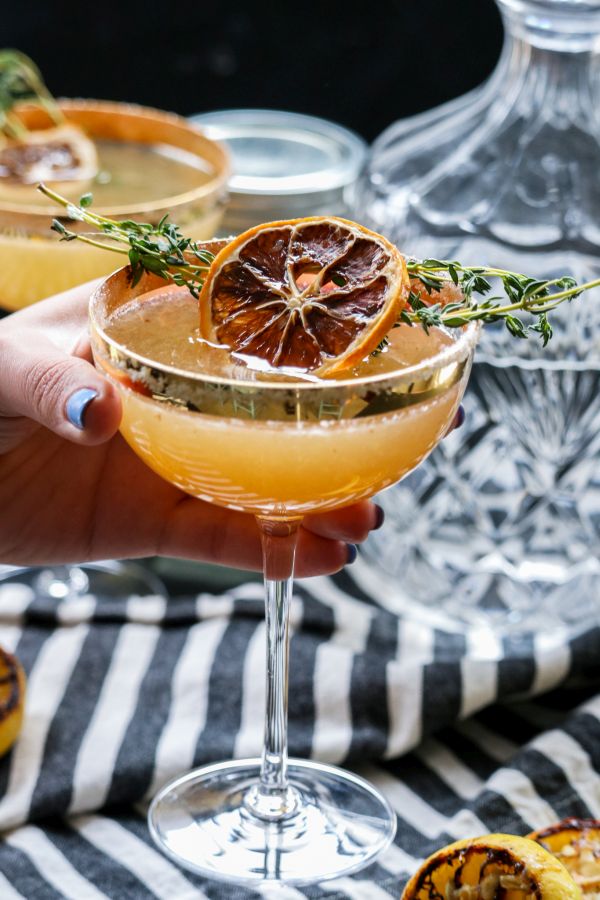 Shaking over ice is important for mixing and the ice adds a slight dilution to the drink. Strain into a coupe martini glass that's been rimmed with (low carb) sugar.
I garnished my drink with homemade dehydrated lemon wheels and some fresh thyme stems. You could also make a really pretty rose if you follow this guide on how to make rose cocktail garnishes too!
Thanks for joining me for January's book themed libation, see you all ina few weeks for the next cocktail in the series!
Like this drink and want to check out more like it:
Little "Whiskey": Strawberry Lemonade Keto Whiskey Smash
50 Shades of Earl Grey Gin Fizz
Mule Ado About Nothing : A Mezcal Mule Cocktail
The Fault In Our Sangria: Berry Basil Rose Sangria Recipe
Bon Appeteach,
-L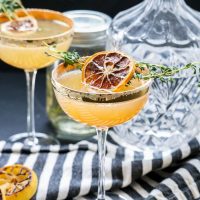 Charred Lemon Drop Martini
A riff on a classic lemon drop cocktail, this keto friendly version uses the richness of charred lemons, vodka, and (keto) thyme infused simple syrup to create a refreshing and joy enhancing drink!
Print
Pin
Rate
Instructions
Combine all the ingredients into a cocktail shaker, add ice, and strain into a low carb sugar rimmed martini glass. Garnish with a sprig of thyme and a lemon wheel and enjoy! See notes below on how to thyme infuse your keto simple syrup.
Notes
To infuse the keto simple syrup with thyme, follow the standard directions for the syrup, remove from the heat, and steep a few sprigs of fresh thyme into the pot until the mixture is room temperature. Strain, discard the thyme, and store in the fridge/ use for your cocktail
Nutrition
Serving:
1
g
|
Calories:
102
kcal
|
Carbohydrates:
3
g
|
Fat:
0.3
g
|
Saturated Fat:
0.04
g
|
Polyunsaturated Fat:
0.1
g
|
Monounsaturated Fat:
0.01
g
|
Sodium:
3
mg
|
Potassium:
150
mg
|
Fiber:
1
g
|
Sugar:
3
g
|
Vitamin A:
24
IU
|
Vitamin C:
57
mg
|
Calcium:
28
mg
|
Iron:
1
mg