This recipe was created in partnership with Lynx Grills. All opinions are my own and I always appreciate your support for brands that help make Bon Appeteach possible!
The sweet mellow flavor of buttery caramelized onions paired with the rich aroma of blue cheese and reduced into a beautiful sauce to pair with your favorite steak or beef cut. This dish takes little prep work and is a great way to elevate any meal!
Growing up in the Midwest, I've always been a steak and potatoes kind of girl. We ate very healthy growing up and most meals were balanced with protein, healthier carbs, and cooked vegetables. Now that I eat a lower carb diet, I love that I can still get these staples from my childhood without feeling like I'm on a diet.
My go to "sauce" for steak (if I add one) is usually this Fire Roasted Red Chimichurri. However, I was inspired to make this sauce after a recent visit home to Chicago this summer. My parents often put me on grill duty (obviously) and my mom made this sauce. I changed up the ingredients a little here there and opted to smoke mine on the grill to add some more flavor to the dish.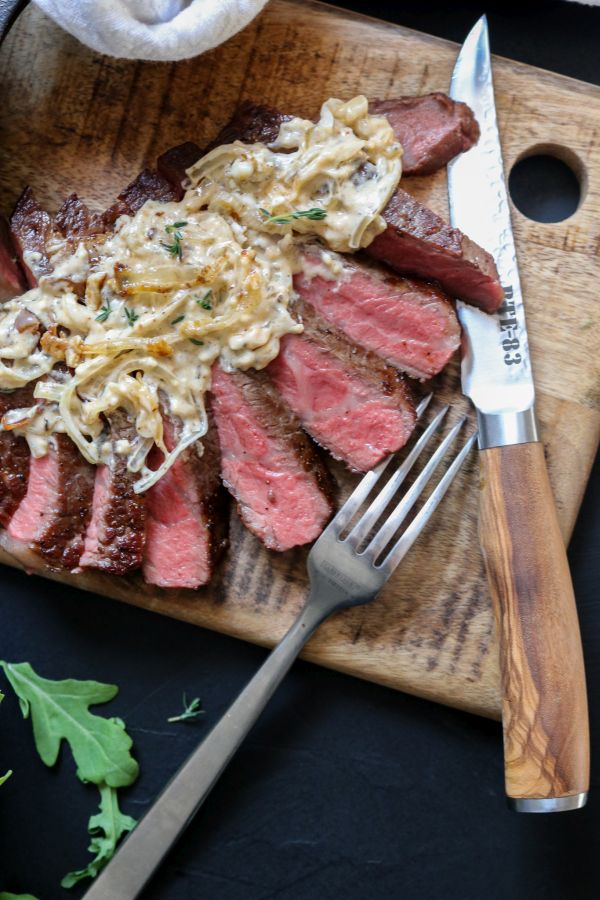 You can easily do this all in the oven however, so don't panic if you don't have a grill. Pair your onion and blue cheese sauce with your favorite medium rare steak (I love a good NY strip or a ribeye) and impress your friends and family (and maybe yourself) with this foolproof keto friendly steak sauce recipe! Get all the recipe details below and read on for helpful tips and tricks.
"School" Supplies:
Cast Iron Skillet or Baking Dish
Knife & Cutting Board
"Class" Notes:
First, I am a huge advocate for the fact that a good steak needs zero sauce. A little salt, some olive oil, and a good sear with beautiful grill marks and you're good to go. However, I do love how well dark and caramelized onions and that slightly pungent flavor of blue cheese pairs with beef.
I find this dish to be an easy way to make a basic and simple dish feel fancy! The best part? I make this all in my cast iron pan and it's literally only five ingredients too.
Start by thinly slicing your onions. I used vidalia onions for this because I find that they are a little sweeter and pair nicely with the browned butter and the umami flavor in the Worcestershire. Remove the sides of the onion, peel back the skin and divide the onion in half. Lay each half flat and cut 1/8th inch slices. Thinner onion pieces encourages a quicker cook time!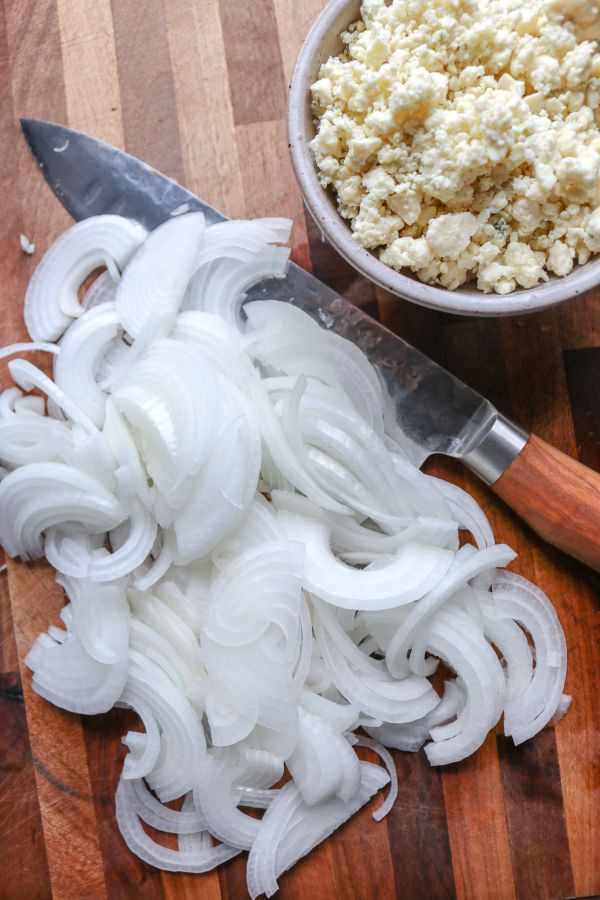 Once the onions are sliced add them to the skillet and saute onions in 4 tablespoons butter over high heat. If you have a steak that has a nice sized piece of fat on it, you can also render some of this off instead and use this to sear your onions slightly. It will add a lot of flavor to the dish but it isn't necessary.
Next, I like to season my onions with salt and pepper while they initially cook too. When the onions start to smell fragrant, reduce heat to a simmer and pour in the cream cheese and Worcestershire sauce and give it a quick stir. Stir in the blue cheese just until melted and everything is combined.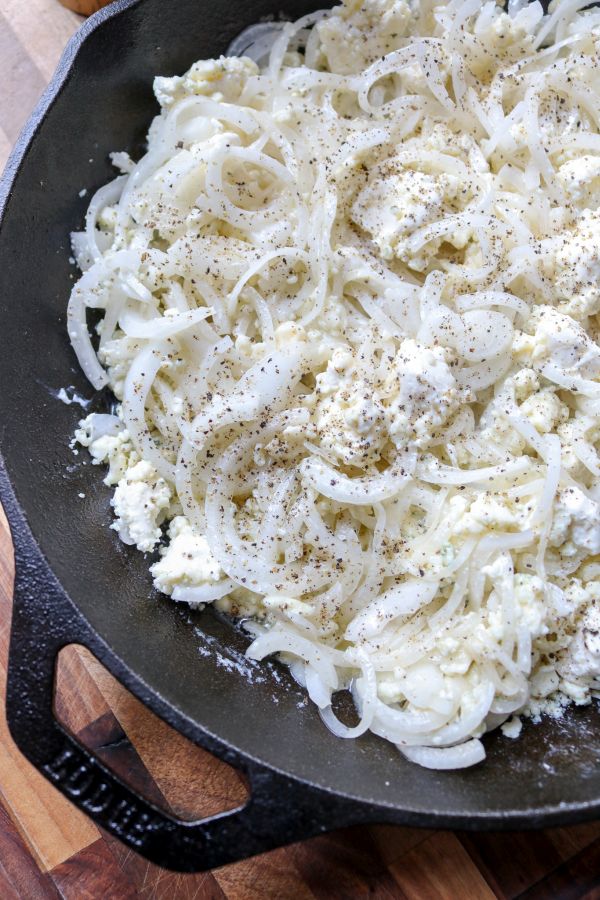 At this point, you can bake on low heat or add your cast iron to a preheated grill and smoke for 30-45 minutes or until dark and golden brown. The smoke adds a rich flavor that pairs nicely with your steak. I also love serving this with thinly sliced tri tip or any other cut or to liven up a cheaper or tougher cut of beef (like a flank steak).
When the onion and blue cheese sauce is finished, remove it from the heat of your grill (or oven) and prep your steaks. Crank the grill or cast iron up to high heat and sear your steaks to your level of desired doneness. I prefer to cook a thicker steak indirectly and then finish off the steak with a quick sear.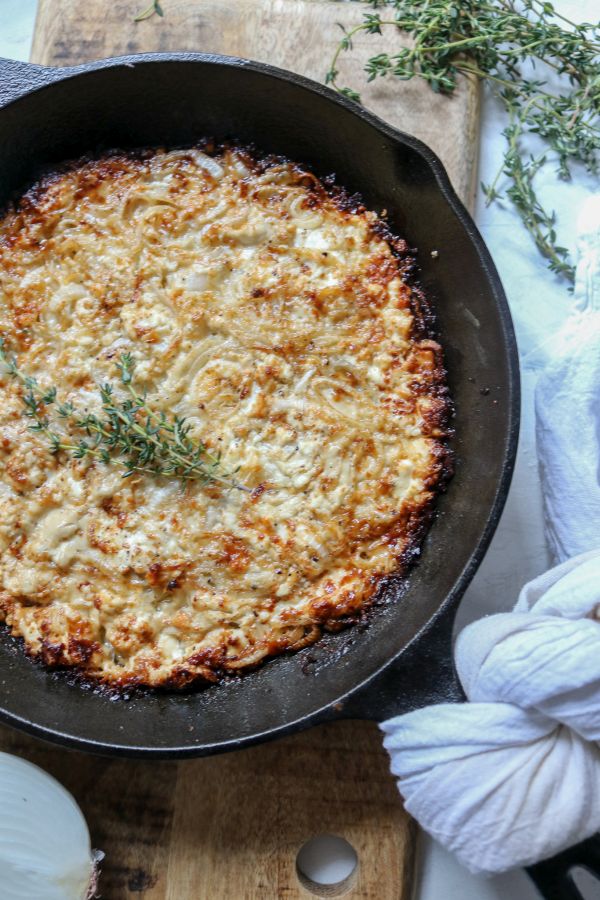 Pro Tip- Let the steak come up to about 115 F and then let it rest to room temperature before searing. Cook it quickly over high heat until it hits about 125-130 F and let it rest before slicing!
Serve your low carb onion and blue cheese sauce right over the sliced steak. This is a great side to also put over roasted or mashed cauliflower or over these Keto Smashed Roasted Radishes too!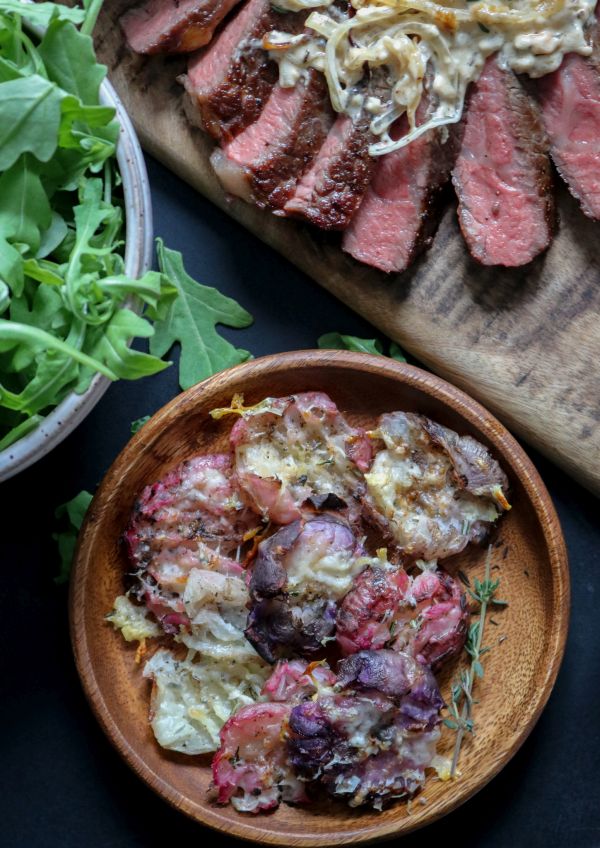 Better yet? Serve this as a dip with my low carb keto crackers or homemade keto tortilla chips. Not keto or gluten free? Then serve it with your favorite toasted bread or pita chips of your choice too! It's that good!
Bon Appeteach,
-L
Yield: 12
Low Carb Caramelized Onion and Blue Cheese Steak Sauce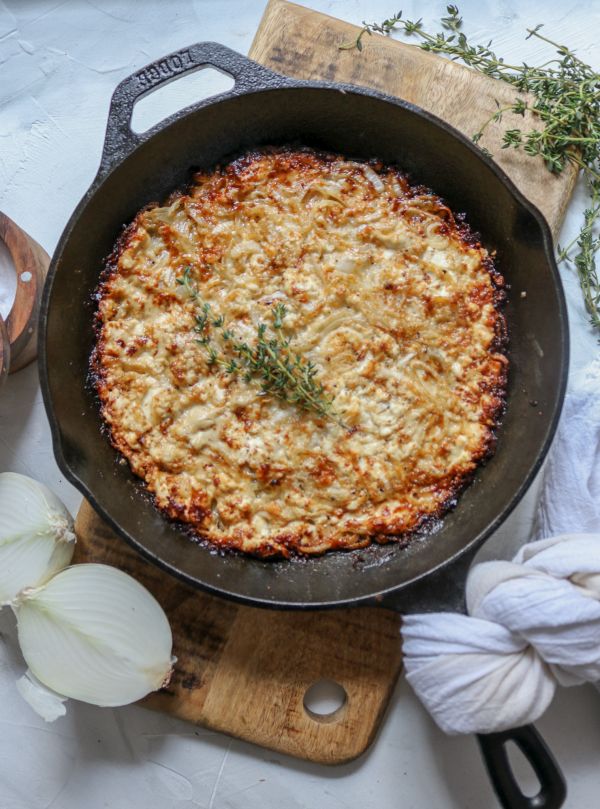 The sweet mellow flavor of buttery caramelized onions paired with the rich aroma of blue cheese and reduced into a beautiful sauce to pair with your favorite steak or beef cut. This dish takes little prep work and is a great way to elevate any meal!
Ingredients
2 Vidalia Onions
4 Tbsp Salt & Pepper
4 oz. Cream Cheese, cubed
4 oz. Blue Cheese
1 tbsp Worcestershire Sauce
Salt & Pepper
Instructions
Melt the butter in a cast iron pan and add the onions. Season the onions with salt and pepper and cook until fragrant over medium heat.
Stir in the Worcestershire, cream cheese and blue cheese until it begins to melt and remove it from the stove top.
Smoke it on the grill at 300 F over indirect heat for 30 minutes or so or until golden brown. You can also bake in the over at 350 F until brown (20-30 min).
Remove from the heat and allow it to rest a few minutes. Serve over your favorite steak or beef cut or as a dip.
Notes
Skip the butter and render some beef fat in the cast iron for added flavor.
Nutrition Information:
Yield:
12
Serving Size:
1
Amount Per Serving:
Calories:

88
Total Fat:

6g
Saturated Fat:

4g
Trans Fat:

0g
Unsaturated Fat:

2g
Cholesterol:

17mg
Sodium:

1361mg
Carbohydrates:

6g
Net Carbohydrates:

0g
Fiber:

1g
Sugar:

3g
Sugar Alcohols:

0g
Protein:

3g