Sugar Free Rhubarb Mojito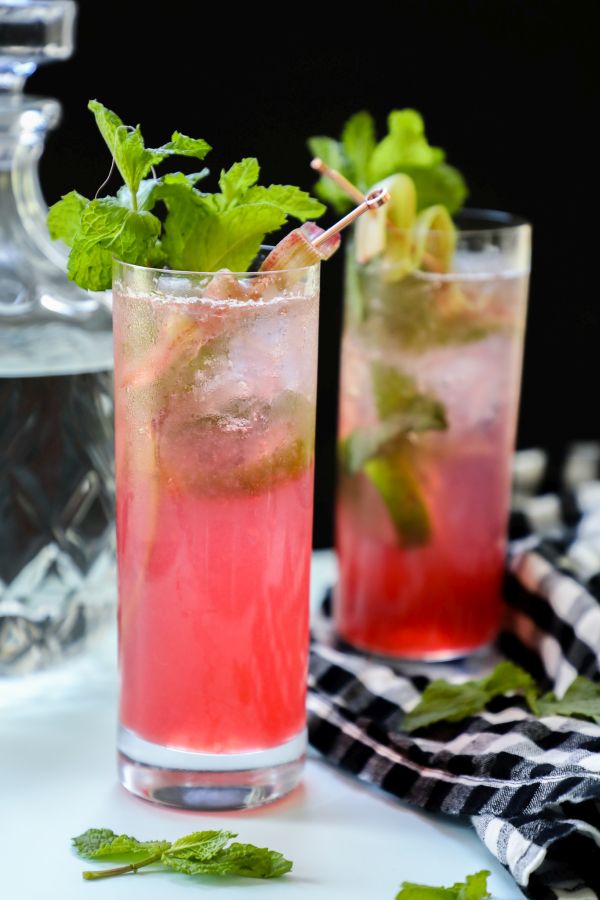 The perfect refreshing sugar free and low carb mojito, made with a keto sugar free rhubarb simple syrup! Have your cocktail and forget the carbs!
This week's Bon Appeteach "Book Club" cocktail was inspired by the classic Nicholas Sparks novel, A Walk to Rum-Member…. yup, rum-member that one from 1999?
I do. #causeimoldnow
This week's rum inspired cocktail, is a riff on a classic mojito. Summer months always remind me of rhubarb season, and it's fairly low in carbs and brings a unique flavor profile to a classic cocktail.
I created a keto, sugar-free, rhubarb simple syrup using my keto simple syrup recipe. You can easily use regular sugar too if that's your jam.
If you do plan on making this a sugar-free cocktail, make sure to read more about how I make this syrup keto-friendly, because not all low-carb sweeteners are created equal and will work with this recipe!
Find the full recipe below for this delicious rhubarb-infused sugar-free Mojito, and read on for a few tips and tricks to making the perfect crowd pleasing, low-carb rum cocktail!
"School" Supplies:
3 oz Rhubarb Simple Syrup (see ingredients below)
2 oz White Rum
4-5 Mint Leaves
1/2 Lime, juiced
Ice
Extra Mint & Rhubarb stalks for garnish
"Class" Notes:
I love when you can build a cocktail right in the glass! It makes it that much easier and also I love it when there are fewer dishes. I did make the rhubarb keto simple syrup ahead of time for ease, but it can still be made the day of and used, just plan ahead a little so it has time to cool!
In a Collins glass, I start by muddling a few mint leaves. This should be a gentle motion that releases the natural aromatics and oils in the mint leaf.
Squeeze in the juice of half a lime, add the rhubarb syrup, and then the rum!
Next, pour in crushed ice and top with club soda. Add a few more mint springs for garnish and I made a fun rhubarb ribbon with my peeler to make a pretty garnish. But also, feel free to just stir it a bit with a straw and drink it down. Because it's delicious.
This cocktail pairs so well with my easy smoked shrimp or make tortilla chips with my Keto tortilla recipe and enjoy some homemade guac too! Find the full recipe for this refreshing low-carb mojito below and be sure to follow along every Friday evening over on Instagram and watch me make the cocktail live!