Roasted Butternut Squash Parmesan Fries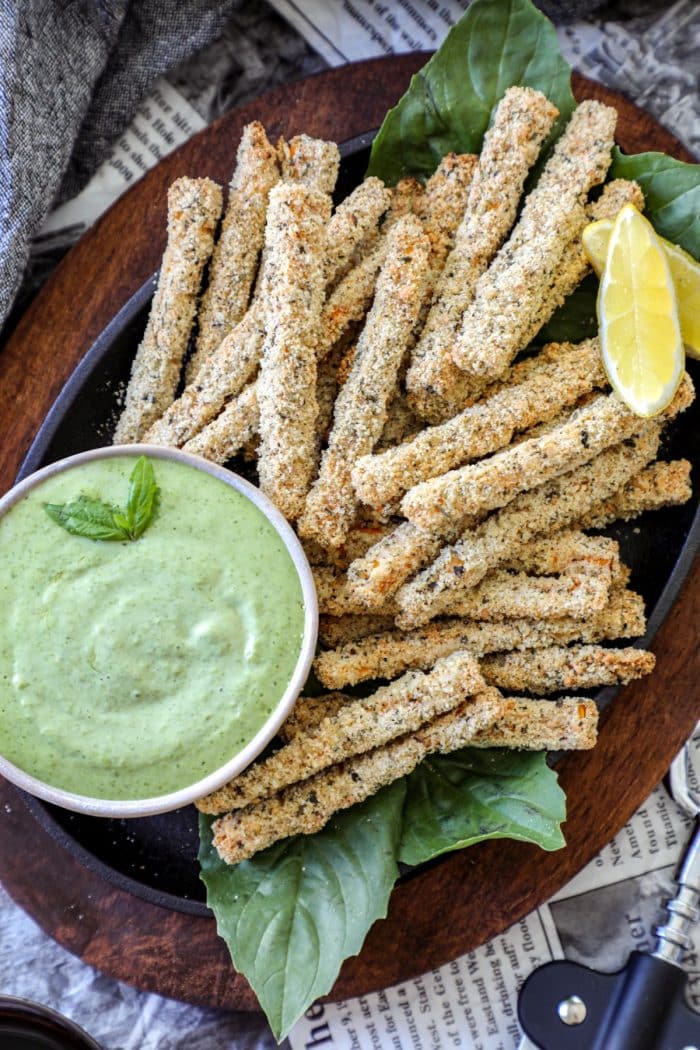 Create deliciously crispy roasted butternut squash parmesan fries. The perfect side dish or vegetable forward healthy snack to enjoy.
If you haven't gotten onto the butternut squash train, I suggest you get on it now with these roasted butternut squash parmesan fries! Butternut squash is a hearty vegetable that is easily roasted, air fried, and sautéed.
While I love how simple this air fryer butternut squash recipe is, I also love to enjoy this veggie by making butternut squash parmesan crusted fries.
They turn out crispy on the outside and tender on the inside. These savory snacks are a great healthy alternative to regular fries.
Butternut squash is my splurge carb these days. While sweet potatoes are great, I have a special place in my heart for butternut squash.
There are actually an abundant number of reasons we should eat as much of it as possible. Butternut squash is packed with fiber and nutrients and has a low glycemic index.
Plus, it slices really well into the classic french fry shape and keeps its shape after being roasted, air fried, or pan-fried. Served with a fresh garlic basil aioli to dip, these are the perfect side dish or snack!
Get the full recipe details below and learn how to make your own roasted parmesan crusted squash fries at home!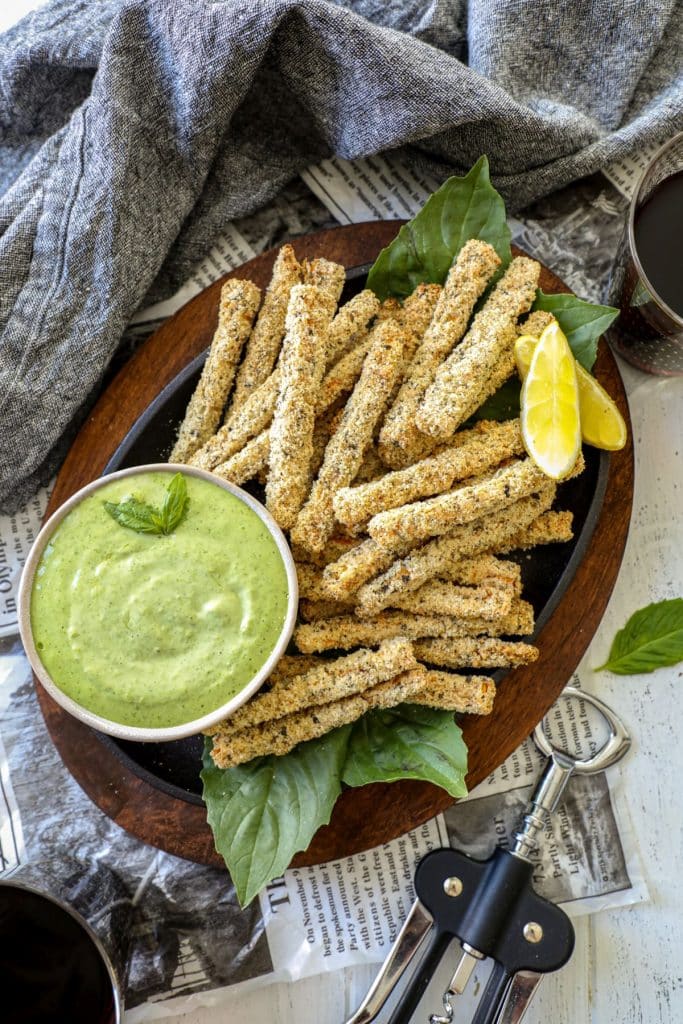 "School" Notes:
Chef's Knife and Cutting Board
Two Small Bowls
Baking Sheet
Cooling Rack
Air Fryer (optional)
"Class" Notes:
Welcome to my virtual classroom! Use the guided notes below where I often answer commonly asked questions I get from readers and cooks just like you.
This information is meant to help you have a stronger understanding of this recipe and the process so you can find success all on your own.
Ready to begin cooking? Simply jump to the recipe below and begin.
Butternut Squash Fry Ingredients:
Butternut Squash- Cut into 1/4″ batonnet cuts
Almond Flour– You can sub with bread crumbs or panko too if you prefer this.
Parmesan Cheese – Use a finely grated cheese for this to help create a crumb coating.
Seasonings: Garlic Powder, Onion Powder, Oregano, Thyme, Basil, Salt & Pepper.
Eggs
Water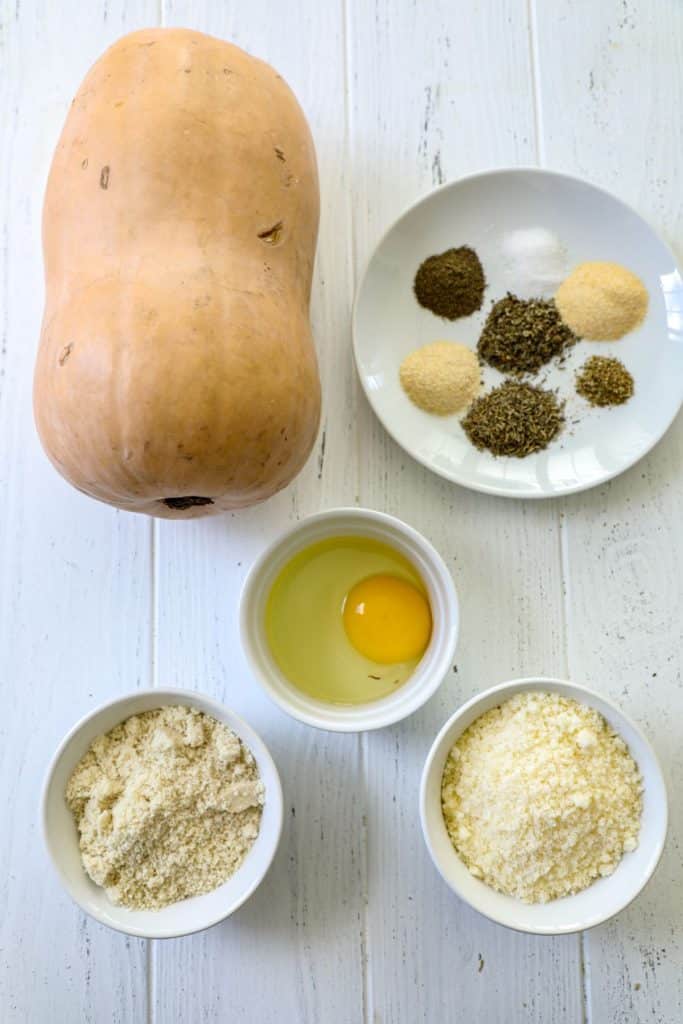 How To Make Roasted Butternut Squash Parmesan Fries:
Preheat your oven to 425 F and prepare a baking sheet with a roasting rack or cooling rack that is sprayed with non-stick spray.
Cut the butternut squash into 1/4″ thick rectangles, about 3″ long. I sliced the rind and cut the squash into a batonnet style cut, the classic size used to make French fries.
Beat the eggs, mix in some water to thin it all out and set them aside. Mix the almond flour, parmesan, and spices in a shallow dish.
Dip each squash stick into the egg mixture and then dip into the almond flour mixture making sure to coat all sides.
Place each one on the baking sheet. Bake for 20-25 minutes until they are cooked and crunchy. You want these to be slightly brown, but not as brown as they would be if they were fried.
While baking, combine the ingredients for

homemade garlic basil aioli

.
Serve your squash fries warm, dip, and enjoy!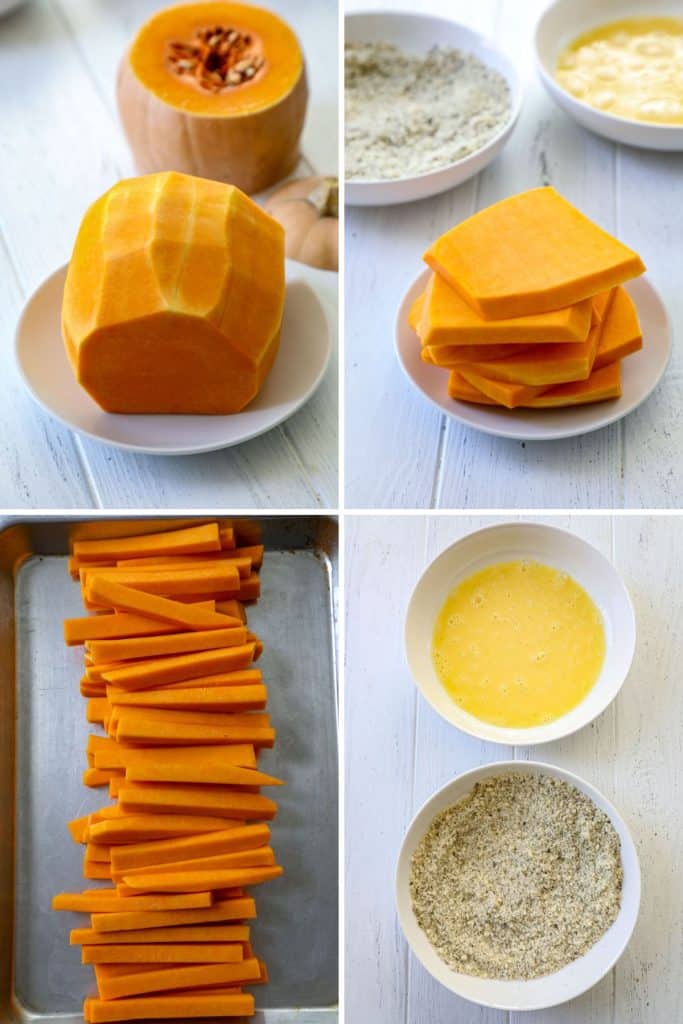 What Does Butternut Squash Taste Like?
If you've never had butternut squash, it has a similar taste to a sweet potato but is a little sweeter and softer in texture. Also, it has hints of carrot or turnip.
Butternut squash is super versatile and you can add it to your chili or make soups for a nutritious meal. Breading the butternut squash as I do in this recipe makes it nice and crispy on the outside and hearty and flavorful on the inside.
Expert Tips:
A batonnet cut is a squared-off rectangle about 1/4″ on all sides. You can cut these fries any way you want, however, I recommend this size because it allows for a nice crispy outside and a smooth creamy inside.
Try not to overcrowd your pan while roasting. Each butternut squash fry needs a little bit of room in order to really crisp up nicely in the oven!
If you want to skip on the basil aioli sauce, try dipping your roasted butternut squash parmesan fries in

BBQ ranch

or my Best Keto Burger Sauce!
What To Serve With Butternut Squash Fries:
Homemade basil aioli is the perfect addition to these delicious fries. All I use is some avocado mayo, olive oil, garlic, lemon juice, and a lot of fresh basil blended together.
To make this the side dish to a meal, try pairing it with my Smoked Chicken Thighs or Air Fried Salmon! These roasted butternut squash fries are good with any chicken, meat, or fish as a nice nutrient-dense side.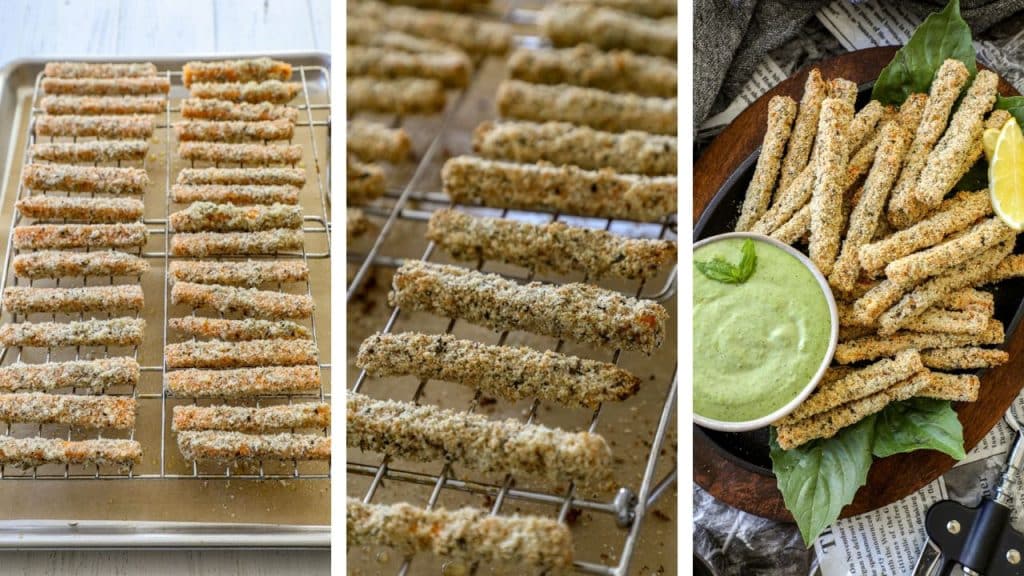 More Recipes to Try: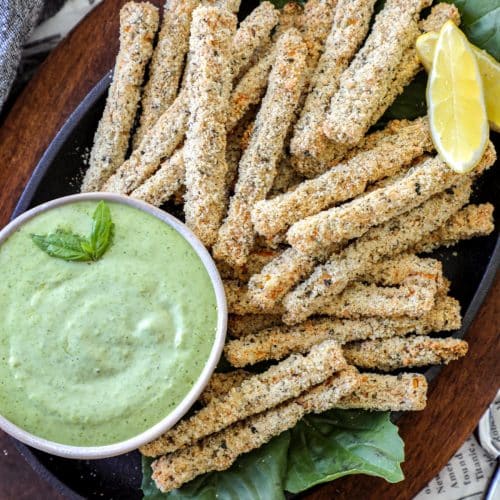 Roasted Butternut Squash Parmesan Fries
Create deliciously crispy roasted butternut squash parmesan fries. The perfect side dish or vegetable forward healthy snack to enjoy.
Print
Pin
Rate
Ingredients
1

Butternut Squash

1

cup

Parmesan Cheese

1

cup

Almond Flour

1/2

tsp.

Salt

1/2

tsp.

Pepper

1

tsp.

Garlic Powder

1/2

tsp.

Onion Powder

1

tsp.

Italian Seasoning

2

Eggs

1

tbsp.

Water

1

batch

Garlic Basil Aioli
Instructions
Preheat the oven to 425 F. Line a baking sheet with a wire rack and spray the rack with non-stick spray.

In a shallow bowl, combine the parmesan cheese, almond flour, and seasonings. Whisk until combined and set it aside.

In a separate shallow bowl, combine the two eggs and water together. Whisk until smooth and combined and set it aside.

Take the whole squash and place it into the microwave for 2 minutes to soften the outside rind. Remove and let cool a few minutes.

With a very sharp knife, slice off each end then slice in half. Use the half that contains no seeds to create the fries. Save the other half and roast or prepare for other recipes.

Use the knife to slice off the outside rind of the squash (cut the skin off like you would a watermelon).

Slice 1/4 inch thick pieces of squash until all of the squash is sliced. Take each slice and cut them into 1/4 inch thick strips to create the fry shape. See video or photos above as a reference.

Take each piece of butternut squash and coat in the egg mixture. Then coat in the almond flour and parmesan cheese mixture until the squash is coated.

Place the squash onto the wire rack and repeat the steps until all the squash fries are coated. Spray the top of the fries with non-stick spray (helps with browning).

Roast the butternut squash fries in the oven for 30 minutes or until lightly golden brown and tender.

Remove from the oven when fully cooked and remove them from the wire rack within 5 minutes of taking the fries out of the oven. If they sit on the rack they may stick when they cool.

Add them to a platter and serve with the homemade garlic basil aioli for dipping and enjoy.
Notes
Garnish with fresh basil and extra Parmesan cheese. Store leftovers in the fridge for 3-4 days. 
Nutrition
Serving:
1
g
|
Calories:
255
kcal
|
Carbohydrates:
21
g
|
Protein:
13
g
|
Fat:
15
g
|
Saturated Fat:
4
g
|
Polyunsaturated Fat:
0.4
g
|
Monounsaturated Fat:
2
g
|
Trans Fat:
0.01
g
|
Cholesterol:
66
mg
|
Sodium:
453
mg
|
Potassium:
505
mg
|
Fiber:
5
g
|
Sugar:
4
g
|
Vitamin A:
13513
IU
|
Vitamin C:
26
mg
|
Calcium:
322
mg
|
Iron:
2
mg