Roasted Butternut Squash Parmesan Fries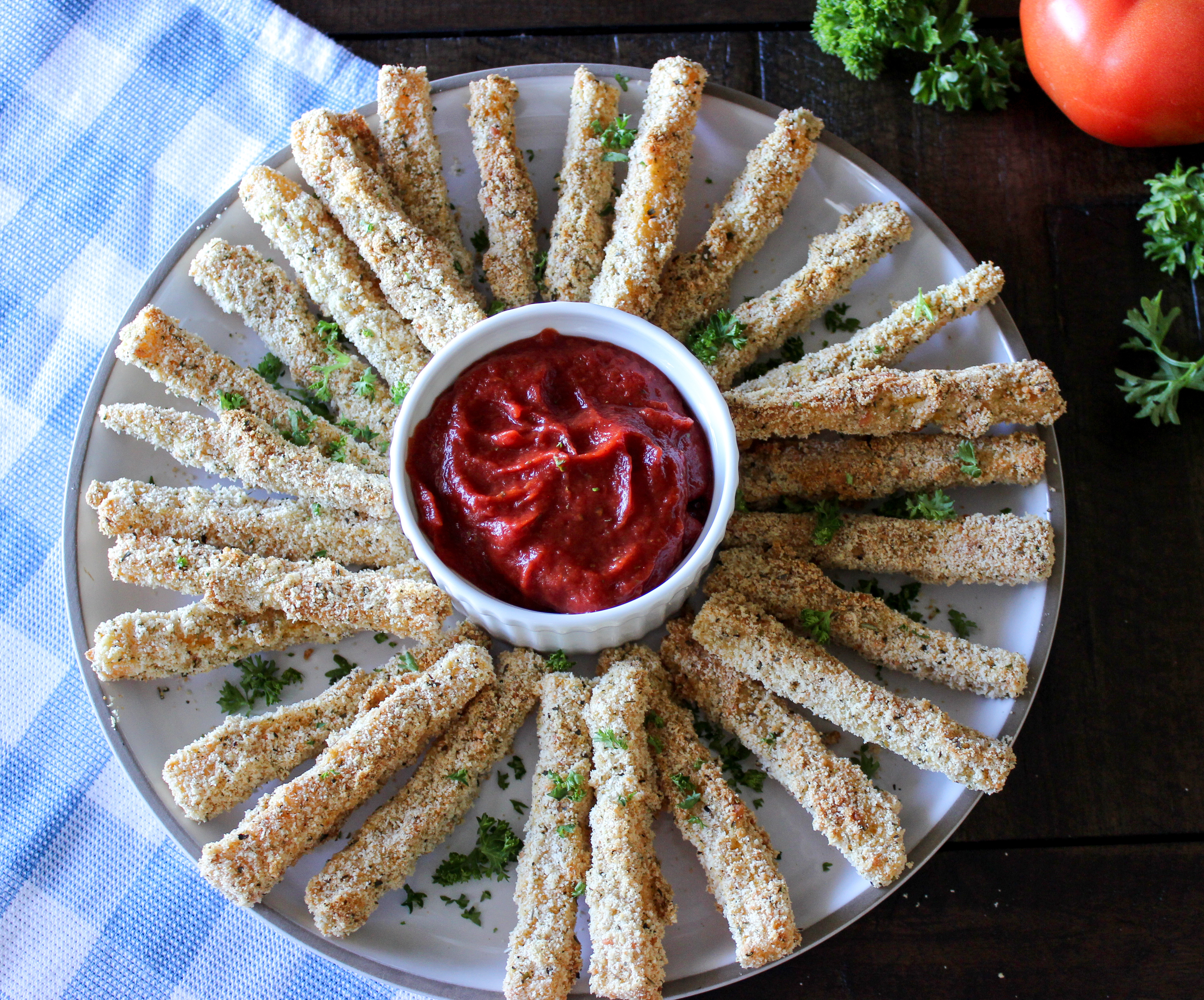 The leftover butternut squash in my fridge from my Coconut Curry Butternut Squash Soup was calling my name. You see, I have a serious problem with wasting food yet I feel like I am really bad at eating leftovers. I think my food attention span is that of a two year old. Can anyone else relate? So one of my goals is to make enough food for one or two extra meals to get me through lunch or a busy evening and the rest allows for the creative juices to get flowing. That my friends, is the round about way of me telling you how these Roasted Butternut Squash Parmesan Fries came about. The full recipe is located at the bottom of the post.
Slicing the Fries:
Butternut squash is my splurge carb these days. Sweet potatoes are great but I have a special place in my heart for butternut squash. I had the upper half of the squash left over and thought it was the perfect amount to create these semi sweet and semi savory fries. I sliced the rind and cut the squash into a batonnet style cut that's the perfect size for a nice french fry. A batonnet cut is a squared off rectangle about 1/4″ on all sides. You can cut these anyway you want, however, I recommend this size because it allows for a nice crispy outside and a smooth creamy inside.
Making Your "Breading":
The breaded outside is actually not bread at all. I used seasoned ground almond flour and eggs to dredge and coat the outside. In a bowl, I combined the almond flour, parmesan cheese, lots of garlic powder, and a plethora of Italian style seasonings. Dip your batonnet butternut squash sticks in the beaten egg and then coat in the almond flour mixture. Repeat until all your fries are coated. Place on a roasting wrack over a cookie sheet. I actually use my cooling wracks for this and spray them first with non-stick olive oil spray. Bake the fries until crispy.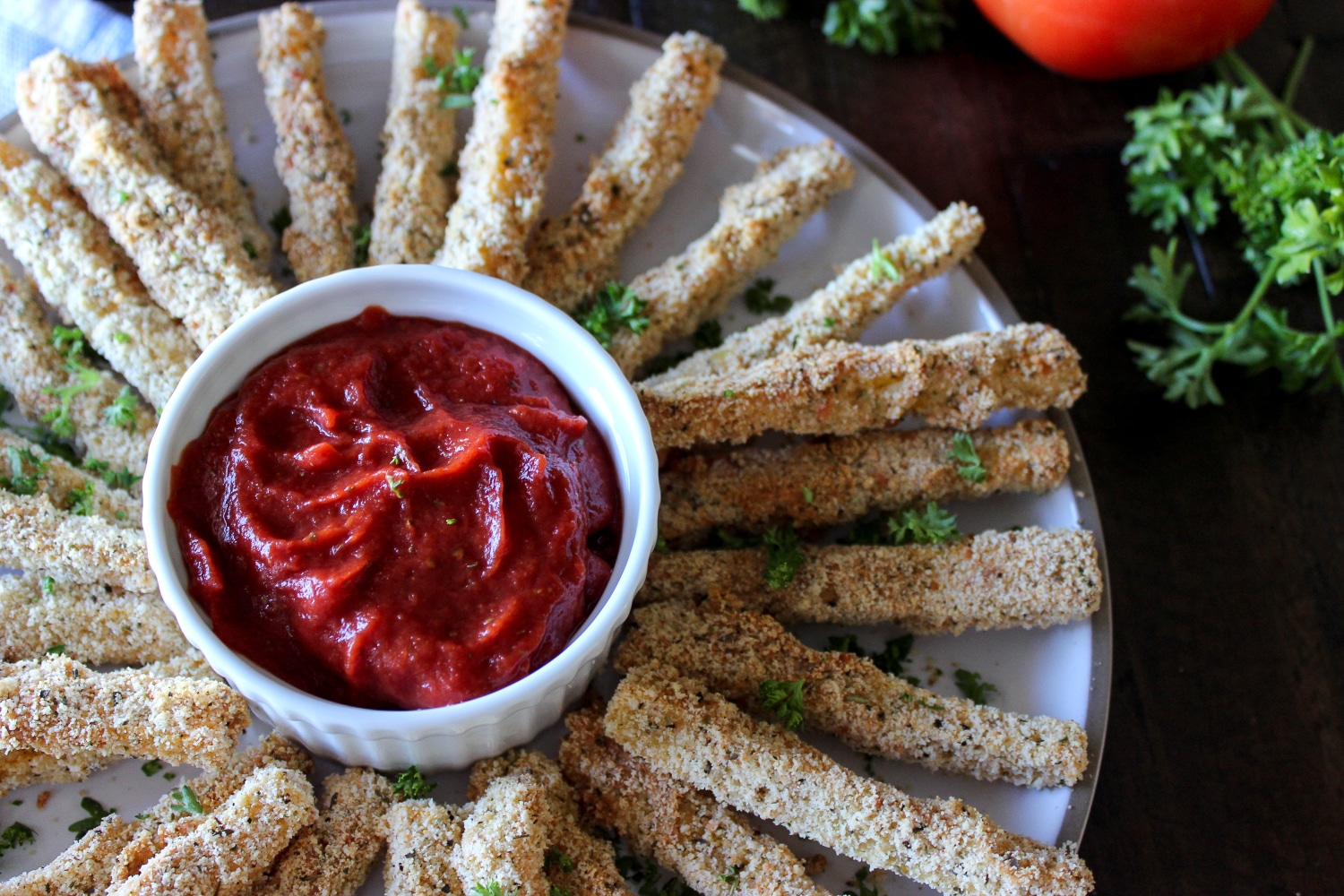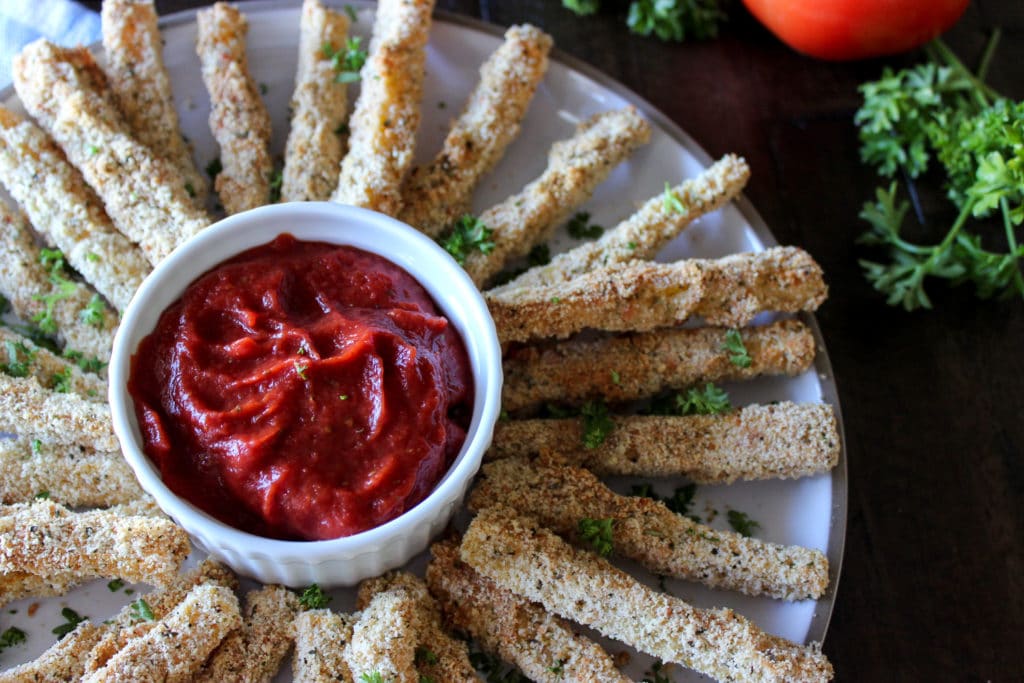 Easy Homemade Marinara Sauce:
Homemade marinara sauce is the perfect addition to these delicious fries. All I use is tomato paste, water, garlic powder, and again, a plethora of Italian seasonings. Mix everything together until you get the right flavors and textures. Dip your roasted butternut squash parmesan fries until your hearts content!
Bon Appeteach,
-L
Ingredients
1/2 Large Butternut Squash, cut into 1/4" batonnet cuts

1 1/2 cups Almond Flour

1/2 cup Parmesan cheese

1 tbsp. Garlic Powder

1 tbsp. Oregano

1 tsp. Thyme

1 tsp. Salt

1 tsp. Basil

1 tsp. Pepper

1 tsp. Onion Powder

2 Eggs, beaten

For the Marinara Sauce-

4 oz. Tomato paste

6-8 tbsp. Water

1 tsp. Garlic Powder

1/2 tsp. Oregano

1/2 tsp. Thyme

1/2 tsp. Salt

1/2 tsp. Basil

1/2 tsp. Pepper

1/2 tsp. Onion Powder
Instructions
1
Preheat the oven to 350 degrees F. Prepare a baking sheet with a roasting wrack or cooling wrack and spray with a non-stick spray.
2
Cut the butternut squash into 1/4" thick rectangles about 3" long.
3
Beat the eggs and set aside.
4
Combine the almond flour, parmesan, and all the spices listed that go with the almond coating. Mix them thoroughly and place in a shallow dish or pie plate.
5
Dip each squash stick in egg and them in the almond flour mixture.
6
Place each one on the baking sheet. Repeat until they are all coated.
7
Bake for 20-25 minutes until they are cooked and crunchy. These are baked so they will brown slightly but not as much as if they were fried.
8
Meanwhile, combine all the ingredients for the marinara sauce and let it rest to develop more flavor.
9
Serve warm and dip in your homemade sauce!