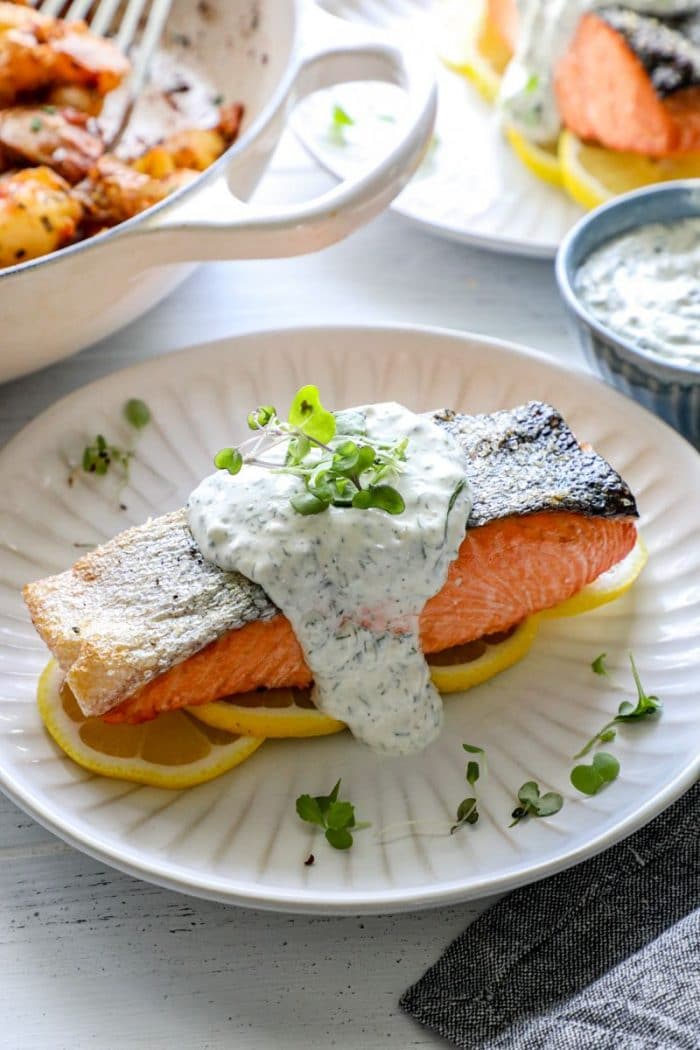 Make cooking salmon in an air fryer a breeze with this simple step by step recipe! It's the key to perfectly cooked crispy skin and delicious juicy salmon.
If you haven't jumped on the air fryer train yet, you have been missing out. It's one of my favorite kitchen appliances (and this is coming from a culinary arts instructor) and I use it several times a week. If you already love easy air fryer recipes, then you'll definitely be down to try this one!
I often eat a diet that's low carb focused and rich in omega three's, so making air fryer salmon is an almost weekly staple in my diet. I share why I eat a lot more salmon these days in this post about my PCOS too if you're interested to learn more.
These days, I have worked to perfect the best recipe for air fried salmon. I like air frying over searing on the stove or even slow roasting it (though I am quite obsessed with this butter basted salmon recipe) because it gets the most perfectly crisp skin.
Crispy skin is the key to getting the most nutrients out of your salmon, because if it isn't crispy it's not exactly something I am going to eat (it usually gets scraped off and tossed to the dog). Below I have outlined the best tips and cooking techniques for seasoning your salmon, keeping the fish juicy while get a super crispy crunchy skin, and all my favorite ways to serve this dish.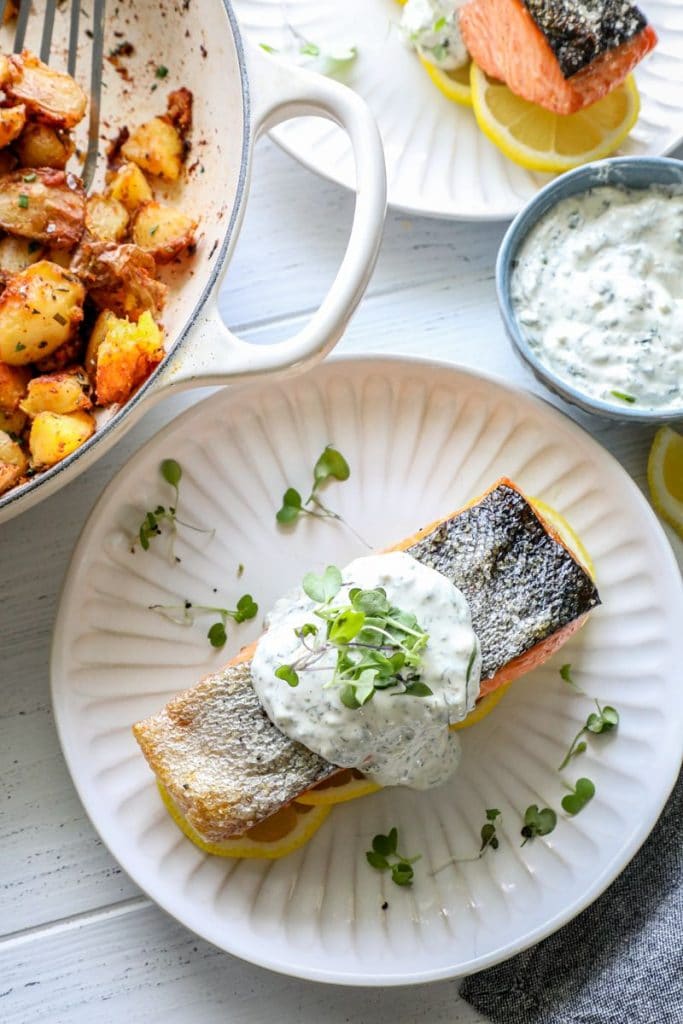 "School" Supplies:
"Class" Notes:
Need to know more about this recipe? Use my culinary notes below to help guide you through this easy dill dip recipe. Enjoy!
What is the best salmon to cook with?
The best salmon to cook with is the salmon you like to eat. There are a handful of different types of salmon out there, but ultimately you should buy what fits your budget, palate, and dietary needs.
Here are a few things to note when you go to purchase your salmon:
Most common types of salmon in grocery stores are:
Atlantic (always a farmed fish)
Sockeye Salmon (often wild caught)
King Salmon (MY FAVORITE and what's pictured… also usually the most expensive)
Coho Salmon
Pink Salmon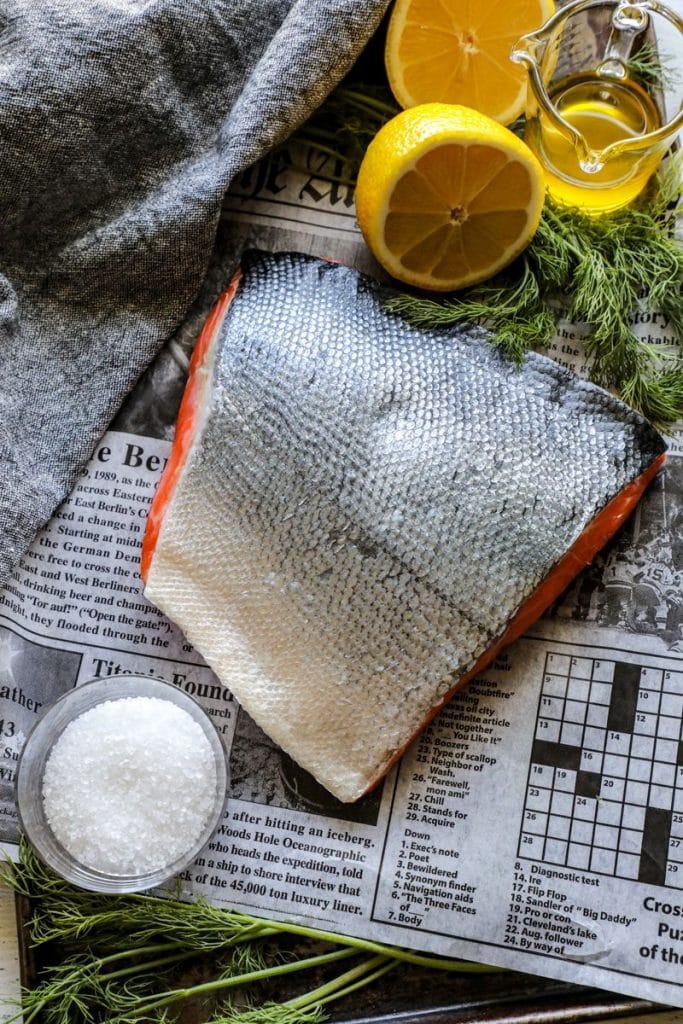 How do you get crispy salmon skin?
There are a few ways to get crispy skin when cooking salmon. My favorite tip does require some planning ahead and knowing how to season without adding moisture (sometimes a bit difficult when adding a lot of marinades, etc.)
Moisture is the enemy to getting a crispy, crunchy skin. The best way to eliminate moisture is to first pat your salmon dry with paper towels. Place it on a plate or cutting board and leave it out so it's exposed to the open air in your fridge.
Do this in the morning before work or overnight if desired. I find doing this within 12-24 hours of cooking is the best way to naturally dry the fish skin out a bit before cooking. Do NOT season it when it's exposed to the air. Adding salt to the fish will draw moisture out and result in a dry brine that could mess with the texture and the moisture levels.
If you plan on cooking with frozen salmon, be sure to thaw in your skin in the morning. Pat the fillets dry and allow the air to circulate throughout the day in the fridge before cooking. This technique works best with fresh salmon, but it is doable with frozen.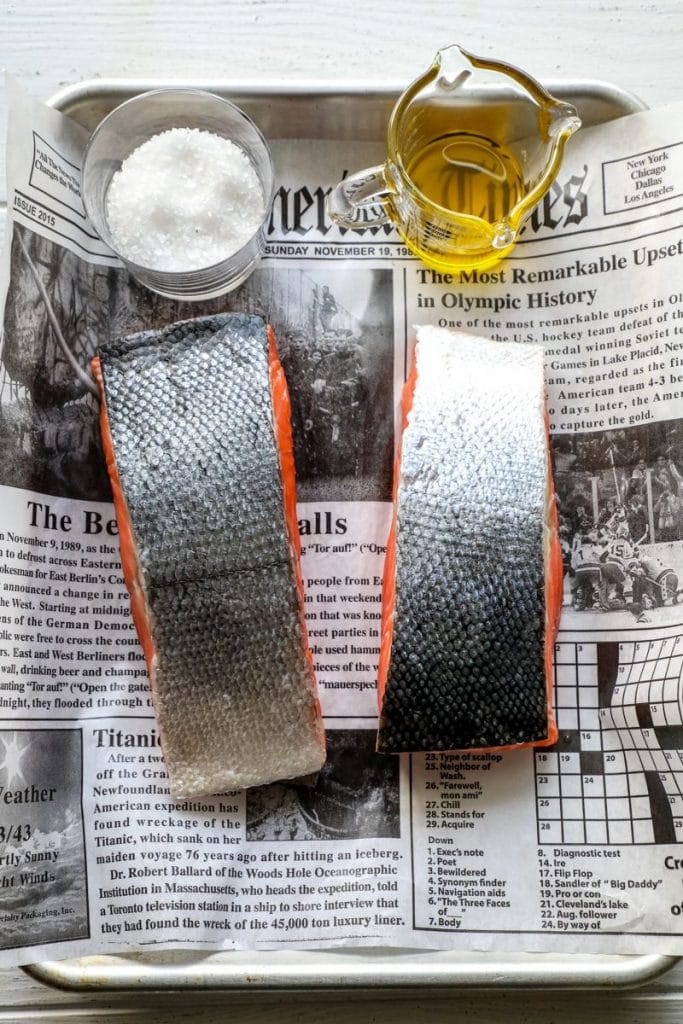 Salmon Air Fryer Recipe Ingredients:
Salmon Fillets: Choose any type of salmon you prefer. Equal size fillets work best for similar cooking times if possible.
Olive Oil or Avocado Oil: A higher smoke point oil (like avocado) does work well here. You will want to lightly spray your air fryer basket and lightly oil the fish so the salt and pepper sticks.
Sea Salt and Pepper: Season the skin generously and lightly season the rest of the exposed fish.
You can experiment with adding other dried herbs and spices like this Cajun BBQ Dry Rub recipe (so good) or a simple garlic powder and some herbs too. I suggest avoiding marinades or anything with white or brown sugar so it doesn't burn.
How do you prep salmon for air frying?
Always check your salmon when it comes out of the packaging for pin bones and any scales. Remove any if necessary.
Pat the fish very dry and let it rest for up to 24 hours in the fridge, exposed to the air and completely unseasoned.
If you don't have time for resting it in the fridge, do you best to remove as much moisture as possible. Lightly oil your fish all over and season both the skin and fish with salt and pepper.
Air Fryer Cooking Tips and Instructions:
Always pre-heat your air fryer to get the hot air circulating fully. Spray the basket to prevent the fish from sticking.
Cook your fish skin side up for the best results.
Cook at a higher heat of 400 F. You will need the thickest part of your fish to be 145 F. Time may vary depending on the thickness and cut of your fish. It should take roughly 8-12 minutes or so. Use a thermometer for the most accurate results.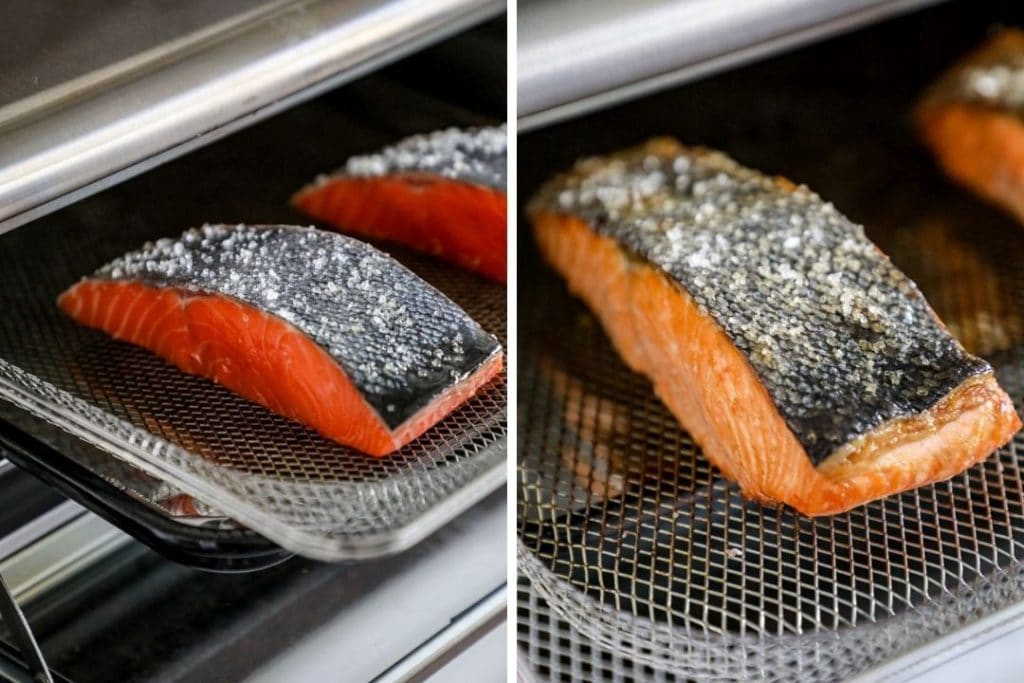 Serving Suggestions:
I love pairing my salmon fillets with a small bowl of this easy lemon dill sauce! It livens up this lightly seasoned salmon and the citrus dill flavor combination pairs perfect with this style of fish.
Serve with my spicy cumin roasted sweet potatoes, these grilled lemon pepper parmesan brussel sprouts or even some grilled cauliflower mac and cheese too!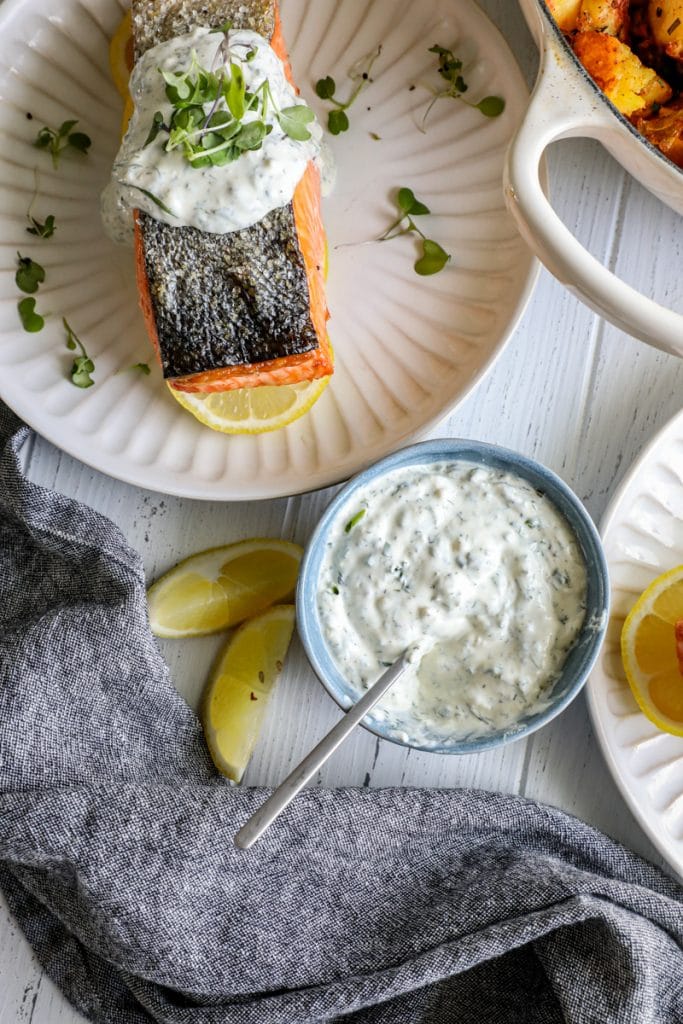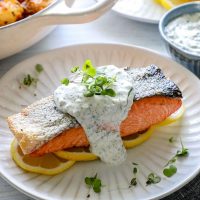 Air Fried Salmon
Make cooking salmon in an air fryer a breeze with this simple step by step recipe! It's the key to perfectly cooked crispy skin and delicious juicy salmon.
Print
Pin
Rate
Ingredients
4

Salmon Fillets

2-3

tbsp.

Olive Oil or Avocado Oil

Salt and Pepper
Instructions
Read through the post above regarding the best tips for getting crispy skin!


1. Prep your fish by removing it from the packaging, patting it very dry with paper towels. Remove any scales and pin bones.

2. If you have time, let the fish sit on a plate or small baking sheet in the fridge, uncovered for up to 24 hours. Even a few hours helps dry out the skin. Do not season it!

3. When you are ready to air fry, pre-heat your air fryer to 400 F.

4. Lightly oil each piece of fish and season the skin and meat with salt and pepper. Spray your air fryer basket to prevent the fish from sticking if needed.

5. Cook your fish, skin side up until the thickest part reaches 145 F. Timing may vary depending on the thickness of your fish and the size of your fillets. This can range around 8-12 minutes or so.
Notes
This recipe can work with frozen salmon, but they should be full thawed and patted dry for the best results. See the full blog post notes above for more tips and cooking details.
Nutrition
Serving:
1
g
|
Calories:
678
kcal
|
Protein:
50
g
|
Fat:
52
g
|
Saturated Fat:
9
g
|
Polyunsaturated Fat:
40
g
|
Cholesterol:
143
mg
|
Sodium:
213
mg