Grilled Cauliflower Bacon Mac and Cheese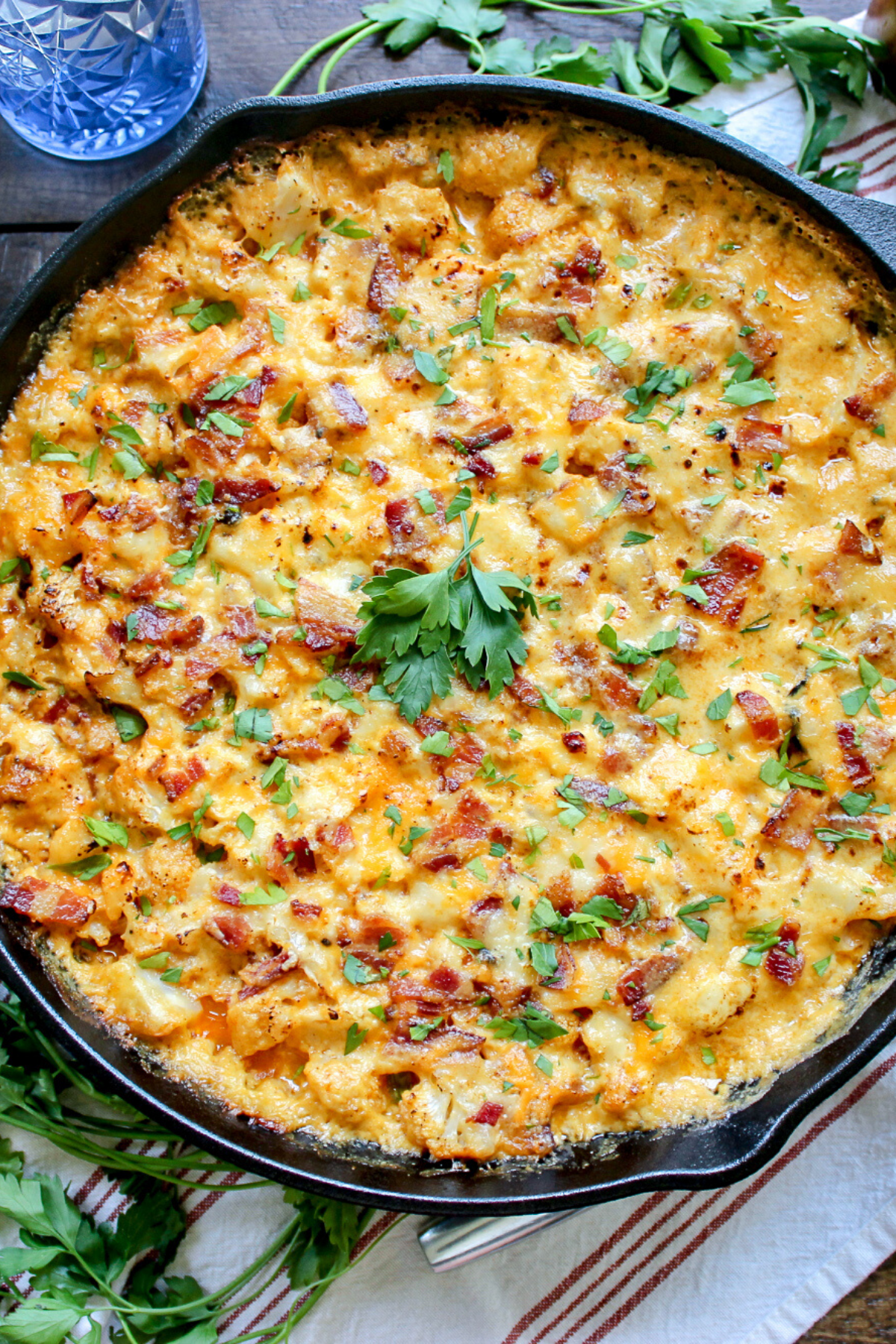 "Take everything you love about this comfort food classic, add all the cheese, all the bacon, and lower the carbs! You'll love this grilled cauliflower recipe so much you won't even miss the pasta!"
Do you hate cauliflower? Cool. Me too.
No, seriously. I really hate cauliflower. It just smells…well, like farts. If you follow me on my Instagram stories you have heard me mention this on multiple occasions. I know I joke about it, but it really is my least favorite veggie.
Lately, I have been craving a good mac and cheese. If you eat a lower carb diet like me, then you probably have experienced this feeling as well. There are plenty of low carb/ keto friendly versions of this dish on the internet. I am by no means recreating the wheel here, but I do think I have a little secret weapon in my arsenal. That my friends, is the power of grilling and smoking.
Charcoal grilling and smoking is an absolute flavor game changer. It took my least favorite veggie and transformed it into a dish I couldn't stop eating. So, stop what you are doing, scroll down to read this recipe for Grilled Cauliflower Bacon Mac and Cheese and then go make yourself some toot sweet (less on the toots though…cause grilling this also prevents your house from smelling like…well you know already).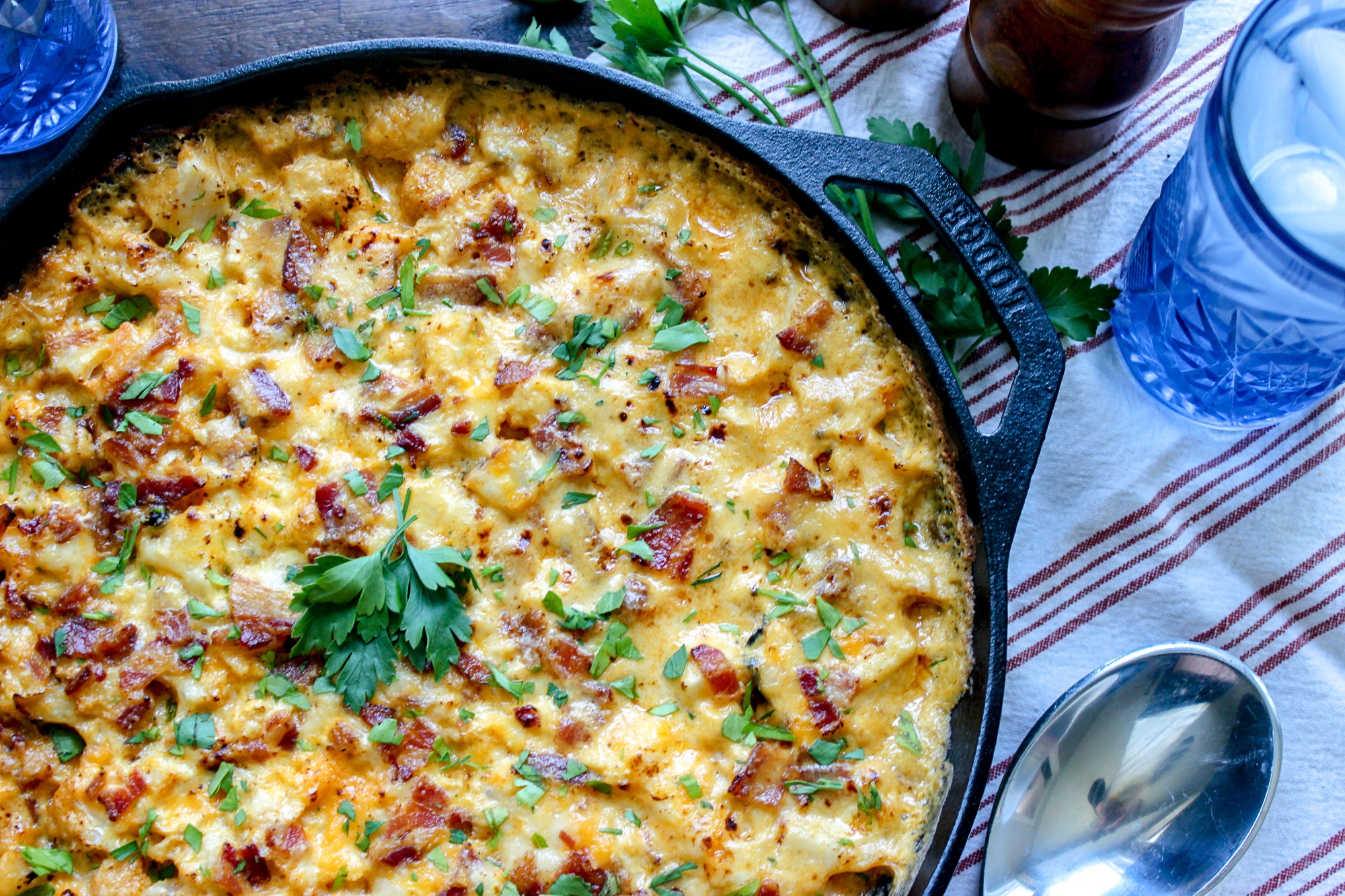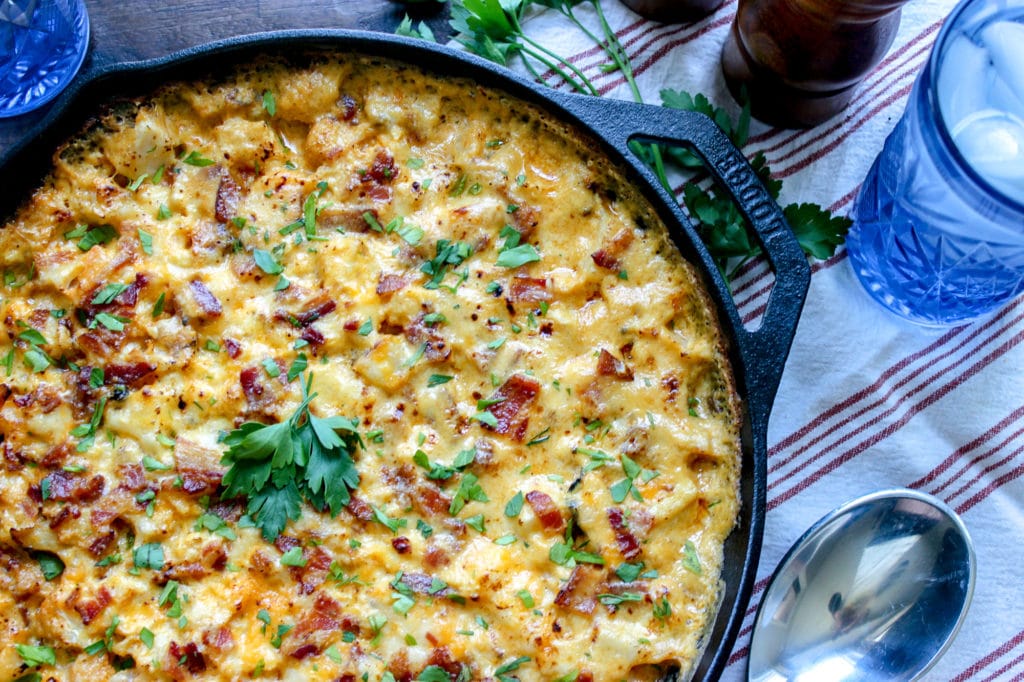 "School" Supplies:
Grill
Tongs
Baking Sheet/ Plate
Knife & Cutting Board
Pot
Whisk
Measuring Spoons
Large Mixing Bowl
Cast Iron Skillet
"Class" Notes:
The Cauliflower Prep-
Cauliflower naturally has a strong smell when you cook it. It also has a strong taste (in my personal opinion). Even though we are going to grill the cauliflower mac, we do need to partially cook the cauliflower first. This allows us to add some of that smoky goodness from the grill to the veggie and helps reduce the overall grilling time by partially cooking.
I start by removing the bottom stalk and leaves. Cut the head of cauliflower into approximately four larger cauliflower "steaks". If a few pieces fall off or crumble, don't worry you can still grill them! I placed mine on a large baking sheet, drizzle with a little olive oil over each side and added salt and some smoky paprika.
Cook the steaks on the grill until you get a little caramelization on each side and the cauliflower is mostly tender. Remove the "steaks" and then cut or crumble the cauliflower into bite sized pieces and place in a large mixing bowl and set aside.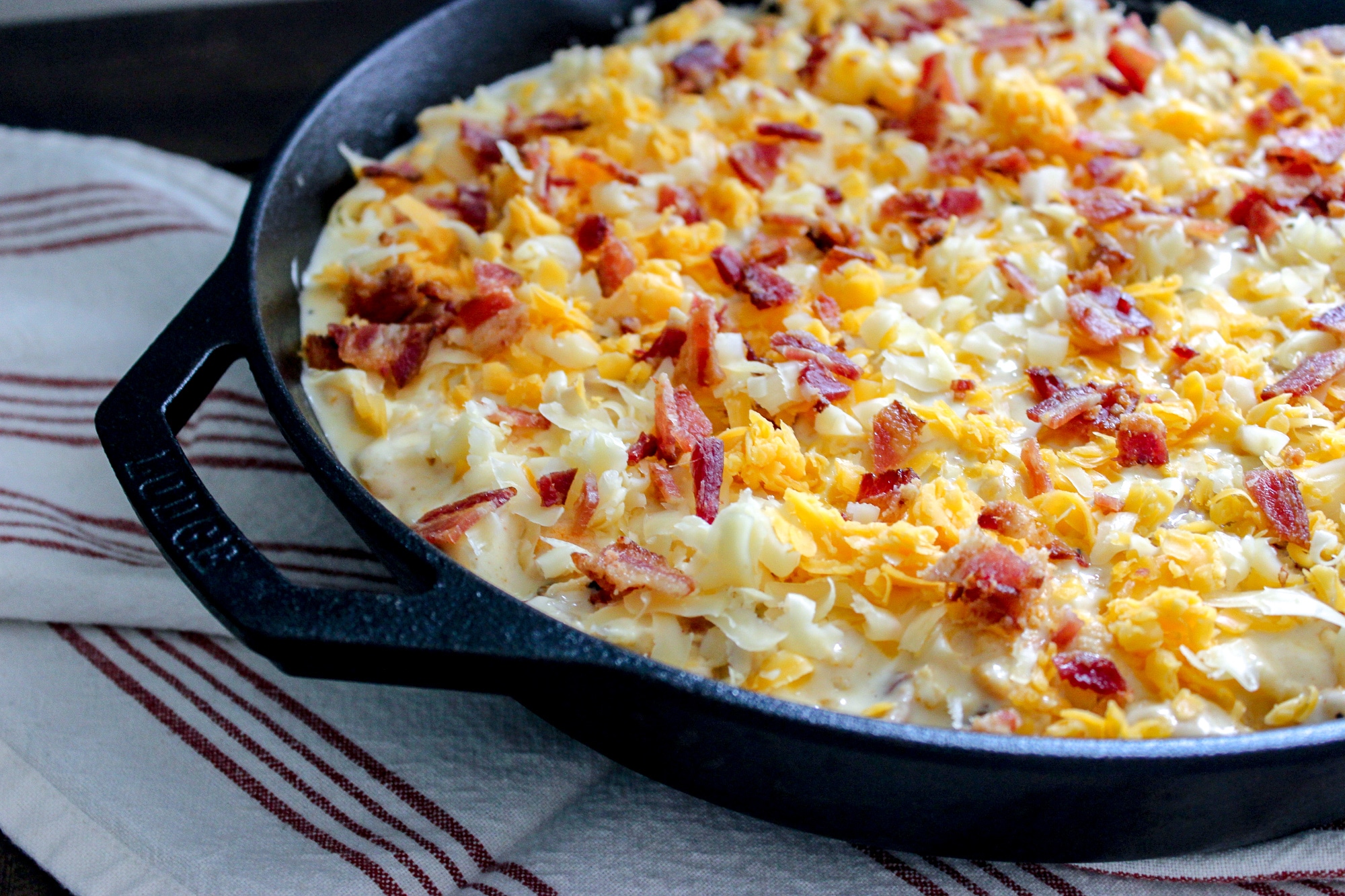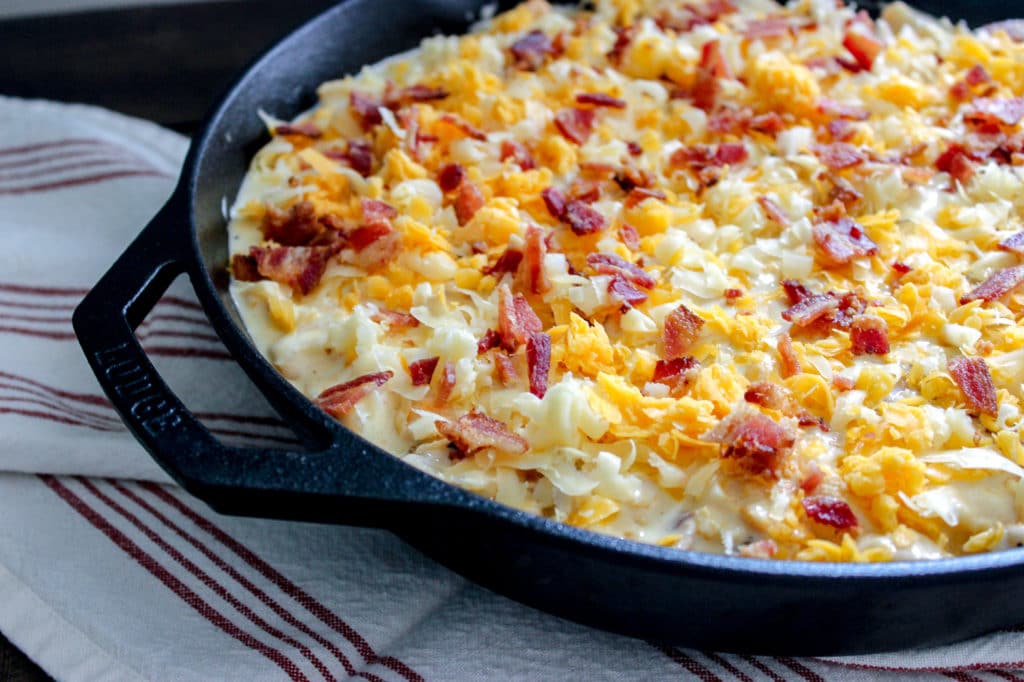 The Cheese Sauce
The sauce is a critical component to any quality mac n cheese. In order to achieve a rich, velvety sauce that's gluten free and keto friendly, I must insist on a few critical tips. First, only use freshly grated cheese.
Pre-shredded cheese typically has a coating on the outside of it that prevents it from sticking and clumping in the packaging. This also affects how well the cheese (in my opinion) melts into the sauce. It can turn it lumpy or clumpy and sometimes separate out.
Take a few extra minutes and grate your own cheese! For this sauce, I am playing up the smoky flavor so I added a nice sharp cheddar and lots of Gouda!
Thickening The Sauce-
I've used several different techniques to thicken a classic bechamel (aka white) sauce over the last few years. I find that simply using a little cream cheese and the thickening powers of egg yolks is my favorite way to make a rich, delicious, and velvety final product. This also makes it so much easier because most people have these pantry staples and they aren't costly.
I start by softening the cream cheese in a sauce pan with a splash of the heavy cream. Allow the heat to work in your favor here but stir continuously to break down any lumps as well as prevent scorching. Once the cream cheese is smooth, add in the additional heavy cream and whisk it all together. As the mixture begins to heat through, temper the egg yolks in and allow it to cook until it begins to thicken and the mixture would coat the back of a spoon (also know as nappe).
Finally, remove the mixture from the heat and slowly add in the cheese. I sprinkle it in, in small handfuls and whisk until it melts and is fully incorporated. This prevents burning, encourages a slower melt, and prevents it from separating. Pour the cheese sauce into the diced up cauliflower and crumbled bacon. Reserve a little extra cheese for the top and you're ready to grill!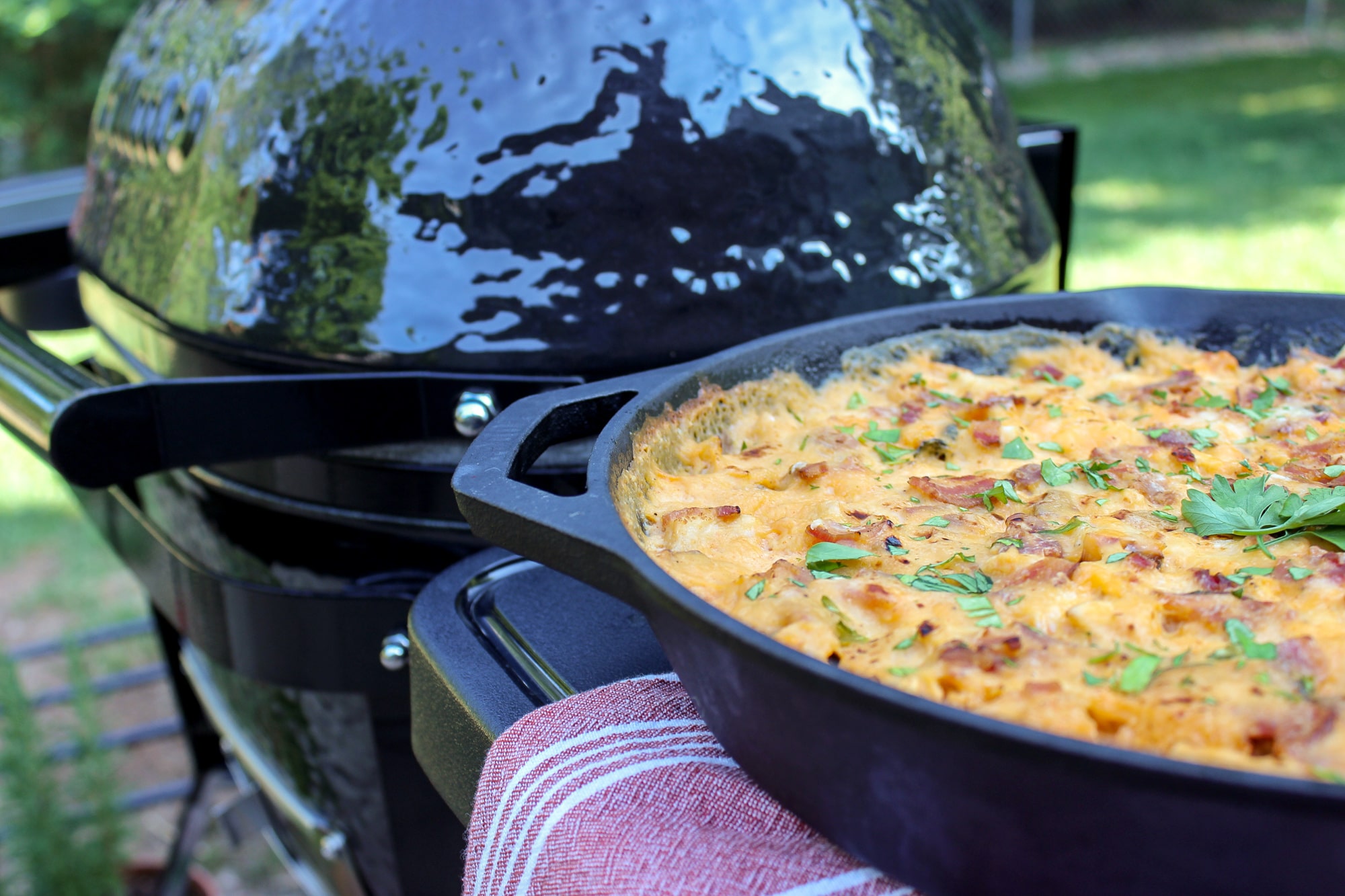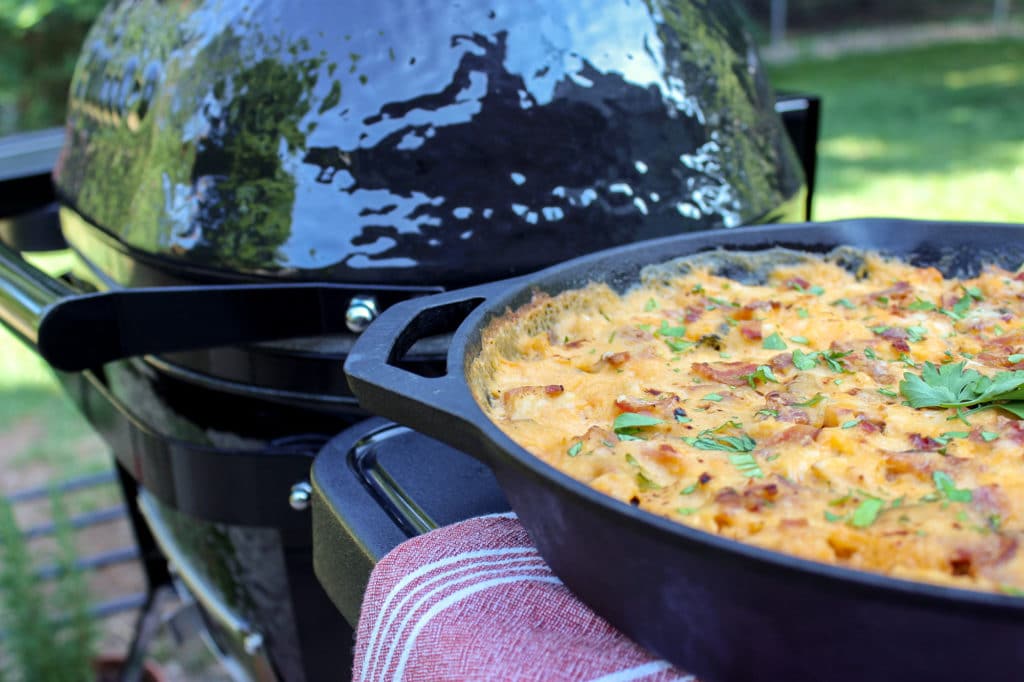 Assembling & Grilling:
Set your smoker or grill for indirect heat and preheat to 300 F. Indirect cooking I find works best and I prefer to smoke with a lighter wood like pecan. Let the cauliflower mac cook uncovered for about 35-45 minutes. It should be lightly browned on top and nice an bubble. Remove from the heat and allow it to cool slightly before serving.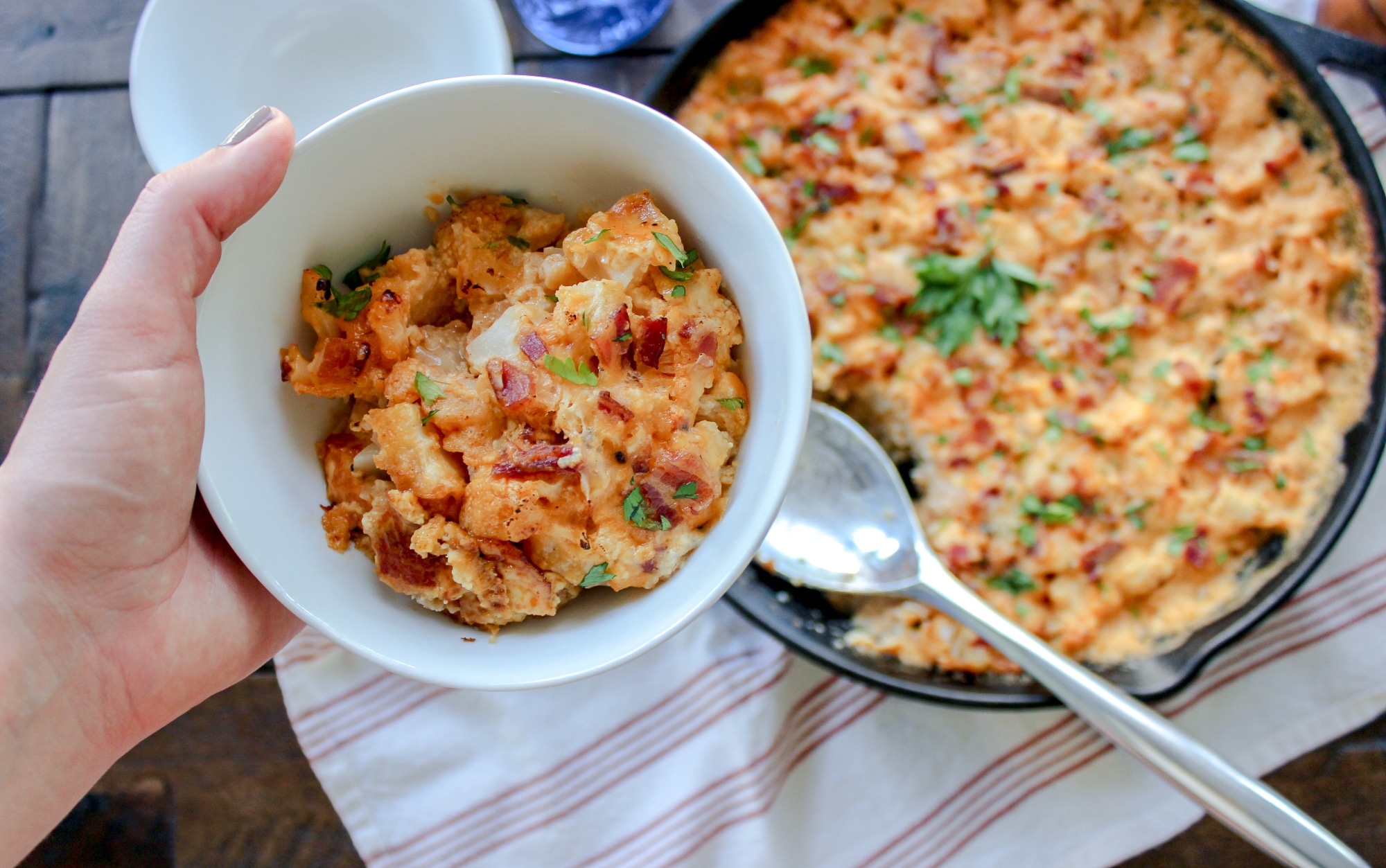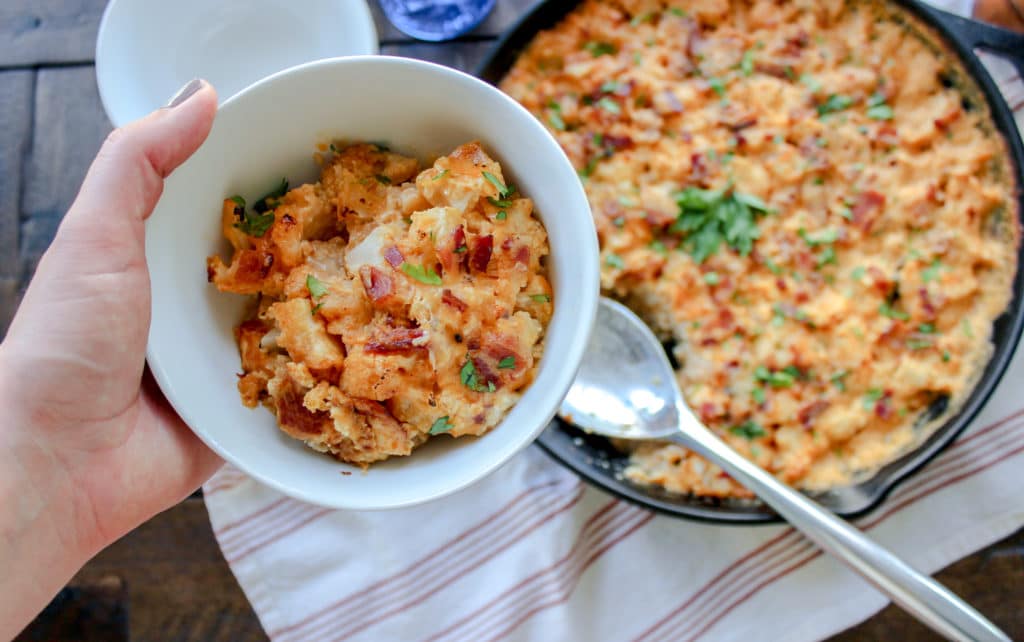 This Grilled Cauliflower Bacon Mac and Cheese is smoky, creamy, and overall has fewer carbs than a typical mac and cheese. This is a great side dish to share for BBQ's, summer holiday parties, or just great when you have that serious craving. If you're looking for other fabulous keto BBQ recipes, check out my round up of my 24 favorite keto friendly recipes for the grill!
Bon Appeteach,
-L
Yield: 12
Grilled Cauliflower Bacon Mac and Cheese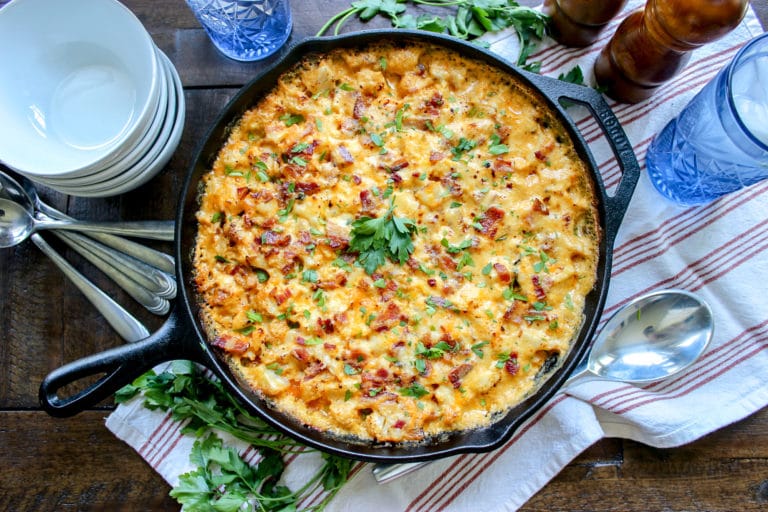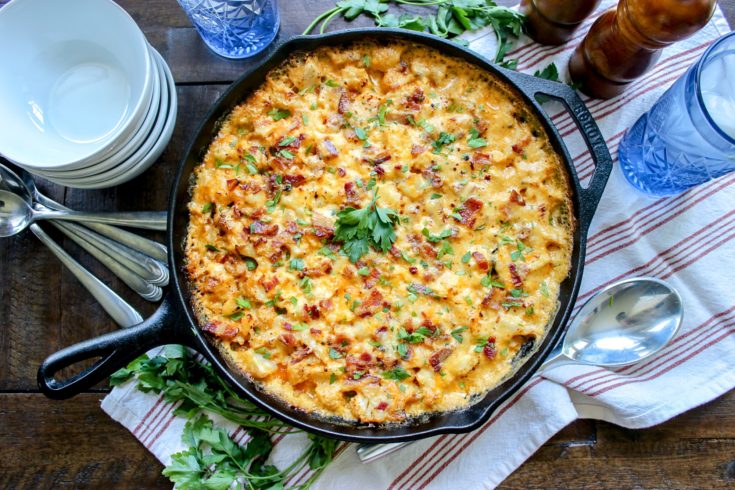 The perfect, cheesy, smoky, low carb cauliflower mac n cheese.
Ingredients
1 Head of Cauliflower
1-2 tbsp. Olive Oil
1 tsp Fine Sea Salt
1 tsp Fresh Cracked Pepper
1 tsp. Smoky Paprika
3 cups Heavy Cream
3 Egg Yolks
4 oz. Cream Cheese
1/4 lb Cheddar Cheese, grated
1/4 lb Gouda, grated
1 Tbsp. Dijon Mustard
8 slices Bacon, crumbled
Additional Salt and Pepper
Instructions
1. Preheat the grill to 300 F. Slice the cauliflower into 4 large "steaks" (if a few pieces break apart you can still place these on the grill). Coat the front and back of the cauliflower with the olive oil, salt, pepper, and paprika. Grill the cauliflower until it is lightly caramelized on both sides and remove it from the grill. Dice the cauliflower into bite sized pieces and set it aside.
2. Grate the cheese and separate the egg yolks. In a medium saucepan, add the cream cheese and a few tablespoons of the heavy cream. Whisk on medium heat until the cream cheese is smooth and melted. Slowly whisk in the remaining heavy cream and bring it up to temp. Temper in the three egg yolks and whisk until it begins to thicken and coats the back of a spoon. Remove the pot from the heat.
3. Slowly add in handfuls of the shredded cheese and whisk it off the heat to slowly melt it and allow it to fully incorporate. Once all the cheese is added, season it with salt and pepper to taste. Reserve a little cheese for the top if desired.
4. Combine the sauce, cooked bacon, and cauliflower. Pour the mixture into a 9" cast iron skillet or foil pan for the grill. Top with the remaining cheese (if desired). Place on the grill over indirect heat and smoke for 35-45 minutes. The mixture should be set on the top, lightly brown, and nice and bubbly. Remove from the heat and let it rest 5-10 minutes before eating.
Nutrition Information:
Yield:
12
Serving Size:
1
Amount Per Serving:
Calories:

290
Total Fat:

26gg
Saturated Fat:

15g
Trans Fat:

0g
Cholesterol:

115mg
Sodium:

520mg
Carbohydrates:

2g
Fiber:

0g
Sugar:

1g
Protein:

15g