This recipe was inspired by my partnership with Primo Ceramic Grills. All opinions are my own.
Bacon Cheeseburger Kebabs:
I know for many people that follow a low carb, keto, or gluten free lifestyle, social events and get togethers can feel particularly stressful. You don't know if there will be food that fits your diet, and it's also hard not to feel tempted into eating things you normally wouldn't.
Keto and low carb living can be really stress free if you implement a little planning. By bringing your own side dish, appetizer, or other food item to share, you can eliminate some of the stress and hopefully enjoy the time with friends and family.
This recipe for Bacon Cheeseburger Kebabs is a great example on creating the perfect party appetizer. Find the full recipe for Bacon Cheeseburger Kebabs below and read on for tips and tricks. If you're looking for other awesome low carb or keto friendly appetizers, check out my Best 10 Keto Superbowl Appetizers post too!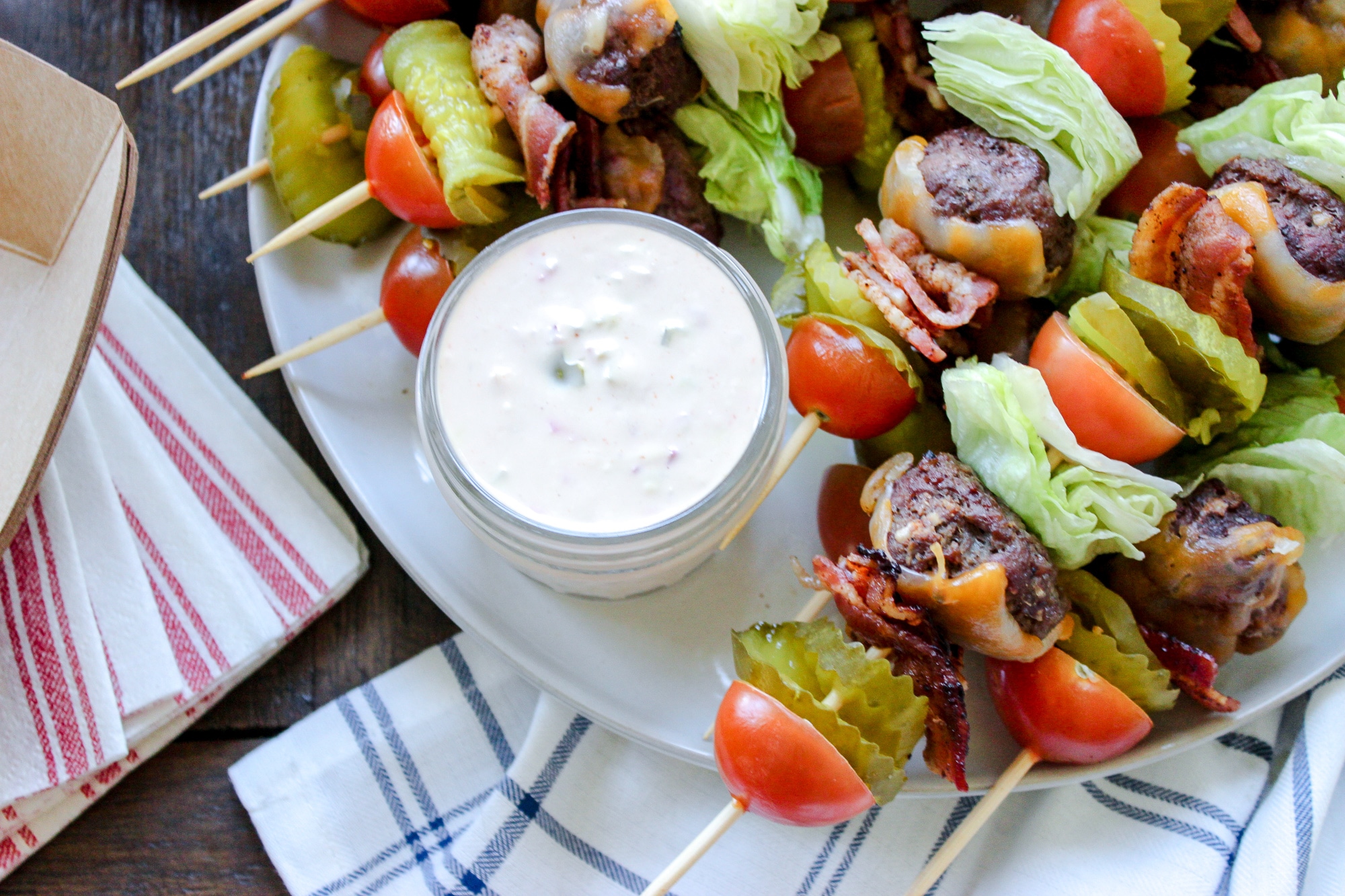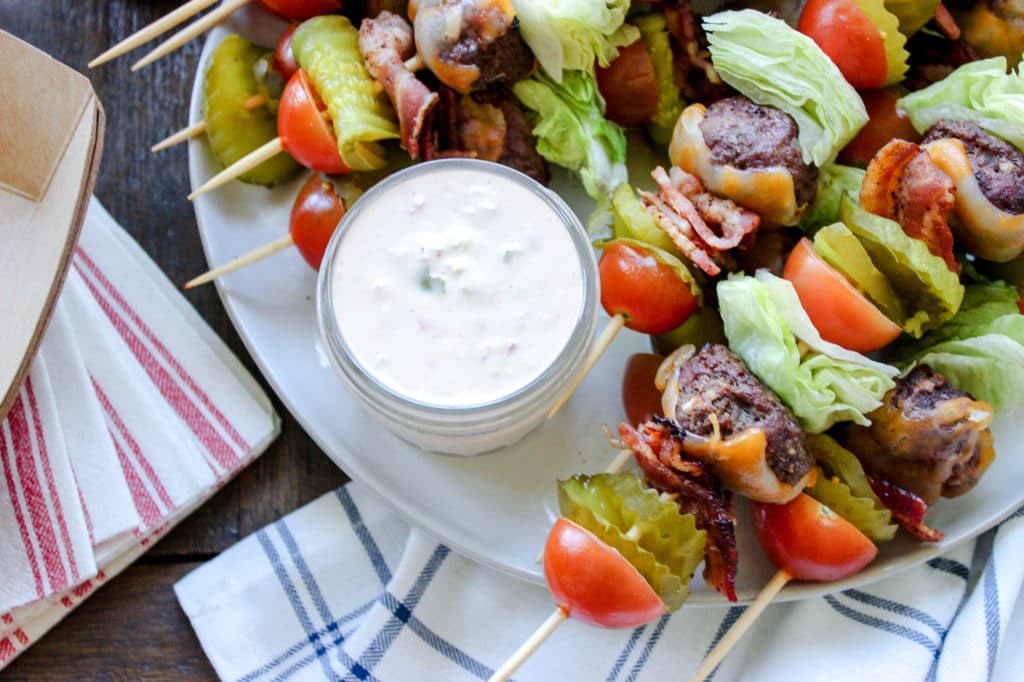 "School" Supplies:
Grill
Cast Iron Skillet
 Large Mixing Bowl
Small Mixing Bowl
Measuring cups/spoons
Knife/Cutting board
Skewers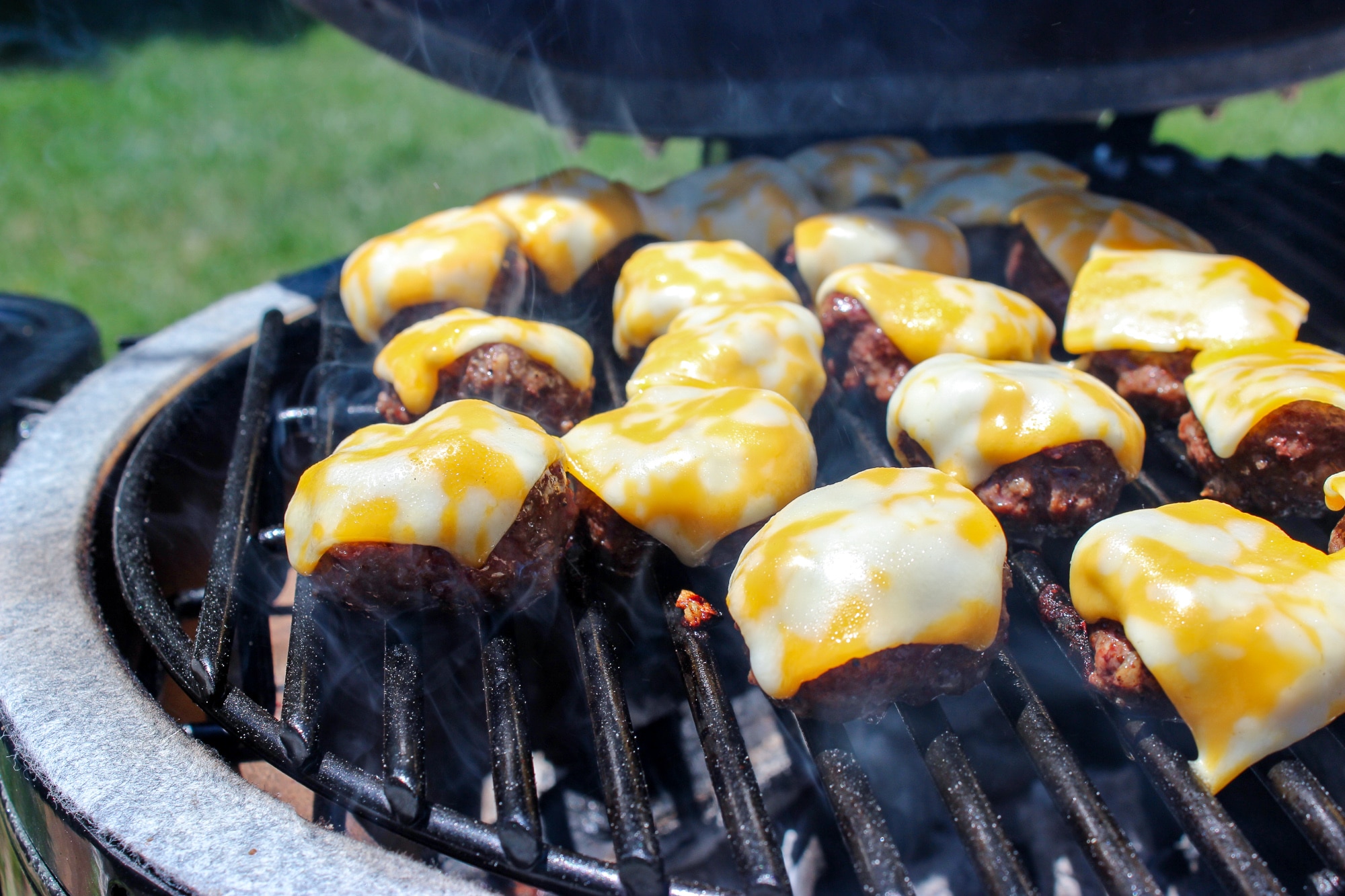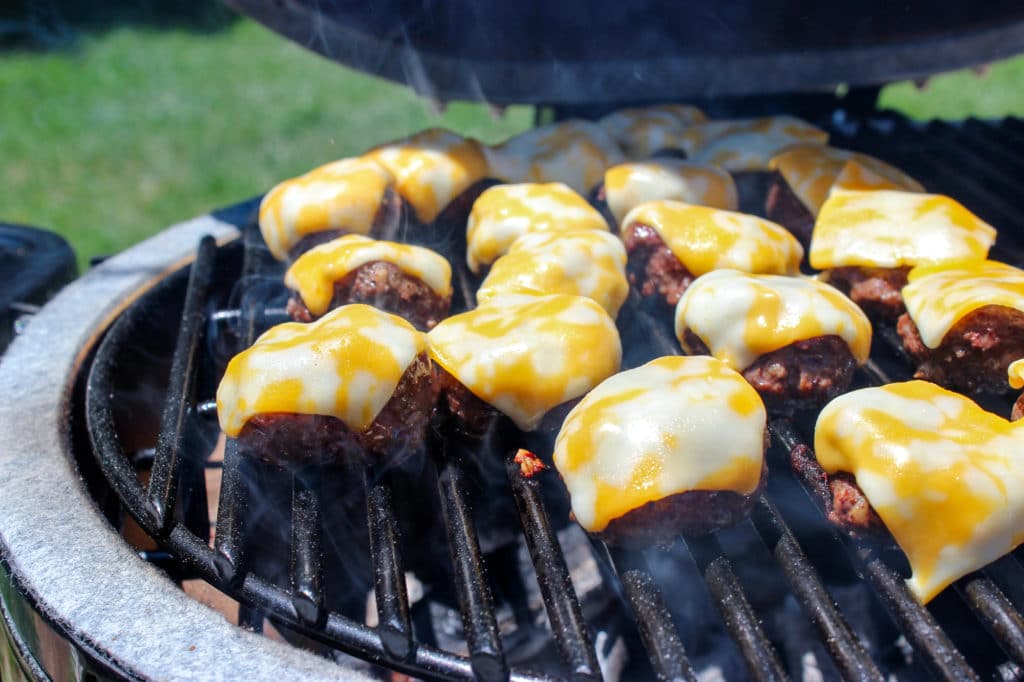 "Class" Notes:
Begin by mixing the burger meat and making the miniature burgers. I like my burgers to have a lot of flavor. I added salt, pepper, onion flakes, garlic powder, and worcestershire sauce.
Mix well, then scoop out about 20 mini balls with a cookie scoop or spoon. Roll and flatten slightly out and set aside. Preheat your grill if making these outdoors or prepare a cast iron pan for indoor cooking.
I like to first cook the burgers on the cooler side of the grill (indirect heat). This allows you to bring them up to a proper temperature and easily allows you to sear them off on direct heat. If cooking indoors, fry up over medium heat and flip when the burger easily releases from the bottom of the pan.
Once the burgers are almost ready to come off the grill (or pan), top with your favorite cheese and remove when it is melted. I also like to grill my bacon!
Because I paired these cute lil kebabs with my Smoked Old Fashioned, I brushed the bacon with a little Jack Daniels too, to add some extra flavor. Line the cast iron with foil and allow the bacon to cook on the grill till it is mostly cooked (if it is too crispy it is impossible to put on the skewer). Baking is a great method for cooking bacon as well.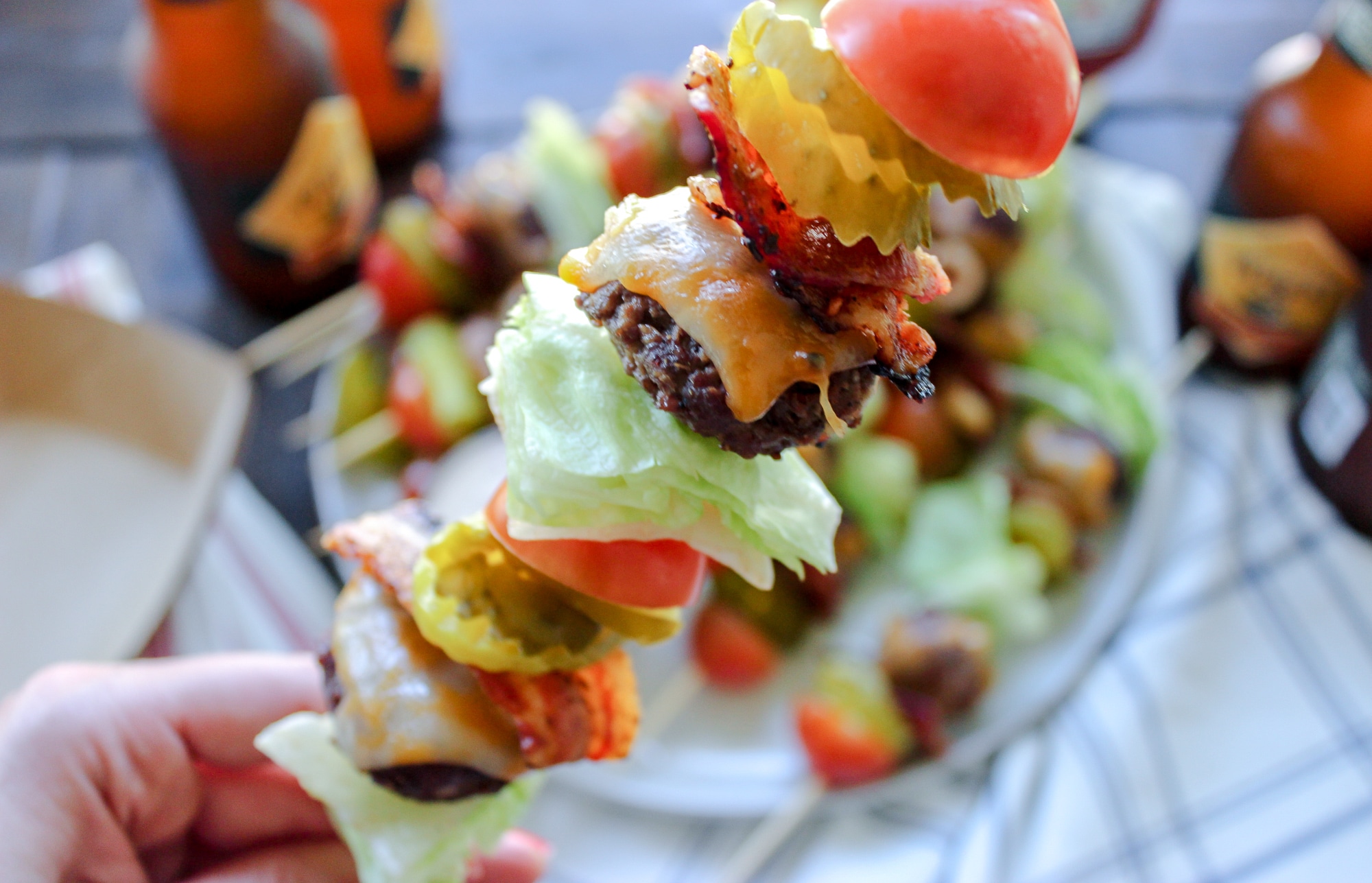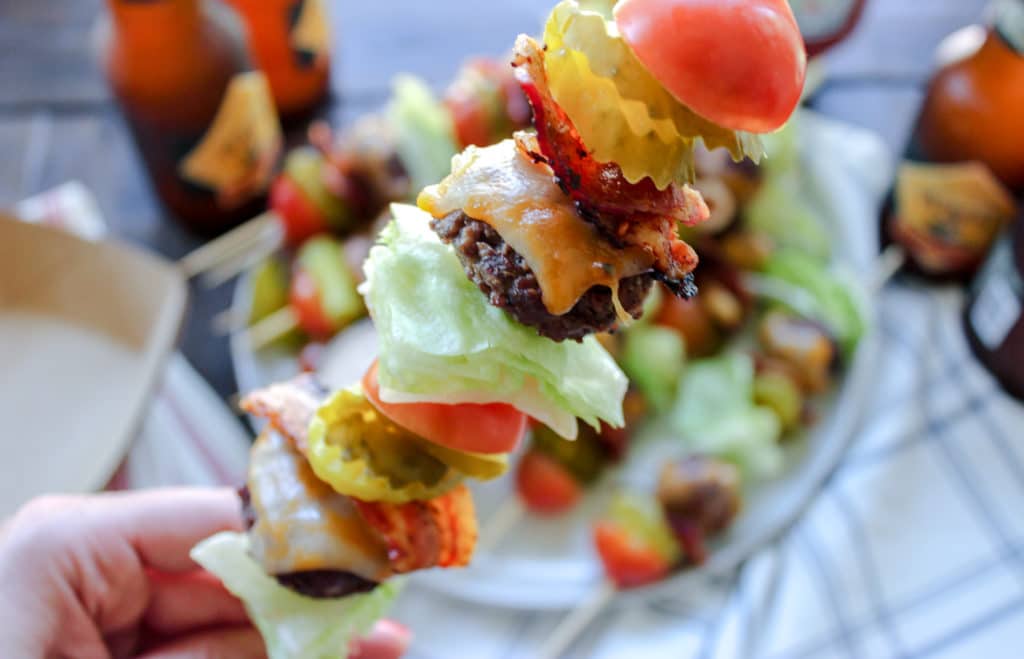 Assemble the skewers by layering with the mini burgers, bacon, lettuce wedge, tomato, and pickle. I was able to get two of each item on the skewers and made 10 skewers total (these are super filling believe it or not).
I wanted to have some kind of condiment to dip the Bacon Cheeseburger Kebabs into. Regular ketchup and mustard would work, but I wanted something a little extra delicious. I made my own zesty burger sauce (keto friendly).
Combine mayo, mustard, sugar free ketchup (or tomato paste), a little diced onion, diced dill pickles, and a splash of pickle juice together in a bowl. Mix well and place in as small jar or bowl for dipping!
These Bacon Cheeseburger Kebabs are so easy to whip up for a summer party, game day or tailgate, or just for a fun night in with the family. If you're looking for other great low carb bbq ideas, make sure to check out the other recipes here.
Bon Appeteach,
-L
Ingredients
1 lb Ground Beef

1 tbsp. Worcestershire Sauce

1/2 tsp Salt

1 tsp Black Pepper

1 tsp. Garlic Powder

1 tsp. Dried Minced Onion

6 Bacon Slices

5 Slices of cheese, cut each into 4th's

1/2 Head Iceberg Lettuce

10 Cherry Tomatoes

20 Dill Pickles

Dipping Sauce:

1/3 cup Mayo

2 tbsp. Sugar Free Ketchup (or swap 1 tbsp tomato paste)

1 tbsp. Mustard

2 tbsp. Onion, minced

2 tbsp. Dill Pickle, minced

Splash, of pickle juice
Instructions
1
Preheat the grill to 375'F and set it up from both direct and indirect cooking.
2
Mix the first 6 ingredients together in a bowl. I use a cookie scoop to form 20 even sided "balls". Roll and slightly flatten into a burger patty shape.
3
In a cast iron skillet over indirect heat on the grill, cook the bacon. Be sure not to make it too crispy or it will not go through the skewers. Remove the bacon and the foil/ grease. Place the skillet back of indirect heat and add the mini burgers.
4
Allow the burgers to cook through, turning halfway through until the temperature reaches about 110F. Remove from the skillet and place over direct heat. Allow each side to sear a bit. After the flip, add the slice of cheese and allow it to melt for about 60 sec. Remove the burgers when they reach an internal temperature of 165F and set aside.
5
Assemble the skewers in any order. Pictured- Lettuce wedge, burger, bacon, pickle, then the tomato. You can get two of each item onto the skewers.
6
In a bowl combine the mayo, ketchup, mustard, minced onion and pickles, and the splash of pickle juice.
7
Place everything on a platter and serve.