My Famous Hamburger Sliders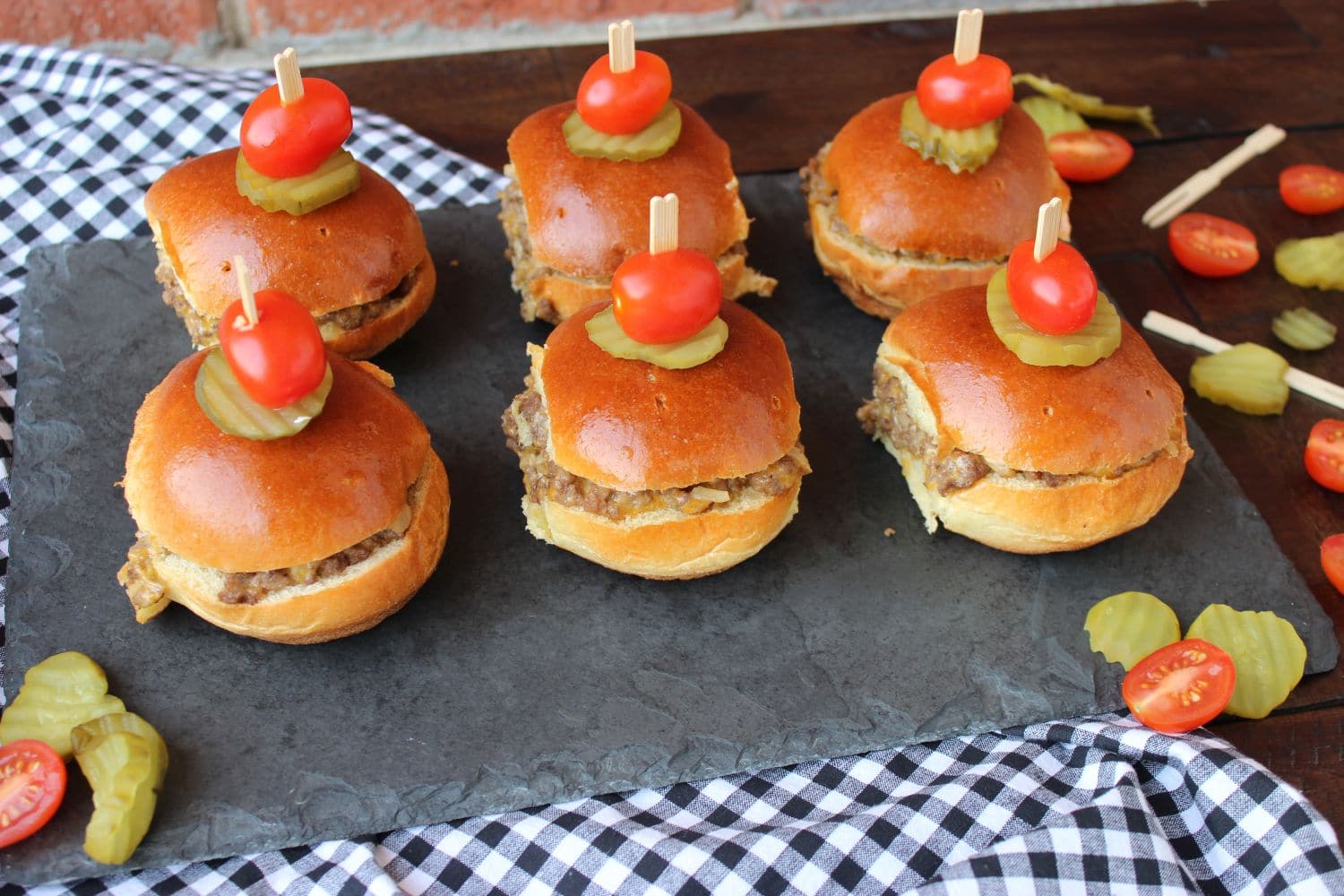 I must really love you all. I have never given out my famous hamburger sliders recipe before because it is one I hold near and dear to my heart. But, it is the recipes you love that need to be shared the most. I am not exaggerating when I say that I am famous for these. I have seen grown adults literally fight over a platter of these hamburgers at work and would get "not so very nice" emails if I didn't serve them at a staff meeting. That is how much people love these sliders. Now, the reason why they taste so damn delicious is because they are probably one of the most unhealthy recipes I make. This recipe has been one I have had for close to a decade and has morphed over time into what it is today. I originally adapted this recipe based off of the inspiration to recreate a White Castle or Krystal Burger. So, if you want to see grown adults cat fight there way through the appetizer table just to grab one of these sliders….you better make this recipe toot sweet!
Making Your "Hamburger Patties":
These sliders are simple and you never have to form a single hamburger patty to make this recipe. All you need is ground beef and a packet of french onion soup mix, mayo, and cheese. That is literally it. Instead of forming a standard hamburger patty you will cook the ground beef seasoned with the french onion soup mix. Once it is browned, drain the fat and allow it to cool a bit. Mix in mayo and shredded cheddar and assemble the meat onto the buns, bake, and eat! The sliders are packed with savory flavor and are cheesy and gooey. These are so delicious and so uncomplicated. Could you ask for an easier party appetizer? I think not.
Buns & Toppings:
You have a few options for your buns. Typically I use a sweeter Hawaiian style roll because you can easily spread on the ground meat mixture and the bread stays nice and soft after baking. The sliders pictured are on mini sourdough buns I purchased at Aldi. You could even slice a wider french bread loaf in half and layer the meat on almost creating a submarine style sandwich as well.  You have a few options to doctor up your sliders. I sometimes like to add pickles, caramelized onions, or even bacon. However, I cannot get over the simplicity of just the ground beef mixture baked onto a delicious soft sweet bun. I hope these sliders make a great addition to your next event or can even be served for dinner. Please let me know how much you love them by leaving a comment below or post a picture and tag me on Instagram via @Bonappeteach. Seeing you love my creations honestly makes my day every time!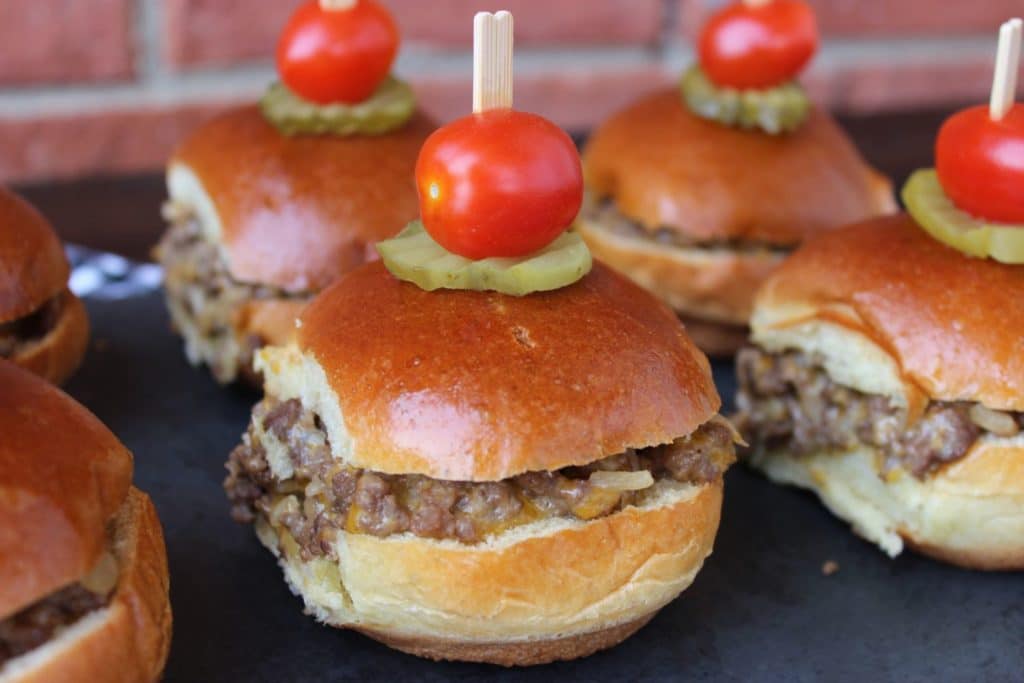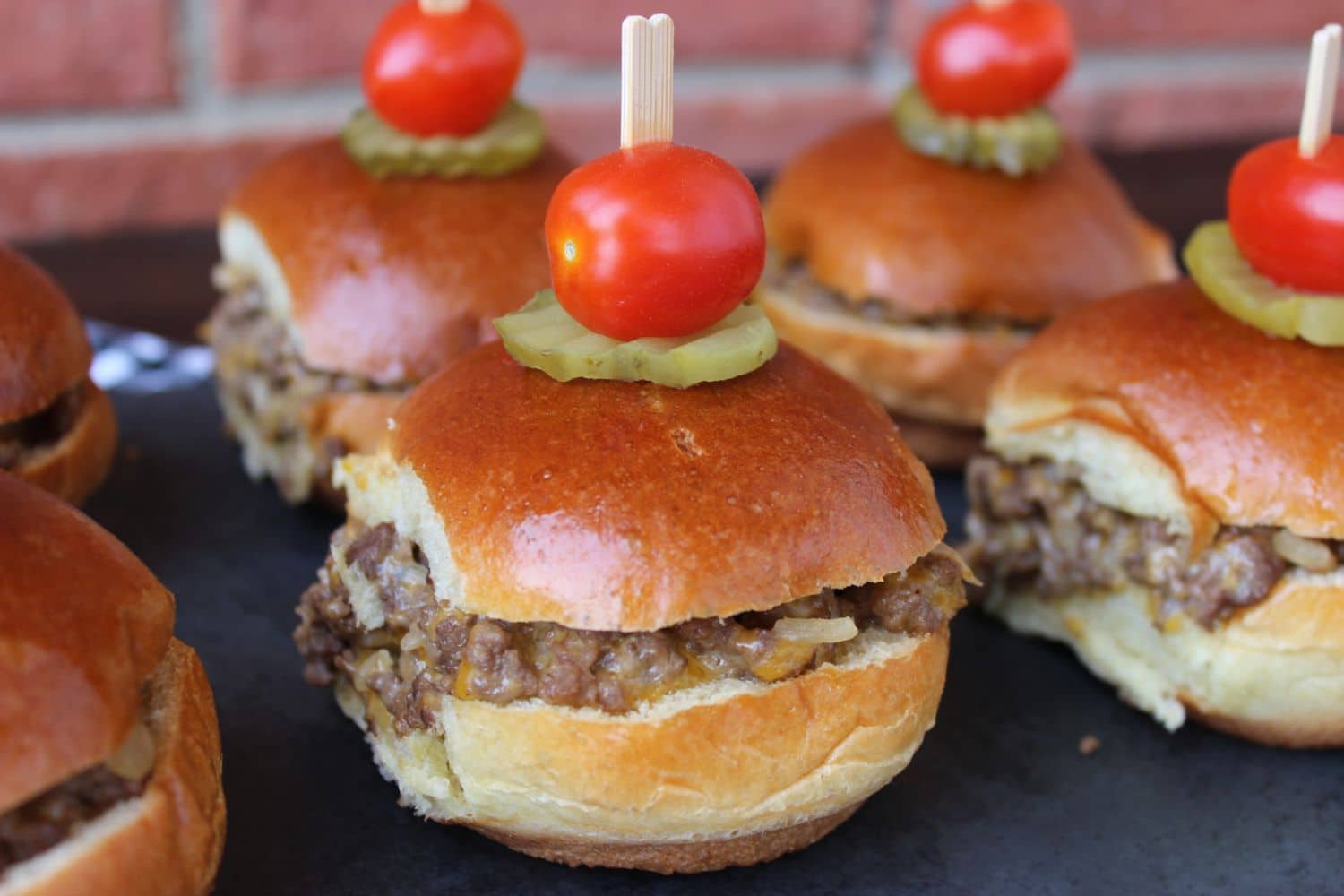 Bon Appeteach,
-L
Ingredients
1, 12 oz. Pack of Mini Hamburger Buns (like Hawaiian Rolls)

1 lb, Lean Ground Beef

1 packet, French Onion Soup Mix

1 cup, Shredded Cheddar Cheese

1/2 cup, Mayo
Instructions
1
Preheat your oven to 350 degrees F.
2
In a skillet, add the ground beef and the french onion soup mix. Cook until browned and drain the grease.
3
Move the mixture to a large bowl and mix in the mayo and the cheese.
4
Take a large piece of foil and spray with non-stick spray.
5
Take your roll and DO NOT SEPARATE THEM! Using a bread knife cut the rolls so you have a top half and bottom half that have all the rolls still connected. Place the bottom halves on the foil.
6
Place your meat mixture on the bottom half and make sure it is spread evenly. Place the tops back on.
7
Fold your foil completely over and seal the rolls inside.
8
Bake for 30 minutes (place the wrapped sliders directly on your oven rack and do not use a pan). Allow them to sit for 5-10 before cutting.
9
Use a serrated knife to cut and serve your sliders.
Notes
You can refrigerate your rolls ahead of time prior to baking. If you do this, make sure to add an extra 10-15 minutes on to your total baking time.