Sugar Free Keto BBQ Texas Mop Sauce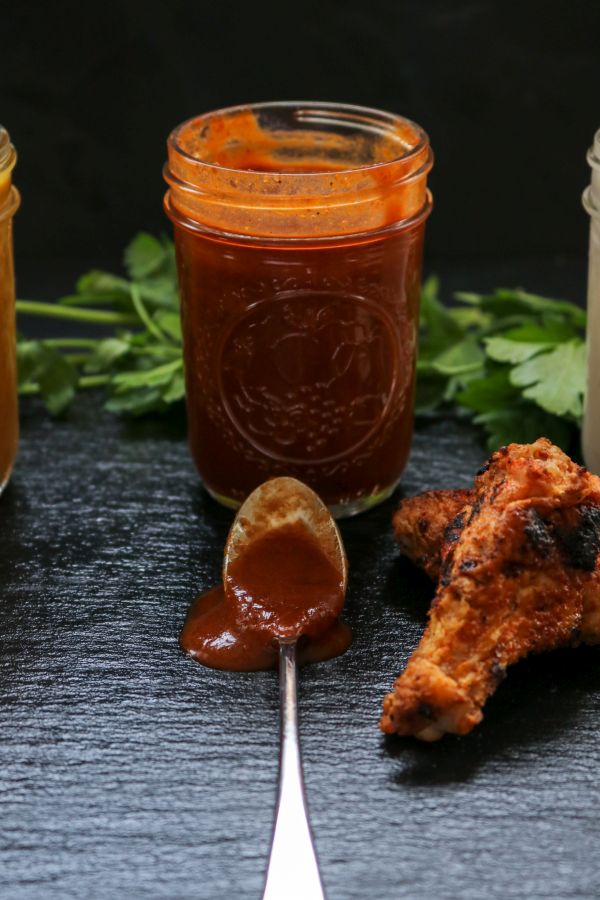 A simple mop sauce recipe that's perfect for adding moisture and flavor to your keto BBQ recipes. It's a tangy, spicy, keto BBQ sauce made from kitchen staples that's better than any store bought sauce on the market.
When you decide to spend hours investing into smoking meat like brisket, ribs, or pulled pork, you want to make sure you do it right! As an avid griller and barbecuer, I have spent a lot of time perfecting sugar free and keto friendly BBQ recipes for sauces and rubs that don't compromise flavor or texture.
The art of barbecue is something that takes time and practice, and eliminating sugars from this art can be tricky. Luckily, it is doable! Though you may not always get that picture perfect sheen you often find in sauces (though it is possible if you try out my Keto KC Style BBQ Sauce), flavor and texture are never compromised!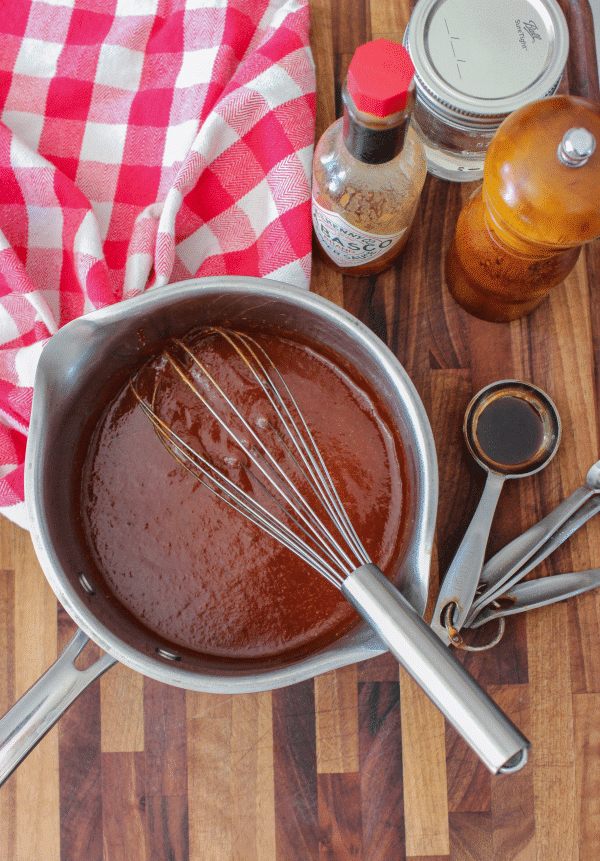 Find the recipe below for this sugar free BBQ sauce that you can make right at home. Read through for helpful tips and tricks to working with a mop sauce when grilling, and find out how you can make your favorite keto barbecue recipes come to life with barbecue sauces to go with it.
"School" Supplies:
Saute Pan
Whisk
Measuring Cup & Spoons
Glass Jars (for storage)
"Class" Notes:
Before we dive into the recipe, I want to cover a few basics if you are new to making BBQ and are trying to decipher when to use a mop sauce over other traditional style sauces.
What is a mop sauce?
A mop sauce is literally just that. A sauce used to "mop" over the meat and acts as a way to keep smoked meats moist while cooking. Moisture is key to a good outside crust or bark that's commonly desired on items like pork butt, brisket, ribs, and more. The mopping of the meat can happen several times throughout a long cook (especially when you have a large brisket that can go for over 12+ hours) and is most common in Texas style BBQ practices.
Traditional mop sauces are more vinegar based than say a sweeter, thicker, Kansas City style sauce. Many times these are also not very sweet sauces either (making it already great for keto recipes), but the beauty of BBQ is how fun and customizable it can be!
What should a mop sauce be used on?
Any meat you prefer to keep moist, especially those with a dry rub/bark! This means this sauce is great for brisket, pork belly, burnt ends, BBQ chicken, ribs, wings, and more. Not only does this keep that bark nice and moist (I know, I've said this word a lot already) but also helps the smoke adhere to the meat while cooking.
Mop sauces can even be used to replace a final glazing sauce at the end of a cook. This is why you commonly find this used in Texas style BBQ recipes because they often don't sauce the meat when serving it.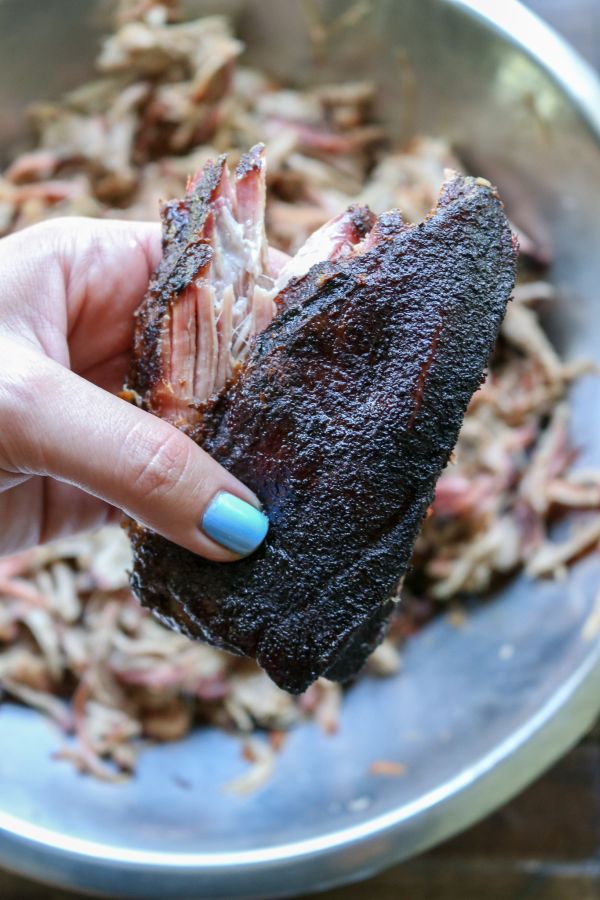 How to make a keto friendly Texas style mop sauce?
Don't worry BBQ fam! I have got you covered on how to make a killer sauce and not feel like you have to break the bank with store bought products.
This recipe contains the following kitchen staples:
Tomato Sauce (or sugar free ketchup could be substituted if desired but sauce is my go to)
Apple Cider Vinegar & Lemon Juice
Worcestershire Sauce
Liquid Smoke (optional)
Spices (garlic, paprika, Tabasco for heat etc.)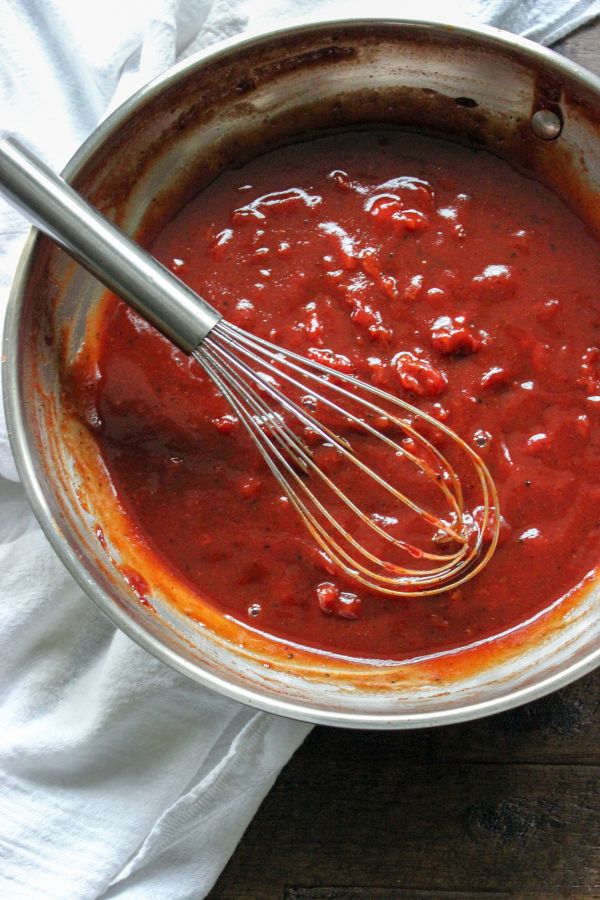 Though the ingredients are similar to my KC sauce and my Keto Carolina BBQ Sauce, the ratios and texture are very different. Sometimes you can even add other BBQ sauces to the mop mixture as well.
When it comes to making a sweeter sauce, I tend to skip low carb sweeteners in general (for the mop at least) and avoid the added sugars (even if it is for low carb BBQ sauce) However, if you're looking to add some sweetness and avoid the added net carbs, I've compiled a list of worthy low carb sweeteners I prefer to use.
Sugar substitutes that are keto friendly:
Keto Simple Syrup– This is a very popular recipe on my site and I love using it for so many cocktails, but also in my BBQ sauce recipes. It removes the grainy texture from the sweetener and prevents it from recrystallizing and causing any separation in the sauce.
Allulose (Amazon affiliate link)– This is a go-to for me because it crystallizes and browns just like real sugar but is perfect for low carb recipes. I use it in my keto simple syrup recipe listed above.
Brown Sugar Substitute (Amazon affiliate link)– Several varieties but anything that is monk fruit based is preferred. They will mix well into the sauce as long as it is cooked and simmered over heat.
How do I make a mop style keto BBQ sauce?
Despite the fact that there is always a lot of trouble shooting and practice when it comes to producing the perfect smoked brisket or ribs, this sauce is really simple to make.
I combine all my ingredients over a medium low heat, whisk so all the spices and optional sweeteners are dissolved and allow it to cook until it reaches the desired texture. This sauce should be on the thinner side and will thicken slightly as it cools.
How do I apply and use a mop sauce when I BBQ?
First and foremost, don't put a cold mop sauce to smoking meats. It will not adhere well (because it becomes thicker when cold) and can cool the meat as well. Apply the mop sauce with a mop brush (Amazon affiliate link), thin it out with some water, stock, or more apple cider vinegar and use a spray bottle for misting too. Mop the smoked meat lightly when needed throughout the cook as needed.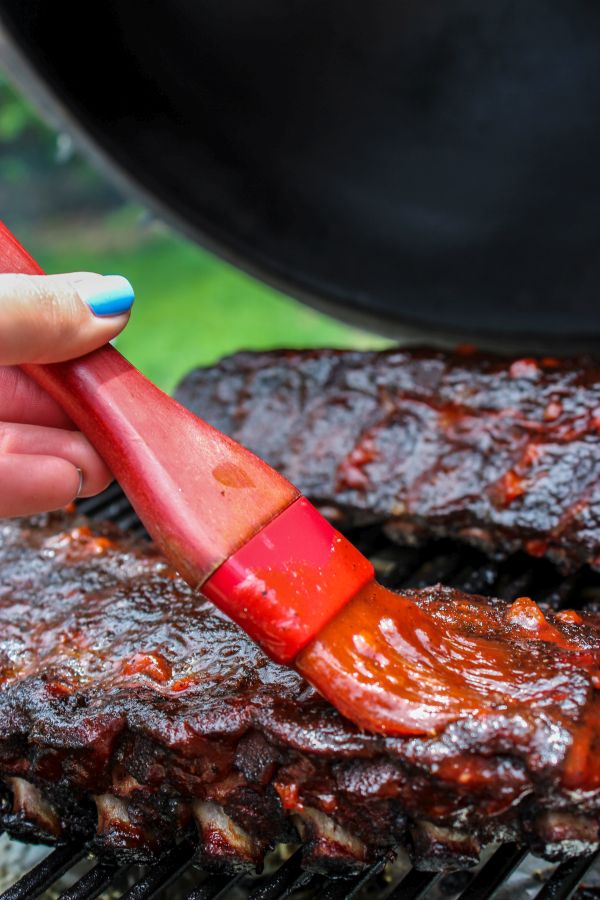 If you prefer a mop style sauce as a dipping sauce as well, it will still work great! Brush it over the meat and allow it to set for a few minutes over the heat. I also love to pair it with grilled crispy chicken wing quarters or just good old fashioned chicken wings.
How to store the mop sauce?
You can absolutely use the sauce right away, however I always find all my keto sauces taste best (like chili for instance) at least a day after being made. I like to store my sauces in glass ball jars for easy reheating, freezing, etc. The sauce should be good for at least a week in the fridge.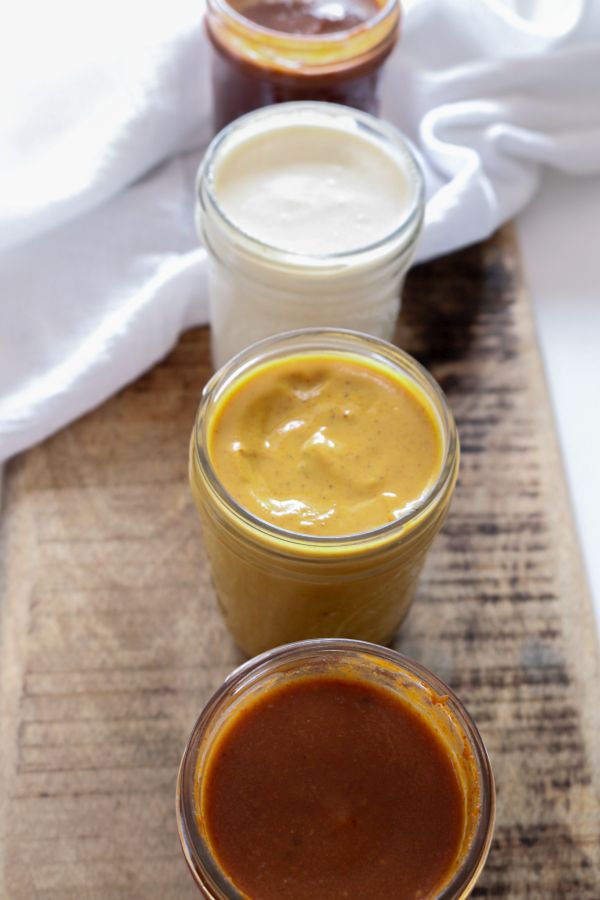 Looking for other keto sauce, rubs, and BBQ recipes with low carb counts? Check these out as well:
Low Carb BBQ Pulled Pork Tacos
Sugar Free Cherry & Black Peppercorn Ribs
Smoked Cauliflower Mac and Cheese
Bon Appeteach,
-L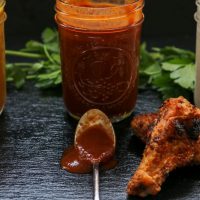 Sugar Free Keto BBQ Texas Mop Sauce
A simple mop sauce recipe that's perfect for adding moisture and flavor to your keto BBQ recipes. It's a tangy, spicy, keto BBQ sauce made from kitchen staples that's better than any store bought sauce on the market.
Print
Pin
Rate
Ingredients
2

tbsp

Butter

2

Garlic Cloves

minced

1/2

cup

Apple Cider Vinegar

2

tsp.

Smoky Paprika

8

oz.

Canned Tomato Sauce

1

tsp

Lemon Zest

1/2

Lemon

Juiced

2

tbsp.

Worcestershire Sauce

1

tsp

Liquid Smoke

optional

Salt & Pepper to taste
Instructions
In a pan. melt the butter in the pan over low heat, add the garlic and saute.

Add in the apple cider vinegar, the paprika, and the tomato sauce. Add in the lemon zest and juice then season with salt and pepper.

Whisk in the Worcestershire sauce and liquid smoke and bring to a simmer. Remove it from the heat and allow it to cool.

Store in the fridge.Sauce tastes best after about 24 hours of marinating.
Notes
Store the sauce in a glass jar or airtight container for up to 7 days.
Nutrition
Serving:
1
tbsp.
|
Calories:
45
kcal
|
Carbohydrates:
4
g
|
Protein:
1
g
|
Fat:
3
g
|
Saturated Fat:
2
g
|
Polyunsaturated Fat:
1
g
|
Monounsaturated Fat:
1
g
|
Trans Fat:
1
g
|
Cholesterol:
8
mg
|
Sodium:
208
mg
|
Potassium:
166
mg
|
Fiber:
1
g
|
Sugar:
2
g
|
Vitamin A:
822
IU
|
Vitamin C:
7
mg
|
Calcium:
16
mg
|
Iron:
1
mg