Sugar Free Cherry Black Peppercorn Baby Back Ribs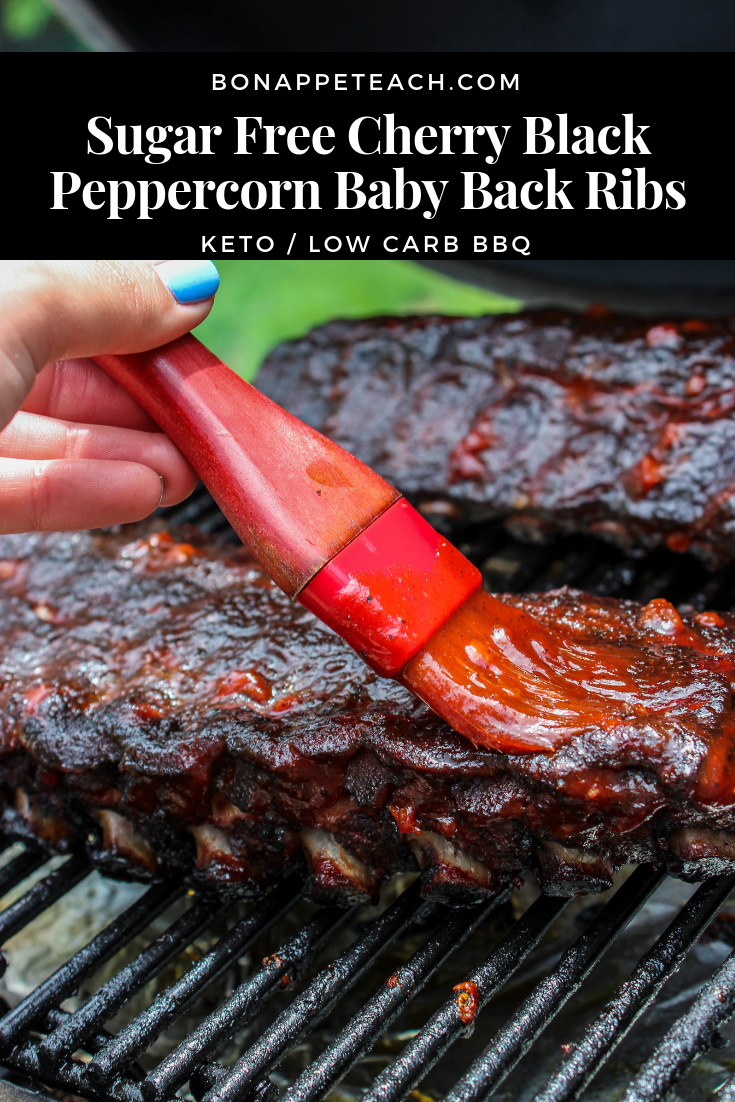 "I'm bringing baby back today with this killer sugar free cherry black peppercorn rib recipe. It's keto and low carb too!"
Sugar Free Cherry Black Peppercorn Baby Back Ribs:
If you haven't made ribs a summer staple yet on the grill, you definitely need to with this recipe. Step out of your comfort zone with this unique and easy sauce and rub to impress your friends and family, all while keeping it keto and low carb (if preferred). I opted for baby back ribs for this cook, but spare ribs will work just as well. The biggest thing to grilling and smoking your ribs is to find a good balance of making them tender, but not so "fall off the bone" that they literally fall apart.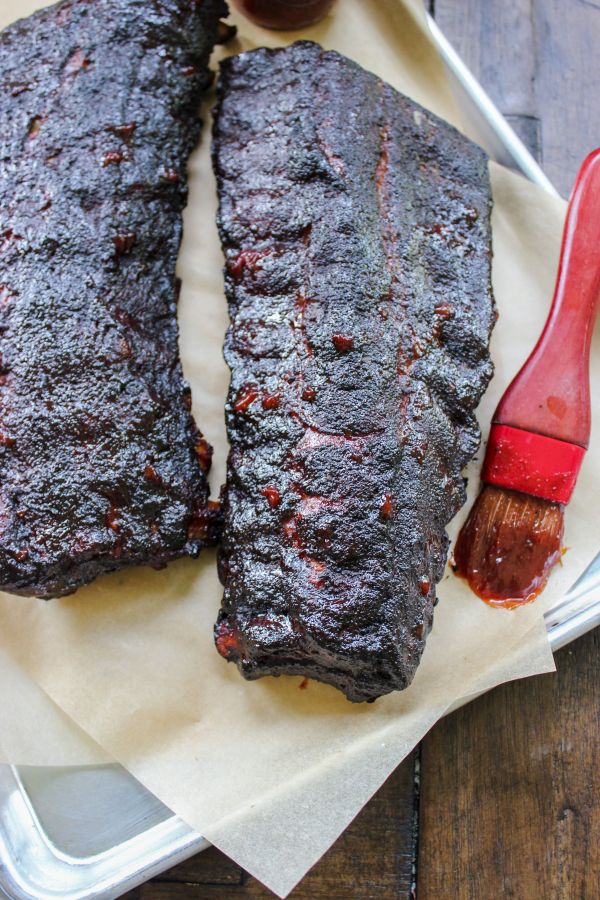 For this cook, I like to follow the classic 3-2-1 method. Three hours on the smoker to form the outside bark, two (ish) hours wrapped in foil, and then one final hour unwrapped to finish off and then glaze. Find the full recipe for this rub, sauce, and tutorial below and I highly suggest reading on for all the helpful tips and tricks so you have perfect party ready ribs for a crowd!
"School" Supplies:
Baking Sheet
Mixing Bowl
Measuring Cups/ Spoons
Small Pot & Whisk
Grill Brush
Foil & Tongs
"Class" Notes:
When I first started playing around with this recipe, I chose two different methods for each slab of ribs to see what I liked best. If time allows, I definitely suggest going for a brine. Brining is a salt/water based solution that helps tenderize meat and keeps it juicy (ideal for a longer, slower cook like this). There are several brine recipes for pork already out there on the internet. I typically use a salt, water, apple cider vinegar mixture and add some of my spice rub for flavor. Soak over night if you can for optimum flavor!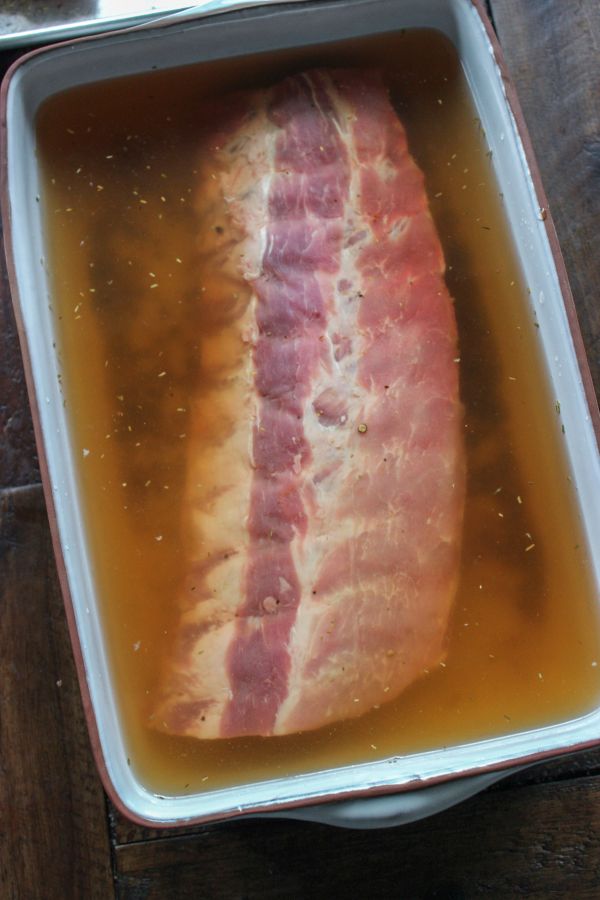 If you don't have time, a basic dry rub will still take you down to flavor town. So don't sweat it (well, do sweat it… dry rubs create a better bark when they sweat first). The rub is a crucial part to a delicious rib and this black peppercorn rub I made is no exception! I mixed together a variety of finely ground fresh black peppercorns, a coarser ground peppercorn, sea salt, cardamom, a little cinnamon, rosemary, coriander, and garlic powder. Sounds like a lot right? But believe me the flavor balance is totally there!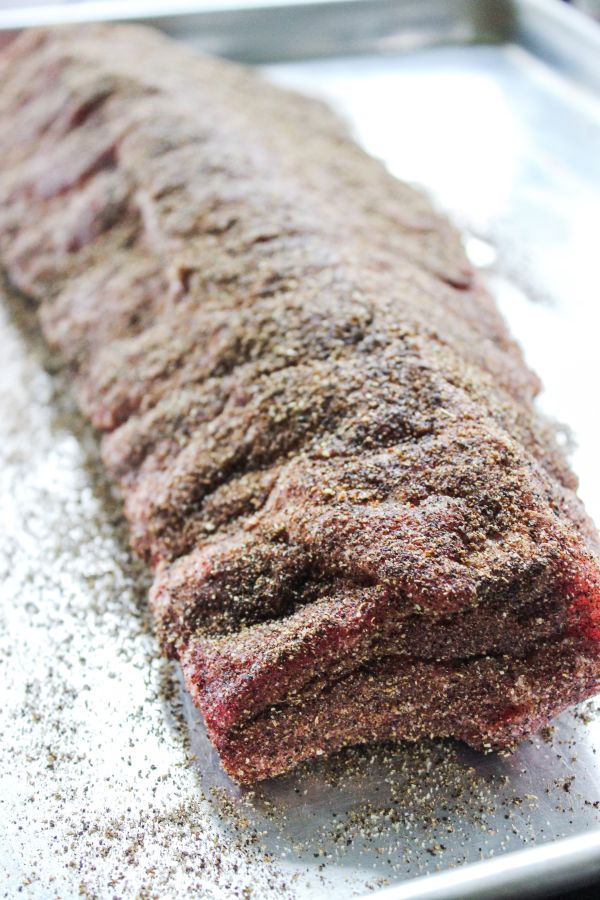 Prep your ribs and prepare your smoker (I like to use a cherry/pecan wood mixture and smoke around 225 F). Follow the classic 3-2-1 method here for ease. I prefer wrapping my ribs in a little foil with some pads of butter and a small amount of the BBQ sauce I make to add some moisture so the bark doesn't dry out. Don't add too much or the bark could also fall off.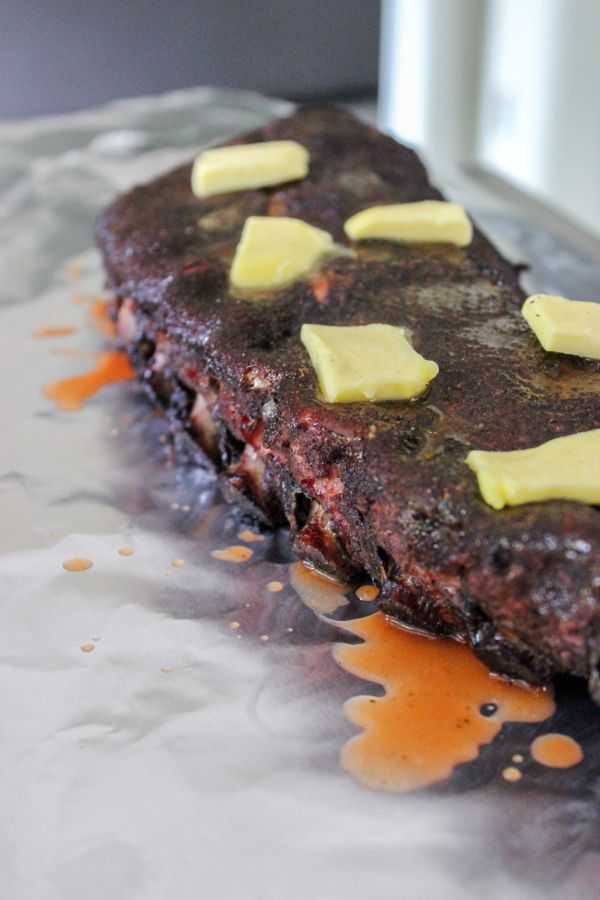 After the wrap, take a peek a few hours later and start looking at where your ribs are at. Yes, you can use internal temperature help to some degree (pun intended) when checking for doneness. But honestly, every rack of ribs is different and real comes down to look and feel in my opinion. Check out this article on how to know when your ribs are done for help!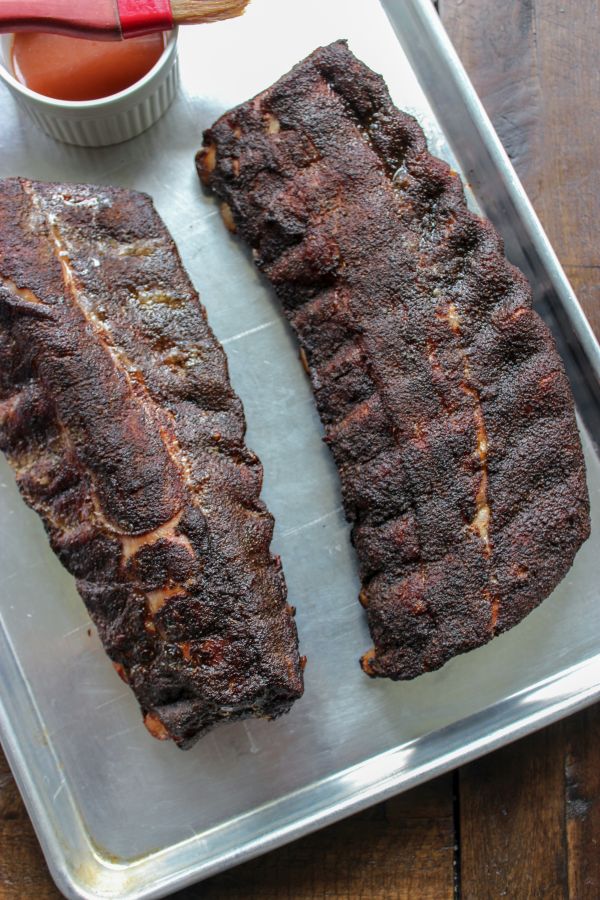 While the ribs are going, make your cherry peppercorn BBQ sauce! All my sauces are easy to make with household ingredients, and are sugar free (but sweetened with low carb sweetener). I really prefer using allulose as sweetener option. It creates a carmelization that's similar to traditional sugar, doesn't burn, and doesn't have that weird after taste in my opinion.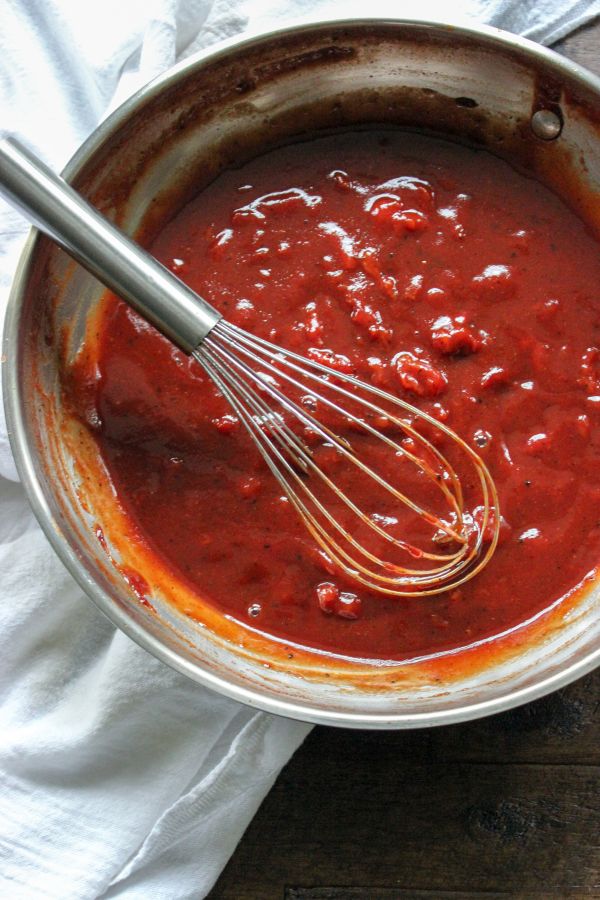 Cherries are lower in carb naturally and I love the tangy tart flavor they bring. Macerate the frozen cherries, add your tomato sauce and a few other spices and seasonings to get the sauce perfect. Set it aside to let the flavors marry and chill out before using.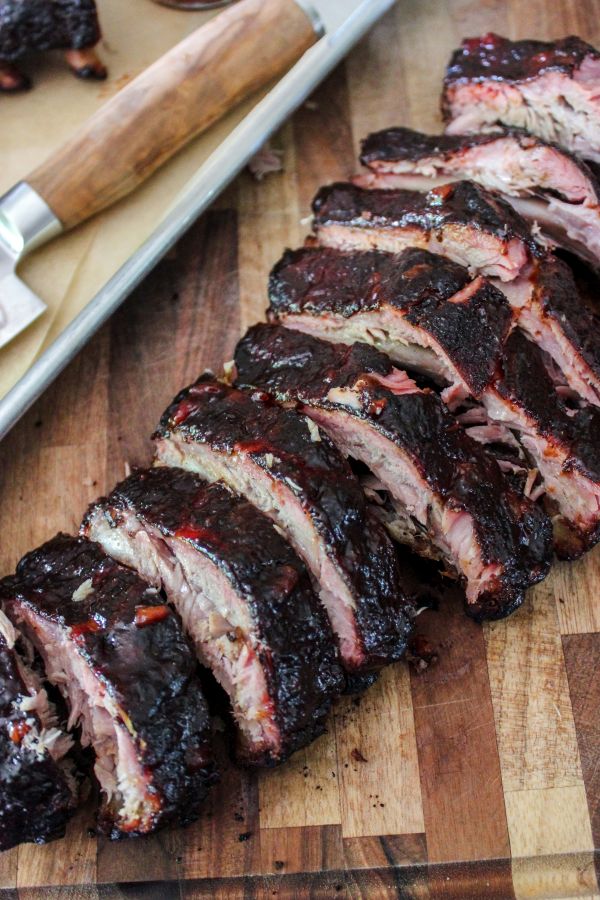 Glaze the ribs the last 20-30 minutes unwrapped to let it set. I love a good dry rub rib, but this sauce really brings something different to the table. I hope you find this a cool and fun way to switch up your classic BBQ game for your next cook.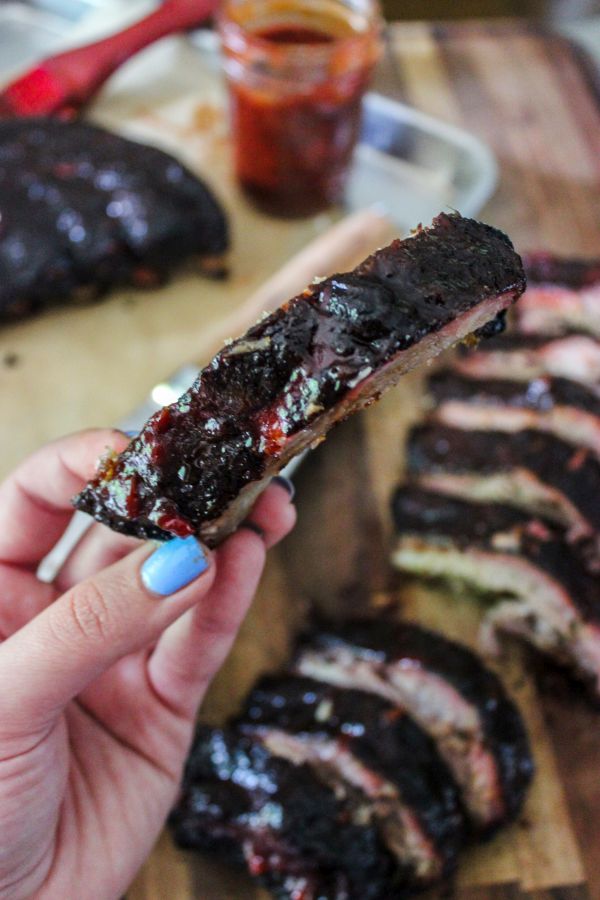 Full recipe is below and if you still need more rib ideas, check out these easy Keto Chipotle Ribs too! Don't forget the smoked cauliflower mac n' cheese either!
Bon Appeteach,
-L
Yield: 2 Slabs
Sugar Free Cherry Black Peppercorn Baby Back Ribs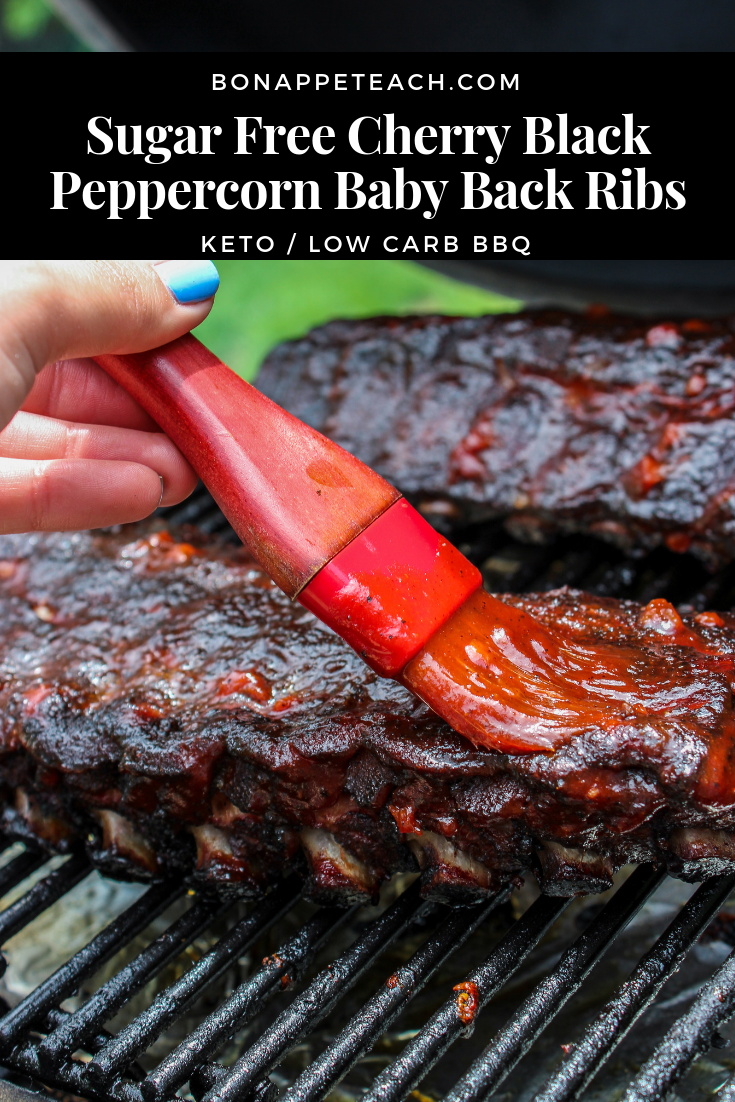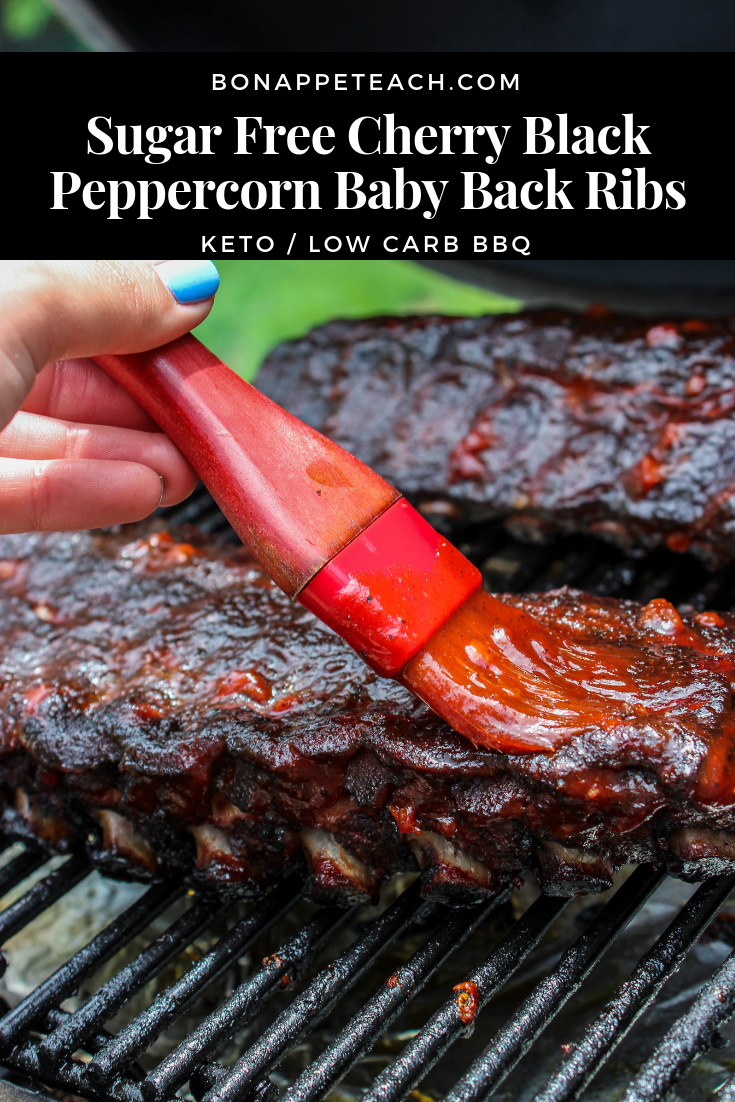 Total Time
5 hours
30 minutes
Ingredients
2 Slabs of Ribs
Tabasco
Butter
Rub:
1/3 cup Fine Fresh Ground Black Peppercorns
3 tbsp Coarser Black Peppercorn
1 tbsp. Dried Rosemary
1 tbsp Fine Sea Salt
1 tbsp. Cardamom
1 tbsp. Coriander
1 tbsp. Garlic Powder
1 tsp. Cinnamon
Sauce:
2 cups Frozen Cherries
8 oz. Organic Tomato Sauce
3 tbsp. Yellow Mustard
1 tbsp. Worcestershire Sauce
1/4 cup Apple Cider Vinegar
1 tbsp. Dry Rub from above
1/4 tsp Baking Soda
Instructions
Prep your ribs by removing the membrane and trimming off any silver skin. If you opt to brine your ribs, do so the night before. Remove from the brine and prep the dry rub mix. Use a little Tabasco sauce on both sides of the ribs as a binder. Sprinkle in an even layer all over the entire slab of ribs with the dry rub. Let the dry rub sit and rest until it sweats.
Preheat your grill to 225 F. and add your preferred wood (cherry is great here).
Let the ribs cook, bone side down on the grill for about three hours. Look for the bones to start popping out a bit and for that bark to be fully set. I like to spritz mine with diluted BBQ sauce mixture to prevent drying out about every hour.
While the ribs cook, combine all the sauce ingredients into a pot and cook until heated through and the cherries have burst. You can leave it on low heat or set it aside for later.
Wrap the ribs in foil with a little butter and a tiny bit of the BBQ sauce mixture and let it go for about 2 hours. Check for tenderness before leaving them unwrapped for that final hour. Glaze them the sauce the last 20-30 minutes or so. Remove from the grill, sauce again, slice, and serve.
Bon Appeteach is a participant in the Amazon Services LLC Associates Program, an affiliate advertising program designed to provide a means for sites to earn advertising fees by advertising and linking to amazon.com. I only share products that I use and stand behind personally.