How To Slow Smoke 3-2-1 Ribs
A classic tried and true 3-2-1 method for smoking ribs for beginners and even for the seasoned pitmaster! Get all the tips, techniques, and full tutorial for fall off the bone pork ribs slow smoked on any grill.
Ribs are an essential part to any backyard BBQ or pitmasters repertoire. In fact, they're one of my favorite things to smoke on my Big Green Egg because they come out perfect every time and they're always a crowd pleaser.
While I sometimes enjoy the Hot and Fast method for cooking ribs, if I have the six hours to kill on a weekend, I am definitely using the 3-2-1 method. If you've never heard of this strategy for cooking ribs, it get's it's name for it's easy to follow formula that looks like this:
Smoke for 3 hours on the grill (to build a solid bark, uncovered)
Smoke for 2 hours wrapped tightly in aluminum foil (to encourage tenderness)
Finish off with 1 hour uncovered to tighten the bark back up unwrapped and lightly sauced to perfection
If you can remember these steps, then you can pull off a show stopping rack of ribs time and time again off your smoker.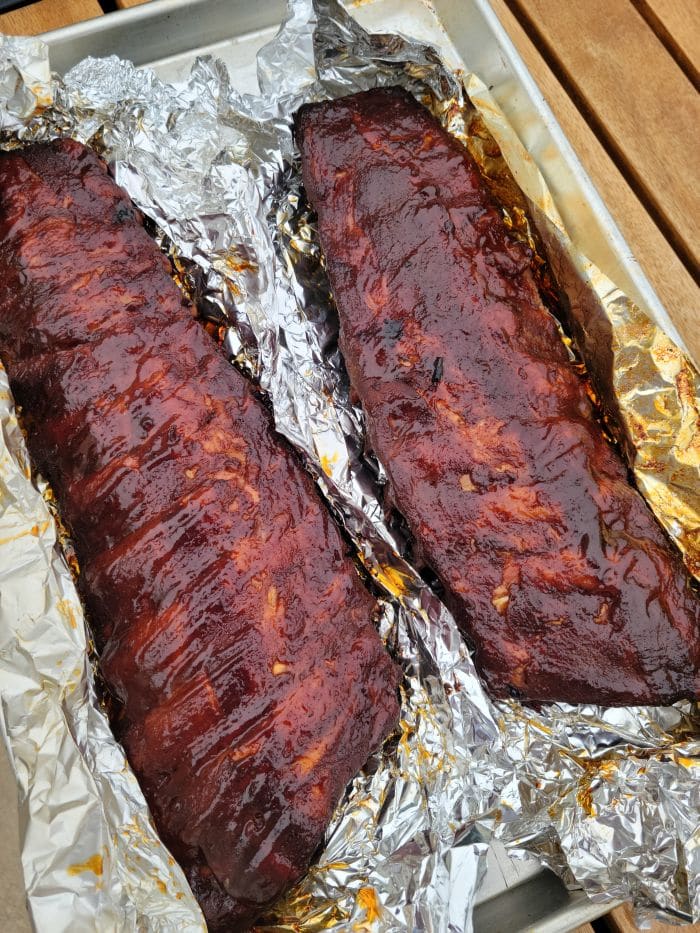 Below I'll walk you through commonly asked questions from fellow grillers regarding this tutorial, techniques and preparation steps, and strategies for managing your grill and making deliciously tender fall off the bone ribs. Let's dive in and learn how to slow smoke your ribs to perfection!
"School" Supplies:
Cutting Board
Boning Knife
Paper Towels
Foil
Basting Brush
Spray Bottle
Sheet Pan (helps for transferring on and off the grill)
"Class" Notes:
Killer ribs do not have to be intimidating or hard to accomplish. Read through these commonly asked questions to help guide you through your cook or use as a reference as needed. Happy grilling!
How to prepare your pork ribs for smoking?
No matter what style ribs you're going with (spare or baby backs) there are always a few keys steps for prepping them before getting them on your smoker. Here's it what I like to do:
Remove them from the packaging and pat them dry with a paper towel to remove excess liquid.
Place your ribs on a cutting board, bone side up and remove the membrane across the back bones. Sometimes this is are to pull up, so use a small pairing knife to help or a paper towel for a better grip. Removing the membrane creates a more tender bite and allows the rub to penetrate fully under the ribs.
Trim any silver skin or hanging fat. This won't break down well on the grill. I also like to feel around the edges of the ribs and see if there are any pieces (usually at the ends) of small bone fragments in the meat not attached to a larger bone. Trim this off and square up your ribs so you have a better final product.
Once trimmed and prepped, add a binder of your choice to the ribs to adhere your rub. My go-to binders are usually: Mustard, BBQ Sauce, Garlic Paste, or Olive Oil. Use what you like and all you need is a thin layer top to bottom.
Apply your BBQ rub. Keep it simple with salt, pepper, and garlic powder or try my

all purpose BBQ dry rub

or even this

spicy Cajun dry rub recipe

or this

epic smoky BBQ rub

too!
Let your ribs rest 45 minutes to an hour before putting them on the grill.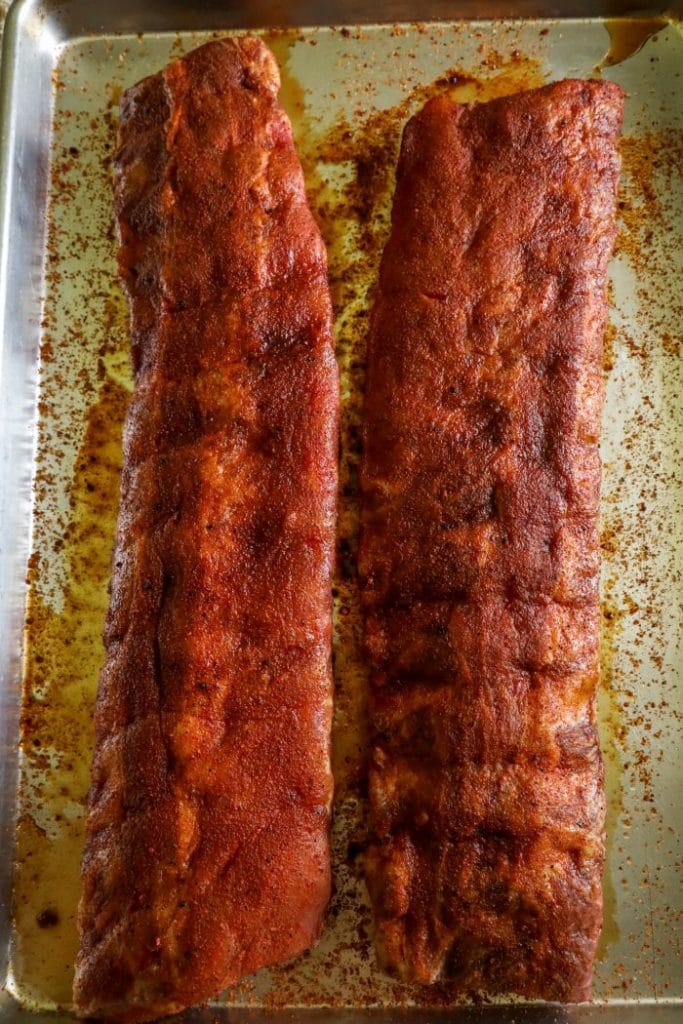 What temperature do you slow smoke ribs?
If you're looking to slowly smoke your ribs, you best temperature range is between 225 degrees F. and 250 degrees F. Remember that the temperature at the base where your grill grates are is always going to run hotter than the temperature located near your grills thermometer is located.
Try a clip on thermometer to help you get a more accurate picture of what your grill temperature is and remember to keep your smoker lid closed. If you're looking, you're not cooking!
Why do I need to spray my ribs?
Have you seen people spraying or mopping their BBQ while they're cooking? There are a few reasons for why you should do this:
It adds moisture/ steam to the grill and keeps the rub moist.
Spraying the bark on your ribs (or any meat) helps prevent it from cracking and falling off.
Smoke likes to adhere to the liquid, helping add more smoke flavor to your meat.
Spray your meat every hour or so as needed. Use a spray bottle with apple juice or watered down apple cider vinegar, you can also use diluted barbecue sauce or this recipe for Texas mop sauce too.
Why do you wrap ribs? What goes in the wrap?
Wrapping ribs is a common way to encourage the ribs to cook fast at a slower temperature, break down collagen and denser tissue in less time. It's a great way to also infuse more flavors using things like butter, brown sugar, honey, barbecue sauces, dry rubs, and more into the wrap.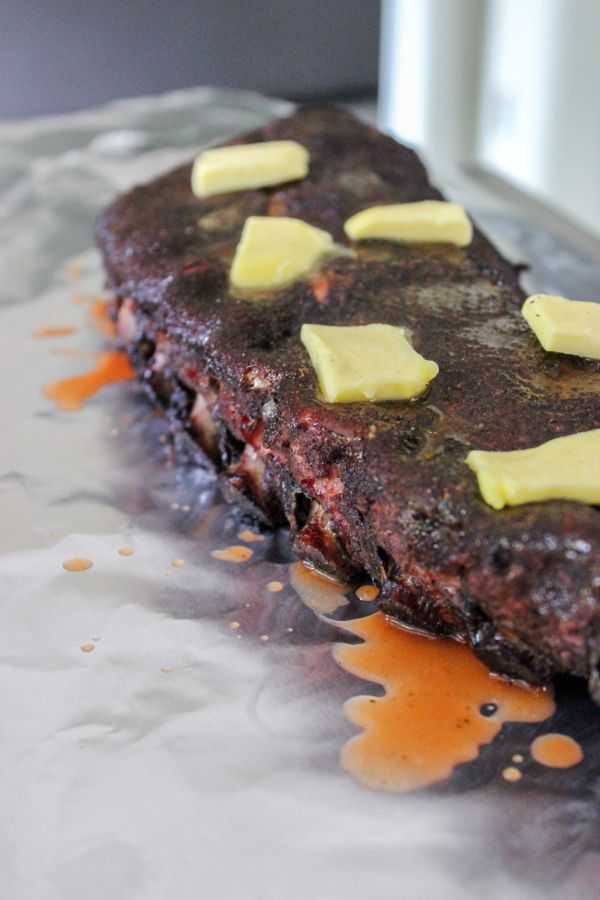 Do you have to wrap your ribs? No you don't, they'll cook just fine on the smoker the entire time unwrapped but it would not be the 3-2-1 method in that case. If you are wrapping, I'd recommend foil over butcher paper and to encourage a very tight wrap to prevent steaming.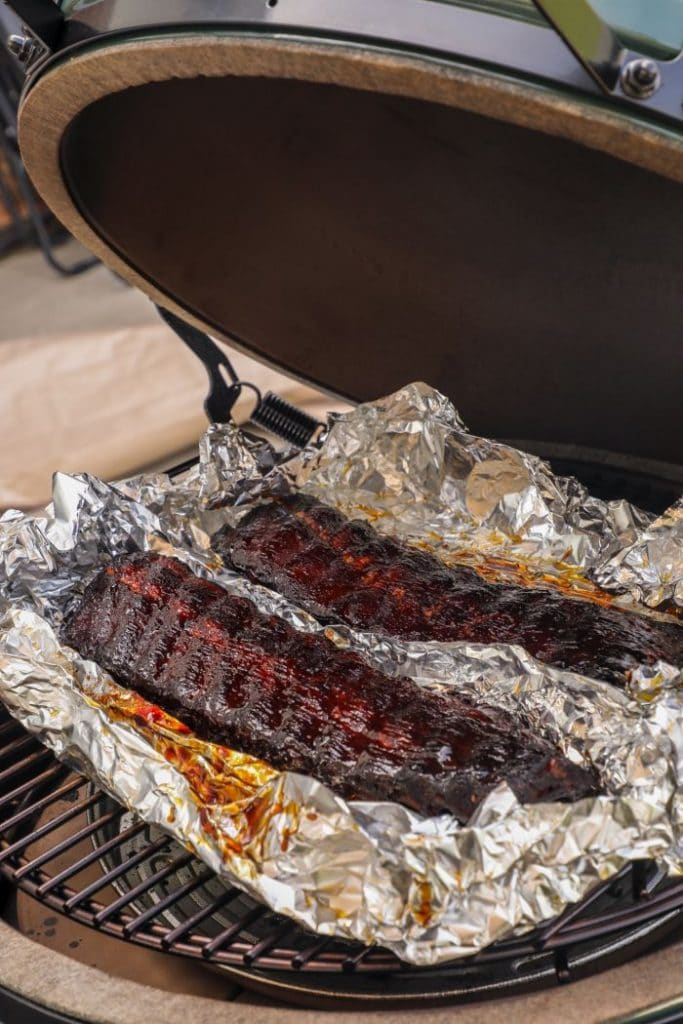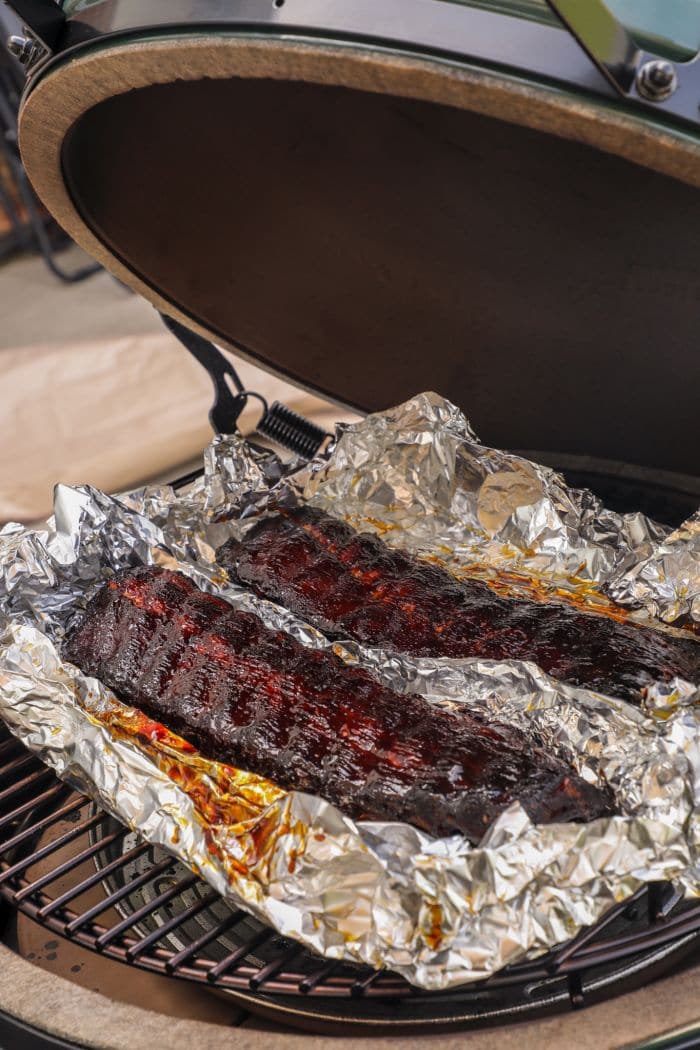 When should I sauce my ribs?
After you have smoked uncovered, wrapped and smoked, and finally made it to that last hour of cooking you can prepare to sauce your ribs. If I am saucing ribs, I choose to do so the last 30 minutes to prevent the sugars in the sauce from caramelizing too much.
Baste the sauce on lightly and let it set 15 minutes, give it a second coat and let it go the last 15 minutes or so as needed for a beautiful color. I love this Kansas City style BBQ sauce too!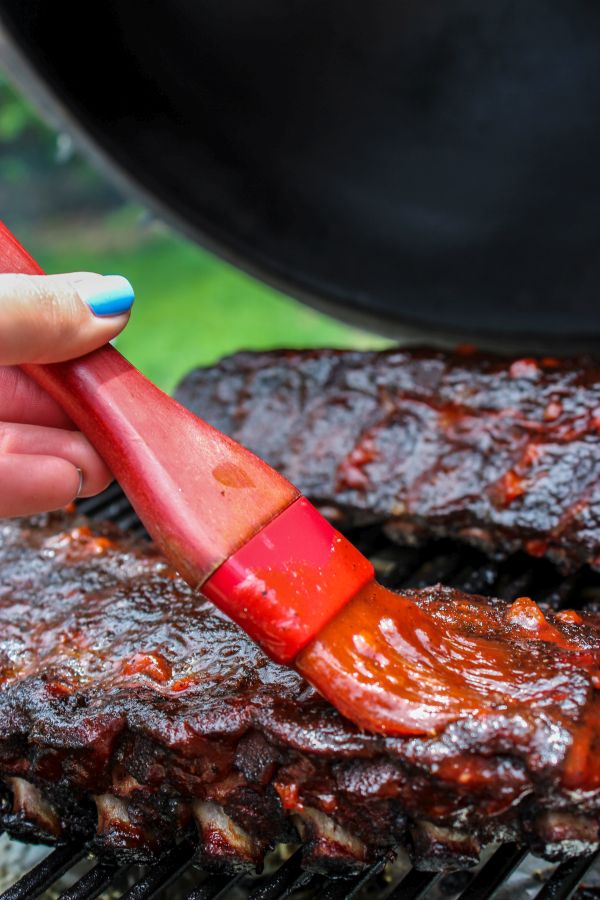 How do I know when my ribs are done?
There are few ways to tell when your ribs are done and when you need to remove the ribs from the grill:
The bark is set
The bones are peaking out now and the meat has pulled towards the center
If you were to check them for tenderness, the rack would bend quite a bit at the center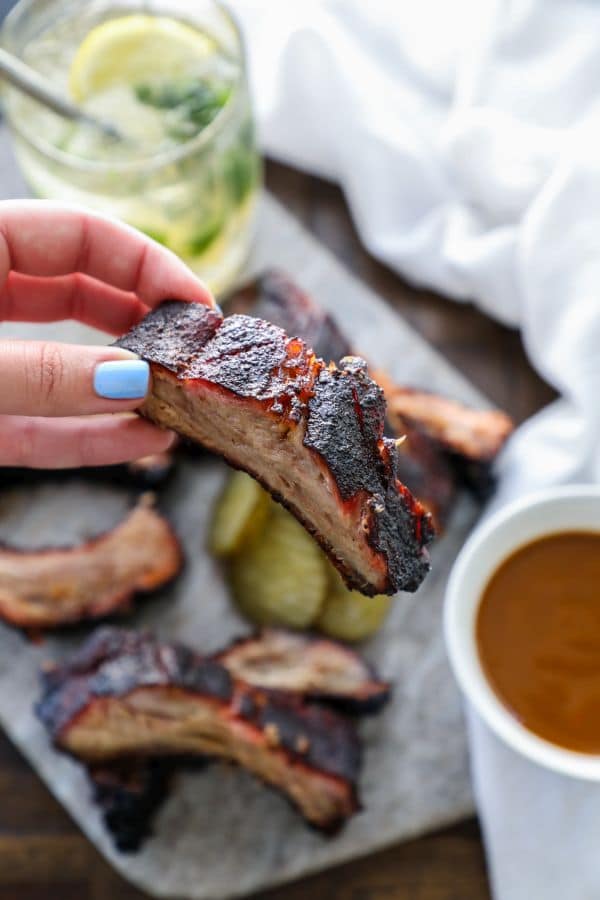 The only true way to know however (besides these factors listed above) is to check with a thermometer! Meat is tender and connective tissues break down at a temperature over 195 degrees F. to around 205 degrees F. Take the temp and pull them when done!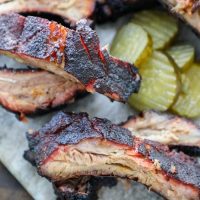 How To Slow Smoke 3-2-1 Ribs
A classic tried and true 3-2-1 method for smoking ribs for beginners and even for the seasoned pitmaster! Get all the tips, techniques, and full tutorial for fall off the bone pork ribs slow smoked on any grill.
Print
Pin
Rate
Servings:
2
Racks of Ribs
Ingredients
2

Racks of Ribs

spare of baby backs

2

tbsp.

Binder

mustard, olive oil, BBQ sauce

Dry Rub of Choice

see post for options

Apple Juice or ACV for spraying

Extra Sauce

as desired
Instructions
Start by preheating your smoker to 225-250 F. Set it for indirect heat.

Prepare your ribs by removing the membrane, patting them dry and removing excess liquid, and removing any small bone fragments and silver skin.

Apply desired binder in a very thin layer, top to bottom. Then add a light coating of your desired dry rub starting at the bottom, coating the sides, and finishing with the top.

Get the ribs on the grill and let them cook for 3 hours unwrapped. Spray them as needed, about every hour.

At the 3 hour mark, remove from the grill and wrap them in aluminum foil. To the foil you can add a little BBQ sauce, some butter, brown sugar or honey, etc. Wrap tightly!

Place them back on the smoker for 2 hours.

The last hour, remove them from the grill and peel back the foil (carefully). Place the ribs back on the smoker the last hour uncovered. I like to sauce the ribs the last 30 minutes and again the last 15 minutes of cooking to let it set.

The ribs are done when they are tender and hit a temperature over 195 F. Remove them and let them rest.

To slice them evenly, flip them over so they're bone side up and slice from the back. Place on a plate and serve!
Notes
Play around with flavor profiles with different binders, rubs, sauces, etc. To get a better understanding of how these help make delicious ribs, read the post above!
Nutrition
Serving:
1
g
|
Calories:
72
kcal
|
Carbohydrates:
6
g
|
Protein:
3
g
|
Fat:
4
g
|
Saturated Fat:
1
g
|
Polyunsaturated Fat:
2
g
|
Cholesterol:
13
mg
|
Sodium:
108
mg
|
Sugar:
5
g