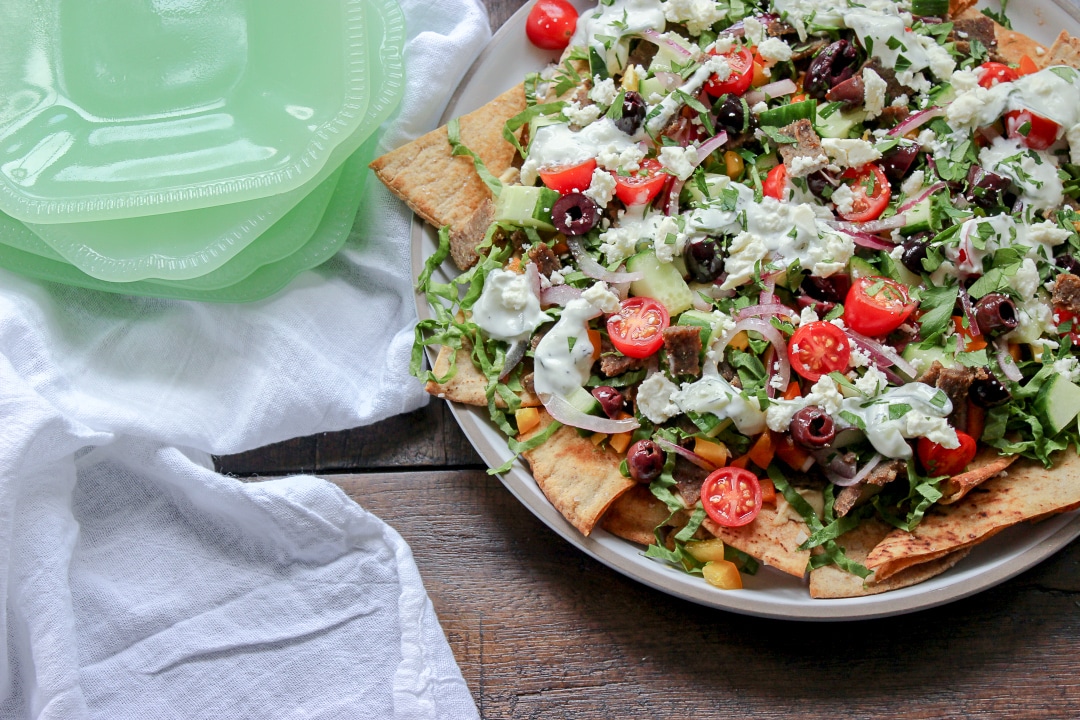 Low Carb Greek Nachos:
Game days. Holidays. Winter days… they're all coming. I am ready! I'm updating and remaking this pita nacho platter I posted last January into its more keto friendly cousin, Low Carb Greek Nachos. They're so great for a date night, an appetizer, or ever for meal prep throughout the week. Just find a way to make these and enjoy them with this week's themed Bon Appeteach "Book Club" cocktail, The Yellow Brick Road.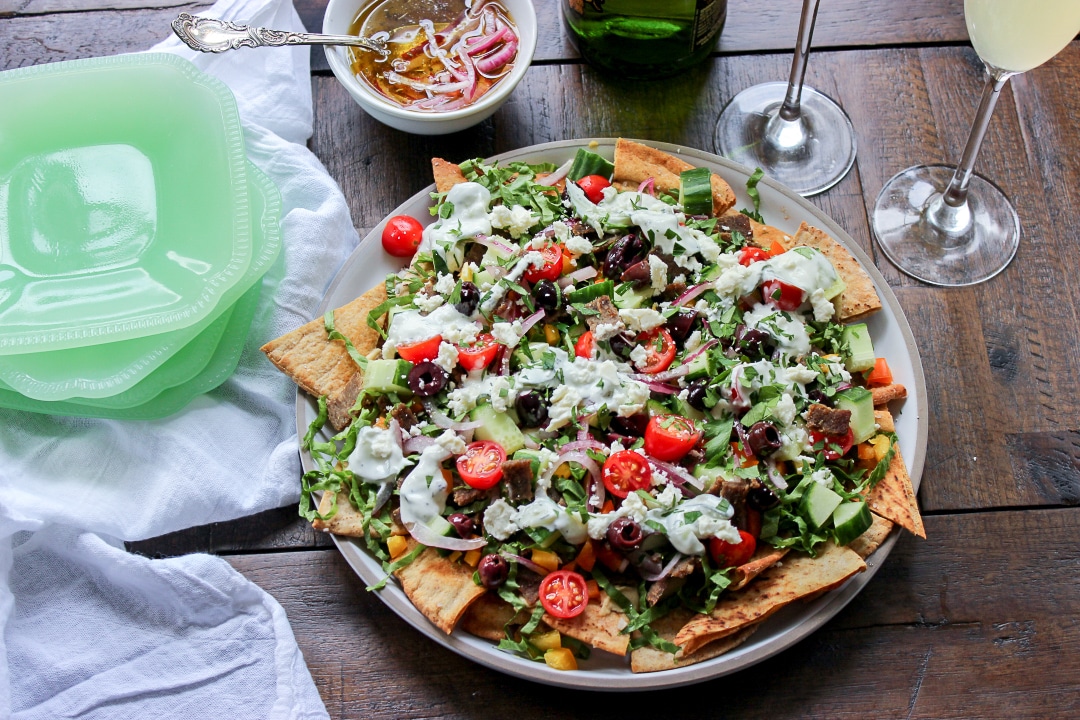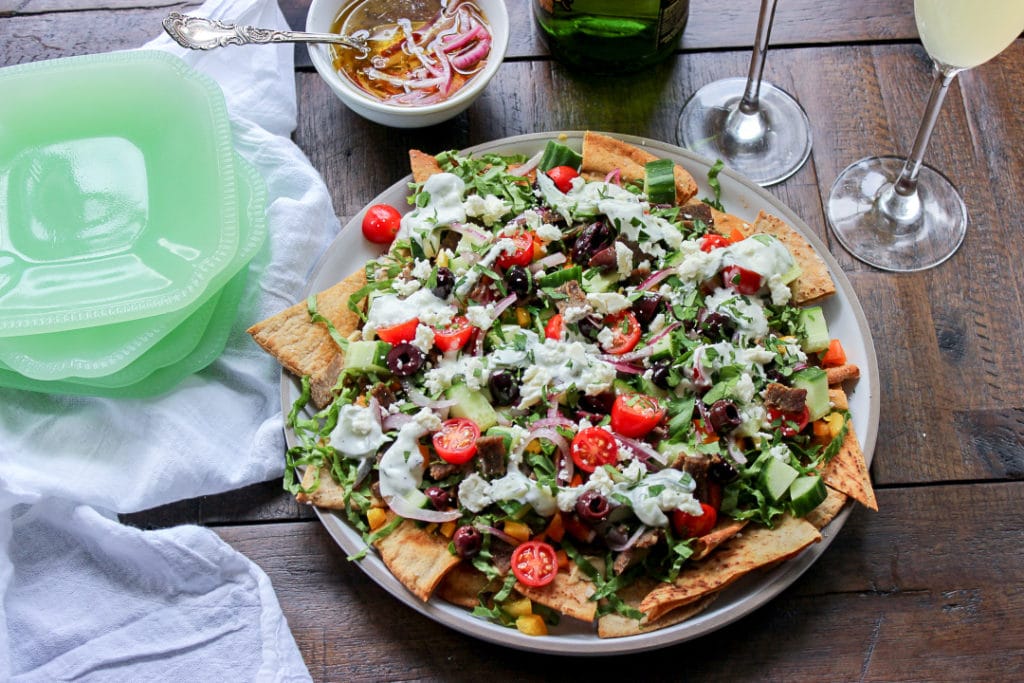 "School" Supplies:
Baking Sheet
Pastry Brush
Knife & Cutting Board
Frying Pan
Mixing Bowl
"Class" Notes:
Pita Chips
Let's keep this recipe easy! You can definitely go ahead and make my Low Carb Naan Bread recipe or use my Keto Crackers recipe too for the Greek nacho base. It's delicious, but sometimes… I too am lazy (shocking right). I've been loving the Joseph's Flax Pita Breads. They're so easy to make pita chips out of too. Brush with a little oil, sea salt, slice into triangles, bake…. and voila. Low carb pita chips! You could also stay true to the "nacho" theme and use a low carb tortilla too (following the same process).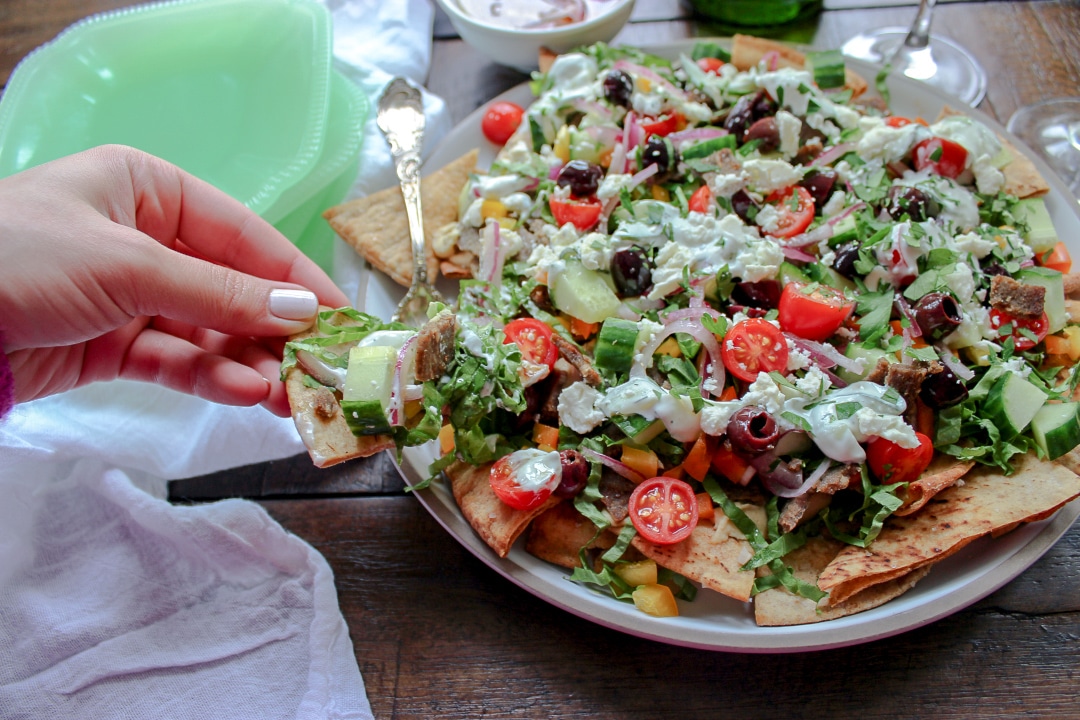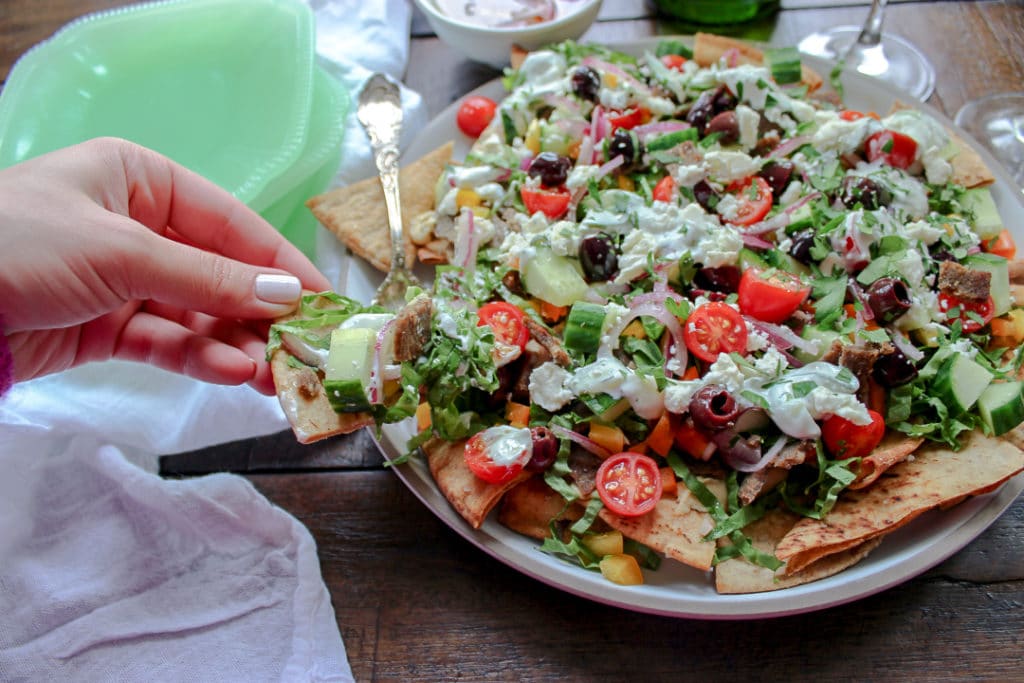 Greek Style "Nacho" Toppings:
These Low Carb Greek Nachos obviously do not have your typical nacho toppings.  Place the homemade pita chips on a platter platter and begin by placing some hummus (optional) across the chips. Next, decide which proteins you want to use. In the past, I've used my leftover marinated Greek chicken from my Mediterranean Spaghetti Squash Pasta . This week, I used gyro meat (pre-packaged) from Trader Joe's. Cook it in a frying pan till crispy! Top with some shredded lettuce, cherry tomatoes, diced cucumber, a bit of red onion, and some diced peppers. Finish your nachos off with a nice handful of kalamata olives, feta cheese, and a beautiful drizzle of tzatziki sauce. Serve, devour, and destroy!
Bon Appeteach,
-L
Ingredients
4 Low Carb Pita Breads (or low carb tortillas)

Olive oil & Sea Salt

8 oz. Chicken or Beef Gyro Meat

1/4 cup Hummus

1 cup Lettuce, shredded

6 Cherry Tomatoes, halved

1/4 cup Cucumber, diced

1/4 Red Onion, sliced thin

1/4 Yellow or Orange Pepper, diced

1/4 cup Feta Cheese

6 Kalamata Olives, halved

Tzatziki sauce for drizzling over the top
Instructions
1
Preheat the oven to 375 degree F.
2
Brush both sides of the pitas with olive oil. Sprinkle with sea salt.
3
Cut into triangles and place the pita bread onto the baking sheet. Bake for 8-10 minutes or until lightly browned and crispy.
4
Cook your chicken or gyro meat in a pan. Remove, dice, and set aside.
5
Arrange the pita chips onto a platter. Place the hummus in a ziplock bag and snip the bottom off. Use it as a piping bag to evenly distribute across the chips. Then add the meat of choice over the chips as well.
6
Sprinkle in the halves tomatoes, cucumbers, red onion, peppers over the meat.
7
Sprinkle on the sliced olives and feta. Drizzle with tzatziki and serve.